So, it took me a few days to get this recipe here. Sorry about that. Like I said in my last post, I'm always at a loss for what else to do with the cabbage leftover from the
Cabbage Casserole
on New Year's day.
This year, I found a few recipes for Tuscan Soup that I adapted heavily for use with cabbage. It seemed to me the flavors would work well together and thankfully I was right. It was indeed delicious.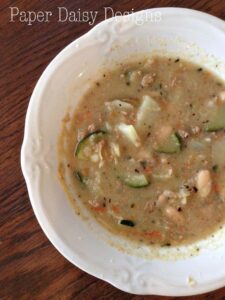 Tuscan Soup with Cabbage
4 cans of cannellini beans, drained and rinsed (or you can use a northern white bean)
2 Zucchini
3 Yucan Potatoes, chopped
1 White Onion
3 Carrots, juillianed or diced
1 pound spicy Italian sausage
1 Head of Cabbage shredded
6 to 8 cups of Chicken Stock
Thyme, about a teaspoon
Oregano, about a teaspoon
Olive Oil
Salt & Pepper
Parmigiano Grated Cheese
Directions:
In a large dutch oven, my pot is 7.5 quarts, brown sausage and remove from pot. Brown the onions with salt, in about a few tablespoons of Olive Oil, if necessary.
After the onions are translucent add the cannellini beans and add 2 cups of chicken stock. Bring to a boil.
Add the potatoes, zucchini and carrots and cook until potatoes are almost soft, about 10 minutes. Add salt as desired.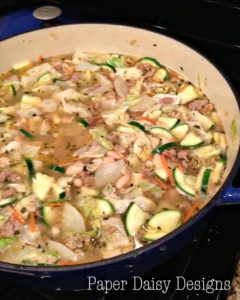 Add 2 more cups of chicken stock and add the cabbage and mix together. Cook for about 10-20 more minutes. Season with oregano and thyme. I'm not very precise about this measurement, I just kind of sprinkle across the top of my pot and it's usually about how I like it. If I had to guess about a teaspoon.
Ladle some of the soup into a glass bowl, like the small Pampered Chef batter bowl, avoiding sausage as you can, and puree with an emersion blender. I skipped putting it in a bowl and afterwards I wish I hadn't because I missed having bigger chunks of sausage.) This step makes the soup thick and hearty.
Turn to low and simmer as long as you would like, but at least 10 minutes to thicken nicely.
I love making big pots of soup and regularly freeze portions to have for lunch. Nothing like a nice, hot bowl of soup for lunch during the winter months.
Enjoy!
Thank you for subscribing to Paper Daisy Designs. Please continue reading on the blog. I appreciate having you as a reader.