And How to Make New Wood Look Old
I think one of the projects I am most proud of in our Media Room Makeover, is the sofa table my husband helped me build. Well, he built it and I just assisted and supervised. I love everything about the table.
I didn't think it would be that hard to find a sofa table for the room, but honestly I came up pretty empty handed in my shopping at thrift stores, scouring Craig's List and garage sales.
Eventually, I started looking for kitchen tables we could cut down and make into a sofa table. No luck there either. I was lamenting to a friend, who came to see the progress of the room, that I was having trouble finding something to use as a sofa table.
I said to her, "If only I had some table legs, I could just build what I want."
Then it hit me… It was one of those moments of clarity. Do you know the kind of moment where the light bulb flashes above your head and you can almost hear a coordinating "ding, ding, ding" going off like you've won a grand prize? Because as soon as I said those words, I turned around in my studio, opened the door that leads to the attic and right there leaning in the doorway, were 4 table legs that used to belong to my craft table.
The tabletop is still being used in my studio, but the legs were discarded and stored in this attic space when I didn't need them anymore. Like any good hoarder, I just tucked them away in the attic for a purpose yet to be determined. The problem is I forgot I had them.
You ask, Seriously?
Seriously. About 3 years had passed probably, but still, I walked right by them every time I went into the attic. Anyway, with that most amazing discovery, I started laughing and jumping around with glee, kind of like a kid getting a new bike at Christmas. My friend was not as impressed. In fact, she was probably freaked out and thinks I belong on that hoarder show for not knowing I had the very thing I said I so desperately needed.
So, now that you've got that colorful story, onto the building of a sofa table that cost me less than $40 to build. All we purchased were a few pieces of wood. You might have pieces laying around in your attic or garage, you never know. 😉
(This post contains affiliate links for your convenience.)
How to Make New Wood Look Old
I started with some 1″x 4″ s and cut them down to 4-foot lengths.
I wanted them to look very old, rustic barn wood like, or maybe kind of like railroad ties. Something old. I started by distressing them.
I used hammers, nails, a crowbar, anything I could get my hands on to beat it up with. That was fun.
[adinserter name="Old wood post"]
This step is important for the wood to look authentically old and worn: I used a blade/knife to scrape off the straight corners or edges of the wood and sanded all the previous distressing lightly so that the distressing didn't look new.
After I felt like they were sufficiently distressed, I began staining the wood. I used a mix of Minwax Dark Walnut Stain and my absolute favorite stain color, Kona Wood Stain, by Rustoleum. (I do not know the exact ratio, I just mixed them together until I created a color I liked. I would suggest mixing the two stains together in about even proportions and test on a scrap piece of wood and adjusting the quantities until you are happy with the overall tone.)
After it dried, I sanded it down a little and applied a wash of watered down Paris Grey, Annie Sloan Chalk Paint. (Again, I just organically mixed them together, maybe about 2 tablespoons of paint to 1/4 cup of water.)
I thought this looked pretty weathered. I was giddy. 🙂 You can see that the wood looks rather grey here. Once I added the finish, it warmed back up a bit. If you want it greyer, then consider doing a second coat of wash.
To protect the wood, I finished the wood with Minwax Wipe -On Poly, Satin.
How To build a Sofa Table with existing legs.
While I was doing all of this, my husband was working on building the frame for the table top. I must tell you while he is a fantastic husband and provider, he is not at all a carpenter. He knew going in that I did not expect this to be perfect. It was just supposed to be functional. And it is.
I've seen lots of DIY furniture in which people use a clever gadget, called a Kreg Jig
. (affiliate link). I'm sure that tool is totally worth it, but we don't do enough of this type of thing to justify buying one. We just kind of winged it using the original table as a guide.
Update: As of Fall 2014, we now own a Kreg Jig
and love it. It would be a great tool for this type building project, but for this table, we already had legs with bolts in them an worked off of what we had. We have used the Kreg Jig in our DIY Kitchen Island Cart and find we use it now for so many projects. Visit affiliate link above for more info.
Basically, we copied the apron base of the table from which the legs were originally attached to, adjusting the measurements for the new table size we were building, a 3 foot by 4-foot sofa table.
As you can see, the four side boards met with the table legs with an angled piece forming a triangle in the corner, which was used to screw it all together. We also used the existing bolts coming out of the legs.
In the middle, for extra support, the boards were secured with two strips of wood.
The nails along the top were both functional and decorative. The nails went into the frame to secure them to the table. The last nail on the end hung out over the frame, so we cut it off underneath and covered it with silicone to keep it from snagging on anything.
I rubbed the stain on the nails with a Q-tip once they were nailed in place. They look nice and rusty now.
I painted "the box" or table runners, white to match the legs and then did a wash of Paris Grey and Old White ASCP to age it a little. I then finished it off with Johnson's Paste Wax. I just kind of slopped it on to give it a texture, to mimic many layers of paint
Because we built it to suit, it is the perfect size for the back of the sectional. And while I don't think it would win any woodworking skills awards, it is perfect for the space.
And I love it. I'm one lucky lady to have a hubby that's willing to help me in any way he can with my decorating endeavors!
I hope you are inspired to see what you can build. As I said, mad woodworking skills are not required, all you need is the desire and a willingness to try.
Here's another great finish to try. This technique is a perfect knock-off of Restoration Hardware's Salvaged Brown finish. Transforms the cheapest woods into a high end salvaged finish. Click here for the tutorial.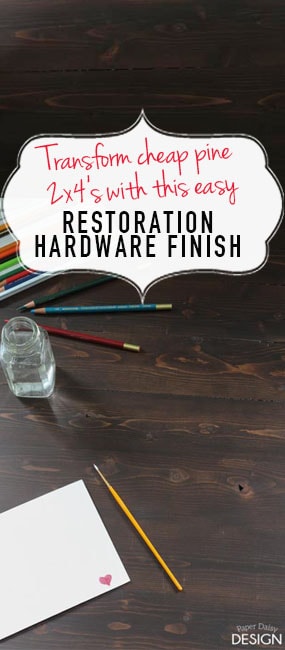 If you like this building project, you also might want to check out the tutorial and complete building plans for Kitchen Island Cart.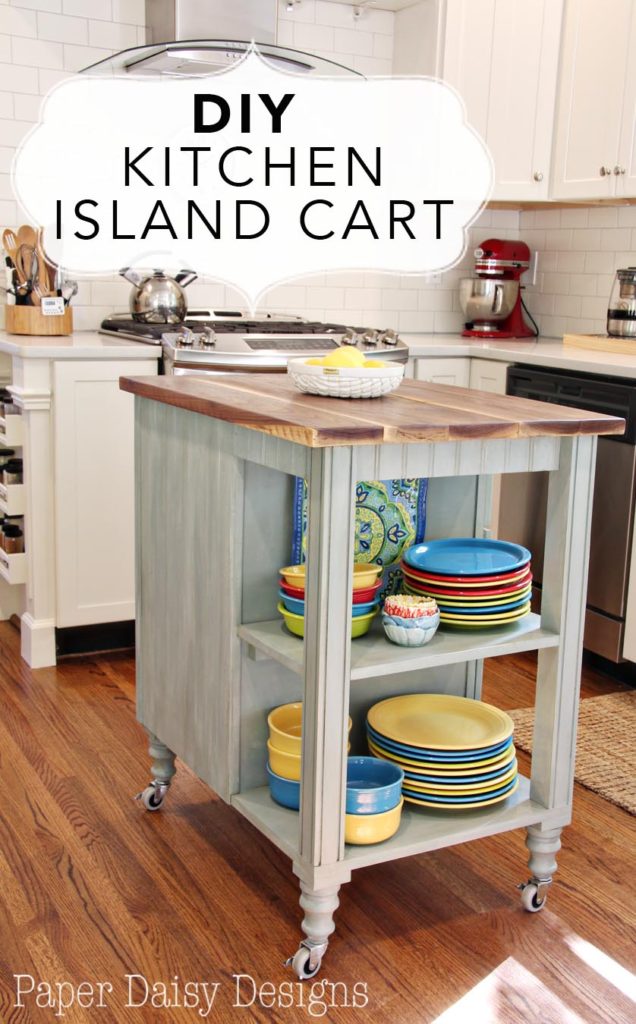 Thanks for stopping by! Feel free to share on your favorite social media! And check out my other thrifty DIY projects.