…what I found yesterday at my Hobby Lobby… the March issue of Scrapbook Trends! Guess who's layout is on page 47?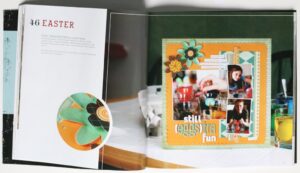 I was so elated, I walked over to the lady near me and showed her my layout. I know, I know that's a bit crazy, but what's a girl to do? I had to share my excitement with someone!!
I've always loved how they stage their layouts. So clever. The glasses are even like mine in the layout. 🙂 It's a knockout issue. Lots of Studio Calico represented this month and some great inspiration as always!
I'm also very excited about the crop I'm going to tonight with some ladies from my church. I haven't been to a crop in forever! It's a Happy Friday!!!
Thank you for subscribing to Paper Daisy Designs. Please continue reading on the blog. I appreciate having you as a reader.