Hello my friends! Welcome to my first Menu Plan Monday!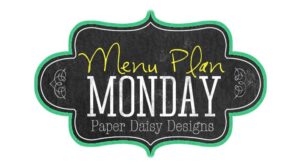 In effort to get myself more organized after being embarrassed by my daughter's Foods, Nutrition and Wellness class, I've been planning weekly menus.
Here's the Story: Her class was discussing grocery shopping and the teacher asked them to raise their hand when asked how often your parents go to the grocery store.
Um, she was the only student that raised her hand to the question, "Every Day?"
Yes, I will confess to being a nearly every day shopper, mostly just on the weekdays. I think I had convinced myself it was kind of European, wink, wink, getting only the freshest produce and meat. While it was true everything was fresh, it wasn't really working for me.
But after being schooled by my eighth grader and embarrassing myself, I realized I probably was wasting time and opening myself up to impulse buying. Not to mention, despite my very frequent trips to the store, I often resorted to calling one of my neighbors to see if they had that one ingredient I was missing from my pantry. I'm sure they rolled their eyes when I called around dinner time. 😉
I've been at this menu planning thing for 3 weeks now and it's going really well. 🙂 I'm not sure if I've been doing it long enough to make it a habit, but we are all finding the benefits of knowing what's for dinner and reduced trips to the grocery store.
Here's this week's menu. As you can see, I post the menu up on a chalkboard in the kitchen. Attractive, functional and free because I just moved this chalkboard to a wall in the kitchen from another spot in the house.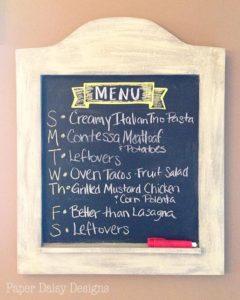 I promise as I can, I'll link up the recipes or share here. The day has kind of gotten away from me with designing the cute little banner for the blog, picking up my daughter at school, grocery shopping (Trying to make Monday my only day) and cooking dinner.
These are all standard fair at our house. No new recipes, to us anyway, this week.
Sunday: Creamy Italian Trio Pasta, recipe below
Monday: Barefoot Contessa Meatloaf, Hashbrown casserole, lima beans
Tuesday: Leftovers
Wednesday: Oven Tacos, Fruit salad
Thursday: Grilled Mustard Chicken & Corn polenta

Friday: Better than Lasagna, recipe below, green beans

Saturday: Leftovers
Creamy Italian Trio Pasta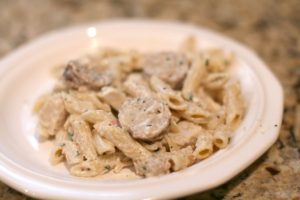 The trio comes from the combination of meats. When I first started making this recipe, I literally got cheers when would say this was for dinner.
1 8oz light (Neufchatel) cream cheese
1 c grated Parmesan, or 1/2 Parmesan and 1/2 Romano if you have it
1 1/2 cup Half and Half or evaporated skim milk
2 cloves garlic
1 pkg turkey Italian sausage
1 lb chicken breast
1/4 cup chopped pancetta, smoked ham or bacon
12 oz of angle hair or other pasta, I use gluten free now
3/4 frozen peas (optional-sometimes I add them sometimes not)
2 tablespoons butter, optional
Cook sausage according to directions. Cook chicken seasoned with salt, dried basil and oregano using your preferred method. If the weather is nice, I grill both the chicken and the sausage. Chop both and set aside.
Brown pancetta or bacon and garlic in heavy skillet until light brown. Start the noodles.
Add milk and cream cheese over medium heat, mixing well. (May need to whisk.) Add Parmesan and Romano cheese once the mixture is creamy. Finish with a few sprigs of flat leaf parsley, basil and fresh black pepper.
Prepare your favorite pasta according to directions.
Add a ladle of sauce to the bottom of a large pasta bowl pour in prepared, strained pasta, top with rest of sauce. Toss and serve.

Italian Casserole-Better than Lasagna
I've been making this casserole for many years. It's an adaptation of a casserole my Mother in Law contributed to a Mardi Gras Krewe cookbook. It's kind of a "loose" recipe, not really exact measurements. It does seem to always come out delicious. I like to error on the side of having a little lagniappe. (or a little extra sauce)

Most of the time now, instead of using can or jarred sauce, I've been using my homemade spaghetti sauce. Mmmm, mmm, mmm talk about good! I might share that recipe some time. 😉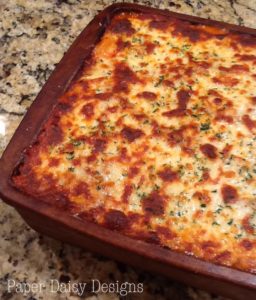 Better than Lasagna
10 oz noodles, gluten free
1 (8 oz) pkg cream cheese
2 28 oz cans of tomato sauce
8-10 oz grated

Mozzarella cheese
Make meat sauce. (I actually think you need a little more than 56 oz, but I can't remember I always tr

y

to error on the side of having too much sauce. If I

end up with extra sauce,

some times I use

it

to make pita pizzas.)
Boil and dra

in

noodles according to

package

directions. Combine with cottage cheese, sour cream, cream cheese and about 1/2 cup

Parmesan

cheese in large bowl. Season with salt, pepper, basil and parsley.(Fresh is best but dried will do.)
Spray casserole with olive oil and cover bottom with sauce, layer noodle mixture on top, then another layer of sauc

e.

Finish with the mozzarella cheese

.

Bake at 350 until brown on top about 30 minutes. (Or I often do 475 for 20 minutes

if I'm in a hurry.)
I've experimented with different pans. I used to assemble the casserole in a deep dish and layered it more than once, but that was difficult to serve. I use a 9×9 pan most of the time

now

and that work

s

out nicely with almost 10 cups of my homemade sauce I pull out of the freezer.
I hope you come back next week and see how I'm doing keep me accountable. I'd love to hear if you menu plan and please feel free to share any tips or brag worthy recipes. 🙂
Oh, and I eat gluten free, so all of my recipes are either gluten free or have been adapted to be gluten free.
Sharing Here:
Mealtime Monday @ couponingncooking /Totally Tasty Tuesday @ Mandy's Recipe Box / Tempt my Tummy Tuesday @ Blessed with Grace / Show & Share @ Southern Lovely / Hooking up @House of Hepworths / Tuesday Talent Show @ Chef in Training / Party Time @ the 36th Avenue / Party Junk @ Funky Junk Interiors /
Thank you for subscribing to Paper Daisy Designs. Please continue reading on the blog. I appreciate having you as a reader.