So today started out as most Monday's do. I got Emily off to school and had a cup of of tea while I checked email and read a few blogs I like to read. (Okay, maybe more than a few, but let's not go there right now.) I almost always go to the gym on Monday's because there is a class I really like, so I did that.
At lunch time, I made chicken stock. I have this new thing I do with bone-in chicken breast I get on sale. I cut off the thick part of the breast and save the bony part to make stock/soup. There actually ends up being a good bit of meat left for the soup and I have boneless breasts to use for grilling or another meal. Very economical!
Fast forward to the afternoon. Miles came home and we discussed his liquid diet and how he handled that at school today. (He got braces on Friday and can't chew because his teeth don't touch. I hope we can fix this problem tomorrow when the orthodontist is open.)
Anyway, I set to work on an Italian Chicken Vegetable Soup. It was a recipe I kind of just made up based upon a Minestrone I had made before. I was really happy with how it came out and thought I'd go ahead and share it with our neighbor on the corner who is scheduled to have surgery this week. I called and told them Miles was going to deliver the soup and they could decide if they wanted to eat it now or freeze it for later.
I call Miles down and ask him to bring the soup over to "Mr. L's" house who is the neighbor who lives on the corner and I thought all was good. A few minutes later I get a call from my back door neighbor, "Mrs. L" and she's telling me how much she liked the soup and how she was going to want the recipe. I'm totally confused, but I play along and tell her I'm glad she liked it, yadda, yadda.
When I hang up, I immediately call Miles back down and ask him, just to be sure, where did he deliver the soup? Well, he had indeed delivered it to the wrong house because both neighbors names start with an "L"!!!
Since I had just called the corner neighbor, I had to ladle another several servings of soup for them. I had Miles deliver soup again, making it clear where to deliver it. I then find myself with only enough soup for lunch tomorrow. 🙁
Oh, well. The mis-delivered soup went to a very sweet, elderly neighbor I hadn't talked to since it turned so cold. In hindsight, it was good that it went to her too. I guess I'll just have to make it again soon. If you'd like the recipe you can find it here.
On a creative note, here's a layout I finished over the weekend.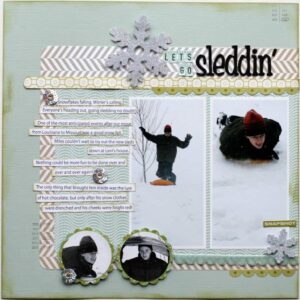 I have another layout almost complete on my studio table. Hopefully, I can share it tomorrow.
I can't close out my post today with out giving a shout out to the New Orleans Saints!! Man, there was some whooping and hollering going on at our house last night. I so wish we could have been in Louisiana enjoying the game with all our friends!! The Saints are Super Bowl bound! Whoo hoo!!
Thank you for subscribing to Paper Daisy Designs. Please continue reading on the blog. I appreciate having you as a reader.