It's week 4 of the One Room Challenge and if I didn't have one last secret up my sleeve, I would have told you this is a super boring post and you might as well swipe away or close your laptop. But instead you should keep reading….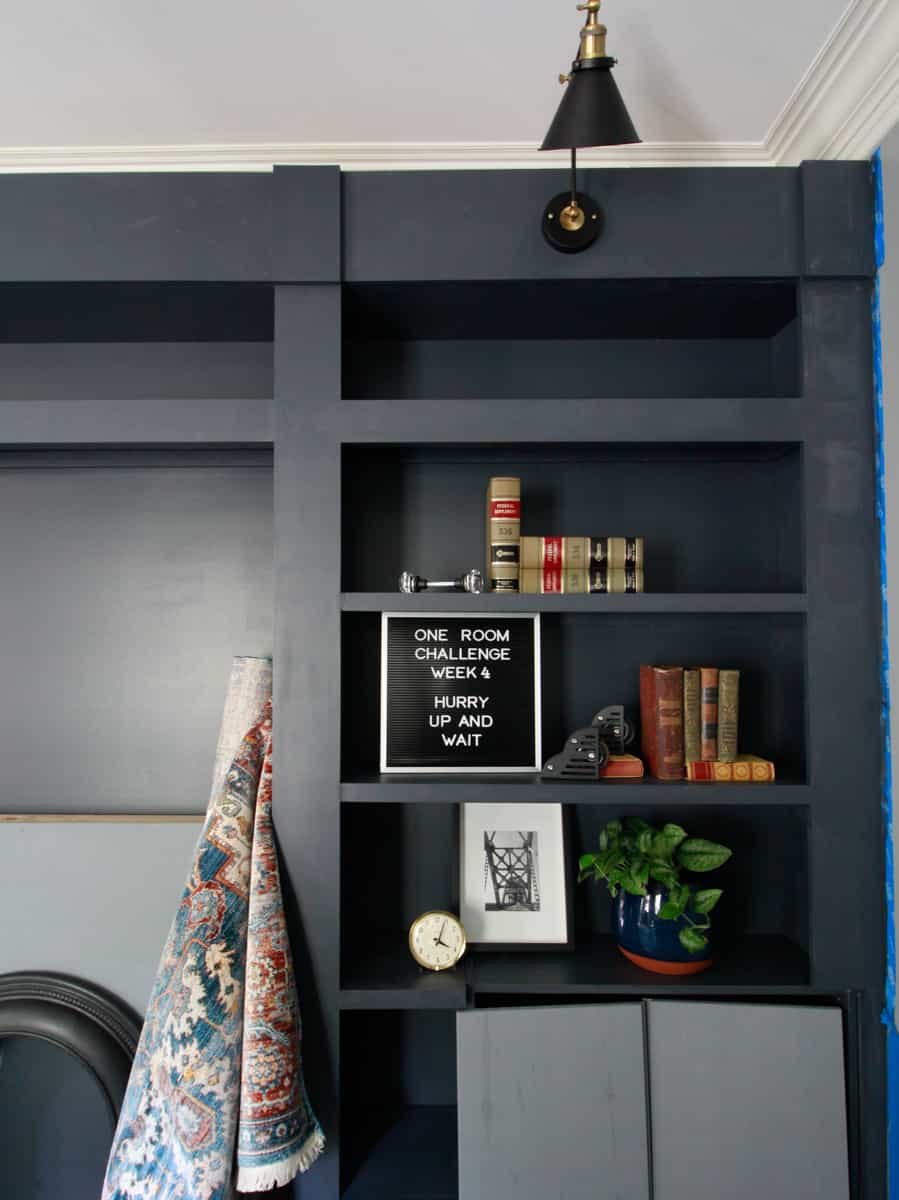 Hurry up and wait….
If you look closely at the photo above, you will see clues of what is still to come in the room. A hint at the art that will go behind the desk, some hardware for the antique doors and parts to the secret surprise I am going to tell you about in a minute.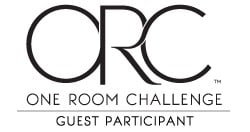 While I worked tirelessly on the antique doors, there is still not much to show for all the effort. Restoration of a pair of doors is painfully slow, especially when you use a product that requires at least a 24-hour cure time and hours of scraping.
In a complete and utter blogger fail, unless you've been watching  my Instagram Stories, I only have blurry screen shots of the progress of the doors to share. I was so focused on capturing video for a future YouTube tutorial on the paint removal product that I completely forgot to photograph stills for the blog post. I'm so sorry!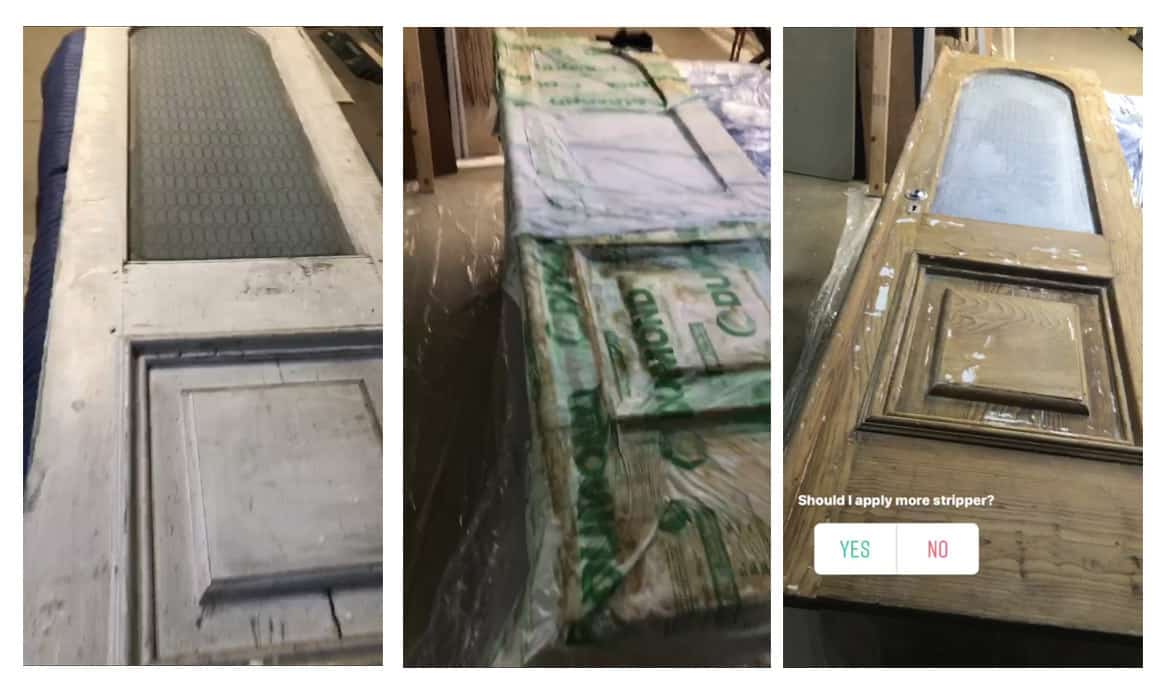 As far as the library wall, nothing happened there. The moulding from Metrie arrived on Wednesday afternoon which is thankfully much earlier than I had expected and will be the main focus of the work the rest of the week.
The fireplace surround is still on hold because I am waiting for tile to be located.  I shopped at a huge national tile store in town and found the perfect tile.  All of their stock, like four boxes of tile, are missing. Not a problem I thought, because I could order what I needed and it would be delivered in a few days. That's what they said a week and a half ago. They promise I will have the tile by Friday, but I'm not holding my breath.
Thank you for waiting until now for the secret surprise! Since it is not even remotely close to being added to the room, let's start with a few images that might give you a clue as to what is to come.
What do all three of these images have in common, besides the books? A library ladder!  I was so thrilled to finally find a supplier that sells the components for the sliding ladder that are affordable for the average DIY'er.
I'll share more about the source once I'm certain I can speak to the quality and not just to the price.
Here is a list of what is left to be done.
Add moulding from Metrie to the library wall. Paint moulding.
Finish and hang the antique doors. I've actually hired my favorite contractor to help and he should come before the beginning of next week. Hanging doors is a tricky business and these antique French doors will likely be a challenge we know we aren't ready for.
Finish the fireplace surround with tile and trim with moldings from Metrie.
Hang ladder hardware and build ladder.
Finalize artwork and decide on framing.
Style the room and turn it in to a library!
Oh, and add in a house full of family starting to arrive on Wednesday for our son's graduation from college on Sunday!  Should be a wild and crazy week ahead! Wish me luck!!
Many thanks to my sponsors, Metrie and Ryobi Powertools! I'll be sharing more about this next week!
Be sure to check in on the progress of the other participants here. At last count there were 240 guest participants in addition to the Featured Designers!
Can I tell you one more time how much I love the ORC?  I'm so thankful to Linda for hosting and House Beautiful and the Home Love Network for helping to make this fun event possible!