As the holidays approached, the one thing I was most looking forward to decorating this year was this little silver Christmas tree.
I picked it up at the end of season sale at Wal-Mart. I never opened the box until a week or so ago. From the photo on the box, I assumed it was a cute little retro tensil tree. Well, to my surprise it is quite the disco ball, psychedelic number. Obviously I've dolled her up to hide her true tendencies. 🙂
Now onto the ornaments. Once it was decided that the tree was going in the dinning room I thought it would be fun to have a few coastal themed ornaments. I had this crazy idea in my head that it was going to be easy to find ornaments that were kind of coastal at craft stores and the like, But apparently I forgot I live in the mid-west and coastal trees aren't the rage here.
So of course I had to make some of my own. I started with these glass balls, well they aren't really balls. they are kind of flat. I was going to swirl the inside of them with Duck Egg Annie Sloan Chalk Paint to match the dresser, but then decided because they were more flat than round, I could glue something to the outside. Enter the infamous junk drawer, where I had a stash of sand dollars Miles brought home from a trip to the beach before we moved here.
I simply used Gorilla glue to adhere the sand dollar onto the ornament. I also poured sand and small shells from this summer's trip into them. (And see, up-close, the tree is quite psychedelic.)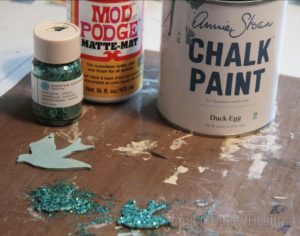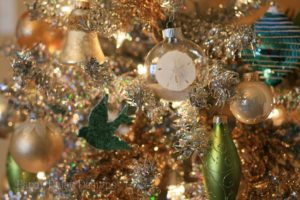 The other especially beautiful ornaments on the tree are antiques from my mother-in-law. I'm happy they have a safer spot on this little tree.
Linking this up to Centsational Girl's Holiday Craft Link Party and


Thank you for subscribing to Paper Daisy Designs. Please continue reading on the blog. I appreciate having you as a reader.