I know it's a little late to wish you a Merry Christmas, but I'm doing it anyway! I wish I could have done it sooner. I was swamped with design work, Christmas gifts and general everyday "busyness".
(Which I know is a statement we all loathe, but it sadly is often a state of life.)
Here's our Christmas card, which was inspired by the chalkboard I created for our Christmas mantle. (I'll share that next.)
So, did you have a wonderful Christmas? We did, well most of us. My dear husband suffered through Christmas with a terrible toothache. He did his best to let the rest of us enjoy our trip to Louisiana for Christmas. Here's a quick recap.
Great times shared with cousins and all our family.
Each time my cousins are together, we take a photo with my grandma. We are missing a few of my immediate cousins, but as you can see our family is growing. It's so much fun to share Christmas with little ones. 🙂
Miles has been "assisting" my step-dad each time we are home for a fish fry and this time he got to man the fryer. He did an excellent job!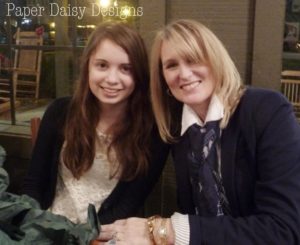 We even squeezed in a dinner meet up with friends along the way home. I'm sure you can figure out were we met.
It was not our first choice of restaurants, but waiting an hour at another place was not an option.
As always, the trip seemed too short, we certainly didn't get to visit everyone, but we were very happy to be home, sleeping in our own beds by the time we got home.
Thank you for subscribing to Paper Daisy Designs. Please continue reading on the blog. I appreciate having you as a reader.