So today I really didn't think I'd get to post anything on my blog. I had a busy day planned with lots of work to do and a run with a friend, but late last night my work computer crashed and a funky, scratchy throat surfaced, marking the lovely beginning of a cold. 🙁
So after a whine session with my best friend on the phone, I decided to take a nap instead of going for that run in the rain. Once I got up, not really feeling much better, I decided I really couldn't put off repairing the computer any longer.
I made a phone call to Apple to find out my best options. (I was actually just a little surprised they willing to answer a few questions without charging me. Although, I will need to call them and pay for help to fix some lingering issues.)
While I was waiting for the computer to run diagnostics, I surfed the web on the iPad, visiting some blogs I hadn't had time to read in a while. I read a wonderful post by one of my favorite "down to earth" scrapbookers, Cathy Z. Her blog is always entertaining and I love her casual and "true to her story" style of journaling.
This particular post was about her daughter becoming a sophomore, like our son Miles, and it really struck a cord. Please go read it here.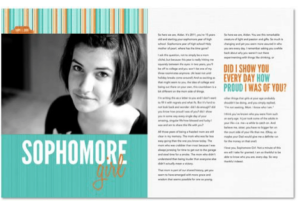 I left this comment, with tears streaming down my face.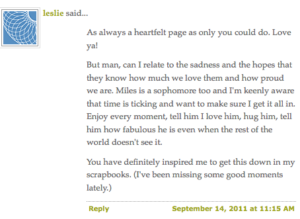 Right then I decide I NEED to create a page capturing these feelings, and soon. But not really right then, I had an appointment to keep.
When I returned home, got back to the computer to find that although it's running it's really limping and will need some TLC. I ran some more repairs and surfed the web again.
This time it was the lovely, always honest, always showing her heart, blog challenge post by Stephanie H. So I think I'm getting the message today in blogland.
I need to blog my heart and continue what I started with my comment to Cathy about Miles. So here goes.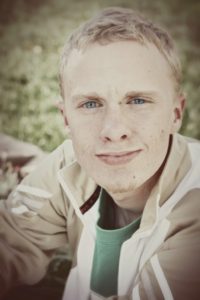 It really does hurt my heart to look at Miles sometimes now. I've noticed recently, like since school started, he is looking so mature. Not just big kid mature, but manly. He's really enjoying his independence, driving himself to school and swim practice. He seems really happy about that. I've adjusted.
We were asked at church a couple of Sundays ago to reflect on where were would be in the next 5 years and all I could think about was how I'd be trying to deal with Miles gone, off to college. I don't know how parents do it. I really just can't even go there emotionally.
The only thing I can do right now is to tell him more often how much I loved him, even if I know that he knows and really doesn't want to hear it again. I can hug him more, even if he has to bend down and it's slightly awkward, not just the mechanics, but because I know he's doing it for me.
Oh, how I wish I could go back to the days he could crawl in my lap for a hug or even hug me around the middle. Those days were so sweet and precious.
I need to make a conscious effort to engage him in conversations more often. That is not something he does naturally, but he is getting better really. But it takes effort to get beyond the, "It was good." response to "How was your day?" And honestly, I don't always take the time to go beyond that because I'm busy or find myself feeling like I don't want to badger him.
But I know that I have to let go over these next two years. I plan on doing it slowly. I have to rely on faith. Faith that he knows we love him and faith in the Lord that he has big plans for him. (That do not include living at home. lol)
I guess that's how people do it. You just have to trust and seek the Lord. I have this verse at my desk and just glanced over at it. Funny how over time or in a different circumstance, a verse becomes exactly what you need.
For I know the plans I have for you," declares the LORD, "plans to prosper you and not to harm you, plans to give you hope and a future. Then you will call on me and come and pray to me, and I will listen to you. You will seek me and find me when you seek me with all your heart. Jeremiah 29:11-13
Thank you for subscribing to Paper Daisy Designs. Please continue reading on the blog. I appreciate having you as a reader.