I feel obliged to tell the tale of my courtroom experience. 🙂 I showed up Tuesday morning and waited around on "lawyer time" as the marshal explained. Immediately, I found our local court system to be pretty snazzy. After the marshals did their bit explaining how the day would progress, we watched a video showing the courtroom, giving history and how the system works. I was highly impressed. Not by the local TV celebrity who narrated the video, but at the care they had taken to explain every detail and the quality of every detail. Tax dollars put to good use I say. (I can't make myself watch the local news shows here. They are so lame, each channel for it's own reason.)
The jurors were questioned. I was questioned about a past experience and just knew I was off. Well, once we were brought back in, low and behold my number was called. Big shocker.
The plaintiff explained his case. Yes, you got that right, the plaintiff explained his case. No lawyer for him. Man, did that turn from bad to worse as the day progressed. The defendant was a little old lady who hit him in a parking lot of a local grocery store. (Which if you are local, you know there is one grocery store in town on a busy corner that has the most complicated and annoying parking lot.) Anyway, it turned out that it was a case of "he said", "she said" and he was completely unprepared and didn't do his part to prove or even believe his case.
It didn't take long for the jurors to come to a consensus that he just didn't prove his case and we couldn't give him anything. As we deliberated though, I was reminded of the movie "12 Angry Men". No one was angry or anything, but we still had some discussion on how much we did or didn't believe his case. Very interesting dynamics to say the least. From those who just wanted to vote and get out of their to those who wanted to discuss in great detail.
So, anyway I did my duty and now I'm good for two years. I'm so glad it wasn't any kind of heavy duty case. The jury instructions on our little case were so complicated and full of legal mumbo, jumbo that deciphering that took the most amount of time.
That afternoon, I came home shortly after Miles did and discovered he had a fever to go along with the congestion that had started the day before. He complained of a headache and I was so worried he had the flu. And although he is home sick again today, I'm fairly certain it's just a virus. His fever is gone, but he's still too puny to go to school today.
No real creative things to share today, but I do have a culinary bit to share. Through Cathy Z. I discovered Penzeys Spices and have become a new best customer! I can't wait until my whole spice cabinet is filled with these simple clear jars. I've placed two orders now and have bought their clear jars and nice sized bags of spices. Once I've filled the jar, I've put the rest in the freezer. The quality is phenomenal and the price seems good too. The little jar of greek seasoning was a free gift! Gotta love that!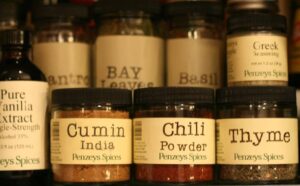 Thank you for subscribing to Paper Daisy Designs. Please continue reading on the blog. I appreciate having you as a reader.