Just as soon as I said I was back, we left town for a week to visit our family in Louisiana. After a few days recovering, laundry and getting things done around the house, I started scrapbooking again. This month's Studio Calico kit was call me! Specifically, a layout by the wonderfully, talented Emily Pitts. I loved the college look and what she did with one of the stamps this month. I RARELY scraplift layouts, but this one was totally inspired by hers. The photos are from our recent trip home. Most of what I've been scrapping, when I've actually been doing it, has been old photographs. I need to try and be more balanced with old and new.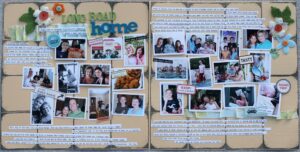 Yesterday was a rainy day, but during one of the breaks in the showers I went outside to photograph the sunflowers in the garden. (I was worried the rain would disfigure them.) But what I was most happy with when I viewed the photos on the screen were the photos I happened to shoot of the mandevilla that I'm trying to grow up the pergola. (Who knew mandevilla aren't natural climbers? I've been very frustrated they are going have to be tied up on the post. They are pretty though.) I loved seeing the rain drops on the leaves and flowers, but was disappointed by the lack of contrast between the white flower and the overcast sky. I started playing with the photo and came up with this. Pretty neat, huh?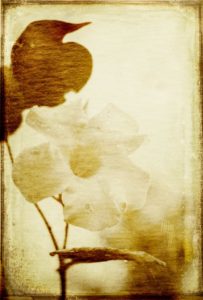 Thank you for subscribing to Paper Daisy Designs. Please continue reading on the blog. I appreciate having you as a reader.