I must have been busy recently because this layout has been on my table for at least a week. I do have to say, at least the longer it stayed, the better it looked. I'm really struggling to be creative on DS pages. The sewing was added as a last touch. I discovered it's not that hard to sew in a circle, but it is a little tough to maneuver a 12 x 12 piece of paper around the machine. Oh well, they tell me perfection is over-rated right?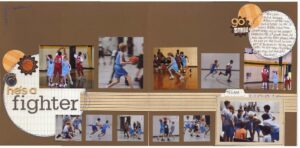 Off to enjoy this beautiful day. Going to hit the trail with the dog! The weekend is supposed to feature less than perfect weather so I better enjoy it while I can.
One last image, these are continuing to make me happy every time I leave and come home!! So happy I took the time to plant these last fall.
Thank you for subscribing to Paper Daisy Designs. Please continue reading on the blog. I appreciate having you as a reader.