Monday was pretty good as Monday's go. I didn't get to accomplish as much as I had hoped. But isn't that often the case? I did get to run on the trail and it was glorious. Well, the run wasn't really great, my foot was acting up, but the weather was stellar!
I had some errands to run for a new project I'm doing for a client. Invitiations again! Who knew I'd get requests for that? Fun though.
Monday morning I finished this layout. Such a happy layout! More photos of her birthday celebration and journaling inside.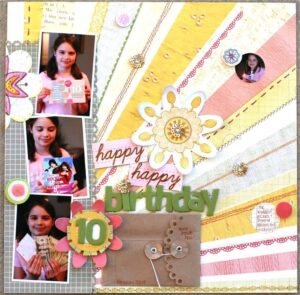 Today, the kiddos are off for school for election day, but there doesn't seem to be anything to vote on here. Thank goodness the streets have been void of signage and the like. Got to sleep in and then headed to the healthclub. Made for a great start of a day. Especially the sleeping in part.
I should probably go outside and enjoy our beautiful weather. Need to pull weeds. Or if I don't pull them will the just shrivel up and go away over the winter?
Thank you for subscribing to Paper Daisy Designs. Please continue reading on the blog. I appreciate having you as a reader.