I think I can say Halloween was good fun for all! Miles dressed up to go with a friend to a church function. We pulled this hippie costume together Saturday afternoon. Too funny!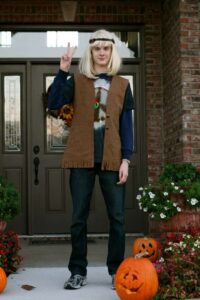 Emily went trick-or-treating with her best friend Abby. She is currently reading the Harry Potter series. So much fun to hear her enjoy the series. Not sure you can tell from the photo but we used the wet hair braid technique to give her curly Hermione hair.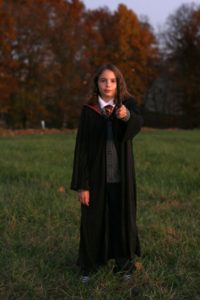 After collecting loads of candy, her friend came over and we kicked Richard off the front TV (He was watching baseball, I think.) We were ready to watch the first Harry Potter movie, Sorcerer's Stone. Emily really enjoyed it, but like the rest of us she was hung up on all the things they left out of the movie. I actually found it to be better than I remembered. 🙂
Currently working on a new layout in between doing the laundry. Have to mix the good with the bad. 🙂 Hope to share it tomorrow!
Thank you for subscribing to Paper Daisy Designs. Please continue reading on the blog. I appreciate having you as a reader.