Isn't great when all is going right in your little part of the world? Here's a few things that are making me happy:
Miles is eating!! It was absolutely the right thing to do to go back to the orthodontist and beg for them to do something. They removed the bottom four brackets so he can chew again. Now what this does to his time with braces, I don't really care. I just needed for him to eat!
We had a great weekend. The kids both had their first basketball games. (Making me realize I have lots of basketball still to scrap from last year!!) Other than that, nothing exciting just one of those weekends we just chilled. Didn't get as much scrapbook done as I hoped, but oh well.
I found out on Sunday I was selected as a finalist for the Scrapbook Nook Design Team. Very honored to be chosen. We'll see what happens, but I was super thrilled to be in such talented company with the other finalists.
I finished this layout on Friday. I love that I resurrected these old CK foam stamps. I used my Maya Mist sprayed on a craft mat as ink. It worked like a charm. I think I'll have to do this again.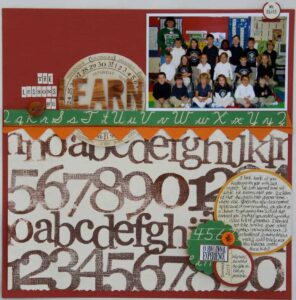 Well, since it's Monday I'm off to the health club. I'd like to be there on time today. 🙂 Gotta go!
Thank you for subscribing to Paper Daisy Designs. Please continue reading on the blog. I appreciate having you as a reader.