Friday was busy with Grandparents/Special person day at Emily's school. I volunteered in the morning and returned in the afternoon to be her special person. It was bitter sweet. I was happy to be there with her but sad she couldn't have a grandparent there. I also realized this would be her last Special Person Day. Next year she's moving up to middle school and fun events like that are gone.
Since I was all dressed up, I texted the hubby to ask him to take me to lunch. We hadn't had a lunch date in a while. It's such a good time to reconnect and talk about work, etc. without the kids around.
This morning was the memorial service for one of my dear friends from my PEO group. I didn't have the pleasure of knowing her long, but she was definitely one of my favorites. She went out of her way to make me feel welcomed and was such an amazing person. She was truly dedicated to helping others and felt strongly about her relationship with the Lord. I hope I can be half the person she was when I grow up! 😉
In between scrapbooking today, I was consulting Miles on his Social Studies project. He's done pretty well with it, but I had to help him condense a confusing and complicated Native American story. And for some reason, he decides to use my computer to do these projects.
I also picked quite a few roma tomatoes and my very first cantaloupe was ready to be picked today! I think I'm going to have to make fruit salad tomorrow!
So without further ado, here is a layout Richard says is one of my best. 🙂 I think it's because he agrees whole heartedly with the journaling.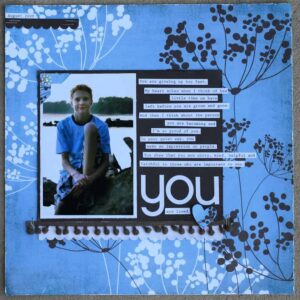 Thank you for subscribing to Paper Daisy Designs. Please continue reading on the blog. I appreciate having you as a reader.