I wanted to finally share with you the last dresser I did before winter really hit around here. It's a shame really because after a couple weeks of cold, where I told the world, I was done painting for the season we had some unseasonably warm weather.
Here's the before, cue horrible iPhone photo. 🙂
I thought this piece would be a piece of cake. I'd clean the piece really good, especially the top, a little light sanding and get busy painting. I thought I'd have this piece done in no time. I'm sure that's what my client/friend thought too.
But you see those spots on the top? Those were a lot worse than they seemed. After one coat of Coco Annie Sloan Chalk Paint I knew I had a problem on my hands. The spots seeped through the paint and then seeped through Kilz. I ended up stripping the top.
Figure in some freezing temperatures off and on and this piece took a record 3 weeks to finish. Not good.
But the results, oh, I think they were good. Really good and most importantly my client loved it.
The original hardware was painted with brushed nickel and the sides were accented with 2 pearl finish craft paints. Of course, I finished the whole thing with several coats of Johnson's Wax.
She's a beauty don't you think? Sharing with…. thirty handmade days and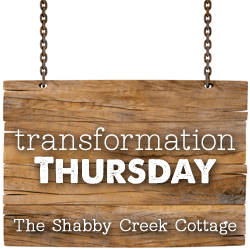 Thank you for subscribing to Paper Daisy Designs. Please continue reading on the blog. I appreciate having you as a reader.