I finally have another scrappy post to share today. 🙂
I was ready to take down the Christmas card display this weekend and decided to make another scrapbook page out of the photo cards. I have been hanging them on the laundry room door for a couple years. It's a door most often kept closed and pretty visible. You can see this door at the end of a "hall" just as you pass the stairs.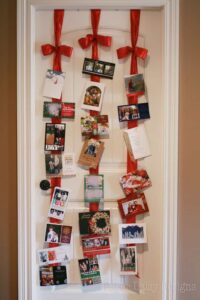 I try to keep the layout to one page, so not every photo card gets used, but I try and rotate our friends and family year to year. 🙂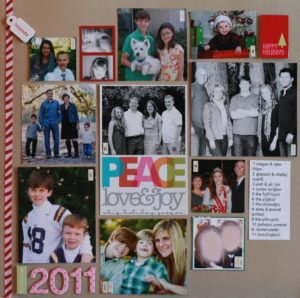 Supplies: Ribbon from Elsie, Letters from American Crafts, Chipboard stickers & number stickers from Making Memories.
I often use a portion of a card for embellishment too. This year I just loved the bright and happy "Peace, love & joy"
Admittedly, I have been having so much fun putting my creative efforts into decorating and painting projects that I didn't have much time for scrapbooking. I have also been in a bit of a "paper funk"! When I created this page today I realized that the "funk" I've been feeling is probably rooted in my printer situation. Just trying to print the names out was a complete headache.
I have an Epson Artisan 800 which has become a mighty ink hog and is constantly requiring that the heads to be cleaned. Hugely frustrating.
The other printer I bought about a year ago (because I always felt the Epson printed photos too dark) is the Canon Selphy CP780. I loved it. I always got great photos that came out they way I expected. I even figured out how to outsmart it and make it print mini photos. It was great. And then sometime this year I finally got around to upgrading my Mac to Lion and found out that Canon has no intentions of creating a driver to work with Lion!!! Grrr!
Hence, my frustrations with scrapbooking. I had really gotten used to the process of printing the photos I wanted at the exact size and time I needed them. 🙁
I'm going to have to figure out a solution because I was invited to return to GCD Studios as a Layout Designer for another year! I am so excited to have another year of fun with GCD Studios and Heidi Sonboul, the design team coordinator, who got her own line this year! Yea for Heidi!
It's so very cute! And Happy!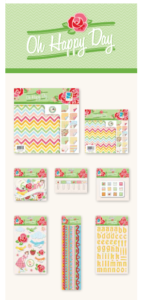 The other lines are equally as fabulous, but this one called Splendor by Heather Tozzi is stunning. I could use these papers to decorate my house and plan on some incorporating some decor projects!! Love it!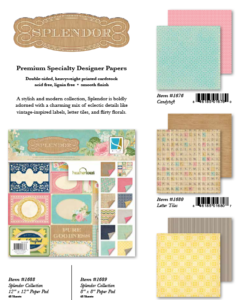 I can't wait to get the new stuff and start creating layouts for the CHA Winter show!! I better figure out how I'm going to outsmart, out-wit or just be plain happy with my printers.
Thank you for subscribing to Paper Daisy Designs. Please continue reading on the blog. I appreciate having you as a reader.