If you were to take a look at my "Beautiful Bathrooms" board on Pinterest, you'd come to the conclusion rather quickly that I adore marble clad bathrooms. And if you follow me on Instagram, then you may remember getting a peek at our marble tile options for our master bathroom renovation.
This post is sponsored by Jeffrey Court Tile available through Home Depot.
A marble bathroom is timeless, classic and refined.
Please, be respectful of the original owners of these images and Pin from the source given below the photo.
With just one glance, a marble bathroom exudes an air of luxury. What I love about the look that marble brings to a room is the fact that it complements pretty much anything in your bathroom.
An expansive walk-in shower adorned in marble creates an elegant, spa-like oasis. And isn't that what we all want to make?
Don't even get me started on soaking tubs. This one below is just dreamy, masterfully tucked in an arched, tile-lined cove.
For our tub, I've planned the perfect way to save some big money and use a standard roman tub filler. Instead of an extremely costly freestanding tub filler or a wall-mounted one like this image shows. The look will be very clean, simple, and will use less floor space.
Thankfully, I happened upon an open-box, freestanding tub a month ago, making my tub purchase a half-priced deal!
It won't be long before this room will become the marble retreat I have dreamed of.
Well, hopefully not too long. We are a week into our renovation. Everything has been demolished, the old jetted tub was hauled to the curb. The new subfloor has been installed and the reconfigured shower wall has been built.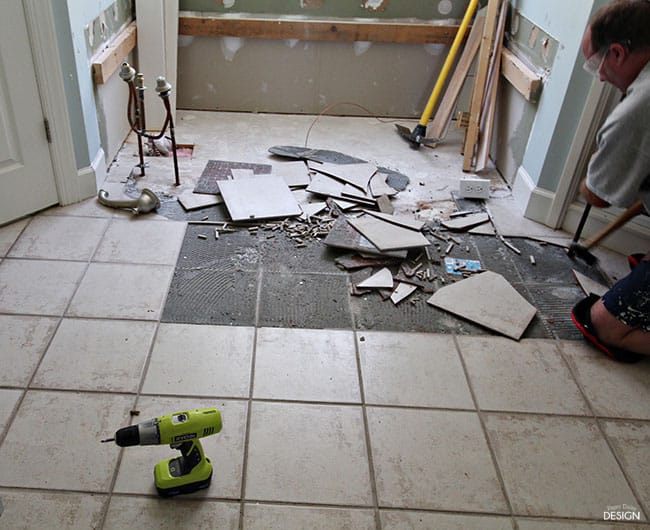 However, we hit a few unexpected issues with areas of the floor being out of level. Areas that had previously been hidden under the carpet. We are working to get back on track, although it will be at a much slower pace because I'll be working on my own during the day.
For now, it looks like I'm really into orange. On the walls and on the floor are the Schluter Systems. We are using the Kerdi Shower Kit & Waterproofing Membrane and the Ditra Heated floor system.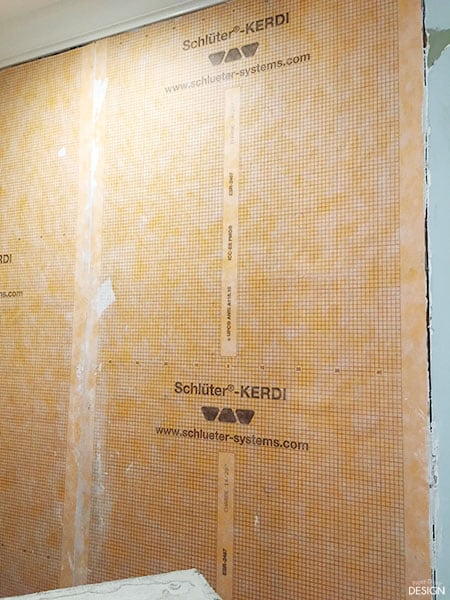 Both add extra steps to the overall renovation time, but we want it done right. Our previous shower was sloped incorrectly and we found ourselves standing in a puddle of water every day. And I won't even tell you what that shower pan smelled like when it came out.
And this winter when we fire up the heated floors, I know I won't regret the extra time, effort and costs.
Our garage looks like part of the Jeffrey Court Marble warehouse has been moved here from California.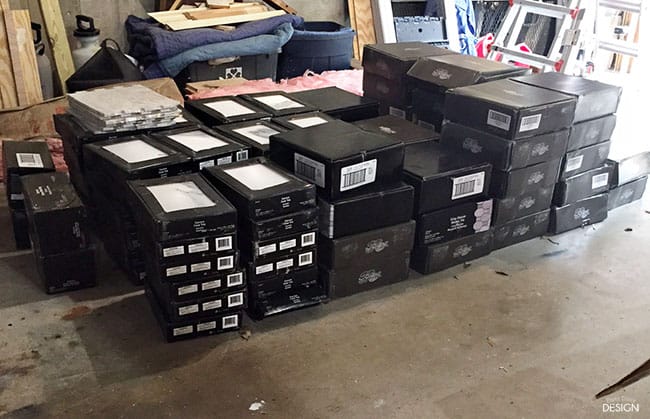 The floors are properly prepped we are hoping to move this renovation along more quickly and get busy actually laying tiles. Look forward to sharing a full reveal soon. But honestly, it will likely be another week or so at a minimum.
SO, let's keep this pretty image in our heads for now. Focus on what the end goal. Focus on the beautiful stone.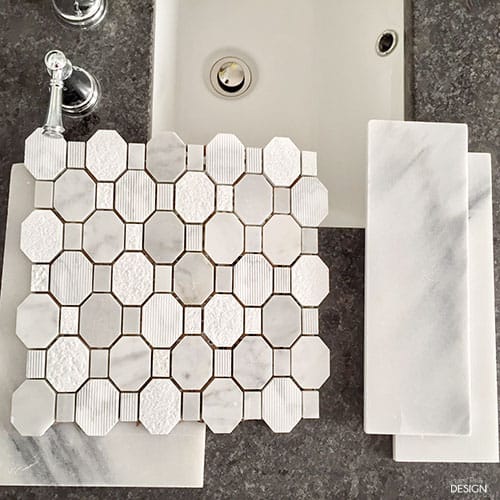 The final marble selected is shown above, Crisp Illusion mosaic marble and two different sizes of honed Carrara marble, 8×12 and 4×12 from Jeffrey Court. We previously installed honed granite with new sinks in Phase 1 of our Master bathroom makeover. You can see the budget, in-between makeover here.
Can't wait to see more beautiful marble bathrooms? Be sure to check out my board on Pinterest.
Follow Paper Daisy Design's board beautiful bathrooms on Pinterest.
A big thank you goes to Jeffrey Court tile for providing the beautiful marble tile for our renovation and sponsoring this post. This post also includes affiliate links for your convenience.