As I mentioned last week, the teenagers and I are in Louisiana. Miles is at a youth seminar and Emily and I are visiting family and friends. It's been so good to have a relaxed time with everyone. Usually our trips are hurried and we hop from one house and one event to the next. Well, actually it often feels like from one meal to the next. Anyone relate?

I'm not meal planning this week, but I promised to share my favorite go-to dessert recipe. It is gluten free, but I promise everyone who tries any variation of this cookie recipe would never guess in a million years it's gluten free.
Chocolate Chip Cookies have always been a dessert our whole family just adores. I don't buy store bought cookies, ever, and haven't for quite a few years. I do, however, make up a batch of cookies about every 2 weeks.
Since going gluten free, I have tried many chocolate chip cookie recipes. They have come out a flat, gooey, tasteless messes. But after trial and error, I found and adapted a recipe that we love. Here's a link to that recipe. (Sorry I'm not using my photo here. I couldn't find one before we left and we usually make them at night which makes for poor food photography.)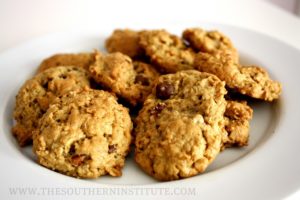 Source:The Southern Institute
Here's where this recipe post get's exciting. Not only do I make these cookies often, I have found some fun ways to make them even more special.
How's this look?
Yep, I put the cookie dough in a ramekin and serve with ice cream. My recipe makes enough to fill 8 ramekins. It's a fantastically easy dessert for company.
The next recipe I adapted to my cookie dough is Carmelitas.
These are really decadent. The only drawback to this recipe is you really have to wait for them to cool completely to eat them. Otherwise, they are almost too gooey and rich to eat. I know that's hard to believe, but trust me once the caramel sets and they are cut, you can truly enjoy all the layers in this bar cookie.
Here's a link to my Gluten Free Carmelitas.
I do hope your family loves these cookies as much as mine do. I get requests to make them about every other week. I know that might sound kind of indulgent, but I haven't bought cookies from the grocery store in years. So I don't mind making them for them when they get a sweet tooth.
Thank you for subscribing to Paper Daisy Designs. Please continue reading on the blog. I appreciate having you as a reader.