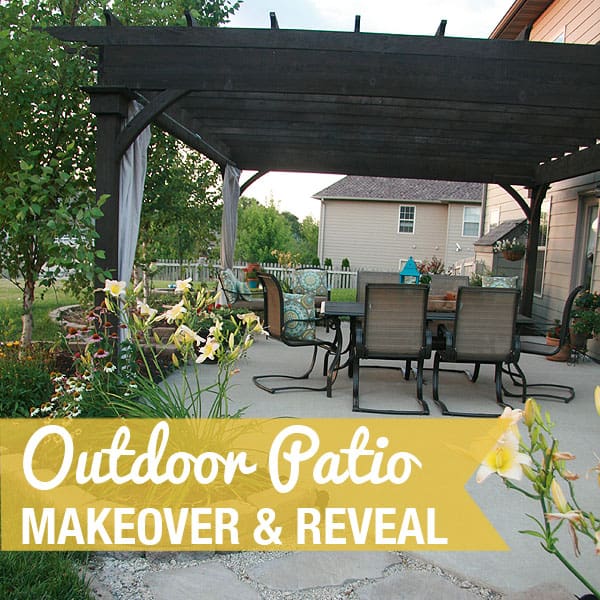 Over the last few months I've sneaked out a few photos of the various projects for the makeover of our back patio. First in order was to add some cozy seating.
Do you remember this thrifty up-cycle table? I just love the whimsical feel it has. Perfect for between these two chairs, which happen to be Craig's List makeovers. I'll be sharing about their makeover in a few days.
The other grouping of chairs is made complete with the table I created from a wooden chair.
Next on the to do list for the patio makeover was to refresh this dinning table and chairs. They were perfectly functional and most importantly very comfortable, but the table was in desperate need of a new top and a fresh coat of paint. See how we gave the table a new look here.
Here's what the pergola area looked like two years ago soon after we built a raised bed around the slab.
It's so exciting to see what two years can do for trees. Just look at this area now.
Did you notice the other change?
The final step in the makeover was to stain the pergola we had built about 5 years ago. I think it totally finishes off the space.
We had added drop cloth curtains a few years ago to block the evening sun. They were the perfect solution for dinners spent outside. The back of our house faces due west, so the setting sun was really almost obnoxious around dinner time.
I love how the darker pergola makes the area feel like a defined room.
After we finished the table, there was still nearly a full gallon of stain leftover. It seemed obvious to me that the pergola should be next on the backyard makeover list. It took a little cajoling to convince my dear hubby this was the case. 😉
I was happy to use the leftover stain instead of letting it go to waste. I just wanted the color to be a little darker and less green. I truly love the outcome and glad the patient people at Lowes were happy to work with me to get the color I imagined.
After nearly 5 years of slowly trying to make this blank space feel like an inviting outdoor room, we are finally using the patio the way we had always hoped.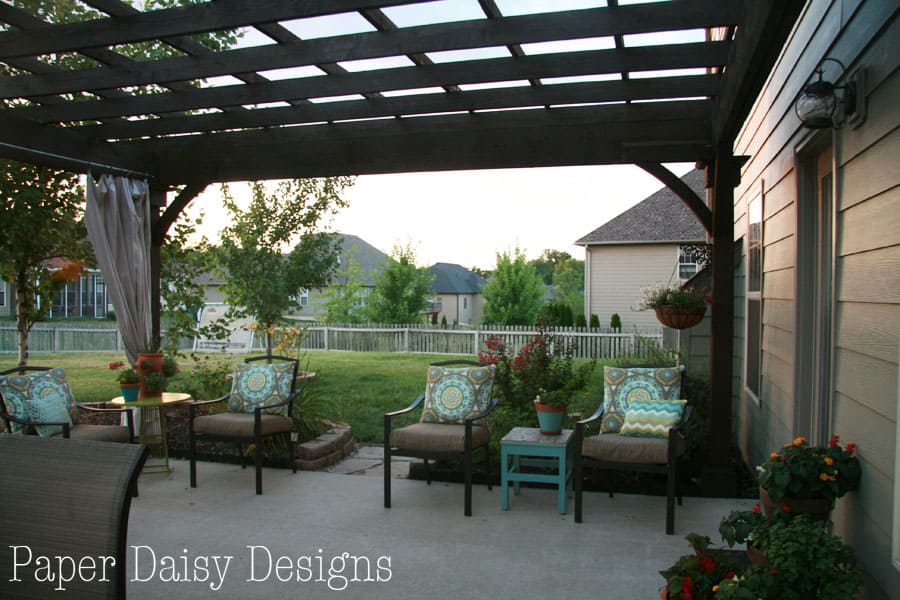 Not only have we enjoyed dinners and having friends over to relax on our patio, I often enjoy my morning tea here.
It goes to show that any blank space can become a sanctuary with a little persistence and creativity.

S