This is a sponsored post written by me on behalf of FrogTape®. All opinions are 100% mine.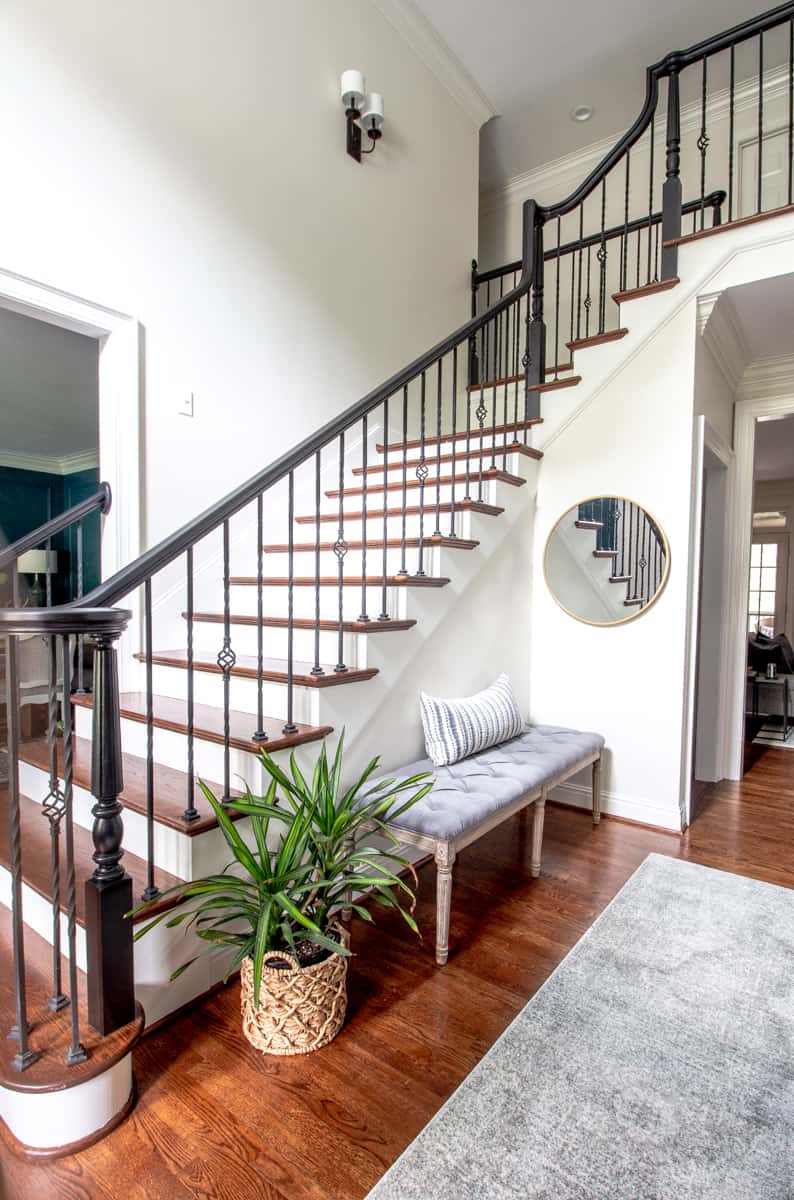 In today's tutorial I am sharing how to paint trim, stair risers and handrails with perfectly crisp lines every time!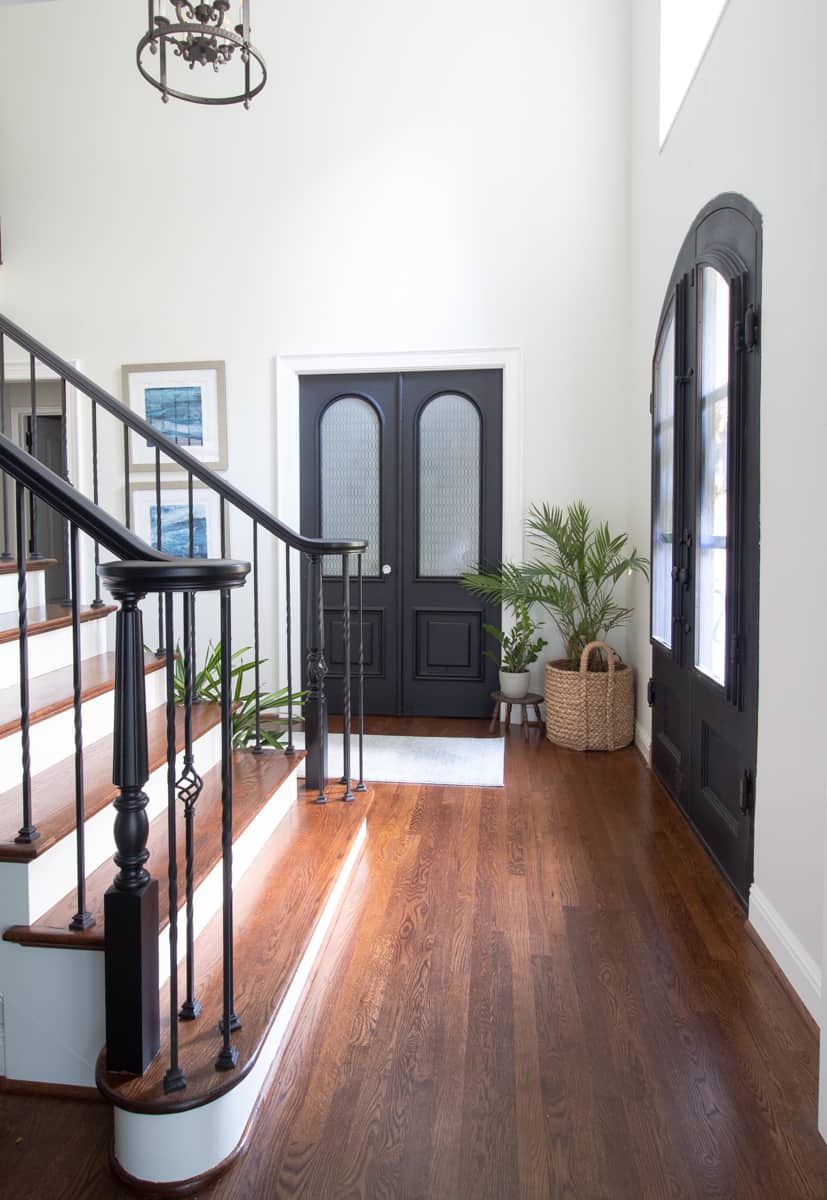 This is one of those projects I've set aside for longer than I should have. Now that it is done I couldn't be happier with the fresh, crisp white paint and the new and improved look for the stair handrail. And of course, I regret not doing this sooner!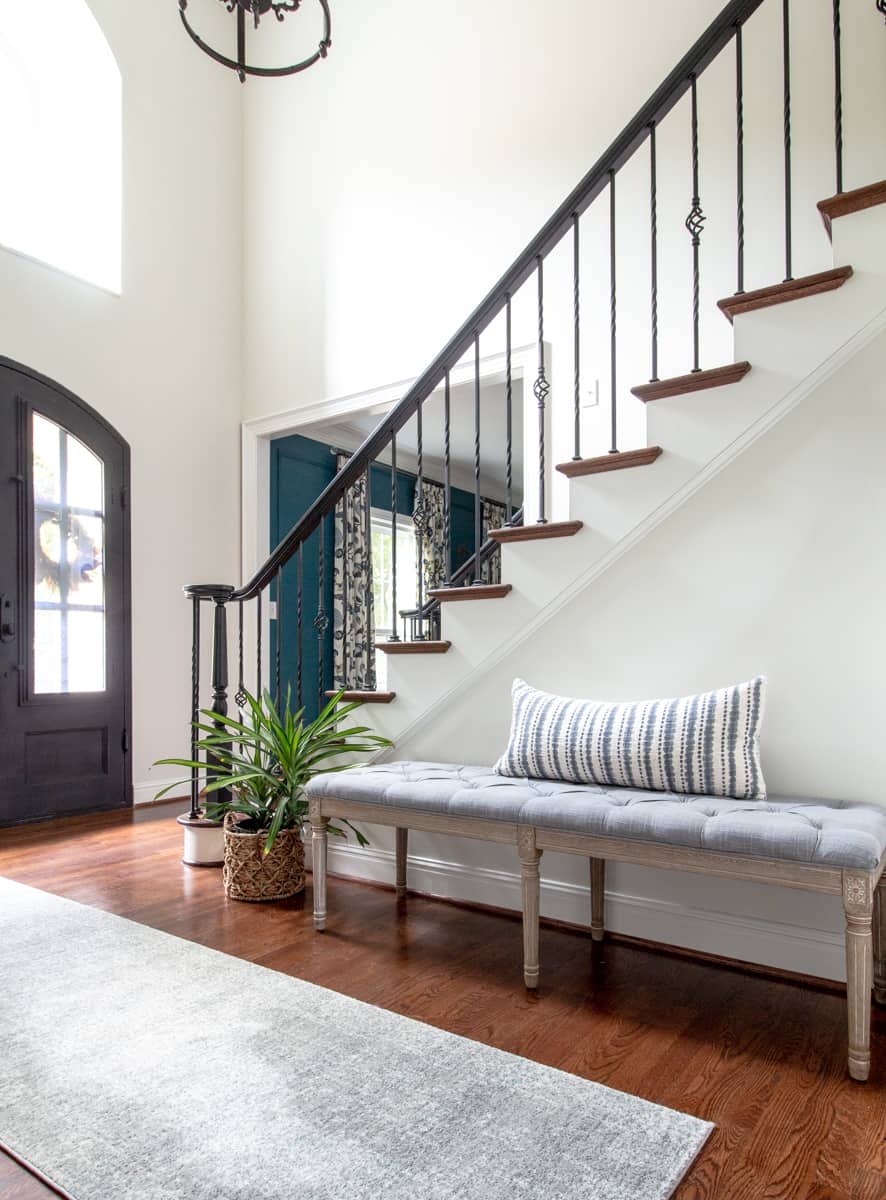 I guess it is inevitable that stair risers get dirty and scuffed, but as a result of having our floors refinished there was evidence of the mess they made in the process.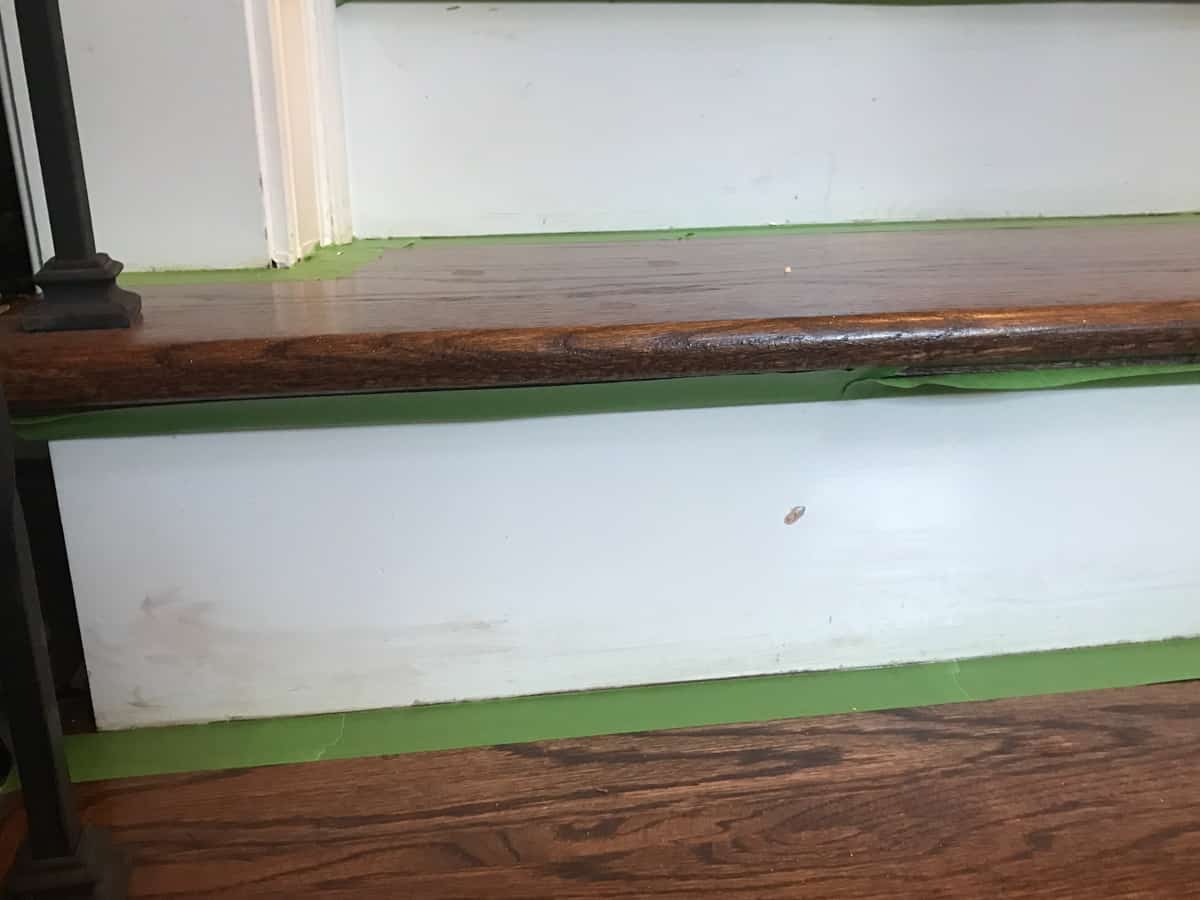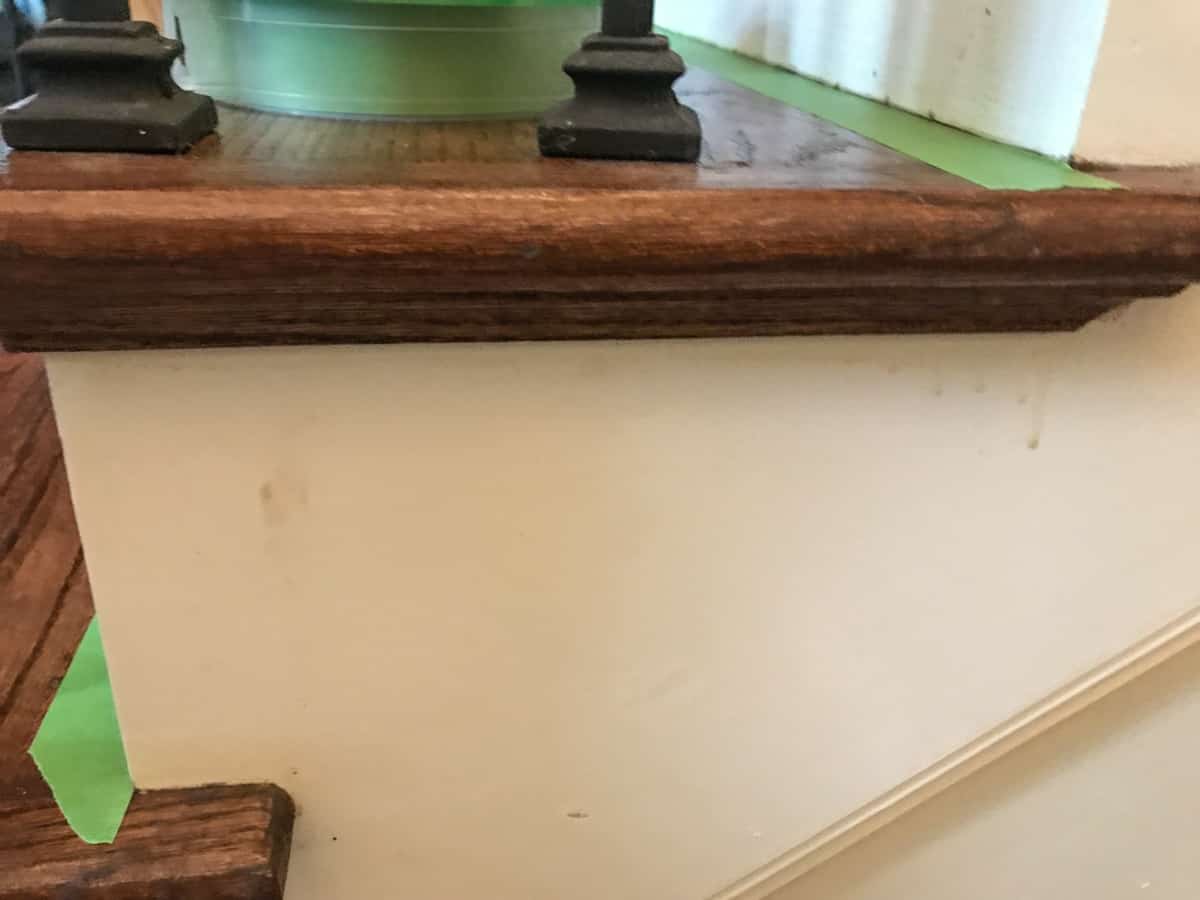 A job this precise requires painters tape you can count on. The finish on the stair treads would be ruined otherwise. All FrogTape® brand painter's tapes are treated with a unique PaintBlock® Technology . A super-absorbent polymer reacts with the paint and instantly gels to form a micro-barrier that seals edges giving you crisp, clean paint lines the first time!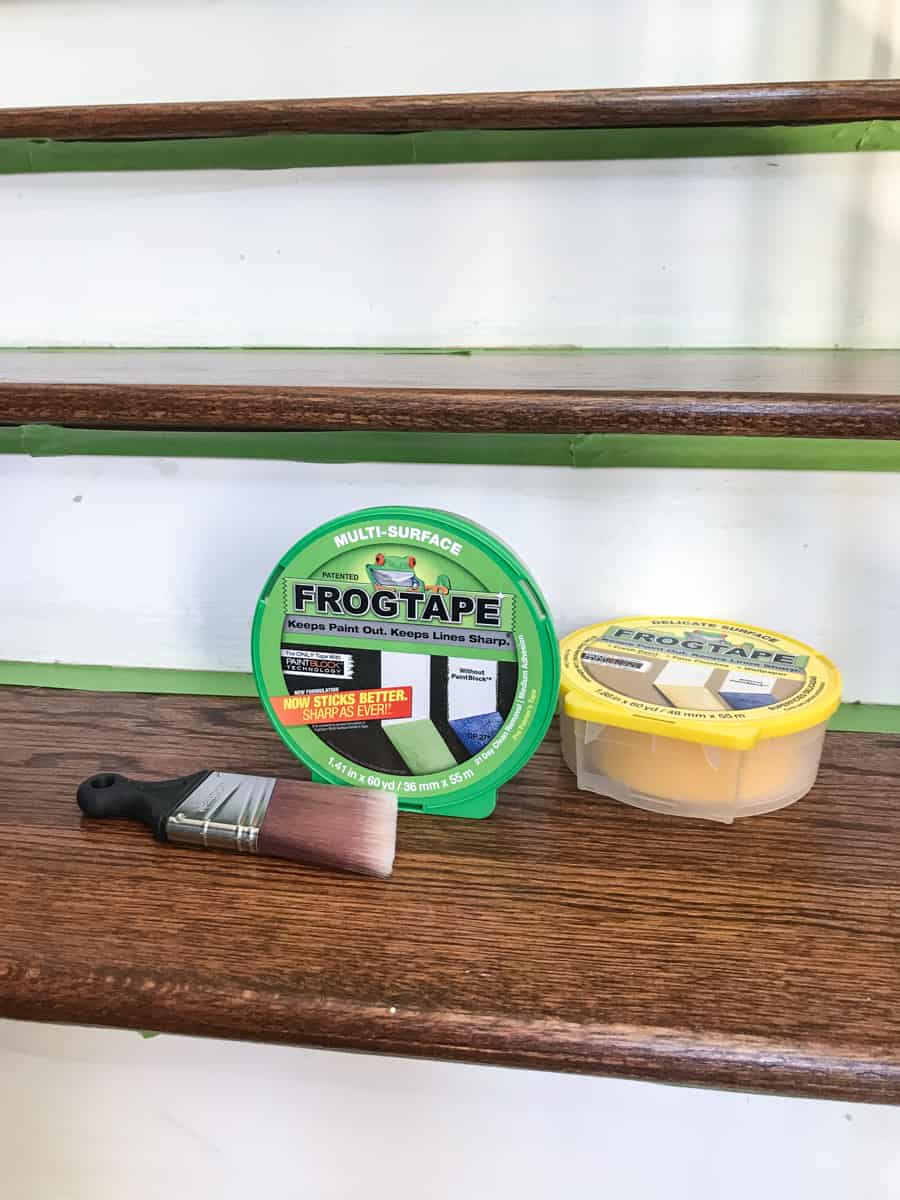 We also painted the trim all along the stairs and foyer. The walls had been painted when we moved in, but in our crazy, paint everything before we move in mode, the work was not perfect and we skipped touching up the baseboards entirely.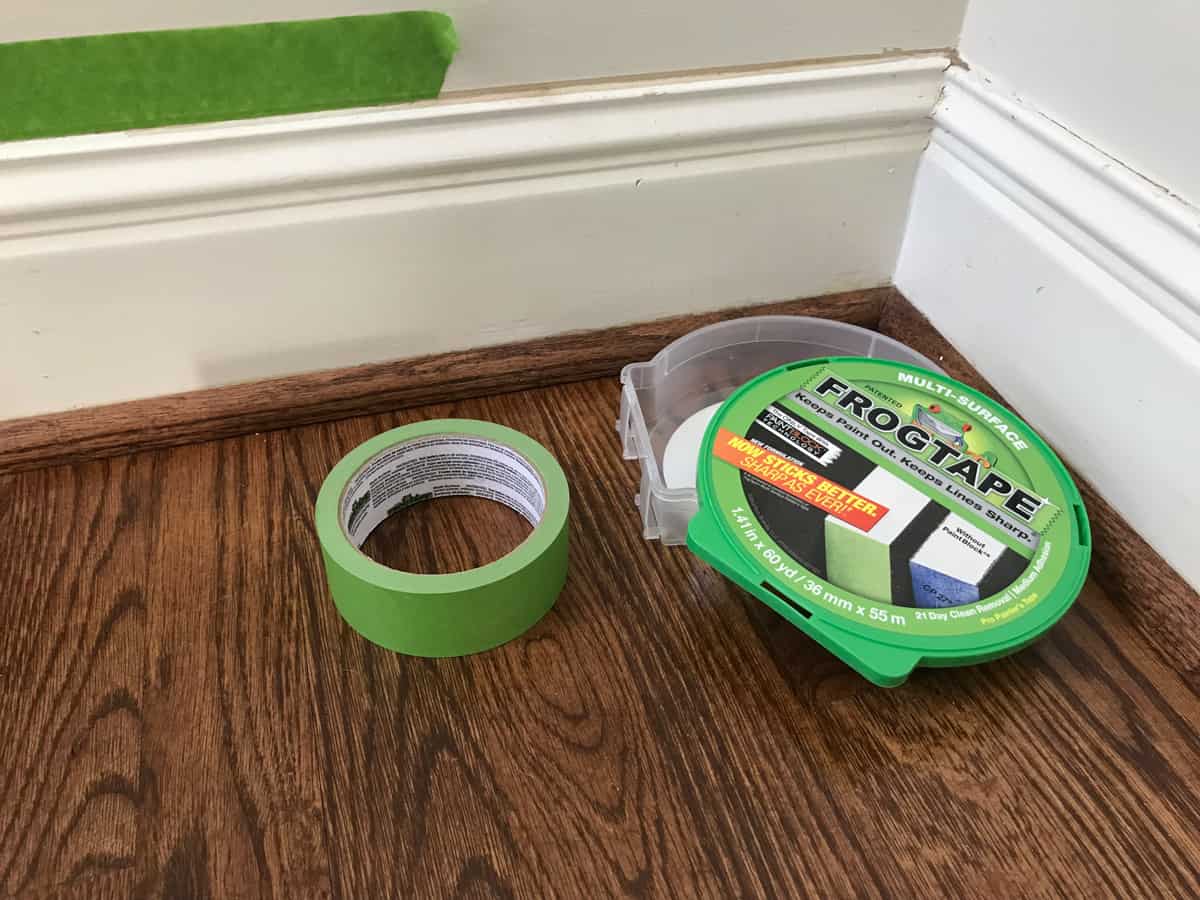 After applying FrogTape® to the top of the baseboards, I ran another strip along the shoe molding. It is important to run your fingers along the edge of the tape to insure a tight bond.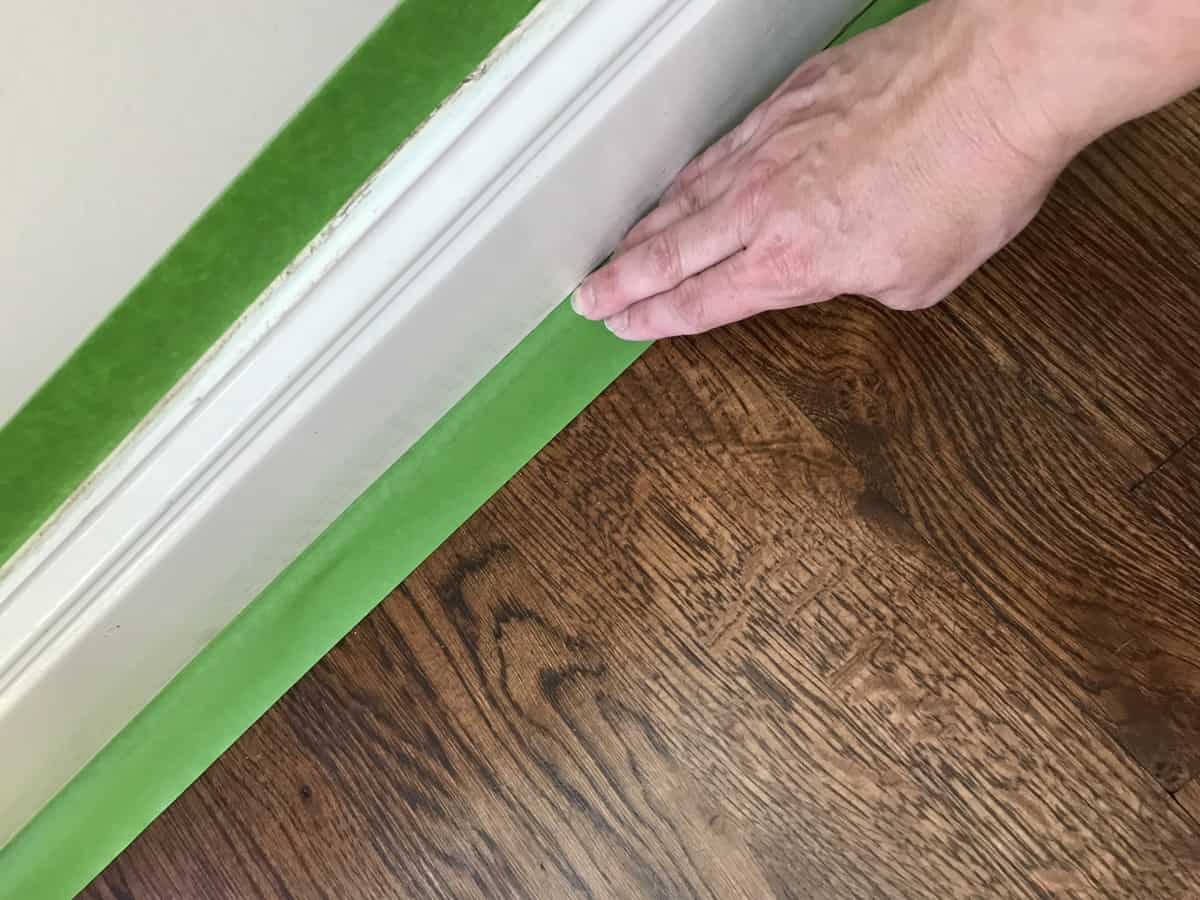 Then it was time to paint! Painting really goes so much quicker with a thorough tape application.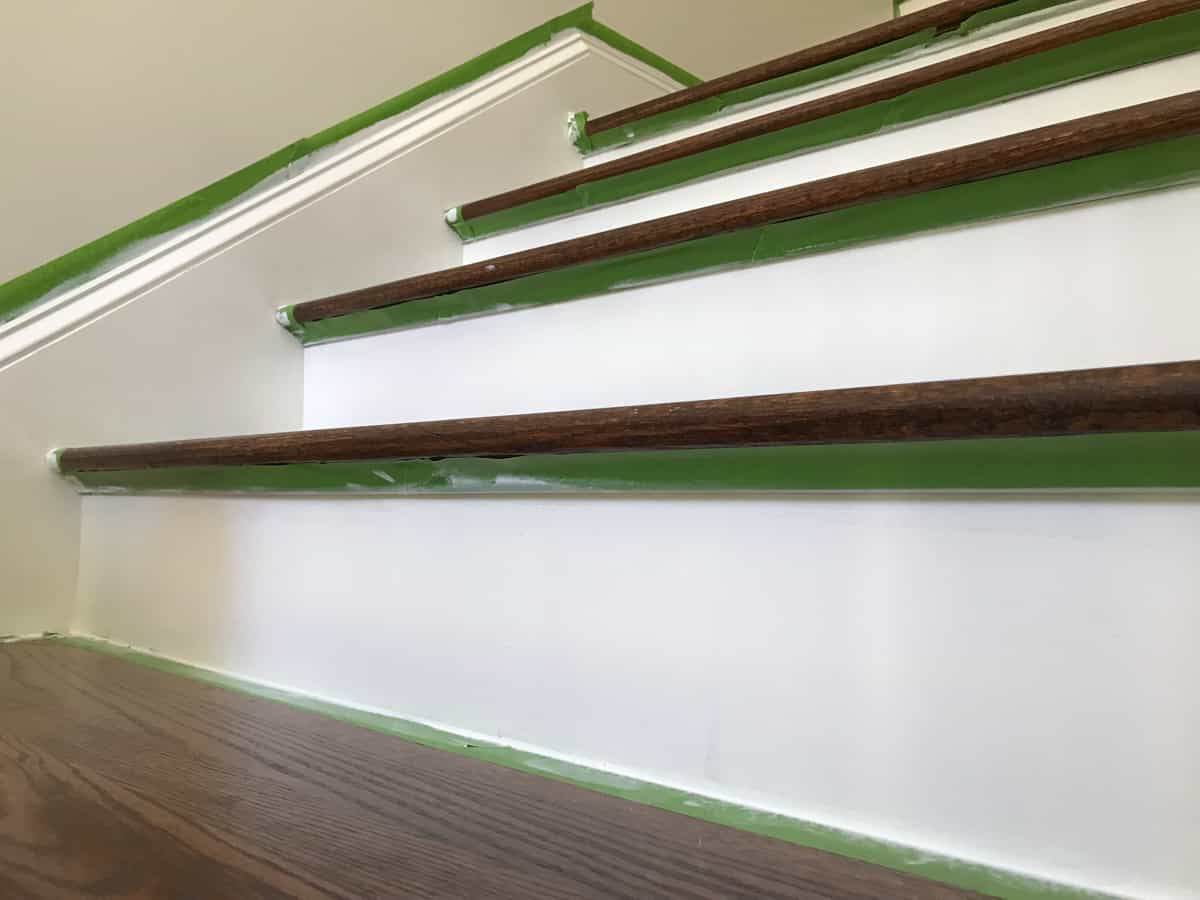 Of course, proper preparation is key. Before I even started applying tape we cleaned all surfaces with a damp rag.
For the handrail, which was obviously stained previously, I cleaned it with soap and water to remove all grime and oils. Followed by a good wipe down with sander deglosser.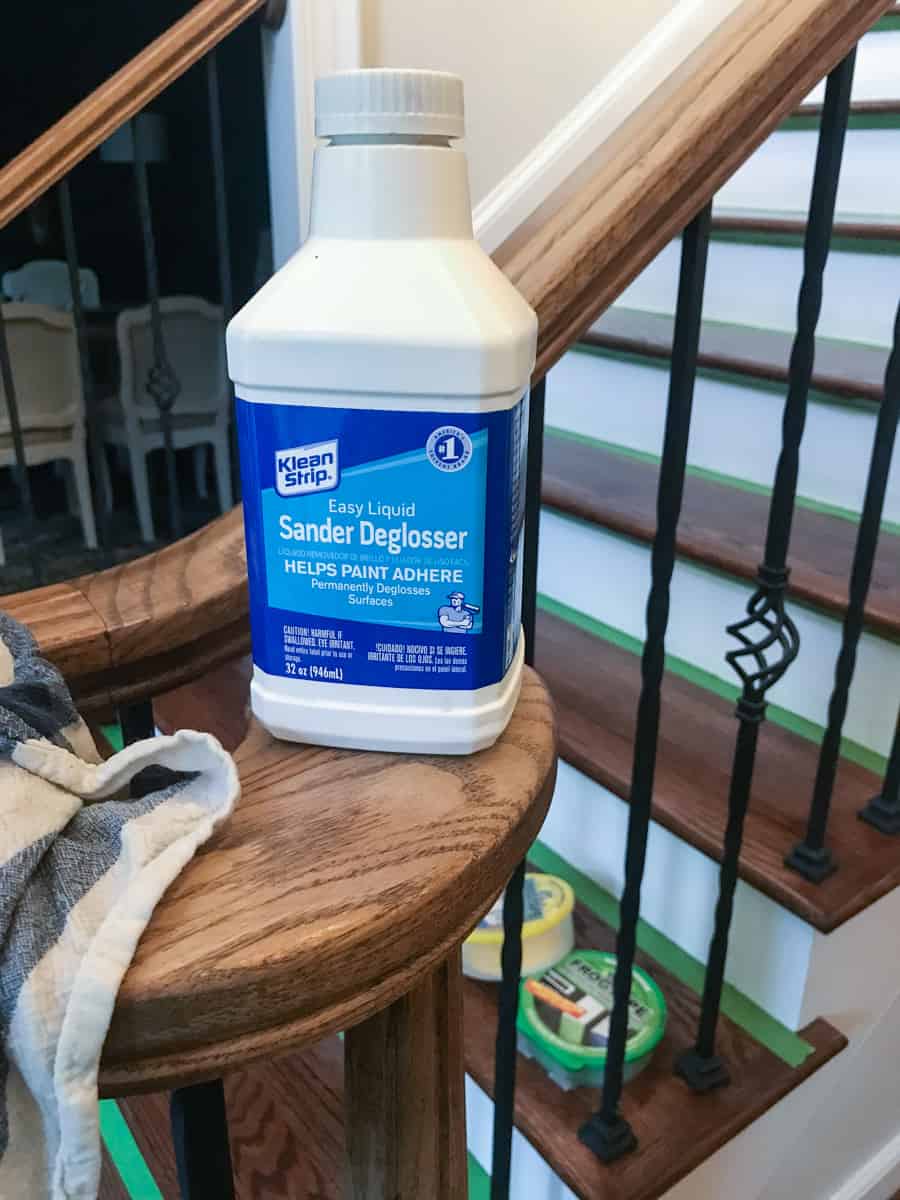 After everything was dry, I wrapped each iron rod with tape where it met the handrail. This actually went much faster than I had anticipated.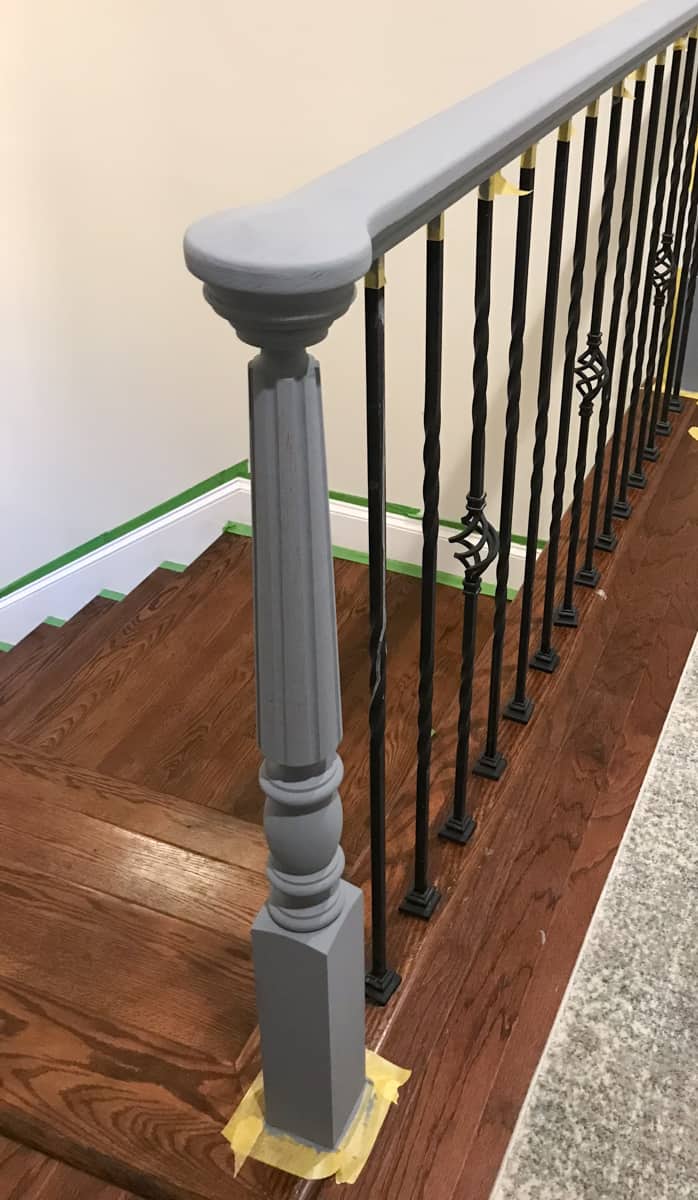 I primed the handrail with a tinted primer, followed by paint. To make quick work of all the nooks and crannies I found it was best to use two kinds of brushes.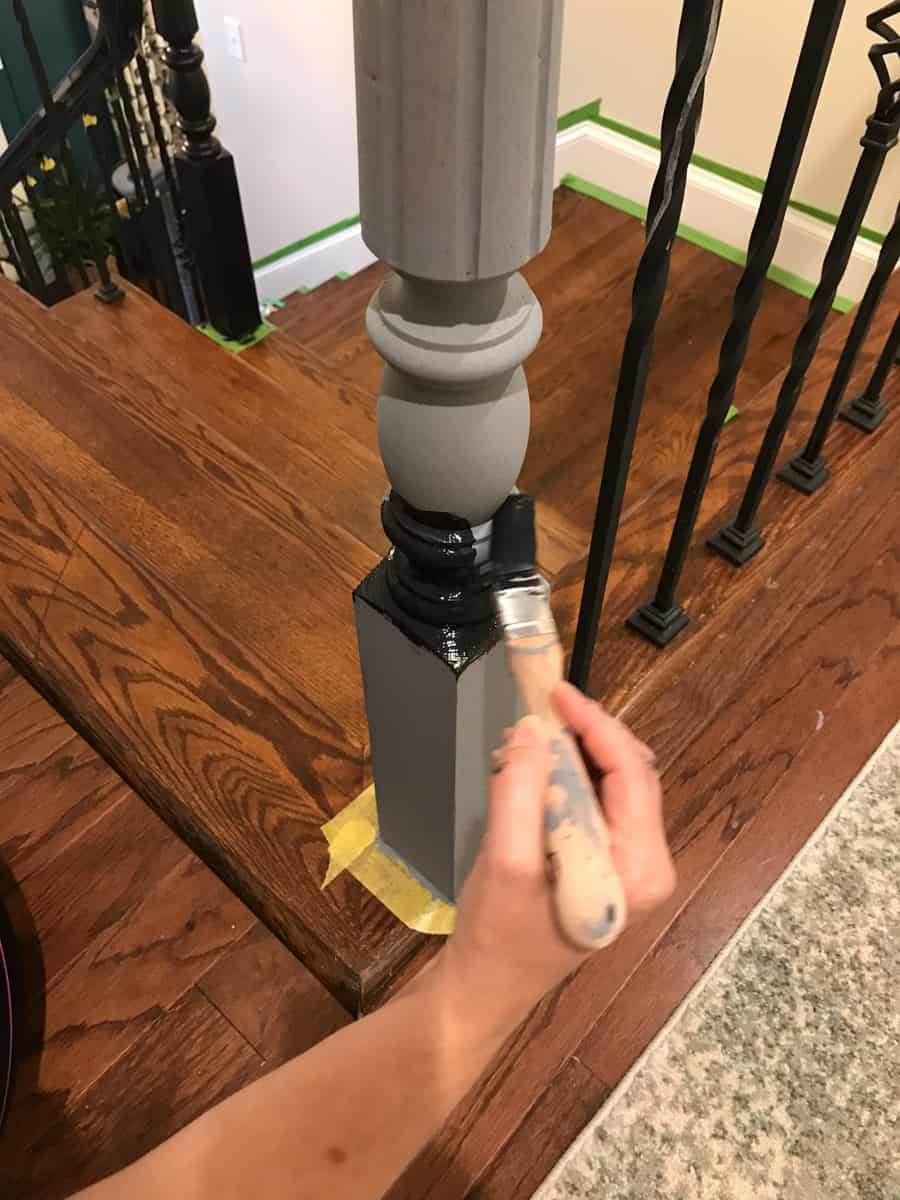 I used this small angled brush for the curves and crevices.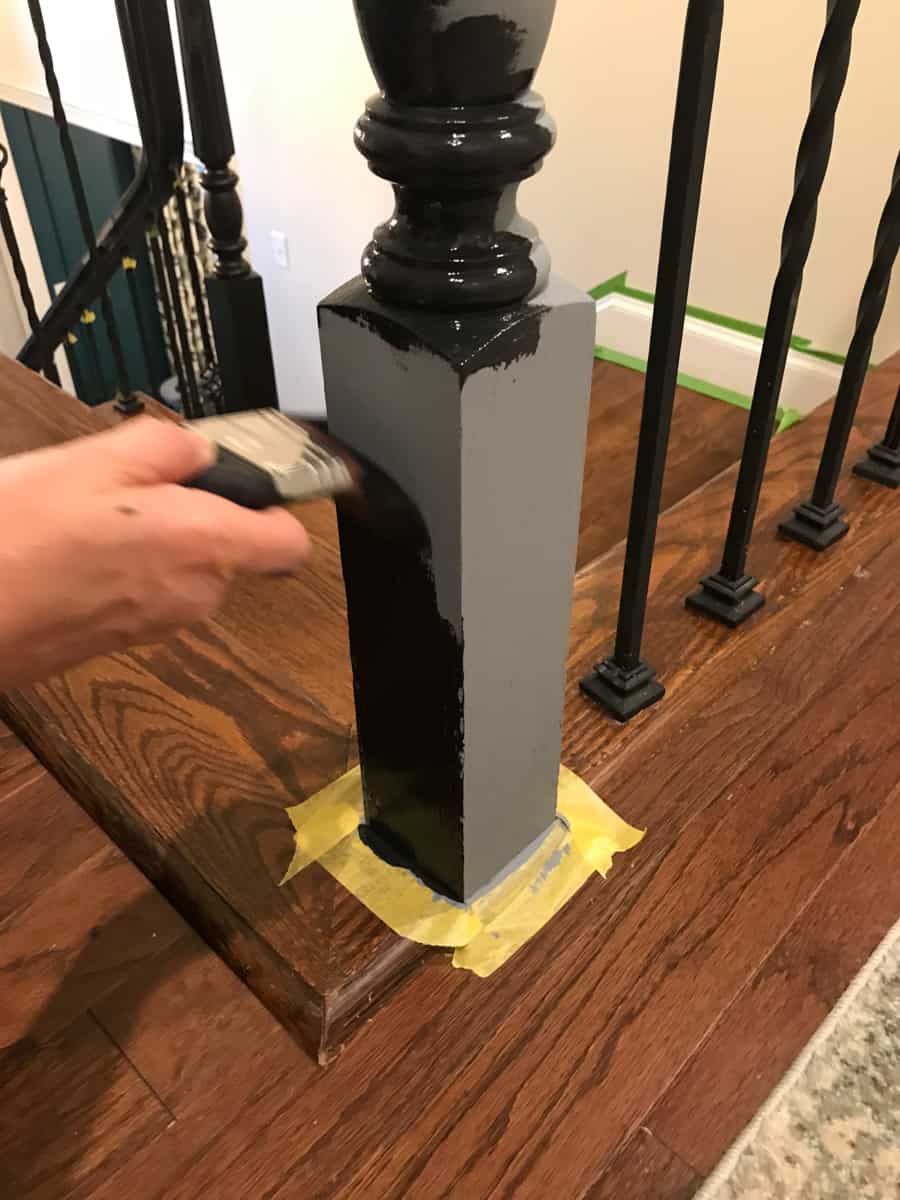 And a flat angled sash brush for the flat areas. It may seem like a hassle to use two brushes but I'm a firm believer that the right brush is essential for a great paint finish.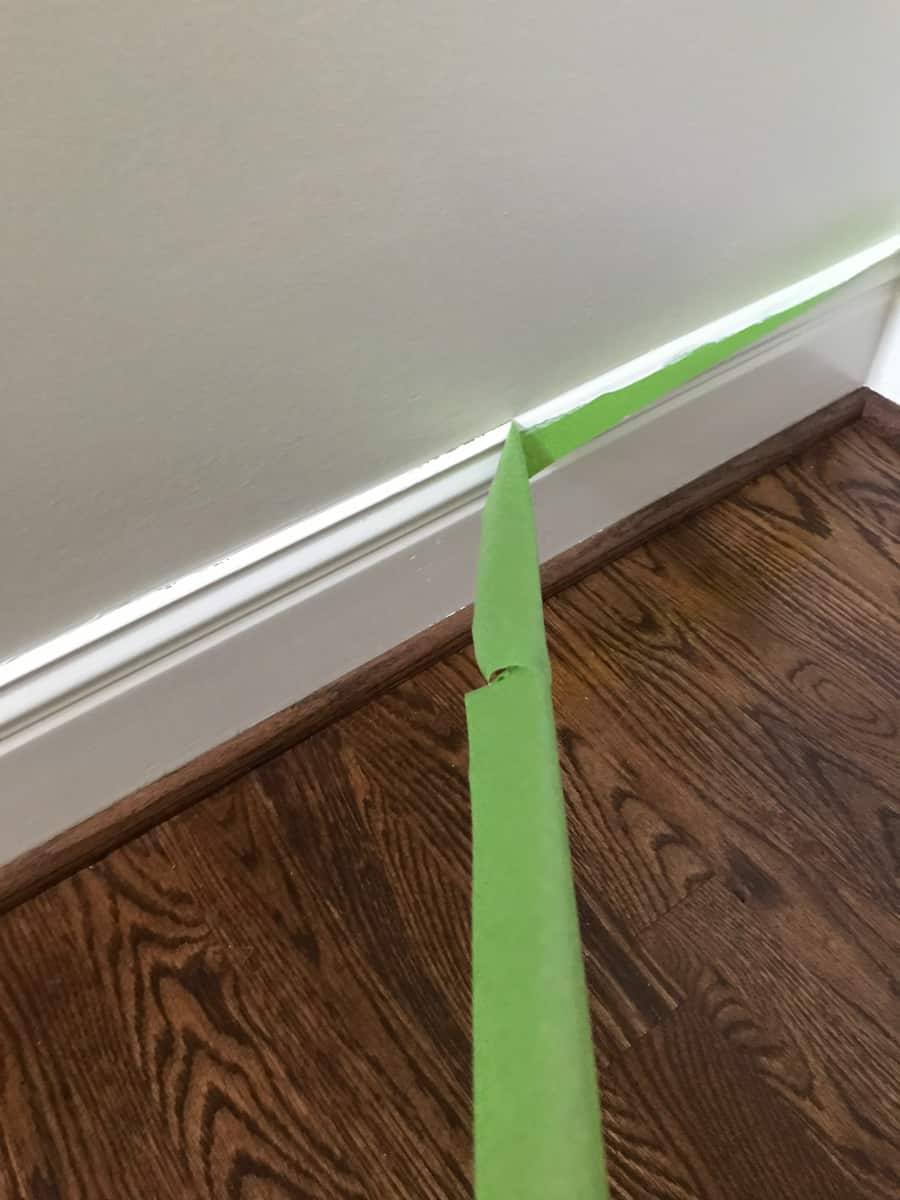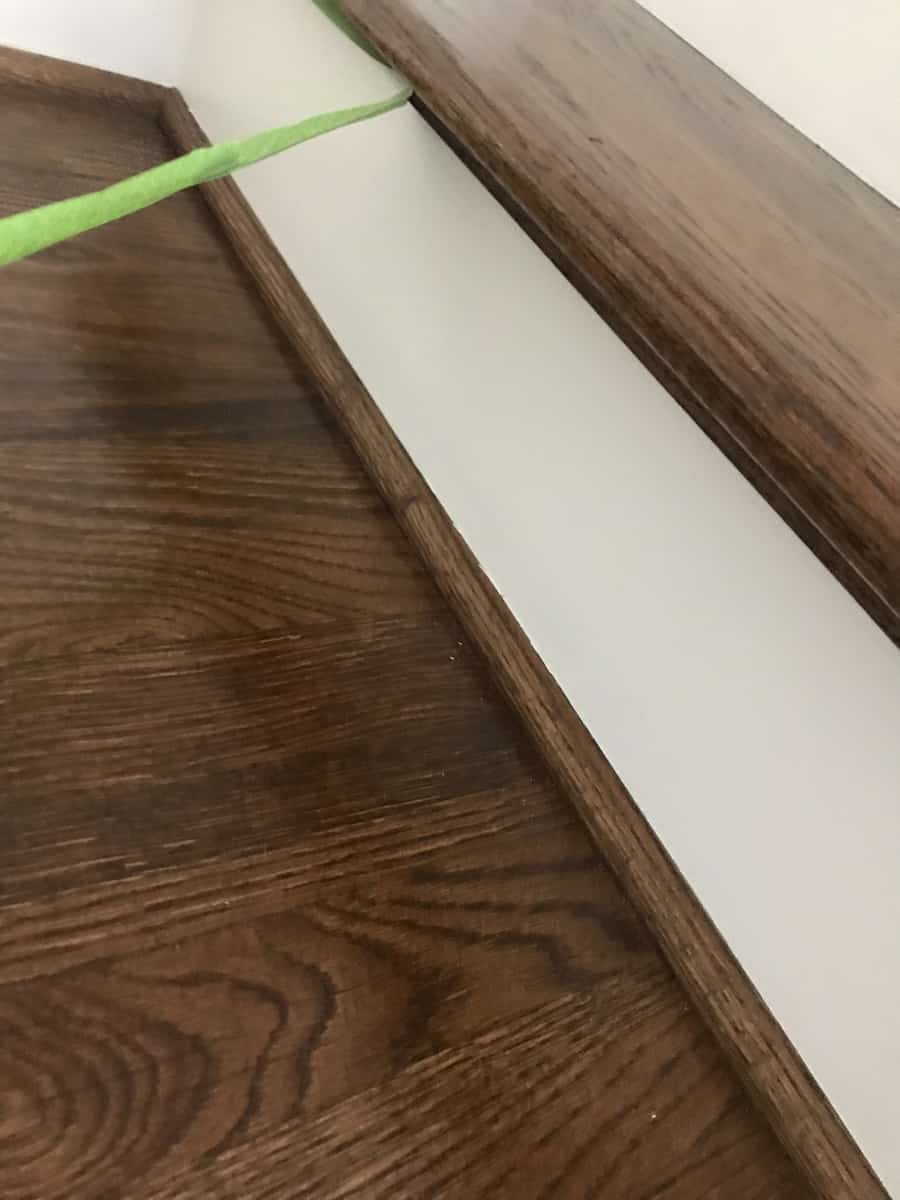 Once the paint was dry, it was time to remove the tape. I have found that FrogTape® is the easiest tape to remove. It always comes off in one fell swoop and of course leaves a perfectly clean line!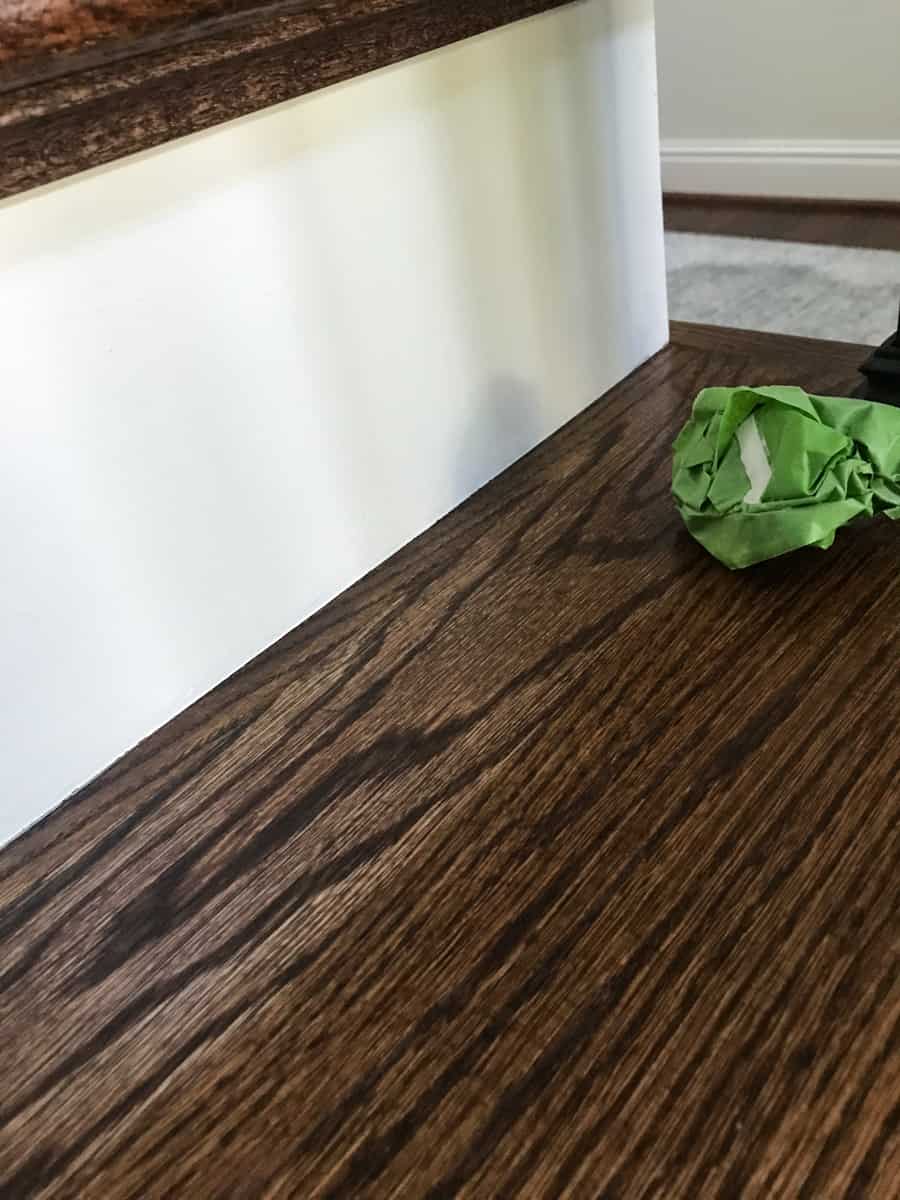 Do you see how crisp that edge is? Amazing, right?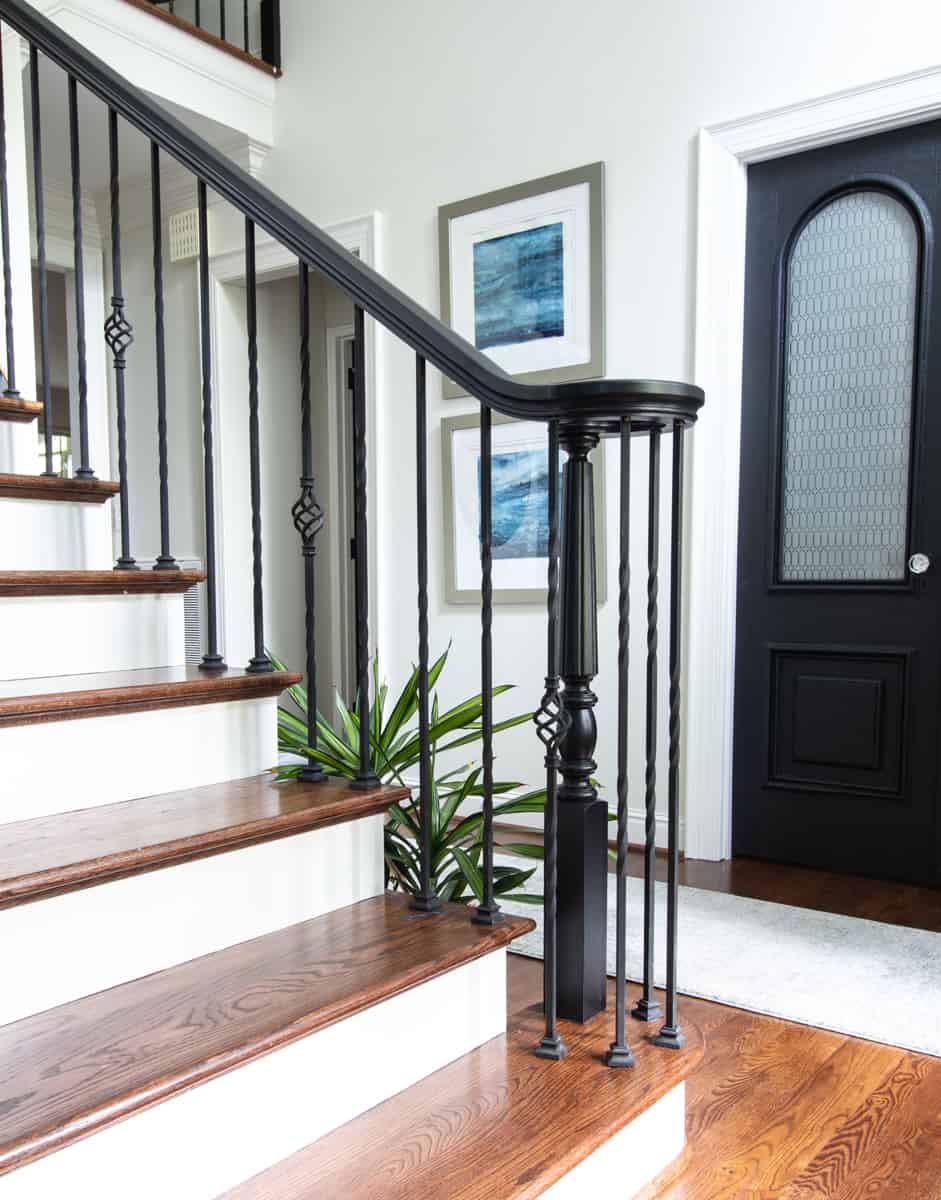 Esthetically, the black handrail not only works with the other black elements in the foyer, but gives this traditional design a more modern vibe. After the addition of the antique doors to the library/office it seemed like the perfect choice. You can see how this open space was transformed into a library here.
In my rush to tell you how vital FrogTape® was to this project I forgot to share a stepped back view of the before images.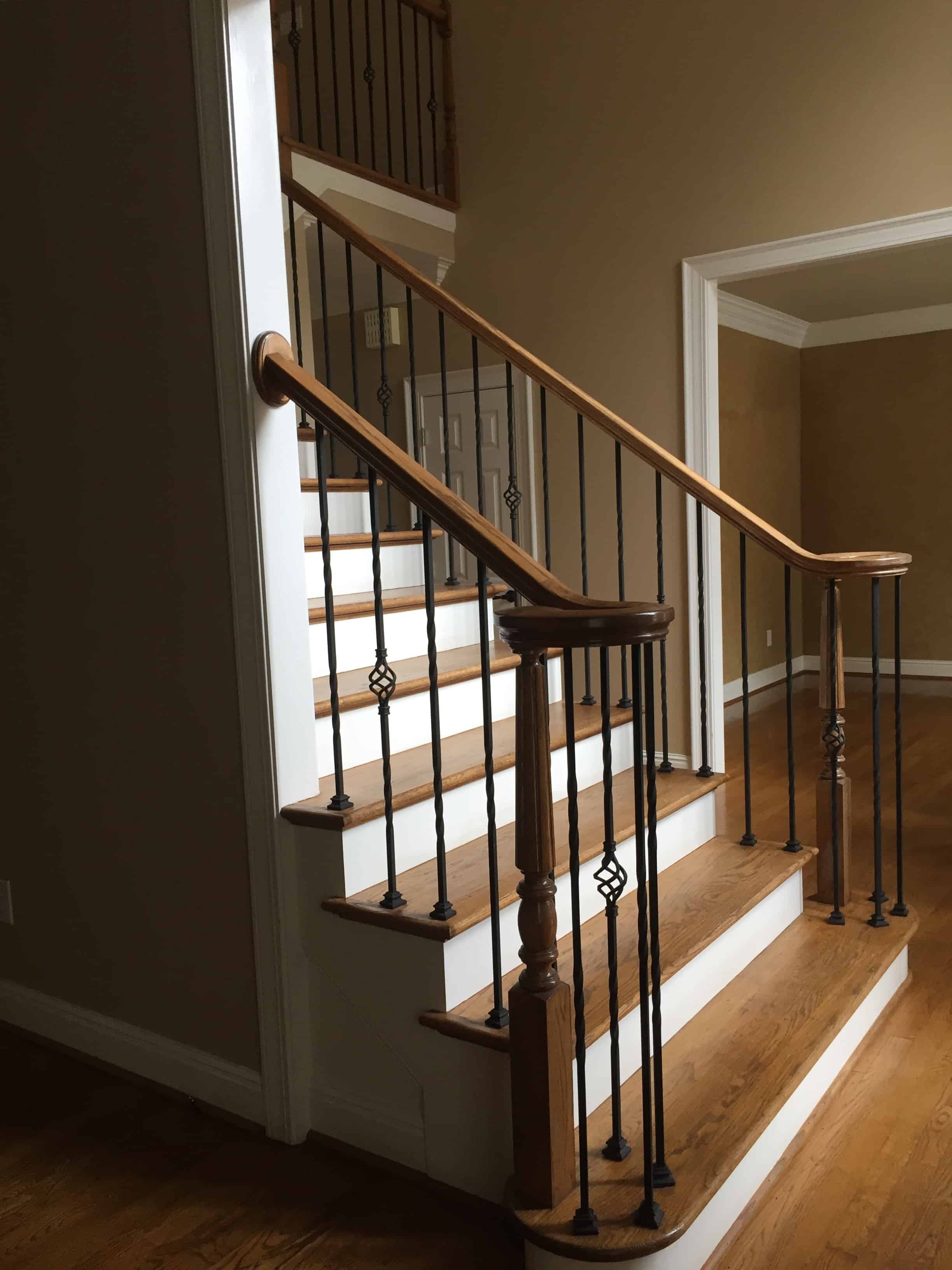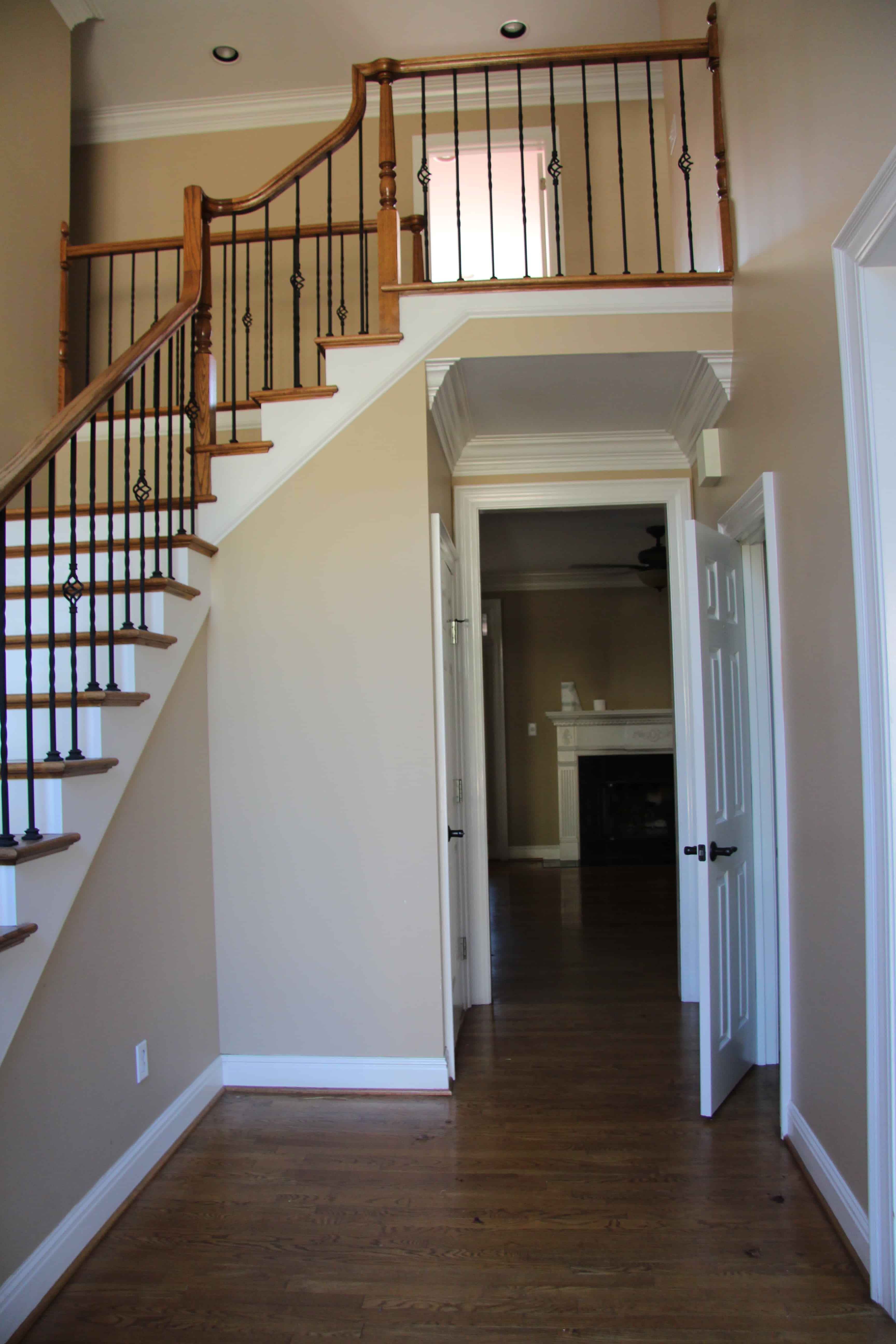 This is what the front door area looked like before we renovated.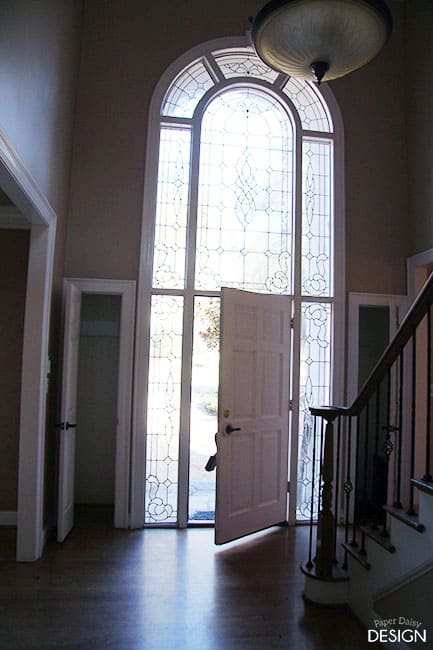 Below is what the foyer looked like a year ago. The floors had been refinished and the walls painted white.The closet just across the basement stairs became a vestibule for the powder bathroom. You can see that transformation here.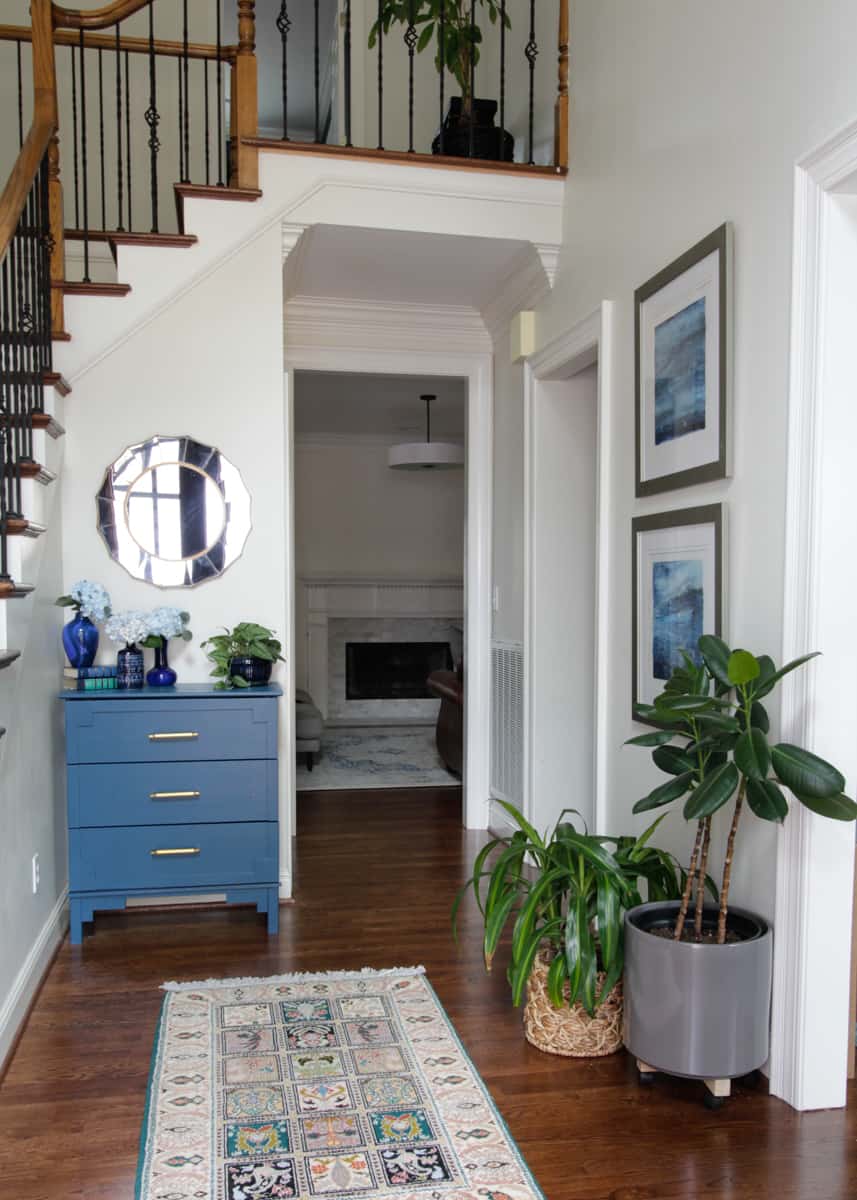 It was a definite improvement, but now the transformation is finally complete.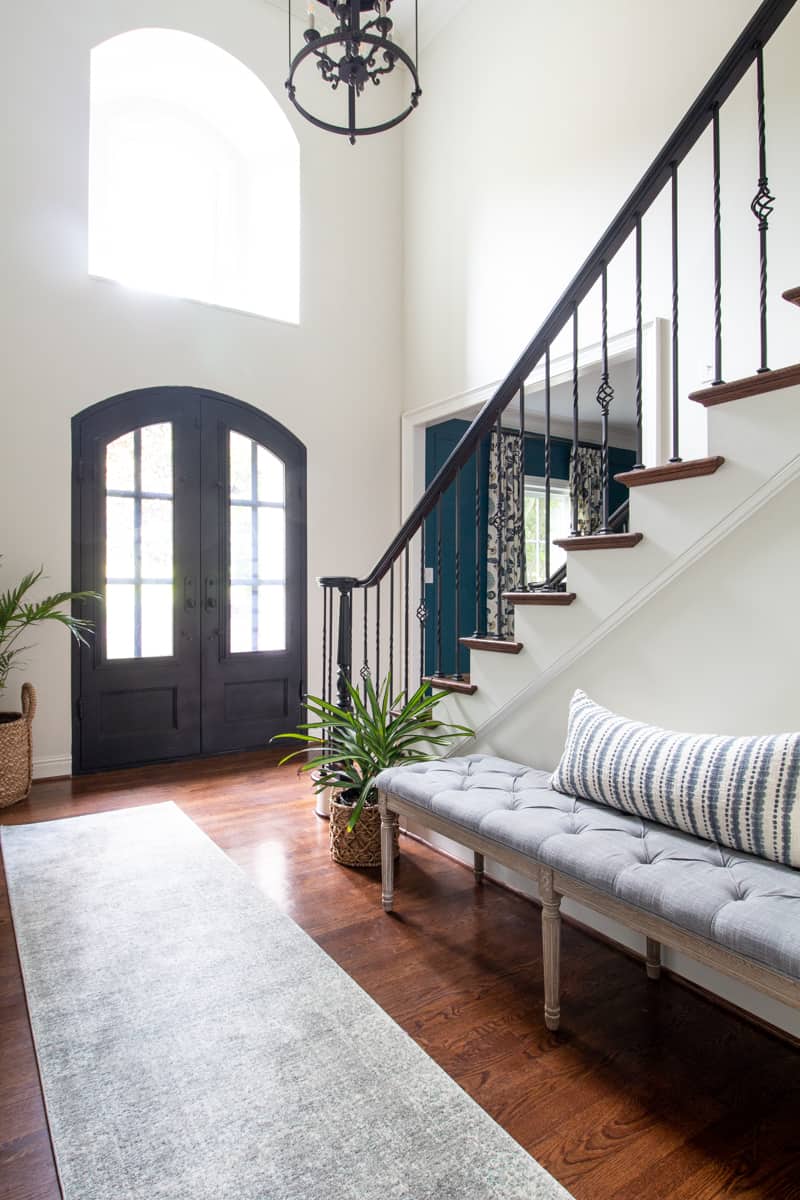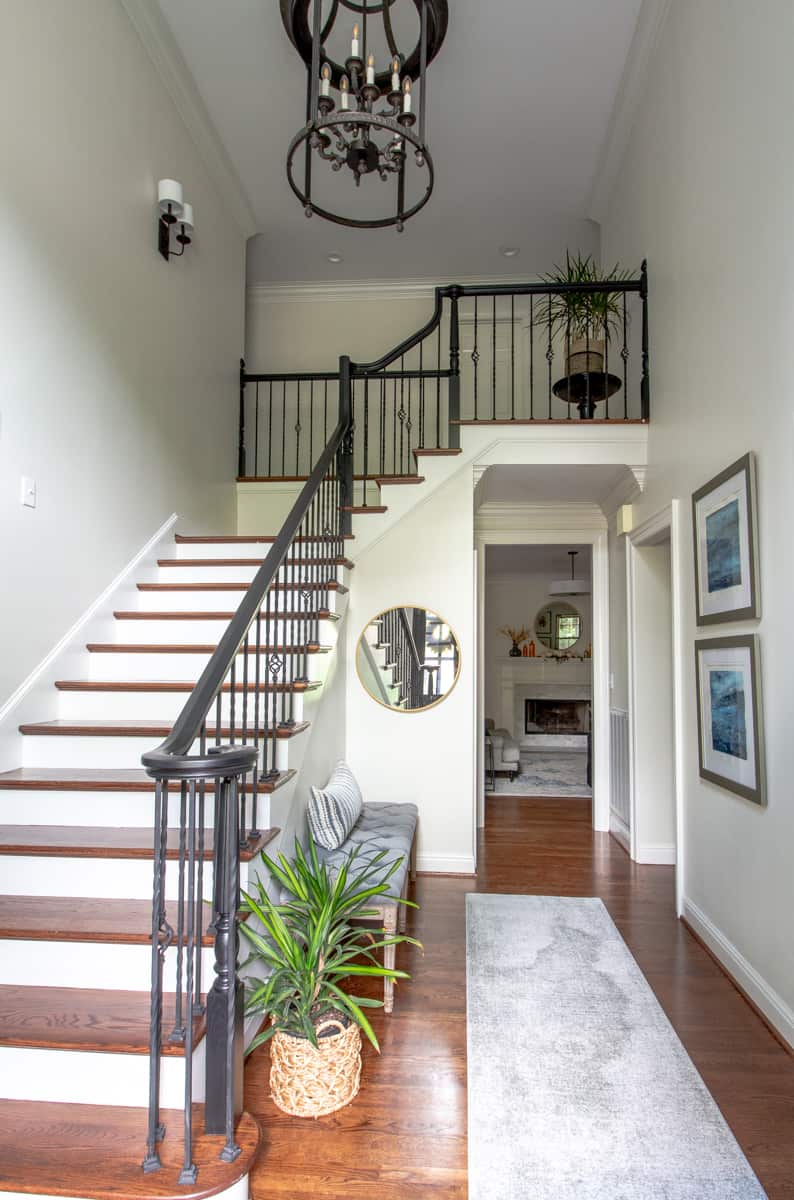 If you are regular reader, then you'll notice I took this opportunity to "shop my house" and play around with the way the foyer is styled.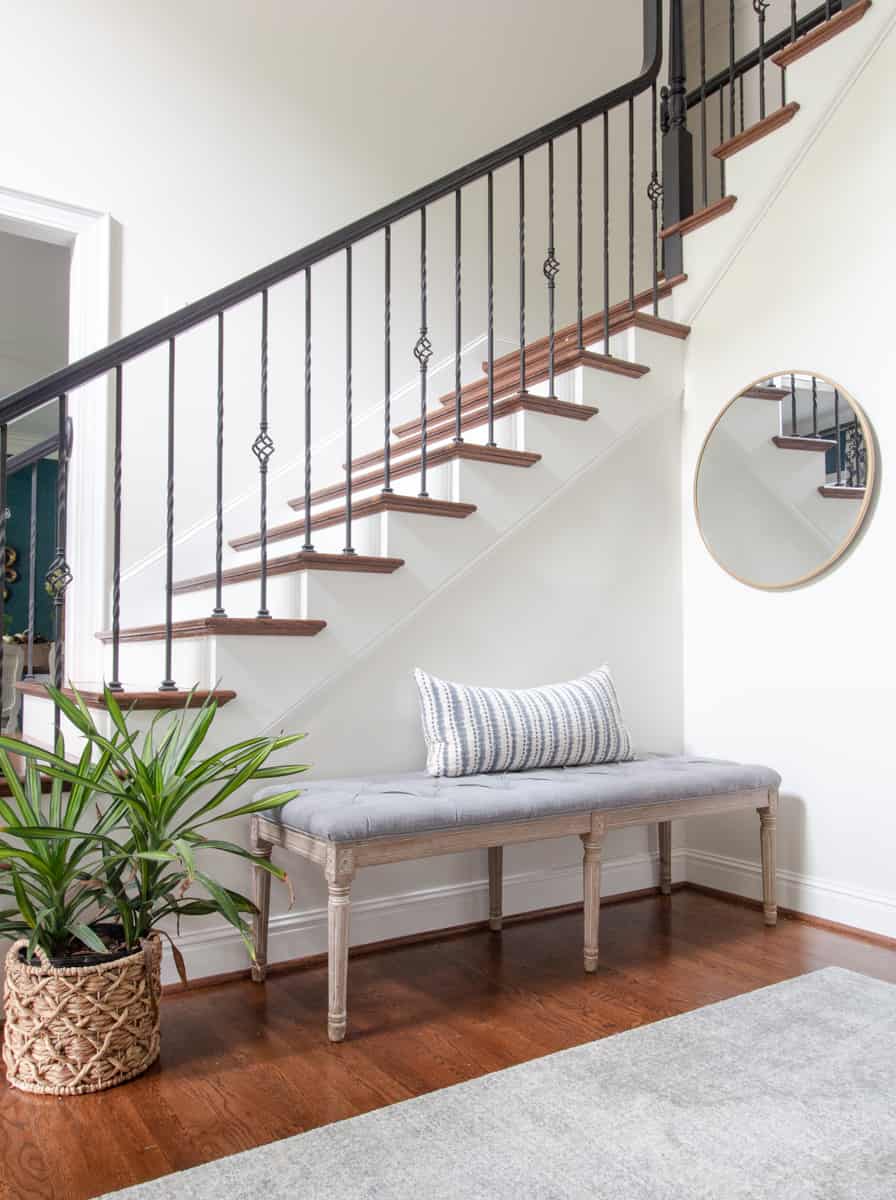 I love this look so much that I am certain I will find a way to make at least some version of this a full-time reality in the near future!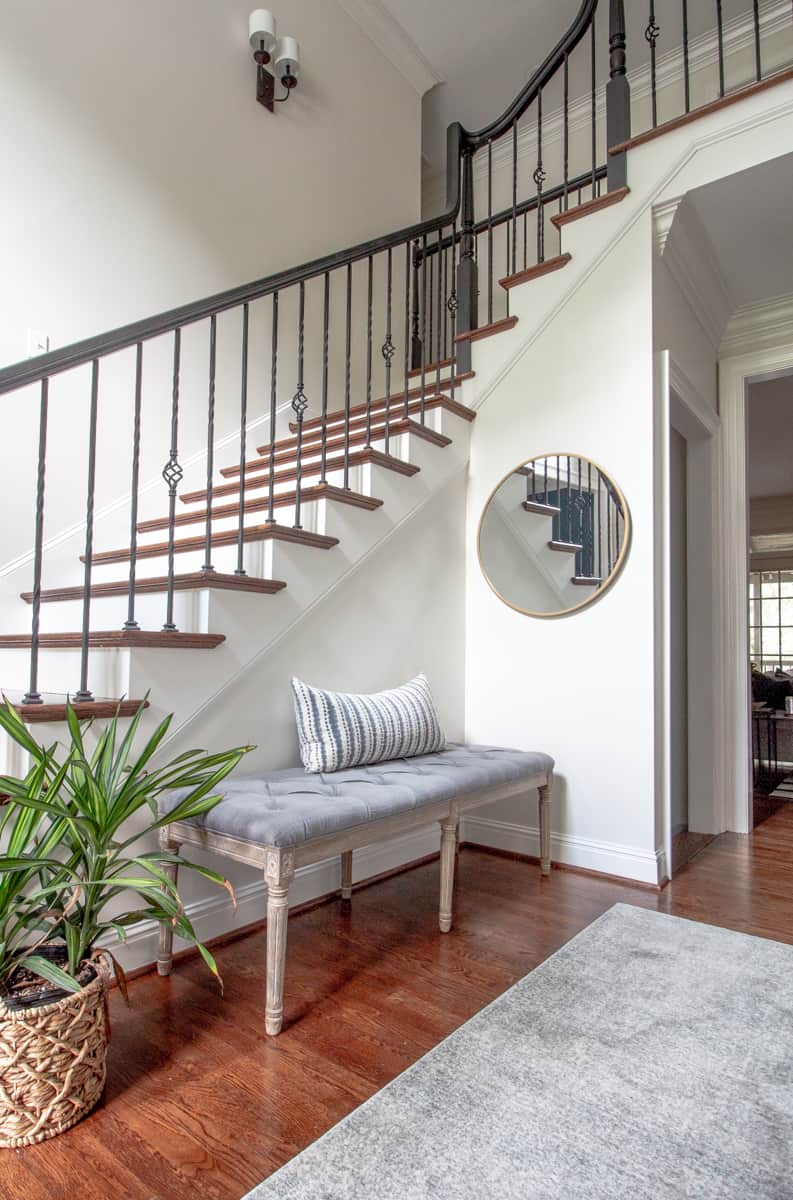 No matter what paint project have you been putting off, I am here to tell you, go and do it! And be sure to do it right with FrogTape®