I've shared our full upstairs dressed for Christmas in Part 1 & Part 2 of our Christmas Home Tours. Today, I'm taking you down to the basement media room to share this cute little corner. The new wood art is sporting a festive DIY Reindeer Wreath I created. Cozied right up next to the black and white Christmas Tree, this entire area was brought to life with the help of decor and craft supplies from JOANN.
This post is sponsored by JOANN Stores. This post contains affiliate links . All thoughts, opinions and designs are my own.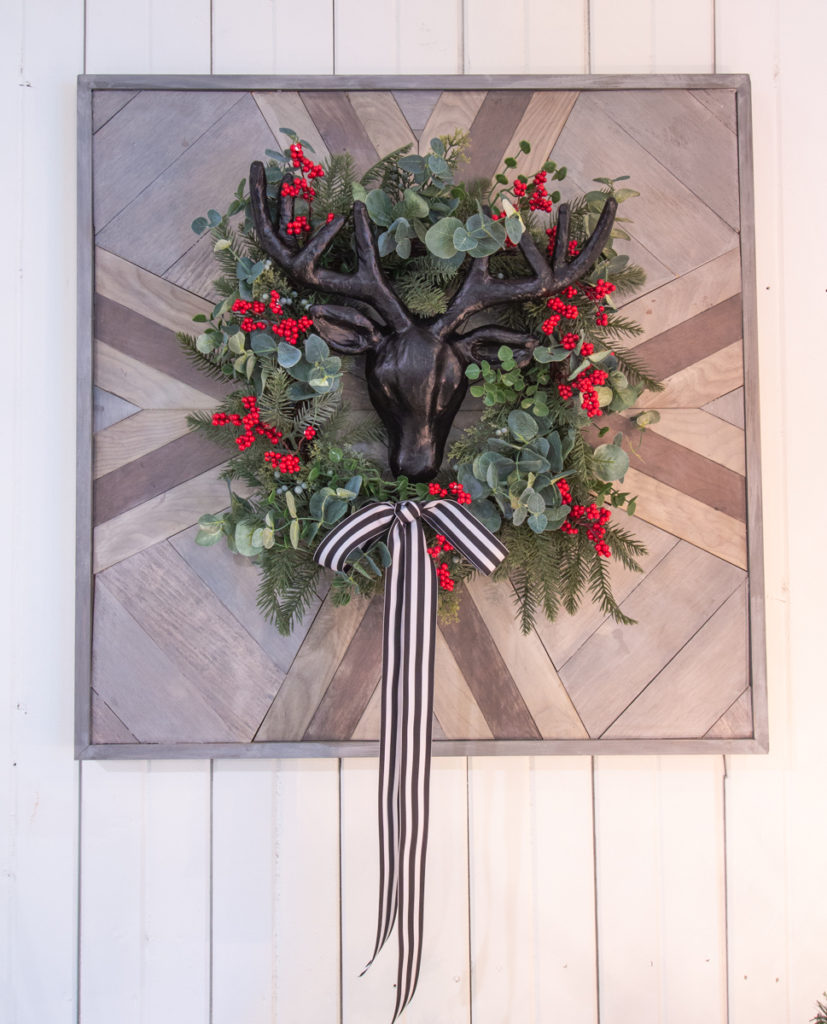 The focal point of this special corner, of course, is the wreath.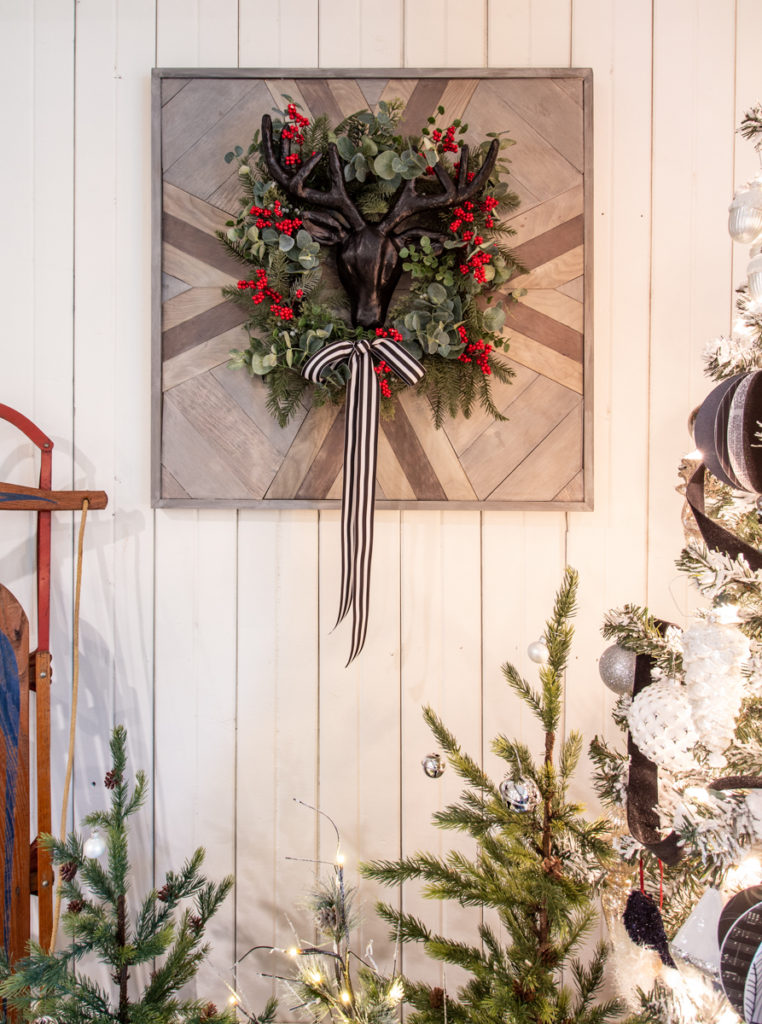 If you follow me on Instagram, then you might remember I went a little crazy over finding this paper mache reindeer head. In case you missed it, I advised everyone to run to their store and get one of them because we were going to create the easiest, most adorable Christmas decor, ever! And I'm back today to tell you how.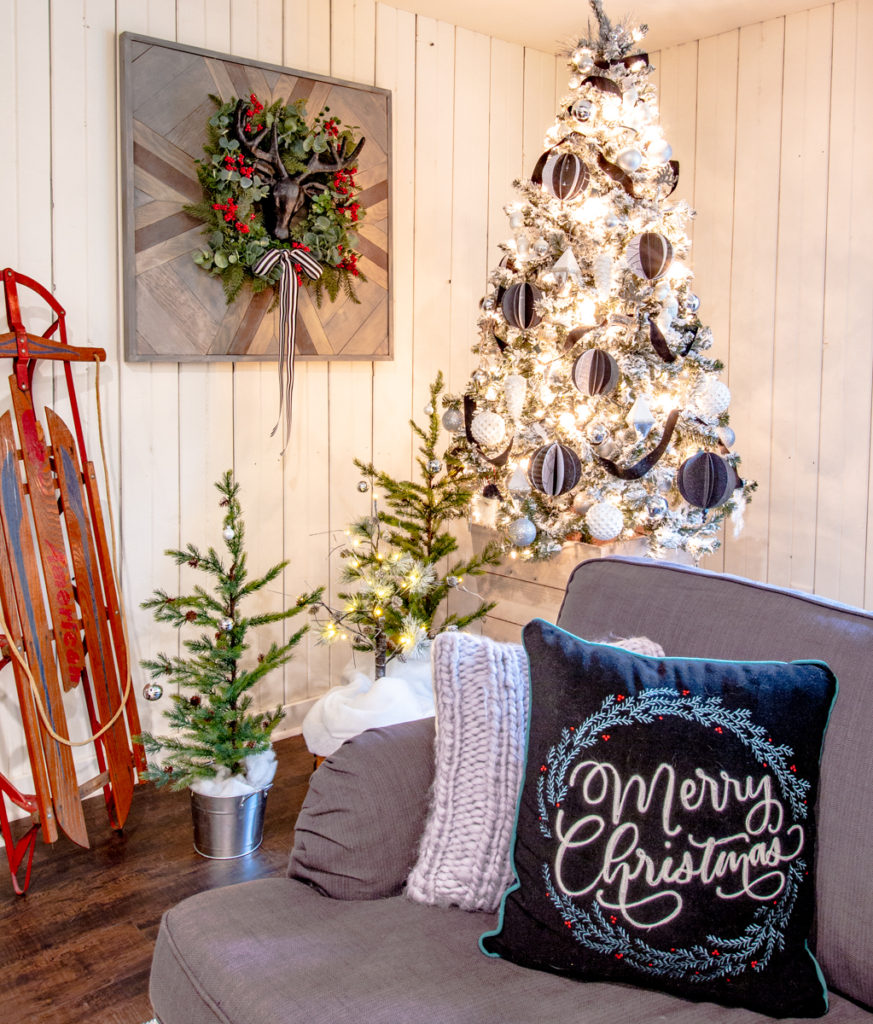 But first let's talk about how I styled the rest of the corner. This felted, embroidered "Merry Christmas" pillow was the perfect way to bring a little happiness to the sofa. I loved the script sentiments and knew it would fit my black and white color scheme perfectly.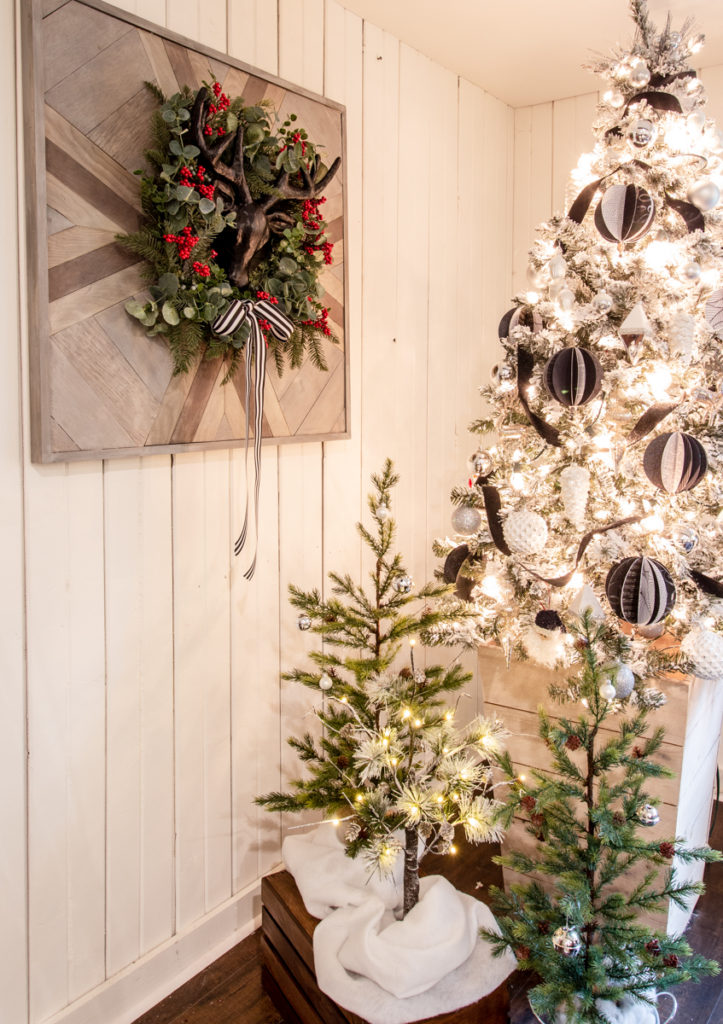 Last year, I flocked an inexpensive 5 ft tree and added it to one of my outdoor planters. Using a smaller tree, not only saves money but also storage space. By placing it in a planter with a raised base, it gives the look of a larger tree.
This year, I saw the area in front of the base of the tree as a great opportunity to create a little Christmas tree forest. To add a little more height to my small trees, I set them on top of a wooden crate I stained.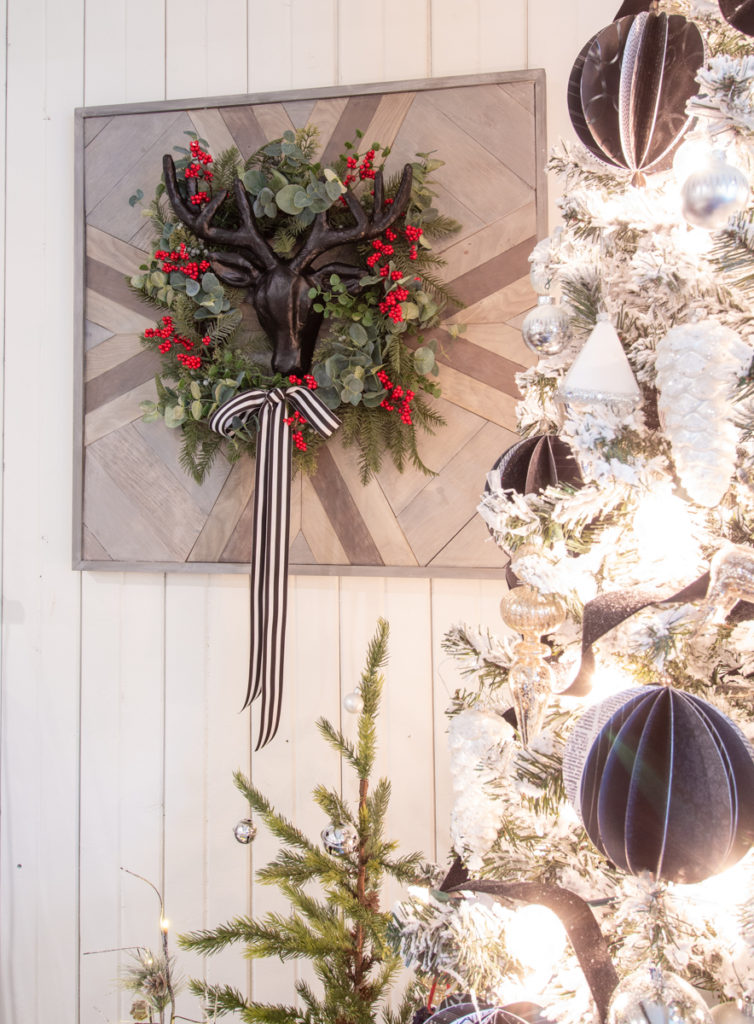 Shop the post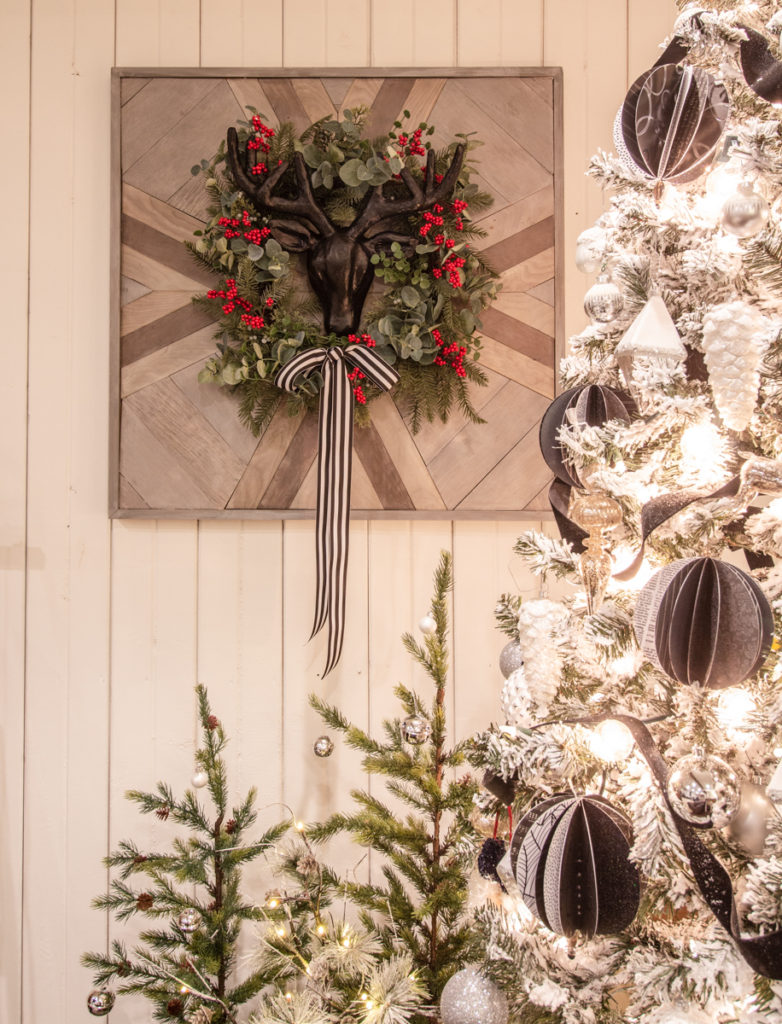 The JOANN stores had a stunning assortment of categorized ornaments. I gravitated to the Artic Frost Collection. I love the contrast of glimmering ornaments against the matte black paper sphere ornaments I made this year. (You can make your own easily with craft paper and beads. The video tutorial is here. )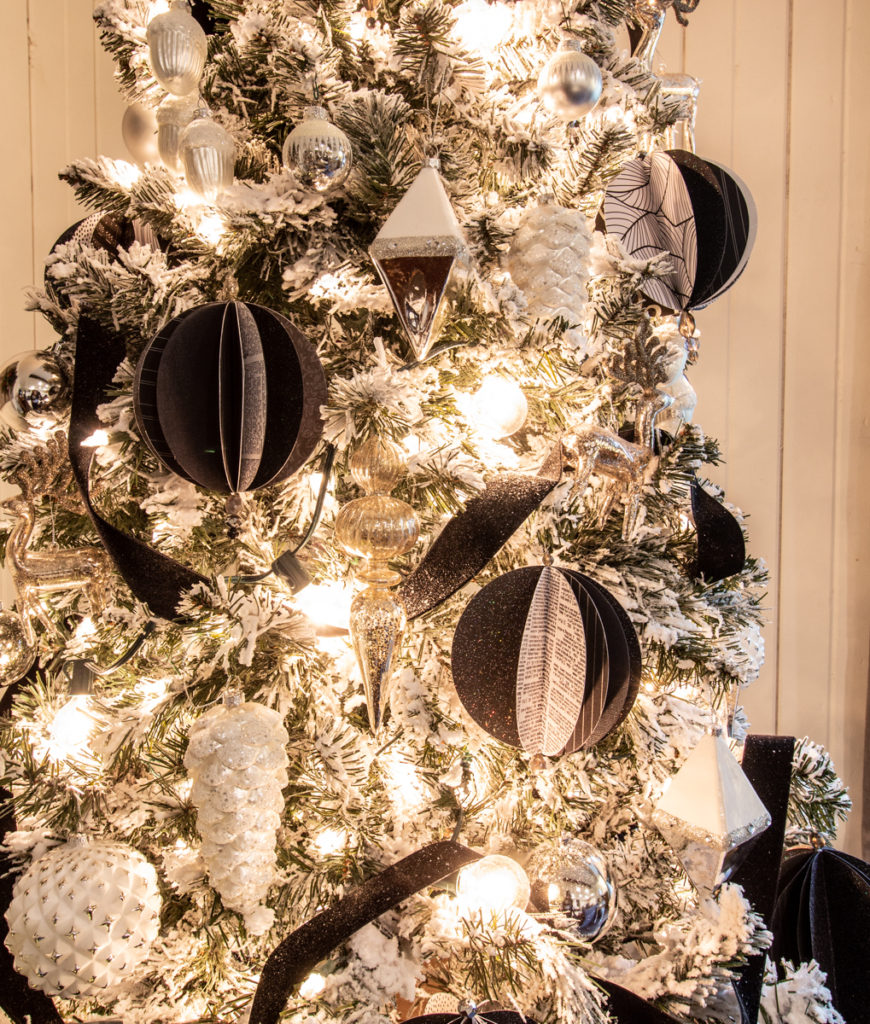 I love how these high quality glass ornaments shimmer on my flocked tree.
Shop the post
All images above are clickable affiliate links.
Now let's get to how easily I made the DIY Reindeer Wreath!
How to Make a Reindeer Wreah
Supplies:
Craft or Spray paint, I used Folk Art Outdoor paint
Floral wire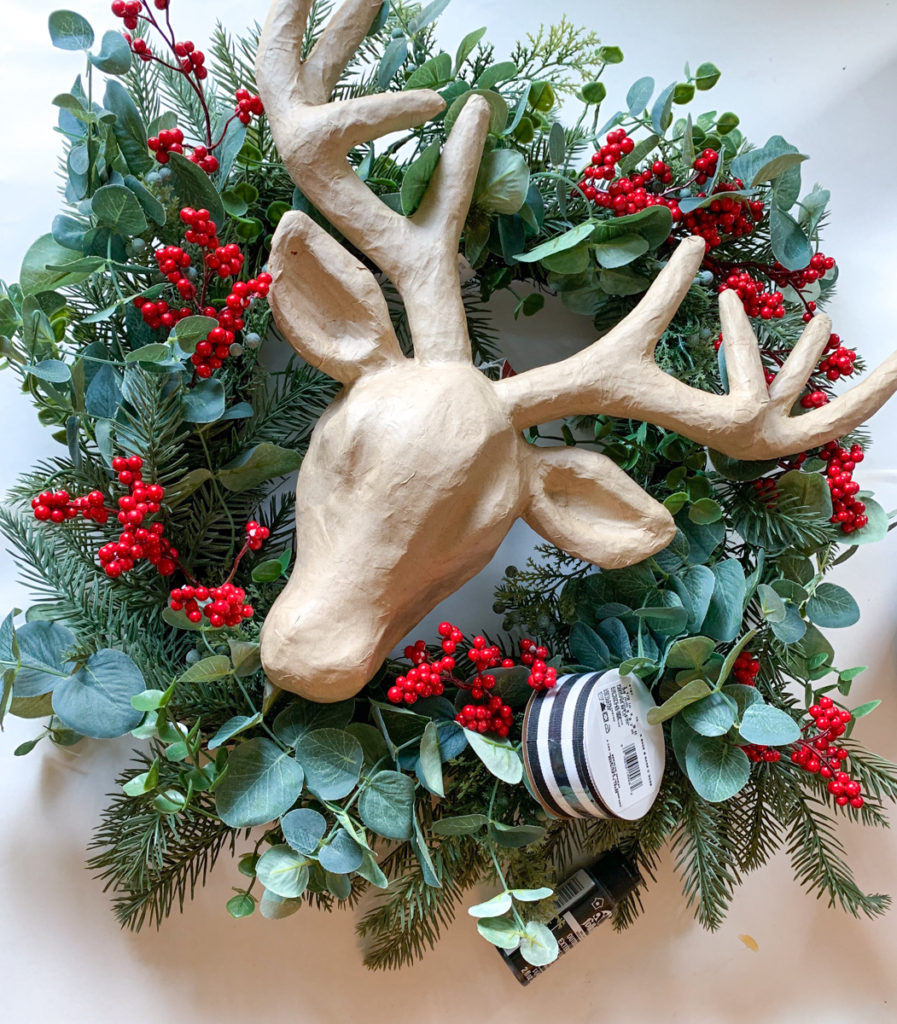 Start by painting your deer head. I chose black to fit my decor but white would be another simple color choice. (I have also seen some gorgeous detailed work on these paper mache heads. Let your imagination run wild!)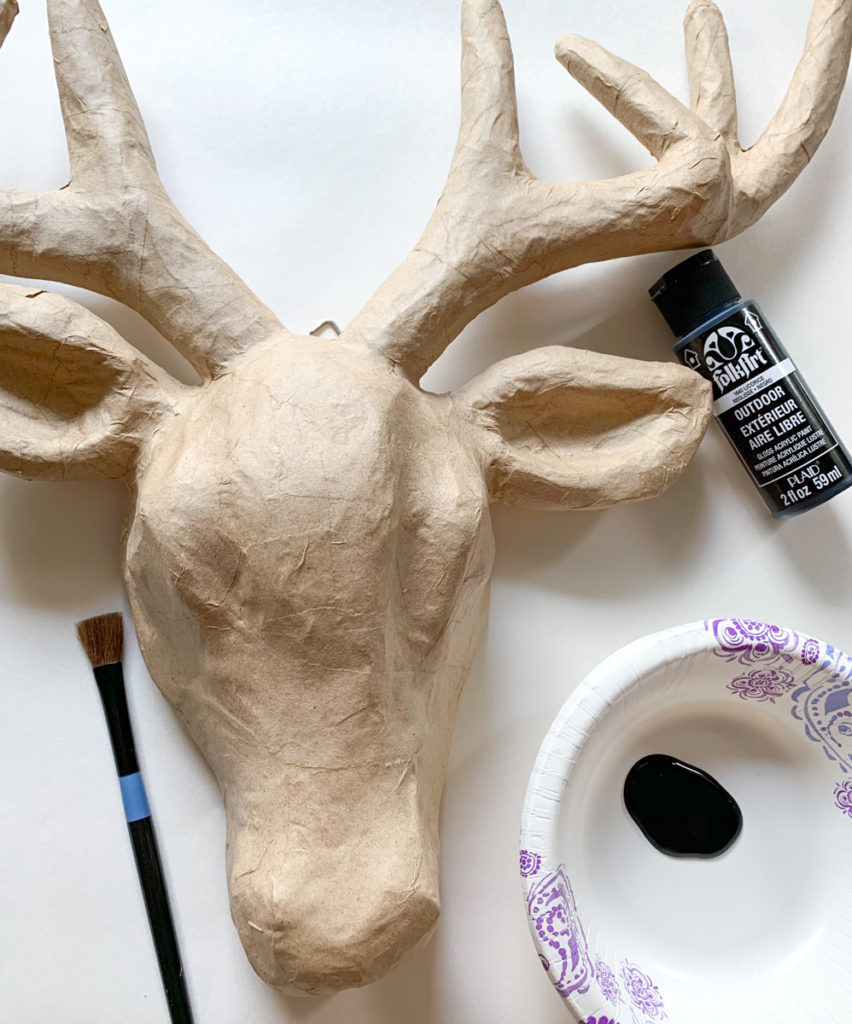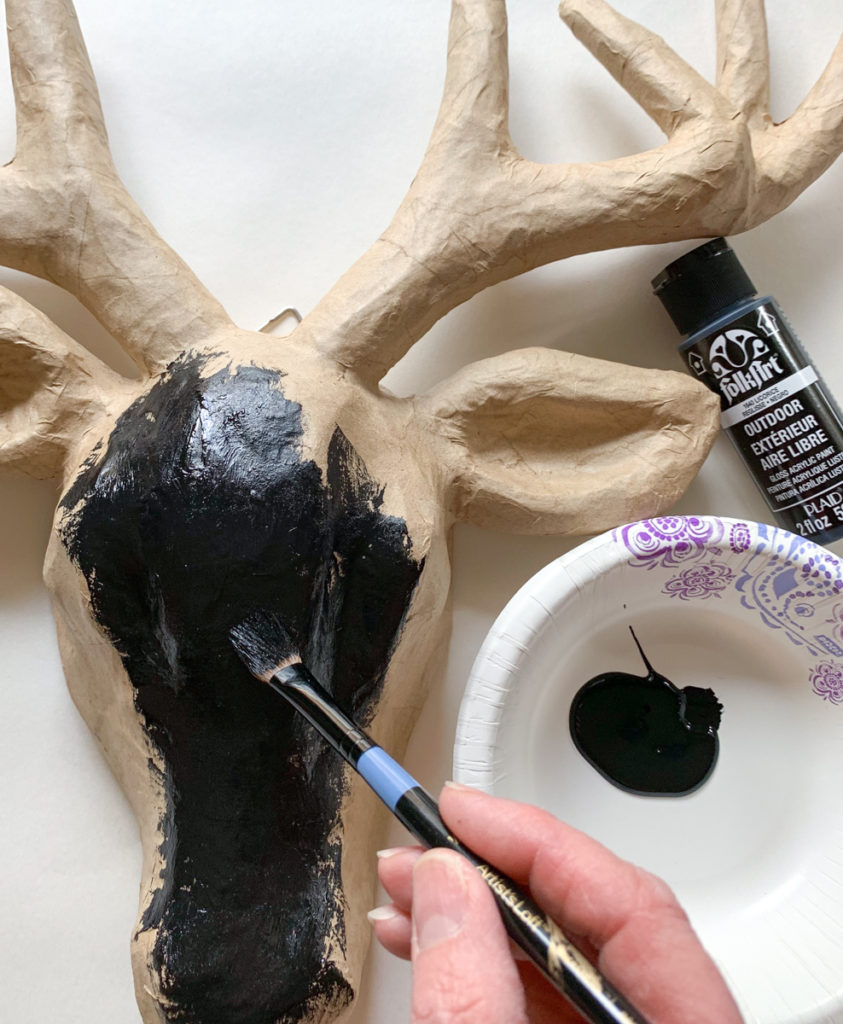 2. Once the paint is dry, turn the head over and hot glue wire to the antlers.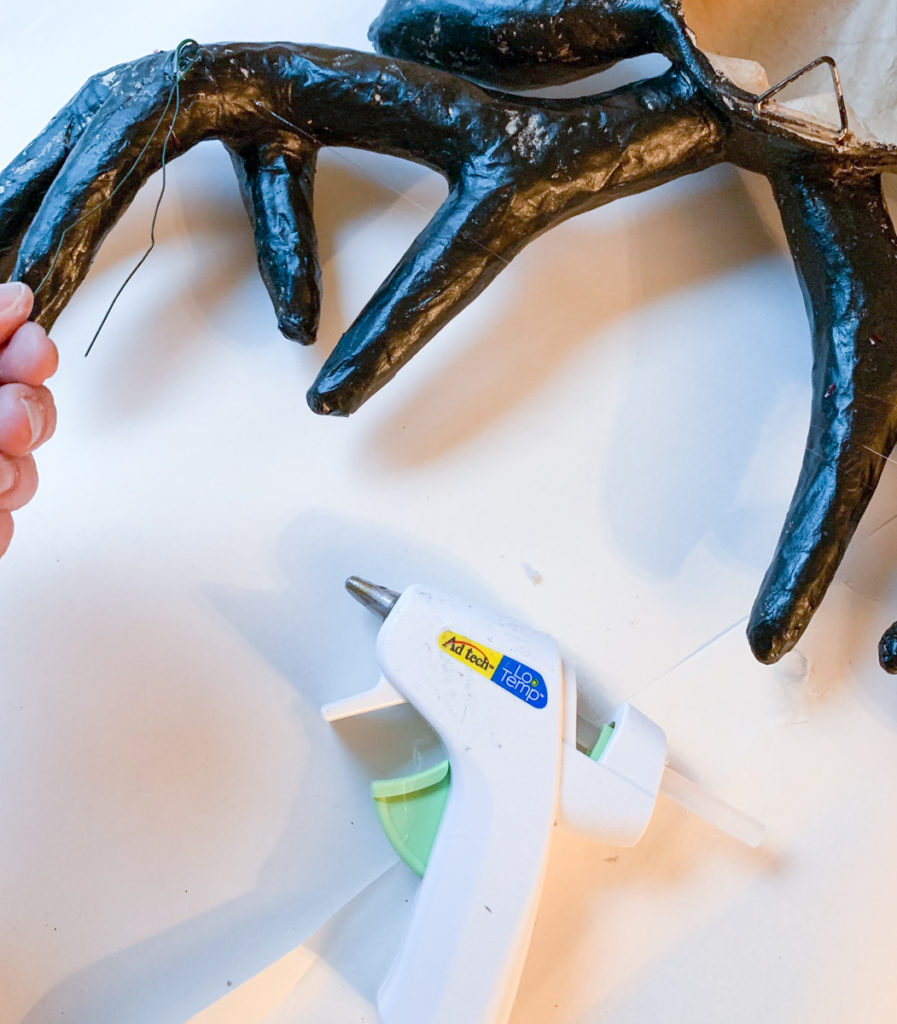 3. Hold the wire until the hot glue sets.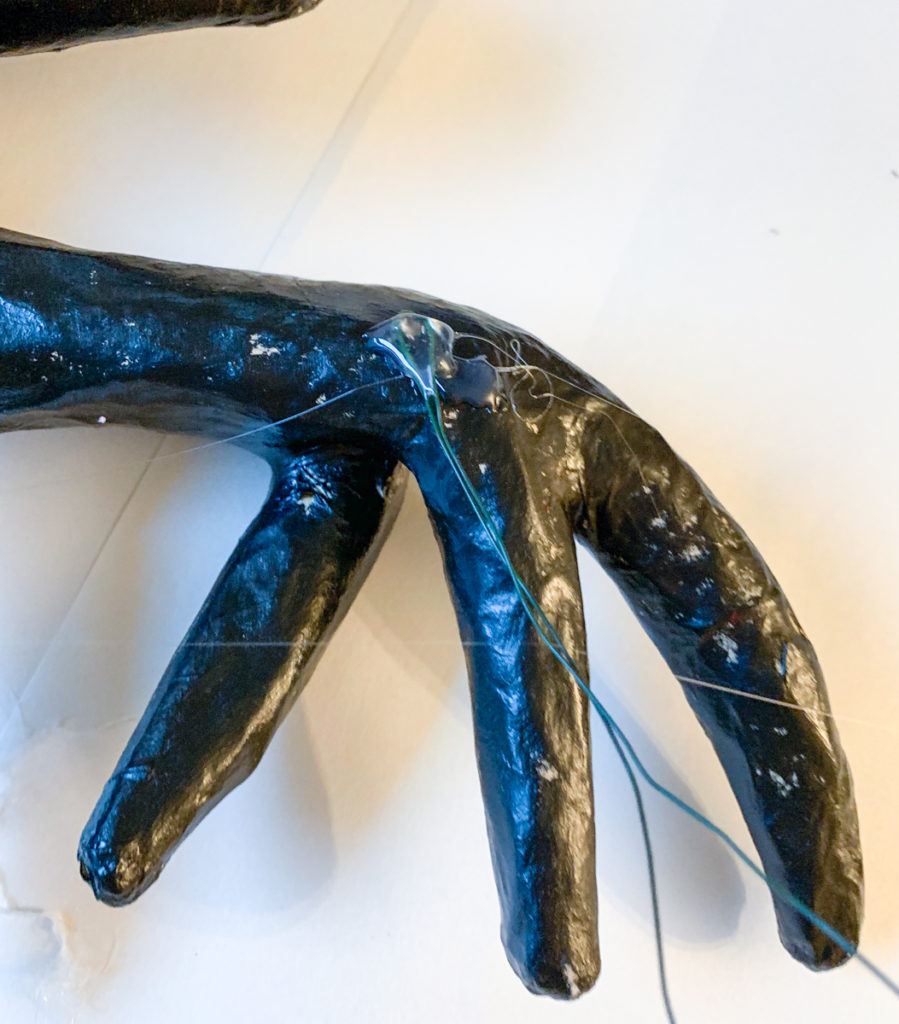 4. Attach, the head to the top of the wreath, wrapping the wire around branches or the base.
5. Add ribbon to the bottom of the square wreath and hang with provided loop on the back of the wreath.
It's that simple!
Of course, I love the simplicity of this, but I thought it might have been fun to add a red nose too!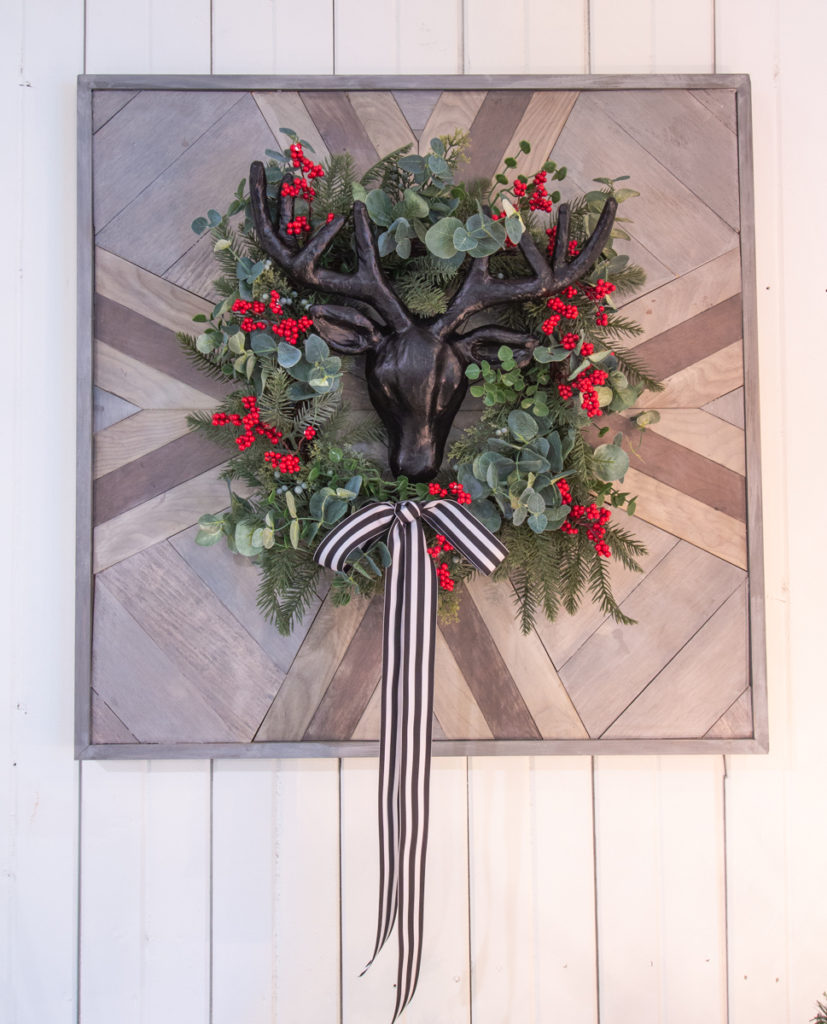 Be sure to pin this image and send me a message if you make your own! I'd love to see what you create. I know the possibilities are endless!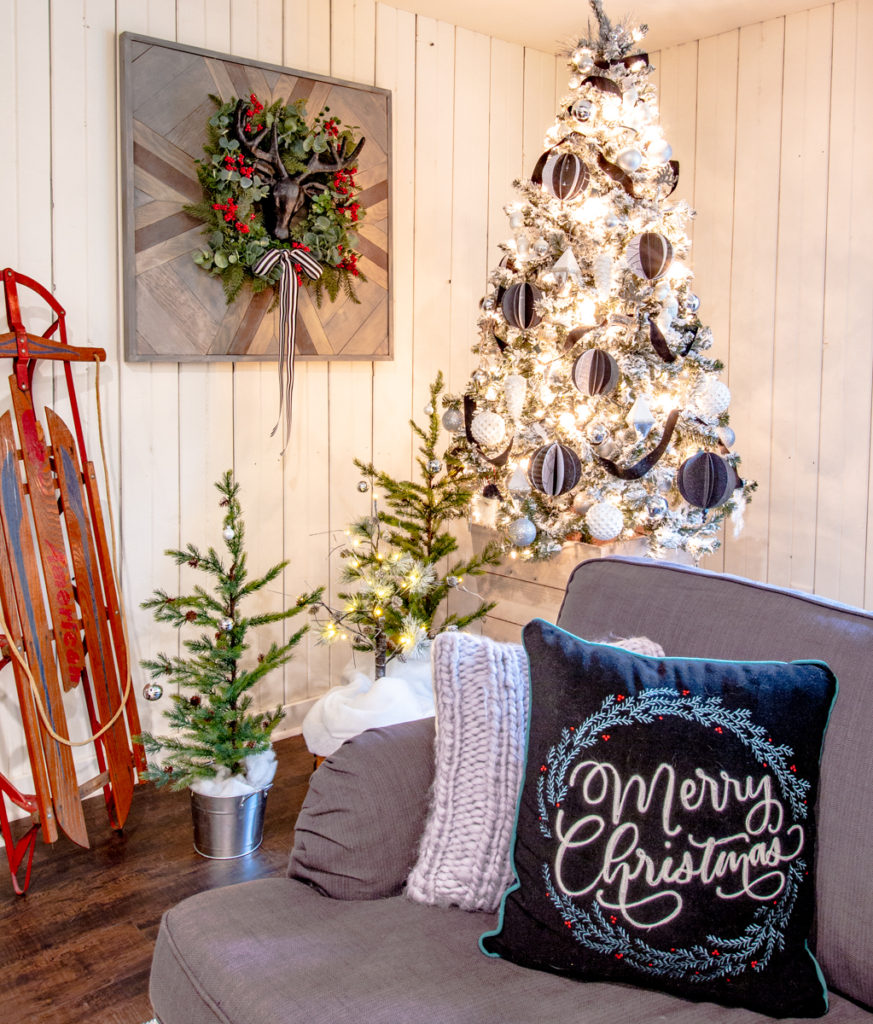 I was thrilled to partner with JOANN stores this holiday season and have found them to be a great source for not only all my crafting needs, but beautifully created seasonal home decor to fit any style. Their recent Door Buster events have saved me so much money on my Christmas decor needs that I have returned again and again!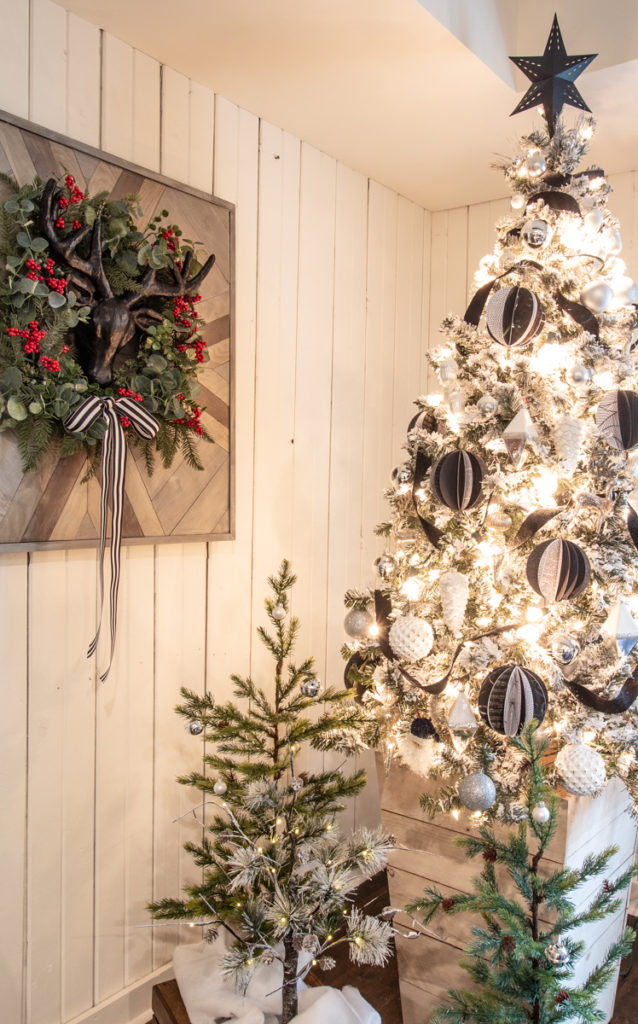 Want to create your own Star Tree Topper? Check out this post here.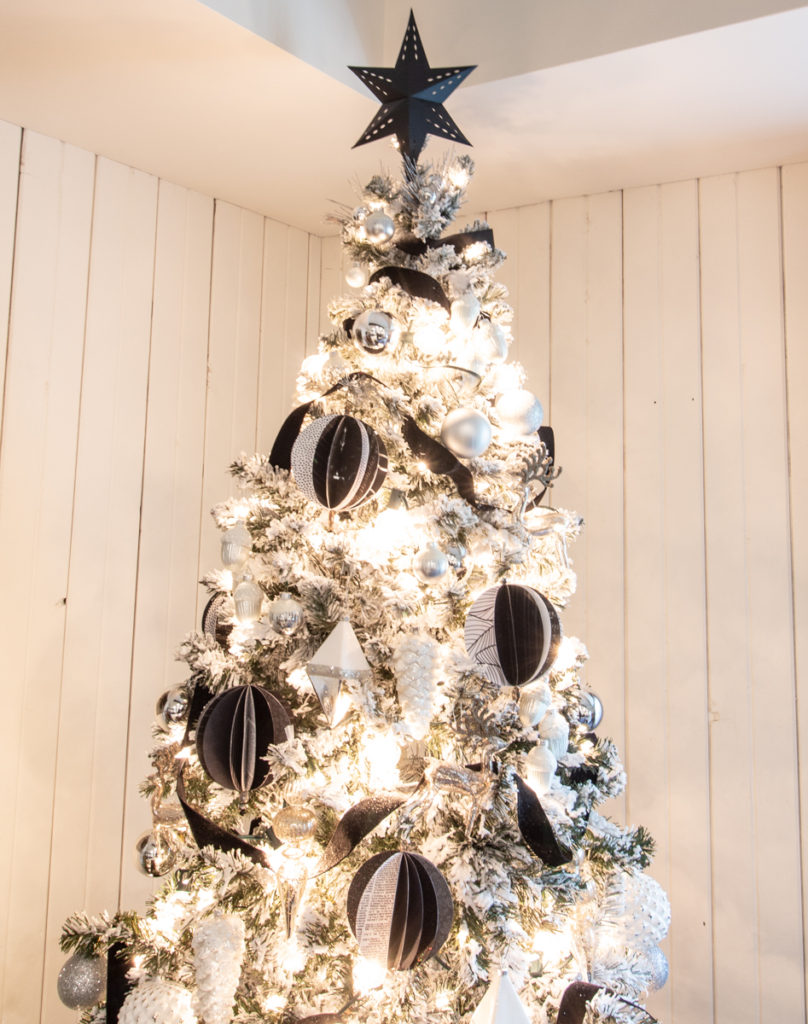 I also made the paper sphere ornaments. I created a video tutorial for this simple project here.
This post is sponsored by JOANN Stores. This post contains affiliate links . All thoughts, opinions and designs are my own.