Happy fall and Happy Monday! It definitely looks like fall around Birmingham. I took this close-up shot of some maple leaves on a walk last week.
Let's get to it. Menu Plan Monday.
I must confess that while obviously I planned my menu last week, I still ended up going to the grocery store a few too many times. This week I will review my recipes closer before heading to the store and will plan to go only twice. I promise!
Monday: Shrimp and Sundried Tomato Risotto
We ended up not having this last week, because we went out to eat unexpectedly. The good news is I did find a good price on Gulf Shrimp, at Costco's no less. I'll let you know what I think of the quality. I'm not sharing the recipe you see because I didn't write down how I prepared the shrimp for the top. I can tell you it was amazing and simple.
Tuesday: Leftovers

Wednesday: Oven Tacos

Thursday: Chicken Parmesan
Here's my plan on this one. I'll use the chicken tender recipe we thought was top notch a few weeks ago and then top it with an organic tomato sauce and Italian cheeses after the tenders are nearly baked. I'll serve with regular pasta or spaghetti squash.
Friday: Leftovers

Saturday: Chicken Picatta Pasta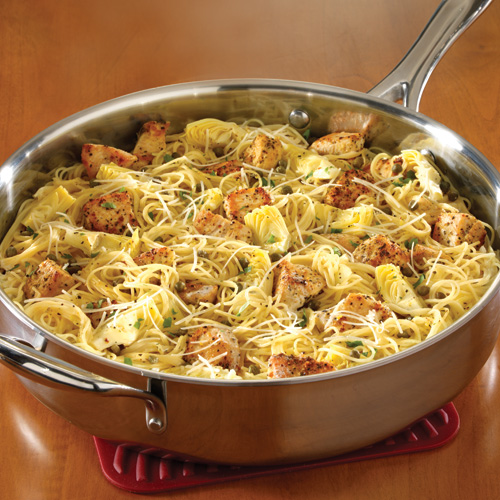 Source: The Pampered Chef
Nice simple meal that is surprisingly tasty. Gluten free versions of spaghetti work fine here too.
Sunday: Mediterranean Lentil and Sausage Soup
Oh, my how we love this hearty soup!! You will not regret making a pot on a cold night. I promise!
Update Around Here
I scratched a few small projects off the mighty long list I've got going. That felt good. What about you, did you get to any projects this weekend?
Have a great week everybody!
Thank you for subscribing to Paper Daisy Designs. Please continue reading on the blog. I appreciate having you as a reader.