Happy Monday, y'all! I can tell fall is on the way because my allergies are kicking in. I noticed those pretty little ragweed flowers along the hilly road out to my house last week and not a day later did it hit me full force. If anyone has a home remedy to try, I'd love to hear it. Otherwise, I'm adding honey to my morning tea and picking up my nasal spray at the drug store today!
Here is this week's menu. Notice no grilling this week. I'll be hiding indoors until the ragweed dies. Ha!
Monday: Authentic Italian Meat Sauce and Spaghetti
The real goal here is to make lasagna on Tuesday, but I'm out of Meat Sauce in the freezer, so I'll be cooking a big batch of this today.

Tuesday: Lasagna
Like I said a few weeks ago, I'm combining a few different types of lasagna recipes. Last time it came out fantastic, albiet a little on the petite side since I didn't realize gluten free lasagna noodles have less noodles in a box. Oops! I want to make it one more time and work out the details before I share it you all here.
Wednesday: Church Youth Group

Thursday: Leftover Lasagna
Friday: Swim Meet, will likely eat out
Saturday: White Chicken Enchilada Casserole
I have some of this family favorite in the freezer. It's a great recipe that reheats nicely.


Sunday: Spice Rubbed Chicken Thighs, from Fifteen Spatulas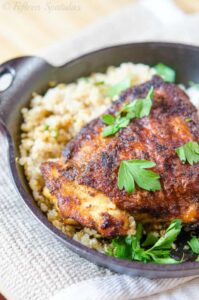 From Fifteen Spatulas
A new recipe for us to try this week. Looks interesting. A little more Indian and less BBQ flavored than the Leslie's BBQ Rub I generally use, but the skillet technique looks very promising!
Off to get a first hand view of the reveal of the Room Of Hope I mentioned last post on the blog. I'm going to try not to cry!
Sharing Here: Weekly Creative Party @ The Girl Creative / Motivate Me Monday@ Keeping It Simple Crafts / Inspiration Monday @ I should be mopping the floor / Totally Tasty Tuesday @ Mandy's Recipe Box / Tuesday Talent Show @ Chef in Training / Party Time @ the 36th Avenue / Party Junk @ Funky Junk Interiors / Pin ME Party @ Diana Rambles / Share it @ Winthrop Chronicles
Thank you for subscribing to Paper Daisy Designs. Please continue reading on the blog. I appreciate having you as a reader.