Happy Monday y'all! Another week planned and shopped for! Yippee!
Here's what's on the Menu Chalkboard.
Monday: White Chicken Enchilada Casserole
This one is a goody. I started with a basic recipe for White Chicken Enchiladas, cleaned up the gluten and then made it into a casserole. Who wants to spend all that time wrapping up enchiladas? Not me, I tell you. It's just as good and half the work.
Tuesday: Mom's Pulled Pork & Zesty and Crunchy Broccoli Salad
This pulled pork recipe started as an no-fail, super easy oven recipe my mom gave me. I made a few changes, using basic dry rub seasonings instead of a packaged mix. I don't like using ingredients I can't pronounce. 🙂
The broccoli salad is a recipe I used last week to bring to a BBQ. It was a big hit! I like that it isn't a sweet salad as some of them tend to be.
Wednesday: Pork Chili Verde
This is a fantastic recipe from Heather Christo and a great way add variety to extra pulled pork leftovers. I've made a few changes for my preferences, but overall it was a delicious as it was. I also made only half of the recipe because my boys enjoy pulled pork too much to give up more meat to this "soup" cause. 😉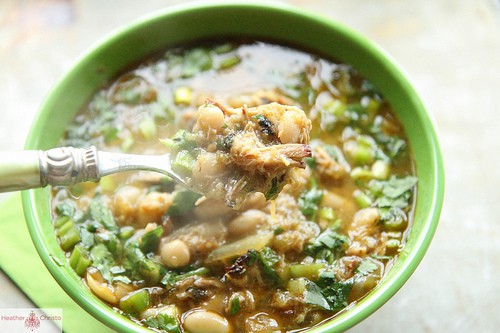 photo credit: Heather Christo
I'll update with my own photo and my version of the recipe later in the week.
Thursday: Leftovers
Friday: Classic Lasagna & Roasted Green Beans
If you've been following along on my Menu Plan Monday's, then you know I generally make a dish I call "Better than Lasagna".
Well apparently, I've been making this dish so long, my kids don't even remember what classic lasagna tastes like. So, I'm making it this week to refresh their memory and test my claims to "Better than Lasagna."
I've decided to go a little renegade with my recipe choice and combine a traditional American lasagna featuring ricotta cheese, eggs and such, with the authentic Italian version that uses a bechamel sauce.
I'm doing this because once I remove the gluten in the white roux, the ricotta might add a richness in in taste and texture. I'll report back next week and let you know how it turns out. On paper it sounds pretty fantastic to me. I may have to rename my, "Better than Lasagna"!!
Mealtime Monday @ couponingncooking /Totally Tasty Tuesday @ Mandy's Recipe Box / Show & Share @ Southern Lovely / Tuesday Talent Show @ Chef in Training / Party Time @ the 36th Avenue / Party Junk @ Funky Junk Interiors / Pin ME Party @ Diana Rambles / Share it @ Winthrop Chronicles
Thank you for subscribing to Paper Daisy Designs. Please continue reading on the blog. I appreciate having you as a reader.