I've got a super easy technique to share this month that perfectly illustrated how I was feeling about our son growing up. He's a sophomore this year and we realize that time is ticking and before we know it he will be leaving our nest. 🙁
Here's a close up.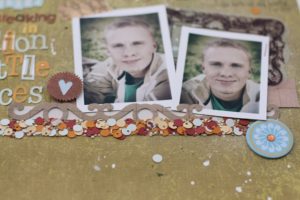 I just punched a ton of cardstock in the color palette of my page using a super small and an ordinary sized hole punch. Stretched out two-sided tape and poured the "confetti" on to one side of the tape. Be sure to keep the backing on the other side until you are ready to adhere it to your page.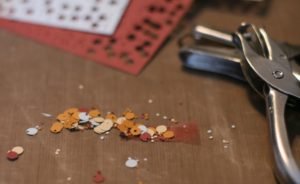 I found that some of the empty spaces needed to be filled by hand and some of the larger pieces needed to be removed because they were only partially sticking. Lastly, I filled in the spaces with the teeny, tiny punches. I found the best way to do this was to press the tape onto my non-stick matte covered with the tiny punches.
I think this technique has great potential, such a great way to use scraps and bring your color palette together.
Here's one more look.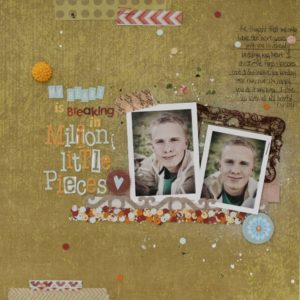 Supplies: All paper and embellishments from GCD Studios except washi tape, 7 Gypsies and unknown. Letter Stickers: Basic Grey, October Afternoon
Thanks for stopping by!
Thank you for subscribing to Paper Daisy Designs. Please continue reading on the blog. I appreciate having you as a reader.