For a long time I've been coveting a square boxwood wreath.  Simply beautiful.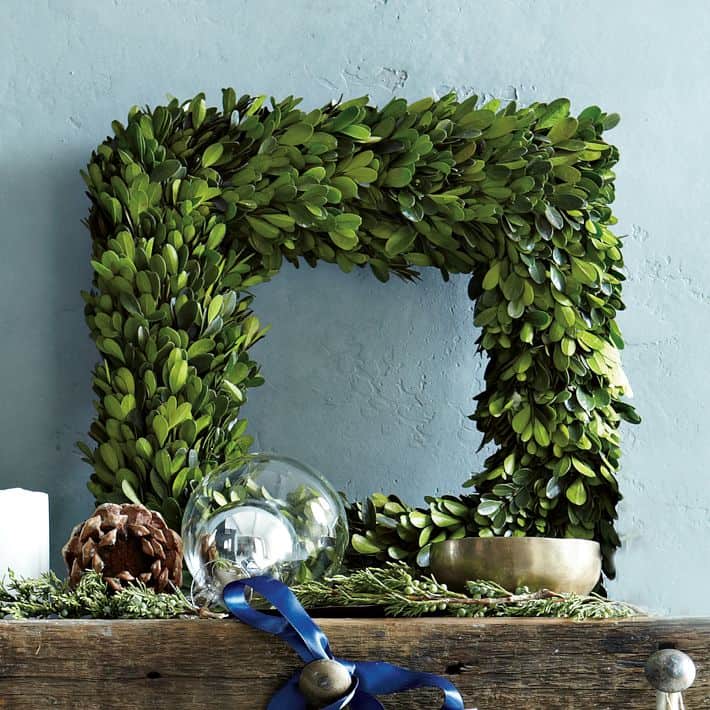 West Elm
Actually, if the price was right or someone would just hand one to me, I'd take a traditional circle wreath as well. 😉
Origin Crafts
Gorgeous right? But the price tag?  Ready for some sticker shock? They typically they start around $50.   Um, yeah, not doing that.  Granted it is very much a timeless decoration.  From Spring to Christmas, they are just simply beautiful.
I'll let you in on a little secret.  I didn't even make the connection until sometime this summer that we have 3 large boxwood bushes in our front yard! Can you believe?
At that moment I realized I could let the coveting end and get busy.
So, last week I finally started the process of preserving the boxwood to make a wreath of my own. The plan is to have the boxwood ready for the first week of December. Psst: It's here!
I've seen many people make a boxwood wreath without the step of preserving, but I want mine to last.  Not that I don't have an endless supply of boxwood.
But if you are going to go to the trouble of making something, it ought to last, by golly.
I took some small garden snips and started trimming the bushes.  They certainly could use a trim.  I can't believe I actually kept my husband from trimming these bushes this year because I knew I wanted to preserve some boxwood.
I certainly could have let him trim the bushes this fall.  I was able to fill this grocery sack just by trimming the branches of the bushes that had grown together.  Silly me. 
Next, I mixed glycerin with hot water in a ratio of 2 parts water to 1 part glycerin.  I also added green concentrated food coloring, a good two long squirts.

I decided to give my stems a good rinse before I set them to soak in the solution.  My greatest fear was inviting in some creepy crawly bugs in along with the boxwood.
I added the solution to mason jars and tucked in as many stems as I could.
I soon realized I had cut a lot more boxwood than I could fit into 6 mason jars. So I went hunting for alternative containers.  I also realized that something low and wide would probably be best.
And look, now I have an attractive arrangement whilst preserving my boxwood.  I just adore the natural simplicity.  I assure you, that as soon as these containers are emptied to make the wreaths, I'll go cut some more to replenish.
I would recommend verifying your container is water tight though.  See this beautiful container?
While arranging the boxwood stems, I look down to see that I had green water all over the counter. Yikes! I quickly grabbed a bowl and dumped what liquid was left into the bowl.  This was probably better way to do it anyway.  Having a bowl inside used less of the water/glycerine mixture and by this time I had less. 😉
The savings of preserving your own boxwood is significant.  The glycerine, which I purchased at my local Wal-Mart, cost around $3.50 a bottle.  I used two.  The dye, was $1.79 from Hobby Lobby.
Now here's the challenge.  You know you want one of those beautiful wreaths. So go out in your yard or your neighbors yard and do your own bush trimming and preserving.  Of course, you probably ought to ask permission if it's not your bush. 😉  But given my experience, you can assure your neighbor they won't notice a few missing stems.
Let's meet back up in a couple weeks and we'll make some wreaths.
Are you in?  Leave me a comment if you are and I'll send you an email when the follow up post is ready!
Update: I've written the tutorial on How to Make a Square Boxwood Wreath here.
I'll also want to update you all with a few tips from the process.
1. The stems that were in the jars didn't do as well as the ones in the wide containers.  Several of the stems had a fuzzy mold on them.  I probably stuffed them too tightly.
2.  In order to make a wreath you will need a large amount of boxwood.  With the two containers and the jars I photographed I was able to make one wreath.
Spring Update:
My wreath turned brownish.  The leaves were still preserved, not brittle or crumbly, just not green anymore.
So, here's what I did with my wreath.
If you scroll back and forth between the photos above you can hardly tell the difference.
I spray painted it using a green spray paint and a light green paint.  (I would avoid a gloss spray paint, but I happen to have this one on hand so I used it sparingly.)
Would I still do this again? Yes, most definitely.