Oh gosh, y'all I hope you are having a great Monday. Mine was going fine despite a super sluggish computer this morning. I had to abandon it to get some projects done and when I finally made it back this evening I think it's truly dead. Hopefully not, but it is not cooperating at all, even tried reinstalling the system and that wouldn't complete.
So, I'm limping along here on my iPad. I don't really like writing my posts from here. It's just not as fluid. But I'll give it a go because I hate not to be here.
Here's a look at this week's Menu Chalkboard.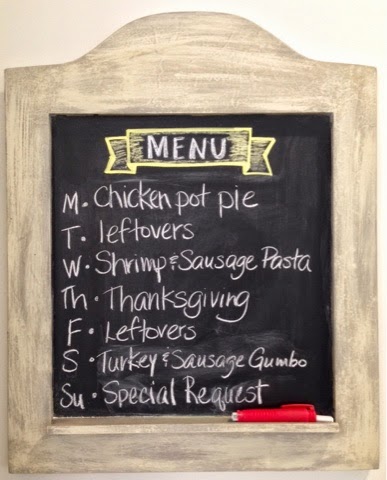 Monday: Chicken Pot Pie
Since it's after dinner, I can report that this was pretty good. I actually used the Pillsbury Gluten Free Crust and while it wasn't what I'd call flaky, it was crispy and quite tasty in it's own way.
I wanted to try this crust out before the big Thanksgiving day to see if this crust could past the mustard for my Crunchy Caramel Applie Pie. (I'll have to share this recipe next week.) I think there are so many other stars in this pie that the crust is really just a facilitator and I think this Pillsbury Crust will do just fine.
Tuesday: Leftovers
Wedensday: Shrimp and Sausage Pasta
Miles and the rest of our company should be here, so we'll enjoy this favorite.
Thursday: I was going to make a pretty menu card to share here, but obviously that didn't happen. I'll just have to do a recap or come back and update when my computer is back.
Friday: Leftovers, I don't know about y'all but I love Thanksgiving leftovers.
Saturday: Turkey and Sausage Gumbo
I basically use my Chicken and Sausage Gumbo recipe but use the turkey carcass to make a stock and debone what's left. It's always a great treat.
Sunday: Special request or Leftovers
Emily asked me what the Special Request meant at dinner tonight. I told her it was for Miles to decide when he gets home from college, but then my husband pointed out that he may need to get back before dinner. That made me very sad, so maybe it will just be leftovers. Hrmmph.
Around here: I was gone all weekend joining many of my family in Maryland to celebrate my Dad and Step mom's 25th Wedding Anniversary and Renewal Ceremony. It was a beautiful event and I was happy to share it with them.
Richard worked on his "honey do" list while I was gone, helping us get a jump start on a new project in the mudroom hallway in the basement. He also finished installing the three extra can lights in the ceiling to almost wrap up the kitchen.
I primed the wood for the mudroom project today so hopefully we can get them nailed up tomorrow. I'm not sure we will get it done in time to do a big reveal this week, but maybe. Oh and then there's that darn computer!
If I don't make it back, I hope you have a blessed Thanksgiving, shared with the ones you love the most.
Thank you for subscribing to Paper Daisy Designs. Please continue reading on the blog. I appreciate having you as a reader.