This is a tutorial on how to create a drip lamp from a urn shaped thrift store lamp.
It's also the story of a hideous lamp with 5 ugly ducks quacking all around.  A lamp so ugly it sat at Salvation Army for 3 weeks before I finally got the courage to take it home with me, even though it was only $4.
Wanna closer look at those infamous ducks?  They are quite infamous among my friends because many of them got to see the ducks sitting in my living room before I got around to painting the lamp.

What cracked my daughter up the most about this lamp was not the ducks at all, it was that it appears the inside of the glass lamp was painted to look like an egg!  See those speckles? Yeah, that totally looks like an egg.
But the worst part of this story?
A few days after I left the duck lamp at the thrift store for the second time, that's right the second time,  I called them and asked,
"Do you still have that duck lamp?"
They said, "Ah, no it's gone."
I figured some soul was in desperate need of a lamp that cost only $4 and settled in with my Thrift Store Remorse. You know that feeling when you wished you would have bought that thing you just weren't sure about while you were at the thrift store, but left without it?
Some time later, I visited the store again and low and behold the lamp was still there!
By this time I'd seen this large urn lamp in the Pottery Barn Catalog and knew I could have made something wonderful with that ugly ducklings lamp. And I could save myself from breaking the bank on this $200 lamp, not including the shade!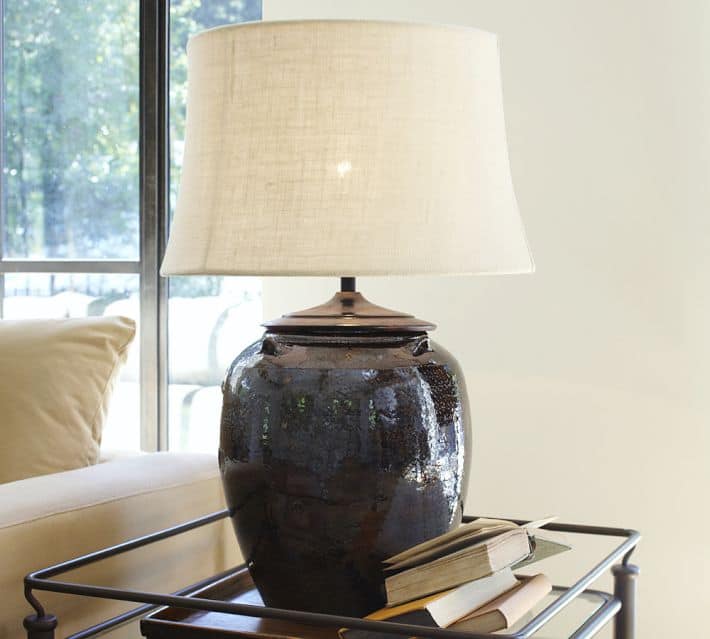 Source: Pottery Barn
Like I said, the ducks stayed in my living room for a while, trying on different shades.  I was beginning to wonder if this wasn't the story of Goldilocks and the Five Ugly Ducks. This one didn't seem just right either!
Meanwhile, I was enjoying a good chuckle at those hideous ducks each time I walked by.  And it was way too much fun trying to convince my friends it had potential.  I promise they all laughed at me on more than one occasion.
Then, one rainy day, I finally decided it was time for the ducks to go.  I mention the "rainy day" because I'm not sure if the moisture in the air helped this process or not.
I started by spray painting a base coat of primer just be sure the paint would stick to the glass. Then I followed up with a custom mix of paint using mostly Duck Egg Blue Annie Sloan Chalk Paint how ironic is that?, Old White and a little bit of Aubusson Blue.
Once that dried, I began dripping different colors of paint along the top of the lamp.
It was helpful that under a piece of cardboard was a lazy susan I nabbed from my pantry.  That way I could spin the lamp around as I squeezed the bottle.
I used a little tiny drip bottle and Martha Stewart metallic glaze from Home Depot.
I think I started with a mixture of the base coat and the gold glaze.  Next, I added some full strength Aubusson Blue to the bottle.  Then I added more gold glaze. I just kept slowly adding paint along the top. I'd wait and watch it drip then I'd add a little more.  I probably filled the little squirt bottle 3 times.
After each dripping and a little bit of waiting, I would wipe the base of the lamp free from excess drippy paint.
Once it finally dried, about 36 hours later, it looked like this.  Remember I said it had been very rainy so it didn't completely dry until I set it out in the sun.
Pretty spiffy right?  But it's missing that look of glazed pottery.

In comes my favorite top coat for this type of project. Krylon Triple Thick Crystal Clear Glaze.
It takes several coats, but in the end it looks remarkably like glazed pottery.

To finish the base of the lamp, I applied gold leaf.  Here's a quick run down of how that's done.
1. Apply sizing with a brush to base of lamp or whatever you want to leaf. Let it dry and become tacky, usually about 5-10 minutes. Be sure to rinse your brush right away or it will be glued together. 😉
2. Place sheets of leaf onto the tacky surface.  I don't worry too much about wrinkles.  I'm a fan of the texture it creates.
3.  Use a dry, flat artist's brush to smooth the leaf onto the surface.
4. Once you've covered most of your object. Reapply sizing where necessary and repeat the steps as before.
As I had expected, the gold leaf was a little too gold and shiny in comparison to the gold hue in the glaze.
To fix that, I applied Johnson Paste Wax and little dapples of the Metallic Gold Glaze is used in the dripping.
This looks better, right?
Just a little buffing of the base the next day and voila!
I really couldn't love it anymore.
I know this looks like a ton of steps, but it was super easy.  If I hadn't made sure all my friends got to laugh at the hideous ducks before, they would have never known it was a DIY lamp that cost me $4 plus a new shade from Wal-Mart that was around $20.


The color combinations are endless.  And it was so much fun.  Kind of like spin art! I'd do it again for sure!
Don't you want to try? If you do please report back, I'd love to see your drip lamp creation!!
Update: I'm linking up this project to East Coast Creative's contest for Crafting with the Stars. It's a long shot I'm sure, but if you could view my submission through their site I'd be so grateful.  Be sure to check out all the other amazing entries. My submission is number 68 on the list. Click here or the image below to go and "vote" for me. Thanks!

Sharing here:
Transformation Thursday @ Shabby Creek Cottage  / Hooking up @House of Hepworths  /  Feathered Nest Friday @ French Country Cottage  / Be Inspired Friday @ Common Ground   /  Friday Link-up @ Redoux  / Furniture Feature Friday @ Miss Mustard Seed   /  Shabbilicious Friday @ Shabby Art Boutique  / Frugal Friday @ The Shabby Nest  /  Pity Party @ Thirty Hnndmade Days  /  Party Junk @ Funky Junk Interiors  /  Mop it Up Monday's @ I should be mopping the Floor  /  Nifty Thrifty Sunday @ Nifty Thrifty Things  /  That DIY Party @ DIY Show Off  /  More the Merrier @ DIY Home Sweet Home  /  Nifty Thrifty Tuesday @ Coastal Charm  /   Martha Monday's @ Watch Out Martha  / Get your Craft On @ Today's Creative Blog  / Tutorials Tips Party @Homestories A to Z  / Wow Us Wednesday @ Savvy Southern Style  /Power of Paint @ Domestically Speaking  /  The Summer Bucket List@ the Foley Family  /  Humble Brag Party @ One Project Closer  /  Chic and Crafty Party @the Frugal Girls /     Shine on Friday@ One Artsy Mama  / Show and Share @ Southern Lovely