This is it friends. Week 7 of the One Room Challenge! Just one more week until the reveal of our Moody Traditional Main bedroom. I delayed publishing this week's post so that I could share more progress with items actually in the room. I think it was worth the wait.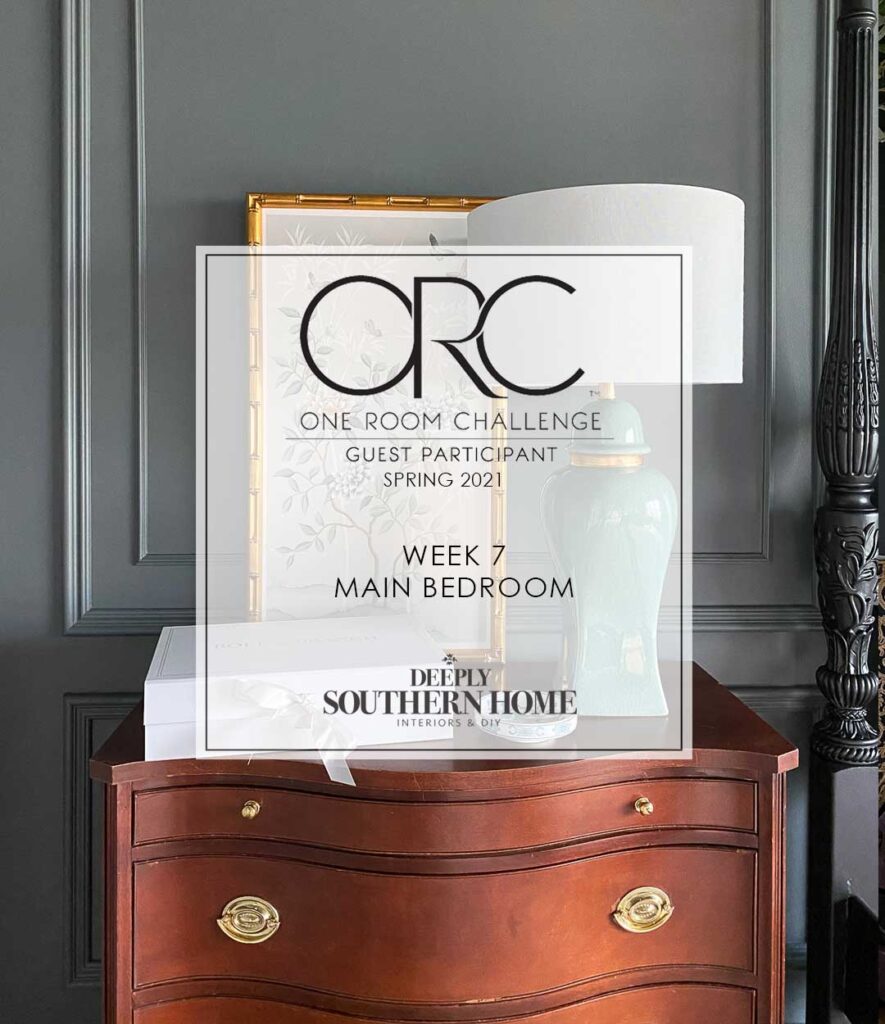 WHAT IS THE ORC?
Thanks to Linda, the founder and organizer of this amazing bi-annual Interior Design event, the One Room Challenge,™ there have been hundreds of amazing room makeovers over the years. The event encourages and inspires room makeovers of 20 Featured Designers and hundreds of Guest Participants, like me. The official media sponsor is none other than Better Homes and Garden!
If you need to get caught up on the previous week's progress update and design plan check out these posts.
Week 1- the Intro || Week 2- Design Plan || Week 3 -Powered Curtains|| Week 4 Small DIY's 
Week 5 Architectural Details
This post contains affiliate links for your convenience. It also contains links to sponsors who have gifted product for this room makeover. All thoughts and opinions are completely my own.
Week 7 Progress
As of late afternoon on Thursday, the painting of the coffered ceiling and all of the panel moulding is finally far enough along for the bed to return! Tonight will be the first night back in the room after two weeks of sleeping on our bed, on the floor, in the living room!
I had made the decision long ago that I would spray the coffered ceiling and the panel moulding to avoid brush strokes. Using a dark color like I am, Roy Croft Pewter by Sherwin Williams, brush strokes can often be seen and cause what is called, flashing.
I didn't account for how long it would take me to set up the room for spraying and how strenuous the actual spraying would be. While I have used paint sprayers before, I mostly use them on furniture. This time I upgraded to a sprayer that can easily spray paint in all directions. There was a little bit of a learning curve to get the hang of the flow and coordinating movement necessary to get a seamless spray. I could talk for quite a while about how to spray and what to expect, but the most important thing I can tell you is that spraying uses a lot of paint! I currently have about 1/4 of a gallon left out of 4 gallons of paint. Mind you, this is a good-sized room, 16×16 and all of that moulding requires extra paint, but that was a huge expense in money and time it took to keep returning to the paint store.
Overall, I am happy with my new sprayer and would recommend it. Here's a link to the one I purchased.
The Lighting Plan
In the original design plan, I only vaguely hinted at the lighting. I had concerns about the chandelier I had originally chosen arriving on time. And, I needed to see a few more pieces of the room come together before I made and shared my final choices.
Here is that original plan. I always love to look back at the design plan as the room progresses and see what has changed and what has stayed true to the original design.
Sconces from Crystorama
The original sconces, gifted from Crystorama, are so incredible. I peeked inside the boxes when they arrived, but kept them safely tucked away until now.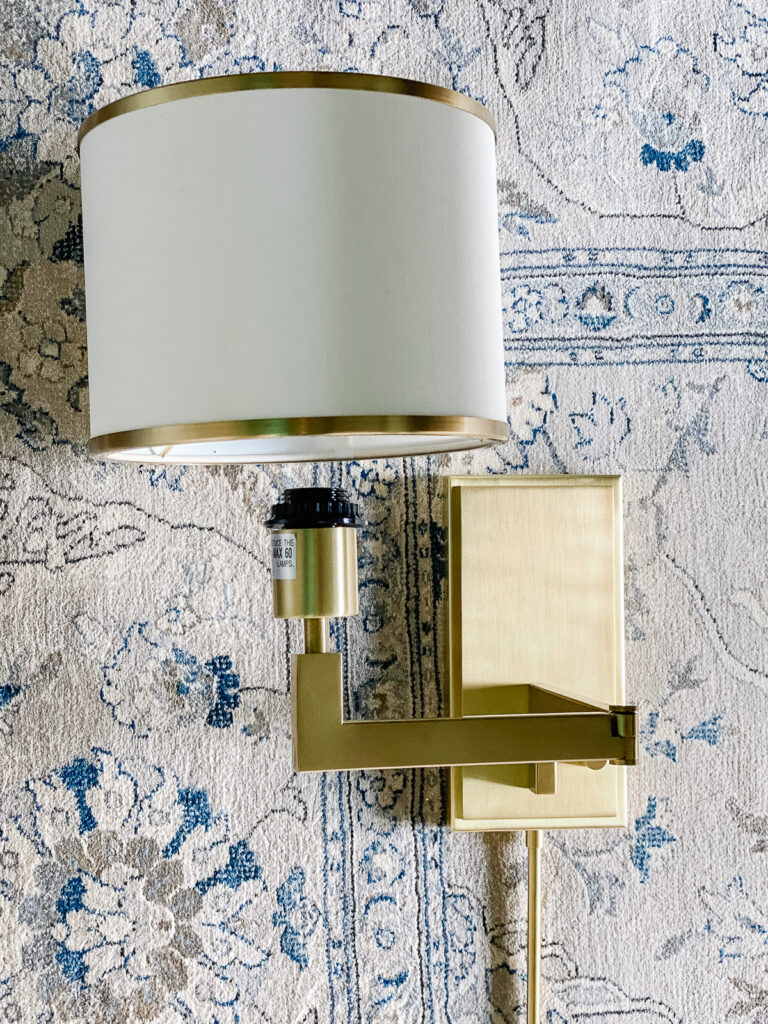 They are substantial enough to make a statement and are plug-in, instead of hardwired. My favorite detail is the gold metal band on the top and bottom of the shade. It's a subtle, yet elevated detail.
I loved that I could get the look of a hardwired sconce without the expense of hiring an electrician to add power. In the case of the paneling I was doing, this was also very important because the exact location of the panels wasn't decided upon until last week.
Table Lamps from Couture Lamps
Couture Lamps specializes fine quality, unique lighting and accessories. I was fortunate enough to partner with them for the previous spring's One Room Challenge and I have been an ardent fan and admirer ever since.
I had a great debate going on around our house as to which lamp to add to the room this time.
I ended up choosing a pair of the new Jade Table Lamp for the dresser side of the room. I loved adding that soft pop of color.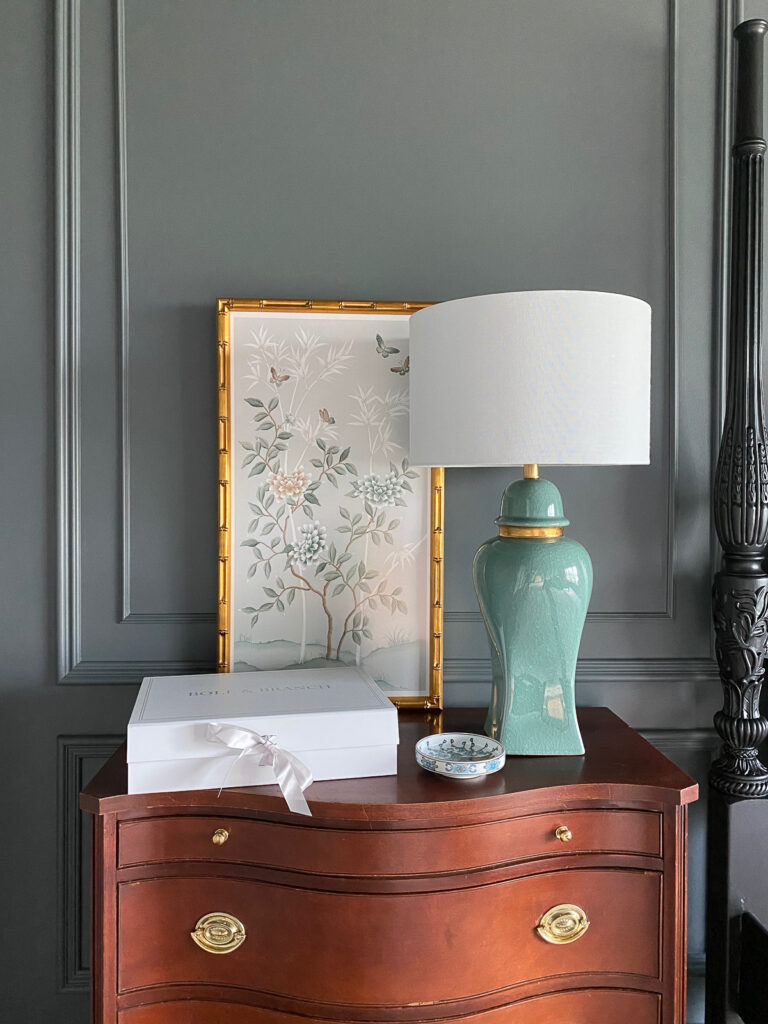 I've styled it today next to the art that inspired the selection. The pair of Chinoiserie style Giclee prints from Diane Hill. I so admire her work and love following and seeing her painting process on Instagram. These gilded bamboo frames are gifted from CustomPictureFrames.com
The lamps have gold leaf details and a gorgeous crackle finish.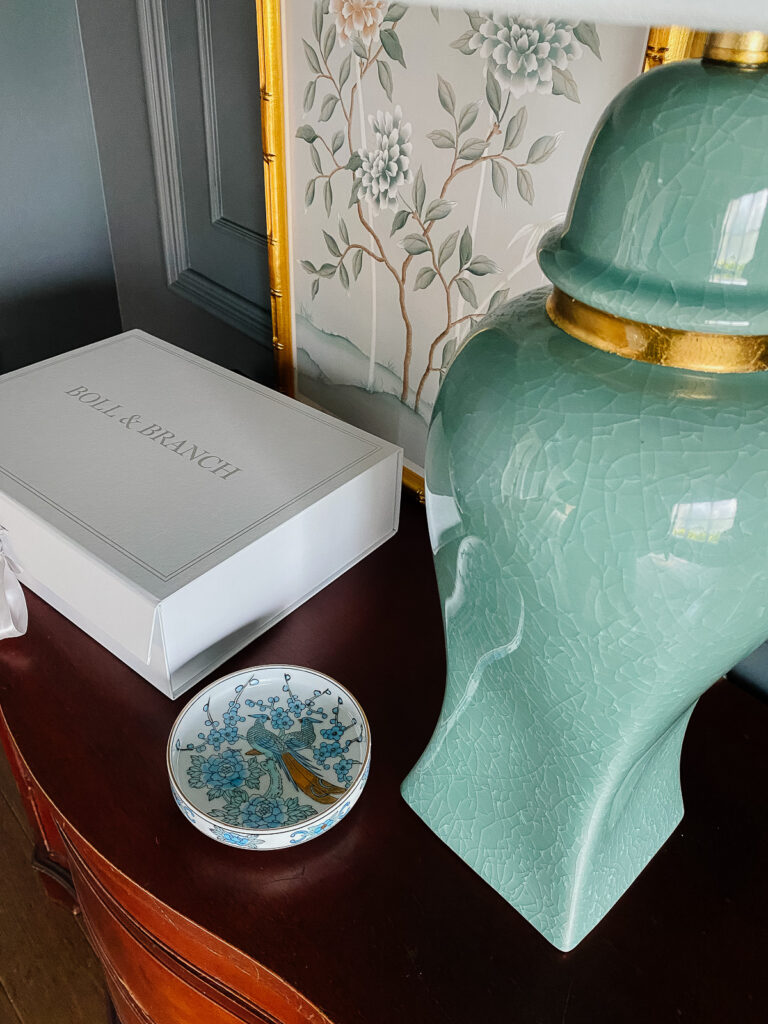 The Chandelier
I was going to share an image of the amazing chandelier I purchased from Circa Lighting, but I think it's best to save that one detail for a surprise at the reveal. Trust me when I tell you it will be the crown jewel of the room!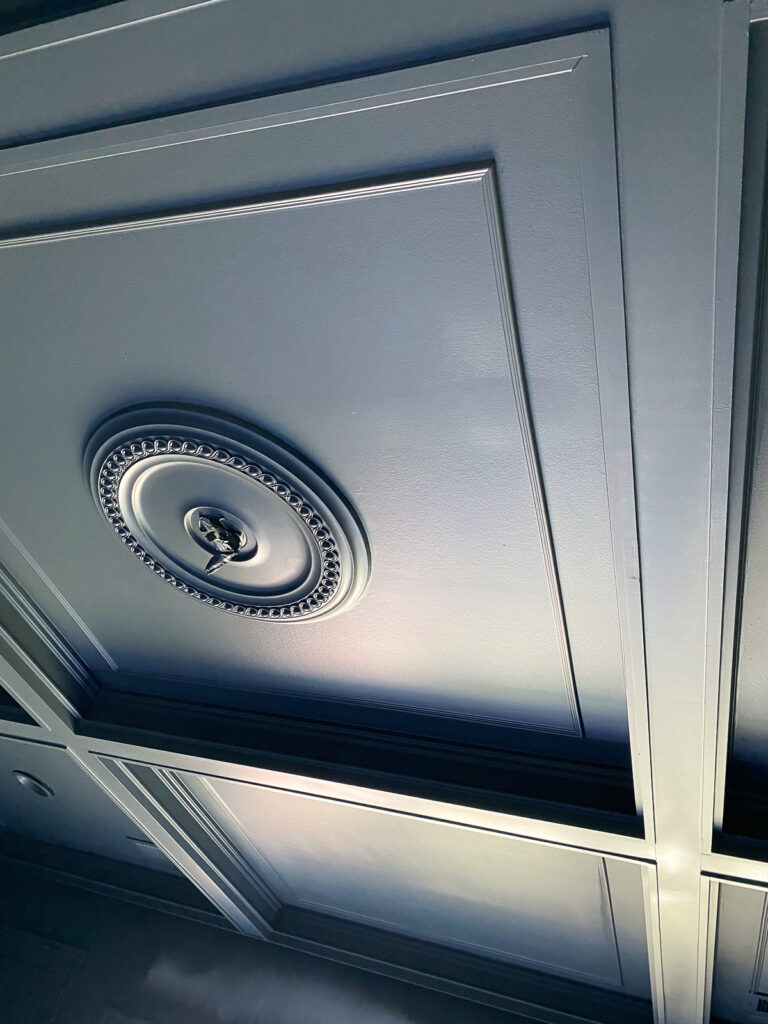 Painting the Four-Poster bed
I originally painted our four-poster bed back in 2018 for our Shades of Grey bedroom makeover for the One Room Challenge. It was a great way to update the look of our ornate, traditional bed. It holds a sentimental place in our hearts, so it was worth finding a way to love it again. As lovely as the custom chalk paint color was, as I feared it ended up looking too similar to the wall color. It also needed some touch-ups after our move.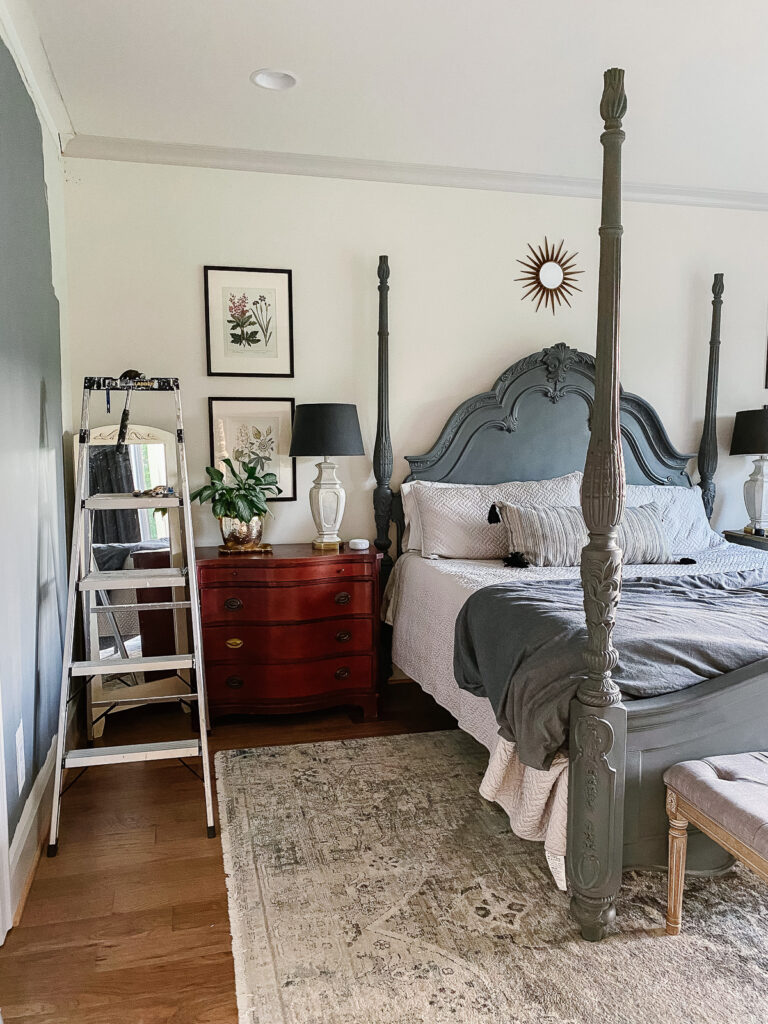 I chose to use Coal Black Fusion Mineral paints this time. I actually had never used Mineral Paint before, but after several recommendations, I decided to give it a try. I loved that it didn't need a top coat. I remember what a process it was to wax the bed after I chalk painted it.
This is just after one coat. It is a thinner paint, but the coverage is much better than what you might expect. I love that it has a soft luster finish. It nearly shimmers when the sun is setting outside the windows.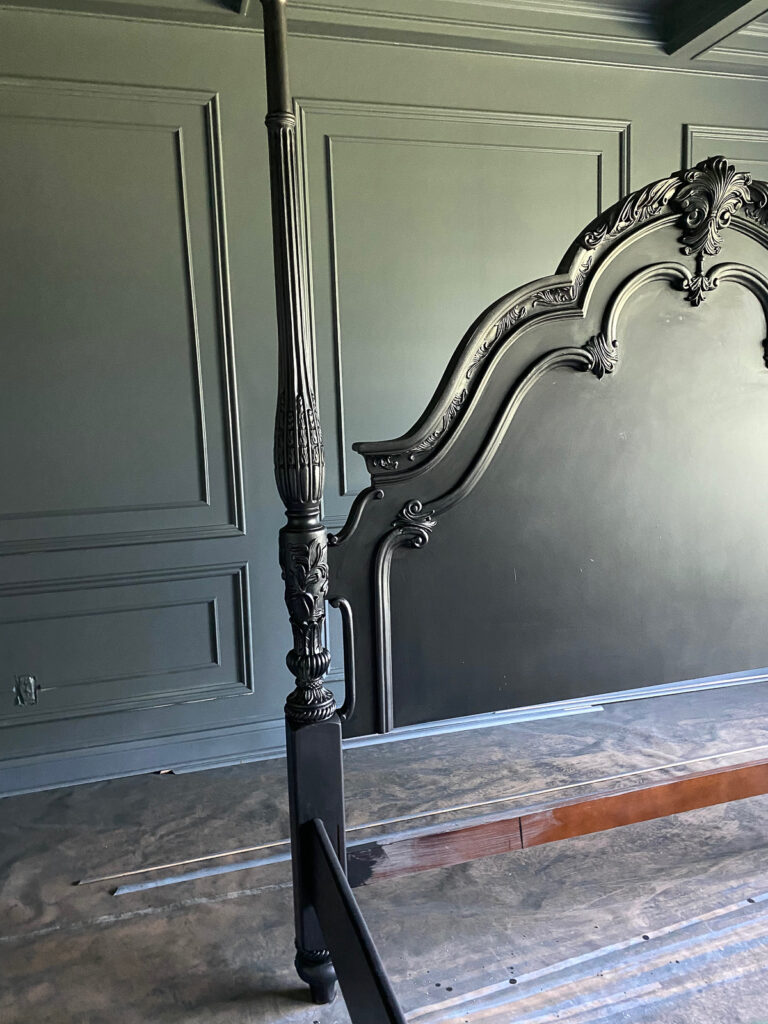 After most of the spraying was done, we set up the bed in the room. The room was the perfect place to paint anything at this point. I ended up spraying again, but it was easy to throw plastic drop cloths over it to protect it.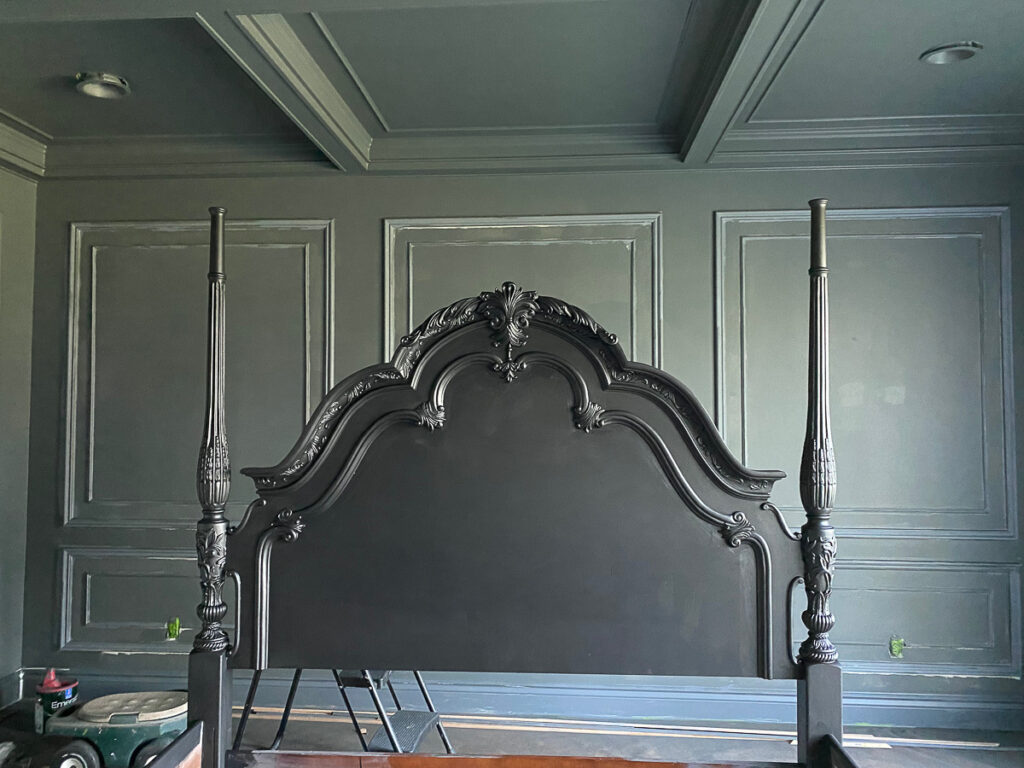 Upscaling the Vintage Chest
If you are a keen observer to every detail in the photos, you may have noticed the upgrades on the vintage chest we are using as a night stand.
The original handles on this antique were nice, but one of them was broken and missing a piece. I reached out to Charleston Hardware Co. for a replacement.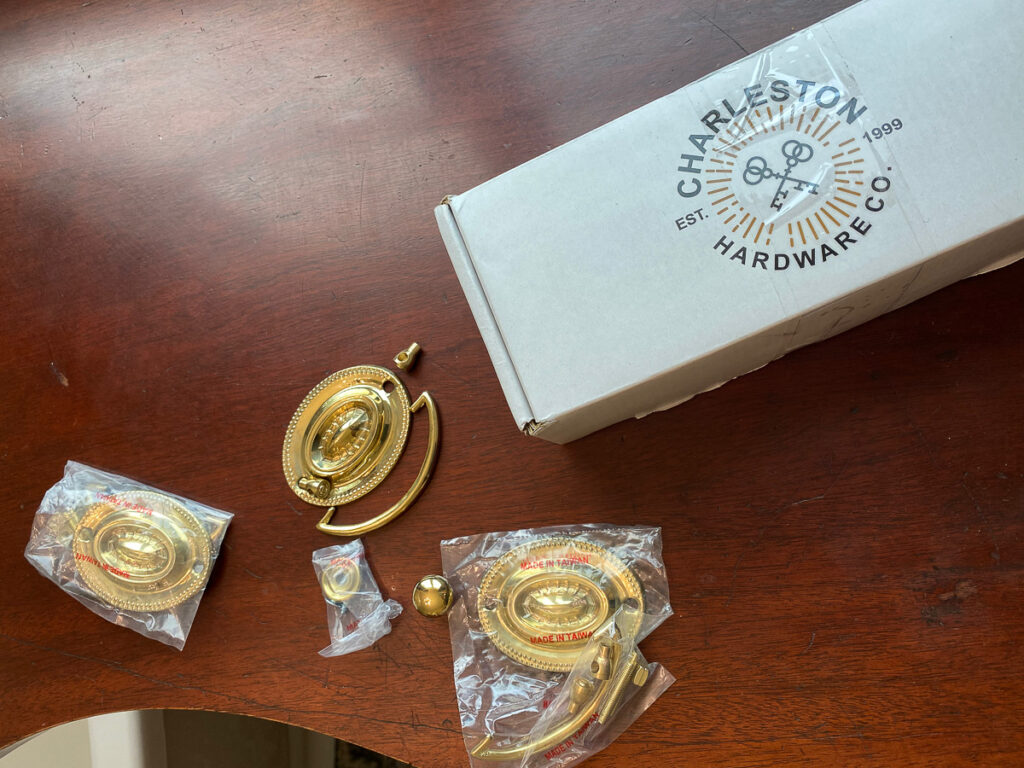 They offer a huge variety of vintage-inspired, preservation, and museum quality hardware of all kinds. I would definitely recommend looking around their website. They were kind enough to send me these handles for me to use in the One Room Challenge, but I loved finding exactly what I needed on their site.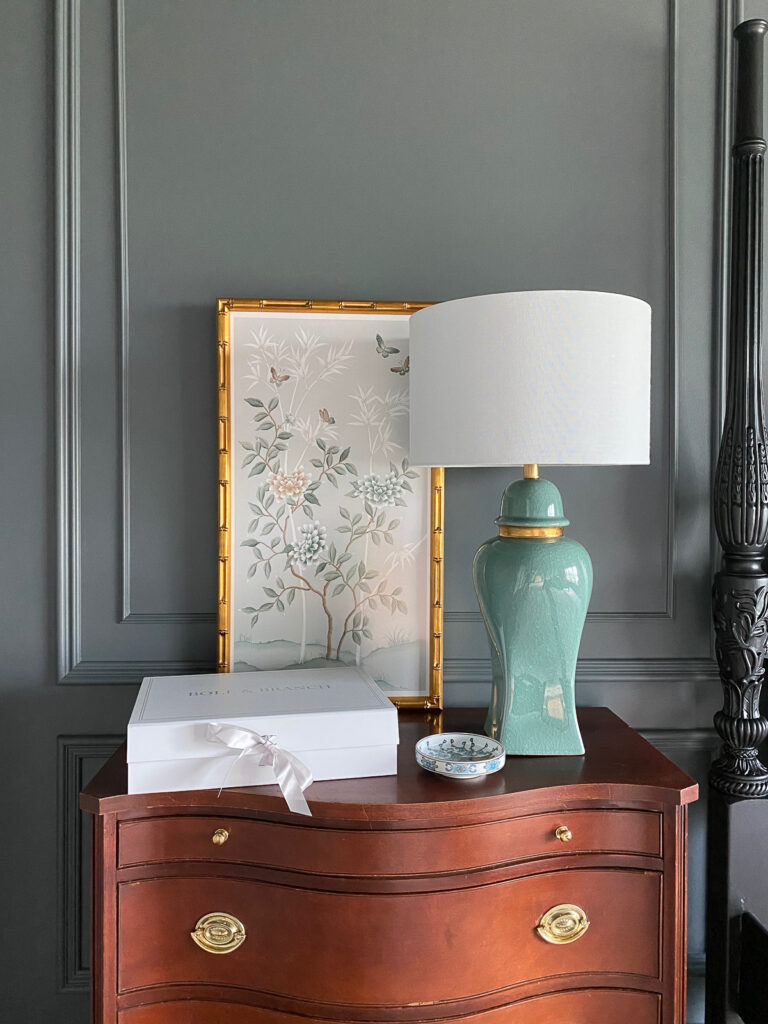 I chose an unlacquered brass pull because I felt like it would coordinate best with all of the gold accents in the room and will create its own lovely patina over time.
The last added detail to this chest will be a custom piece of granite. I visited Maranatha, a local granite and marble company. I will share more of my visit on Instagram Stories, but here is a look at the chosen remnant slab.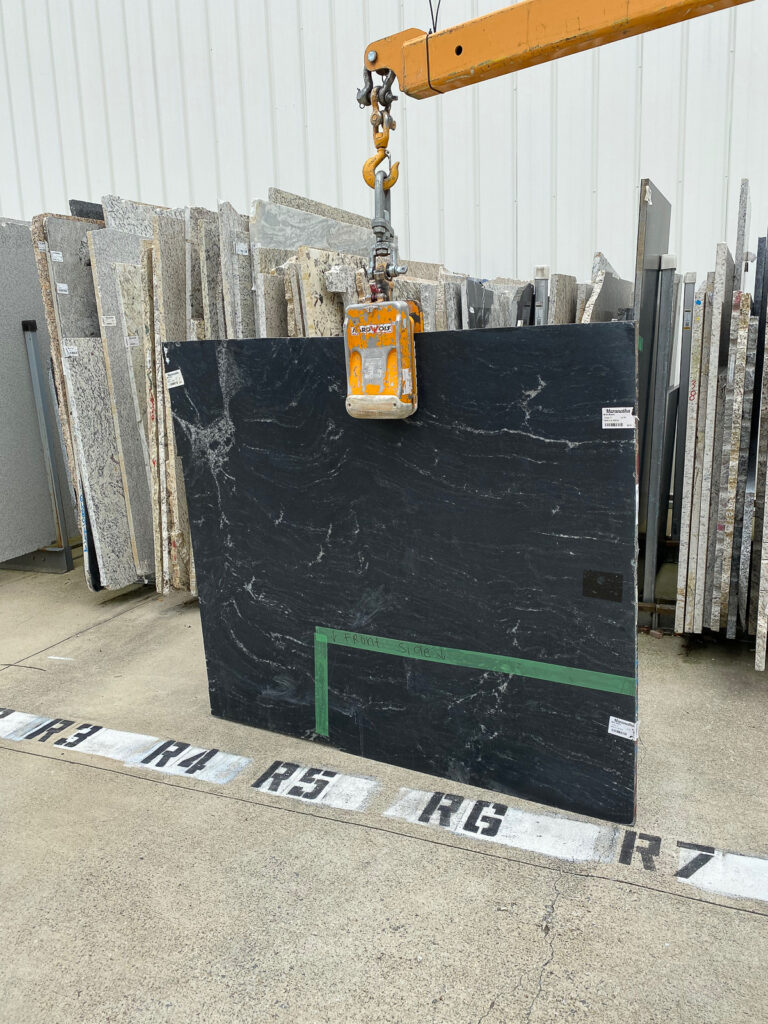 I upgraded to a long ogee edge on the front with a small overhang. I think it's going to be absolutely stunning as well as incredibly durable. They prove that granite doesn't have to be speckled, brown and dated.
Did you notice that pretty box on the nightstand?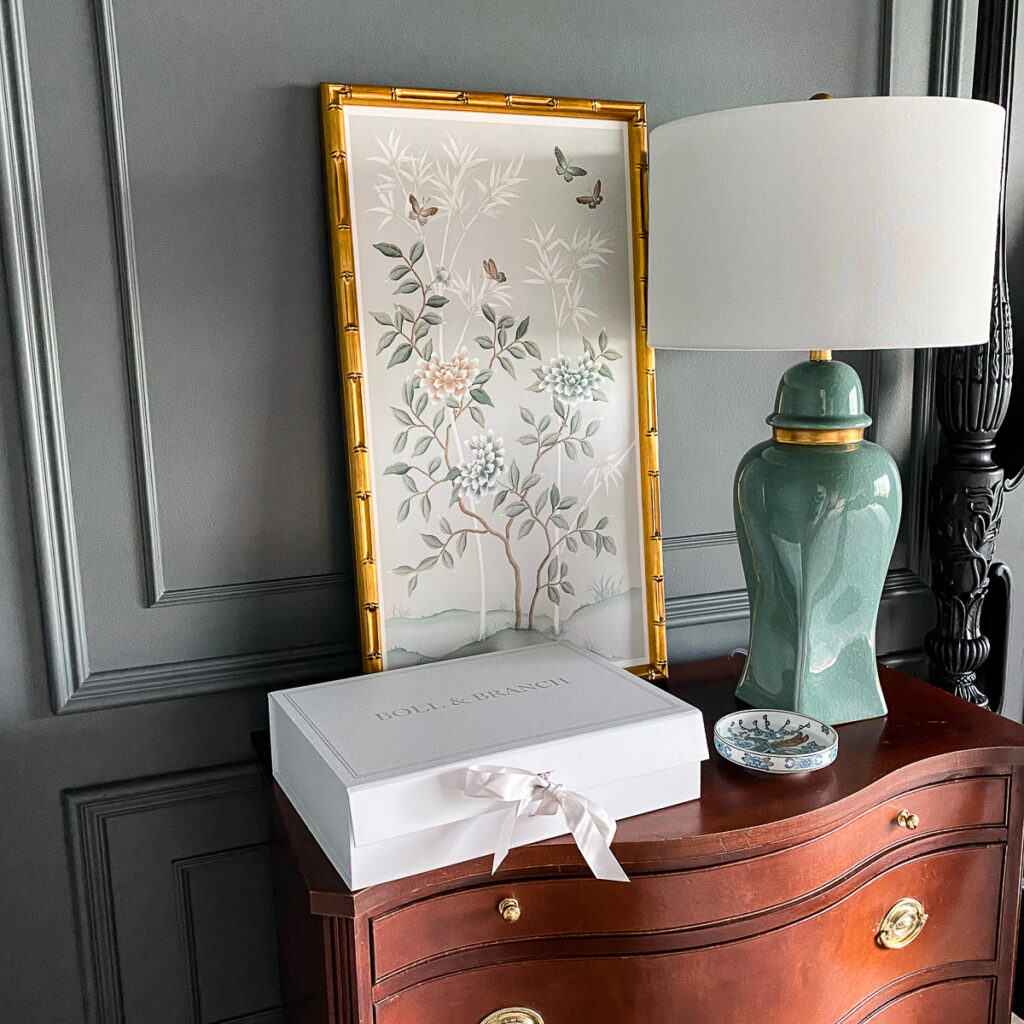 I can't wait to make the bed with new sheets from Boll & Branch. Check back next week for which set I was gifted and for a discount code!
I currently have the Heritage Quilt Set in Pewter and absolutely love it. It is the softest, most perfectly weighted quilt I've ever had. I did not even consider changing the quilt on my bed, even for the challenge.
Wrapping it up for the Reveal
There are so many small projects to complete before next week. I haven't been keeping a list as I normally do but I thought I'd share it this week for reference.
Add decorative trim to existing curtains.
Paint bedside vanity.
Reupholster vanity chair.
Finish work on side chair.
Hang art and mirror.
Hang sconces.
Hang chandelier.
Update light switches.
Accessorize.
Photography. (Which usually takes an entire day.)
Write Reveal blog post.
Sponsors
All of this would not be possible without the support and contributions from these amazing sponsors!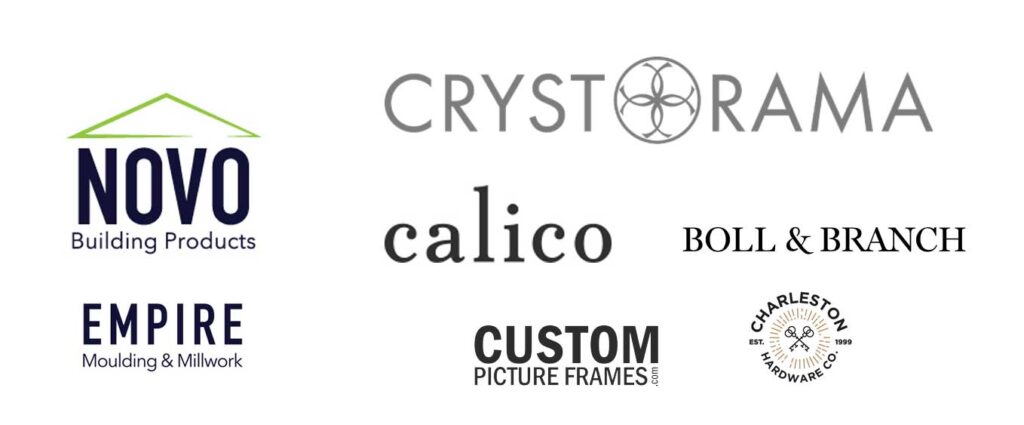 Novo Building Products and Empire Moulding and Millwork || Calico Fabrics || Couture Lamps
Crystorama || Custom Picture Frames || Boll & Branch || Charleston Hardware Co.
Be sure not to miss this season's Featured Designers and the Guest Participants links at the One Room Challenge weblink up! As always, special thanks to the One Room Challenge media Sponsor, Better Homes and Garden and Linda, owner and creator of the One Room Challenge.