We are coming up on our second year at our Lake Ridge House and the back patio continues to be one of my favorite places to unwind. While much of the decor has stayed the same over the last few years, I have found a few items that really add to the relaxing environment here.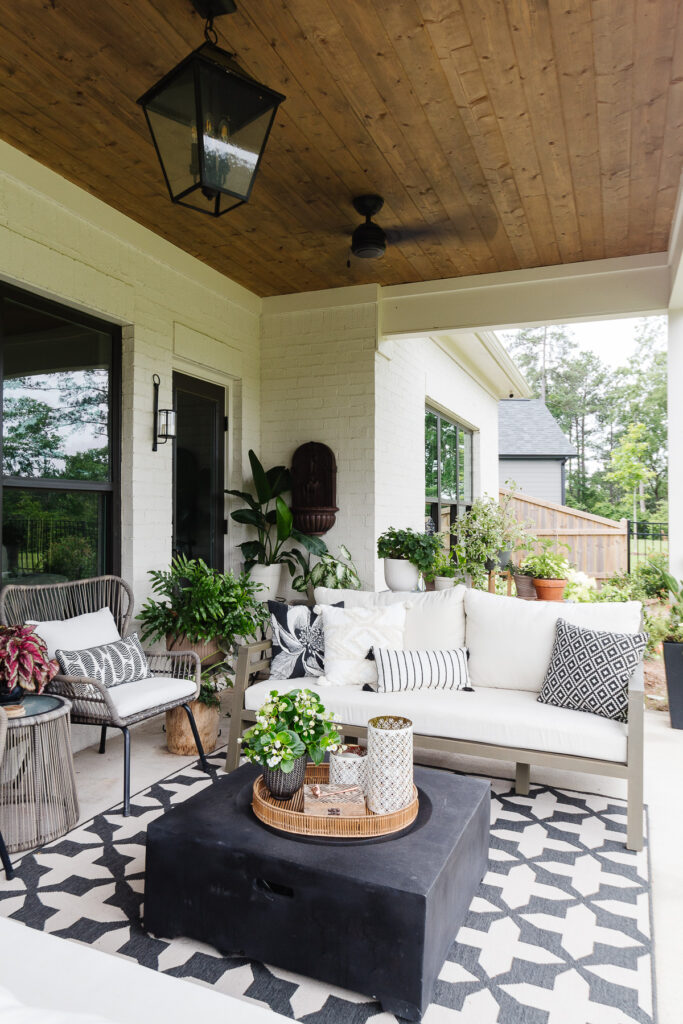 I'm sharing this look at our summer patio with my friends from the Seasonal Simplicity home tours. Be sure to see their spaces and see their tips for having the best summer in your outdoor spaces. You can find them all linked below.
This post contains affiliate links for your convenience. At no cost to you, I make a small commission.
I only share products I truly love in my home.
I wrote, what I think is a fantastic blog post several years ago, that I recently refreshed, called 9 Essentials for a stylish and cozy porch or patio. Be sure to check that blog post out here.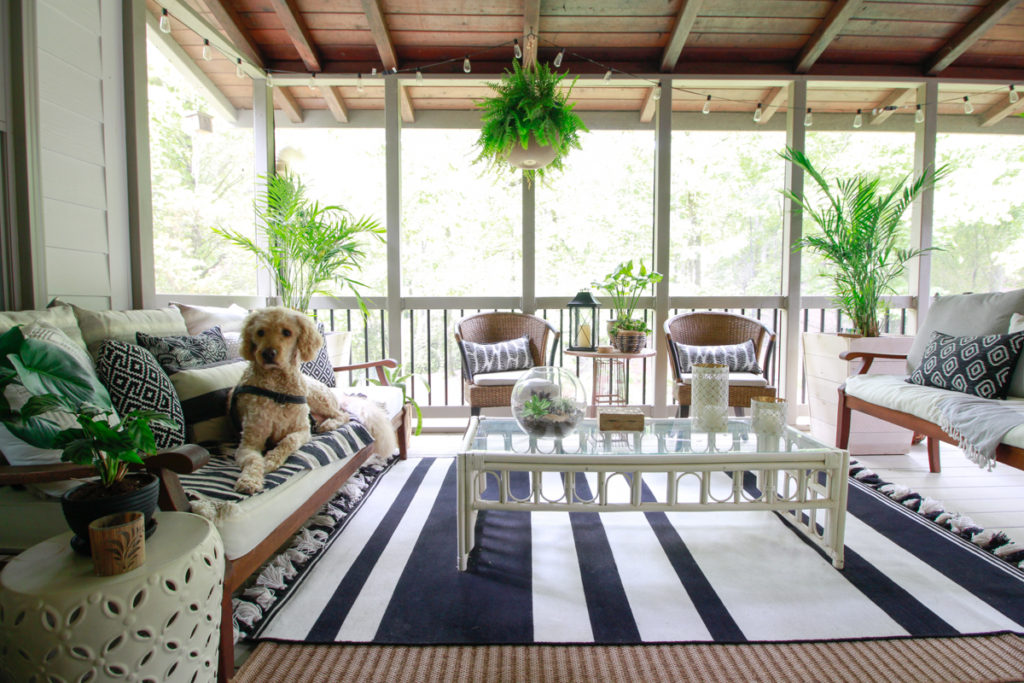 I won't rehash those points, but what I needed to add specifically for this patio was privacy, soundscaping and small scale table tops for beverages.
Soundscaping or Noise Mitigation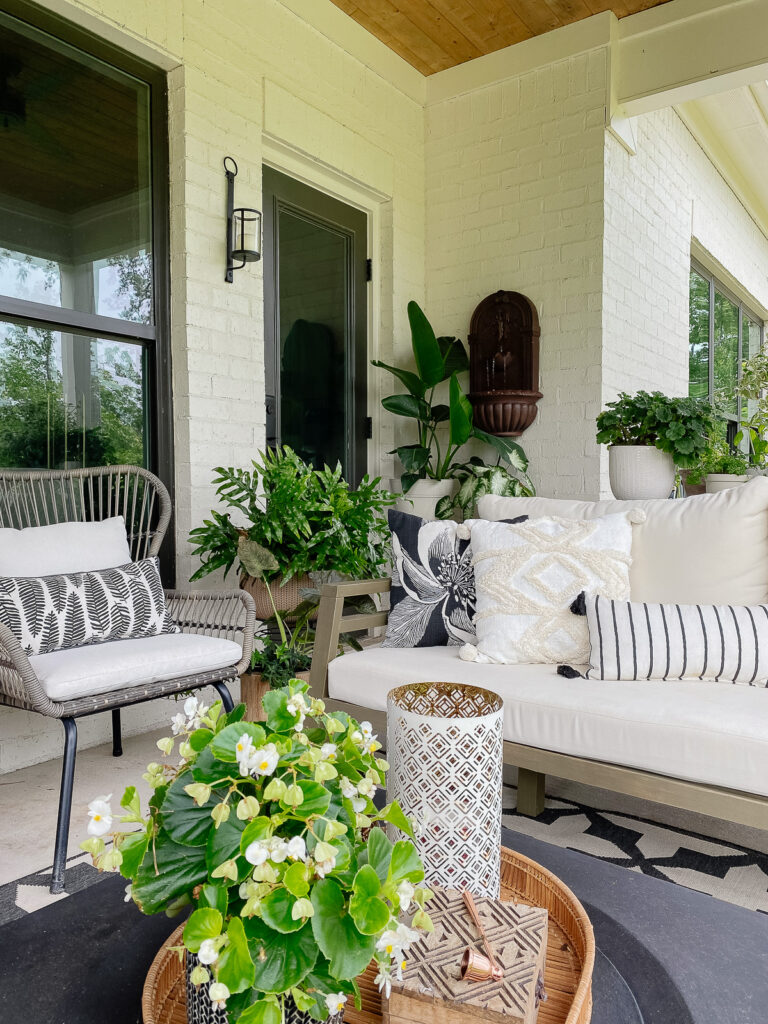 One of the downsides of living in a suburban planned community is the close proximity to your neighbors. Although the trees help in the summer, living on a neighborhood lake is noisy. Add to it that we set high up on a ridge and you can hear everything, dogs barking, children playing, and new construction. Also, off in the distance, we often have trains, noises from a shooting range. All of these sounds do their part to disrupt the peace and quiet I desire when I sit outside.
I decided that adding a fountain was the best way to dampen those noises. But I knew a fountain in the garden would only become a watering hole for Freddie, our IrishDoodle.
Once I started searching for a wall-mounted fountain, I found this one in our budget! I liked that it was a little less formal, with no lion head and not too ornate. (Not that I have anything against lion heads, this company does make one, but I didn't feel like it was quite right for our patio.)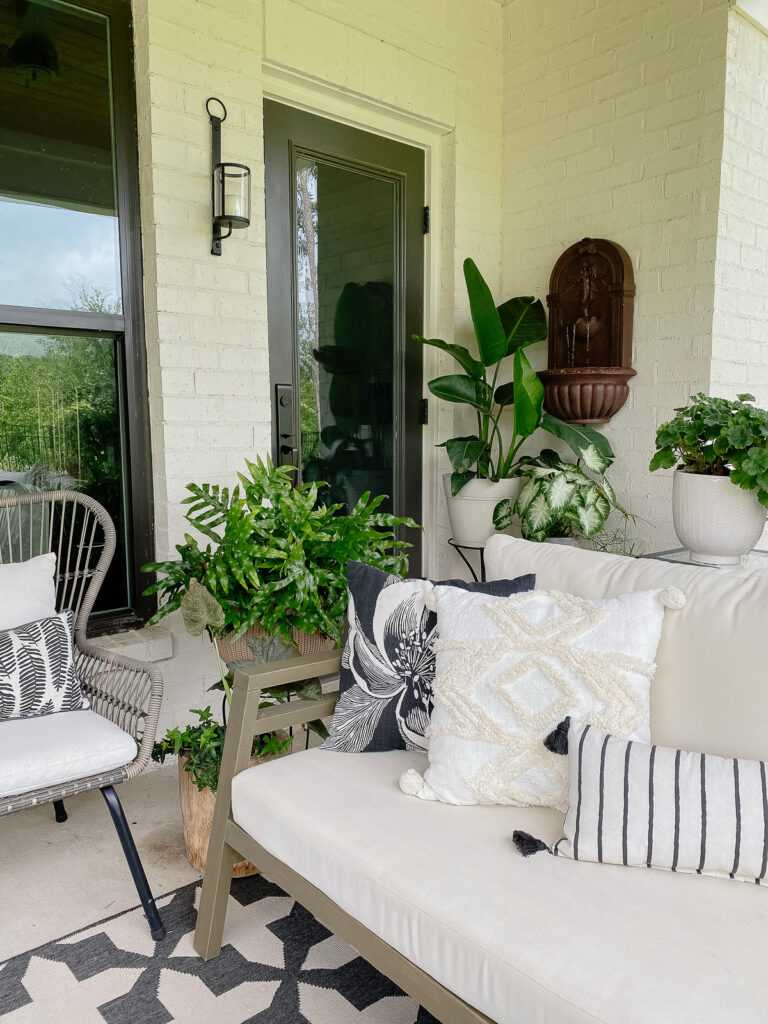 It had great reviews and we find we absolutely love it! Maybe you have noises you want to dampen or just love the sound of a water fountain, too?
We already had an outlet on this wall, so this spot was where a fountain was just meant to be. I plan to get a cord cover to attach to the wall and paint the same color as the brick, but for now I'm camouflaging the cord and the outlet with plants.
The water trickles down three levels, creating the most pleasant water sounds I've ever heard, especially coming from something so small. The more levels of water, the more complex sound a fountain can make.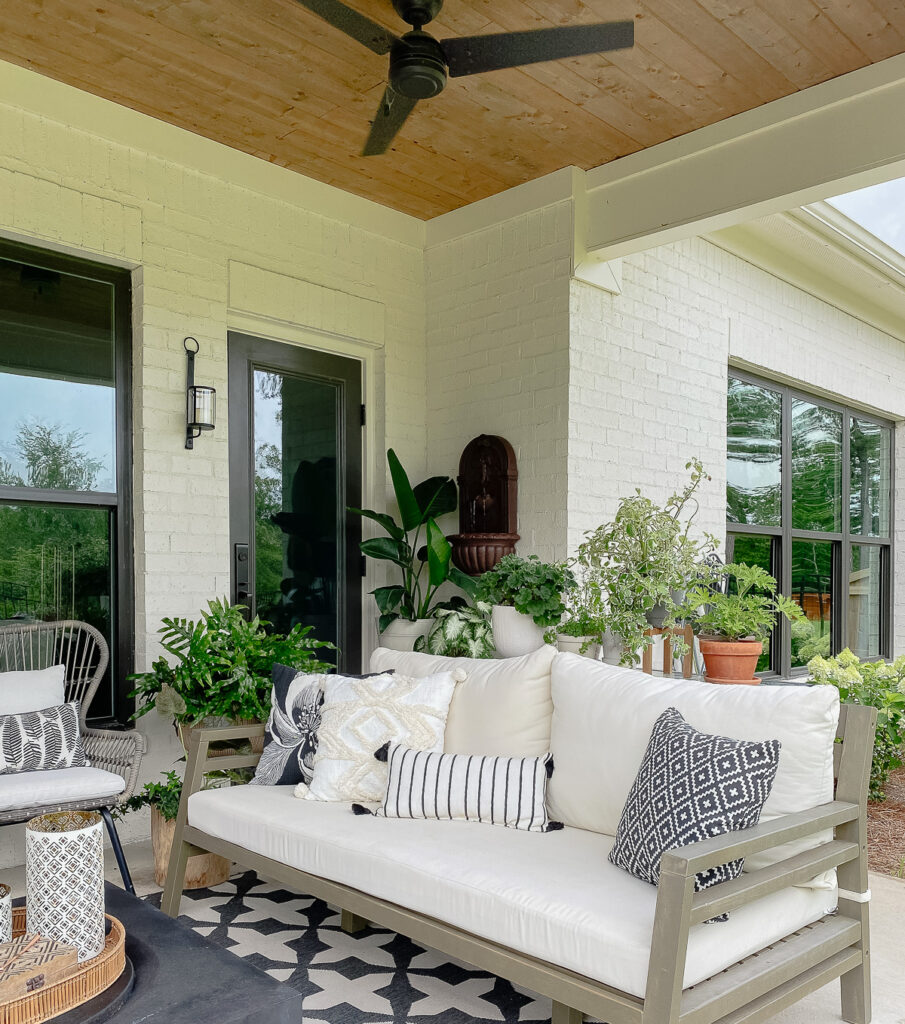 It also comes in a lighter color option, but I thought the bronze finish best suited our patio. (I actually plan to add a little bit of black glaze to give it more of an oil-rubbed bronze look. But I'll do that after I finish the One Room Challenge this week!)
Shop the Look

A layer of Privacy
While we wait for our privacy hedge to grow in the garden surrounding the iron fence, I added a "sofa table" behind the outdoor sofa on the far side.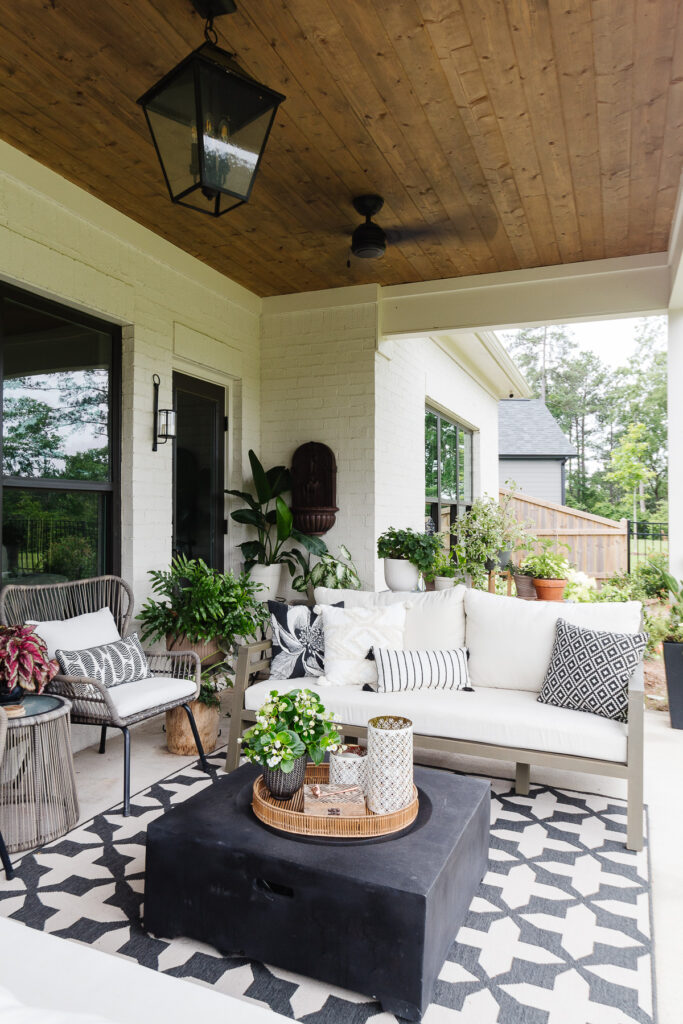 I searched and was patient until just the right piece came up on Facebook Marketplace. It's quite perfect.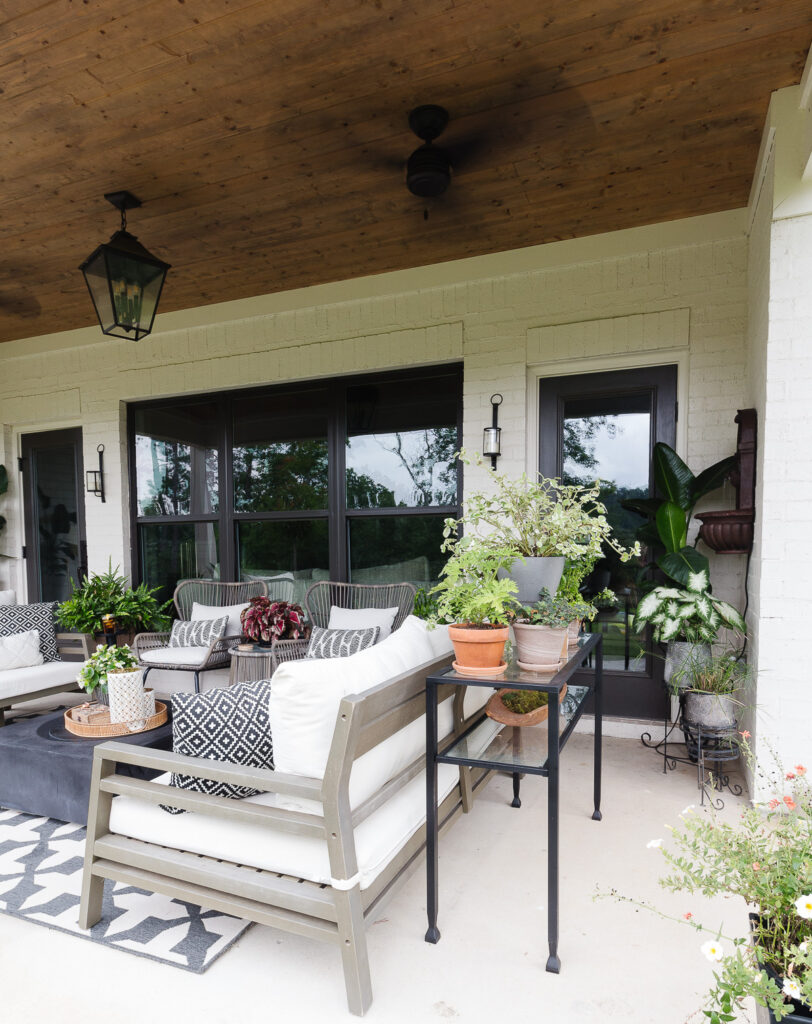 We really enjoy our neighbors, but I like having the feeling of a secluded destination on the patio. While I will often go to the fence to seek out conversation with our neighbors and let the dogs visit, it's nice to kind of hide behind the plants if I am feeling less than social.
The table also provides a bit of a screen to the things I don't like to see in the backyard, like the hose and hose connection.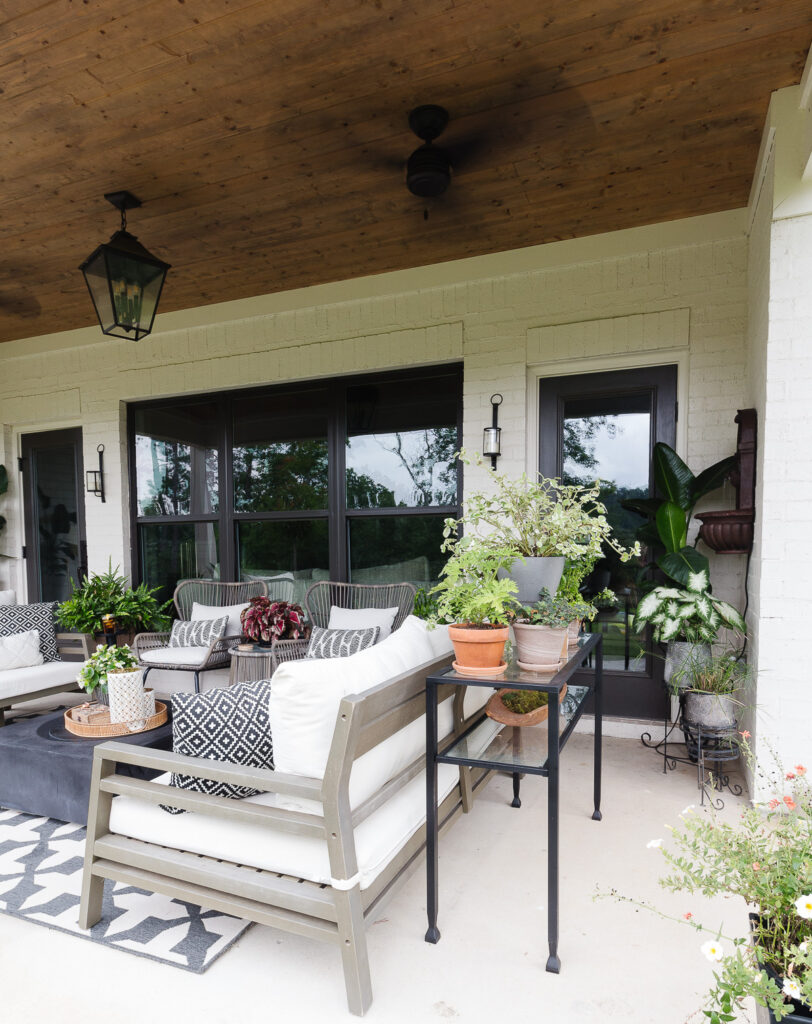 In addition, it provides another solution for my next point.
Shop the Look

Small Scale Tabletops for beverages
Whether indoors or outdoors, every effectively designed space should have a place for each person to set a drink down.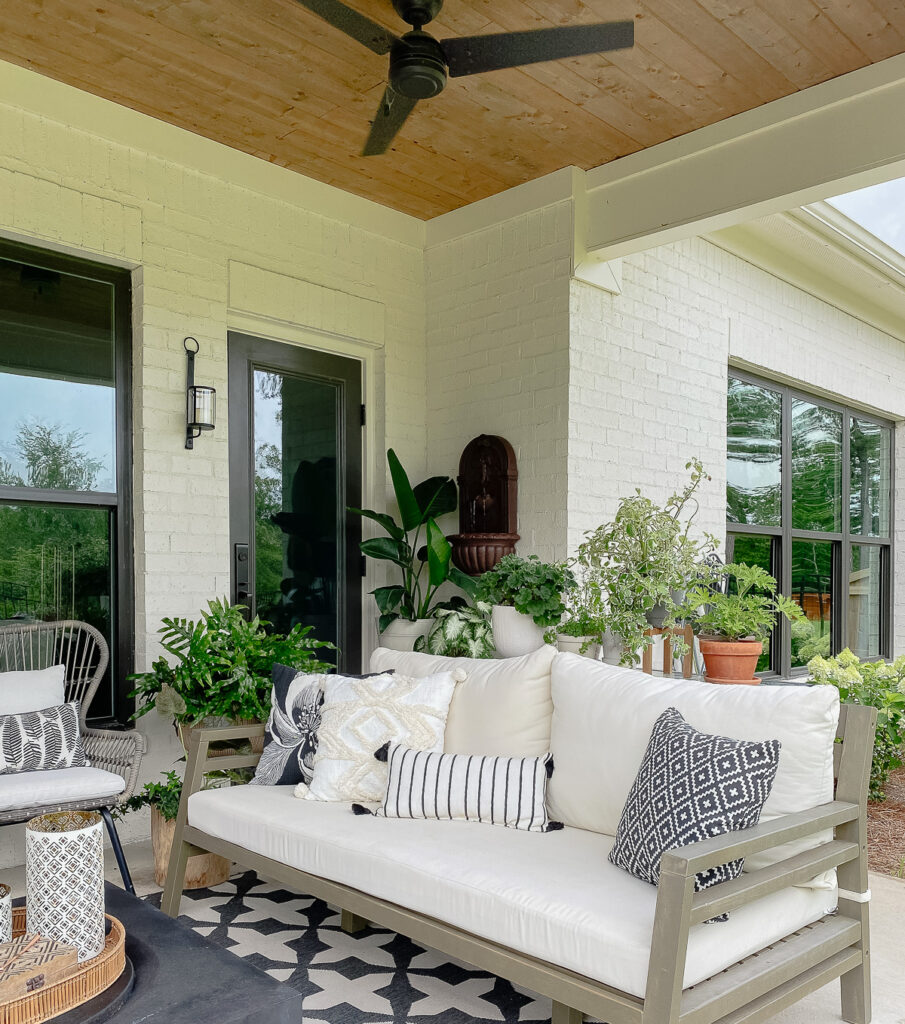 In the center of the furniture grouping, I have placed a cover on top of our gas firepit. The cover essentially converts the fire pit into a coffee table. But because it is a little low, it is a bit of a reach to set your drink down. Now that I've added the "sofa table," I set my drink down behind me if I am sitting on the far sofa.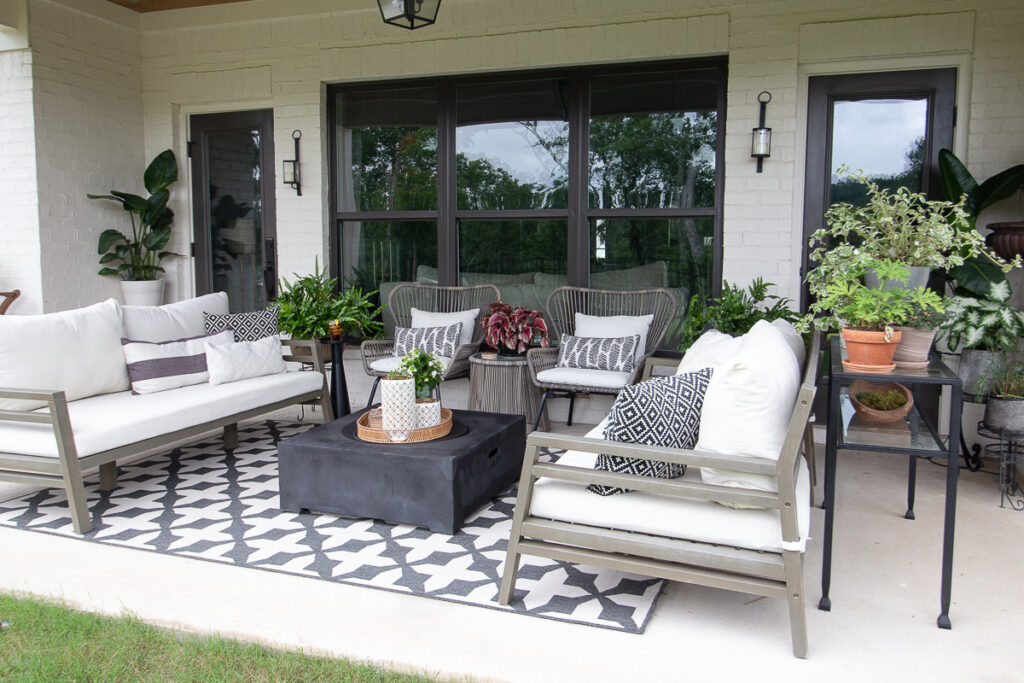 For the guest sitting in the pair of chairs, the table right between is perfectly situated.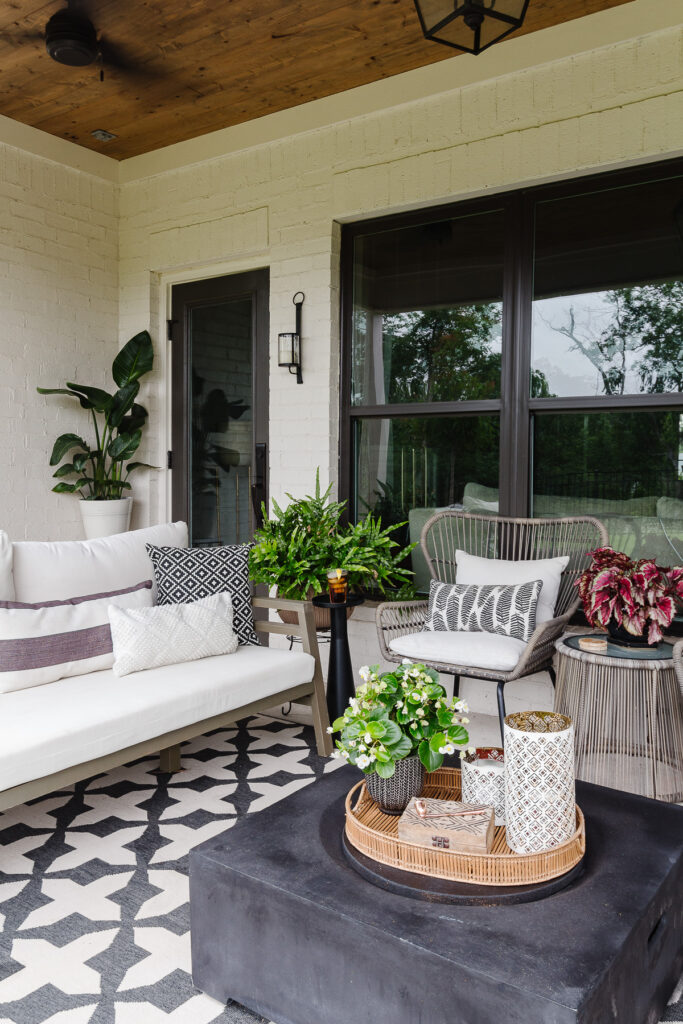 But for the sofa I most often choose, now with the view of the fountain, I didn't have a great place to set my morning tea or a glass of wine.
I finally found the perfect little outdoor "martini table" for our small space.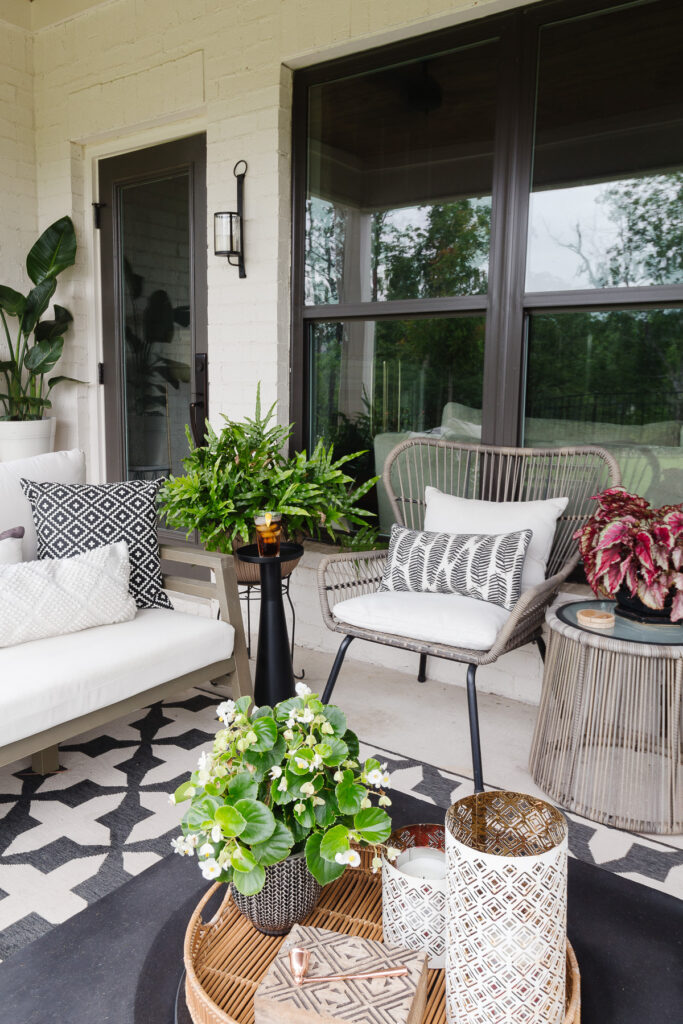 Yes, I could have given up a plant to have more space but I love my plants too much to do that.
Adding texture
While I truly love the main features of our porch decor's aesthetics, the one element it lacked was a little more texture in the textiles. With today's high-performance fabrics, it's easy to find carefree outdoor cushions that also offer texture.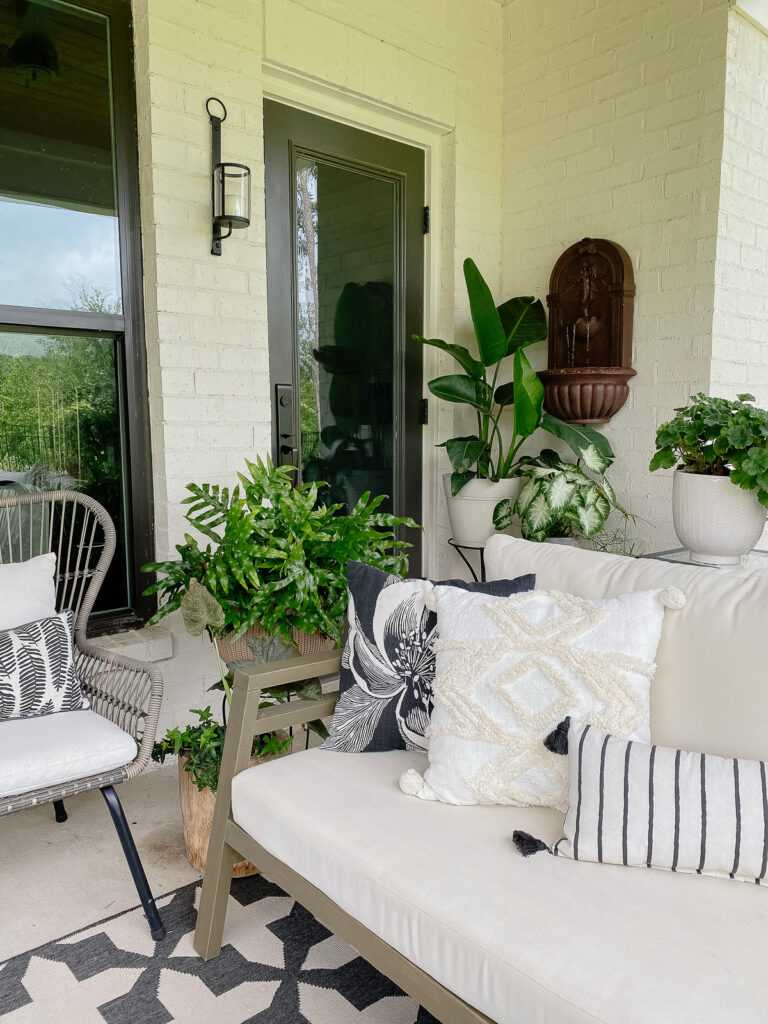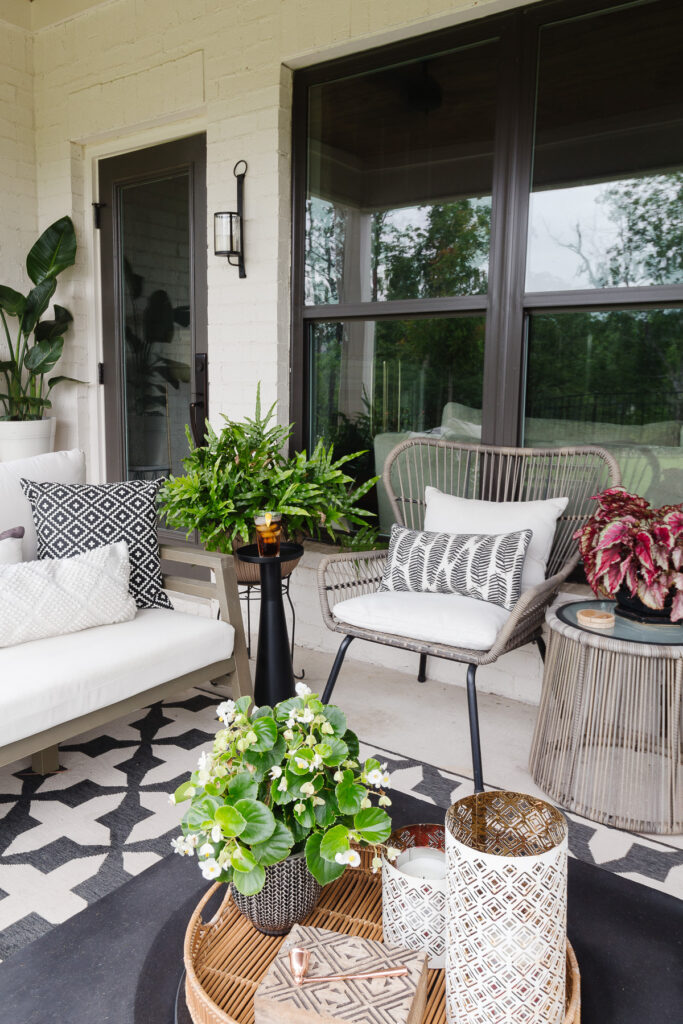 This week I'm joining some of my talented blogging friends for the Summer Seasonal Simplicity Series: Outdoor Spaces Tours! Be sure to check out all of the beautiful inspiration by visiting the links under the images below.
Sharing Tuesday…
Sharing Wednesday….