I'm finally able to share Part 2 of our Christmas Home 2021. If you missed the foyer, Living Room and Dining room, you can see Part 1 here.
As the last two weeks have passed, I made only one change.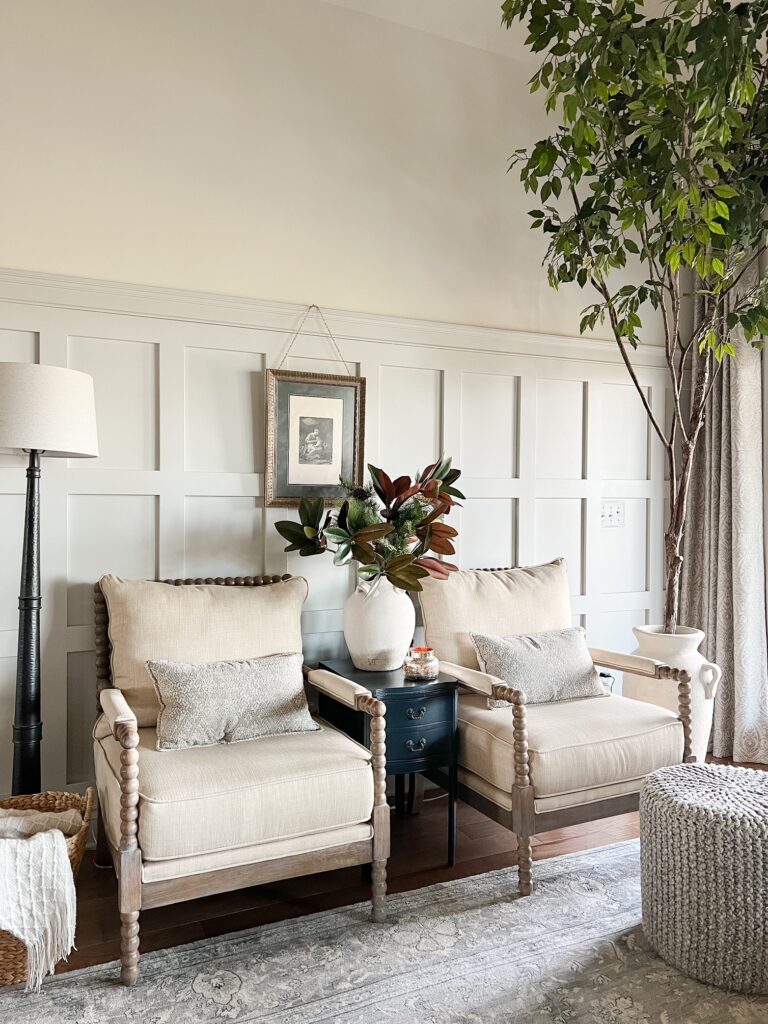 I added this framed antique lithograph we found during a recent trip to Savannah. I love working with Custom Picture Frames for all of my custom framing. They did not disappoint.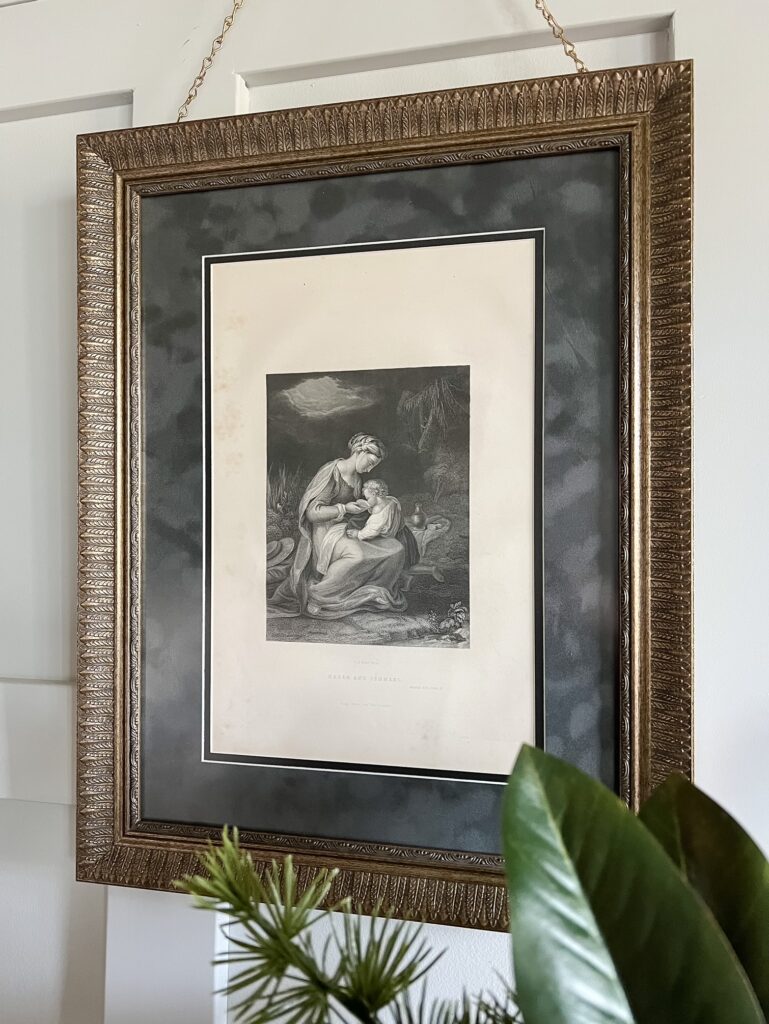 I love all the details in the Mayflower frame and the custom suede mat in a color they call, Ash. This custom framing was gifted.
Kitchen
I carried the burgundy color scheme into our kitchen that is tucked along the side of the dining room.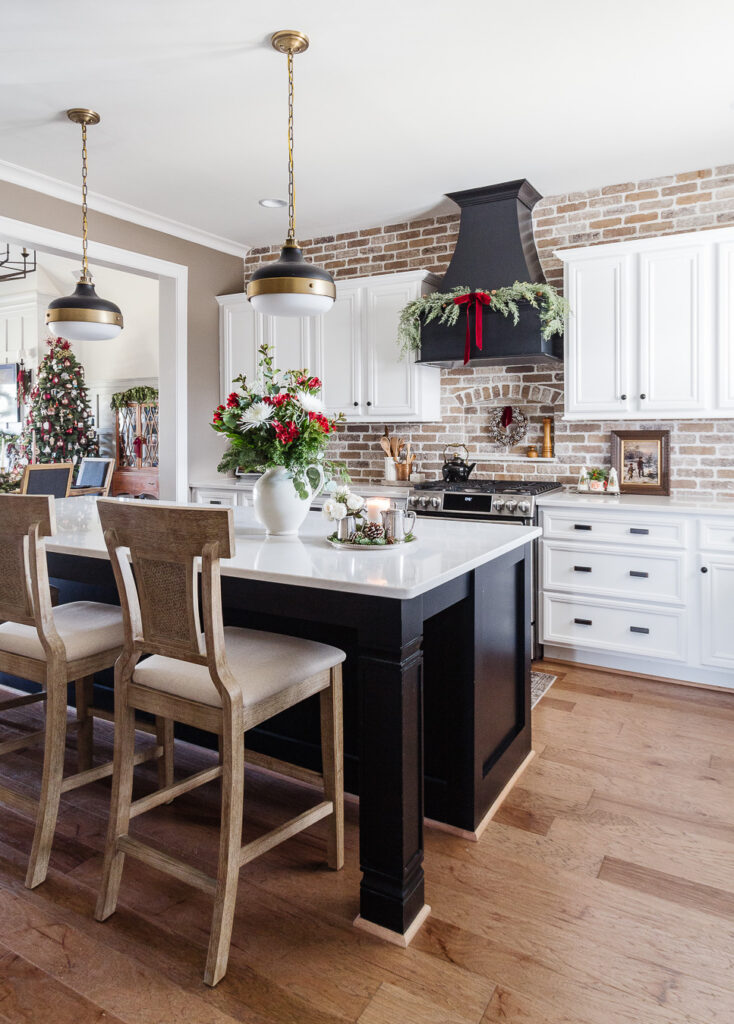 Garland hung on the hood seems like a classic touch I repeated from last year and love.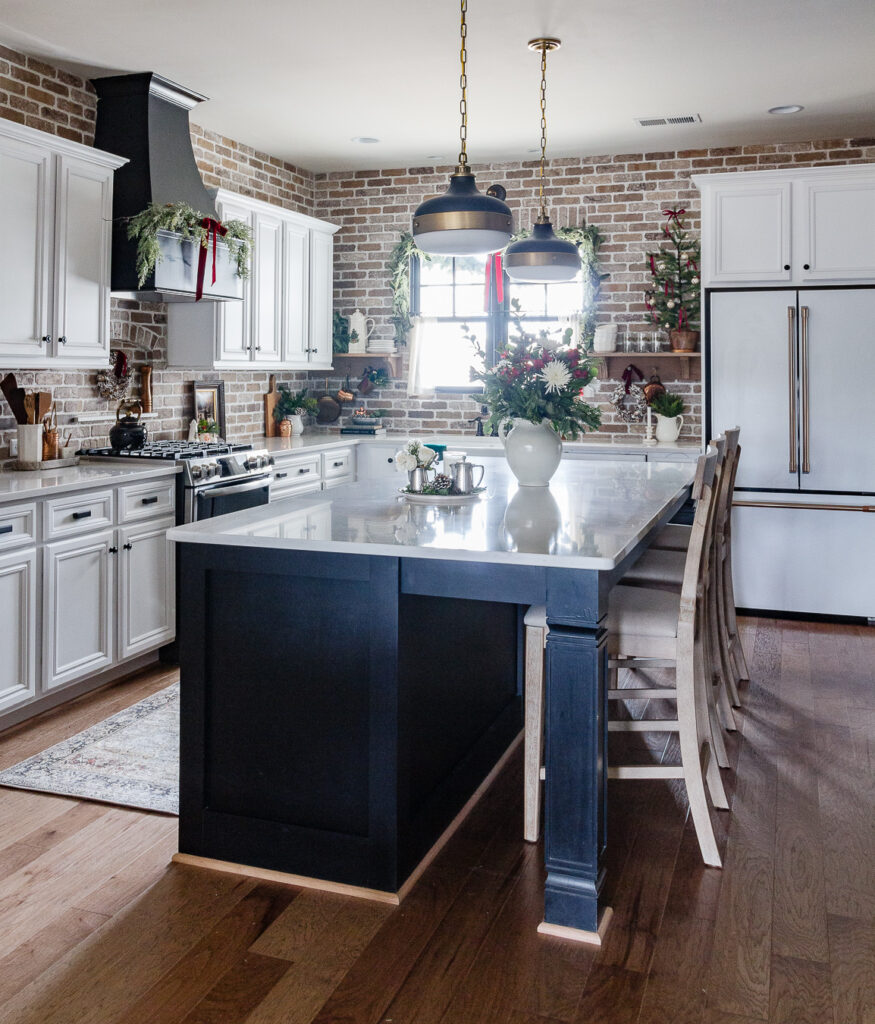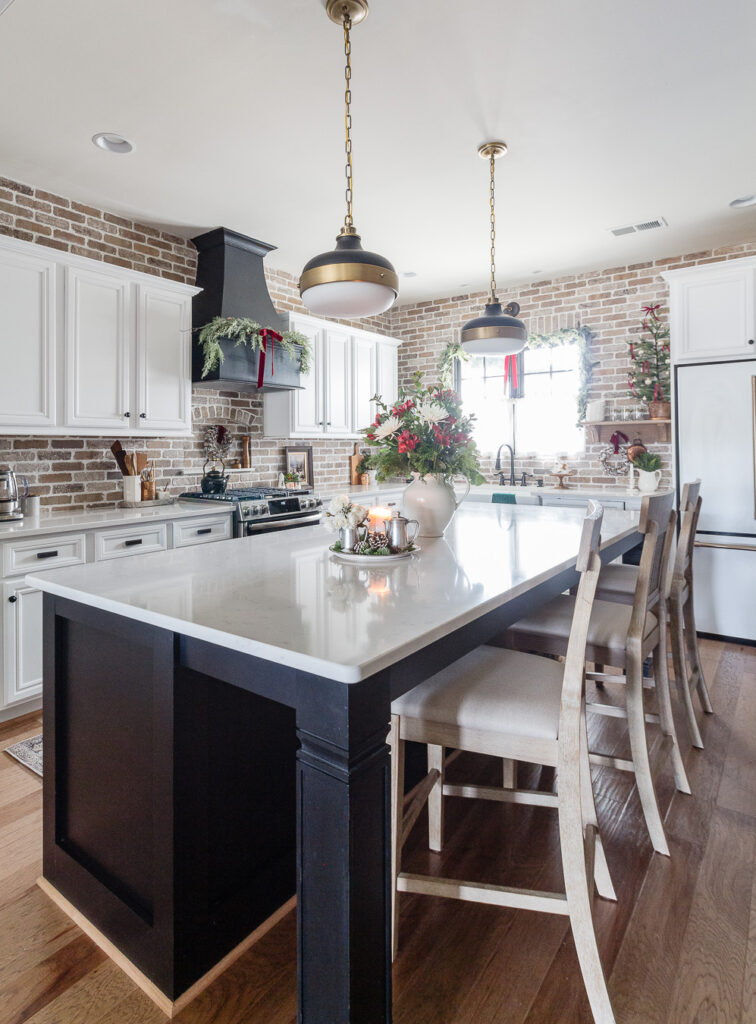 I created a statement arrangement in one of my favorite new pieces this year. I'm happy to report that two weeks later it is still as lovely as it looked here.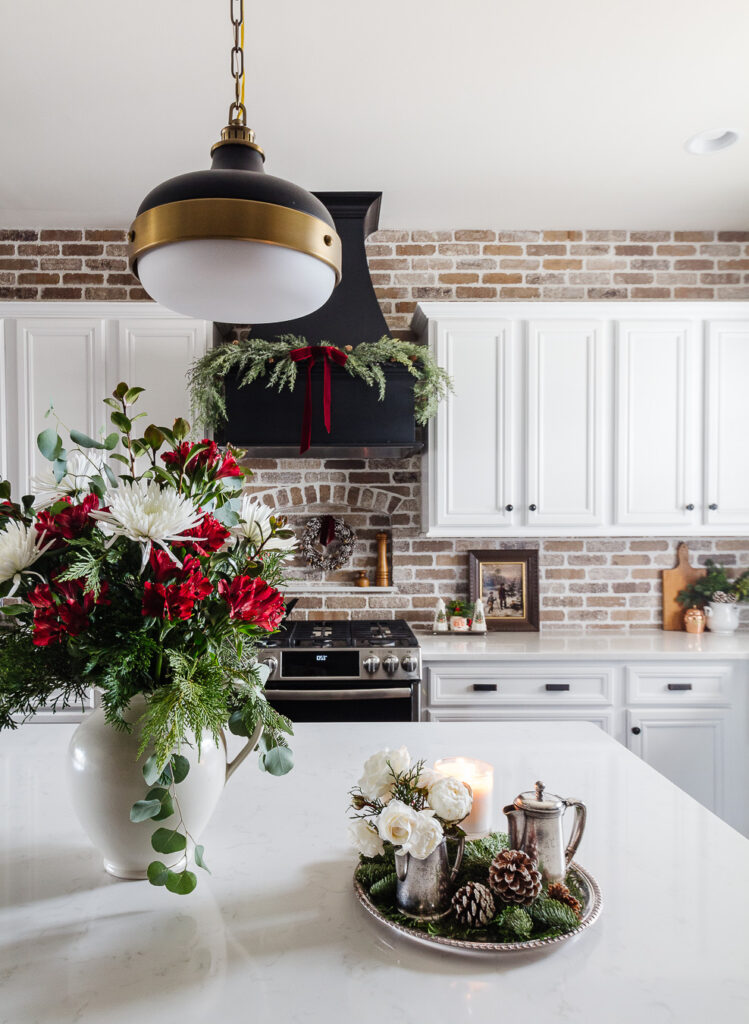 While I don't have any magic tricks going on here, Alstroemeria, mums and greenery are some of the longest-lasting florals around.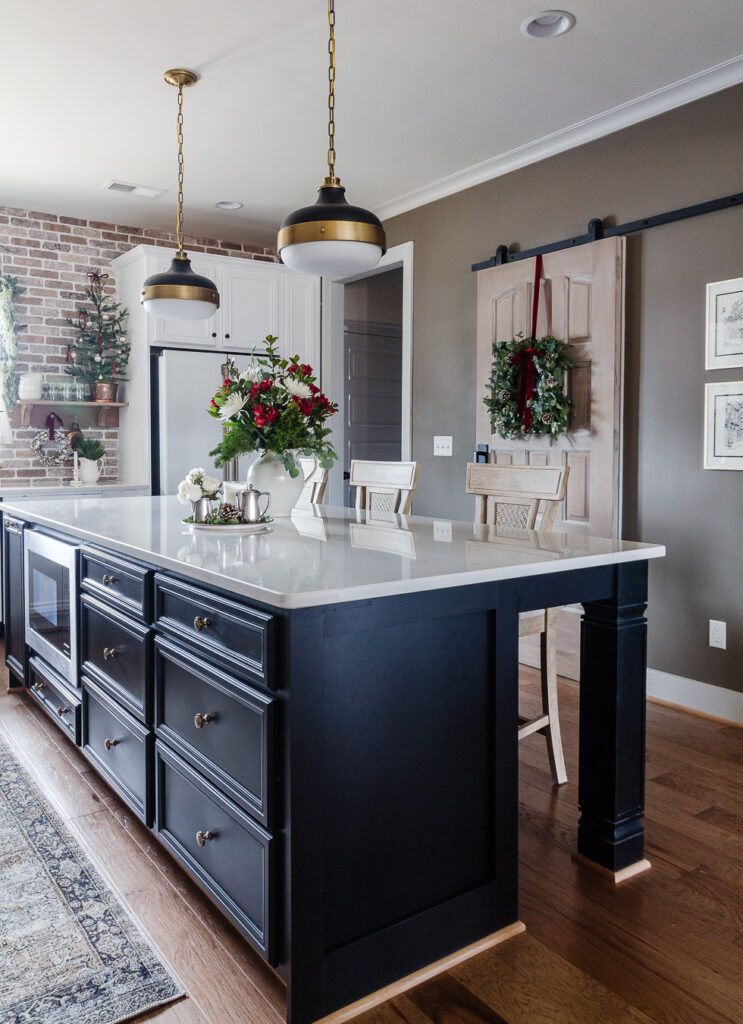 On the opposite wall, the pantry door was adorned with a square wreath I've recycled year after year. I love when a good thing keeps coming back.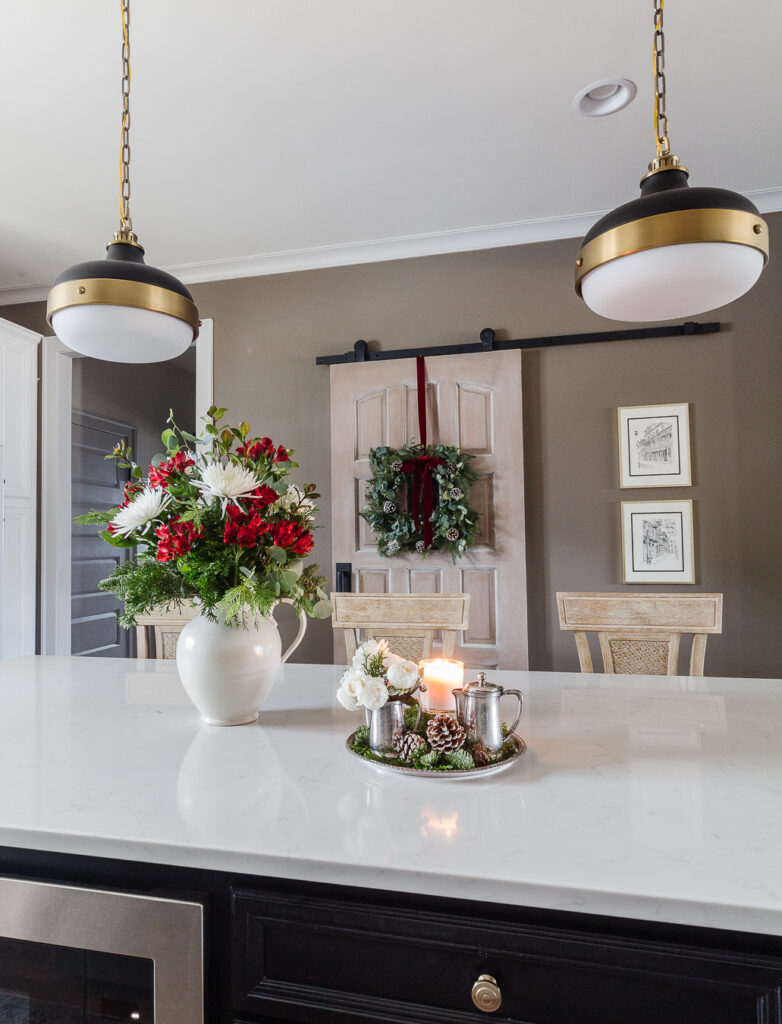 The white roses in the antique silver service creamer were the last blooms from the garden. This climbing rose is a new addition this year and performed well already. I can't wait to see it covered in blooms next summer!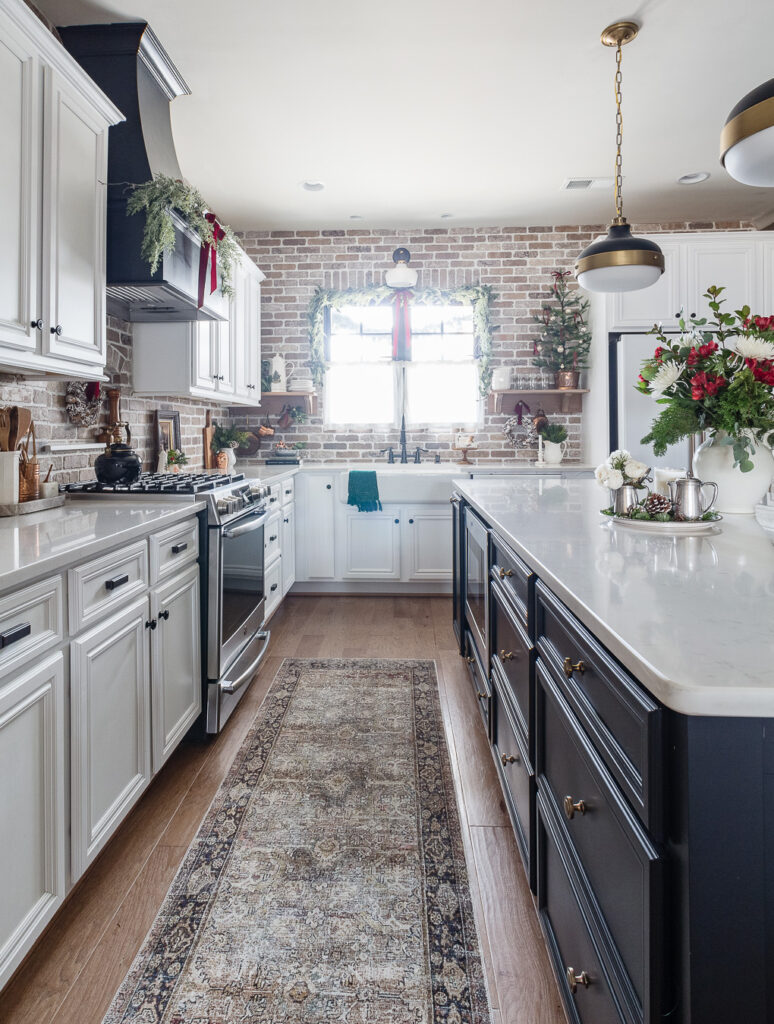 Over the window above the sink, I repeated the same type of garland and velvet ribbon as the hood.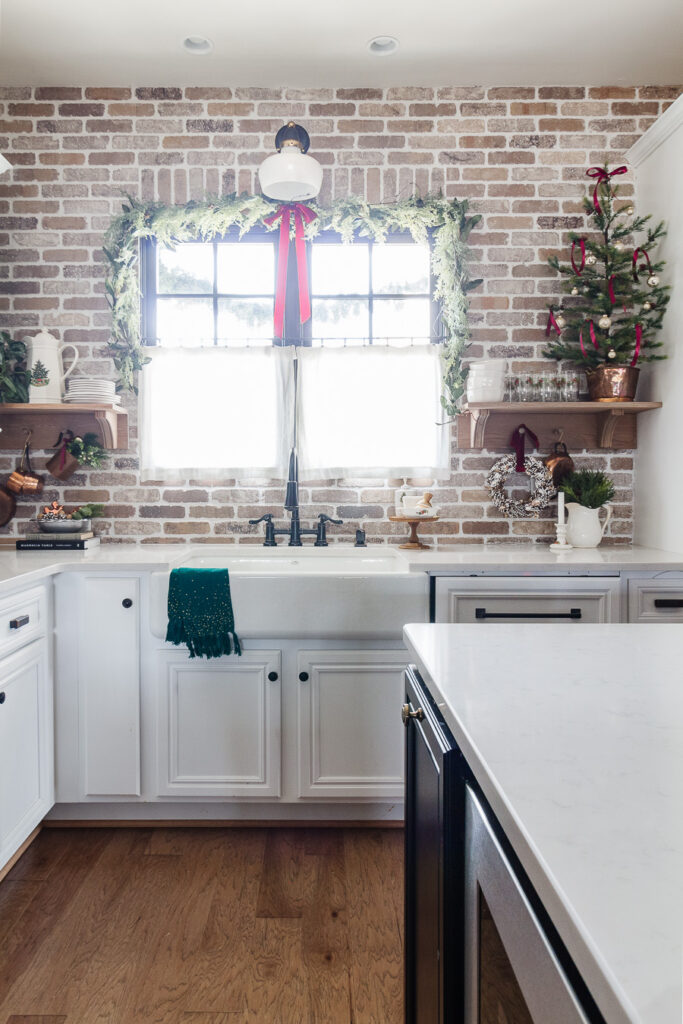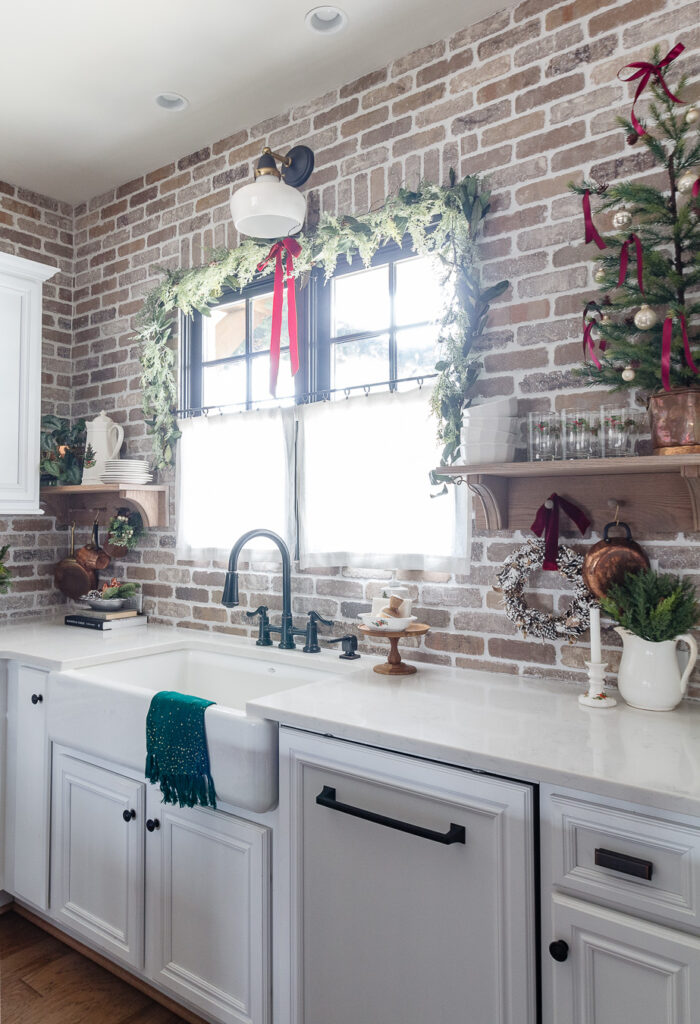 Just like the traditions of bringing out our special ornaments on the tree, I enjoy displaying and using our Christmas dishes and glassware. We use them every day throughout the season. Making every day feel festive.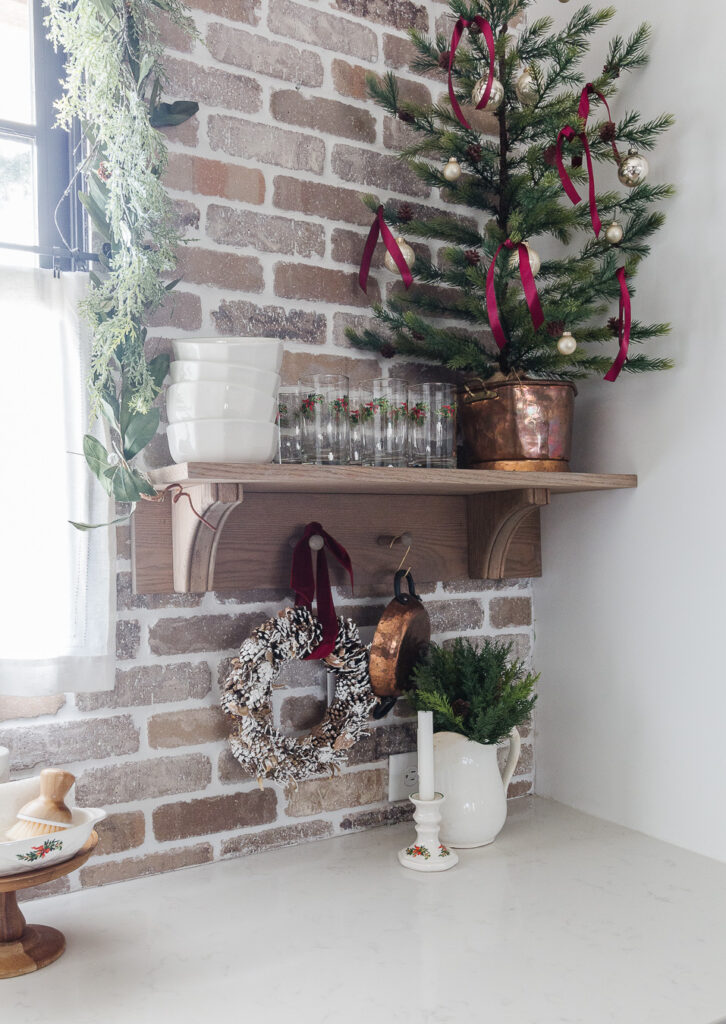 I was so thrilled when I found this antique copper pot this fall. I knew it belonged here on the kitchen shelves with a small tree tucked inside.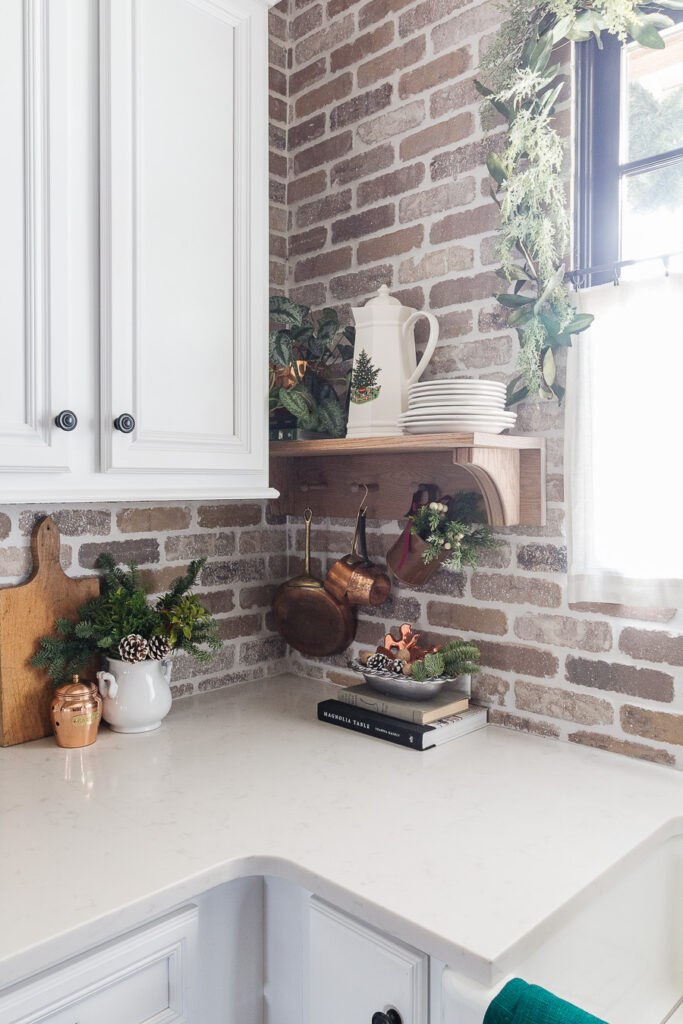 A mix of fresh and faux greenery is tucked in just about every corner. Is it too much? I think it's never too much at Christmastime. Right?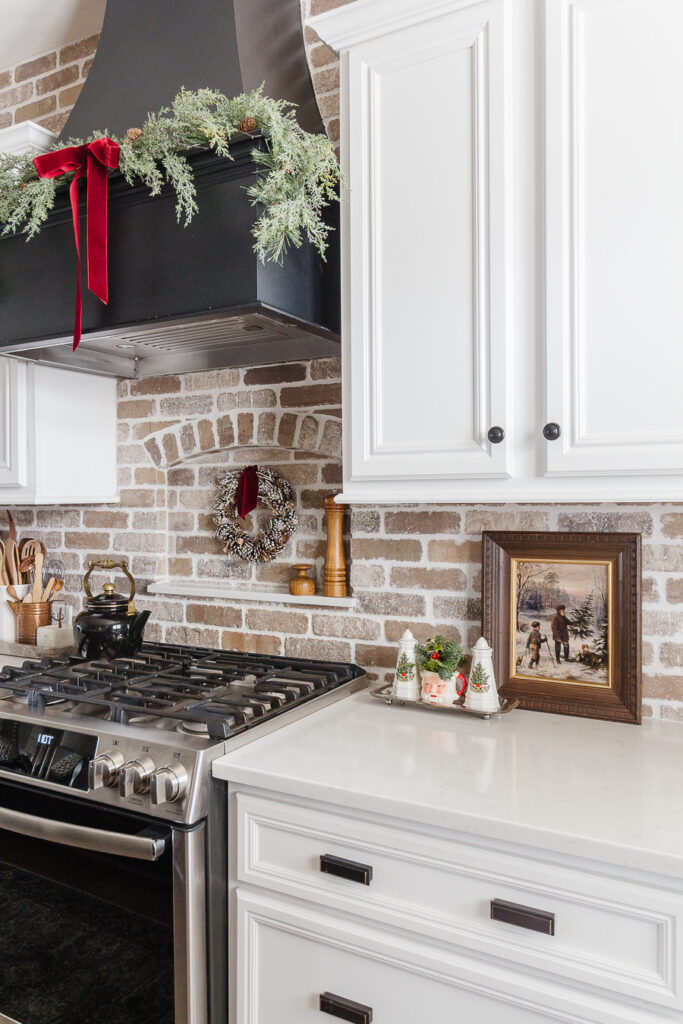 One of my favorite ways to create a special significance for each season is by finding vintage art that captures the essence of the season. This one is a new favorite.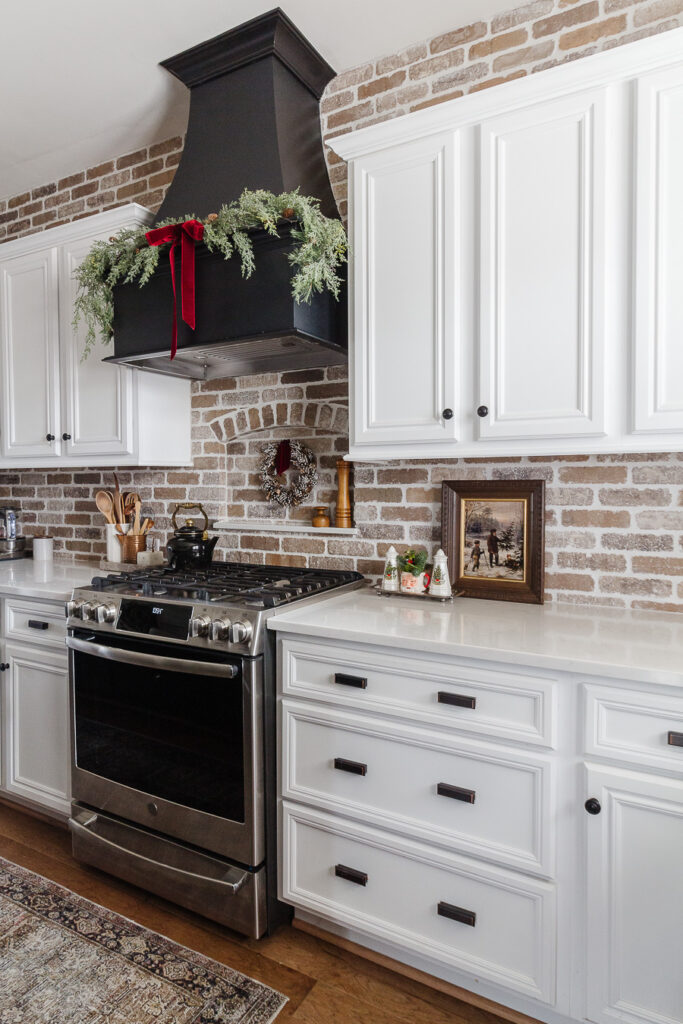 Mudroom and Laundry Room
Tucking in simple touches of art, trees and branches are easy additions for any space.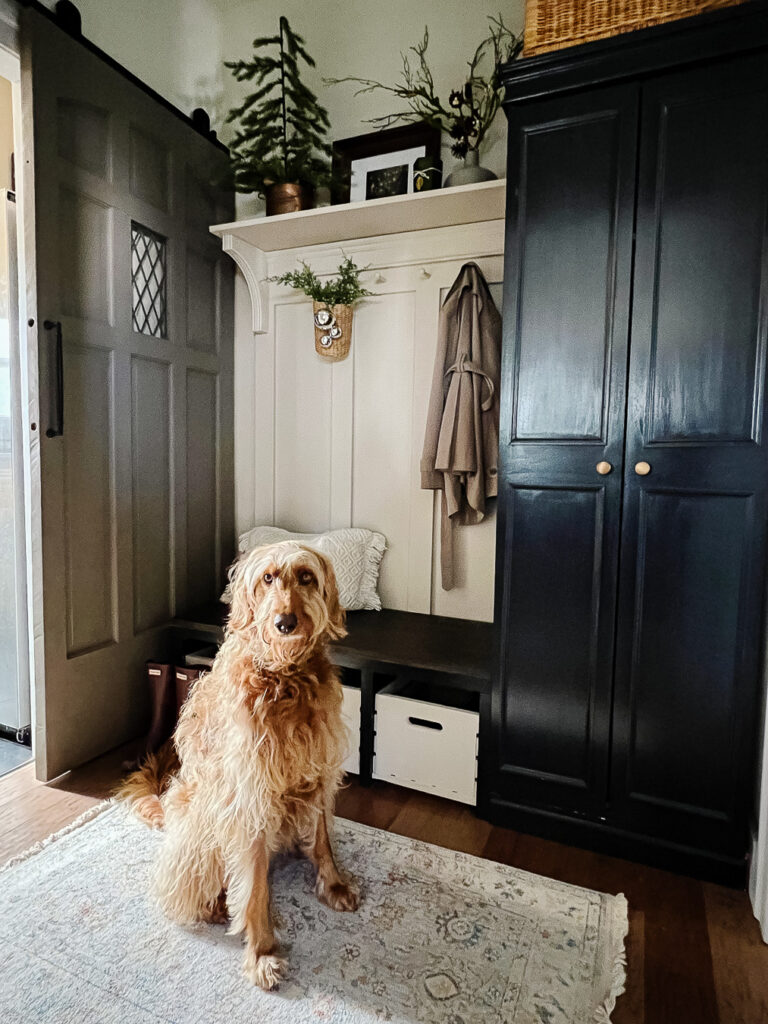 Our mudroom is right off of the garage and between the laundry room on the left and the kitchen on the right. It's very much a pass-through area but it is a workhorse too.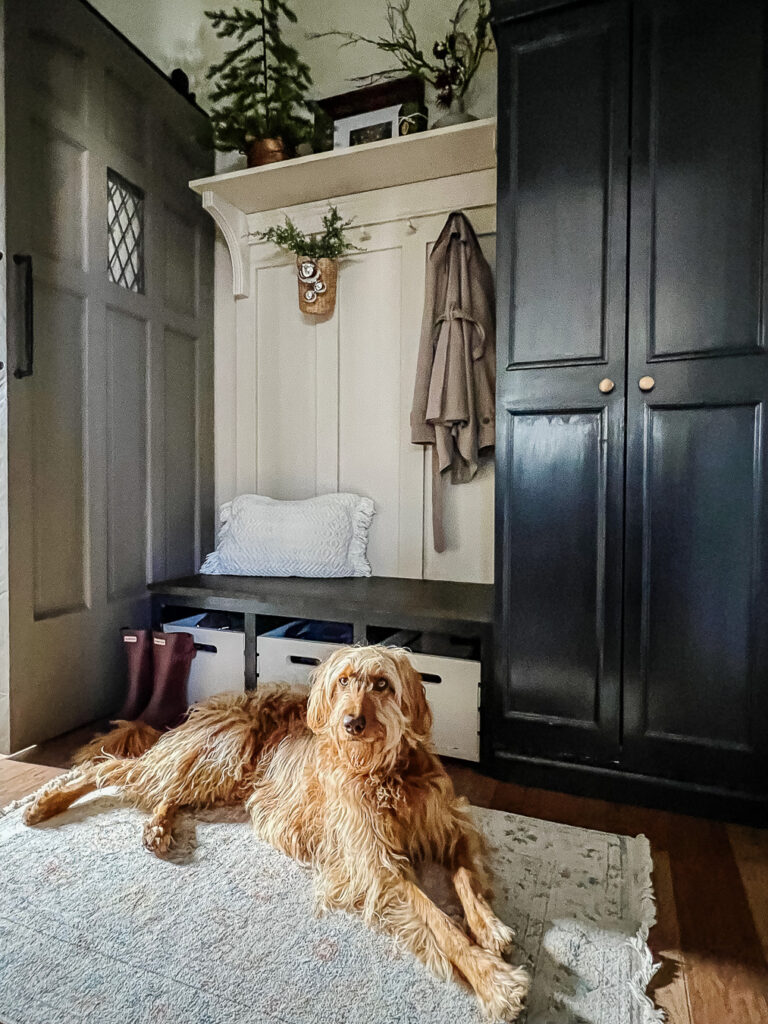 The laundry room's favorite feature, the dogwash station, is an easy place to bring in my favorite holiday things.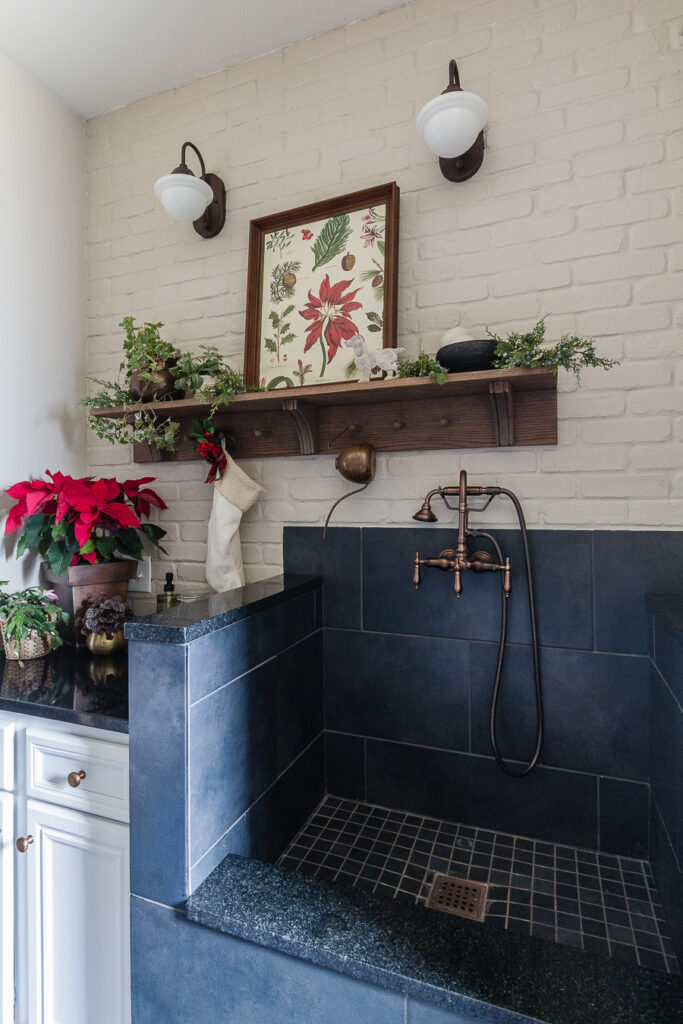 The laundry room, which faces south also becomes a sanctuary for my smaller plants during the winter months.
Studio/Office
If I described the laundry room as a sanctuary for plants, then my studio office space almost becomes a greenhouse.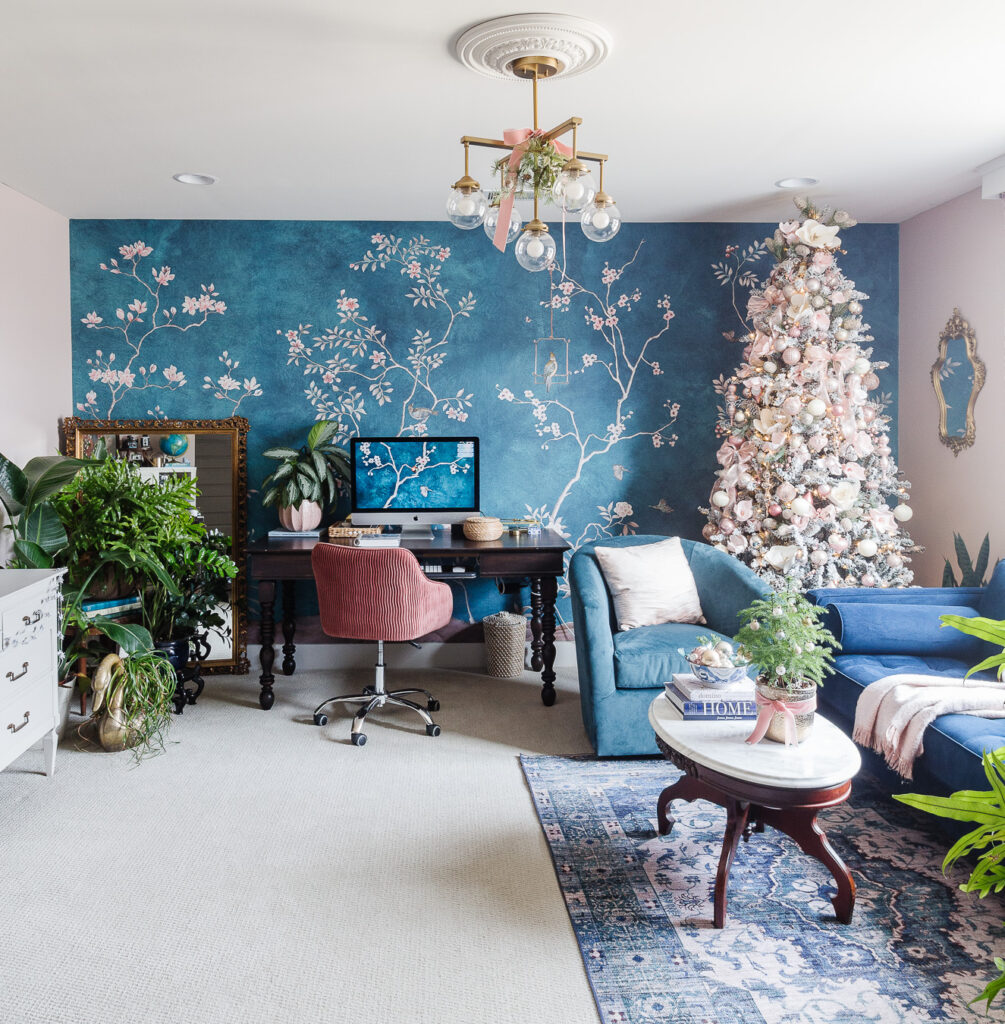 And I should mention, I'm not even showing you the other side of the room full of plants. (And the chronically messy craft table.)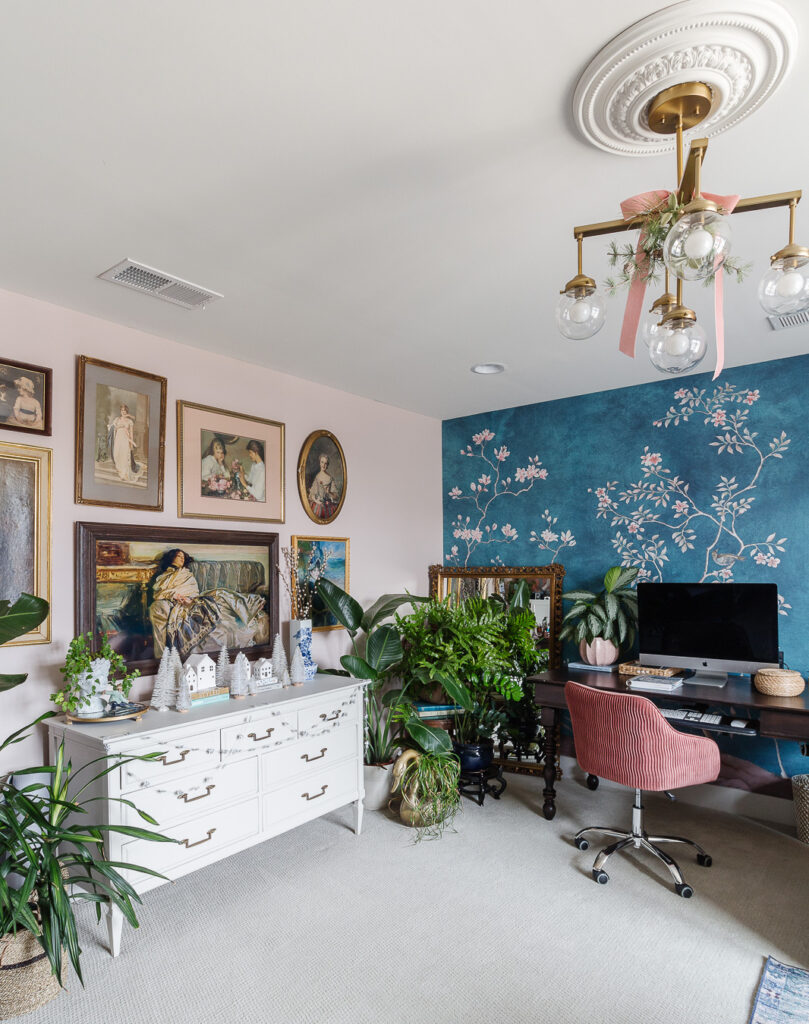 When I looked around at the boxes of Christmas decor that had not been used, my bottle brush trees were one of the few things left. And the little white houses.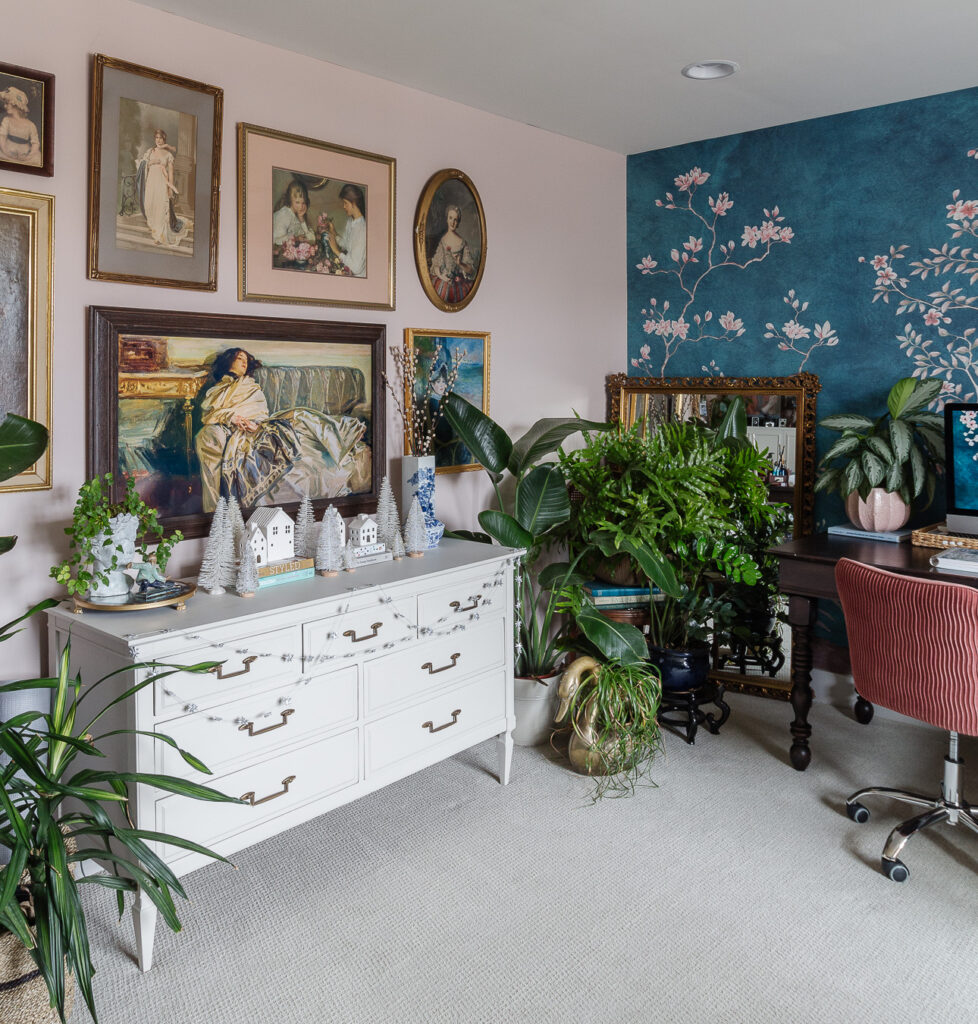 It seemed appropriate to set them up here.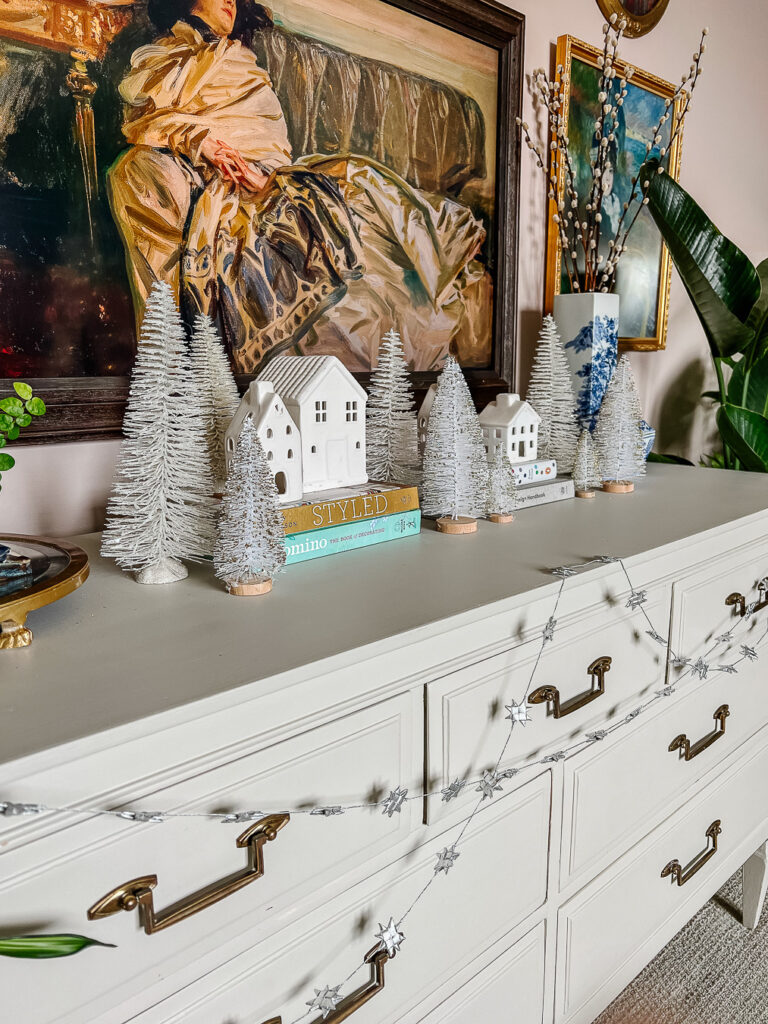 I decided to forgo the sprinkling of fake snow. I just didn't have the heart to clean up after myself at this point. In my defense, this was the last room to be completed.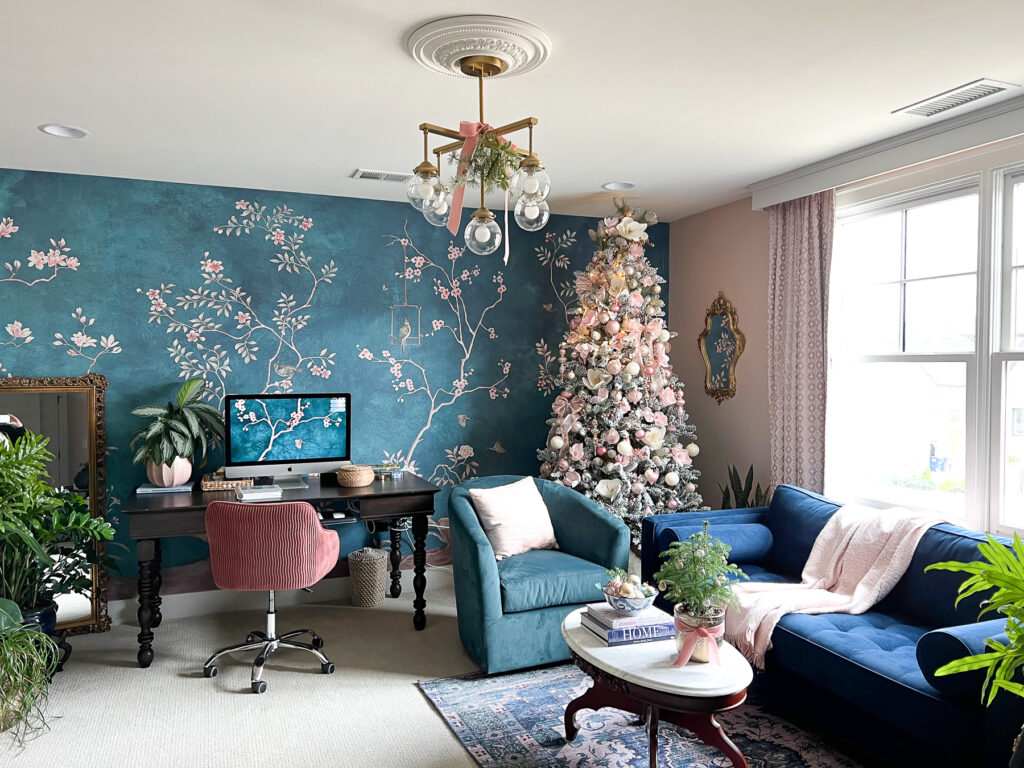 I invested much of my time up here to the new flocked tree. The one I had was tired and actually rusty from the year I used it outside on the porch.
This year I went all pink, silver, cream and gold. I have kept my eye out for ornaments for the tree in here, looking for clearance or discounted ornaments. This year I only purchased one set of full priced ornamants.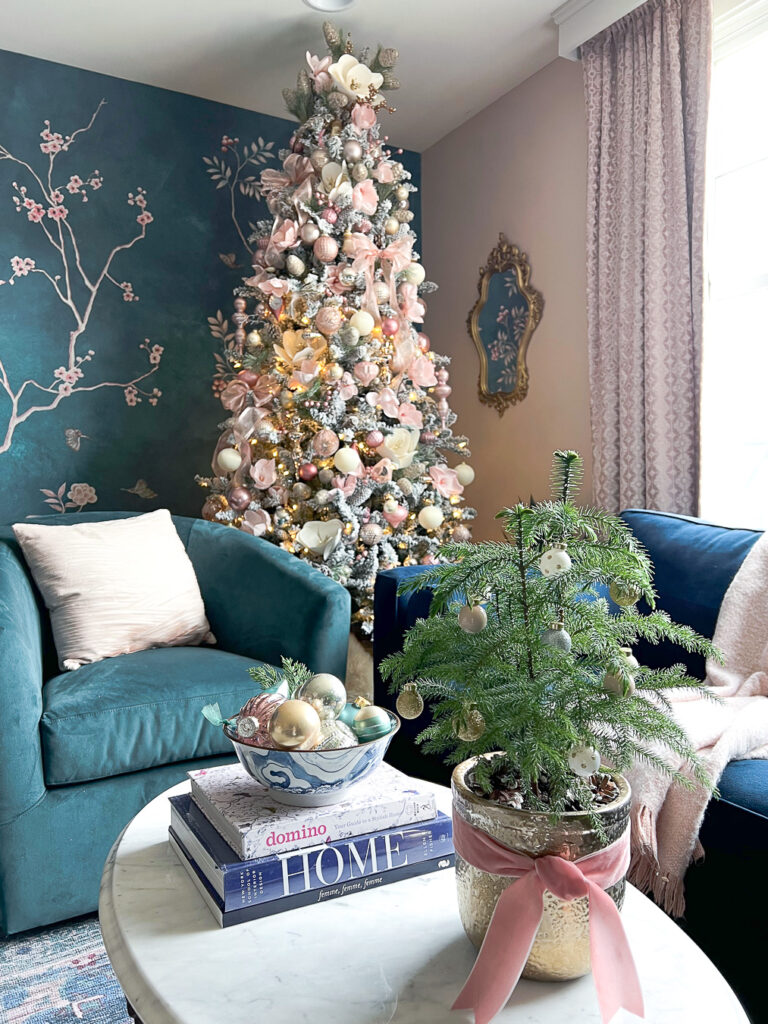 It's a lovely tree from Wal-Mart and I really am pleased with the purchase. (It looks like it's finally on sale.) I debated over the last month and finally pulled the trigger after I began setting up the old tree.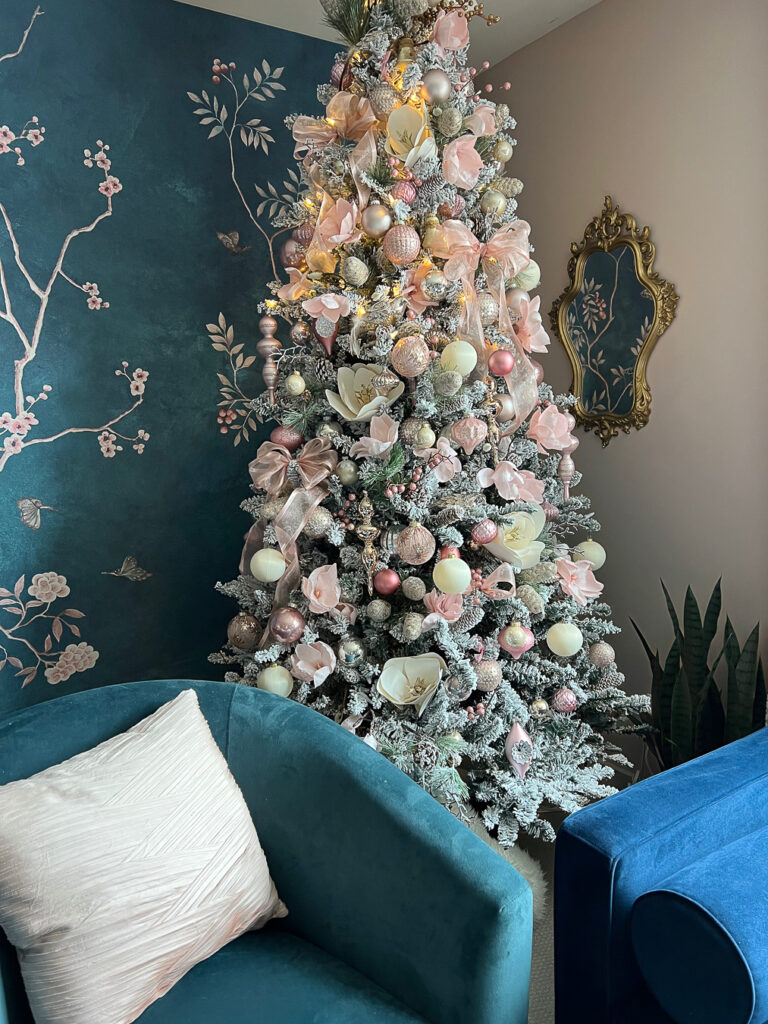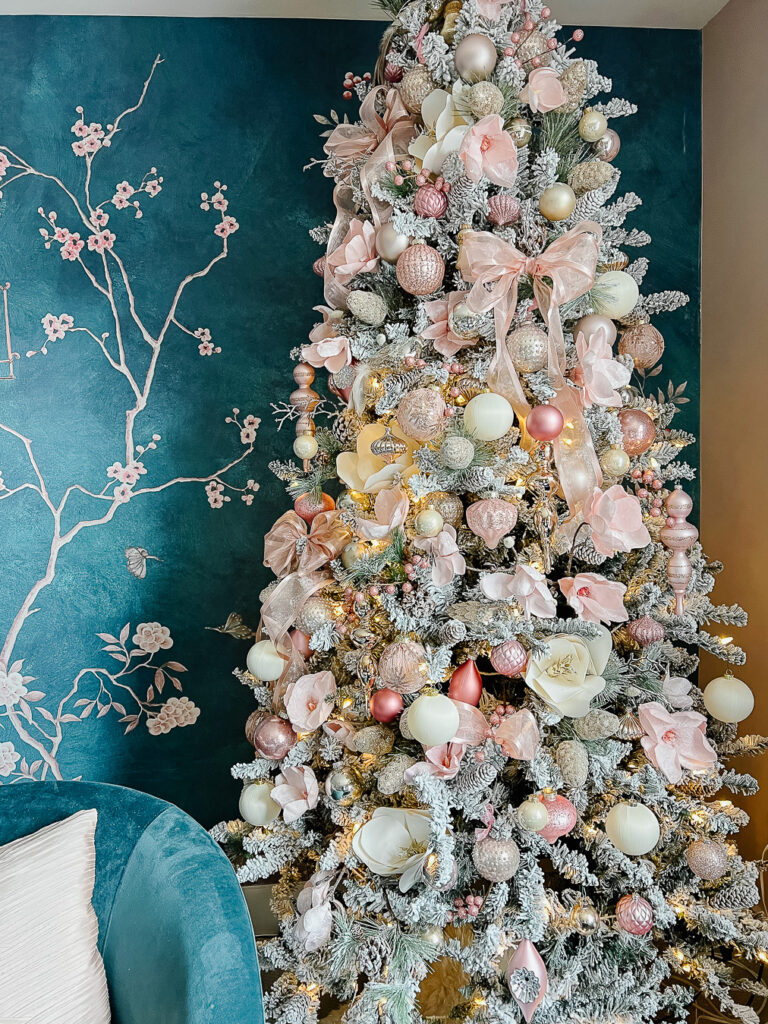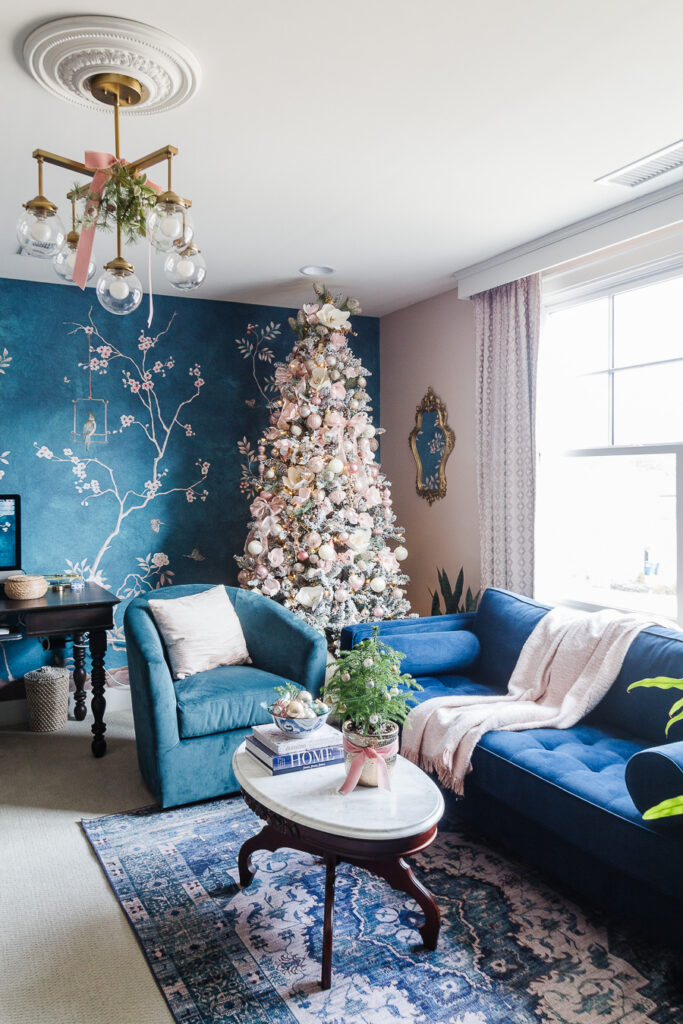 I truly love having a tree in here. If last year set any precedence I'd like to keep, it was that I left the tree up here well into February.
Main Bedroom
I didn't set out to decorate our bedroom, but I was looking for a place to use this glittered pinecone wreath. I thought it was worth a try in our bedroom.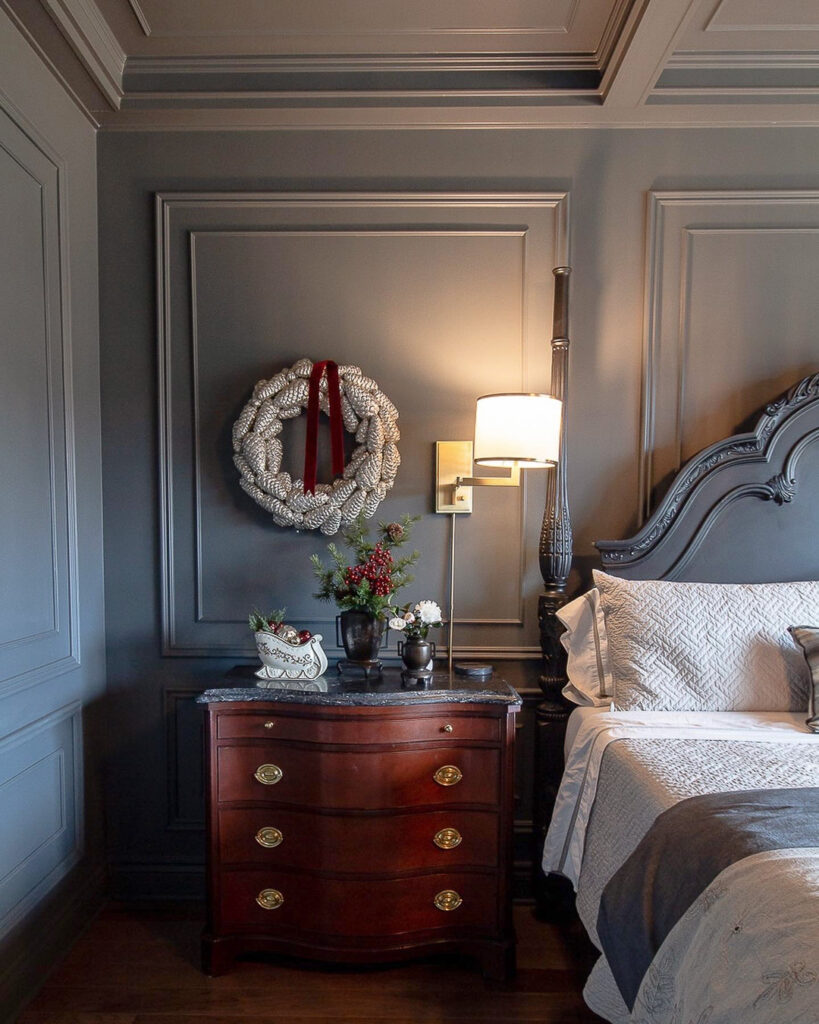 And so the decorating began. And continued.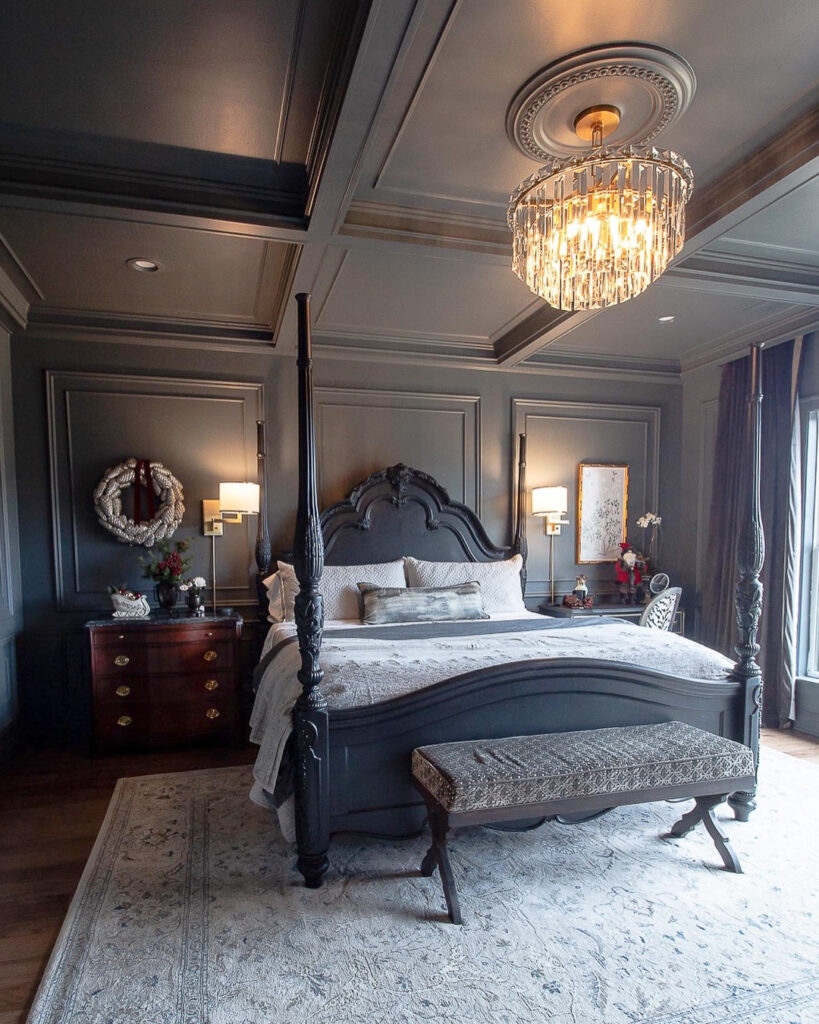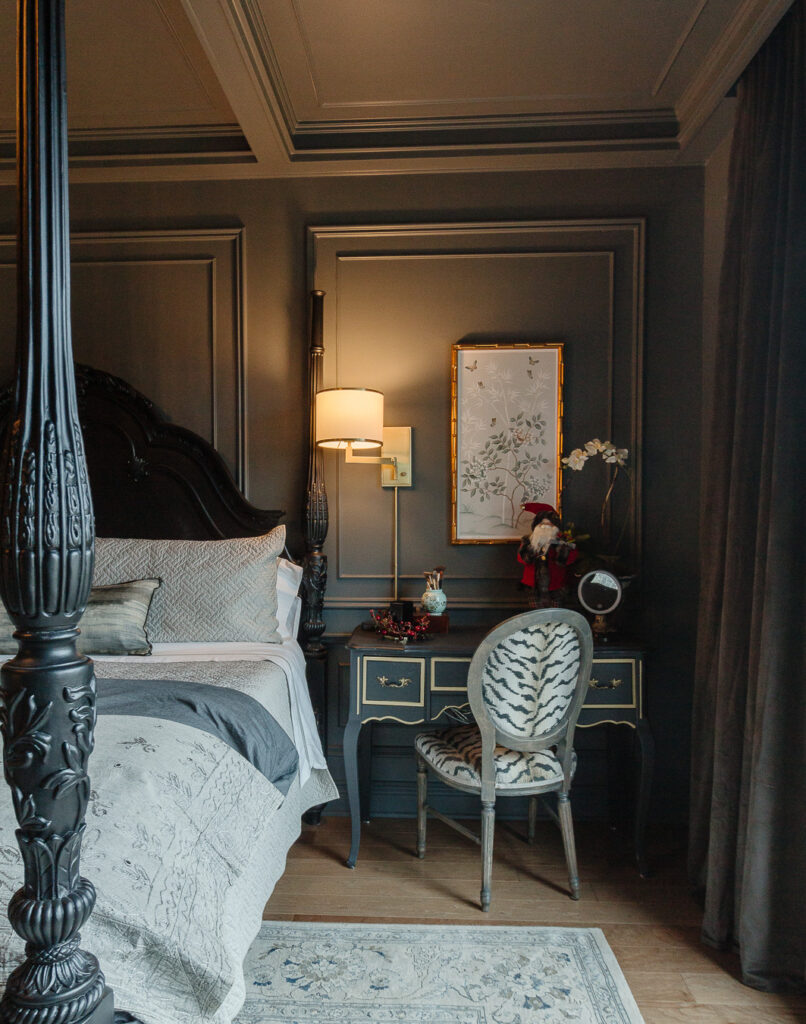 On the dresser, I used a new mini tree I had planned to use in the kitchen.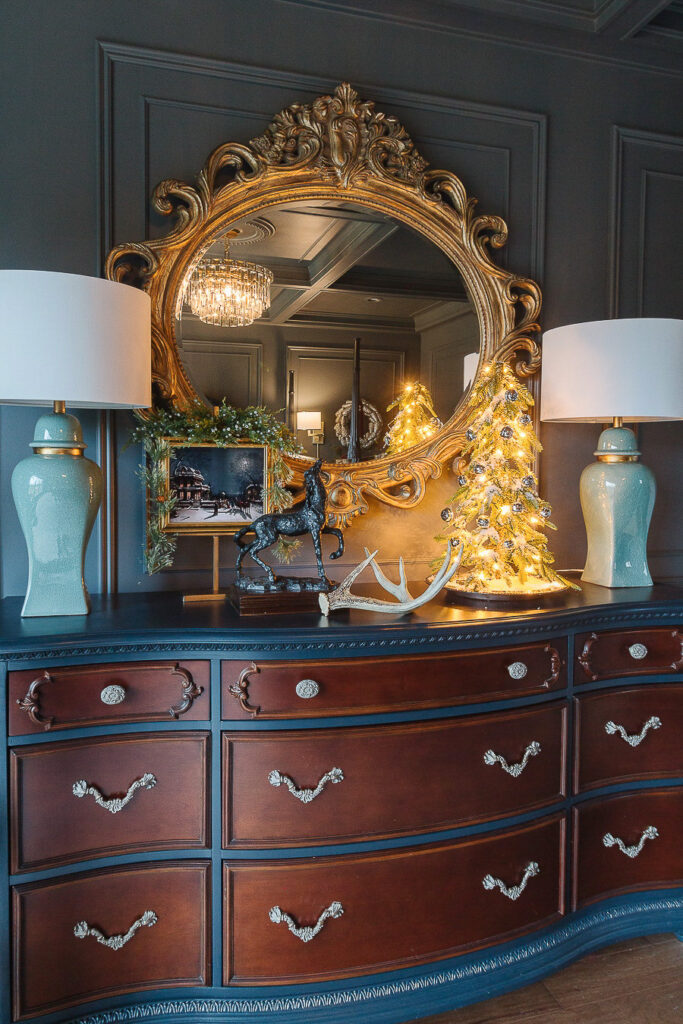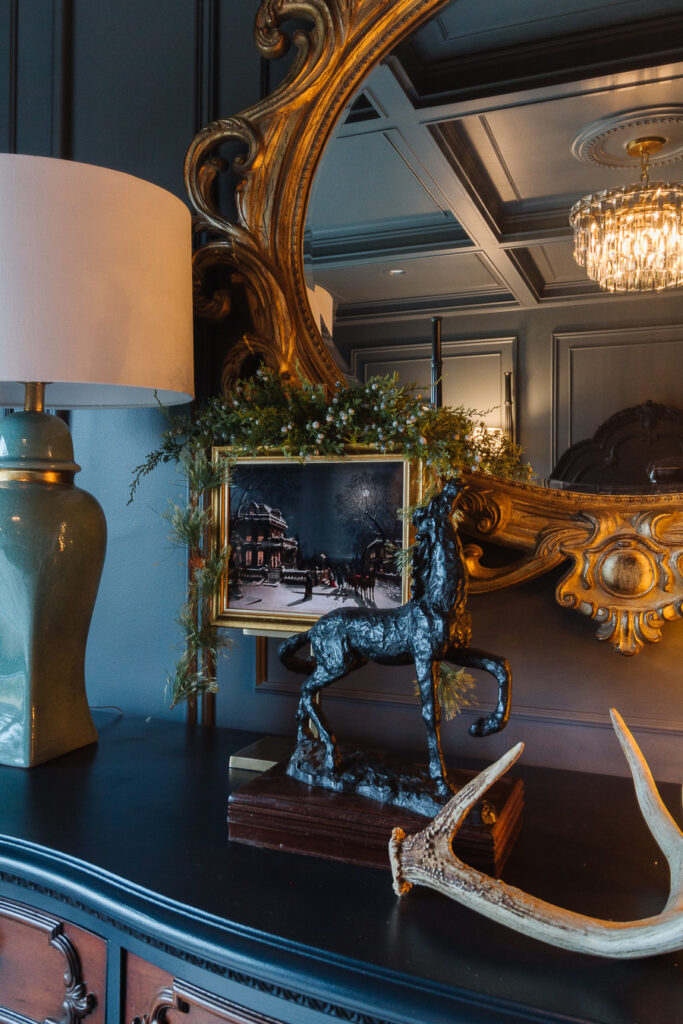 I switched out the art for this vintage print I had made and topped it with faux cypress stems.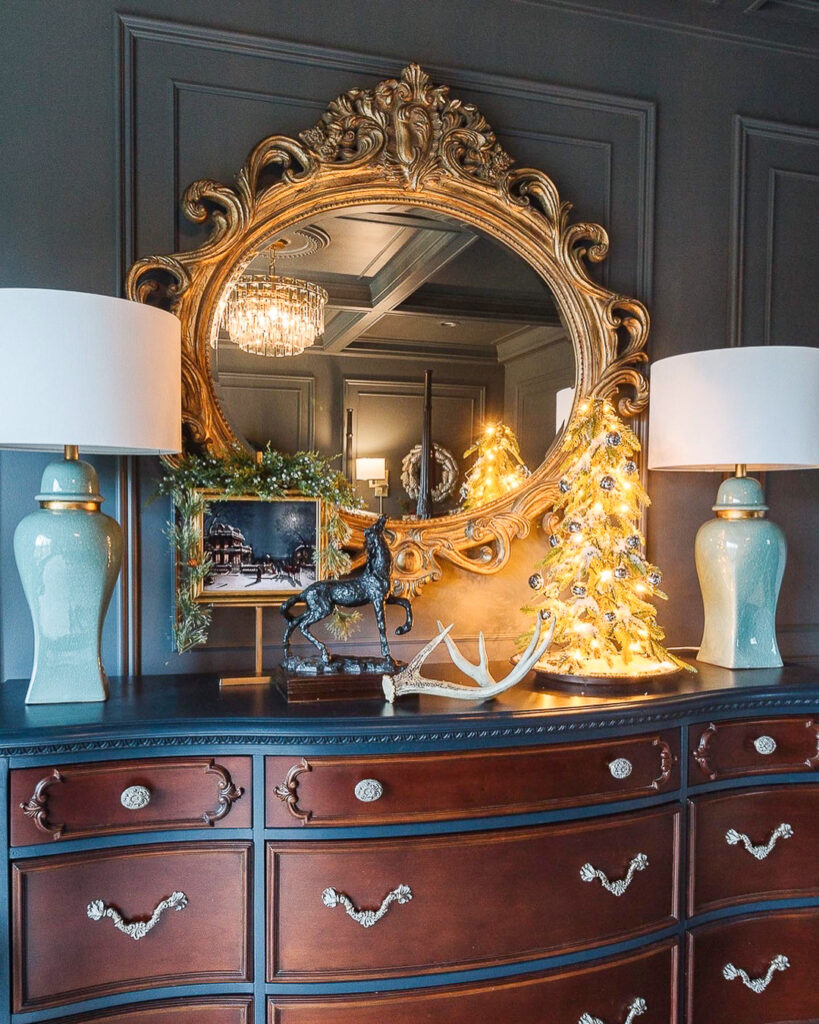 I tossed an antler in for good measure, next to my favorite iron horse sculpture.