Let's start the tour at the front door. While the red here is a bit more traditional than burgundy, it still sets the tone for a traditionally inspired Christmas decor.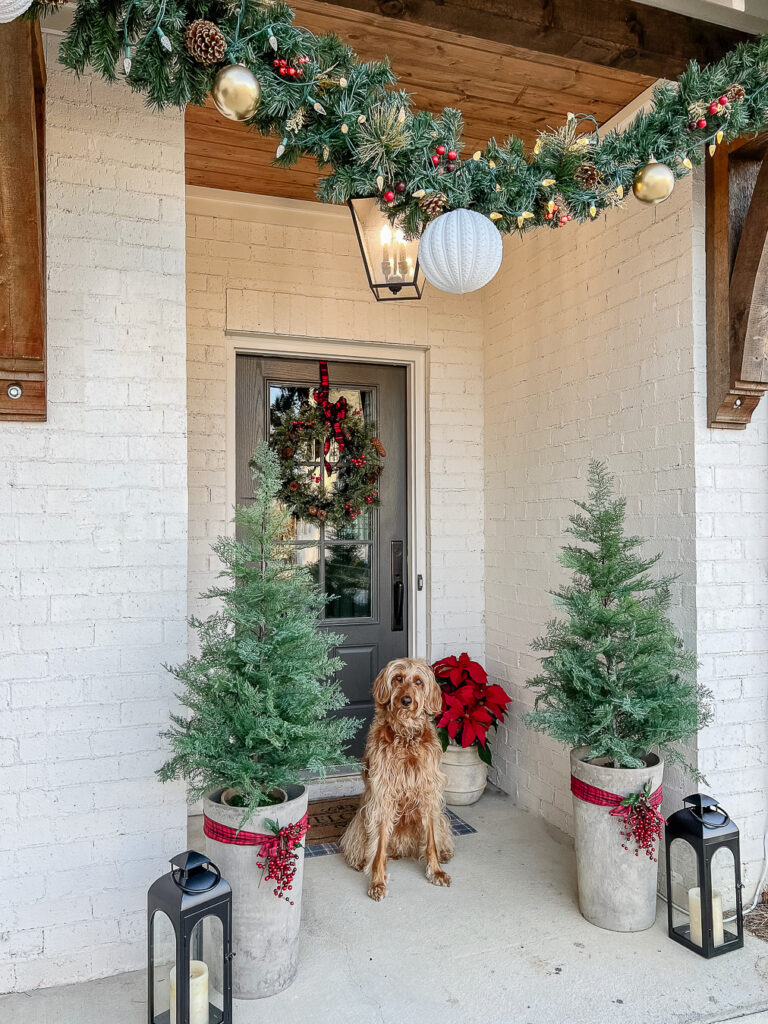 I thought it was appropriate to have Freddie, @readyfreddiedoodle, meet you at the door, exactly as it would be if you visited our home. I was a bit concerned, given his recent dashes out of the door to run around the cul de sac, that this was a bad idea. He was extremely well behaved for this little photo session. So thankfully, he proved me wrong.
I hope you feel properly welcomed, minus the occasional jumping and excessive tail wagging. If you are new here and have visited from the Seasonal Simplicity Holiday Home tour, welcome. This is one of my favorite ways to share our home every year. I thank our host, Krista at the Happy Housie for coordinating this exceptionally inspiring event.
I am Leslie and I live in Birmingham, AL. In addition to the work I do as a blogger/inflencer I am a interior decorator specializing in renovations and new construction.
Not surprising given the times we live in, I was unable to find burgundy ribbon for outdoor use locally. I decided to get resourceful and found a few different plaid ribbons in the bins of Christmas decor from years past to use instead.
This is the first year I replaced real cypress or arborvitae trees with faux trees I found in the Studio McGee Threshold Christmas line at Target. I am pretty happy with them for the price which is not far off of what I would pay each year for a real tree. My track record for keeping them alive had been 50/50, but I'm running out of places to plant them.
Entry Table Christmas Decor Ideas
For the last couple of years, I have placed this tinsel tree on our foyer buffet table I use as an entry console. I love the way the silver pops against the deep blue paint color and painted mirror.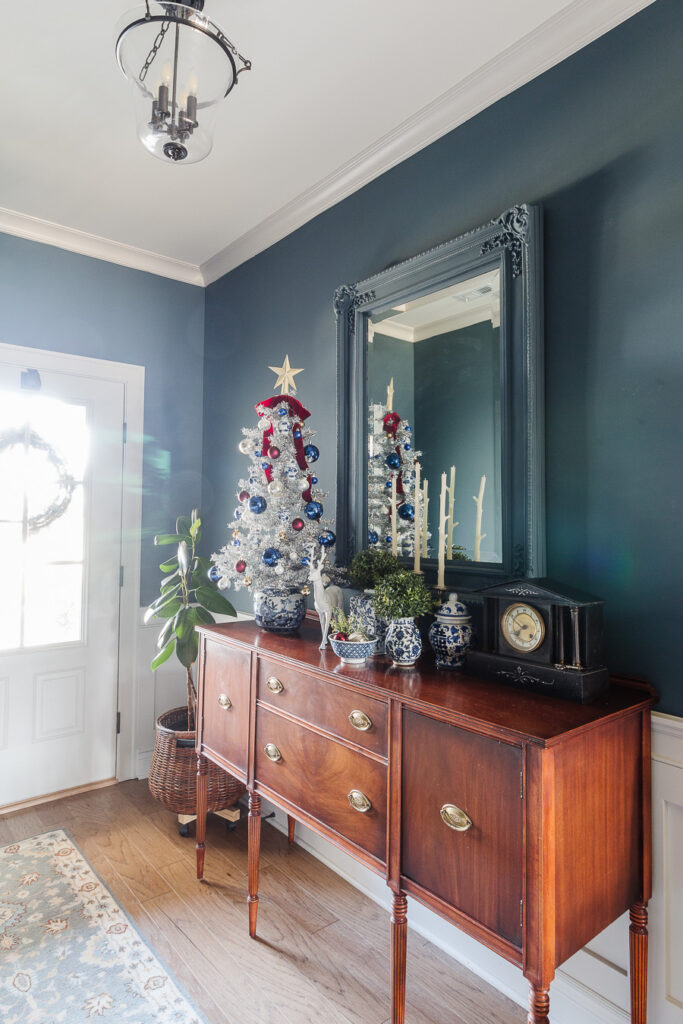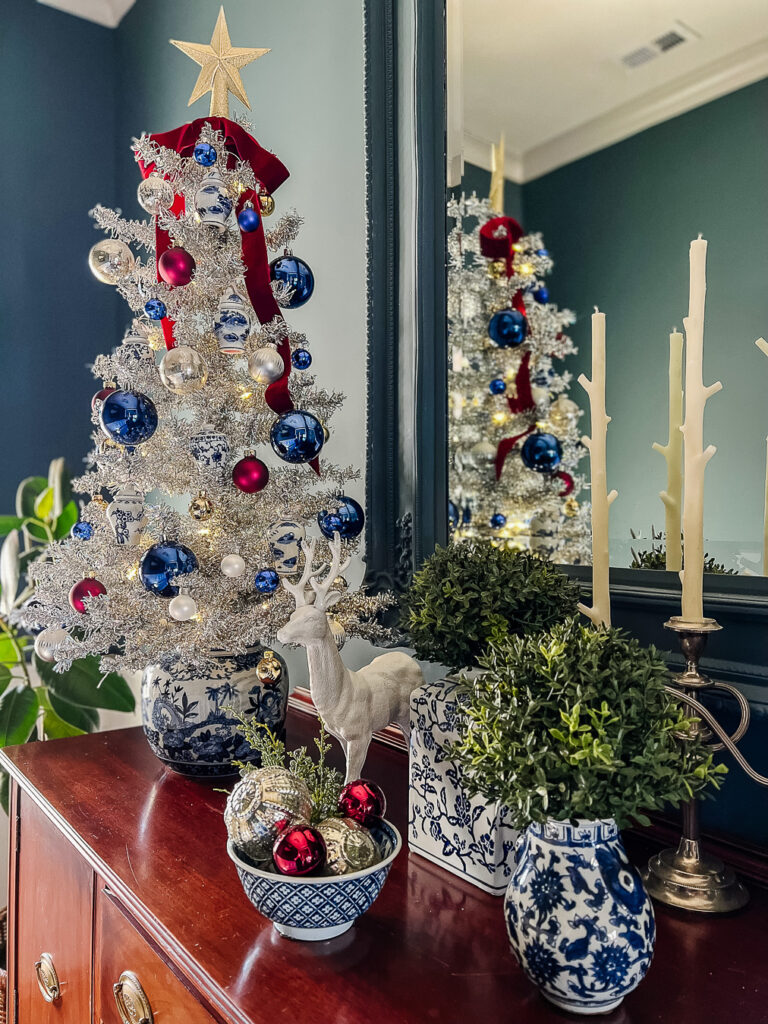 This year, I secured the tree in a vintage blue and white vessel and then surrounded it with a few more of my favorite blue and white pieces.
I dropped in a few burgundy glass ornaments to start this year's accent color off from the start of the house.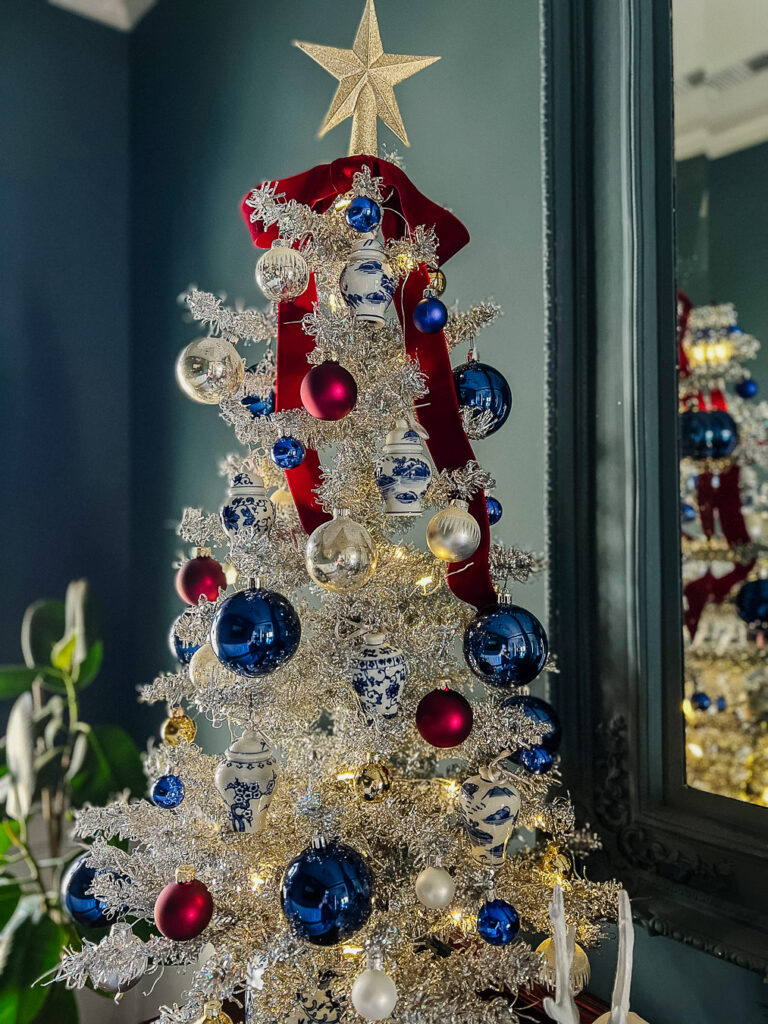 The idea to use blue and white here, beyond my general love for all things blue and white, began with these ginger jar ornaments I picked up from a local shop. Now that I have these in my ornament collection, I'm sure this look will get repeated year after year. Nothing wrong with that right?
The takeaway decorating tips from this scene is to incorporate what you love in a miniature tree. They make great additions to any small table. Greeting guests with a small tree creates a festive welcome.
From the foyer, the room opens up to our vaulted dining and living room.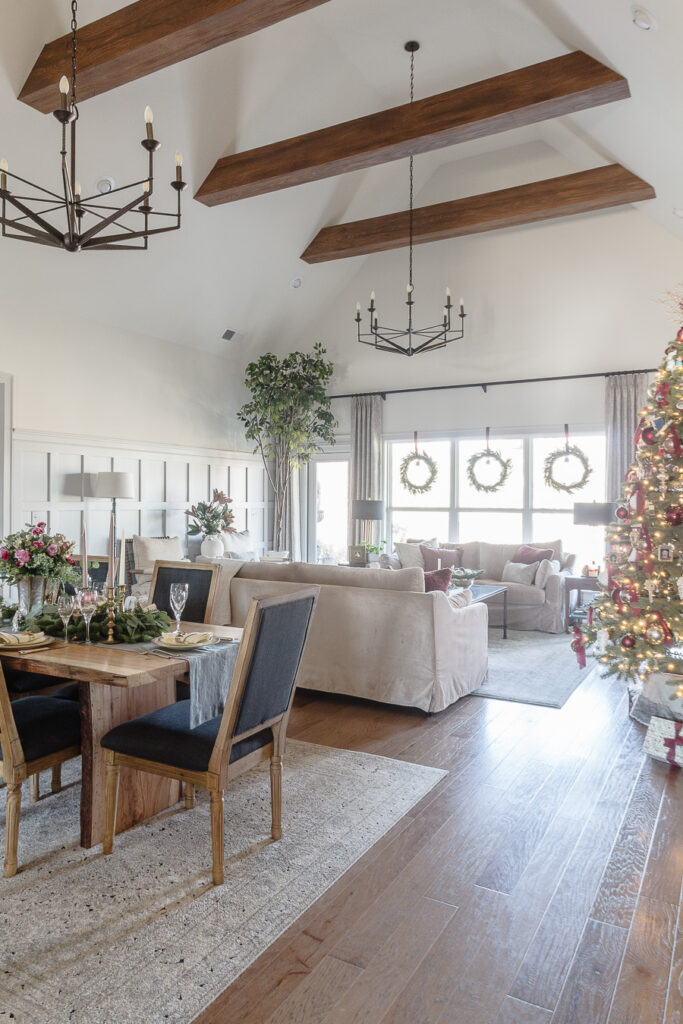 The Dining Room and Christmas Table Setting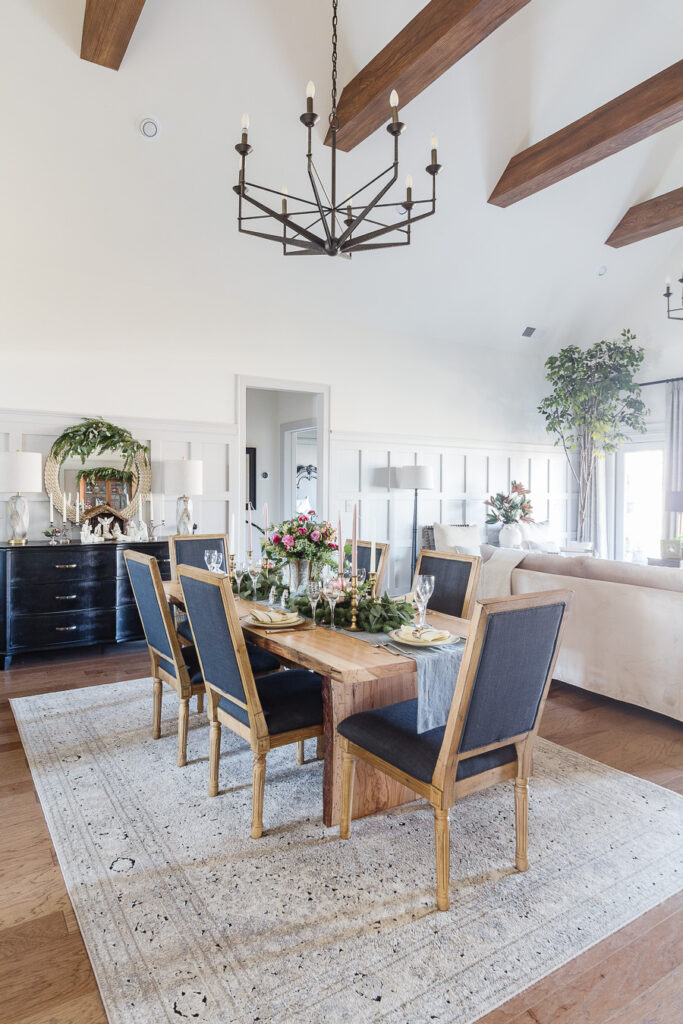 I set the table as I would for Christmas Dinner to share the beautiful linens I was gifted from Sweet Home and Co. I chose a custom table runner and napkins to coordinate with my wedding china.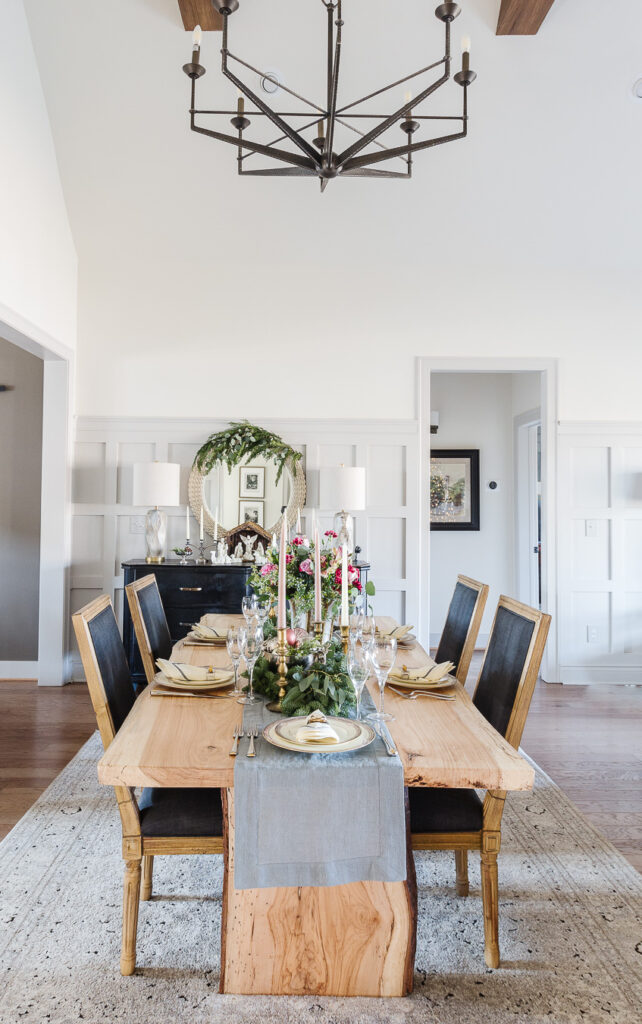 I realized the blue grey in my china is very complementary to the color scheme of this house and thought I should use them for Christmas, too.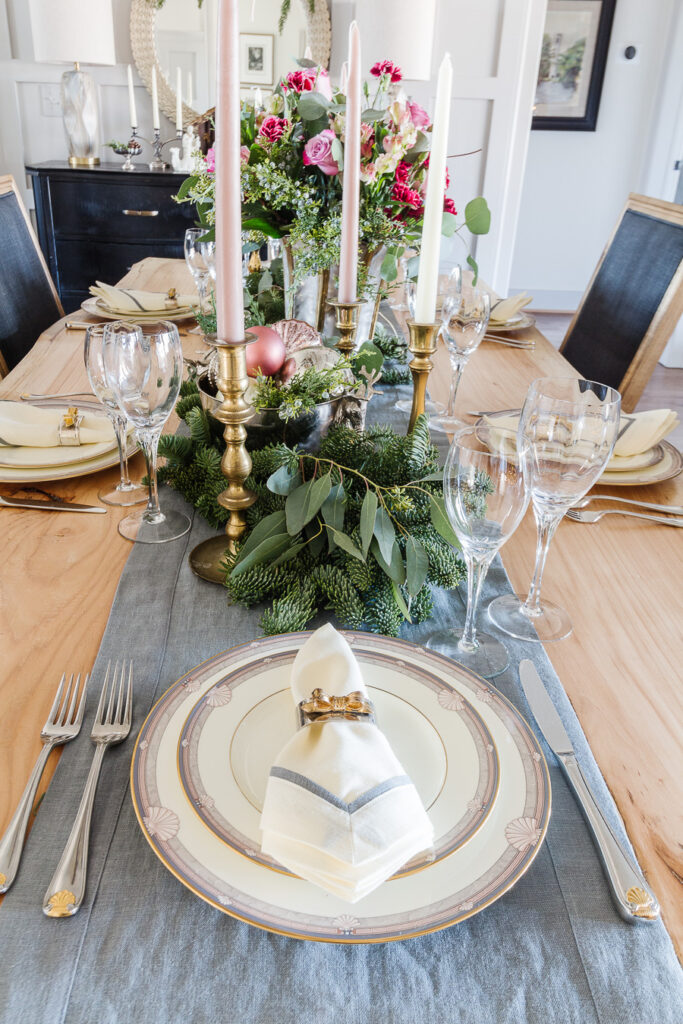 These are the most beautiful linens. You can design them to suit your decor and your table.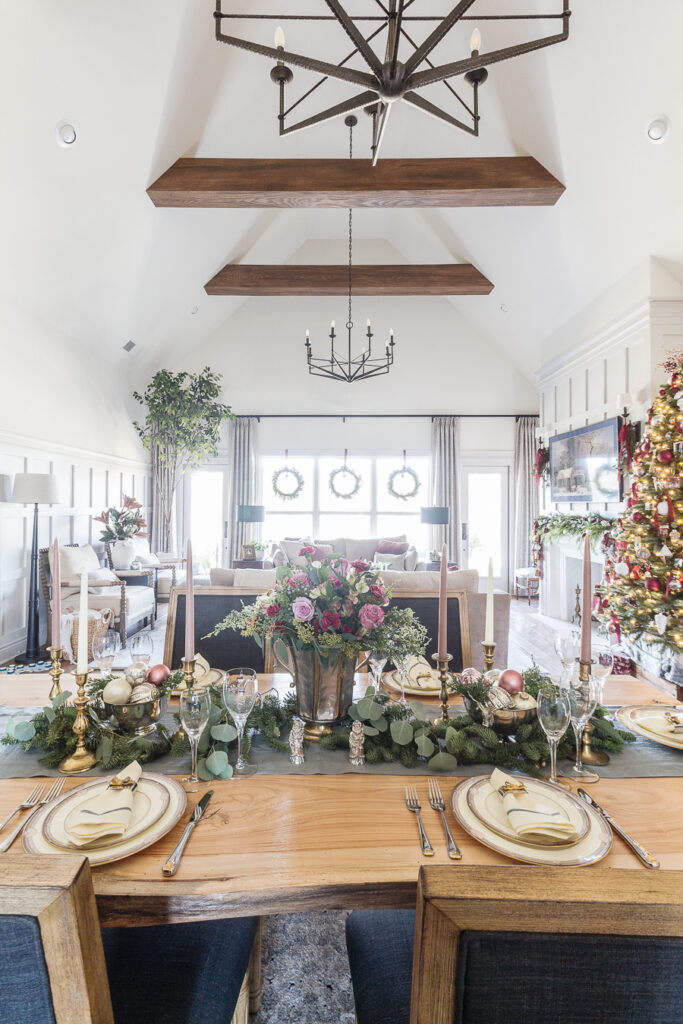 With a floral arrangement in similar pinky, mauve tones and a touch of burgundy I think everything works beautifully. To add to the Christmasy feeling, I draped pine garland pieces around silver bowls of ornaments and brass candlesticks.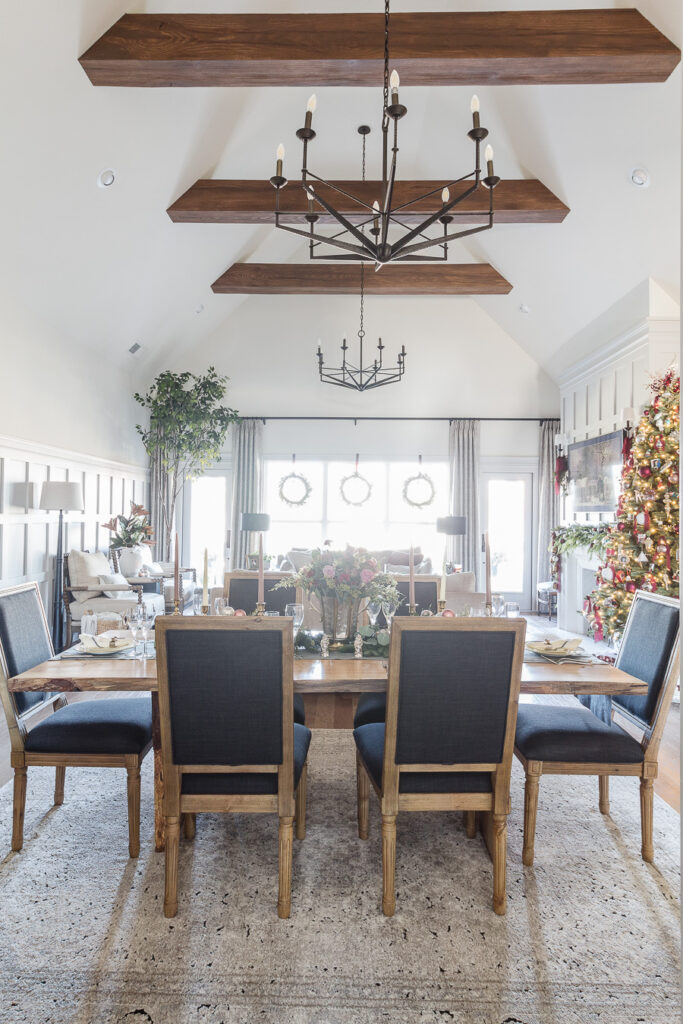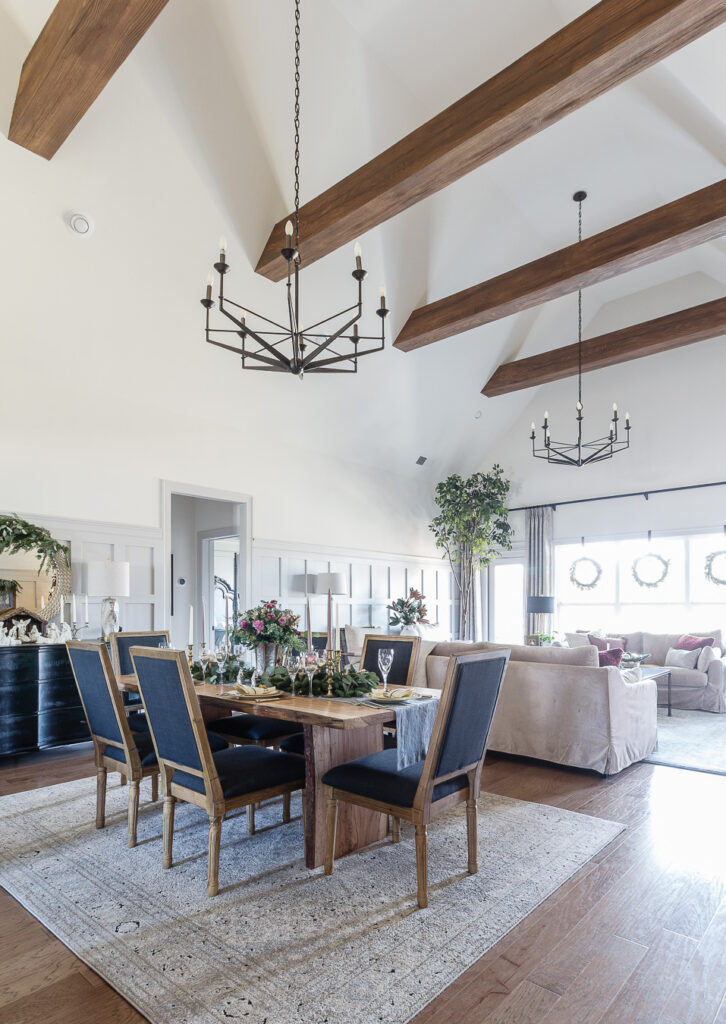 Nativity Display
My treasured nativity makes an appearance here on the buffet, year after year.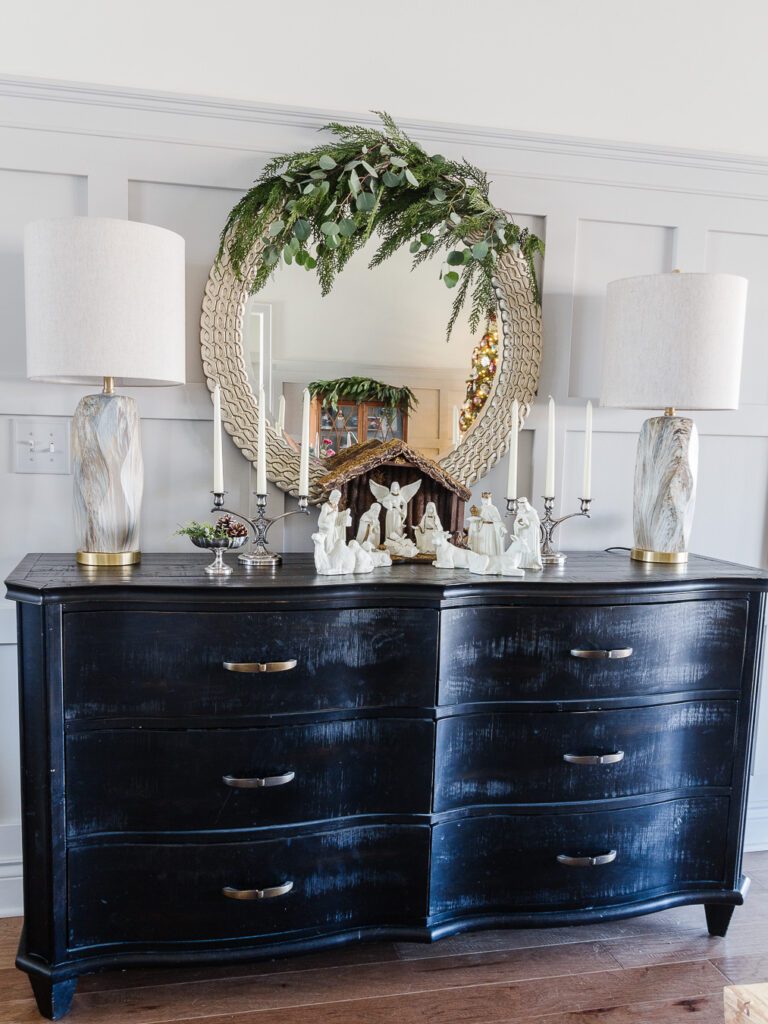 I found these silver candlesticks at antique shop on vacation last January, knowing this would be their primary purpose.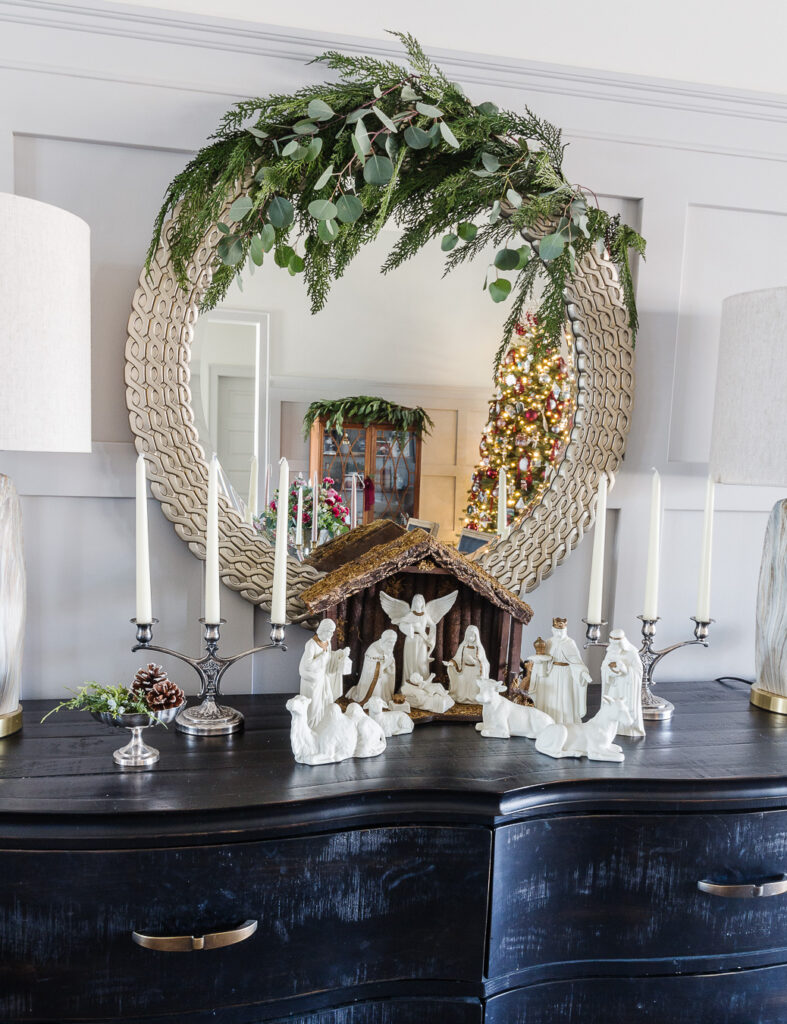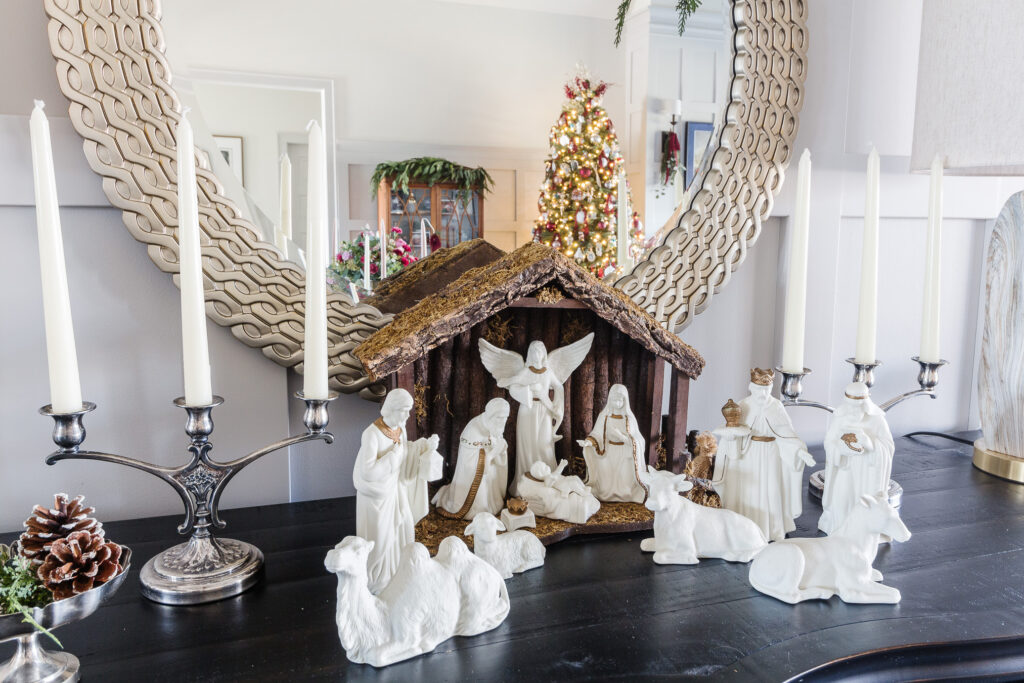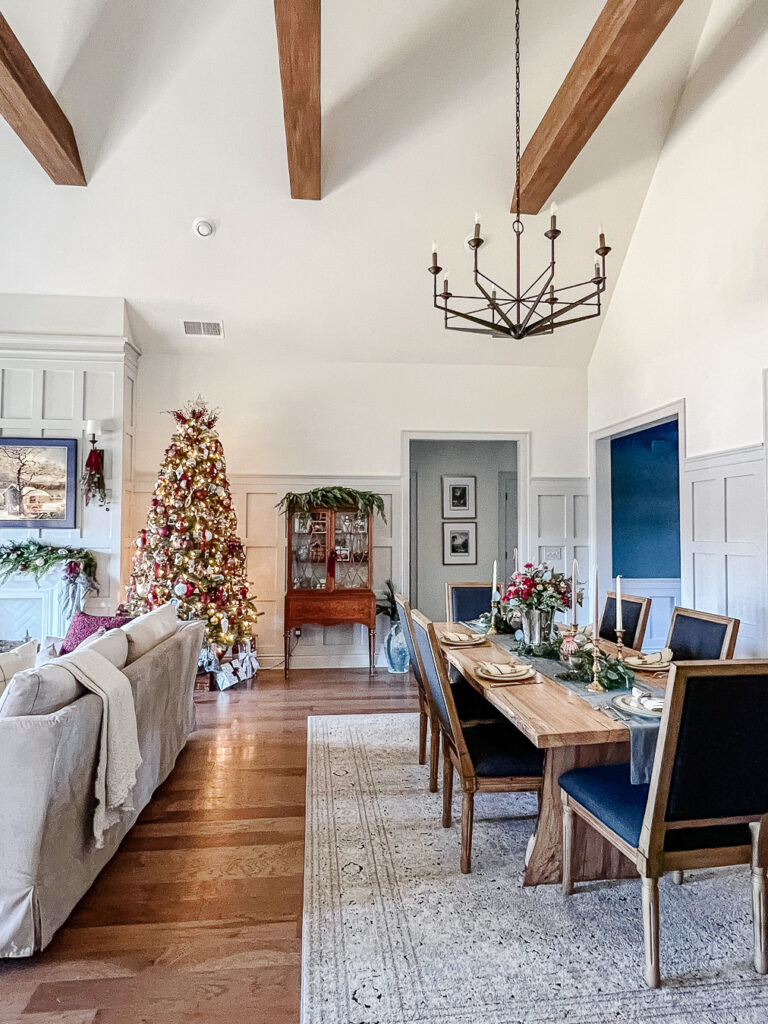 In our petite china cabinet between the dining area and the living area, I displayed many of our favorite Christmas memories.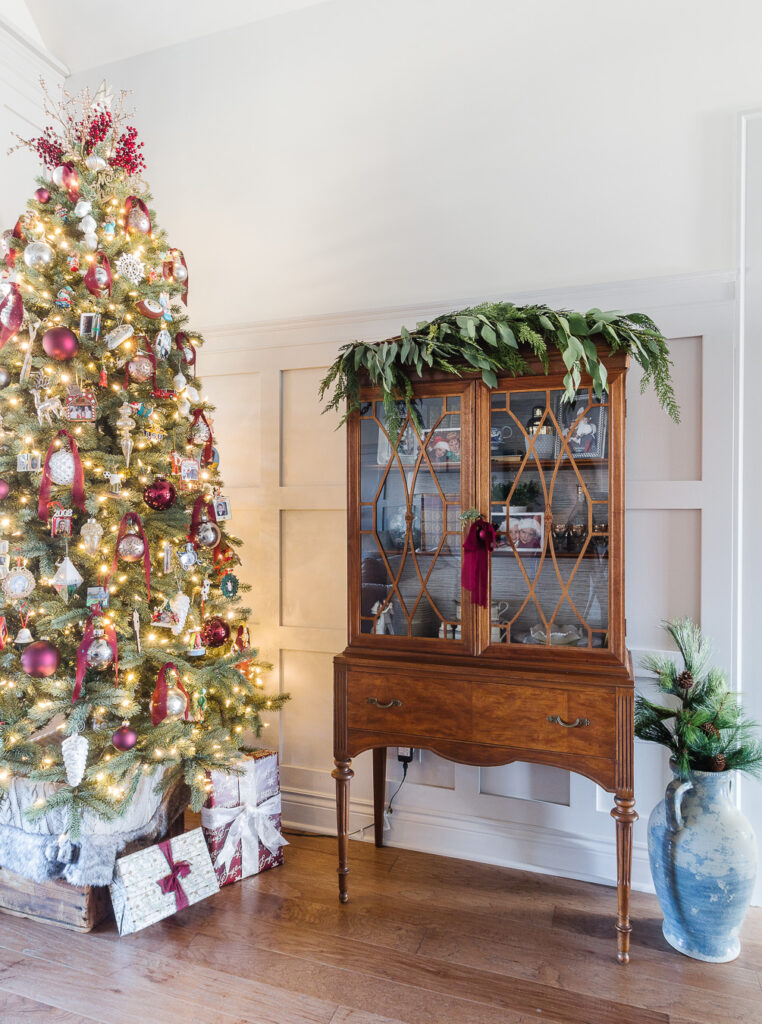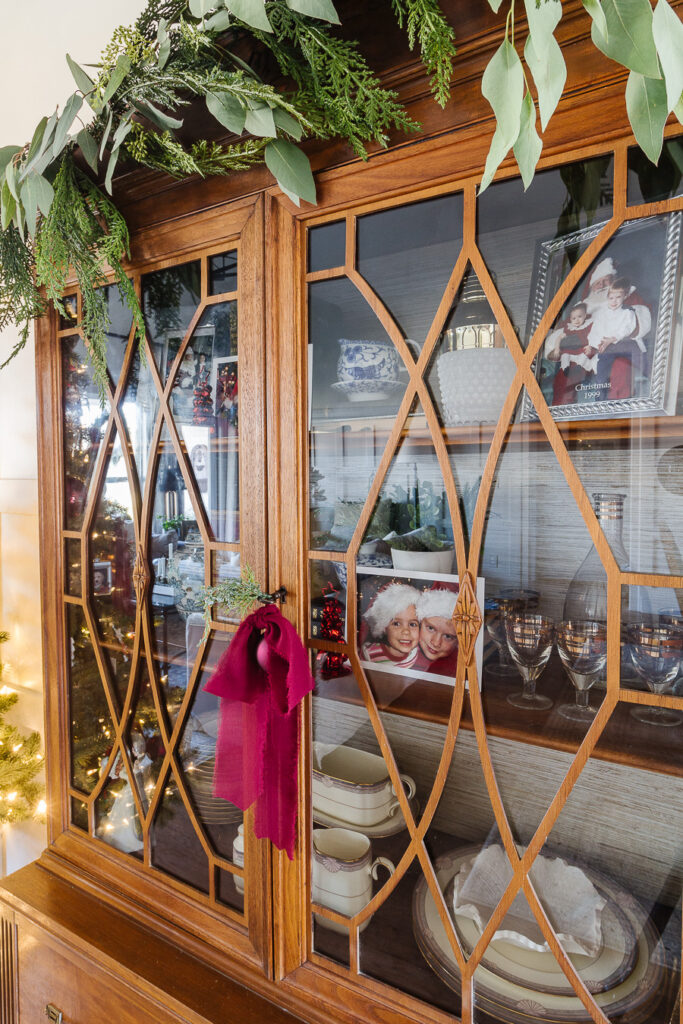 It was a quick and easy way to tuck in a little holiday with existing pieces.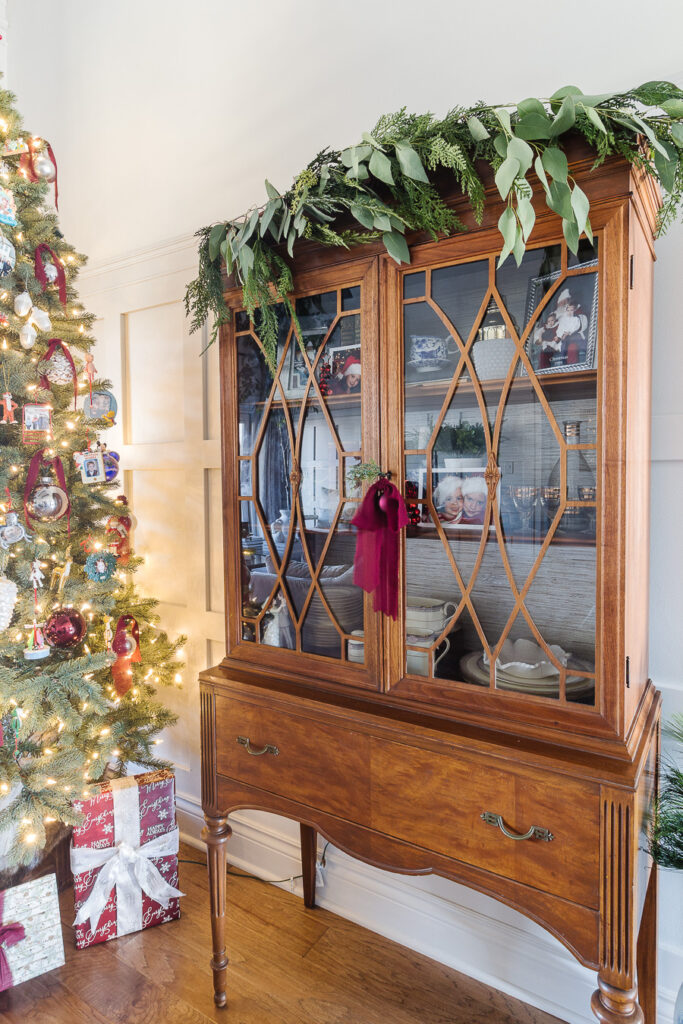 In the Living Area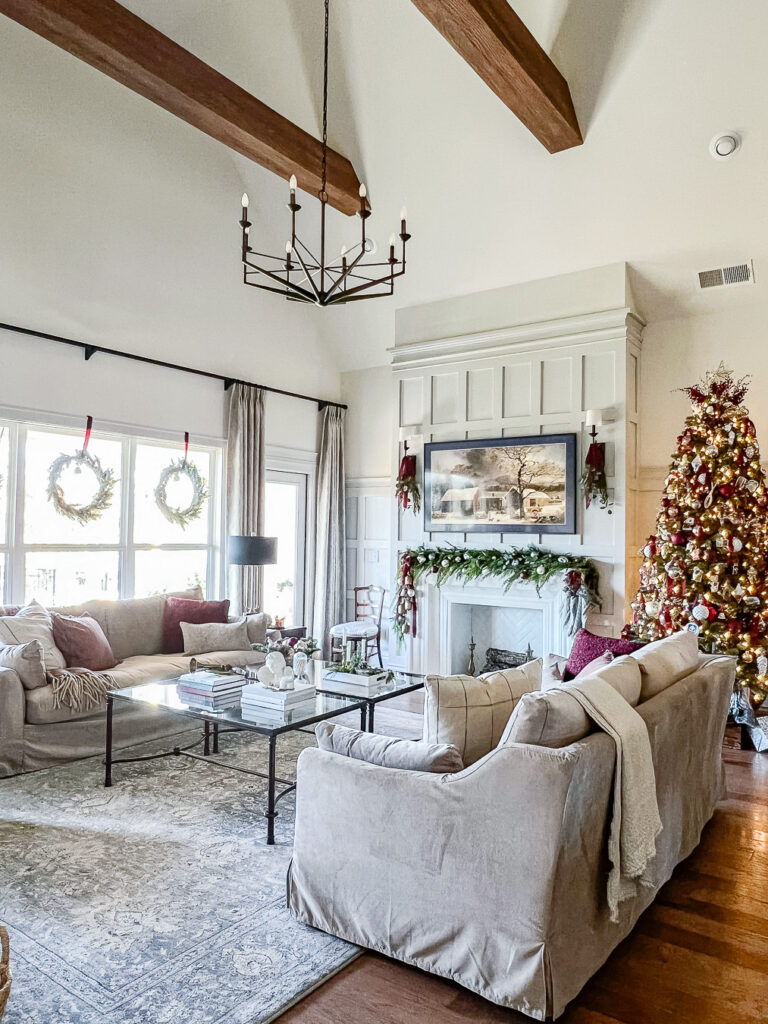 The fireplace and the tree are the center of the holiday decor and both display the burgundy and silver color scheme.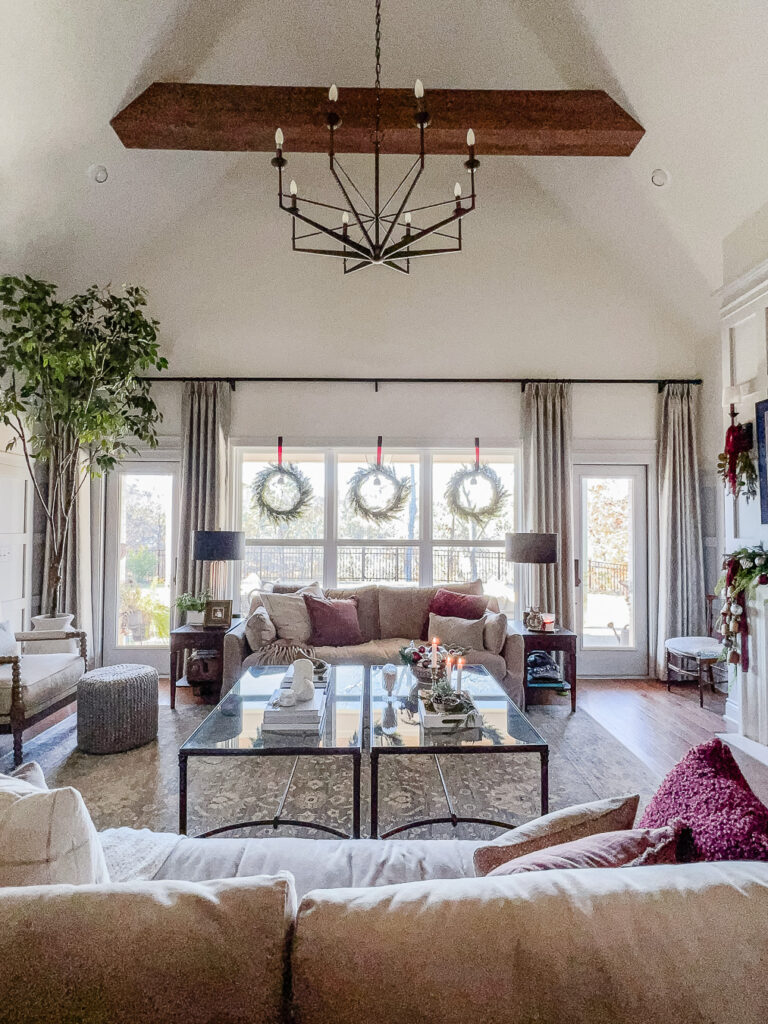 Once this room was completed last year for the One Room Challenge, I never considered using any tone of red. But I am pleasantly surprised by how much joy this look brings.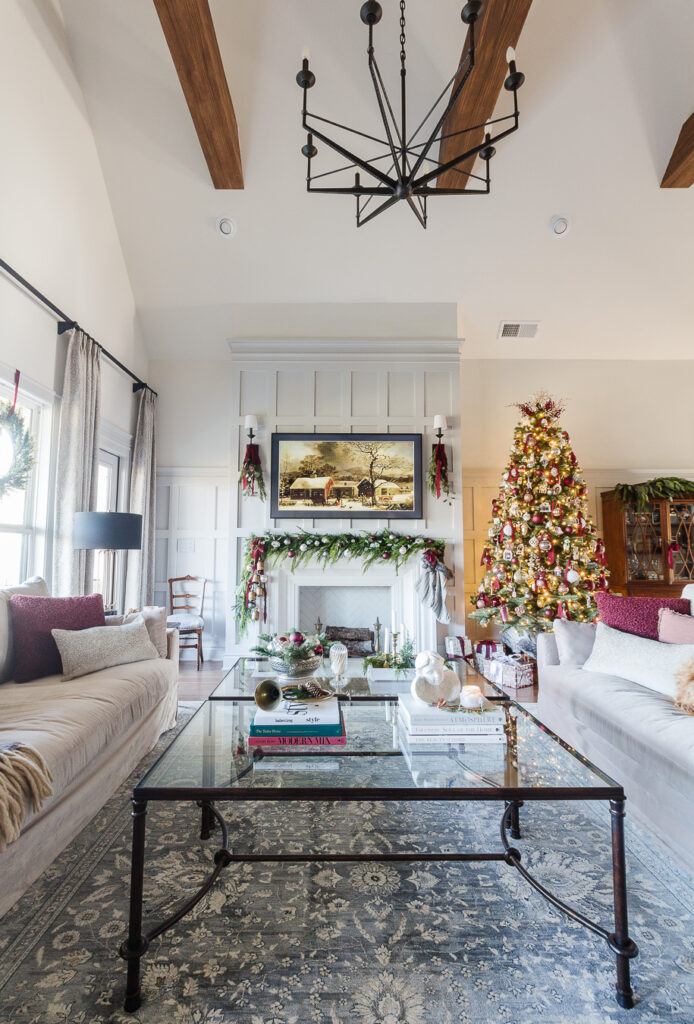 For our Christmas tree, I always use our photo and keepsake ornament and find a way to incorporate the color theme of the year. I tied the soft Burgundy ribbon on branches. Mostly I tied them on a branch with an ornament just to they hung with a little body since the ribbon was so light.
I also purchased Burgundy glass balls of different sizes. Hobby Lobby is a great resource for a rainbow of colors at affordable prices.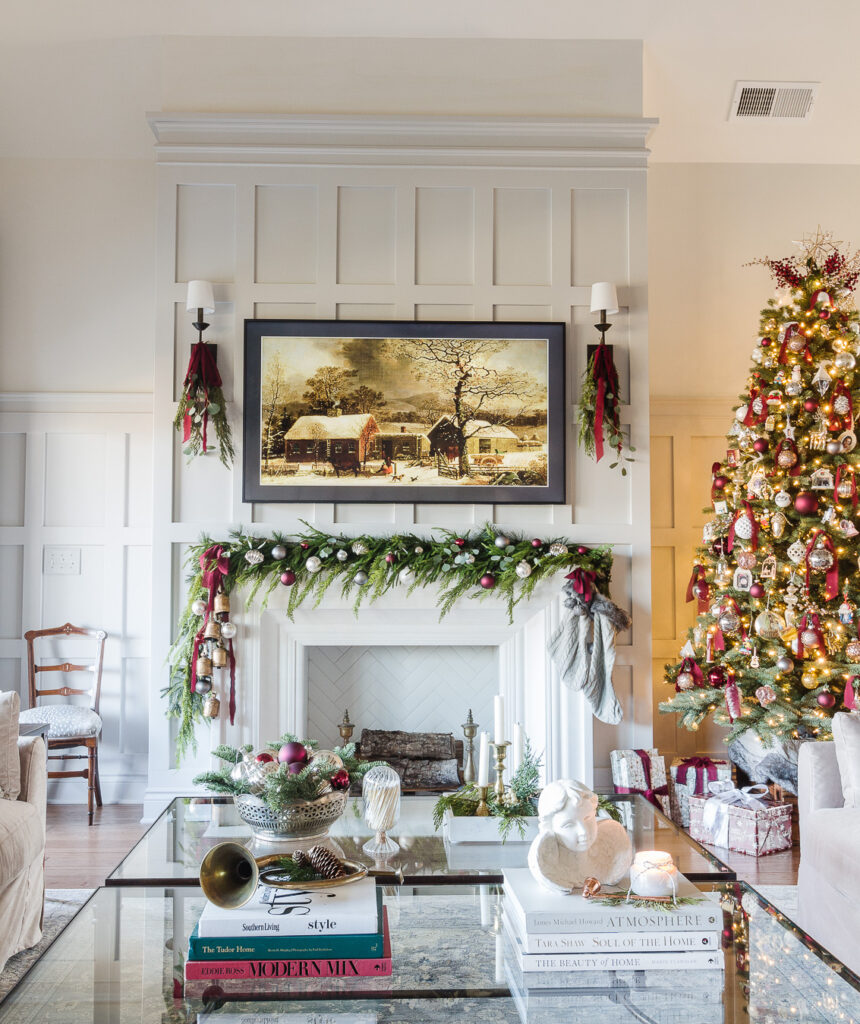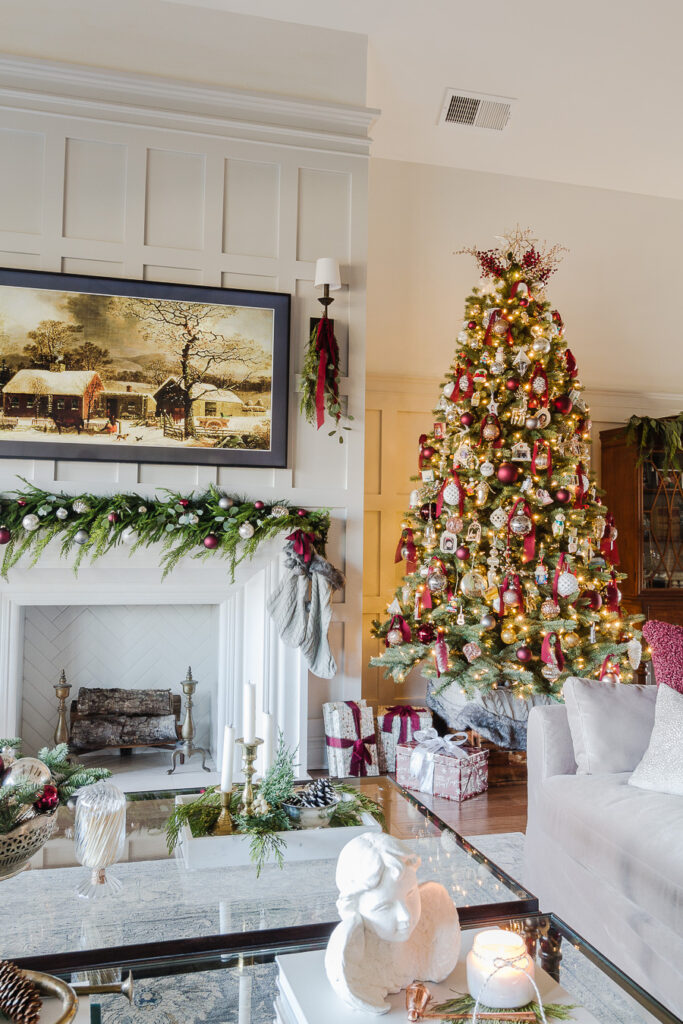 Shop the Look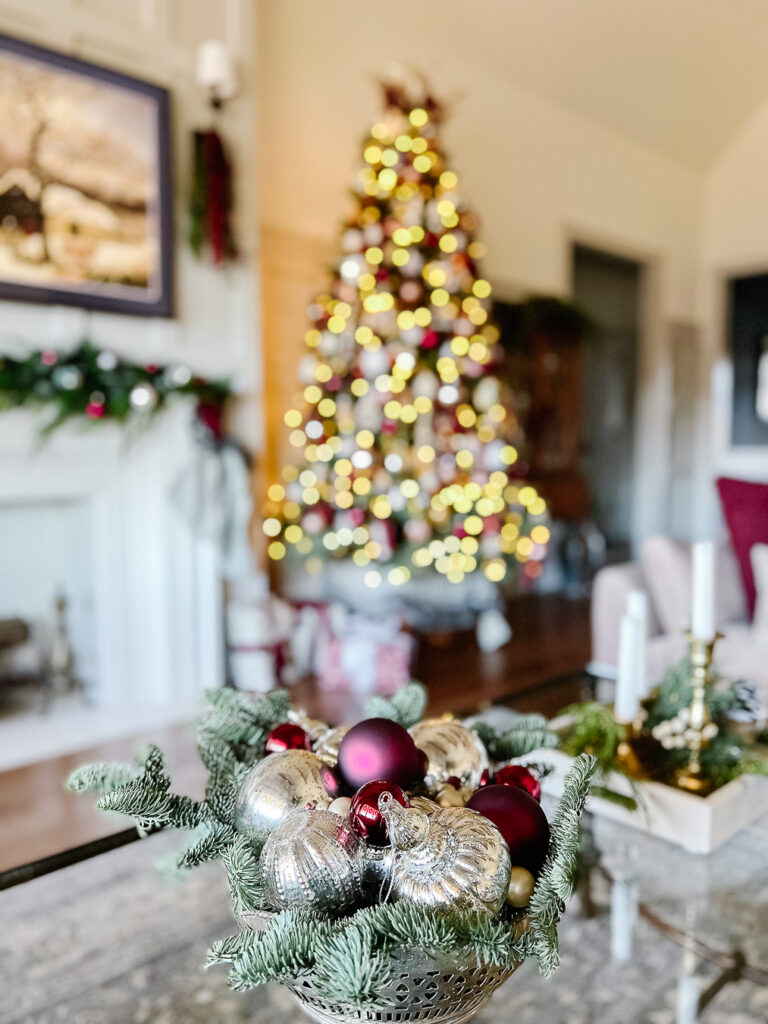 I shared all about our mantel decor in this blog post. Since then, I added just a touch of live eucalyptus to the faux greens.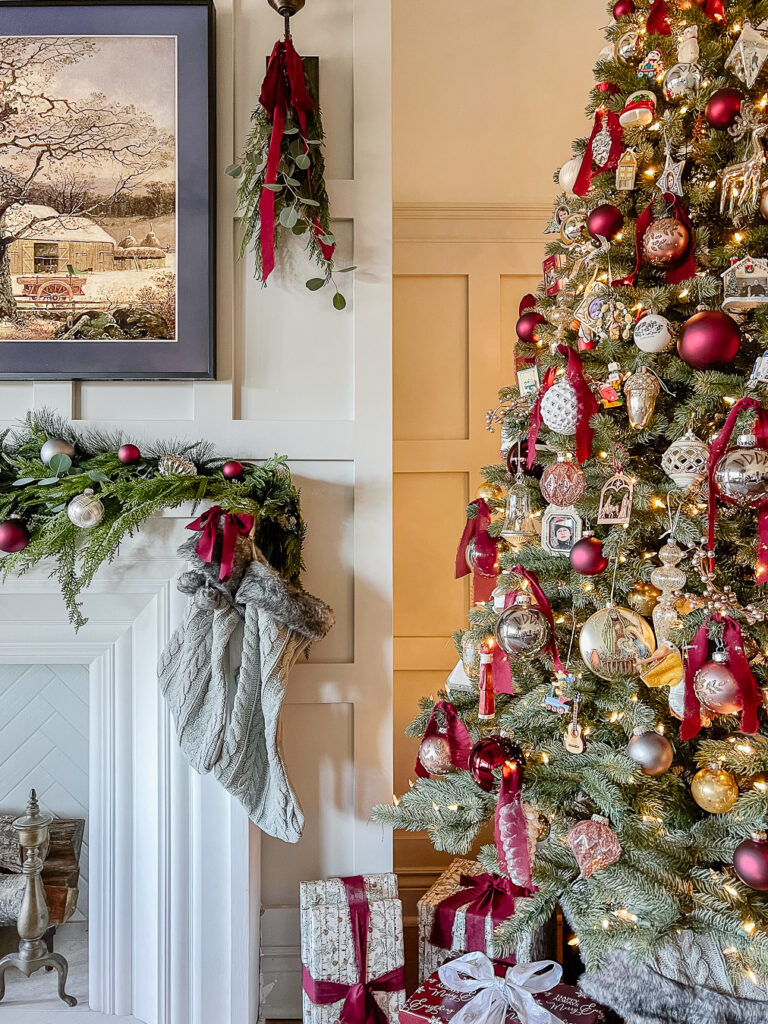 Eucalyptus is the one greenery that I really like dried. It fades ever so slightly into a beautiful silver tone and is inexpensive.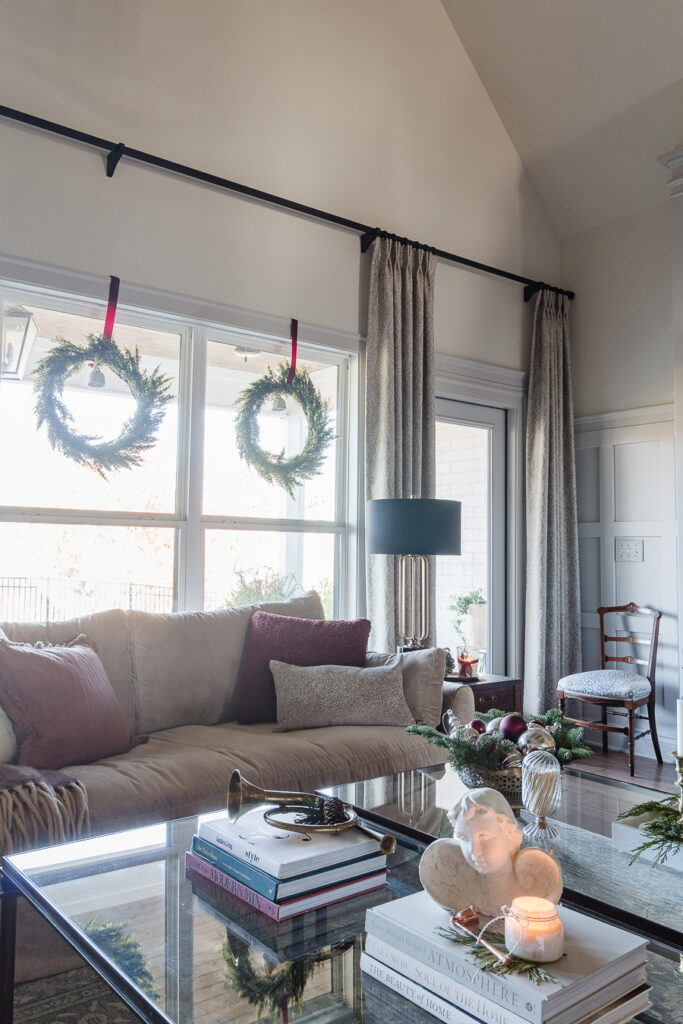 The window wreaths are a new addition this year and I absolutely love them. It took a bit of hunting to find three exactly the same wreaths at several of my local Target stores. (I may have even sent my son to pick one at a Target near him.)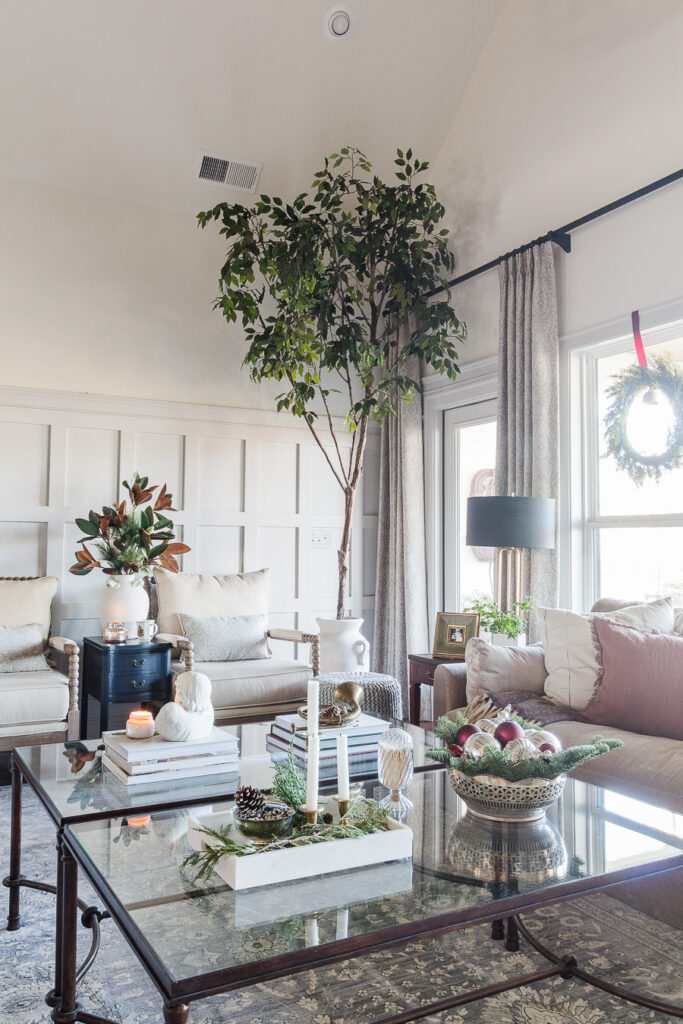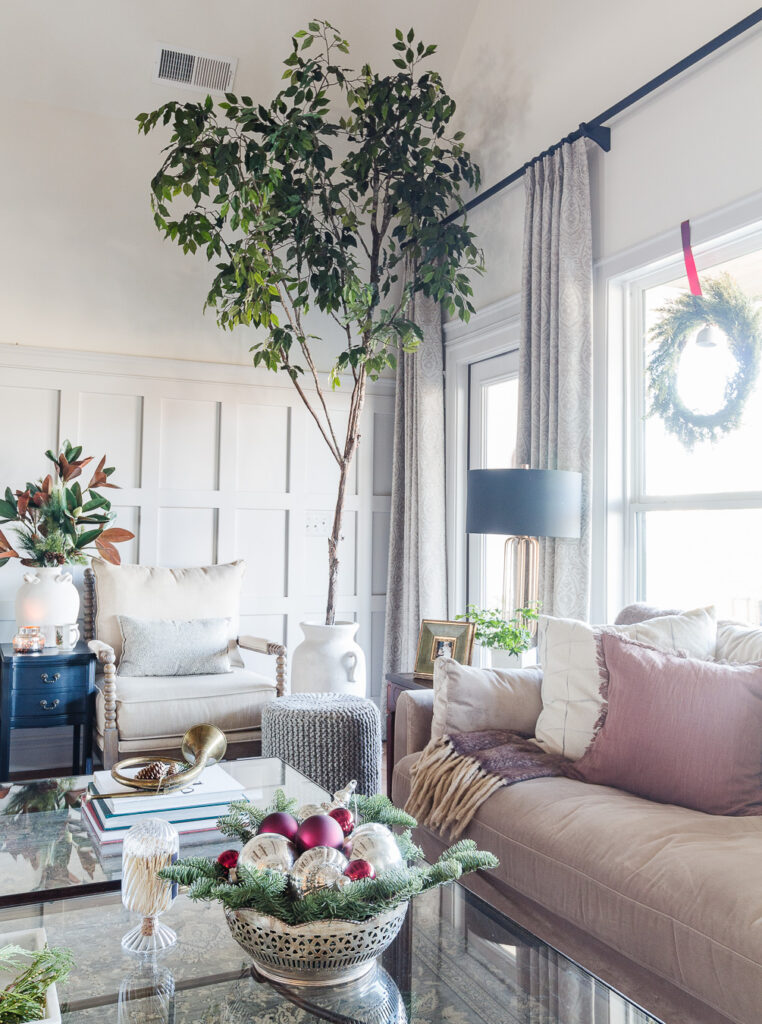 For furniture and non Christmas related furnishings, check out my Shop My Home Page.
Thank you for stopping by for the tour and continue on to see Colleen's modern neutral Christmas at Lemon Thistle. I hope you were inspired and will come back on Monday for the second half or my tour. I plan to share the kitchen, main bedroom and my studio decked out with a pink Christmas tree!
For more inspiration don't miss these other amazing Seasonal Simplicity tours.
This week is Christmas Home Tour Week! Each day this week, some talented bloggers are sharing their tours with you – be sure to hop around and see what they've got in store! You can visit their posts by clicking on the links below the images.
Sharing with me today…
Friday
This is Simplicite / Deeply Southern Home / Lemon Thistle
Love Create Celebrate / Sincerely, Marie Designs / The Happy Housie
And sharing the rest of the week…
Monday
The Happy Housie / Inspiration for Moms / Joanna Anastasia
She Gave it a Go / Modern Glam / Taryn Whiteaker Designs
Tuesday
Rambling Renovators / Life is a Party / Clean and Scentsible
House by Hoff / Rooms for Rent / The Happy Housie
Wednesday
Maison de Pax / Stacy Risenmay / Maison de Cinq
Place of My Taste / A Pop of Pretty / The Happy Housie
Thursday
Grace in My Space / All Things with Purpose / Life is Better at Home
The Tattered Pew / A Pretty Life in the Suburbs / Just a Girl and Her Blog