Today I'm sharing a simple way to hang faux garland without any hooks or adhesive. That's right! Not one nail, pin or anything is holding all three strands of garland, bells and stockings on the mantel. I know it seems crazy, that this actually works, but it does!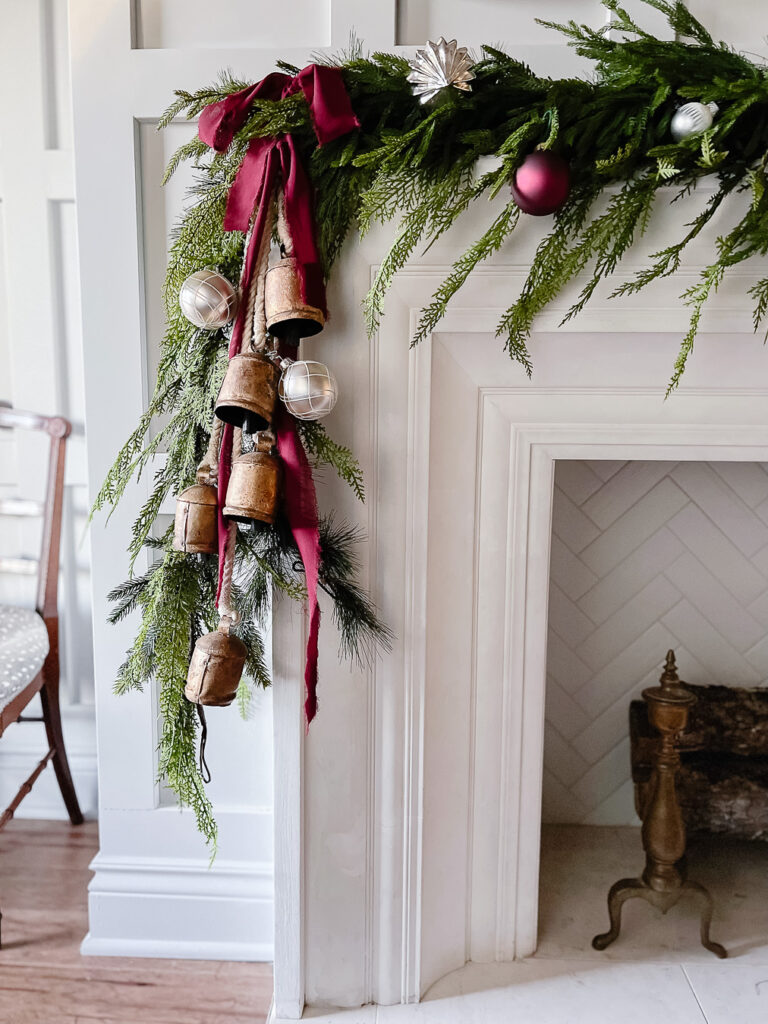 Look for a link-up below to all of my talented blogging friends who are sharing their mantel inspiration today too!
I'll show you how I achieved this little feat of magic, but first I have several photos for you to enjoy.
Like last year, I hung the garland asymmetrically, with a longer length of garland on the left.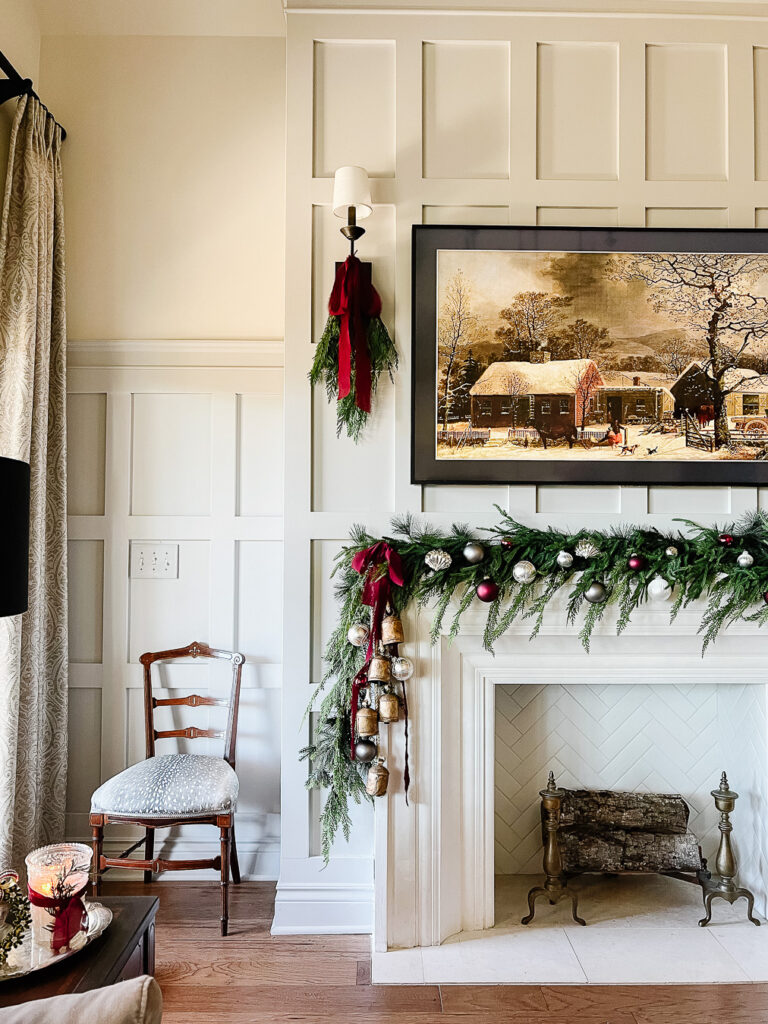 Then I created a little bit of balance, by hanging a couple of our stockings on the right.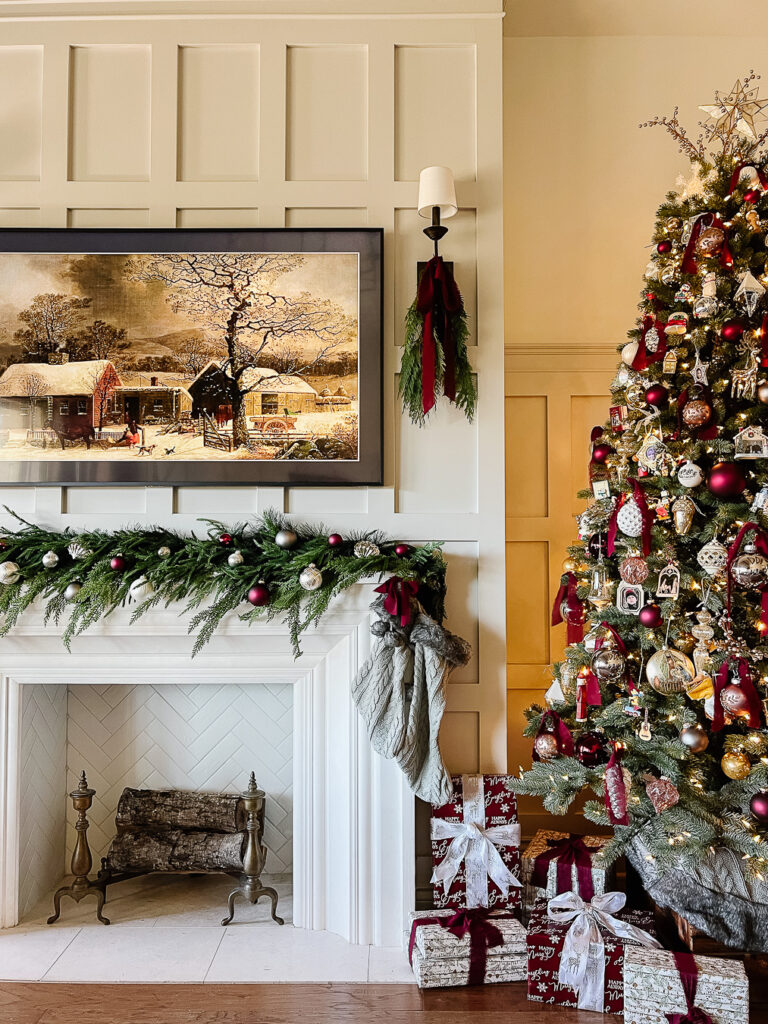 Shop the Post

68″ Cedar Garland
Snowy Cedar 6 feet
Boxwood garland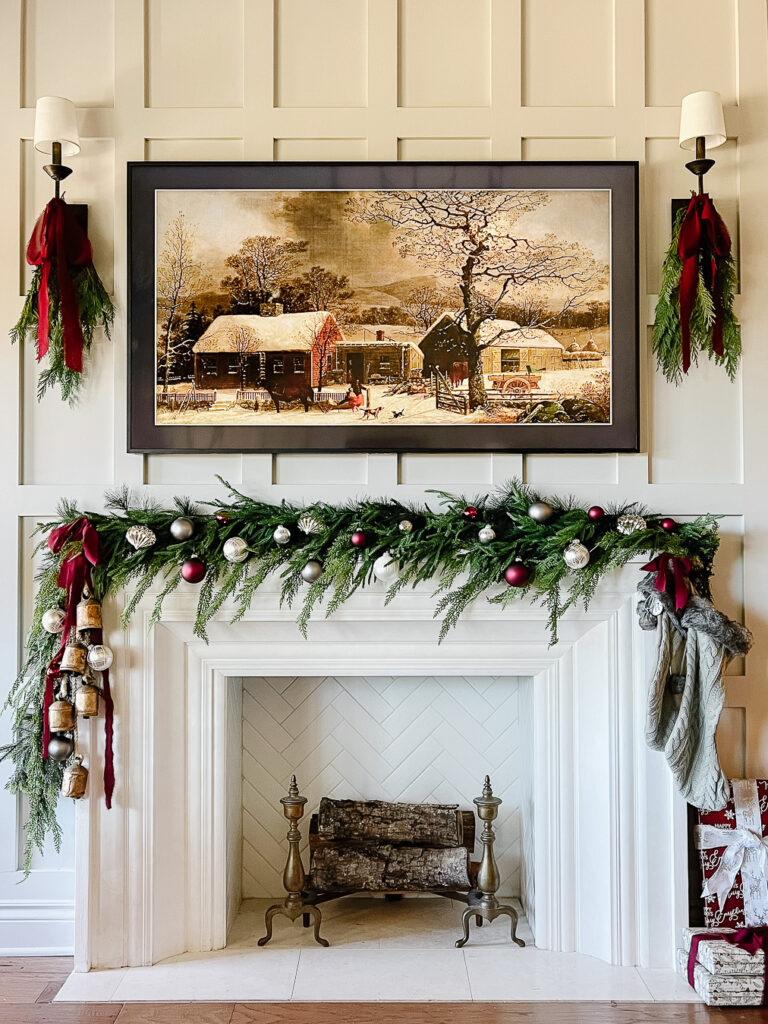 It has been a long time since I used any form of red in my Christmas decor. But I love the cooler tone of burgundy I found in this fringed chiffon ribbon and the boucle pillow works with our mostly neutral and blue-grey decor.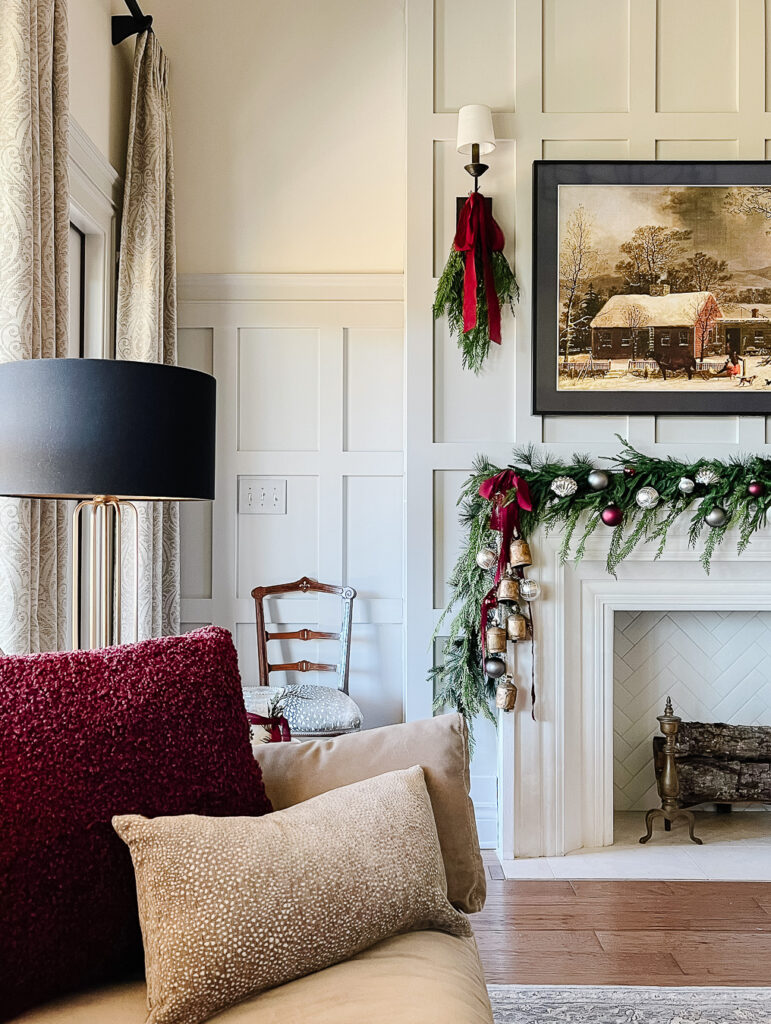 While I continued to add to my collection of realistic faux greenery this year, I forgot to order faux swags for the lights. The cedar here is real.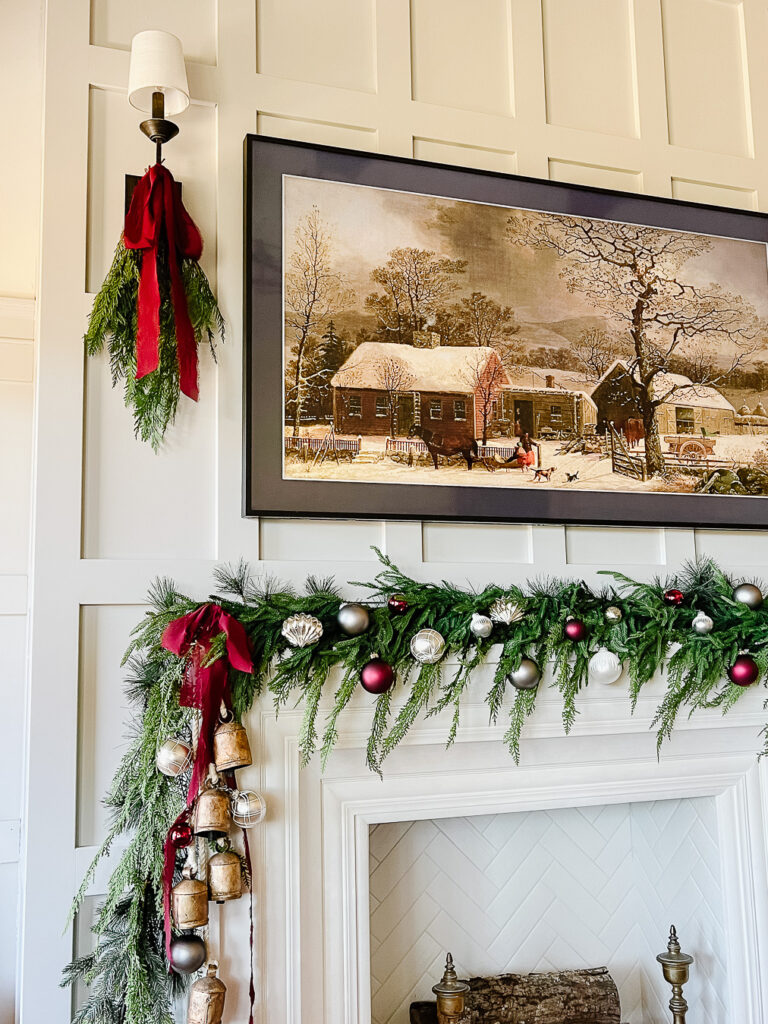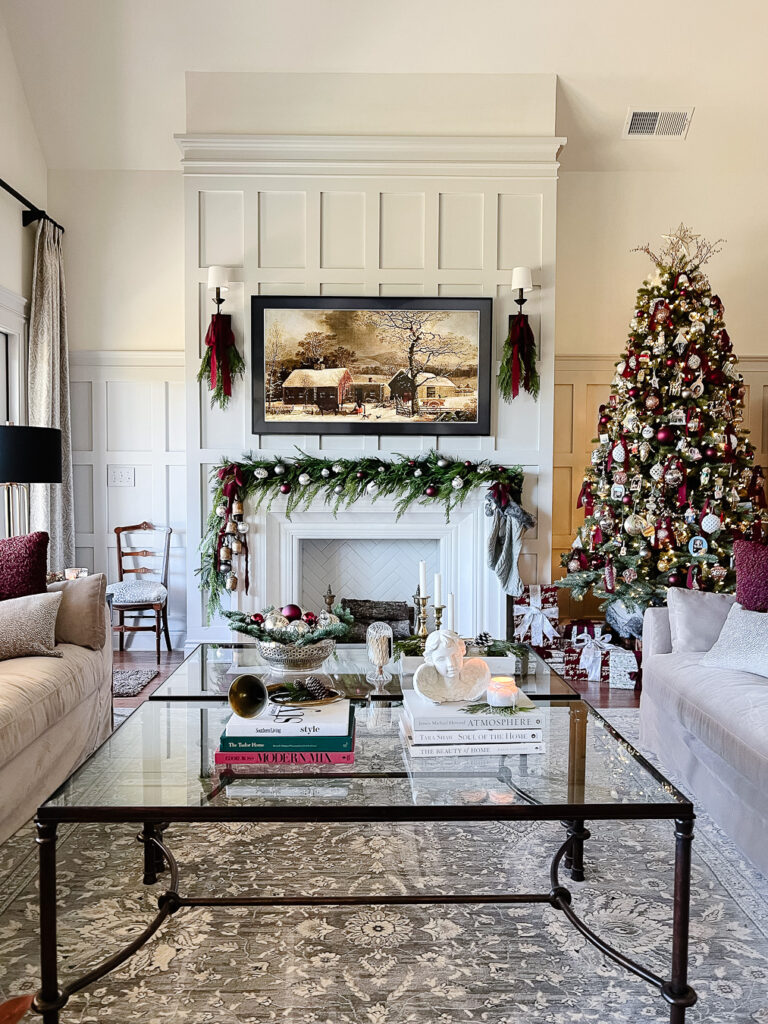 Now, let's get to how I created this "magic"! This will eventually become a Reel on Instagram, but I didn't have time to prepare it before this post was scheduled. I'd love to have you follow me there!
How to Hang Garland on a mantle without Hooks, Nails or Tacks
I wanted to avoid using any type of hook or adhesive because of the type of finish on my mantel. While I hope it looks like stone, it is all different kinds of wood moulding with a limewash and adhesives refuse to stick to it.
I also wanted to avoid nails because the mantel is fairly low and we walk right by it every day to go to the patio. (To let Freddie in and out numerous times a day.) Once the garland was removed after Christmas I would see those holes and they would likely drive me crazy.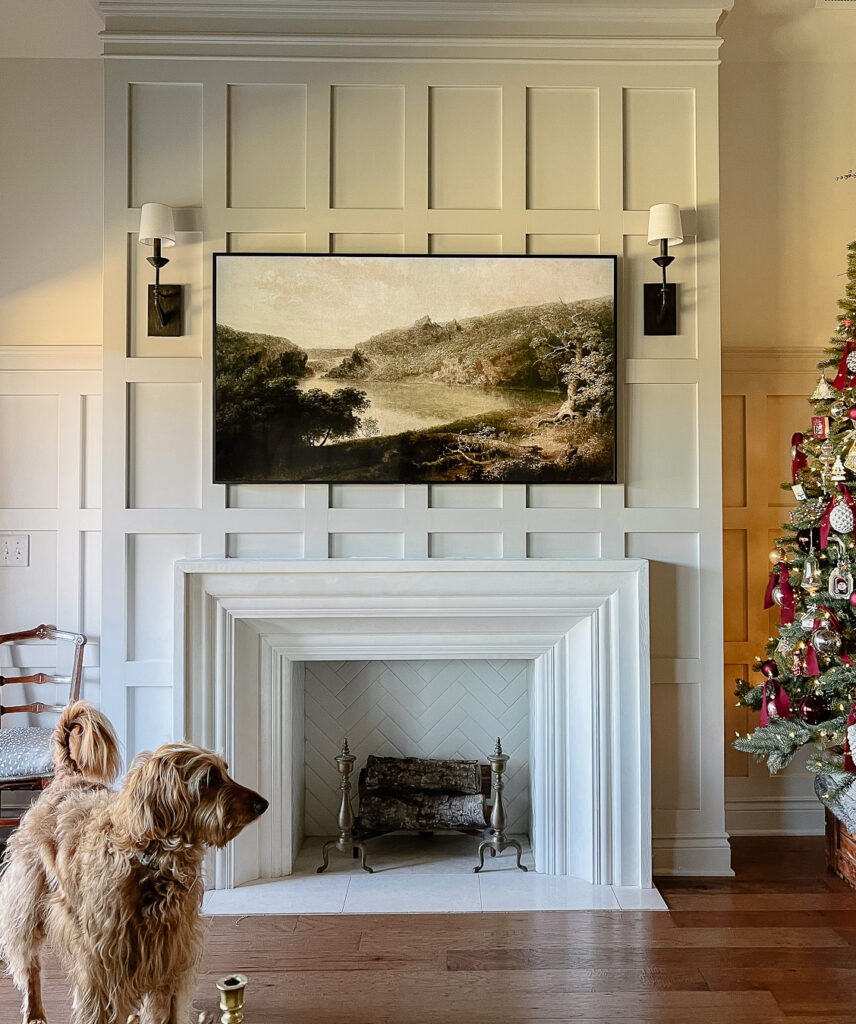 Start the base of the garland with a very thick, wired style of garland.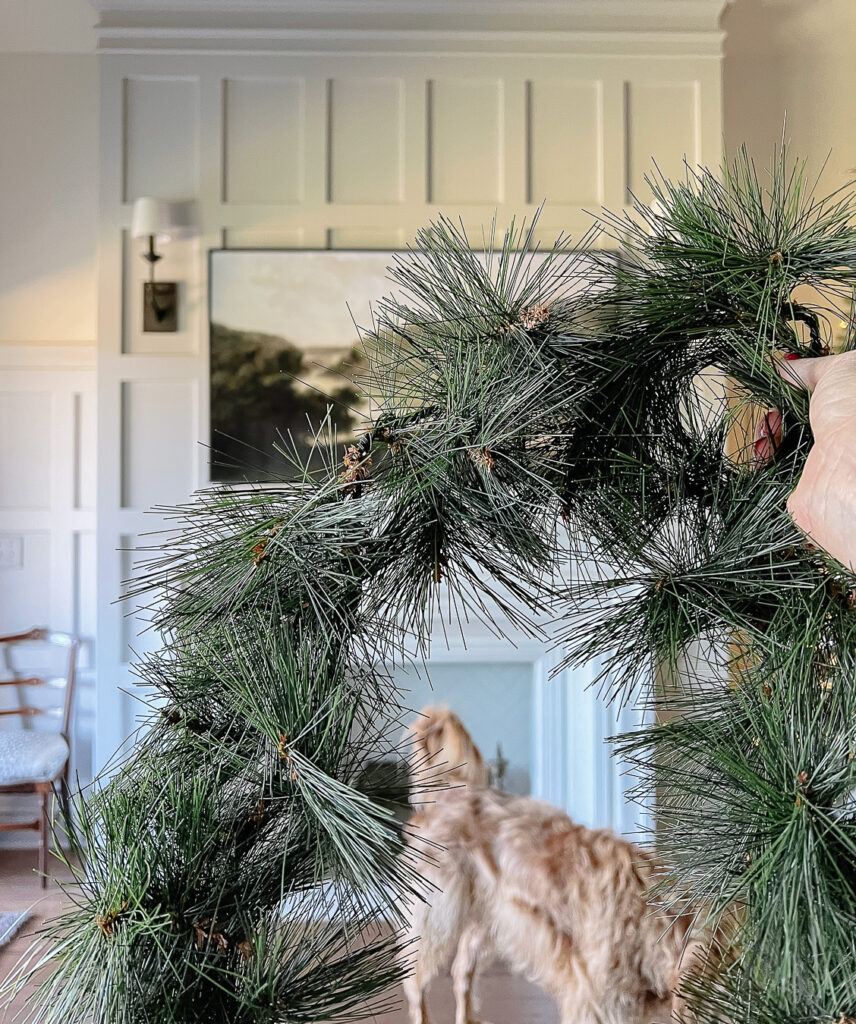 It might be hard to see in this close-up but it's actually a kind of sparse garland. But the key, the magic ingredient, is the thick, but fairly easily bendable wire. You can find it here. It's extremely inexpensive.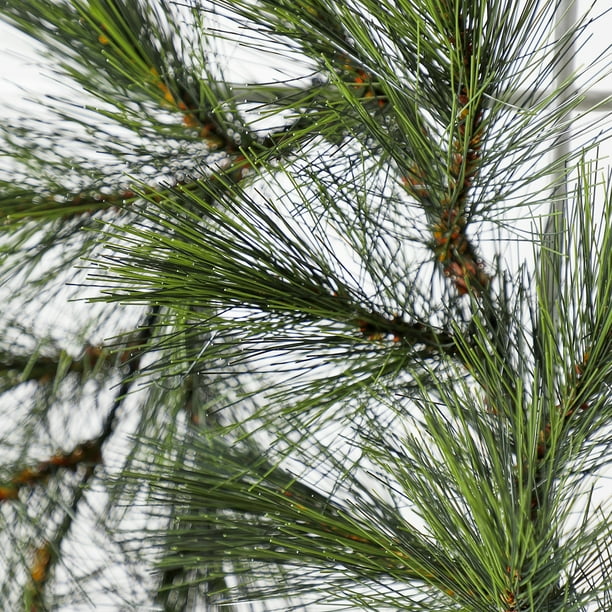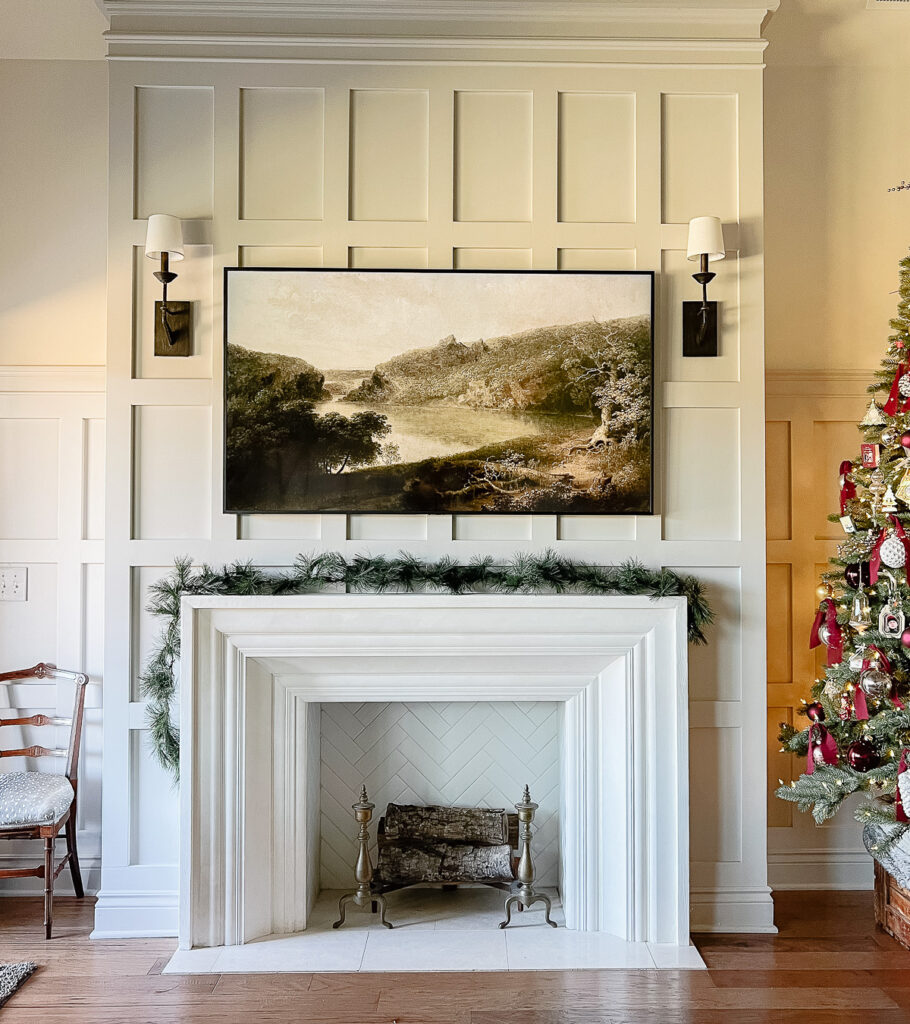 By bending the wire to fit securely and snuggly around the mantel, it provides a base for the other more realistic garlands to be layered and secured by the branches.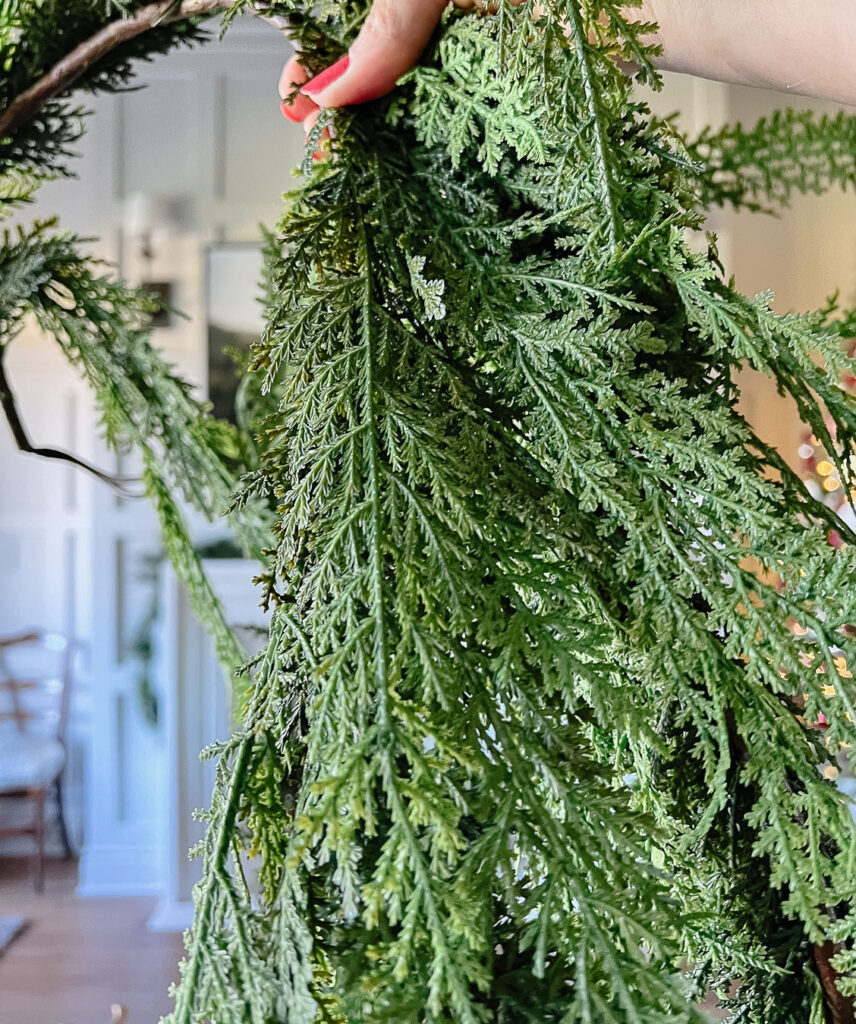 Next, I added the faux cedar. It is from Terrain and is no longer in stock for me to link to, but they carry it every year. Just be sure to buy it early.
Each one of the "branches" of the wired pine garland is flexible with its own wire. I bend a few of the "branches" around the next garland to hold it in place.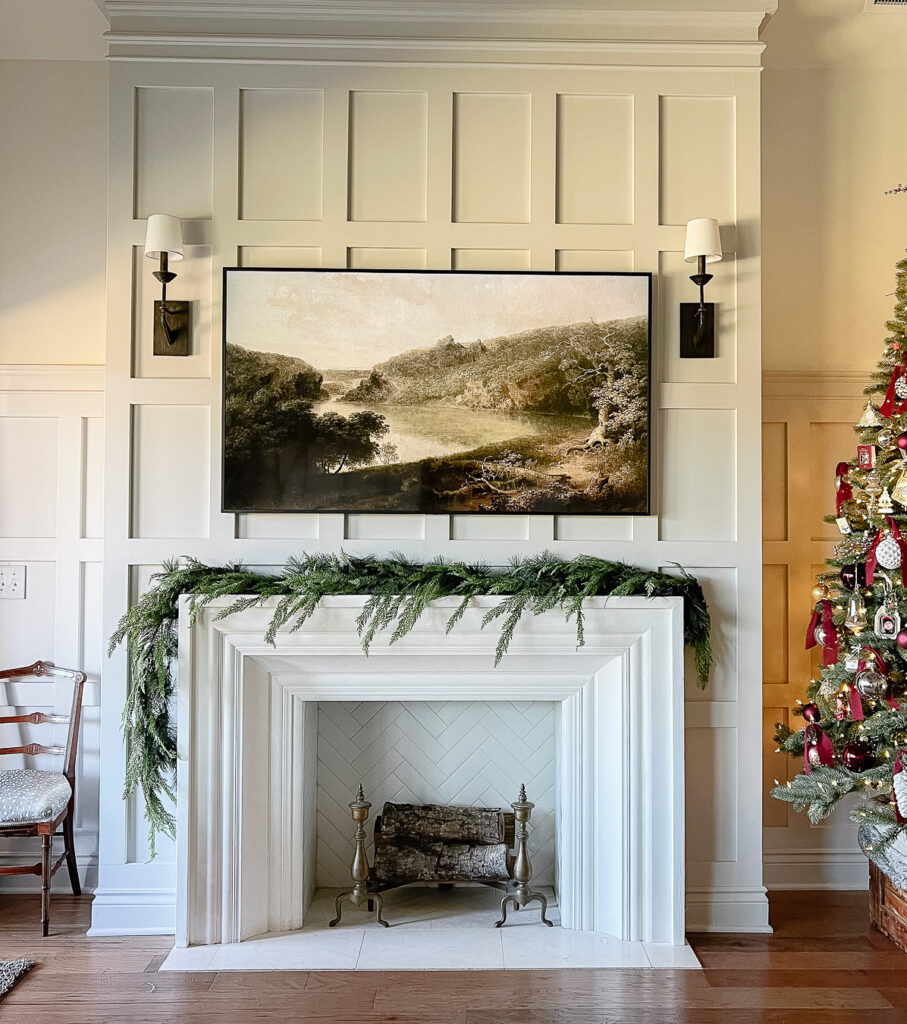 Next, I added the new addition for this year, the faux Cryptomeria also from Terrain.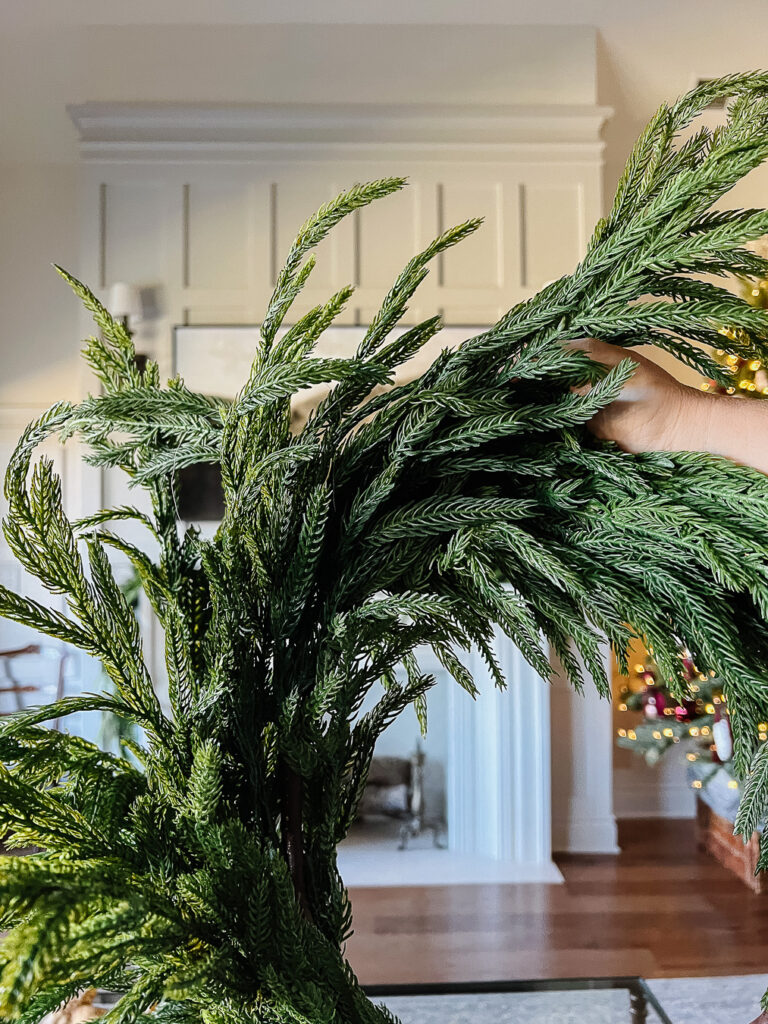 The branches are soft to the touch and flexible although not really shapeable, per se.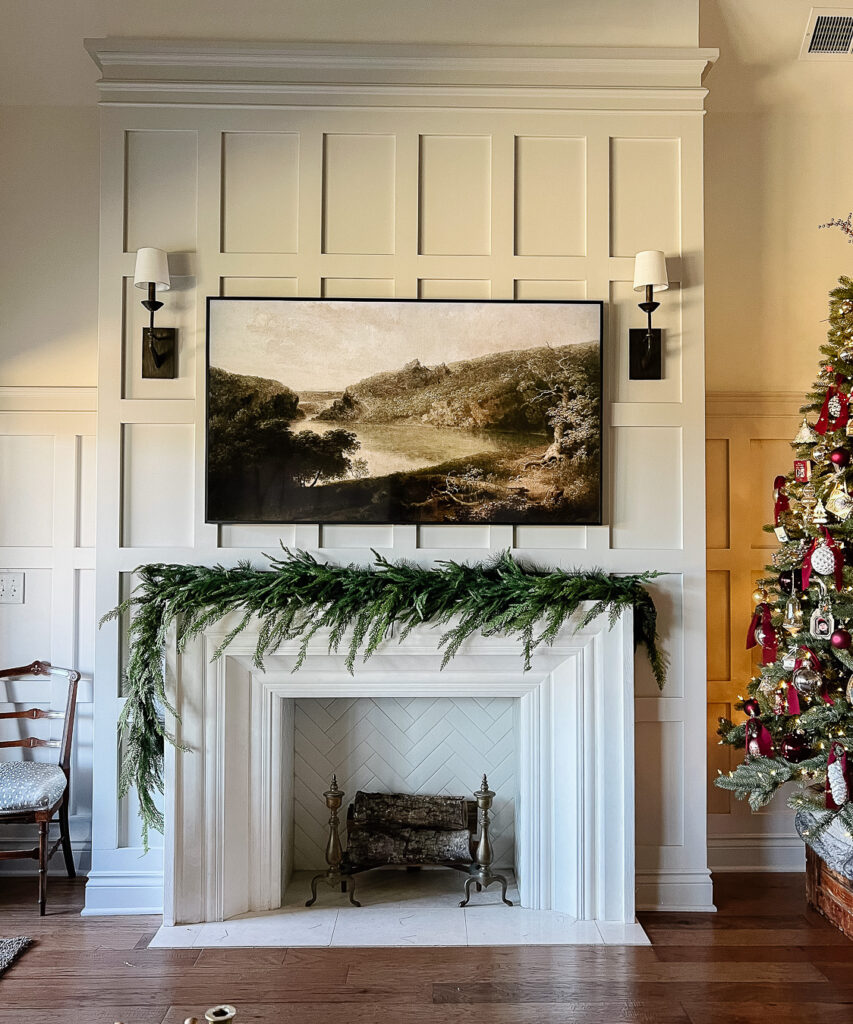 I love how it is a completely different texture and is nice and thick.
Then I added ornaments, bells and ribbon.
Shop the Post

68″ Cedar Garland
Snowy Cedar 6 feet
Boxwood garland
I have also used that wired garland as support for real garland around windows and arches. While it's unlikely I'd use it on its own it really makes a great base!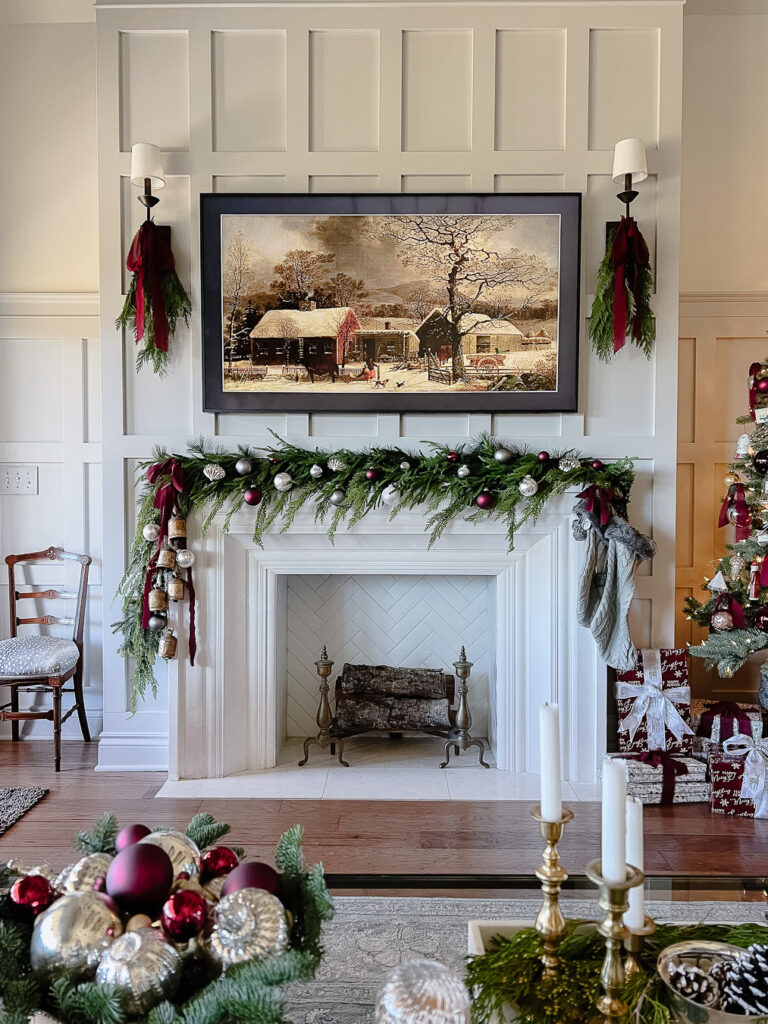 As I mentioned, today I'm joining some of my talented blogging friends who are also sharing their Christmas Mantel Decor Ideas with you as well. Be sure to visit their posts by clicking on the links below the images.
Snowy Natural Rustic Christmas Mantel Decor at The Happy Housie
Asymmetrical Christmas Mantel Garland at Maison de Pax
How to Create a Gorgeous Full Christmas Mantel Garland at Maison de Cinq
How to Design an Elegant Christmas Mantel at Grace in My Space
Festive Farmhouse Holiday Mantel Decor at She Gave it a Go
Colorful Holiday Bedroom Mantel at tatertots and jello
Classic Burgundy and Silver Mantel at Deeply Southern Home
A Traditional Red and Silver Christmas Mantel at Sincerely, Marie Designs
Elegant Holiday Mantel with Candlesticks at Modern Glam
Console Table Holiday Mantel at Rooms for Rent
How to Decorate a Rustic Christmas Mantel at The Tattered Pew
Neutral Christmas Mantel with Green Garland at Taryn Whiteaker Designs
Red and White Modern Holiday Mantel at This is Simplicite
Winter Wonderland Christmas Mantel Ideas at Clean and Scentsible
Asymetrical Christmas Mantel Ideas at Life is a Party
Our Outdoor Fireplace at Christmas at This is Our Bliss
A Christmas Village Mantel at A Pretty Life in the Suburbs
An Elegant Christmas Mantel at Rambling Renovators
Green and Gold Neutral Holiday Mantel at Joanna Anastasia
Warm and Elegant Holiday Mantel at Life is Better at Home