Welcome to my early fall home tour. I intentionally worked to incorporate softer, more muted tones to blend seamlessly with the existing neutral color palette in our home. I wanted to create an overall feeling of fall without being too overt. You might notice I omitted one very commonly featured item in my fall decor. Let's see if you can figure out what I've left out, at least for the early fall.
In this post, I have partnered with RugsDirect.com and Sweet Home And Co. custom table linens.
All thoughts and opinions are my own. I only partner with companies that I would recommend to a
close friend. Like you! Affiliate links provided for your convenience.
Slightly cooler temperatures hit us here in Alabama yesterday and it was incredible! It is officially fall and I am so here for it!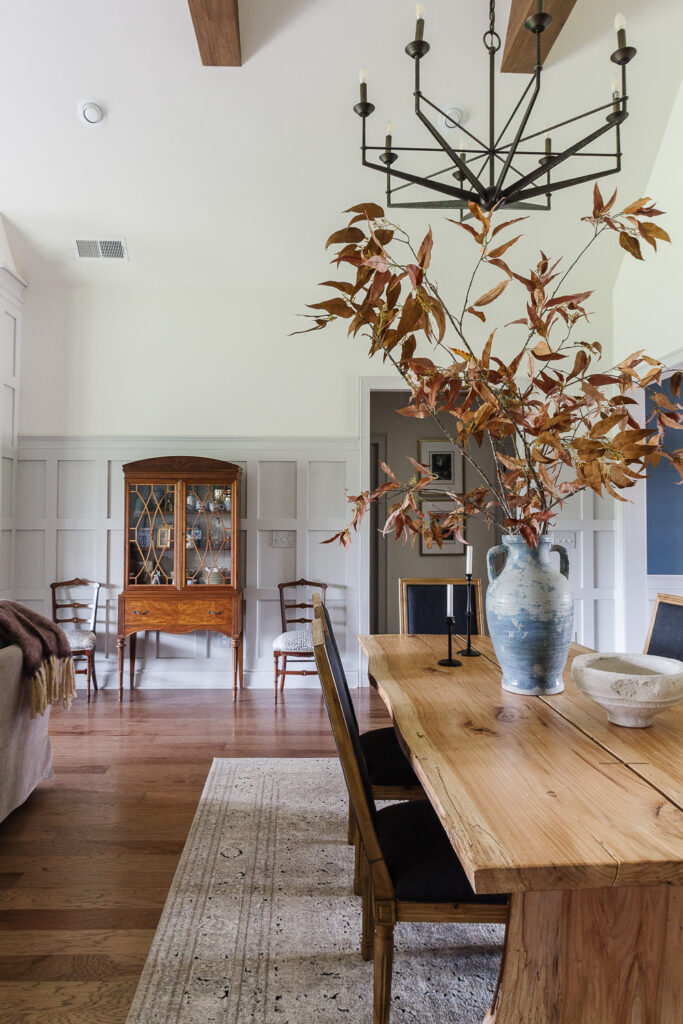 In case you are new here, I'll share a little backstory of our home. Two years ago we downsized, and decide to build a new home on a great little lot overlooking a lake. The layout is a modern, open floor plan. I have found it to be an efficient way to live smaller and yet give you the feeling of a more spacious home.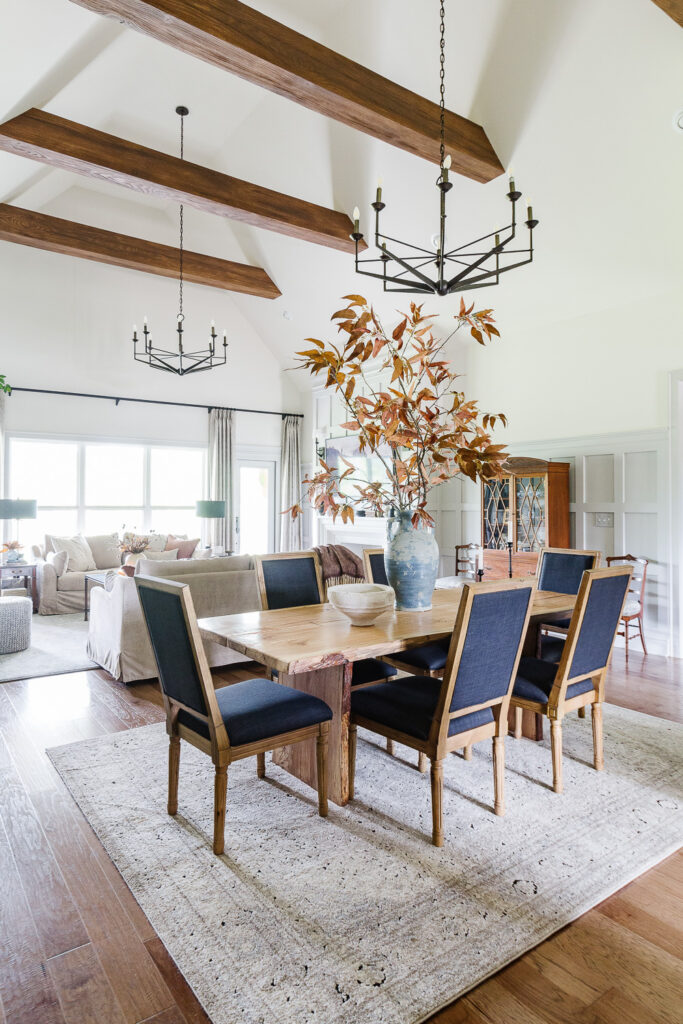 Most of the character and customization to our home was added after construction. We added Tudor-inspired panel moulding and large beams across the vault of the living room. You can see more about that process in this post.
In the dining area
Ever since I added oversized blooming branches to our dining table last spring, I have carried that prominent feature through the seasons.
Because branches from home decor stores are never large enough to make the statement I need in this vaulted room, I cut real branches from behind our house and add faux foliage to them. I will be making an Instagram post on how I did these, but it's essentially the same method I shared in the spring, in this Reel.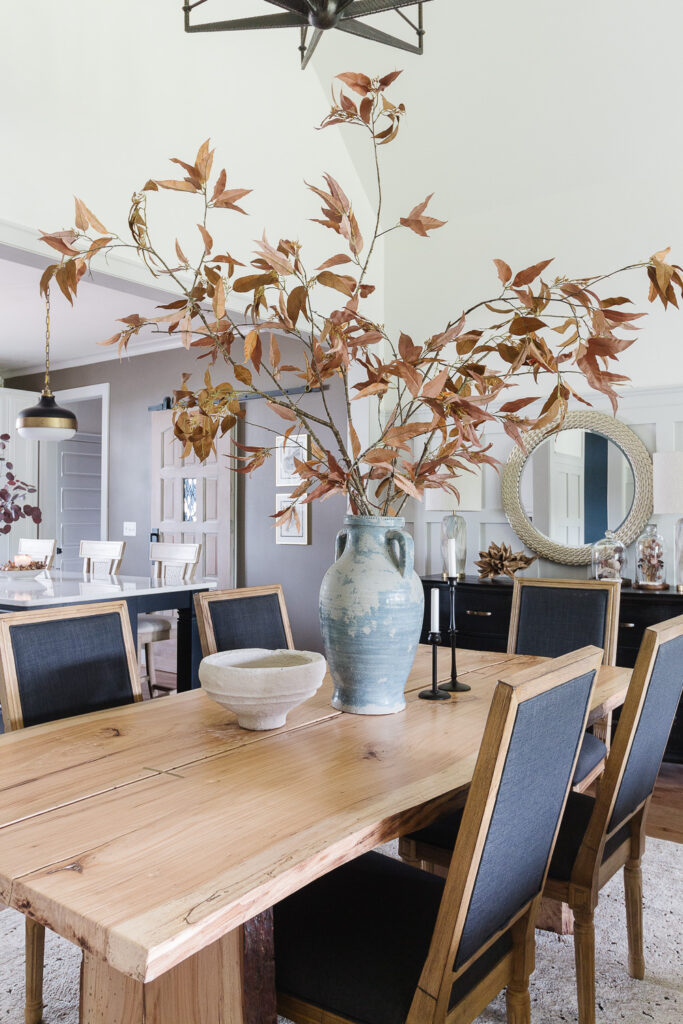 Most of the time, there are just two of us for dinner, but on the occasion our whole family is home, I can easily move the vase aside.
Shop the room

On the buffet, I added dried florals in cloches. I love how these little moments of curiosity encourage visitors to look inside. The colors of these dried florals are echoed throughout the house.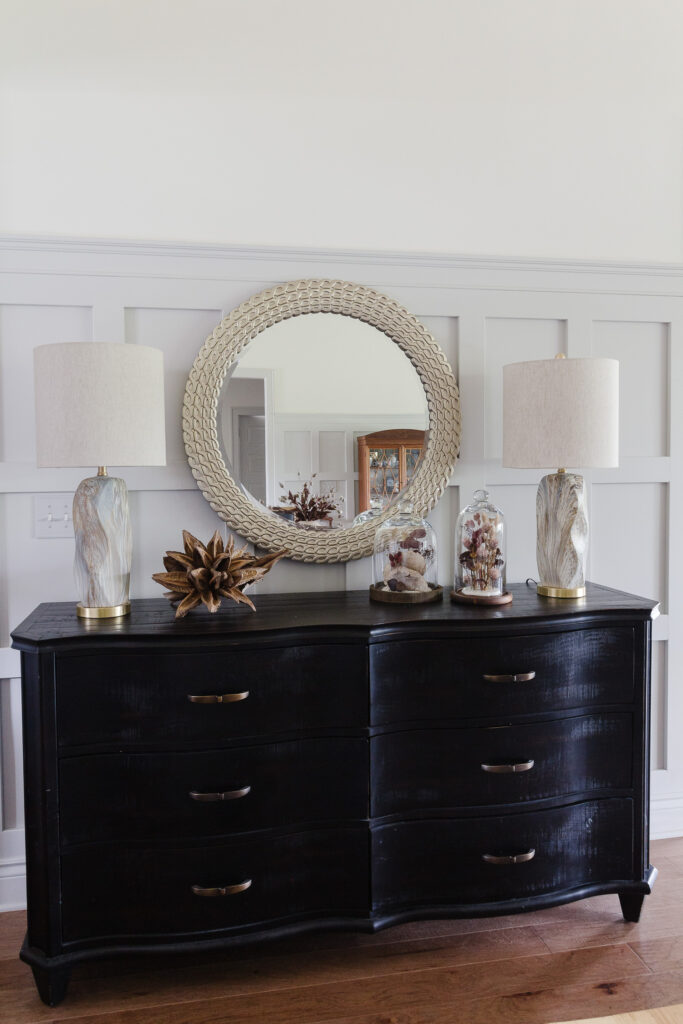 They were very easy to make and quite fun too. You can find the complete tutorial here.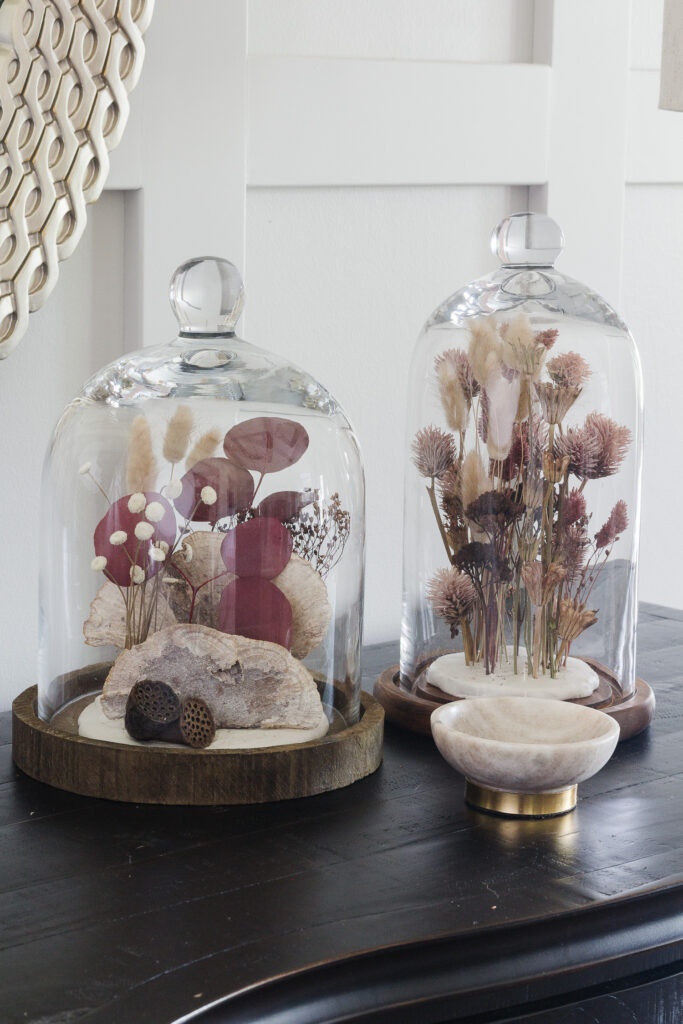 Setting a fall table
I mentioned at the top of the post, I partnered with Sweet Home and Co for custom table linens for the fall. They are absolutely incredible! The workmanship is complete perfection.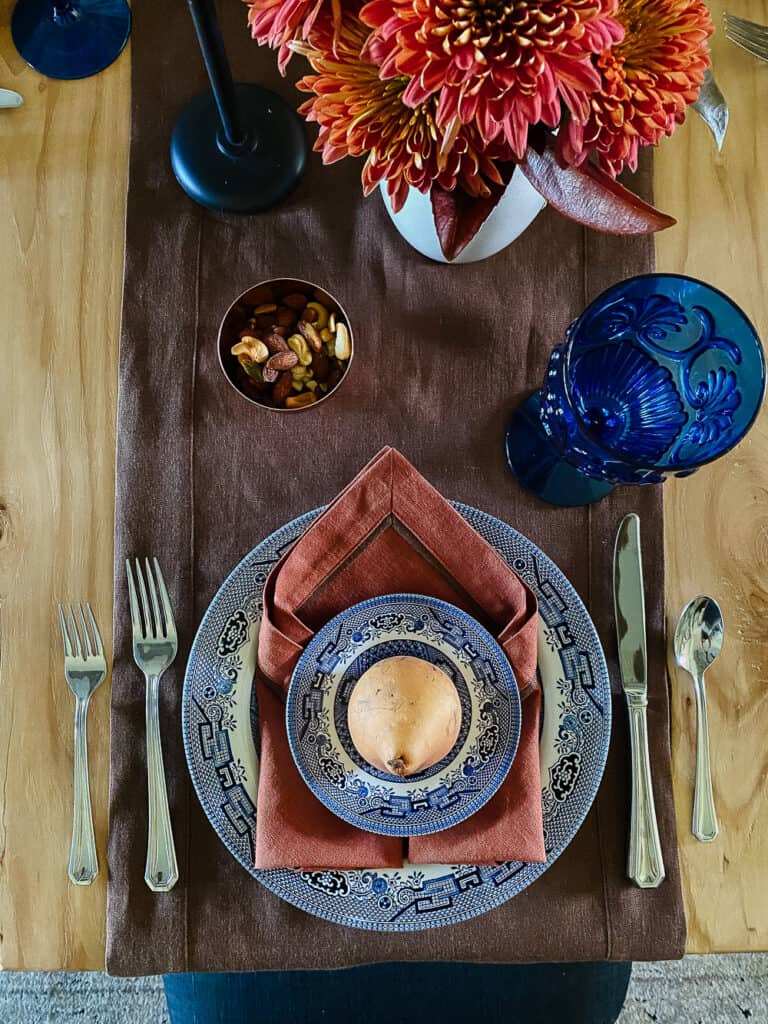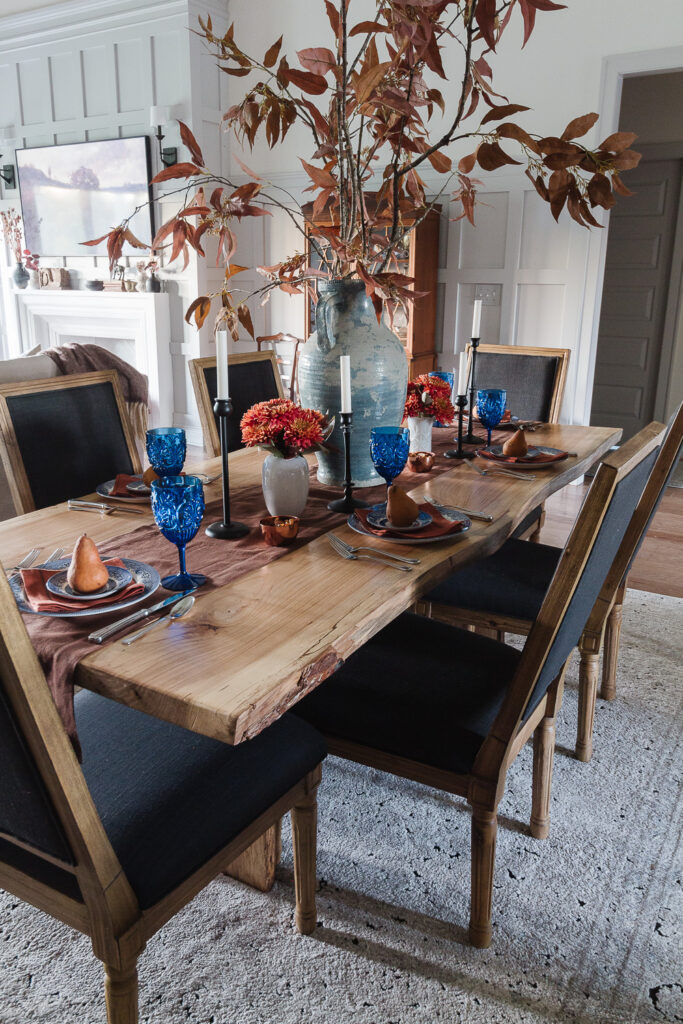 Because they are completely custom made I was able to choose a contrasting band of linen on the napkins. I love that special attention to fine details. I was also able to choose the exact size of the table runner.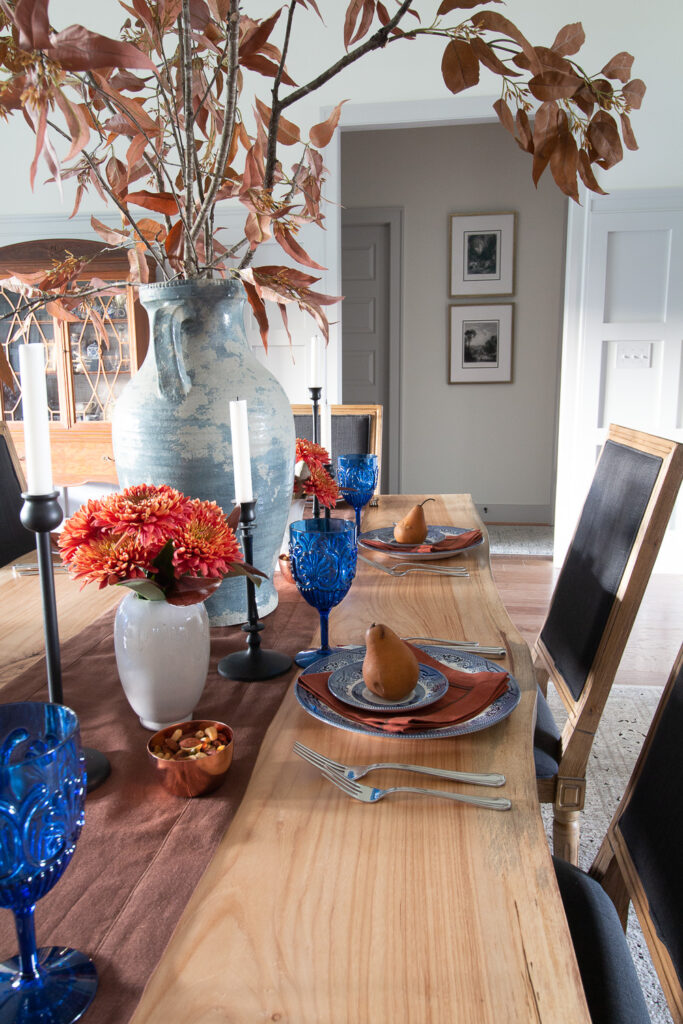 I loved them so much, I asked if I could have a discount code to share with you! Use this link for 10% off, or the code DSHTEXTILE until September 26th. They offer an impeccable customer experience and can do any size or shape of the table. All textiles are made from Pure European linen with OEKO-Tex® Standard 100 certified.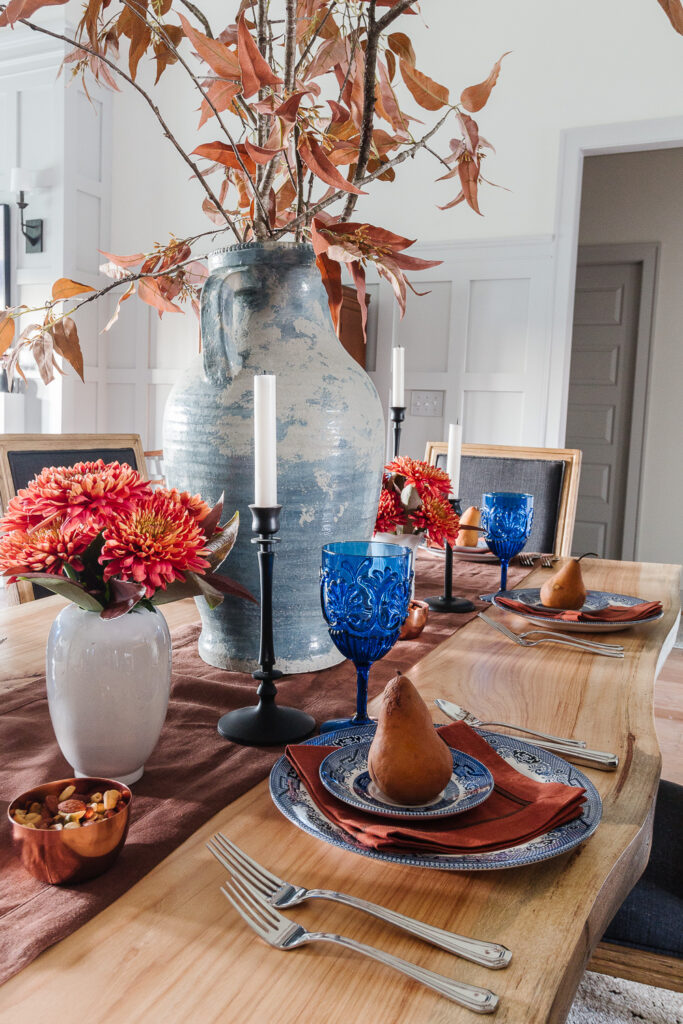 I can't wait to host my first fall dinner party and use them to set my table for Thanksgiving.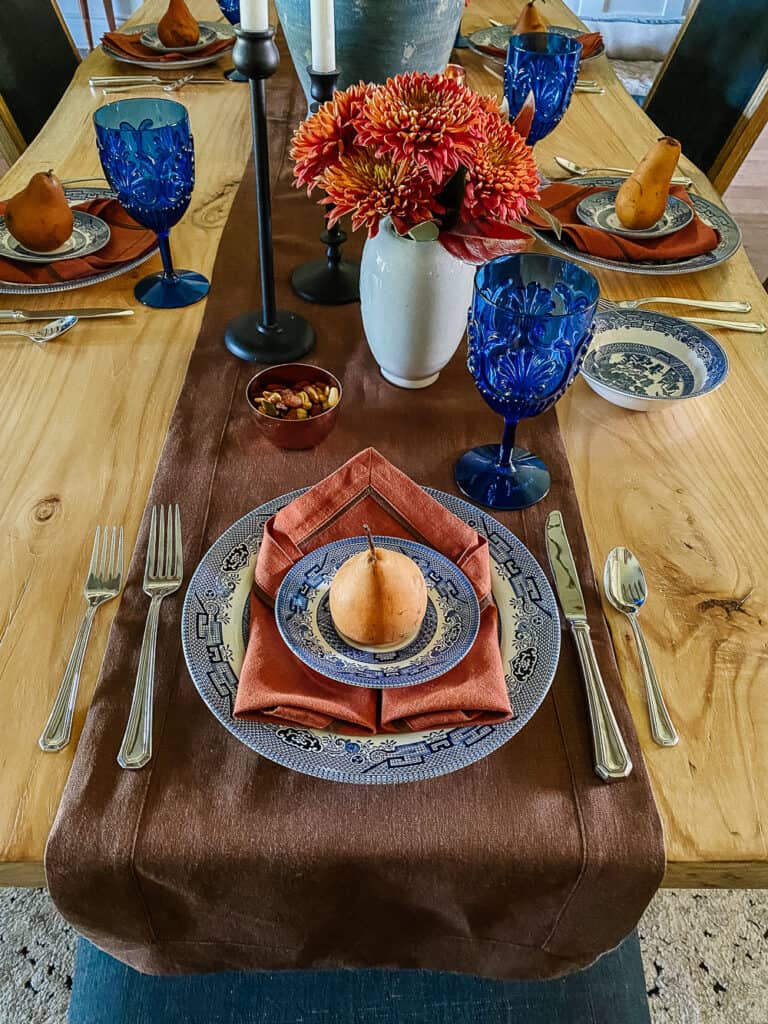 In the living room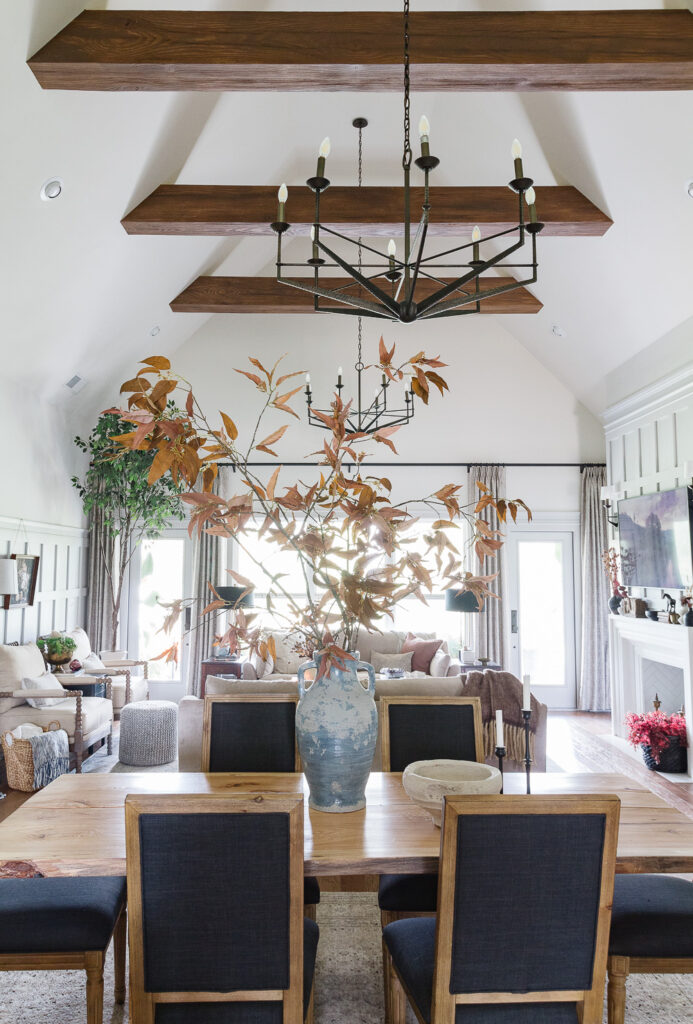 The palette of deep mauve and soft burgundy are easily added to the beige, grey and slate blue esthetic.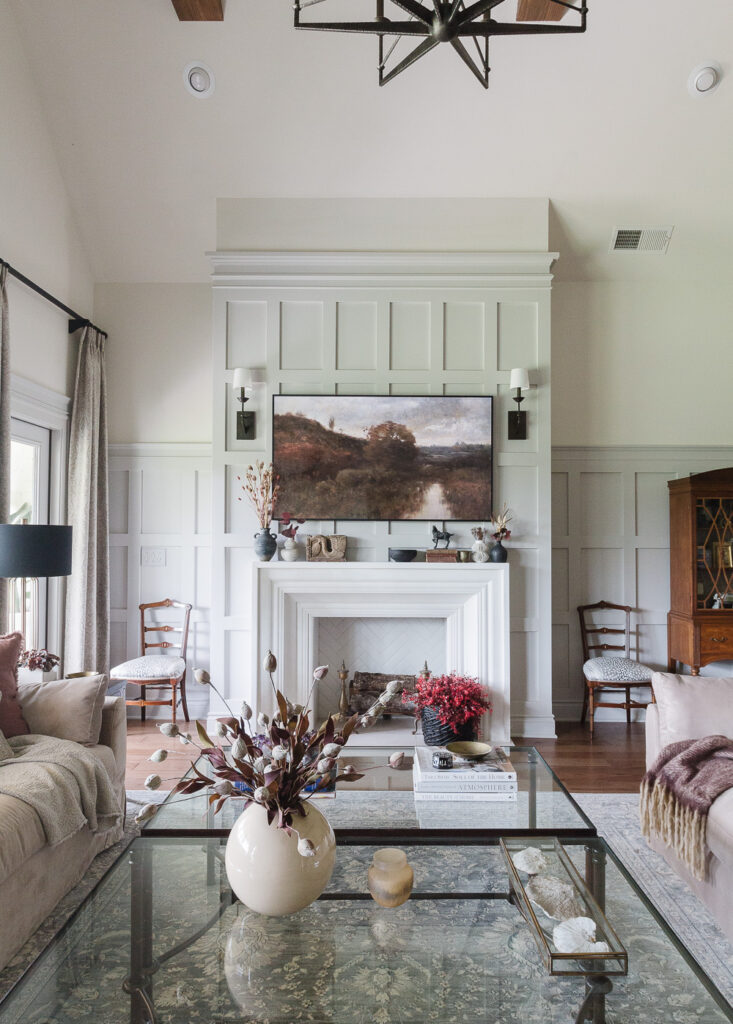 I simply mixed in two new pillows in mauve and 2 new textural velvet pillow covers. I love that even these small injects have a big impact on creating that feeling of fall in this room.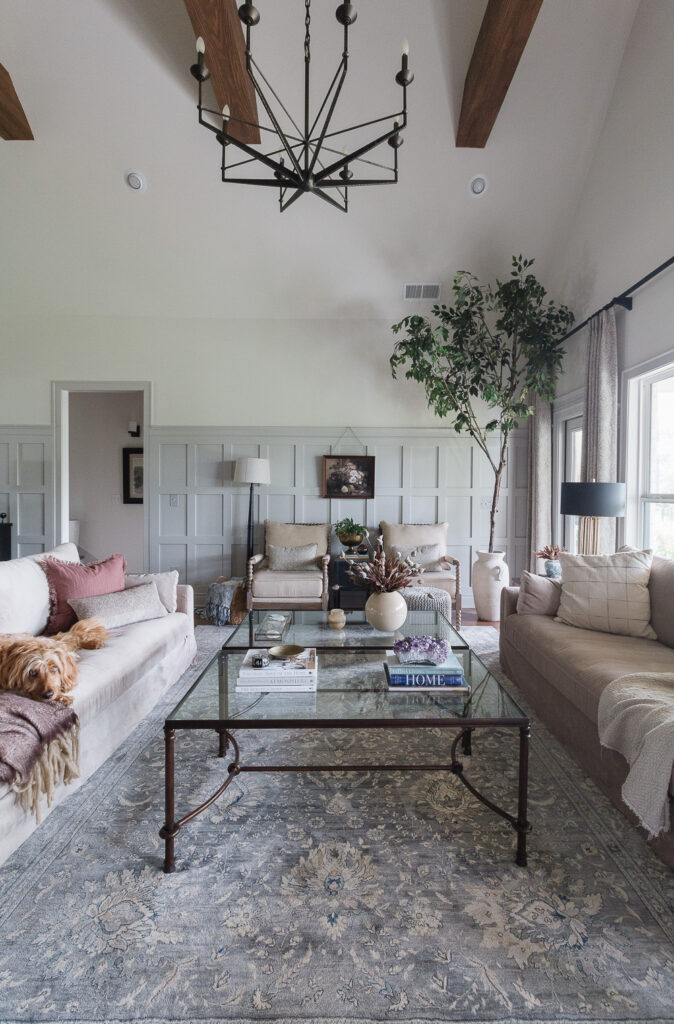 Shop the room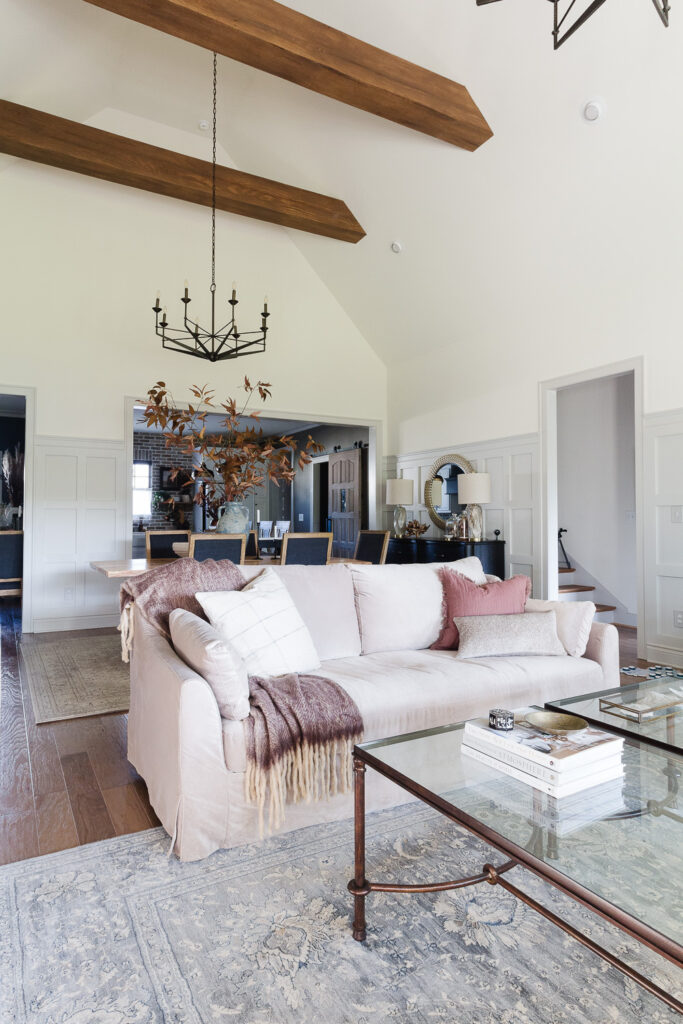 Of course, a new cozy blanket seemed appropriate too. This one is incredibly soft.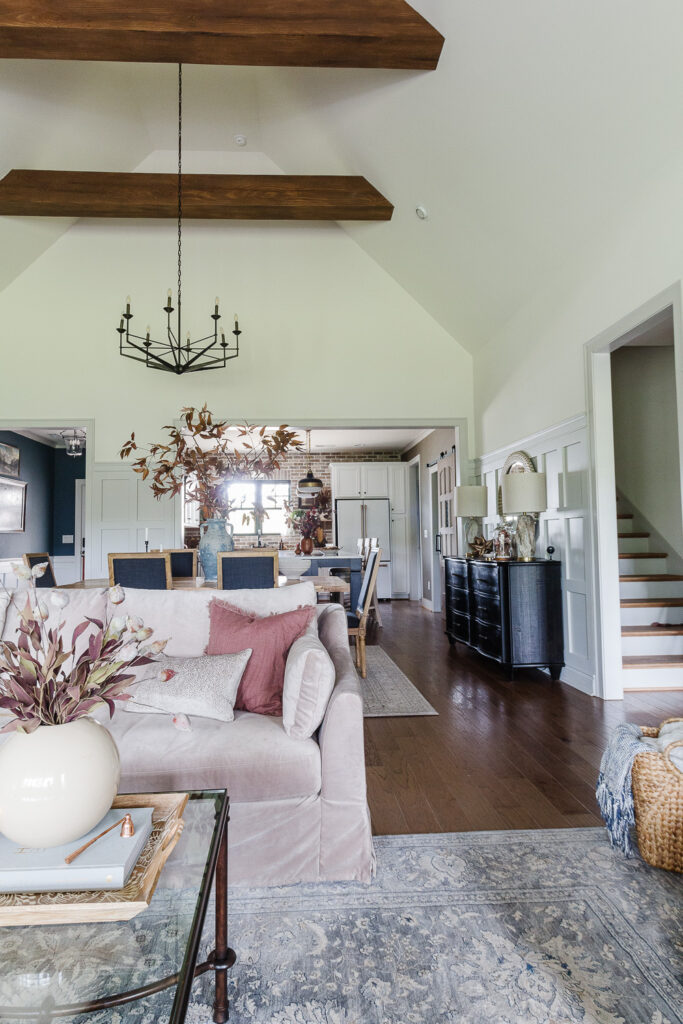 I love finding really great faux florals to use seasonally as well.
The other subtle change I make to bring the hint of the season into my home is through art.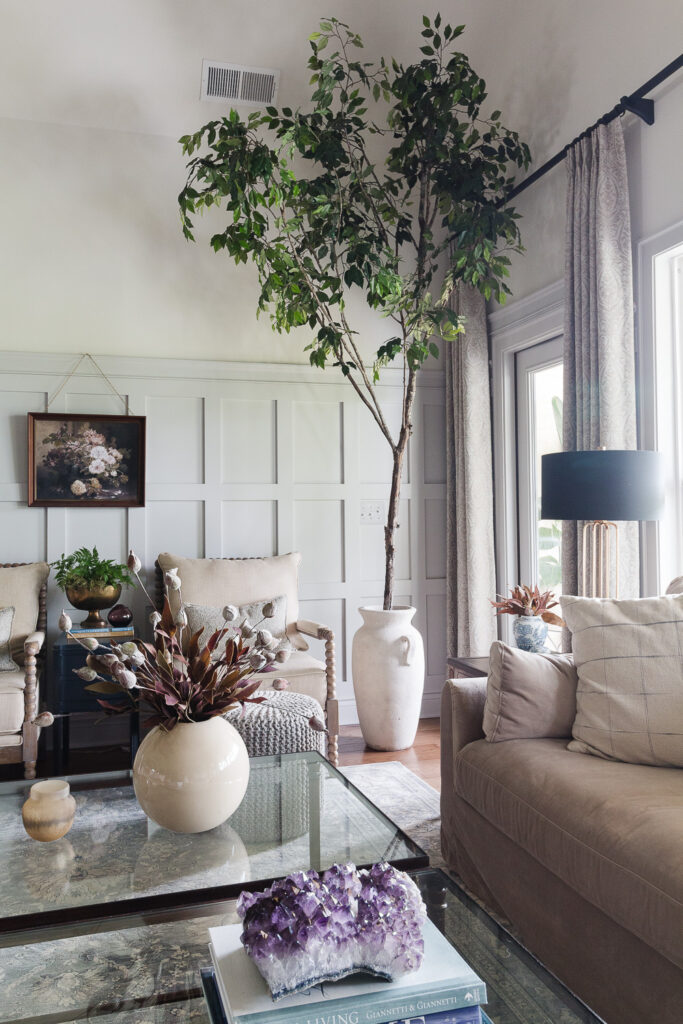 Not only do I swap out vintage digital prints in frames around the house, I also switch out the image on the Frame TV over the fireplace.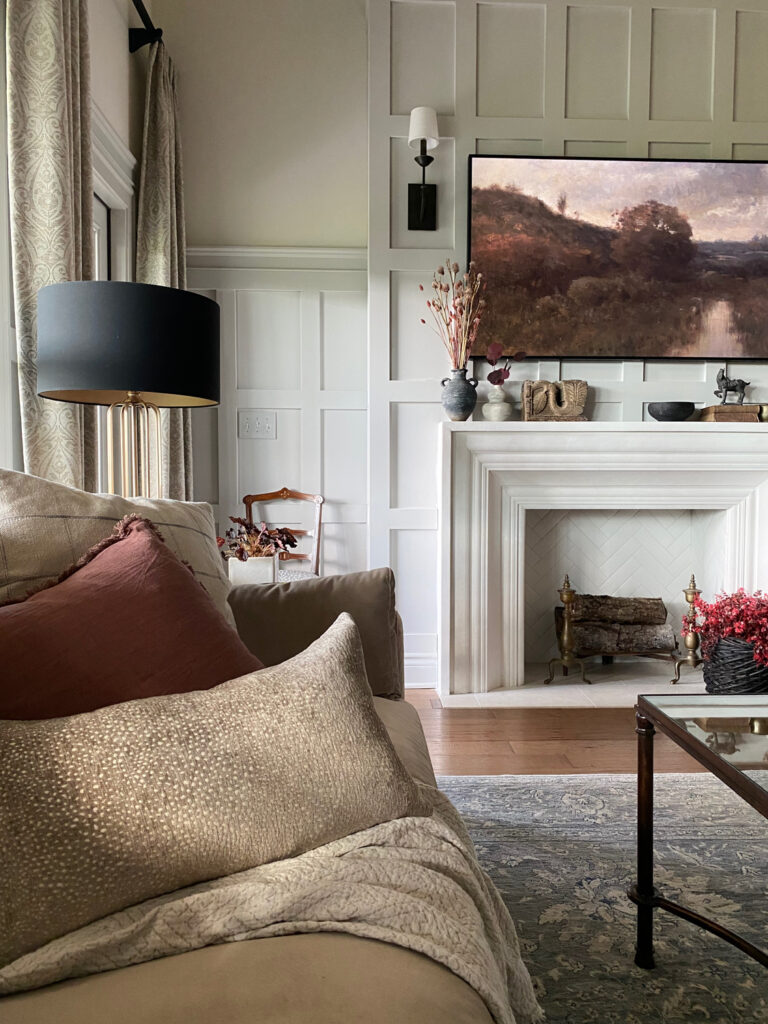 On the mantel, I repeated the dried florals to bring the color around this open space.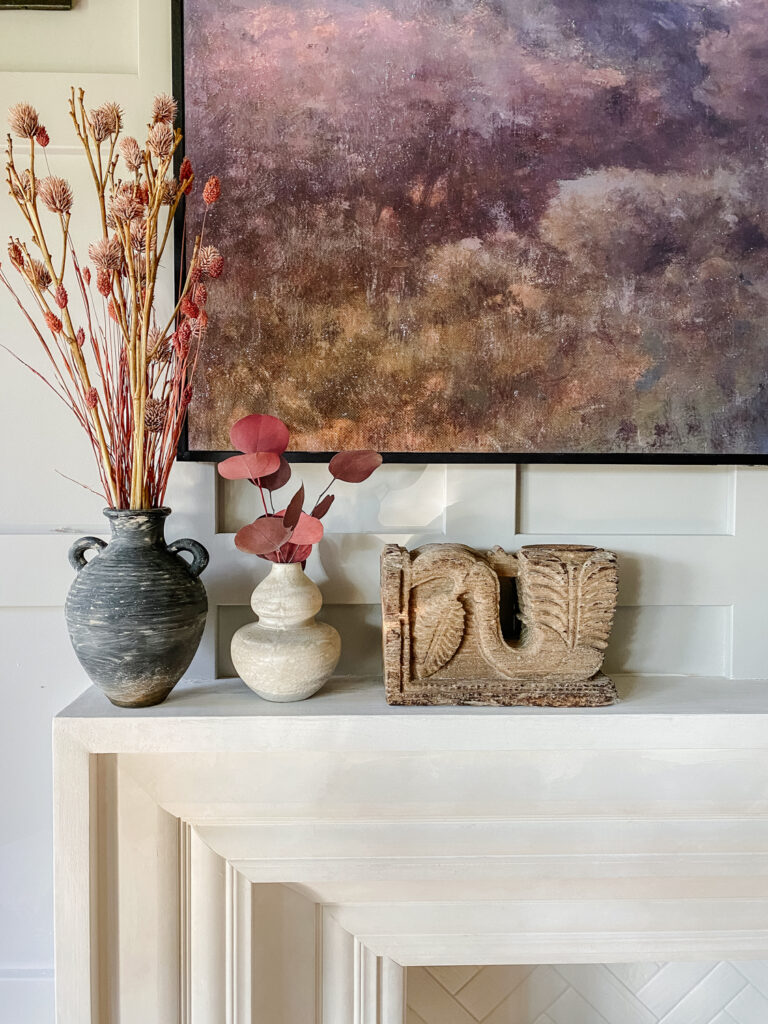 Shop the look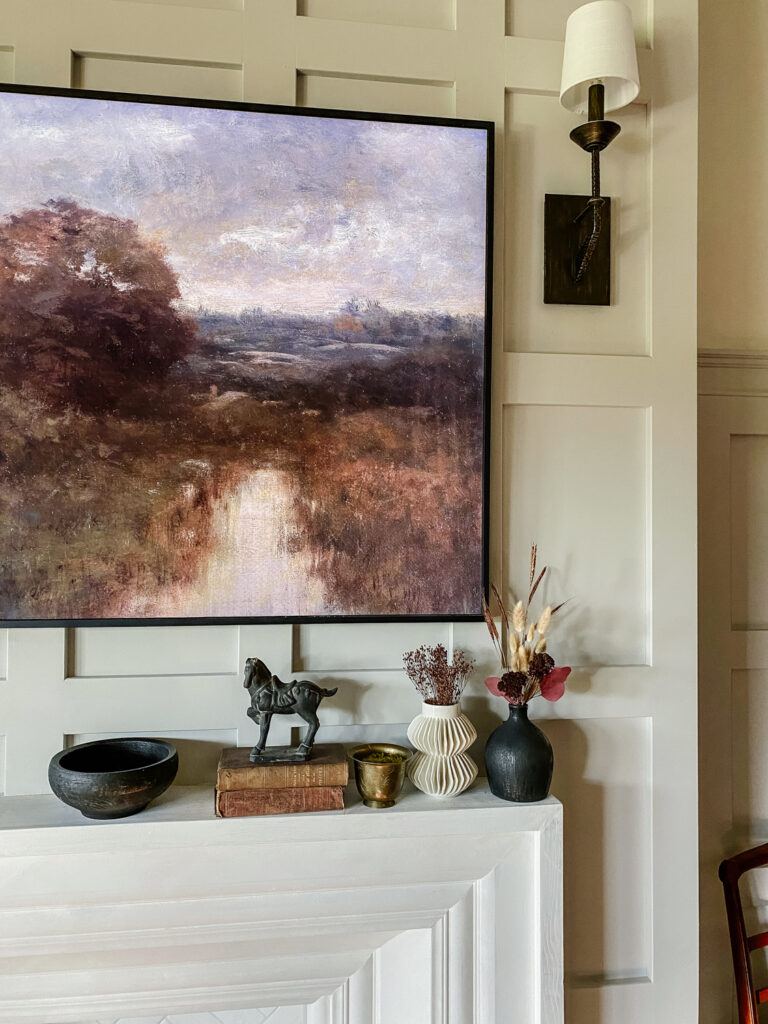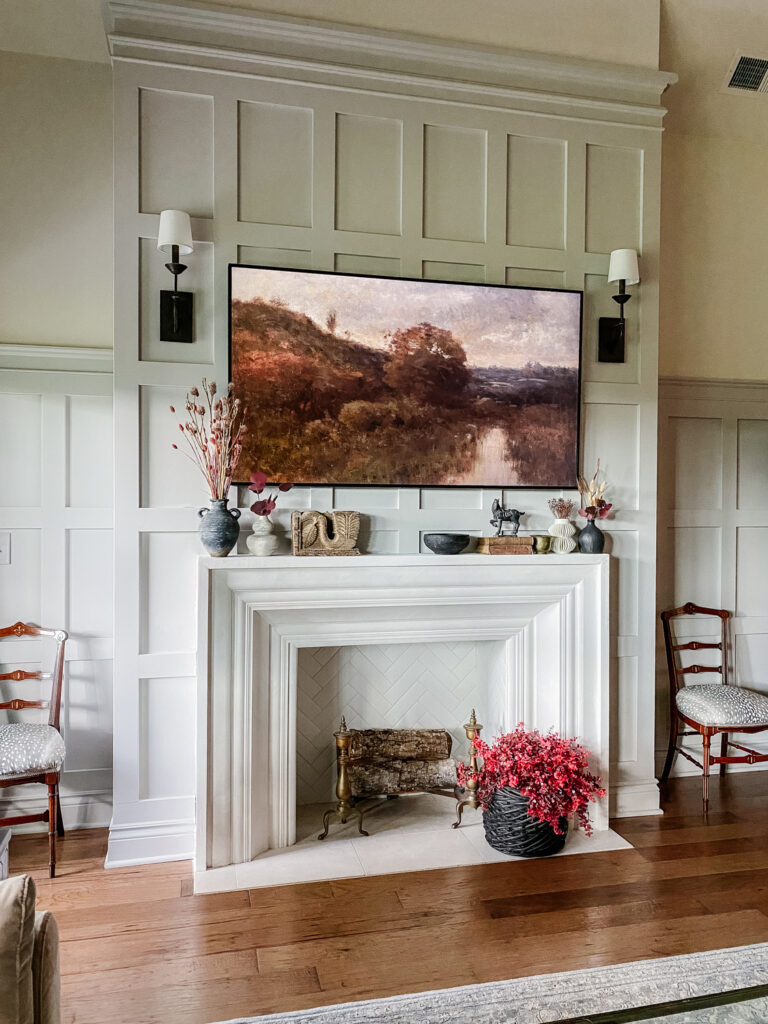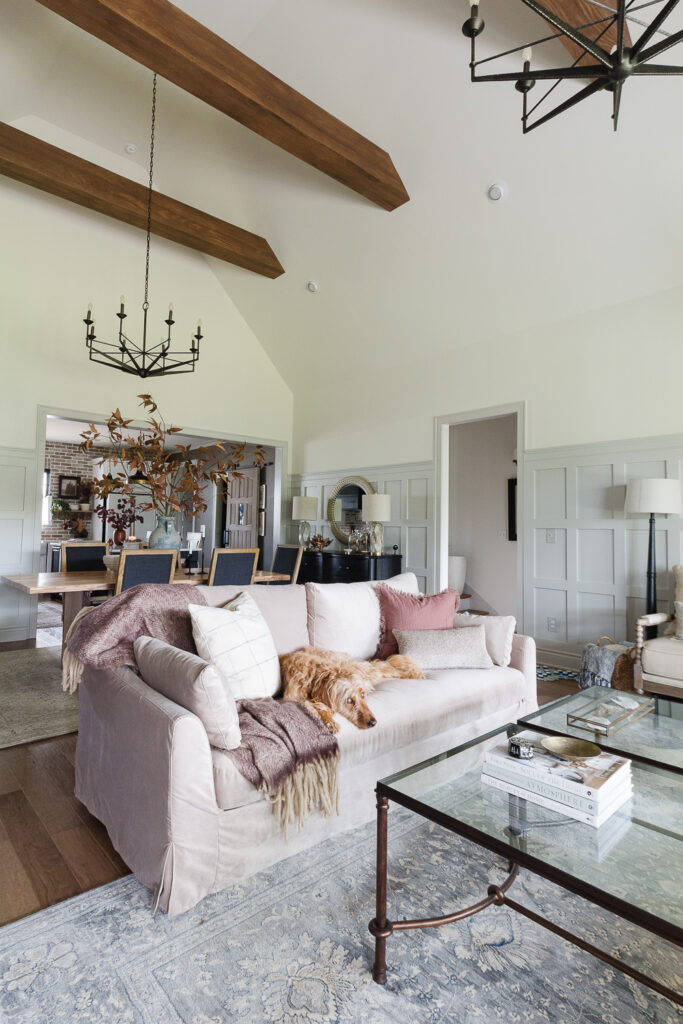 In the kitchen
Even though our smaller home features an open concept, I love that the kitchen is tucked back into the front of the house.
The biggest change in the kitchen was a new warmer-toned rug from Rugs Direct. This Loloi runner in Olive and Charcoal looks great in every room I see it in! But I love how, in our kitchen, it brings down the warmth of the bricks and highlights the black of the island and hood.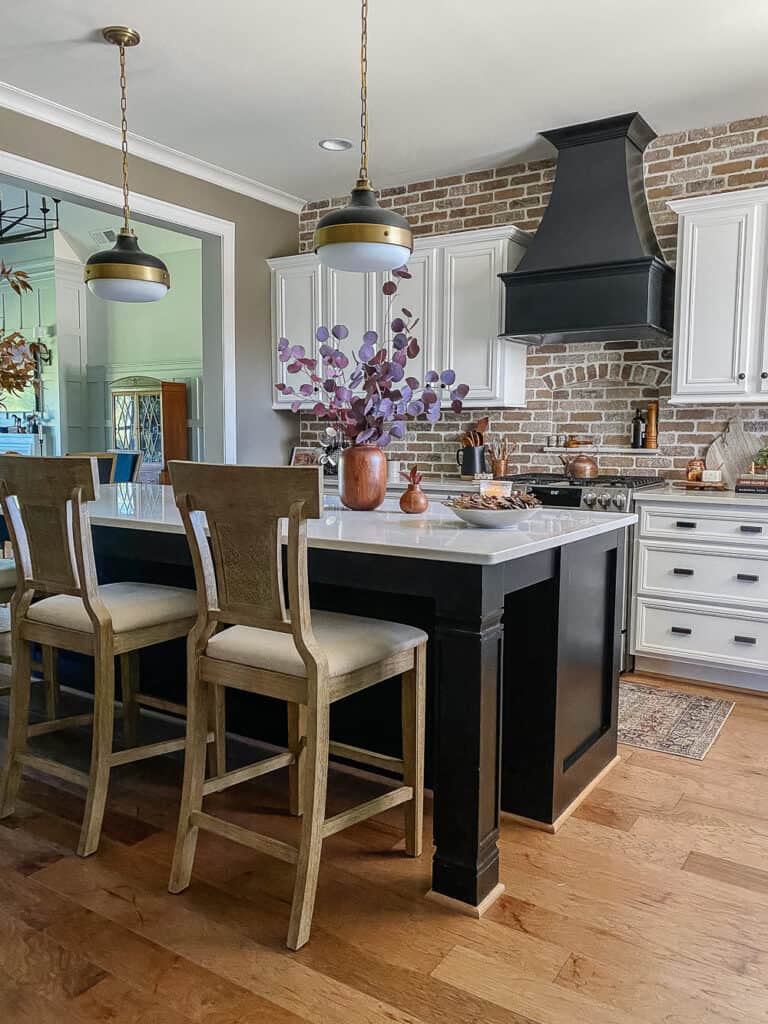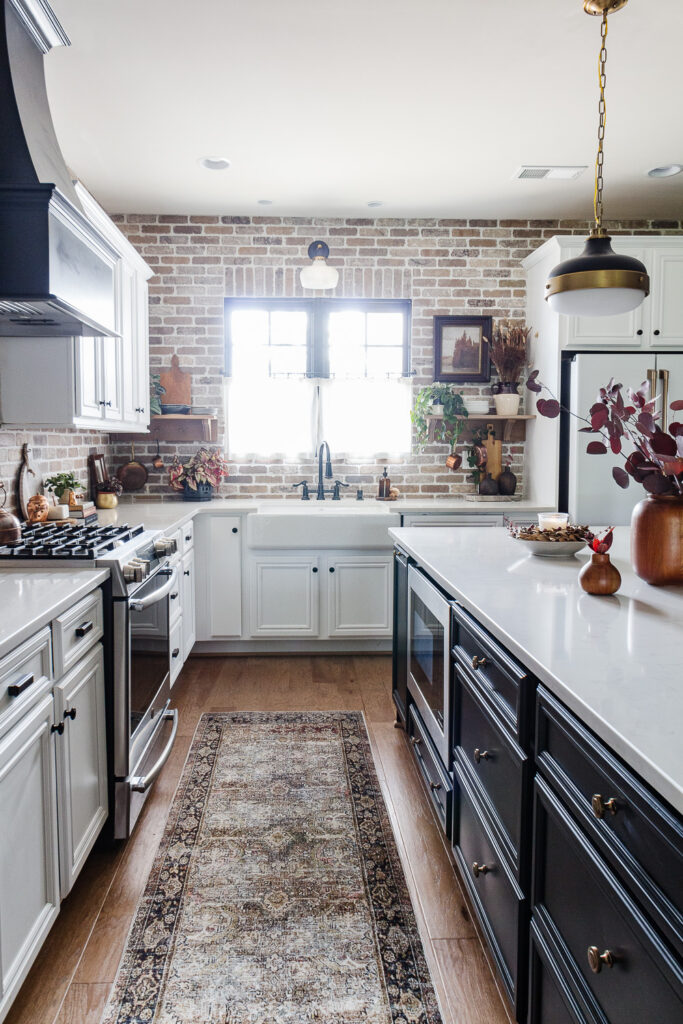 With a premium rug pad underneath, it is the perfect blend of comfort and practicality because it's not too thick.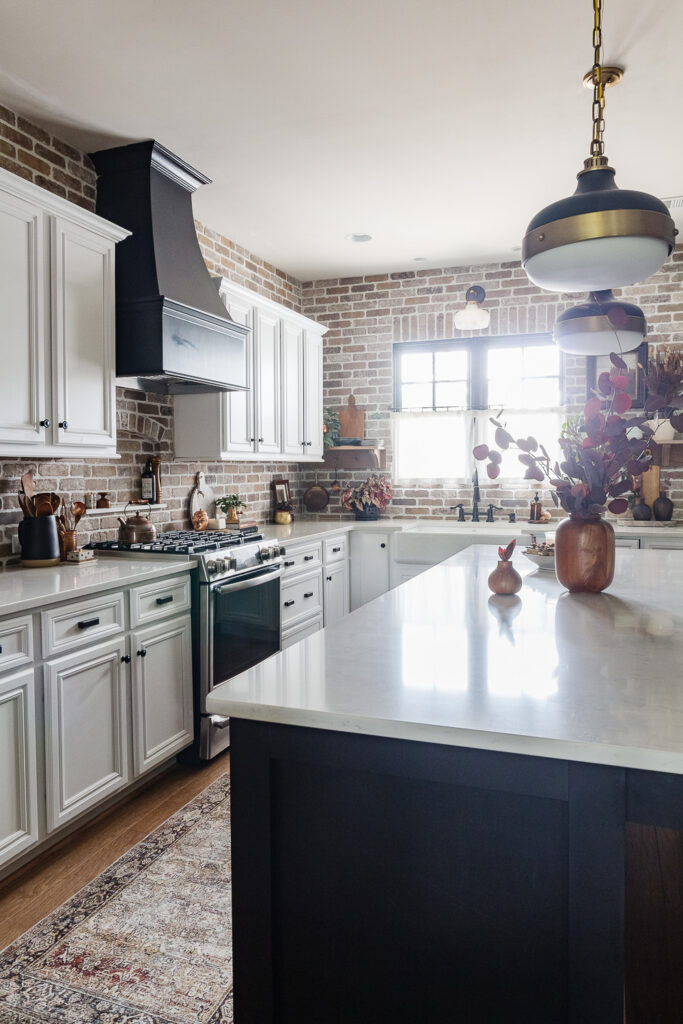 Again, I used dried florals to repeat the fall color. This time in dried eucalyptus on the island and a mix of dried florals on the open shelf.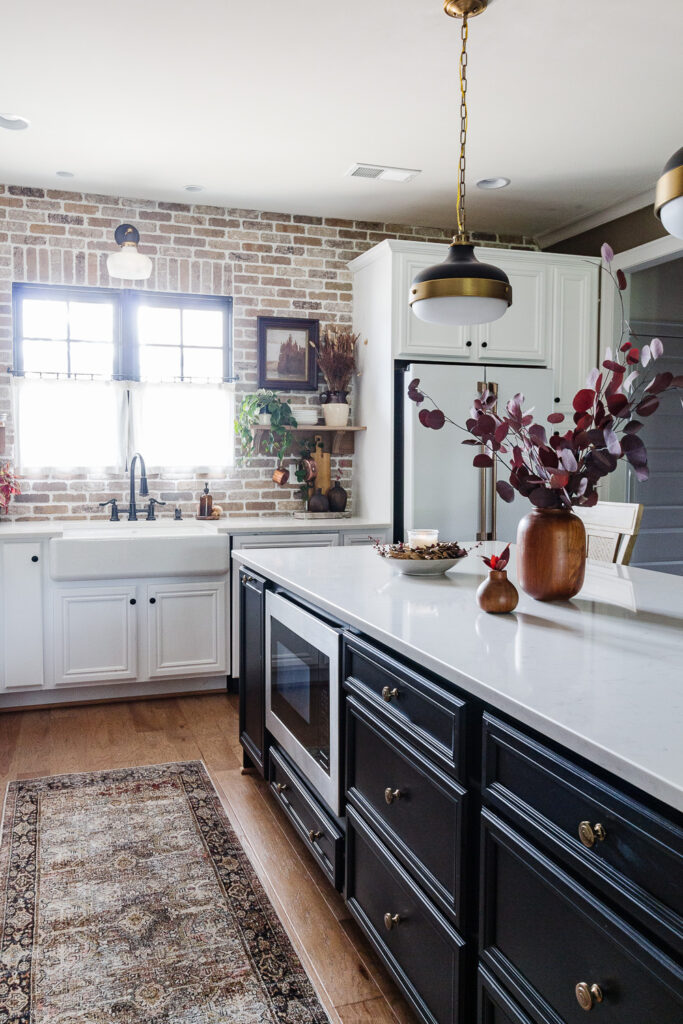 Another way to bring in these warm reds and pinks is to seek out plants with those colors. This begonia has been on the back porch for two seasons. I bring it in about this time of year and enjoy the inherently fall colors by the kitchen window.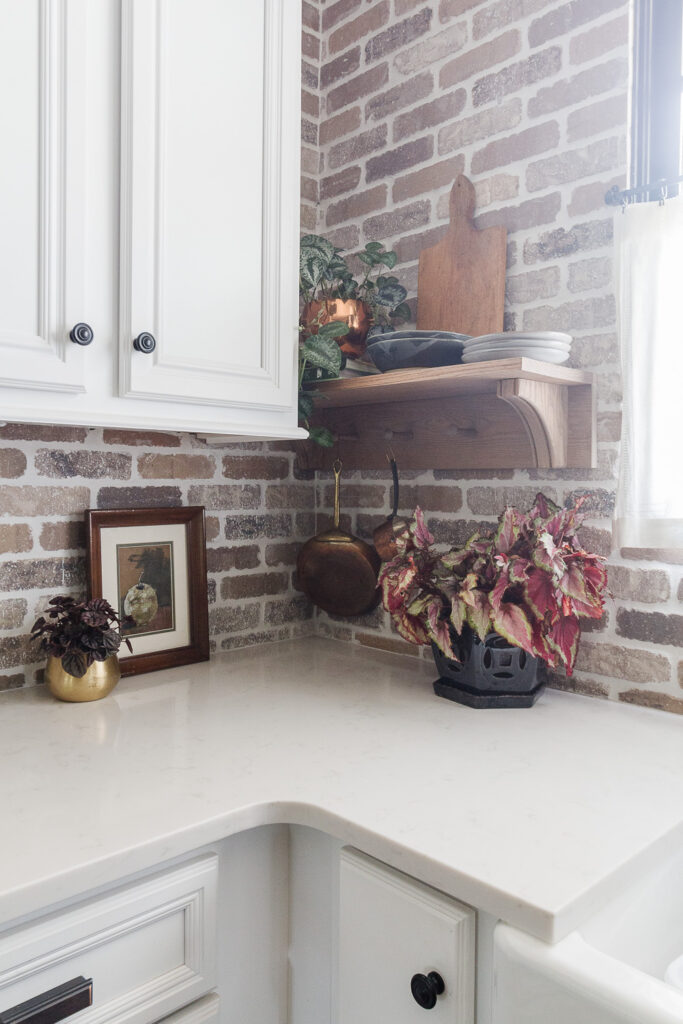 The little burgundy peperomia was a recent addition a couple of weeks ago and it's done quite well in this corner.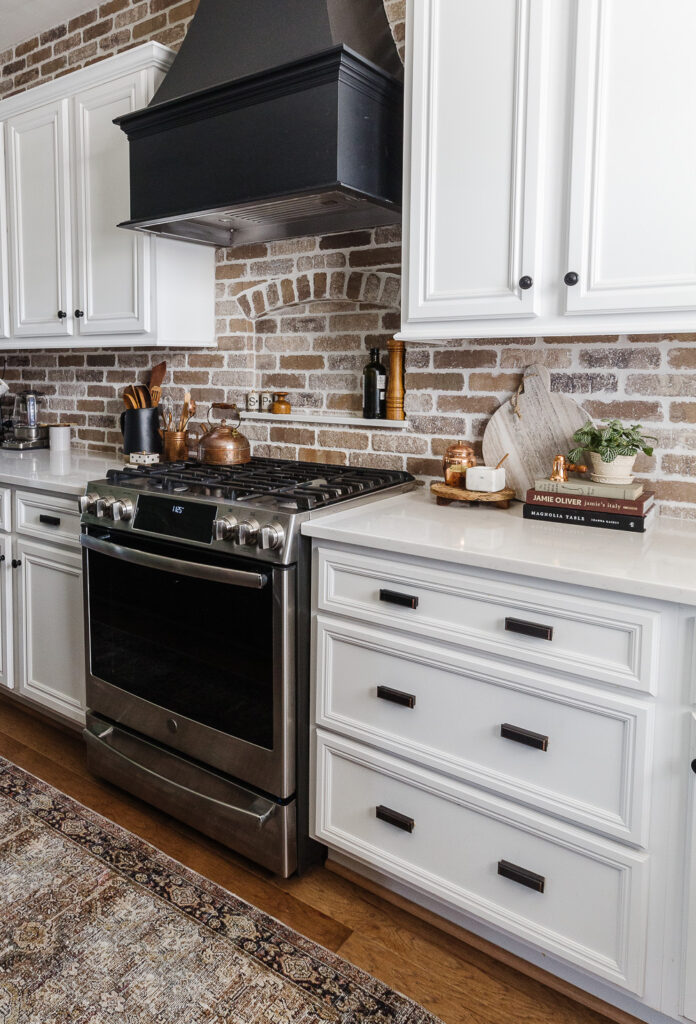 Shop the Room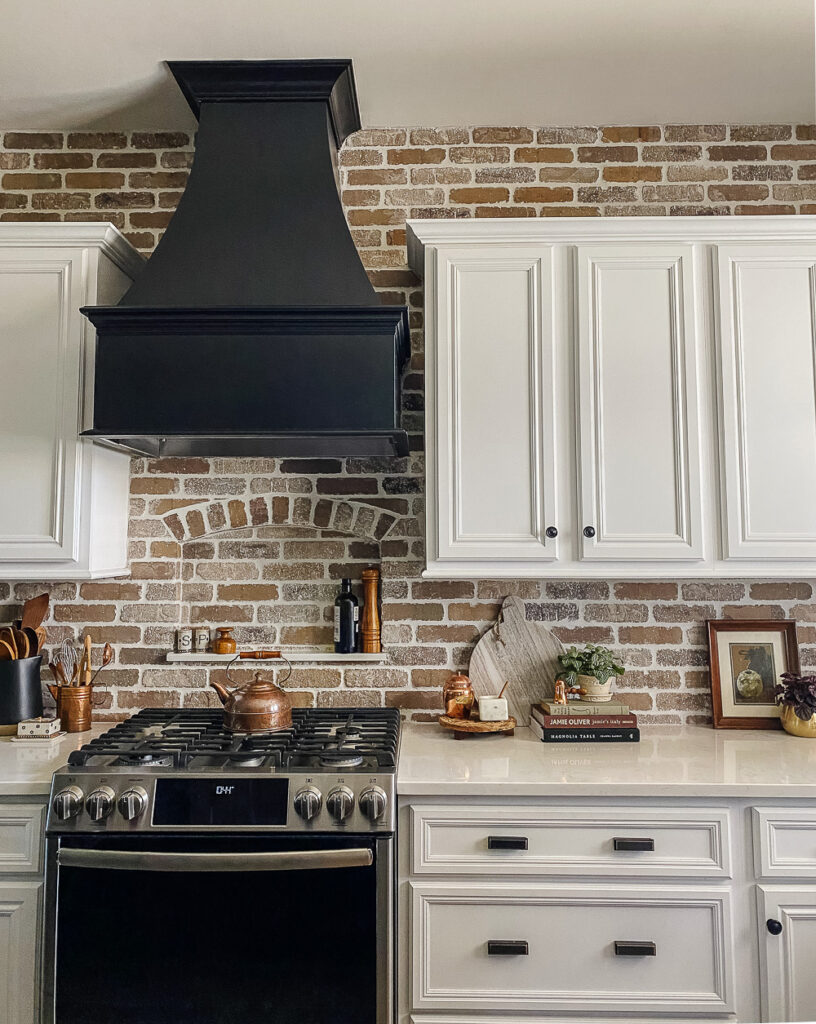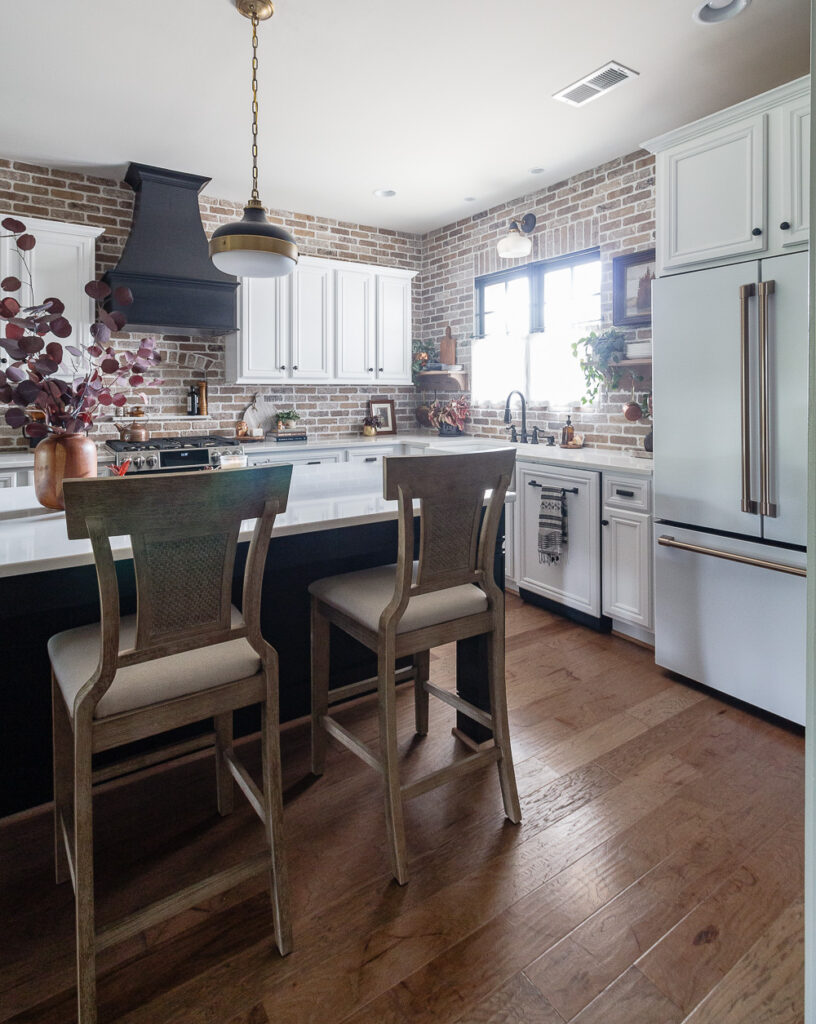 shop the look

Thank you for stopping in and I hope you were inspired to inject that subtle fall feeling into your home. So now I have to know, did you notice what was missing?
That's right there's not a pumpkin in sight. Not that I have ANYTHING against pumpkins, I was just feeling like I wanted to wait until closer to Halloween and Thanksgiving to bring their beauty into our home.
Be sure not to miss the next stop on this Fall Home Series, Sincerely Marie Designs. And special thanks to our hostess, Krista from The Happy Housie.

This week I'm joining some of my talented blogging friends for the Fall Seasonal Simplicity Series. All week long we are sharing our homes decorated for Fall. Be sure to check out all of the beautiful inspiration by visiting today's tours, and pop by again during the week to visit everyone else who is sharing!
Sharing with me today…
Thursday
And sharing the rest of this week…
Monday
Tuesday
Wednesday
Friday