Oh man, I can't believe I disappeared from the blog like that. This past weekend I went to Charleston to visit my best friend from 8th grade so last week I was busy getting ready to leave. I had a long list of things to do before I left and blogging wasn't high on the list.
The weekend was fabulous!! Isn't it funny how you can be separated from you friends for years, but the moment your back together it's like time never passed!! So much fun! I just wished I could have stayed longer.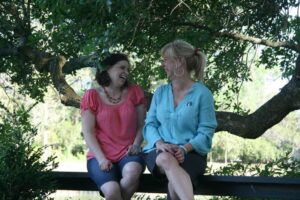 I'm sure we looked like this most of the trip!
Since I've returned, just been busy with life. Spent all day yesterday with Mother's Day creations. I hope to maybe be caught up with everything by the weekend and get to do some scrapbooking. To tell you how crazy things have been, my Studio Calico box arrived sometime yesterday and I haven't even had a chance to open it!! Now that is sad.
Well, need to clean my studio from the creative mess I made yesterday. That way when I have time to be creative over the weekend I'll be ready to hit the ground running!
Thank you for subscribing to Paper Daisy Designs. Please continue reading on the blog. I appreciate having you as a reader.