I've been struggling for the last few days to find one little word that fits me this year. I was stuck on simplify or simply for a while, but I have a feeling this year's is going to need something stronger.
Eventually, I realized what I was saying in my head and it was indeed strength.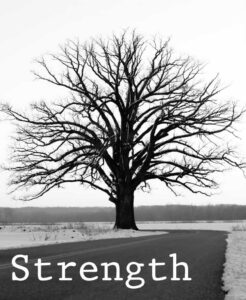 strength |stre ng (k)θ; strenθ|
noun
1 the quality or state of being strong, in particular:
• physical power and energy :
• the emotional or mental qualities necessary in dealing with situations or events that are distressing or difficult
• the capacity of an object or substance to withstand great force or pressure
• the influence or power possessed by a person, organization, or country
• the degree of intensity of a feeling or belief
I want to be stronger, more fit physically. I plan to run a marathon this spring and I'll need strength to get me to the finish line and out the door for my training runs.
The strength to say no to sugar and all the other bad food choices, to drop these extra pounds.
I'll need strength (determination) to make me declutter this house. I can tell we haven't moved in 3.5 years. Moving is the great declutterer.
Richard continues to work out of town, A LOT. I need strength to get through this year.
To be strong for the children. To demonstrate strength in character and love.
And most importantly, to remember this, "For I can do everything through Christ, who gives me strength." Philippians 4:13, New Living Translation
This feels right. Strength.

Thank you for subscribing to Paper Daisy Designs. Please continue reading on the blog. I appreciate having you as a reader.