Well, hello friends. I've taken a little longer spring break than I intended, but it's been really nice. I kind of feel like before I get to the business of sharing projects, I need to give an update. 🙂
Our first adventure during spring break was a service trip to New Life Ranch, a christian camp on the border of Oklahoma and Arkansas. We went with a bunch of local college students, other families from our church. We loved the whole camp experience and working together on the work projects to improve the camp for campers this season.
Our first full day, Sunday, was set aside for a free day. It was really cold and flurries whipped around most of the day. So, while we didn't get to enjoy the beautiful camp and all the activities we had looked forward to, after worship time, we had a blast meeting new friends. It was quite cozy to play games in the rustic, yet modern, conference room with a warm fire going in the stone fireplace.
I took this photo on Monday of one of the original buildings at the camp. It was still very cold obviously, but we had bits of sun during our work day.
My "team" worked on clearing a new horse trail. These two fantastic, tough, hard working girls and I focused on moving these big rocks off the trail. We were super proud of the work we did. Learned a lot too. Did you know there's a tool for moving rocks? I certainly didn't, but they sure make moving a rock that seems unmovable, manageable. Well, that may be simplifying it a bit, but between the rock mover, some pick axes and brute force we made it happen.
See that steel rod on the right? Talk about helping you get leverage.
After moving several rocks and gaining more confidence in our rock moving abilities, we went back and moved this rock we had deemed too big for us to move. I don't have an after shot, but we moved that baby off the trail! It feels good to know that this summer horseback riders will enjoy that trail, not even knowing the work it took to make it passable. Makes me smile.
Miles worked in the wood cutting area, moving logs for the wood cutting machine and reveled in the opportunity to use an axe to cut some wood.
Emily was in the cabin staining area. Lots of back and forth. Needless to say, we were all tired in the evening.
The next day I switched jobs with a college girl who was working in the kitchen. She really wanted to be outside. I had a great time working in the large kitchen. It felt a lot like home only on a much bigger scale. I meet a sweet new friend who I hope to get together for lunch soon.
On the last day there we got to ride horses and the kids got to do some of the ropes course challenges. Notice I said kids? Yeah, not so much into heights myself. 😉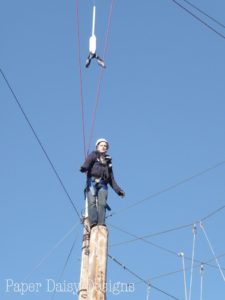 After climbing up this pole 35 feet in the air, Miles stood up and jumped to the handkerchief.
The second half of spring break, Emily and I went to Kansas City for a girls shopping trip. Gotta love bargain shopping at H&M on the Plaza and lots of window shopping at Pottery Barn. And a trip to the plaza wouldn't be complete without an inspirational stop at Anthropologie.
It really was a beautiful spring day. We even got to enjoy lunch al fresco.
Easter Day was just as lovely. Wonderful service at church and then a quiet, traditional ham dinner with the four of us. Missed our family back home, but it was a good day.
We even got around to dyeing our Easter Eggs. Who doesn't love that tradition? Even if they don't get done until Easter Sunday. 😉
Now here's the status of projects around here.
1. The ottoman reupholestry project hit another stalemate when I discovered I didn't calculate the amount of yardage I'd need accurately. The tufts are much deeper than I realized. I'll share how to measure accurately in my tutorial. Of course, when I went back to get more of the fabric I had bought on clearance, it was gone! Figures. I shopped for fabric in Kansas City to no avail, but a trip to Target yesterday and some creative thinking will have this project done over the weekend! Thank goodness.
2. I don't think I've shared, but I've been working on deep cleaning my kitchen floor tile and grout. What a job! After three 2-3 hour sessions, I'm almost done and I'll share my tips for that soon. After living in one place for more than five years, deep cleaning is necessary.
3. While in Kansas City, we got to actually visit the store where I usually order Annie Sloan Chalk paint online. So with more paint in hand I have a very interesting project to tackle. Warmer weather means painting time in the garage! Woo hoo!
Well, thanks for making it through my ramblings, but I know family back home appreciates the updates and photos.
I'll be back later tonight or tomorrow to share that other Milk Paint project I mentioned recently.
Thank you for subscribing to Paper Daisy Designs. Please continue reading on the blog. I appreciate having you as a reader.