Welcome back to Week 6 of the One Room Challenge™. By now I hope you have either noticed or heard that we skipped a week of publishing our weekly blog posts. Linda, the creator and owner of the One Room Challenge™, cancelled last week out of respect for the death of George Floyd and the need to address the racial injustice prevalent in our nation. Our hope was this would a provide space for healing and learning. If you are looking for resources Linda compiled a helpful list that you can find here #blacklivesmatter.
I fully supported her decision and devoted myself to listening and learning about how I can truly support the anti-racism movement in our country. During the many hours of sanding, painting and finishing the panel moulding, that now wraps around the living and dining room, I listened to podcasts focused on this topic. When I had downtime, I worked through devotions focused racial reconciliation. Of course, it is a on-going process but I was thankful for this time.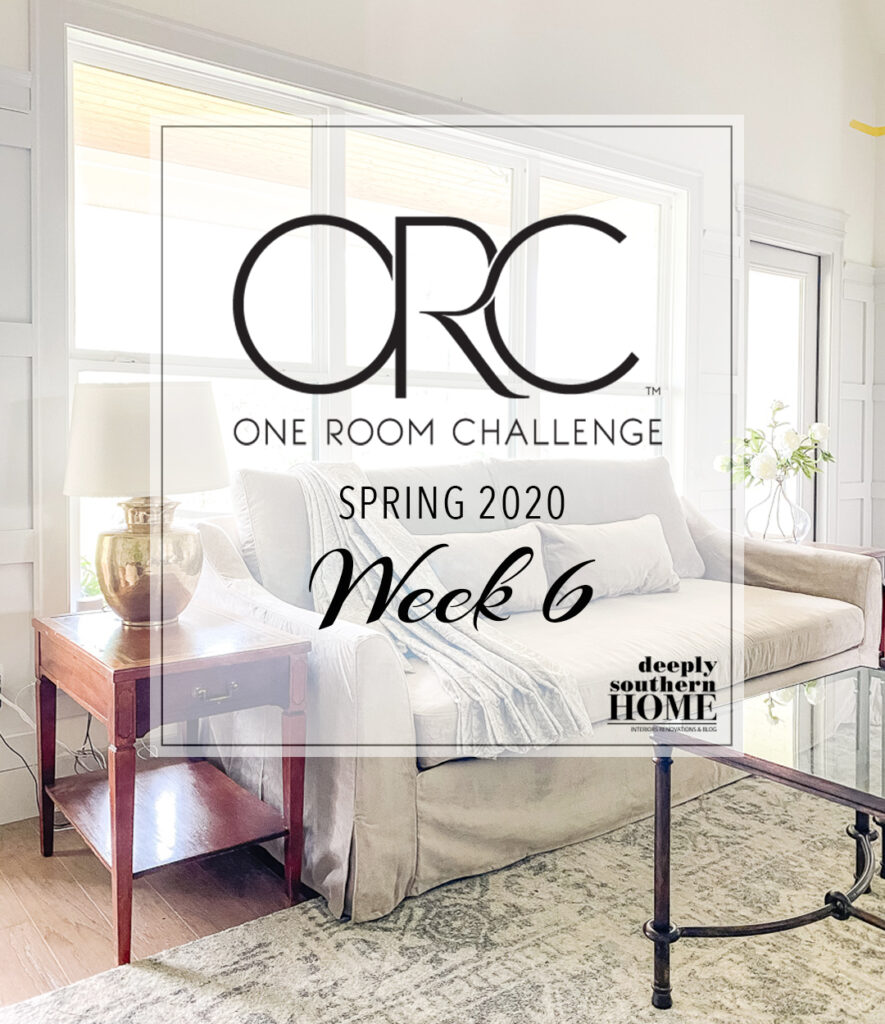 If you are new to Deeply Southern Home, welcome! I am Leslie! My goal, whether in my home or my client's, is to create rooms with a relaxed southern style. Although my designs are traditional, I love to experiment with color and a fresh interpretation of classic interiors. We recently downsized to a new-construction home and I can't wait to inject old-world charm and character through my DIY projects and timeless finishes. I am honored to be a Featured Designer this season for the One Room Challenge™ and am waiting anxiously to share the final reveal on June 25!
This week I want to focus the attention to the choice of fabrics and the role they play in the room. I also want to introduce you to a few of the antiques I have collected for the room. With the popularity of Facebook Marketplace and the expansion of thrift stores, antiques are no longer reserved for homes and makeovers with upscale budgets.
The official sponsors I would like to highlight this week are Calico fabrics, RoomMates Wallcoverings and Overstock.
I also am grateful for the contributions given by Bemz, maker of fine slipcovers for everyday life including IKEA furniture and Romabio Limewash.
This post contains affiliate links for your convenience.
Let's start with a quick update on what has been completed over the last two weeks.
Panel Moulding
All of the Tudor style panel moulding is installed, patched and painted around the entire room. I shared the last wall completed in an Instagram post last week.
I also added an extra piece of architrave to the top of the back doors. It has always annoyed me that the top of the window is taller than the top of the door. (It is a long story that goes back to construction, but I won't go into the details here.) Hopefully, once it is all painted out and the curtains are hung the continuation of the trim line will be more evident than the height of the door.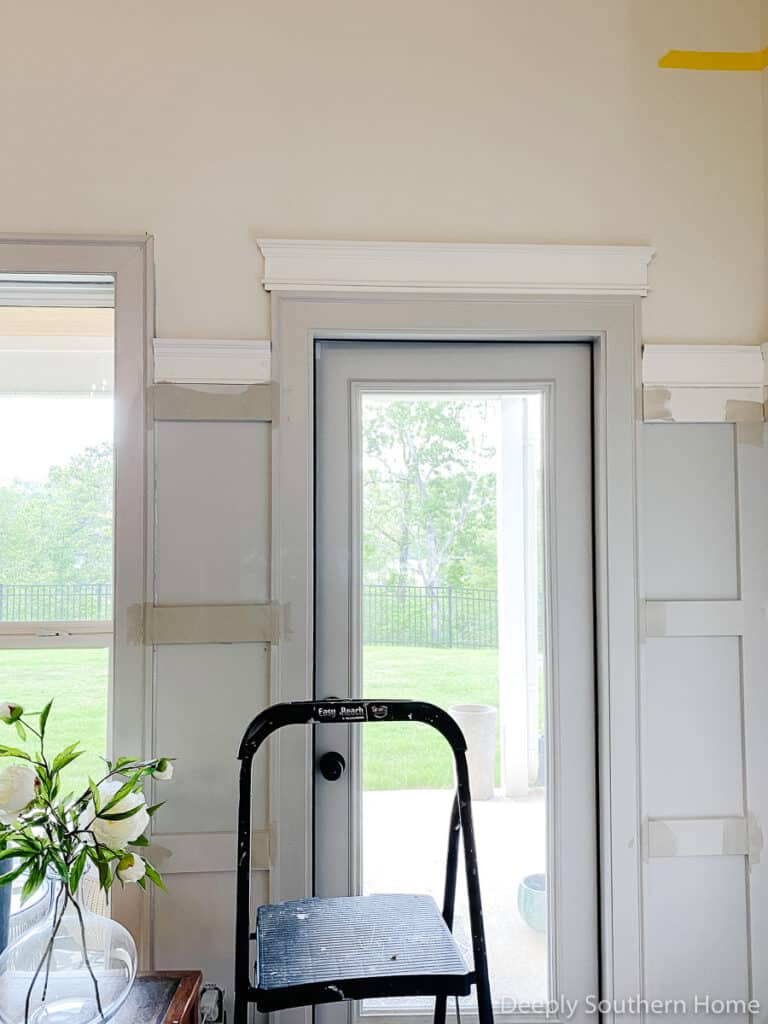 While it was a smaller project, it made my soul just a little bit happier to have that one item checked off the list.
I still need to install the baseboards and the shoe moulding but I am hoping that goes together quickly next week.
Fireplace Surround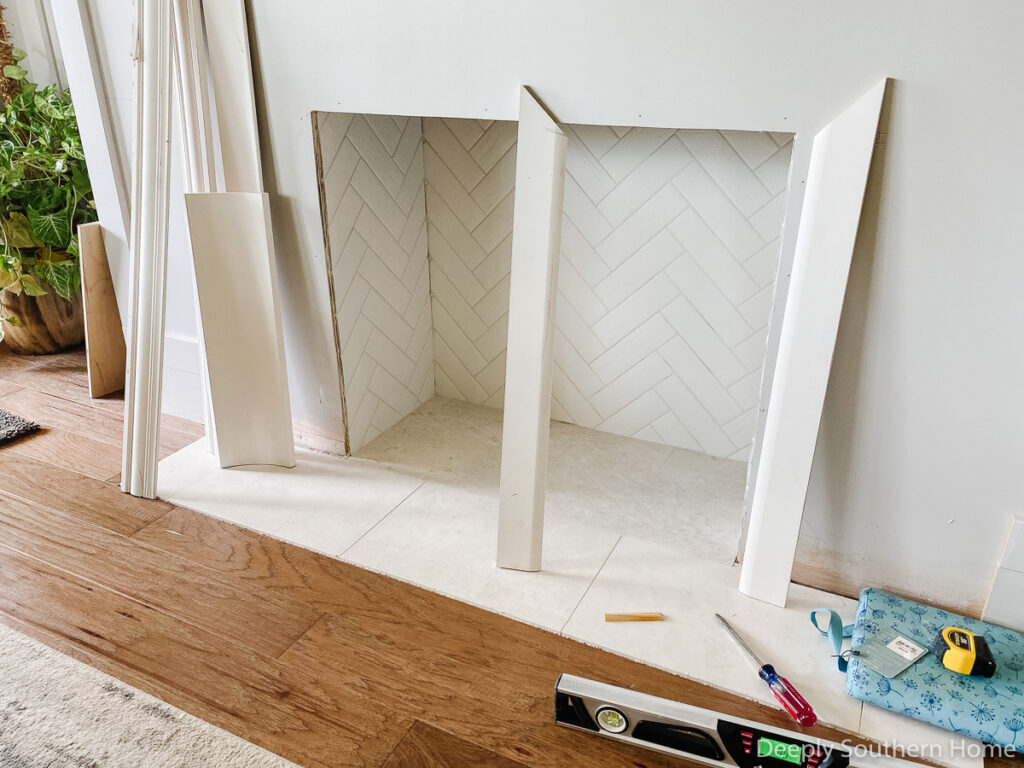 While I don't intend to share the final look for the fireplace until the reveal, I did finish building the surround. I have to admit the finished product is really all I hoped it would be and more! I can not wait to share it with you in two weeks!!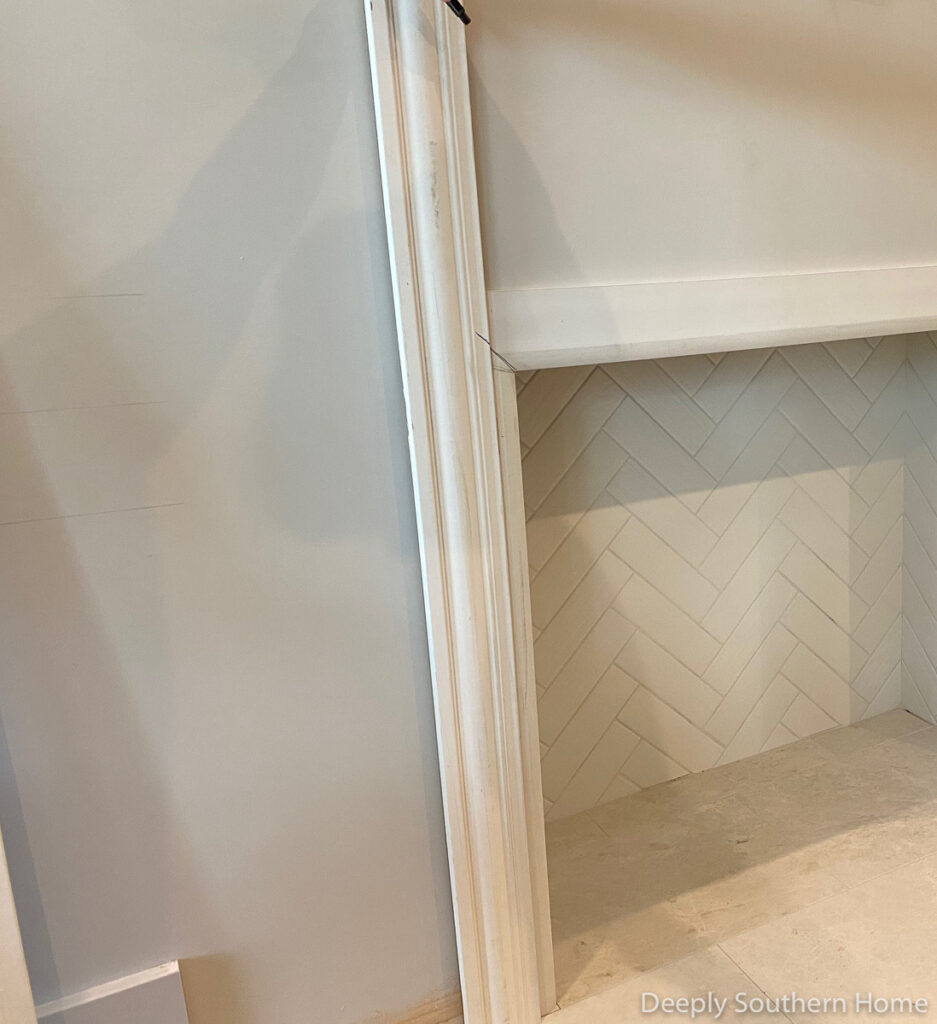 Once the surround was built, I wanted to give it a faux finish to match the Arctic White marble tile from The Tile Shop that I installed as the hearth.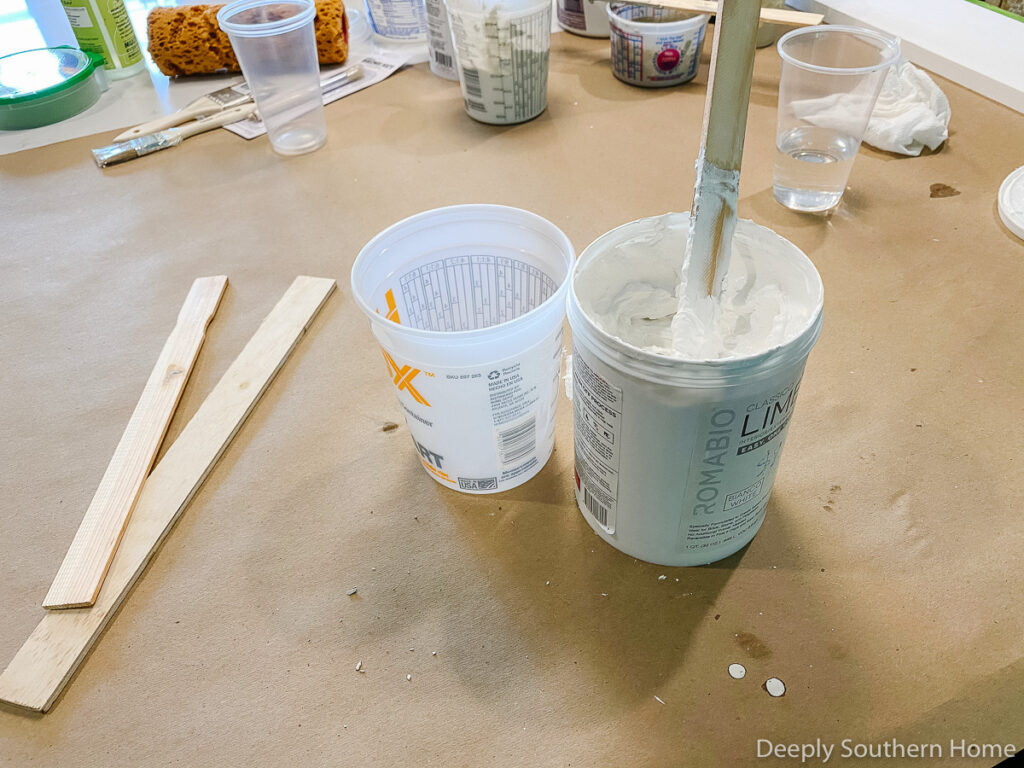 I mixed up several colors of Romaboio Limewash paint and used it to create the stone look. Romabio sent me Avario White, Blanco White, Nube Gray, and Ripose Beige. I used all of them except for the Ripose Beige to achieve this look.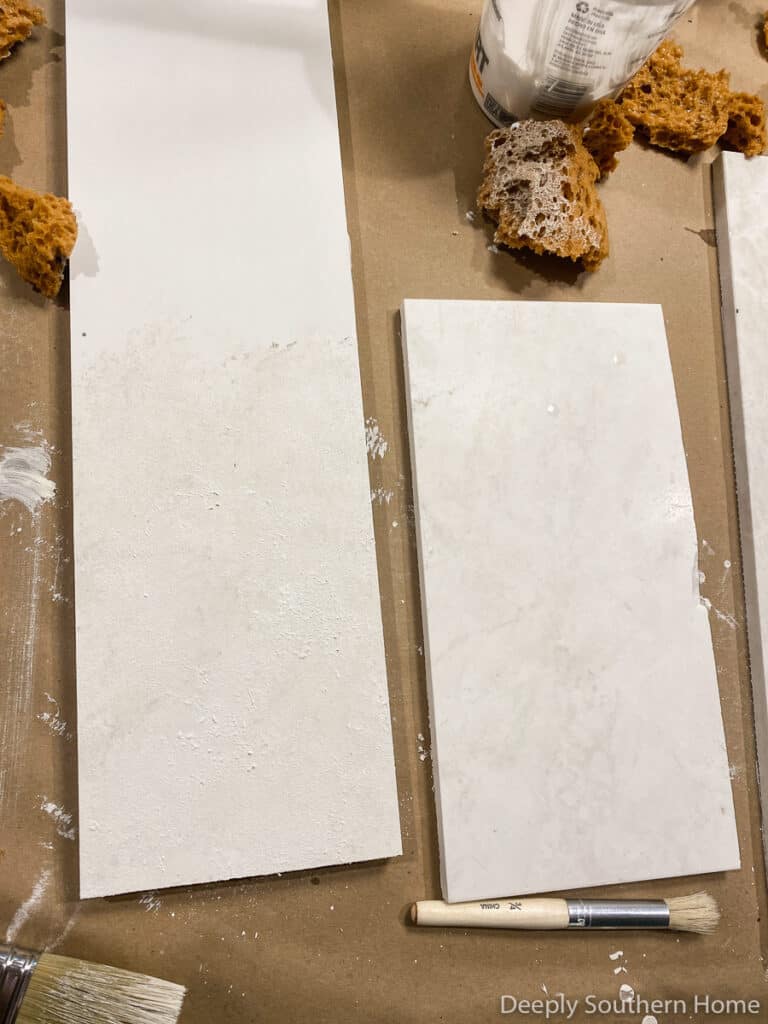 On the right is a scrap piece of marble, on the left is a scrap board I worked out my technique on. By the time I finished it this evening it was nearly dark. I can't wait to see in the daylight. I think I'm really happy with it. I recorded the entire process to share a tutorial after the ORC is finished.
Antiques and Thrifty Finds
I am a firm believer that a room is not finished until it has some history. The depth of the story a room tells is greatly enhanced by antiques or vintage pieces of furniture and decor.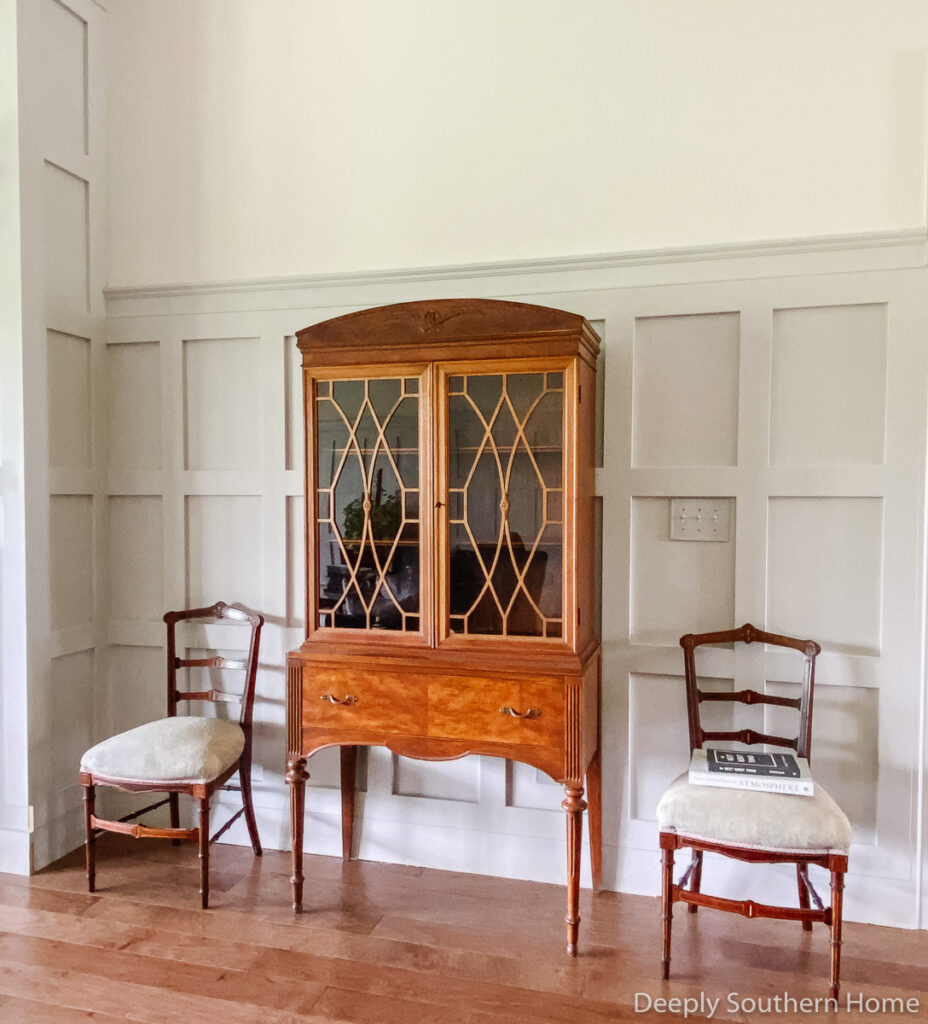 Purchased months apart, these antique chairs and this small scale china cabinet fill out this transitional wall beside the fireplace. The cased opening just to the right forces the eye to wonder how this space is supposed to be considered. Using these pieces makes it feel a little more like part of the dining room, yet each pieces could easily be used in a living room space as well.
The chairs are getting recovered before the reveal with fabric and trim from Calico. I am going to keep that a little secret too. Trust me when I tell you they are going to be so fabulous!
As much as I love the look of the china cabinet as it is, I decided the items I place inside could be better seen if I added wallpaper from RoomMates to the back of the cabinet.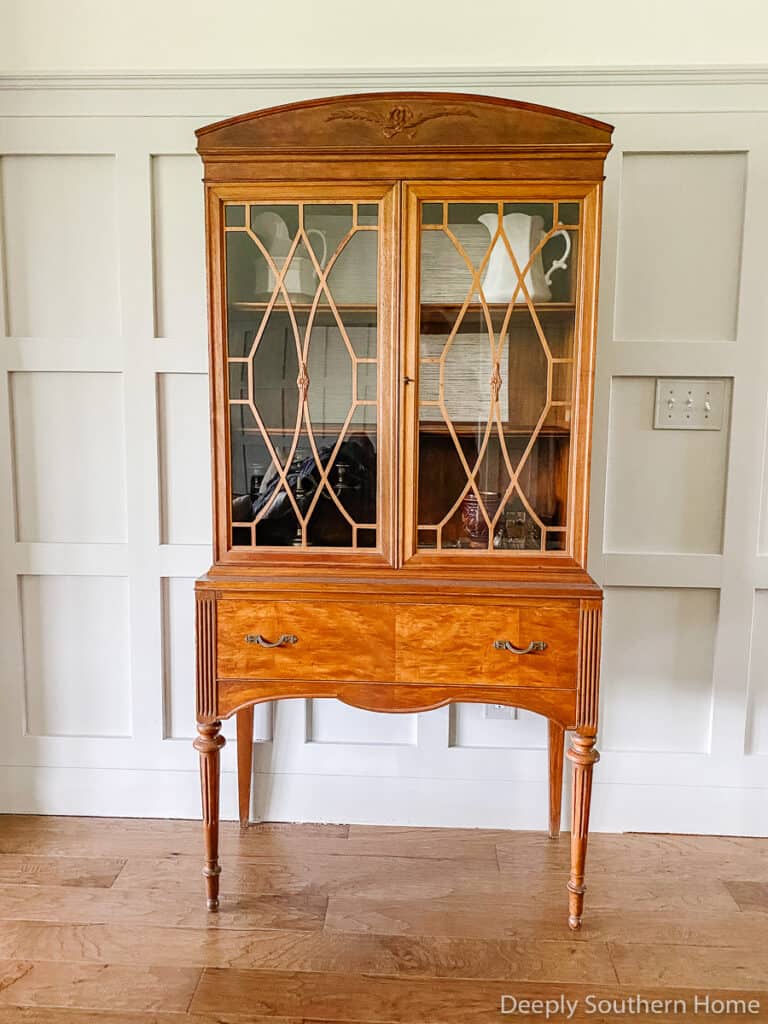 I proposed a poll to my Instagram friends yesterday helping me decide which color to use.
On the left is a gray grass cloth and on the right is a tan version. I had initially assumed I would pick the gray because it perfectly coordinates with the wall color, but once I placed a sample inside the cabinet, the texture I was hoping to add seemed to fade away.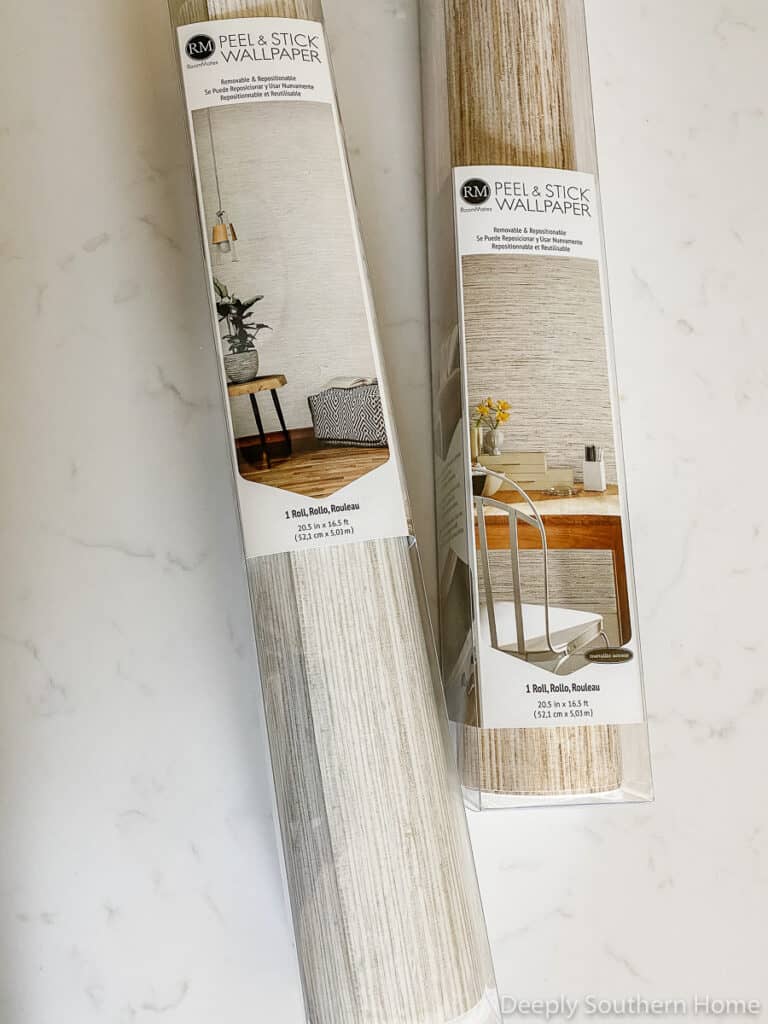 I opted to go with the Tan on the right.
This removable wallpaper was super easy to work with and went in so very fast. And because it is removable, I don't have to worry about ruining a fine antique.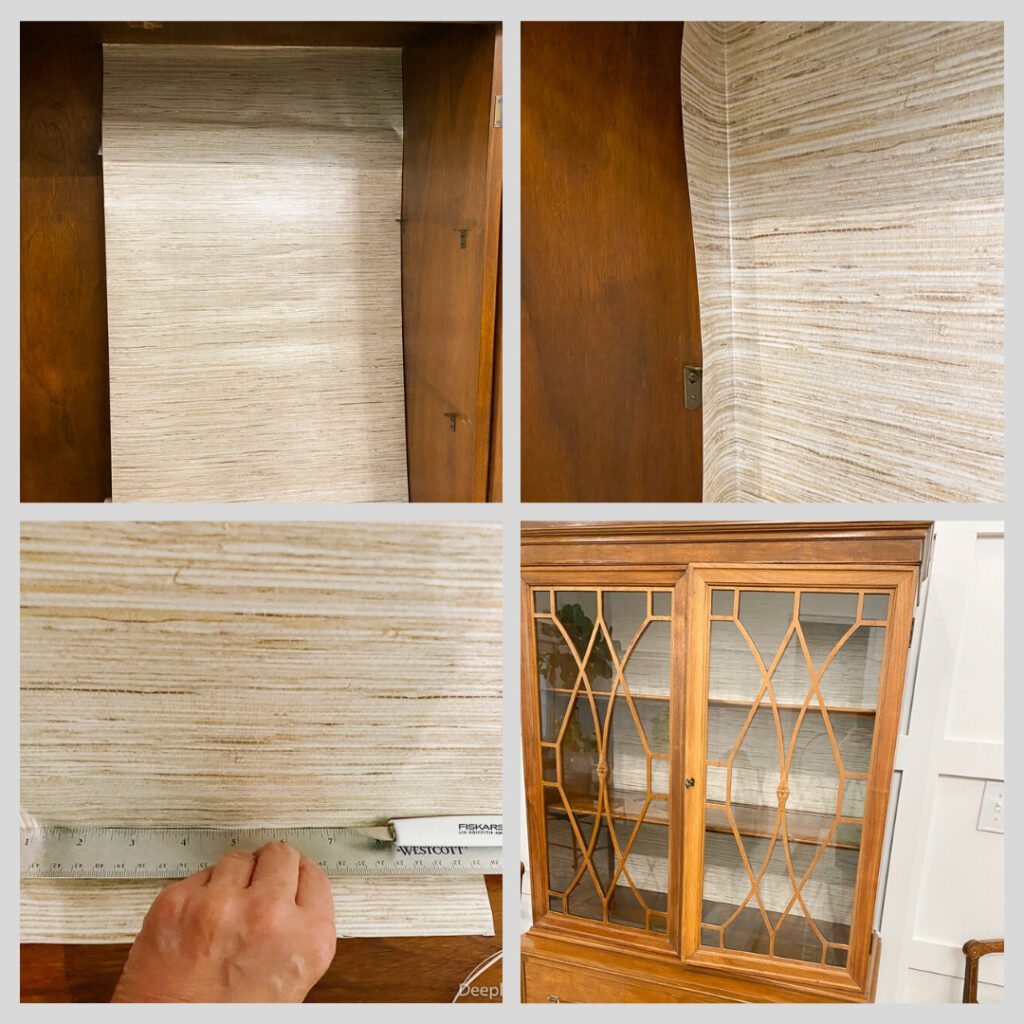 Once all the other elements in the room come together I think that Tan choice will also make more sense.
The other pair of antiques I've added to the room are these perfectly sized side tables.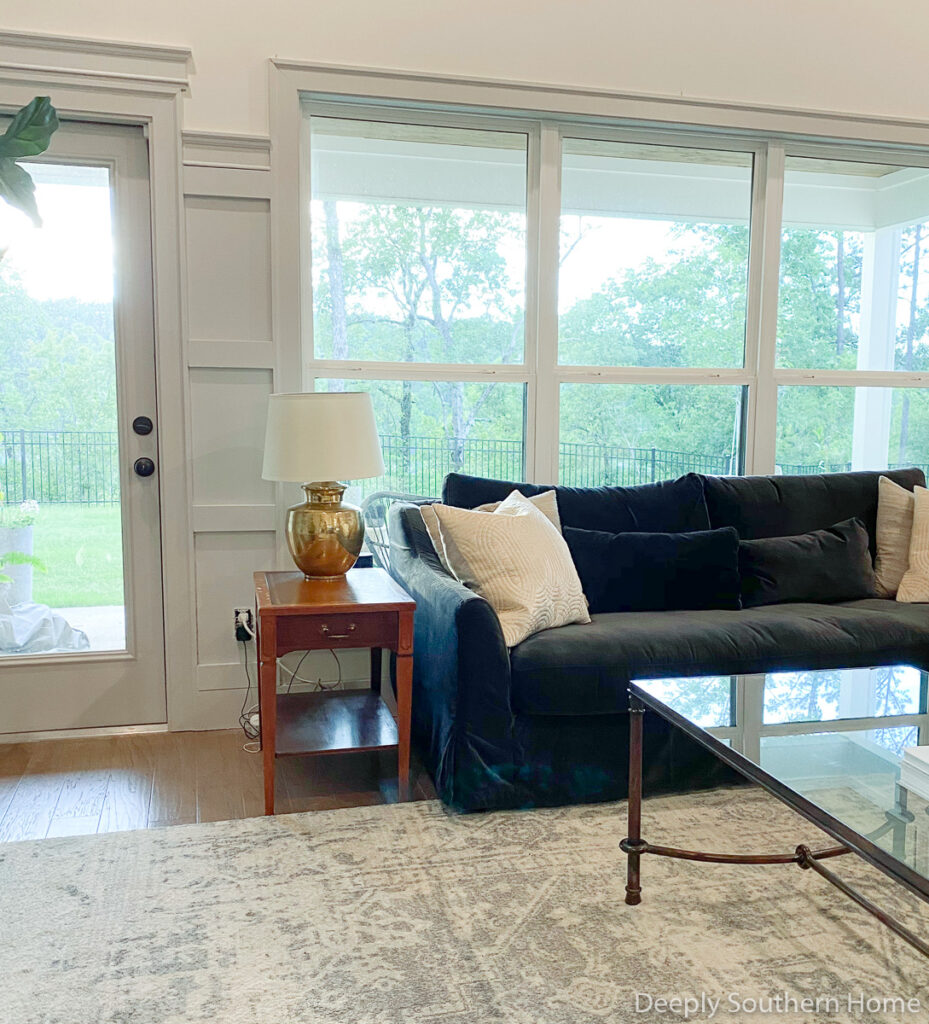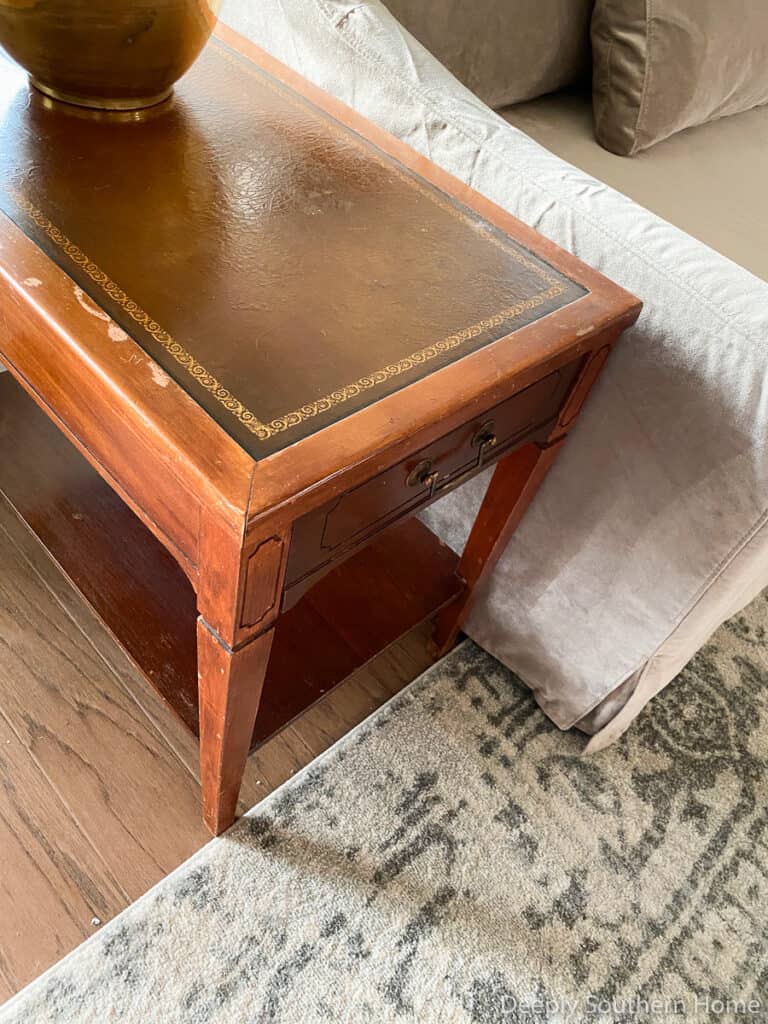 Clearly I didn't pay too much for them given their condition. I haven't decided exactly what I am going to do to repair them. I am waiting for a few more pieces of furniture to arrive before I decide whether I should go to the trouble of refinishing them or just paint them.
I really do love that they have a drawer for tucking away remotes and a bottom shelf for more display or storage. I think they are going to be absolutely perfect. They just need a little love. Be sure to follow me on Instagram or Facebook Stories to follow along with the process.
Fabrics to Soften and Transform
Fabrics play a key roll in any room design, but in this room I think the roll they play will be quite transformative.
For starters, I worked with Bemz to give my IKEA Farlov sofas a major facelift.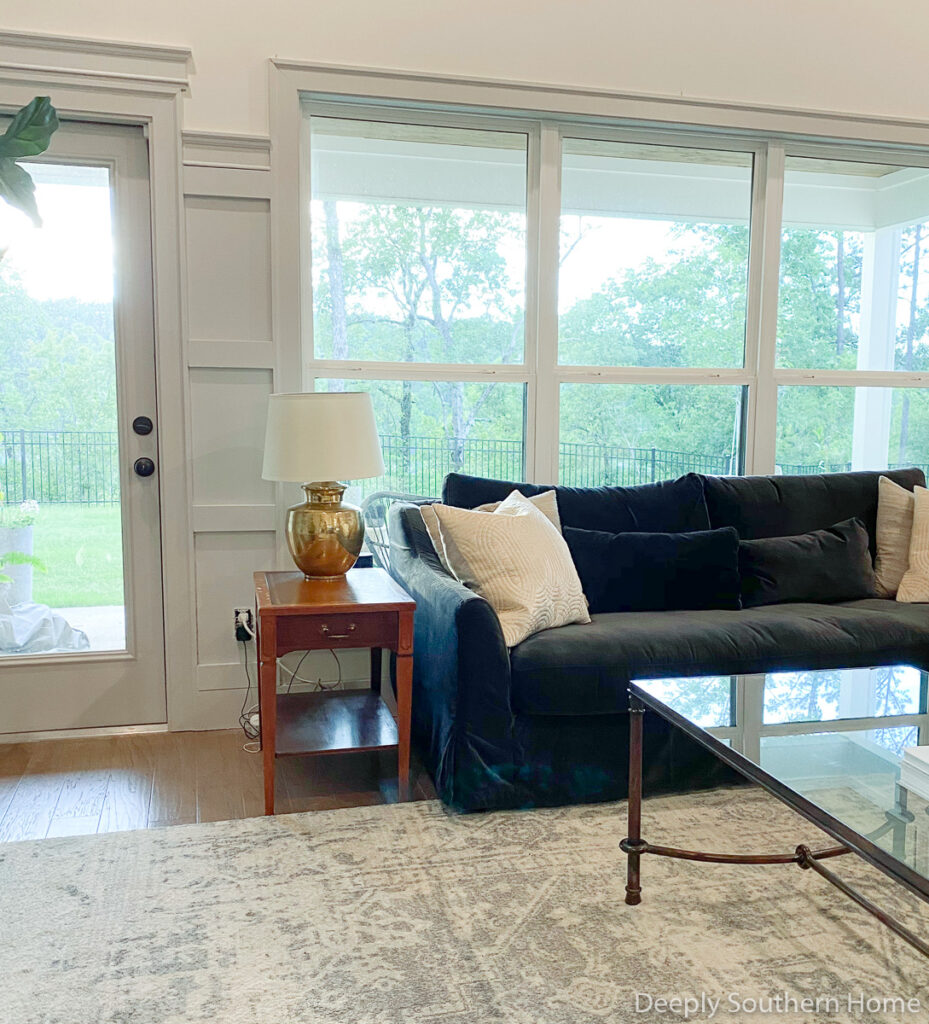 I have loved the lines of this sofa and we find it be quite comfortable. The default fabric for the Farlov three seater sofa from IKEA is what I would call unfortunate. It's drab and the texture is scratchy. So, from the beginning, I decided to upgrade and ordered the dark grey velvet slipcovers. Honestly, they are really nice and I have been pleased with them. However, they are incredibly dark. If I were wanting to create a dark and moody room they would be perfect. But in this room, even given the scale and size the sofas felt heavy.
New Slipcovers from Bemz
Bemz is the premier maker of high quality slipcovers and specializes in all models of IKEA furniture.
I ordered several samples from their vast selection from Bemz to make a decision on what fabric best suited the design of the room. Ultimately, I chose Sand Beige in the Simply Velvet fabric.
I decided now that all the painting is complete, to slip at least one of them on.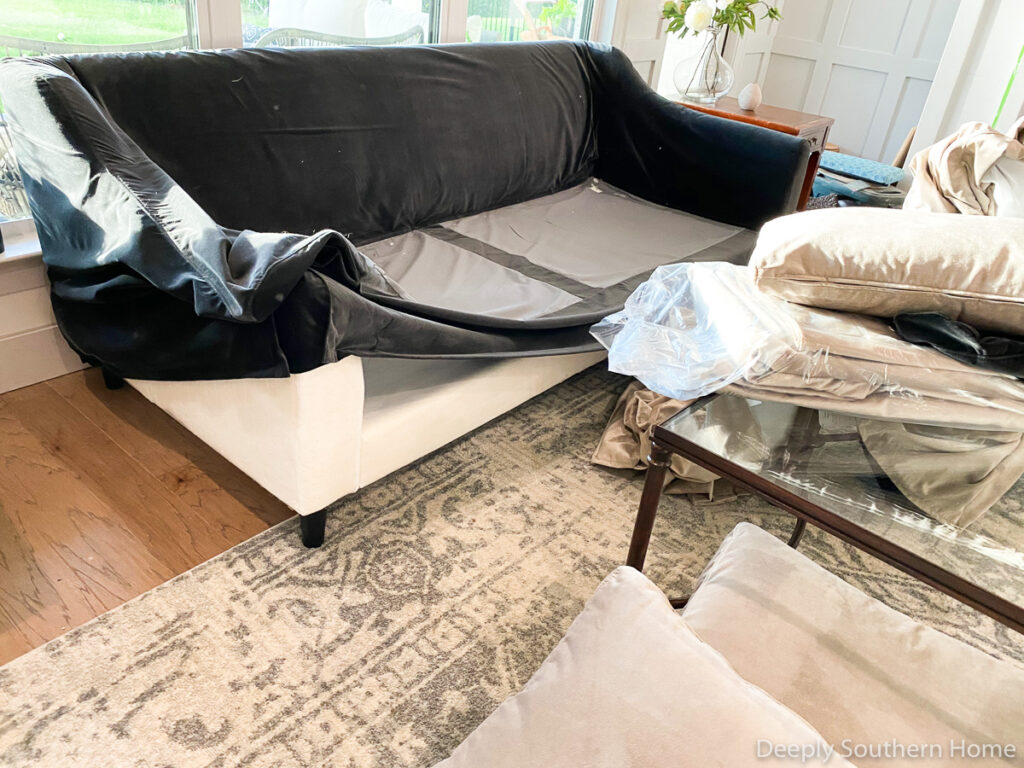 As you would imagine, it's an incredibly easy process. We just unzipped the old one and slipped and zipped on the new one.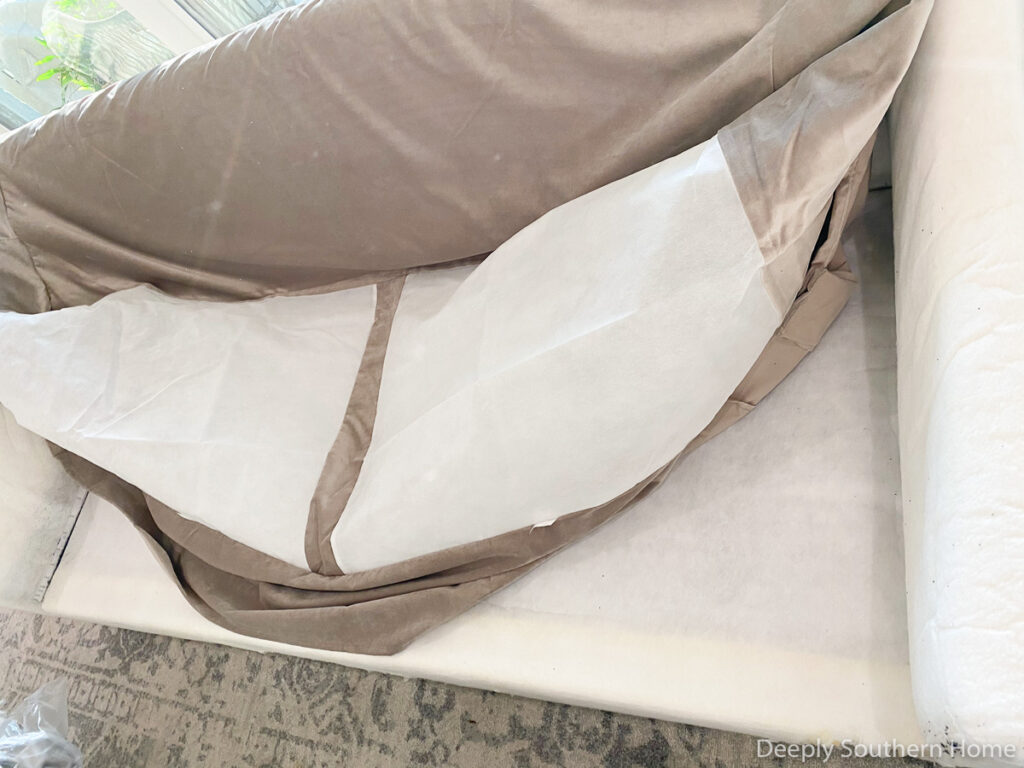 The slipcover is beautifully crafted with elevated details like a more tailored fitting pleat on the corners and smooth seams.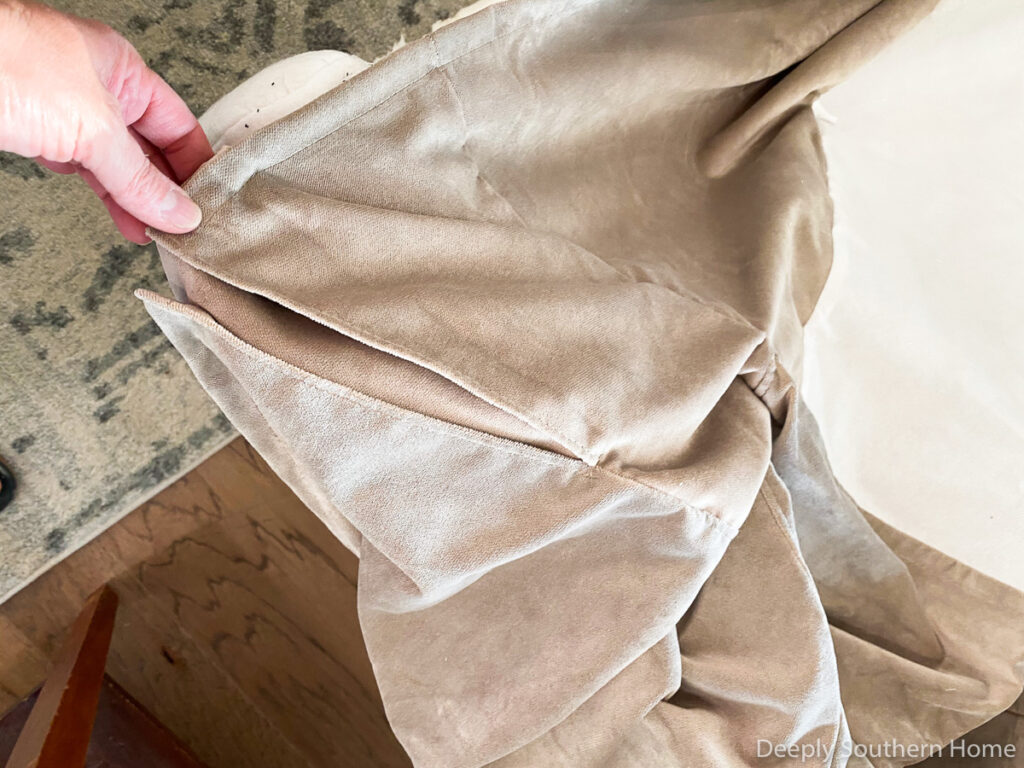 I could not be more happy with the look. It has a short pile and a smooth finish. Because it is made from polyester, it's perfect for everyday living and is machine washable.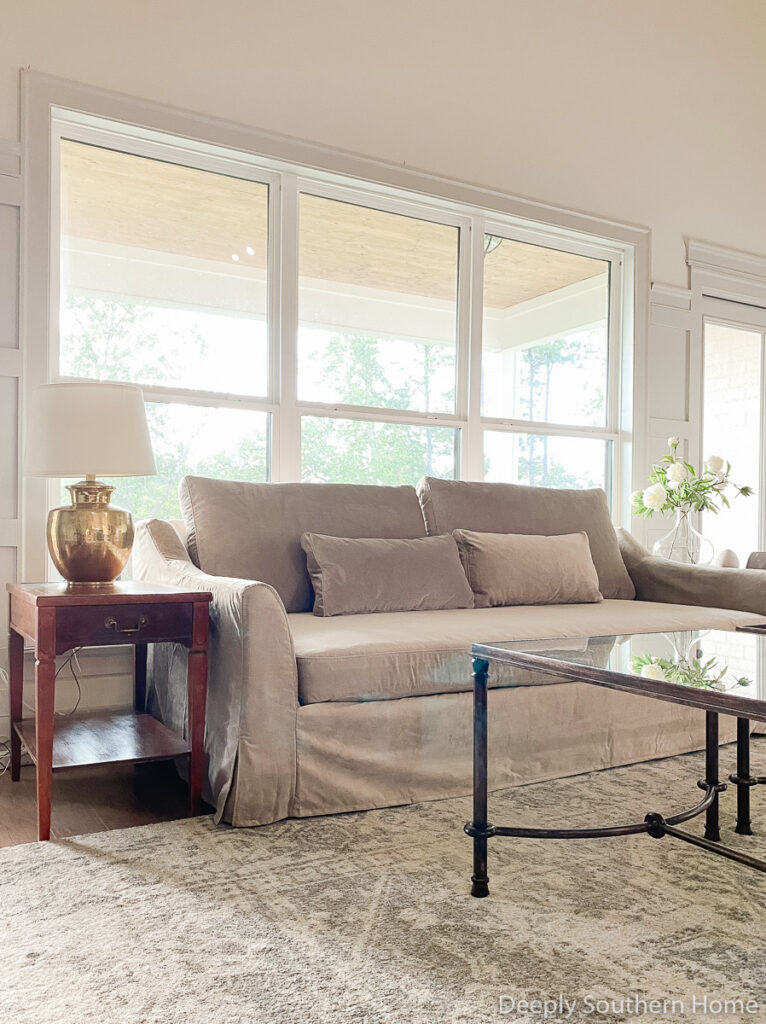 I will need to re-fill the toss pillows a little with some batting or pillow stuffing as those cushions have experienced a bit of wear, but I think that small improvement is all that is needed. (As far as overall durability of the IKEA Farlov, one sofa is newer, only a couple of months old and the other is at least a year and a half. I can't tell which one is which anymore. )
I love this concept. Not only is the cost of a new slipcover far less than a new sofa it is an environmentally conscious way to update your room. The possibilities are just about endless and that is very exciting to me!
New Drapes from Calico
Just this week, I picked up the curtains that finish the wall of doors and windows at the back of the house.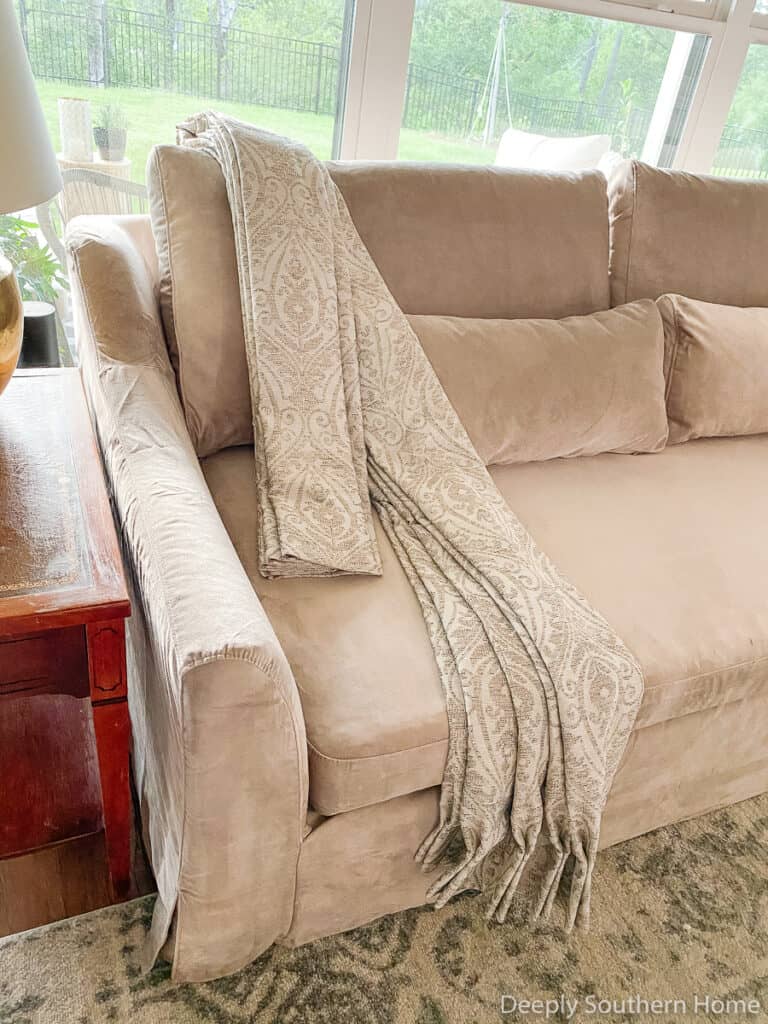 We hope to get them hung tomorrow. You can tell from the way I have them folded across the sofa, they are going to be quite dramatic.
I shared all about the fabric selection process at my local Calico Store in my Instagram Stories. Here is a link to that video saved in my Highlights.
I also have some throw pillows in production through Calico that I am very excited about.
Here is a look at a sample of this dynamic, yet subtle fabric that will pull all of the elements together.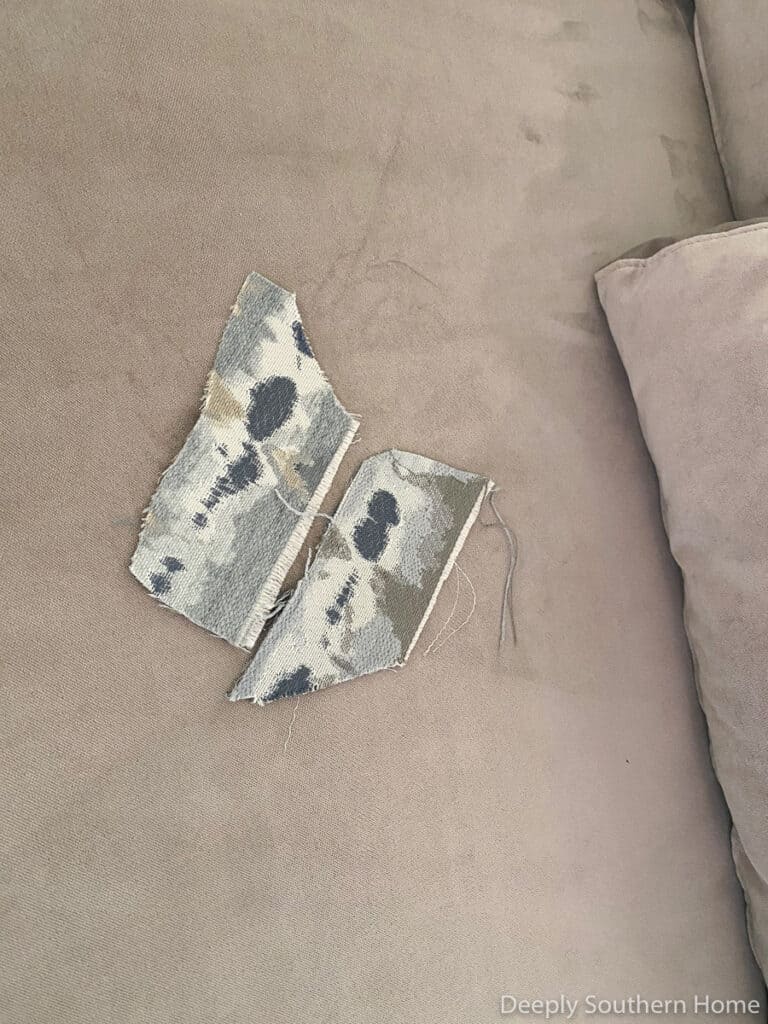 If you remember from my inspiration board, the rug from Couristan that defines the living room area, is a lovely slate, blue-gray.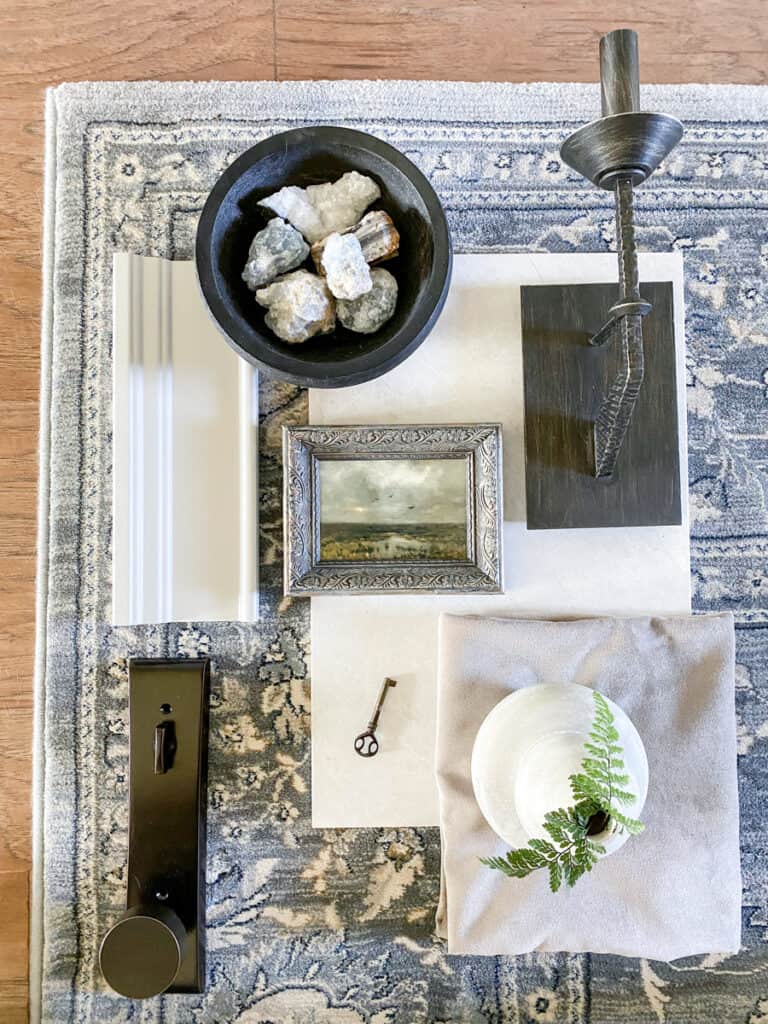 I am so thrilled to see all of these elements finally move from conceptual bits and pieces, to a tangible reality.
I'm still waiting on a few key pieces of furniture from Overstock, that I hope will arrive this week. But you might have notices a little sneak peek of the new bronze iron coffee tables that sit between the pair of facing sofas.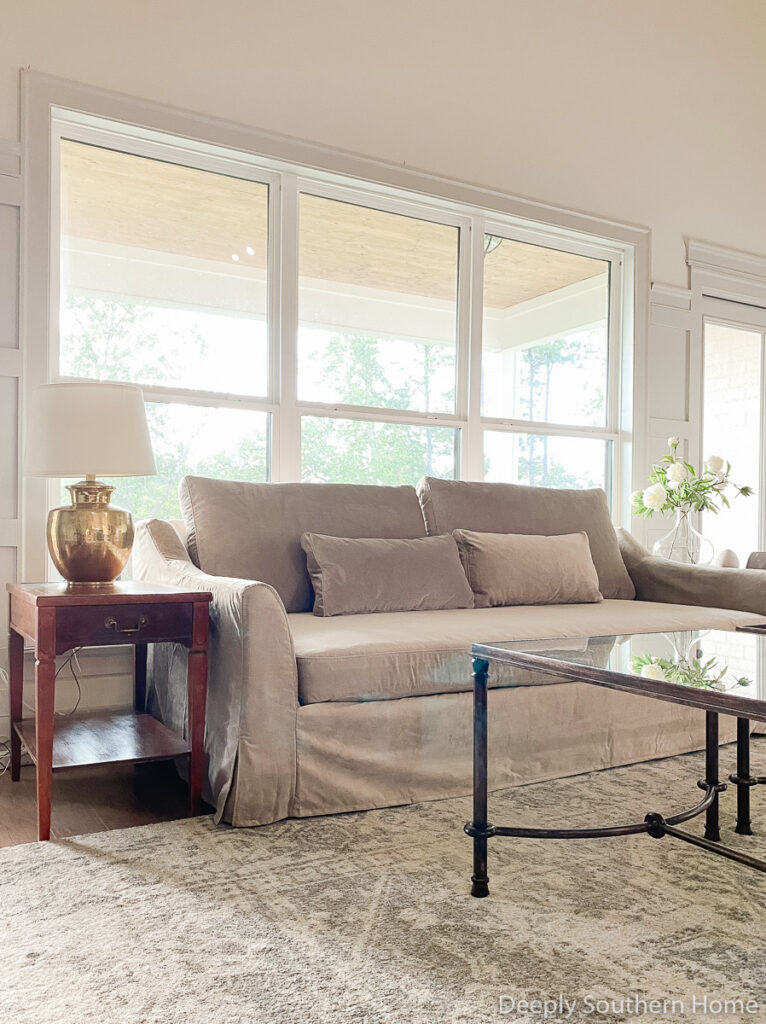 They truly are absolutely perfect! I love a glass top table for the light and airy feel it brings to the center of a room. These coffee tables made by Uttermost have lovely, substantial metal legs that curve in a way that makes them feel a bit more refined too.
I think that about covers it for this week. What's left to do? I have been adding this list to the end of every post. I keep adding things to the list though which obviously means the list is getting longer not shorter.
Just to keep me accountable, here is the list of items to be completed for the 8 weeks.
Paint panel portion of walls – DONE
Build fireplace structure -DONE
Install paneling on fireplace, patch and paint – DONE
Remove existing flooring in fireplace -DONE
Install tile in firebox- DONE
Install tile for hearth- DONE
Build mantle and surround for fireplace- DONE
Install paneling around room, patch and paint – DONE
Install new baseboards, shoe moulding and paint
Hang custom drapery
Refinish pair of side tables
Hang chandeliers- One is up
Install sconces- DONE
Finish faux wood beams to match floor
Install 4 beams across ceiling- Contractor comes on Saturday
Touch up paint back doors
Install new door hardware
Change to new slipcovers- One is on
Arrange furniture on new rugs
Sew or find lumbar pillows for sofas- In production
Recover seats on parlor chairs
Hang art and mirror
Style china cabinet
Accessorize both the living room and the dining room
Finish the "surprise" space- Started work on this last week
Photograph the room
Write 8 blog posts total
SPONSORS
A special thank you is necessary for my sponsors. They have graciously shared the products that make this makeover possible.
Novo Building Products | Hudson Valley & Troy Lighting | Apt2B
Emtek | Loloi Rugs | Couristan | Calico | Overstock
The Tile Shop | Bemz | AZ Faux Beams | Romabio
Be sure to visit each of the Featured Designers to read all about what they have accomplished in these two weeks. I bet there has been some serious progress to share now that it is WEEK 6!
TWO WEEEKS LEFT!!! Yikes!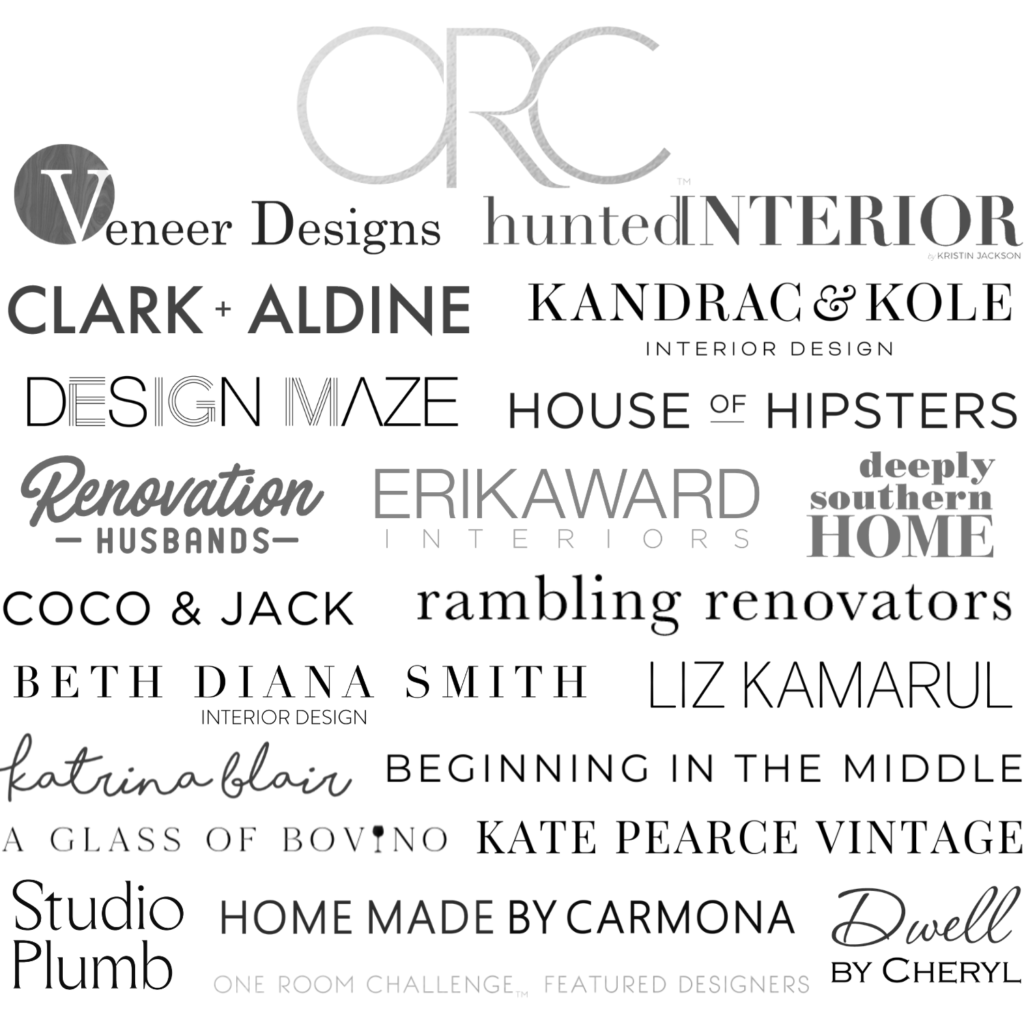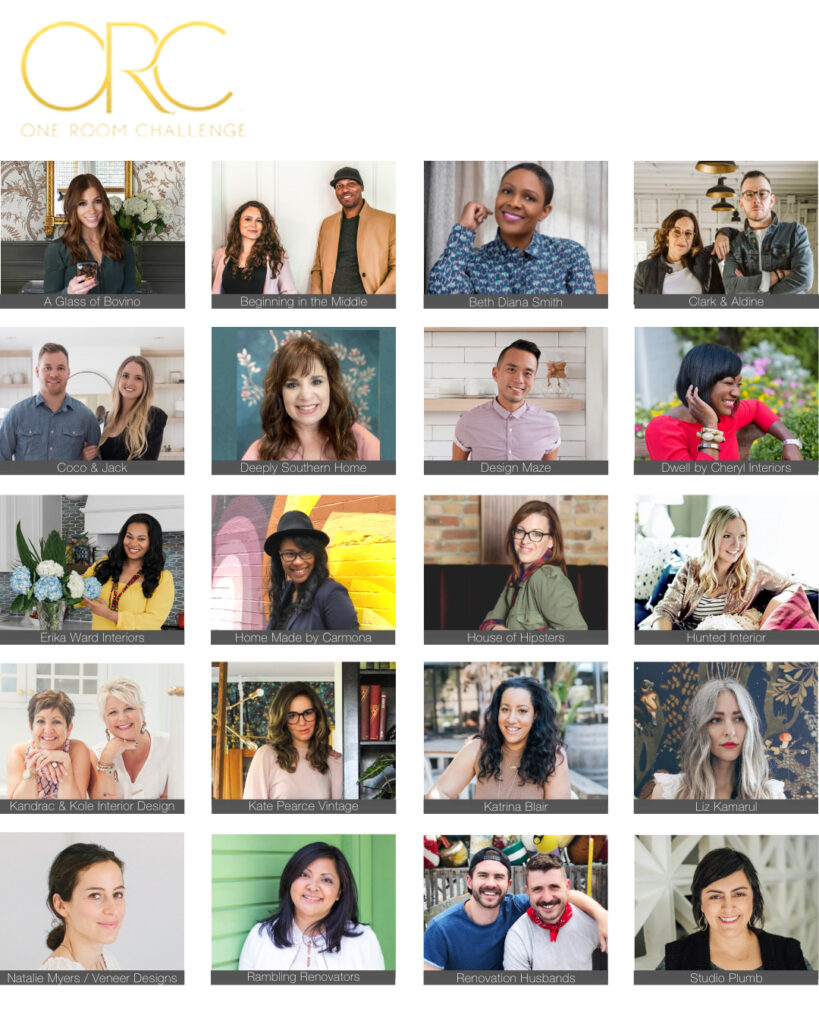 A Glass of Bovino | Beginning in the Middle | Beth Diana Smith | Clark + Aldine | Coco & Jack
Deeply Southern Home| Design Maze | Dwell by Cheryl | Erika Ward | Home Made by Carmona
House of Hipsters | Hunted Interior | Kandrac & Kole | Kate Pearce | Katrina Blair | Liz Kamarul
Veneer Designs | Rambling Renovators | Renovation Husbands | Studio Plumb | Media BH&G
And then look for the Guest Participants on Thursday! It's so very exciting that there are a record number of guest participants this year. How cool is it that over 350 blogger entries and 260 Instagram entries!! From what I can tell in the little bit of time I have spent seeing all that is happening, they are killing it!!
Thank you to Linda, of the One Room Challenge™ and the official Media Partner, Better Homes and Garden for having me this season!!