It's the last week of updates before the final reveal of the One Room Challenge™!! We have now been at this for 7 weeks and so many weeks before in planning and preparation. Even with the extra two weeks added for this season to allow for delays due to COVID-19, somehow there is still this rush and flurry of activity this last week.
If you are new to Deeply Southern Home, welcome! I am Leslie! My goal, whether in my home or my client's, is to create rooms with a relaxed southern style. Although my designs are traditional, I love to experiment with color and a fresh interpretation of classic interiors. We recently downsized to a new-construction home and I can't wait to inject old-world charm and character through my DIY projects and timeless finishes. I am honored to be a Featured Designer for this season of the One Room Challenge™ and am waiting anxiously to share the final reveal on June 24th!
The two big projects this week were prepping the faux wood beams with a custom finish and my secret side project.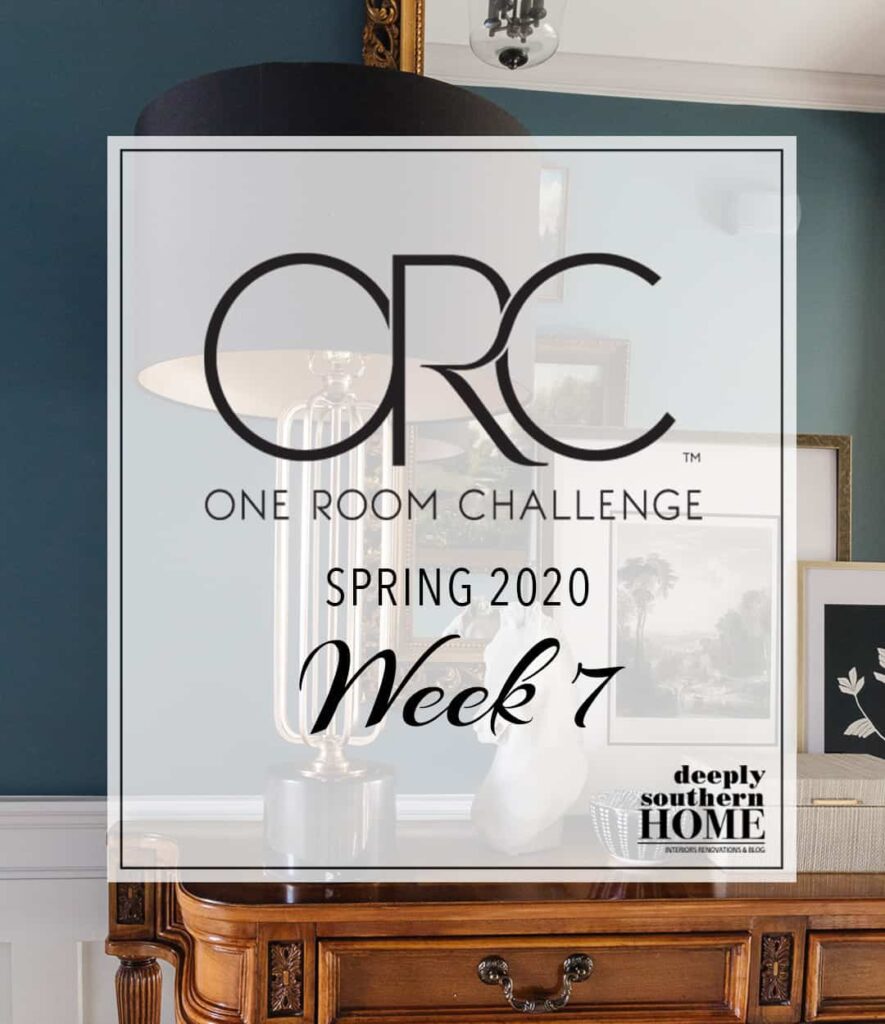 But first, here's a recap of some of this week's highlights.
My husband hung the curtain rod for the gorgeous drapes from Calico.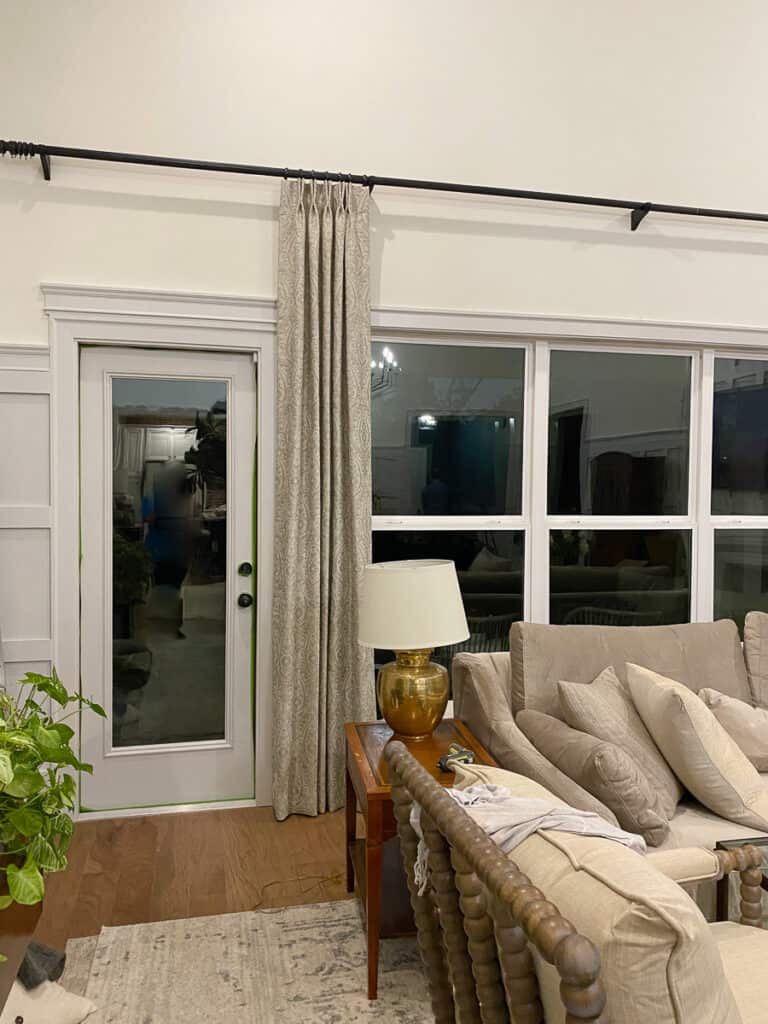 2. The spindle side chairs from Overstock arrived. They will finish out the furniture grouping in the living area. Here's a little sneak peek.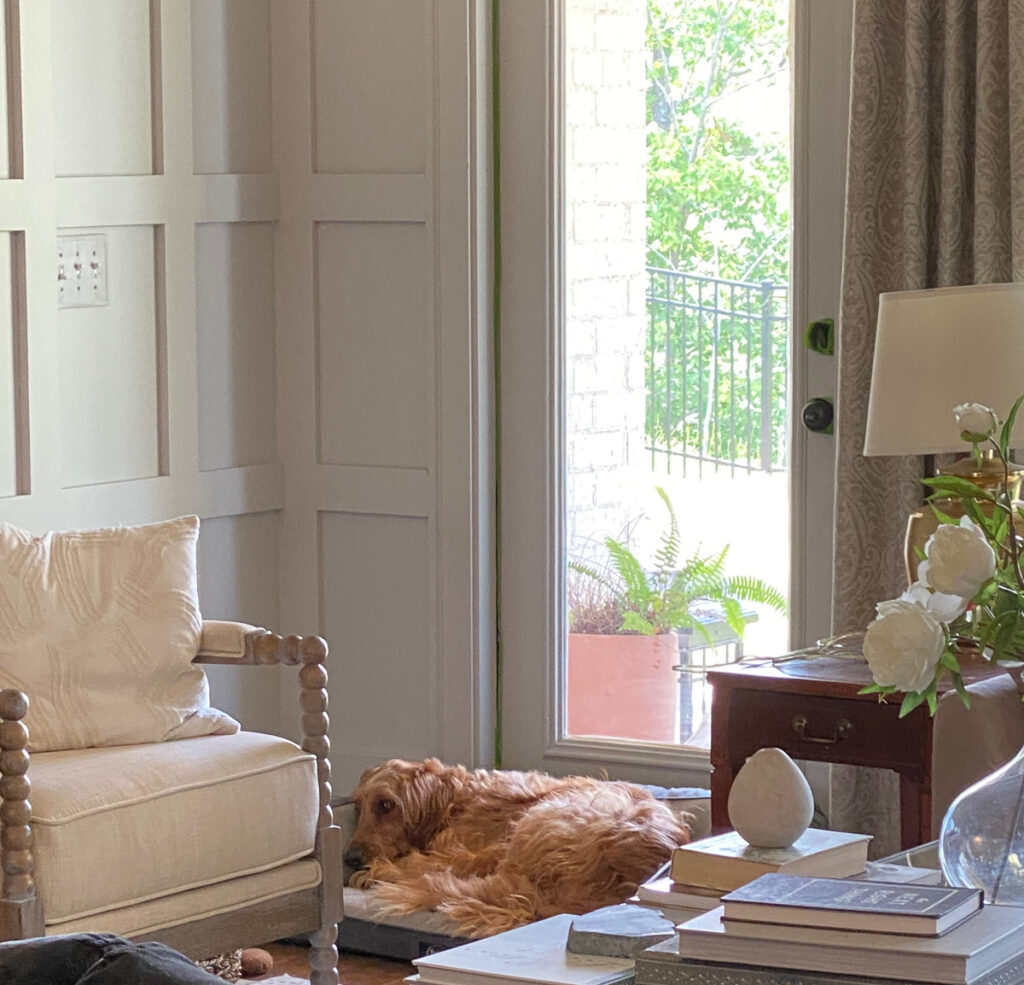 3. I installed some of the baseboards and shoe moulding to finish off the Tudor style paneling from Novo Building Products. And what a beautiful finish they add!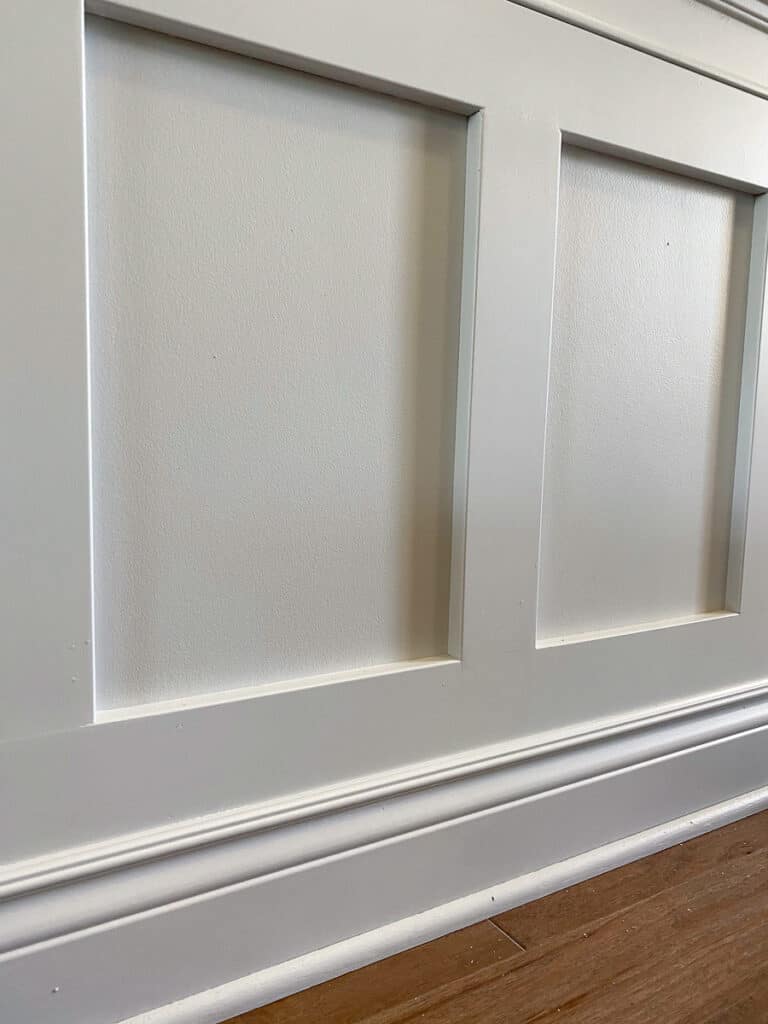 4. Prepping the beams. Like I mentioned, most of this past week was spent staining the beams with a custom finish to coordinate with our floors. I had no idea it would be so time consuming.
The unfinished beams from AZFauxBeams.com arrived a couple weeks ago, but I hadn't had time to finish them until this week. I learned this week that staining four 10″ x 12″ x 14′ foot beams takes a bit of time, especially if you mess up the first time. (I should mention you have the option of selecting finished beams from AZFauxBeams. I just knew my floors were not a typical finish so I opted for unfinished.)
In the first attempt, I stained the beams dark walnut with a gel stain and then planned to follow up with a dry brush of a gray ash stain. But the gel stain I was using was drying too fast and not giving me the working time I needed to create the finish I wanted. In addition, the initial coat of dark walnut stain was just too dark.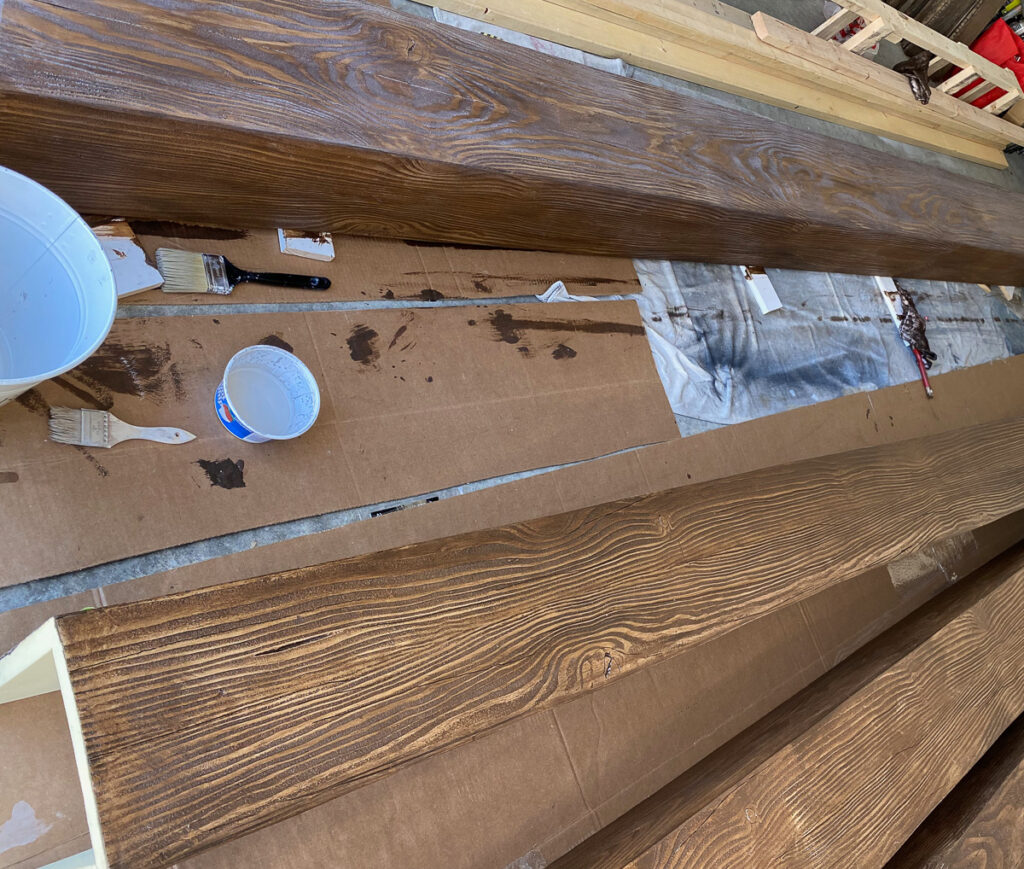 Before I gave up on all that work, I attempted to add a wash of grey chalk paint to one beam, but it just looked dusty and dirty. Not at all the look I was going for. You can see that attempt in the top of the photo above.
When I called the manufacturer they said not to be overly concerned. Just prime the beams again and start over. Whew! Nice to know I was working with such a forgiving product. The customer service at AZ Faux Beams.com was so helpful and knowledgeable!
The actual texture of the beams helps create a realistic finish with the right stain. So, the second time I used a water based deck stain, as recommended by the manufacturer. I had a custom color stain created at the paint store but this time, it was a little too light, a little red, and honestly felt just a little flat.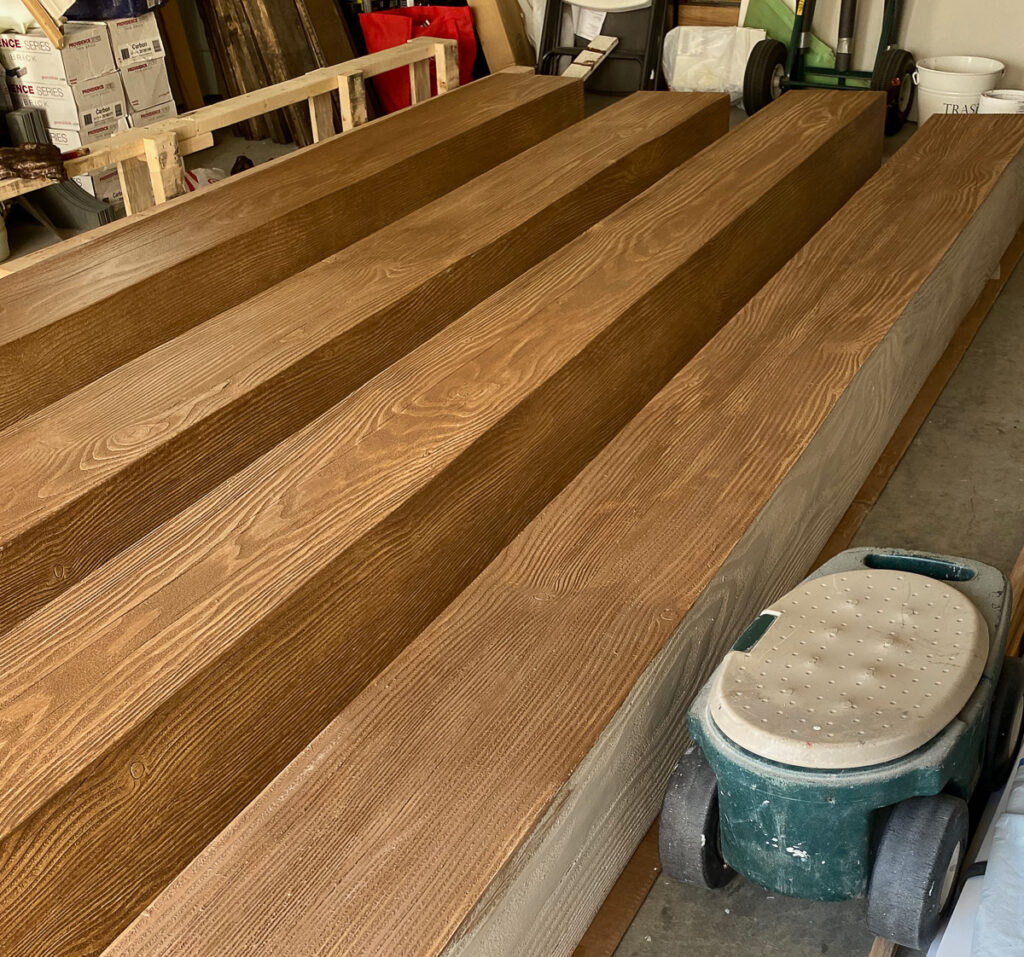 I decided to use some of the gel stain I had left over from the first attempt to hit the knots and cracks in the beam. Darkening those places the wood would naturally be darker and adding depth to the finish, giving me a more realistic final product.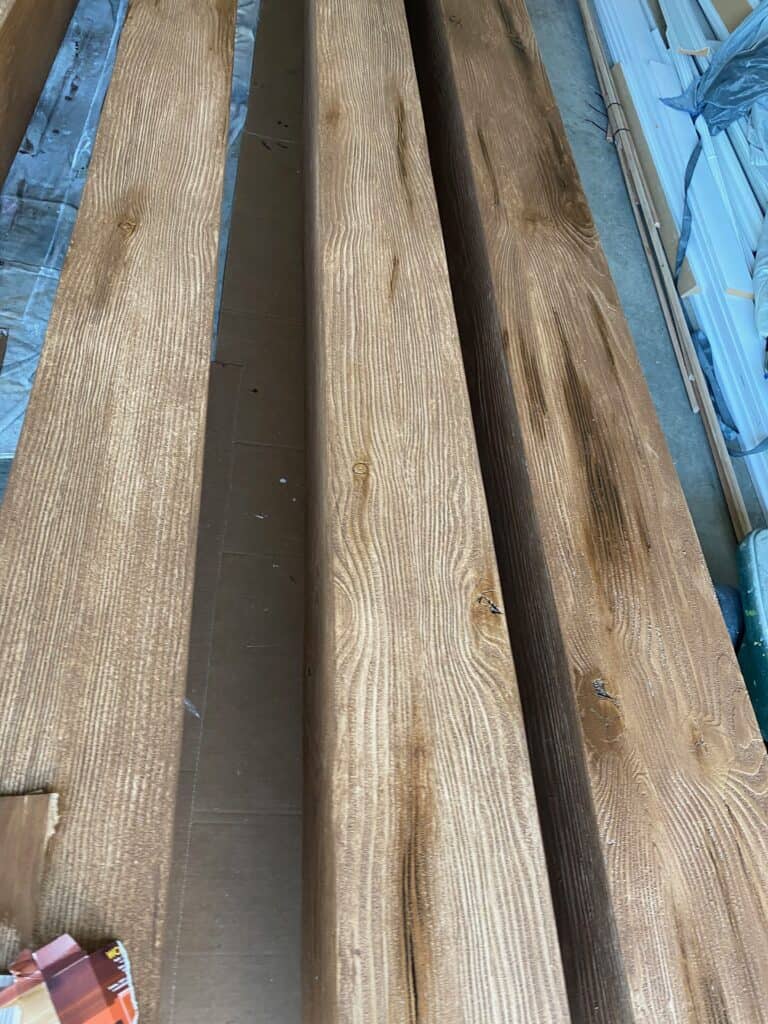 I followed that up with a dry brush of more deck stain, tinted a little darker.
Once I brought one of the beams inside, I was very pleased (and maybe even a little shocked) to see the color nearly matched the dark portions of our hickory pre-finished floor. What a relief!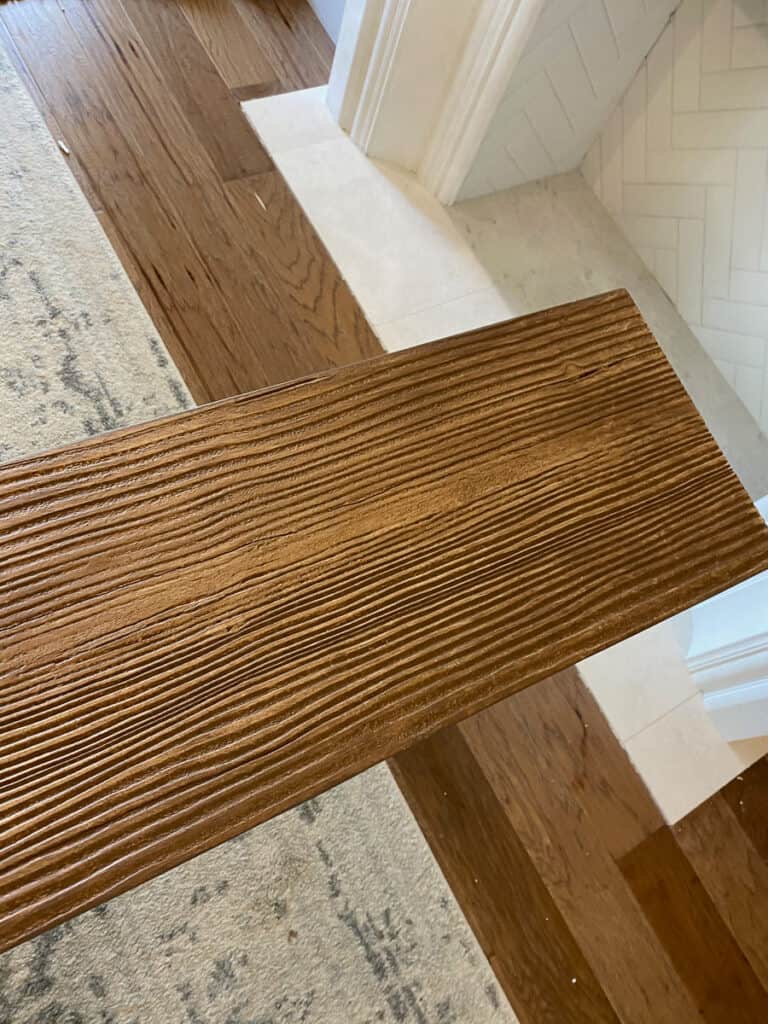 I was extremely happy to check that project off my list and wait for my contractor to come and install them later that week!
Now for that Surprise Side Project!
With all the moulding added to the living and dining area, I felt the foyer would feel a little"less-than" and that just wouldn't do.
After all, I believe, if you are blessed with a foyer it is a perfect place to make a statement. At the very least, it should provide an introduction into the style of your home.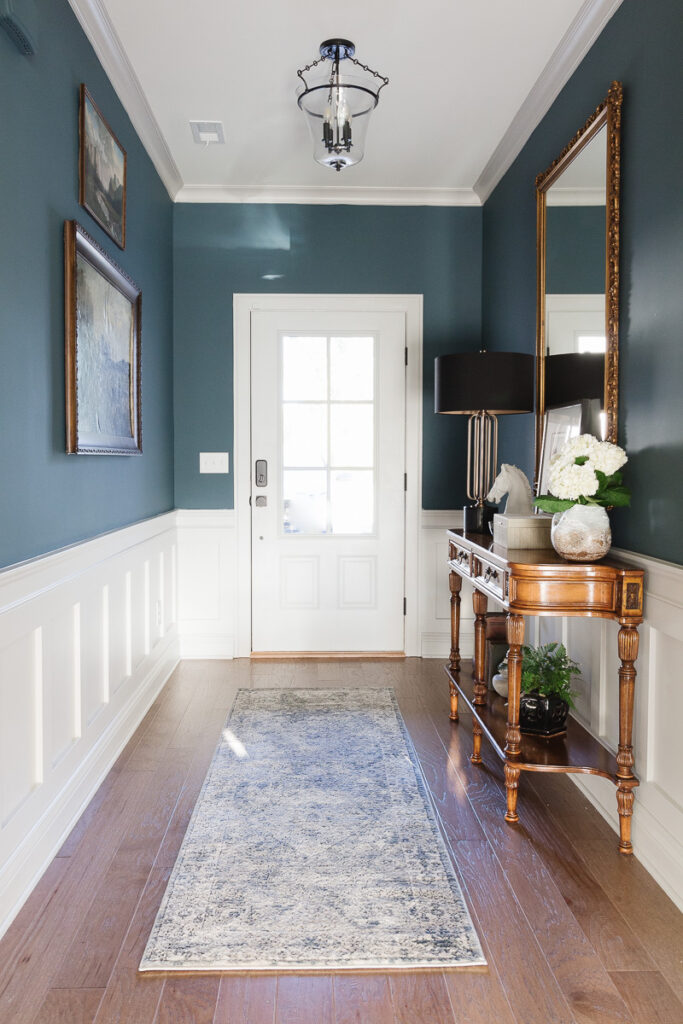 With my color-loving heart, I wanted to embrace you with a bit of drama. The kind of drama that can only be achieved with a rich, saturated color.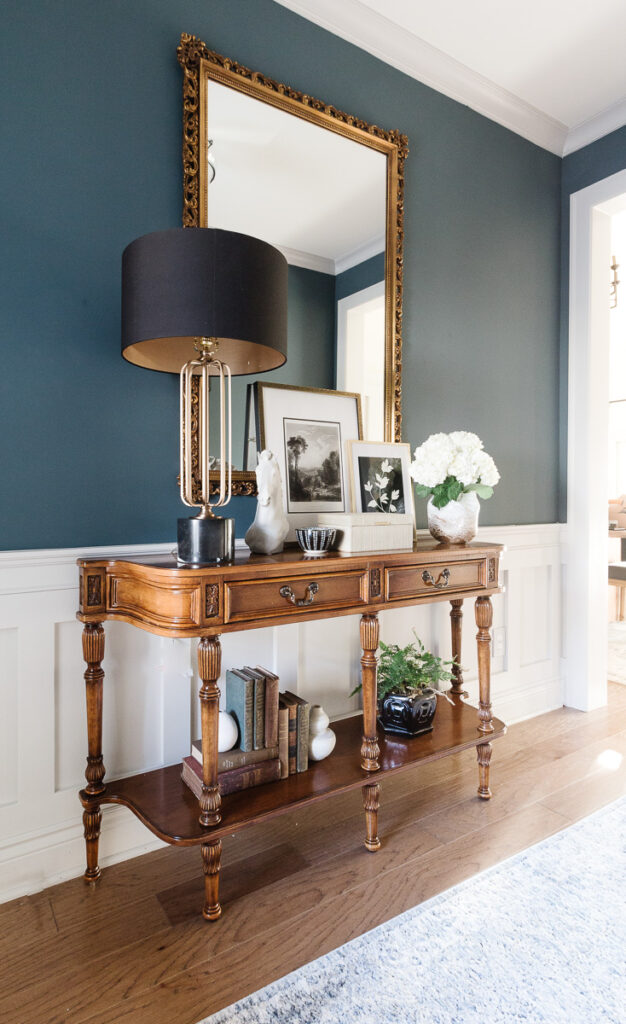 I partnered with Sherwin Williams for the foyer to showcase one of their Emerald Designer Edition Colors, Rain Cloud.
I have long had an affinity for the Emerald line of paints at Sherwin Williams and this new color collection is incredible! Take the time to stop by your local store and pick up one of the 5 new color palettes featuring 200 new colors!! I am already scheming what to paint next with one of those colors.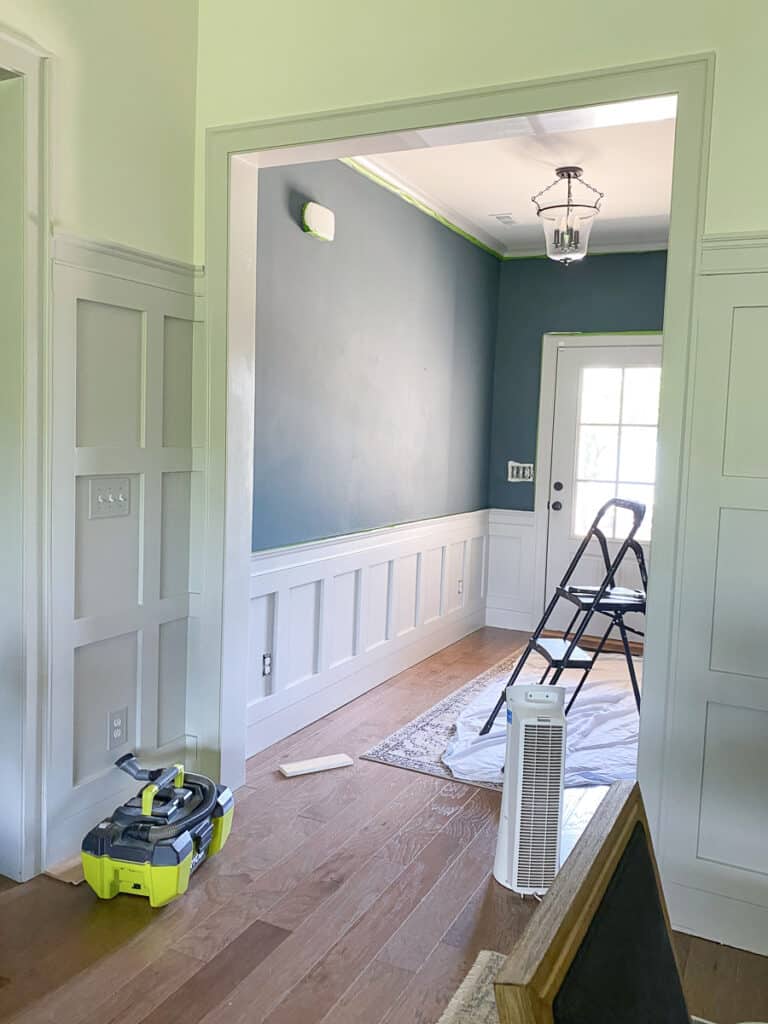 For continuity, I added the same Tudor style moulding into the foyer but at at a chair rail height. And then, of course, added this beautiful, rich blue hue.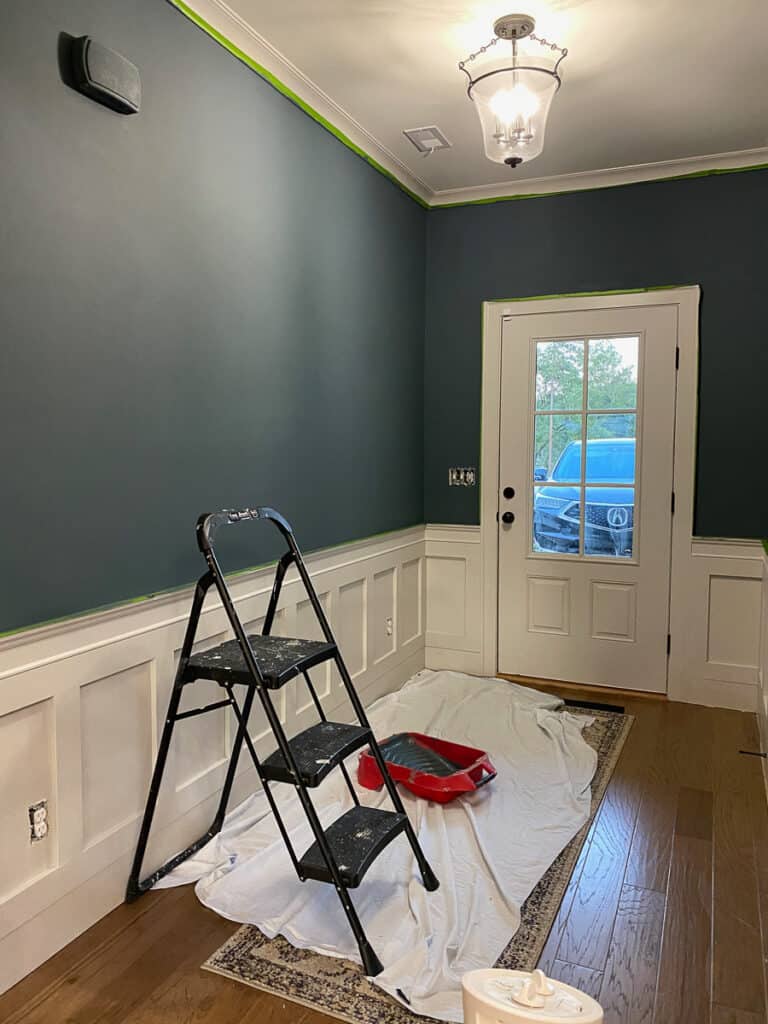 We added style to the foyer with this Eaton semi-flush mount light fixture from Hudson Valley Lighting.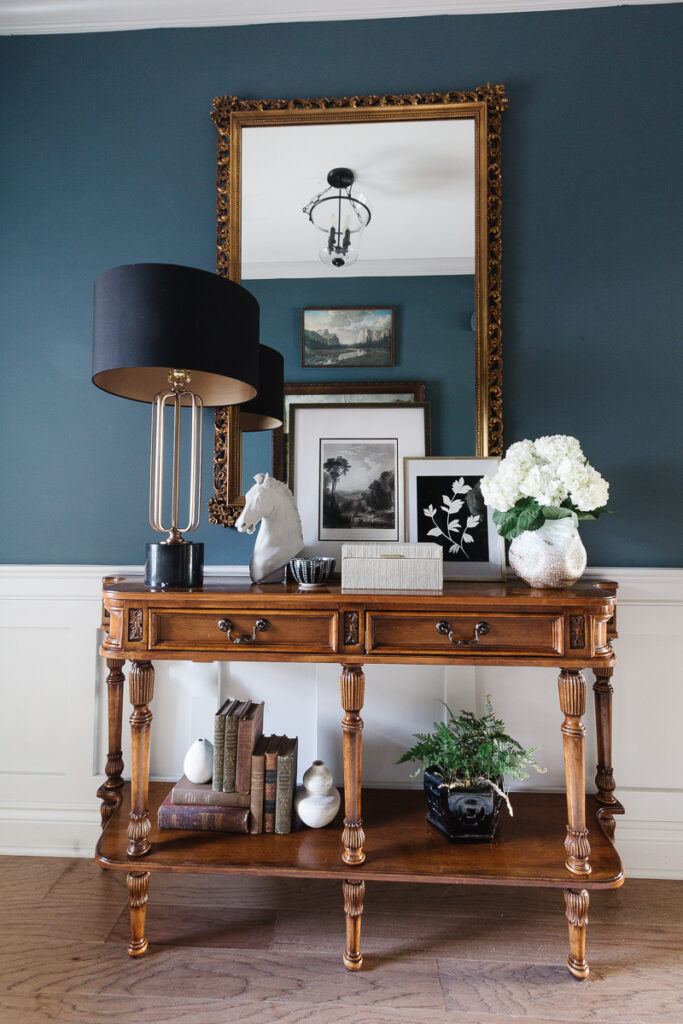 Styling the foyer gave me an opportunity to show off one of two beautiful Pierce Table Lamps from Couture Lamps. While this one is absolutely stunning here in the foyer, in the final reveal next week, you will see them in their intended home.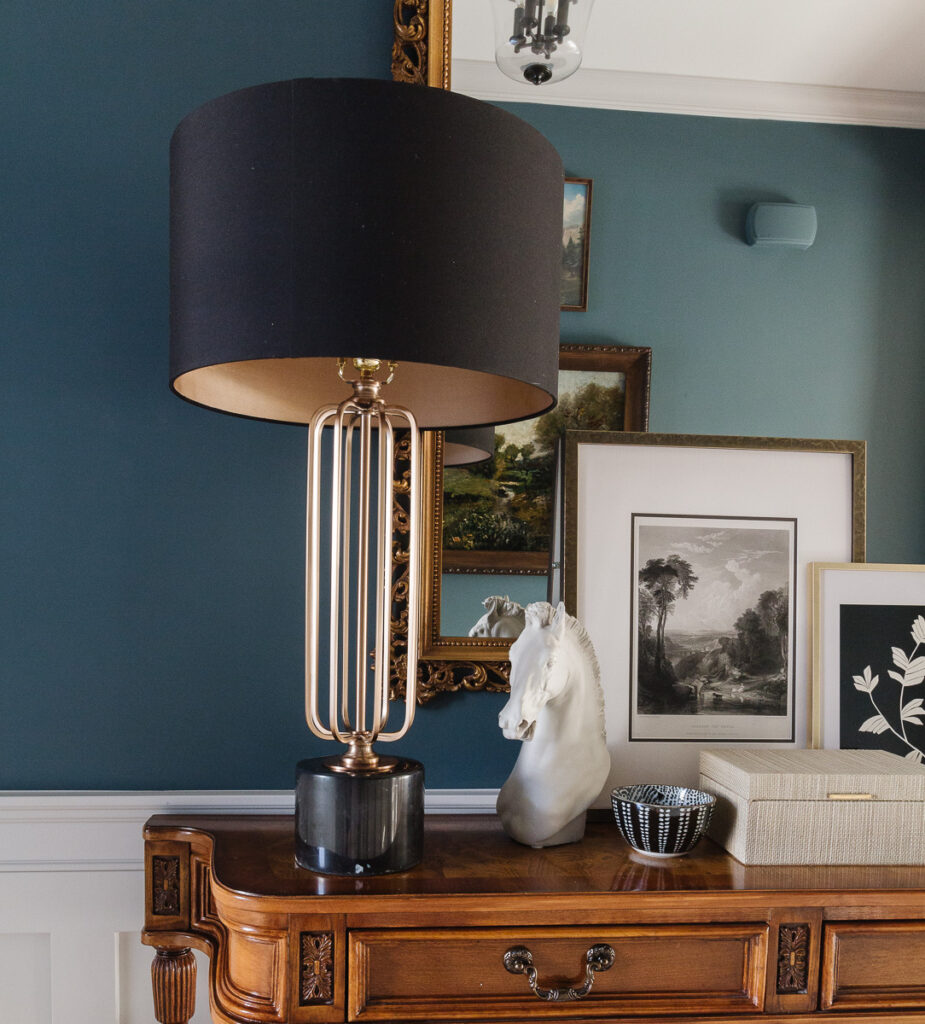 To style the rest of the table, I used decor from my stash. I'm sure this is only the first iteration of this room.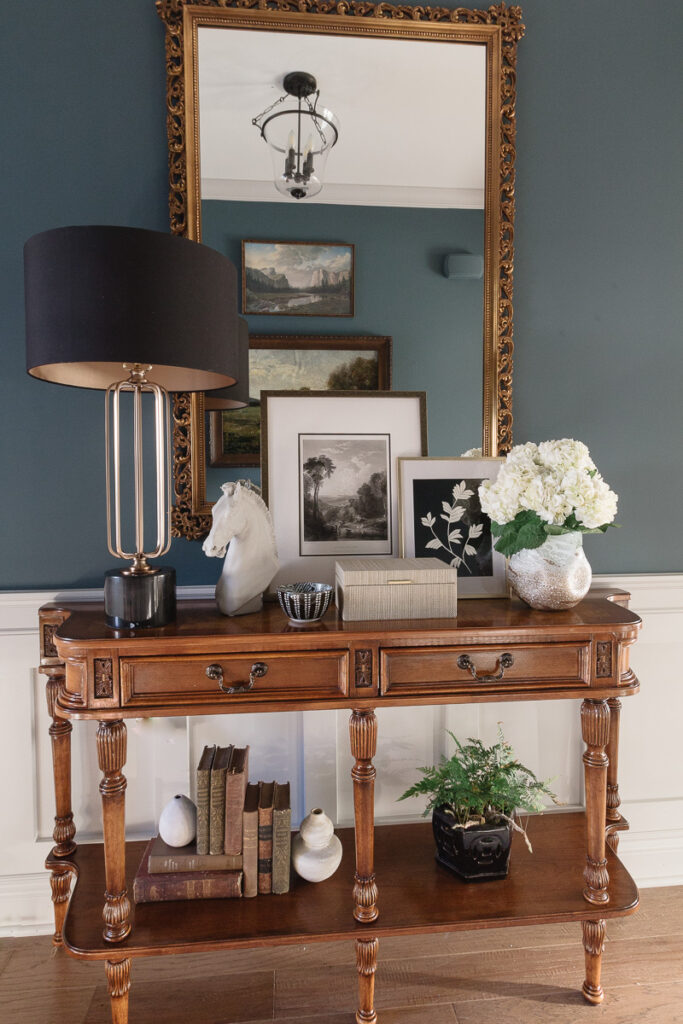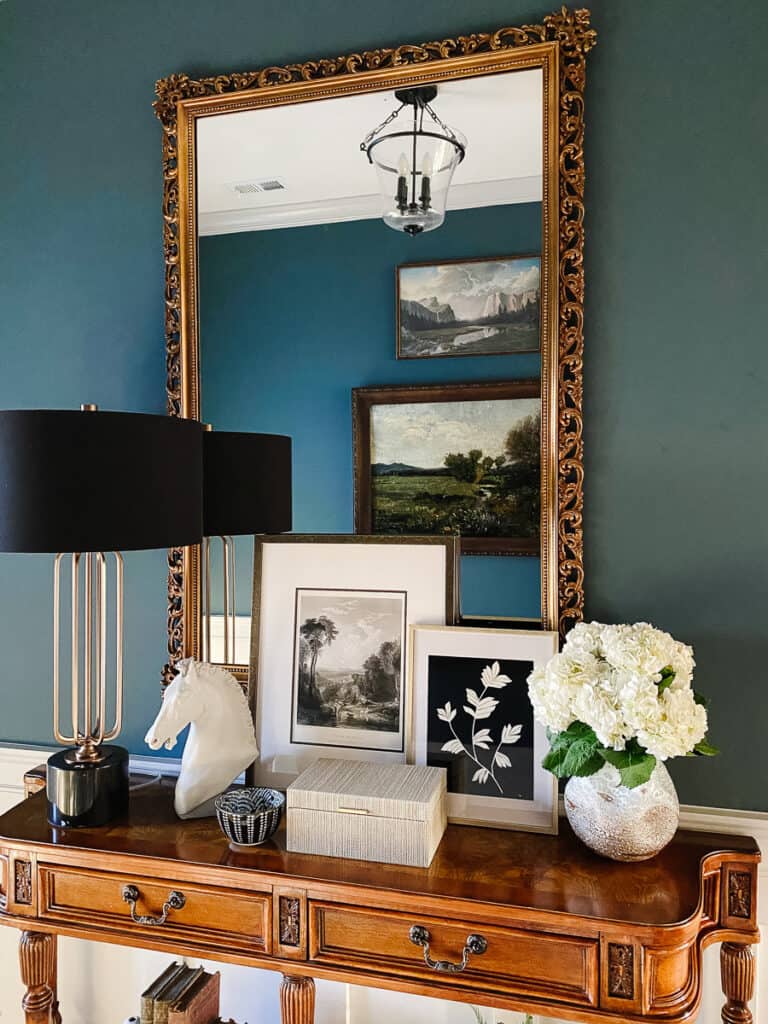 I did bring in some new artwork on the opposite wall, but I'll save the details on how those DIY's that came together for another time. Be sure to subscribe to the blog and follow me on Instagram and Pinterest!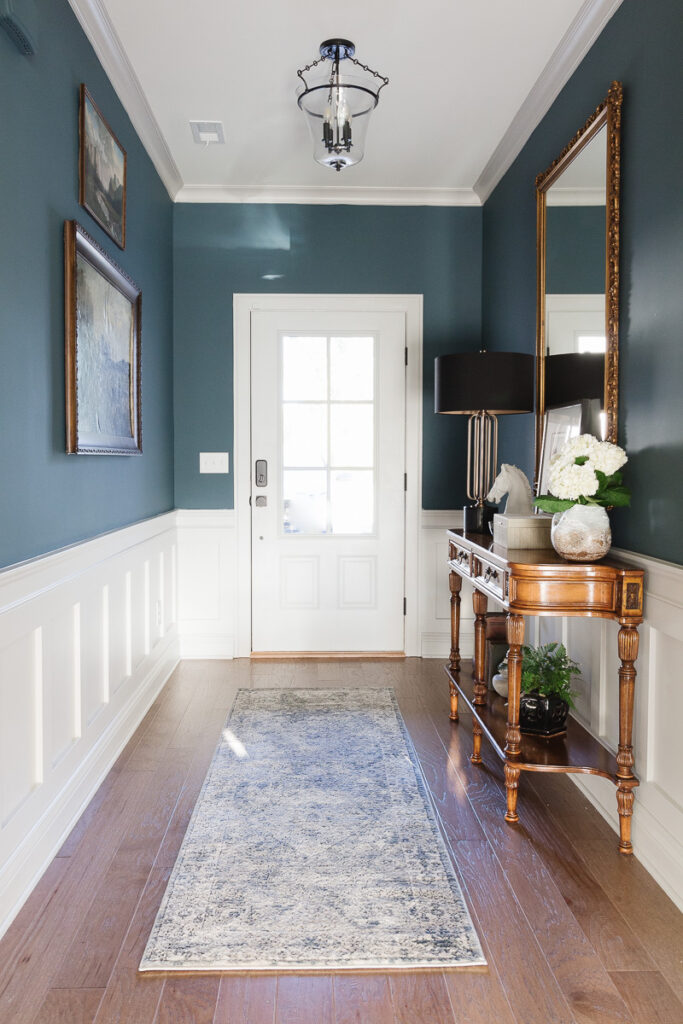 I love the soft blue additions in this runner from Loloi. I decided to keep the rug a little more quiet than might be expected in a room with a bold wall color. But this more tonal, beautiful choice keeps the flow of the rugs consistent throughout the first floor. The rug is a lovely mix of neutral grays and blue.
You also get a sneak peek of the new amazing door hardware from Emtek. More details to come, but what you can see is one of my favorite things about Emtek. Their hardware is very customizable. I specifically wanted to avoid a lever door knob. (While I love the look of a lever, I had a sneaking suspicion that our Irish Doodle, Freddie would figure out how to open the doors. )
There have already been a few too many restless nights leading up to this day. I know my fellow Featured Designers are feeling the pinch here at the end too. Be sure to check out what the others accomplished this week!
SPONSORS
A special thank you is necessary for my sponsors. They have graciously shared the products that make this makeover possible.
Novo Building Products | Hudson Valley & Troy Lighting | Apt2B
Emtek | Loloi Rugs | Couristan | Calico | Overstock |Couture Lamps
The Tile Shop | Bemz | AZ Faux Beams | Romabio | Sherwin Williams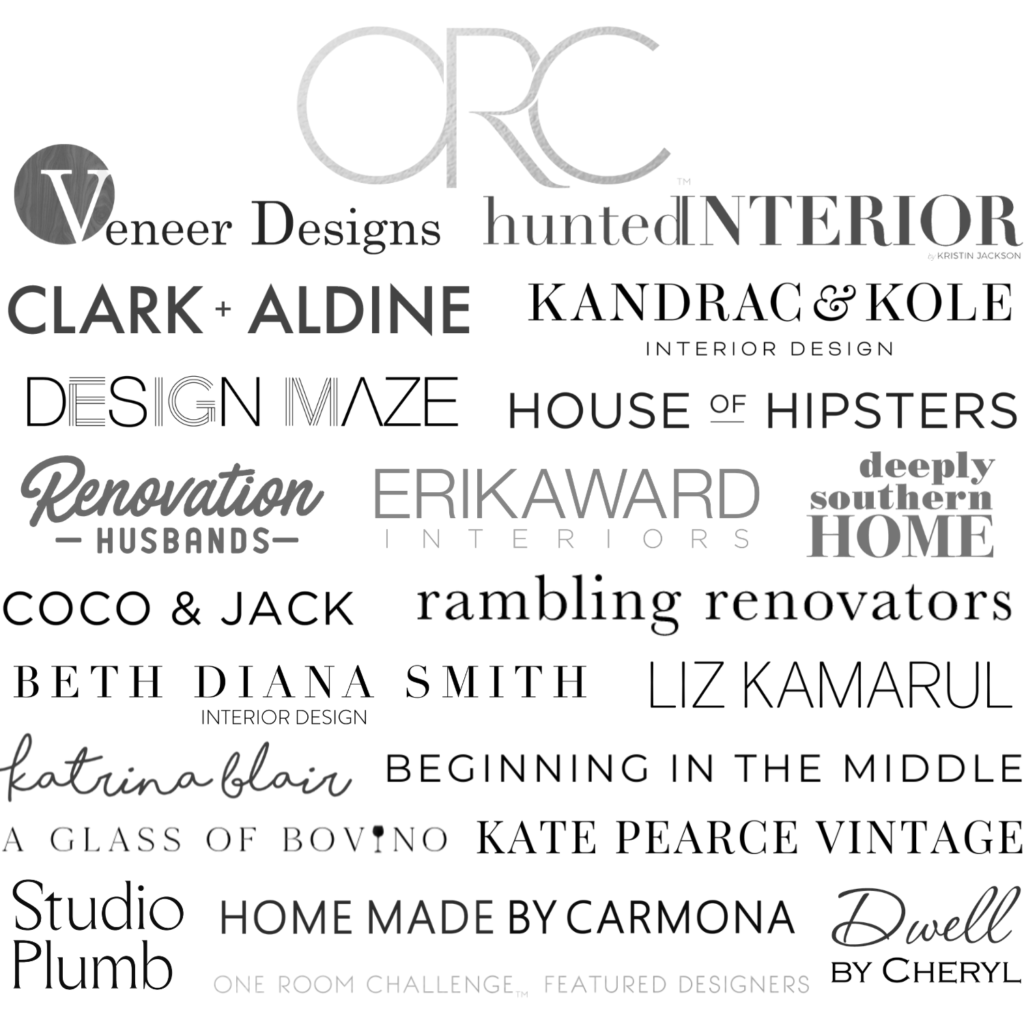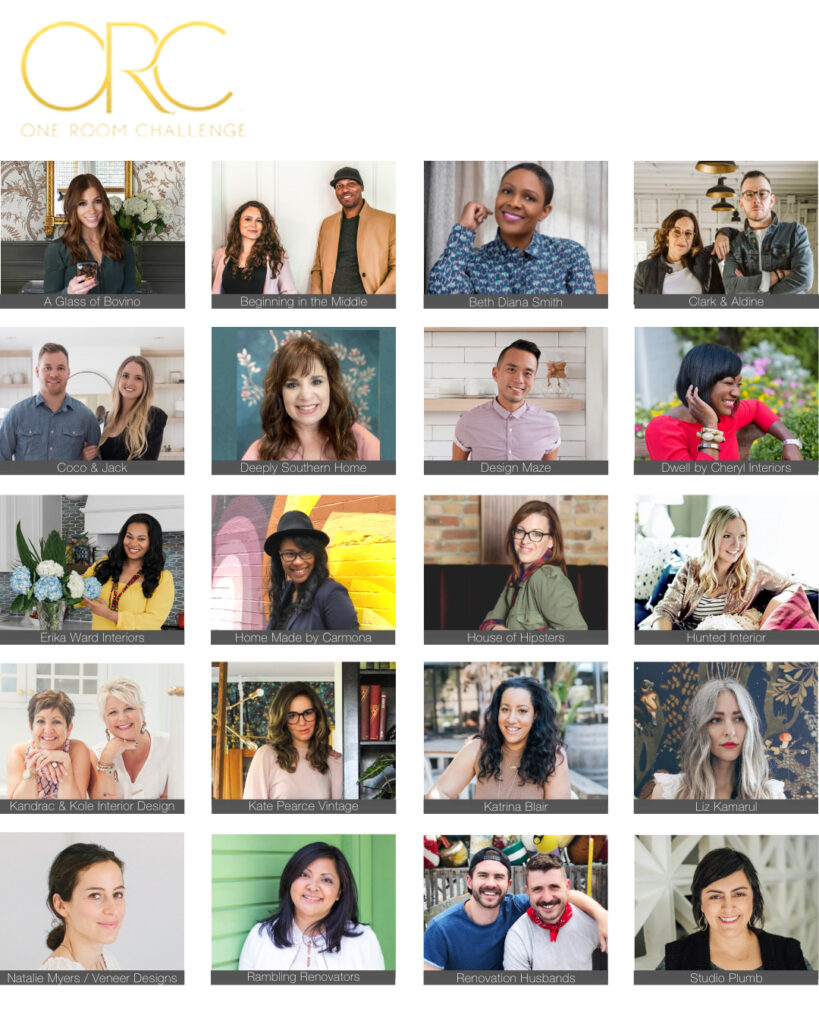 A Glass of Bovino | Beginning in the Middle | Beth Diana Smith | Clark + Aldine | Coco & Jack
Deeply Southern Home| Design Maze | Dwell by Cheryl | Erika Ward | Home Made by Carmona
House of Hipsters | Hunted Interior | Kandrac & Kole | Kate Pearce | Katrina Blair | Liz Kamarul
Veneer Designs | Rambling Renovators | Renovation Husbands | Studio Plumb | Media BH&G
And don't miss the Guest Participants on Thursday! From the little I have been able to see on Instagram the last few weeks, they are really cranking out some fantastic designs!
Thank you to Linda, of the One Room Challenge™ and the official Media Partner, Better Homes and Garden for having me as a Featured Designer this season!!