One week down and things are moving along on my One Room Challenge office makeover.  Today, I am thrilled to share the design plan.

If you remember from the inspiration photos I shared last week, it is a bit varied. But the one the key element of the room is the "jungle".  I should clarify though when I say jungle I am not talking animal prints or a jungle theme.  The jungle I am referring to is a plant jungle.  When you step into the room I want it to feel like a super lush, cozy, yet glamorous, bohemian tropical retreat.
That might be a bit much for one room to handle, but I am willing to take my chances. Here's a look at the design board.
This post contains affiliate links for your convenience. At no additional cost to you, I earn a small commission on purchases made through links.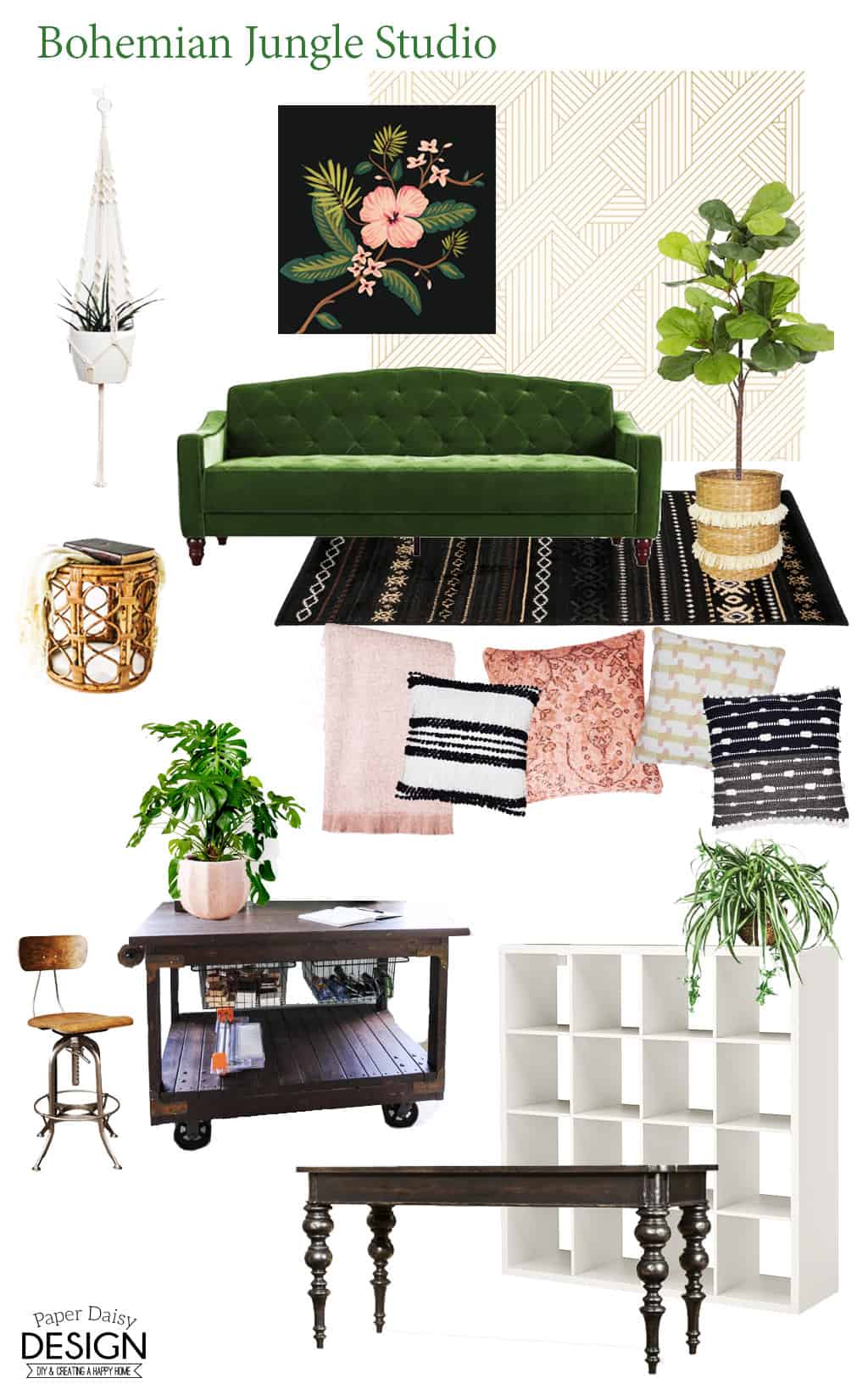 The major accomplishment in the room this week was hanging the wallpaper. If you follow me on Instagram, you might have seen this little sneak peak on my Stories.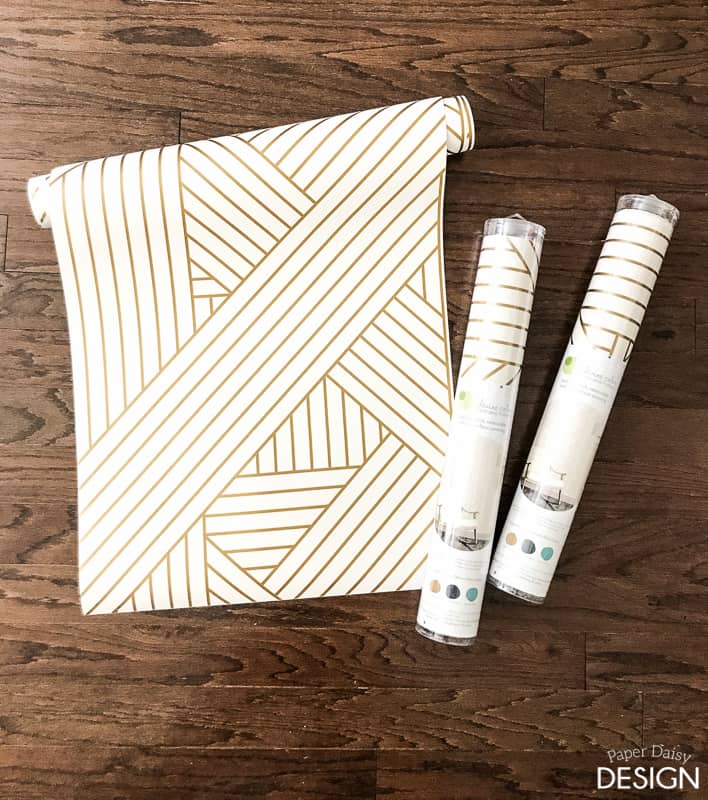 It was extremely easy to hang. I mean, like anybody with two arms and two hands can do this! I used a removable, repositionable wallpaper only available through Target by Devine Color.  I do have a super easy tip to share, but I'm going to save that tutorial for another time. This pattern is called Ribbons.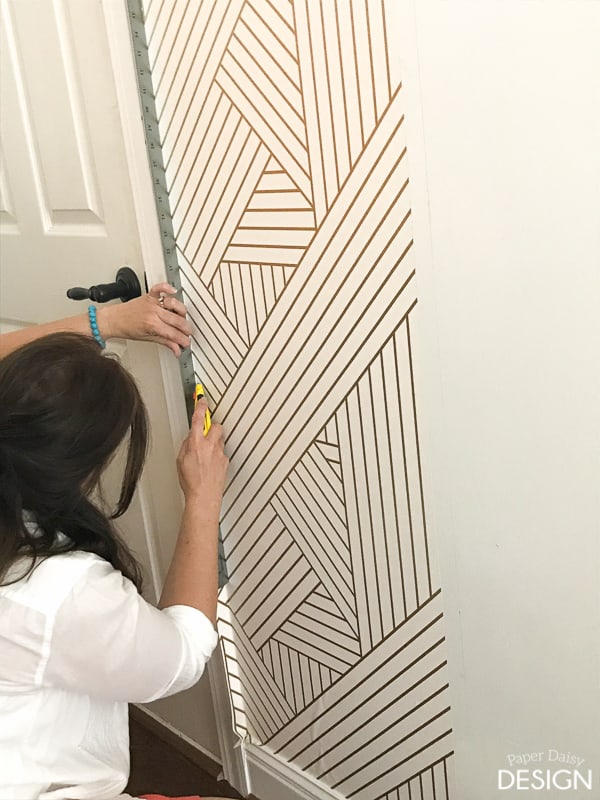 I actually needed a roll or so more to complete the accent wall, so it will get finished up next week.  Unfortunately, none of my local Target stores carries this particular pattern so I had to order it online.  You can find it here. (I have a RedCard so shipping is always free! Gotta love that!)
But here is a sneak peak to hold you over.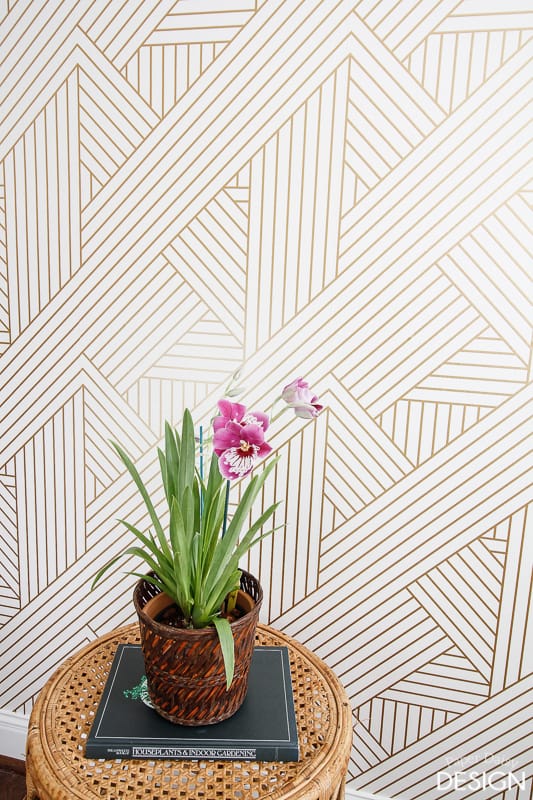 Last Friday, I picked up a few additions to my growing plant collection at the Birmingham Botanical Gardens Annual Spring Sale. If I'm going to build a jungle, I'm going to need a lot of plants! I was completely infatuated with the foliage on this orchid. There were just buds where the pink blooms are when I purchased it. It's a Miltonia variety, often called a pansy orchid. I walked into my office on Monday and there it was!
When I walked into my office on Monday, there it was! I literally swooned.
I thought it might also be fun to show some of the accessories I've been collecting over the last few months.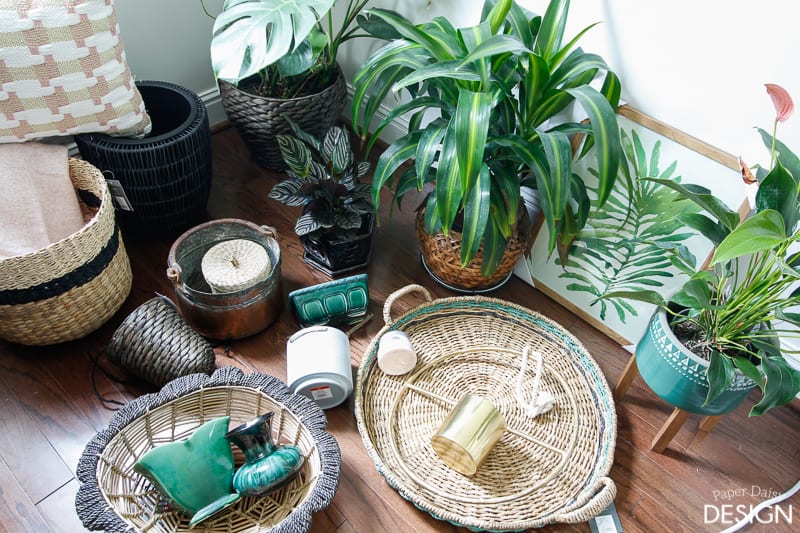 I am a firm believer in a room feeling collected and gathered over time. But I have learned that in a room makeover with a tight deadline like the One Room Challenge, it's helpful to plan ahead.
The floor plan and furniture layout was finally worked out Wednesday afternoon and I must admit I'm loving how the subtle changes are affecting the way the room feels. Here's a photo of the room before as a reminder. It's a long room which it makes the space feel more narrow, but it's not really a small space.  Just a bit awkward.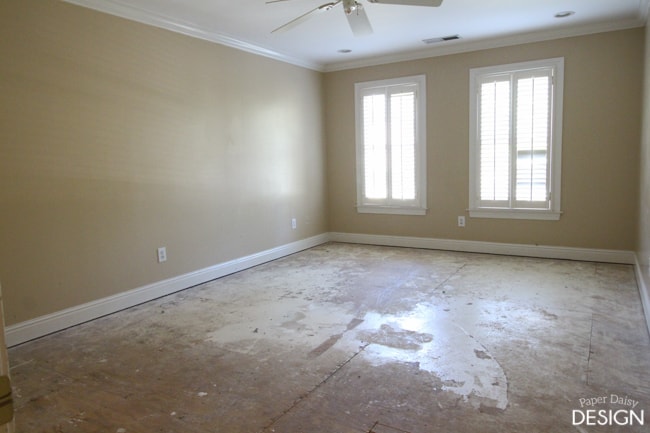 Here is a list of projects I have planned for the room.
Hang wallpaper
Paint attic door, can you guess what color?
Hang shelf over windows
Remove and replace shutters
Hang custom macrame plant hangers
Paint industrial tool chest
Build desk, you'll never guess what I'm using to build it!
Decide on new light fixture, hang the fixture
Organize craft supplies and craft closet
Build frame for and hang commissioned art
Style bookshelves to be attractive and functional
I'll share more about that next week! Have a beautiful Easter friends! Be sure to check out the Designer Updates here and the Participants Links to updates of their room here.