Avoiding a Swiss Cheese Ceiling
Welcome back to this week's installment of the One Room Challenge. If you are just tuning in, welcome! I am in the process of making over my studio/office space in 6 short weeks as part of a blogger challenge hosted by Linda at Calling it Home.  If you are returning, I hope you are finding a bit of time to follow along with ORC Featured bloggers/designers here, as well as the other participating bloggers here.  At last count, there were 247 participants!!  It's just down right mind blowing to think of all of those room transformations taking place at the one time!

This week was all about laying the foundation for the other key design element in the room. The plant shelf above the window. This shelf will help me avoid creating a swiss cheesed ceiling.  Instead of hanging all of the plants from the ceiling, the overhang of the shelf becomes the perfect place!  I can patch and paint the shelf easily if I need to move a plant.
It also gives me a dedicated spot to display my vintage cameras, interspersed with more plants.
Last week, you might recall, was all about the wallpaper.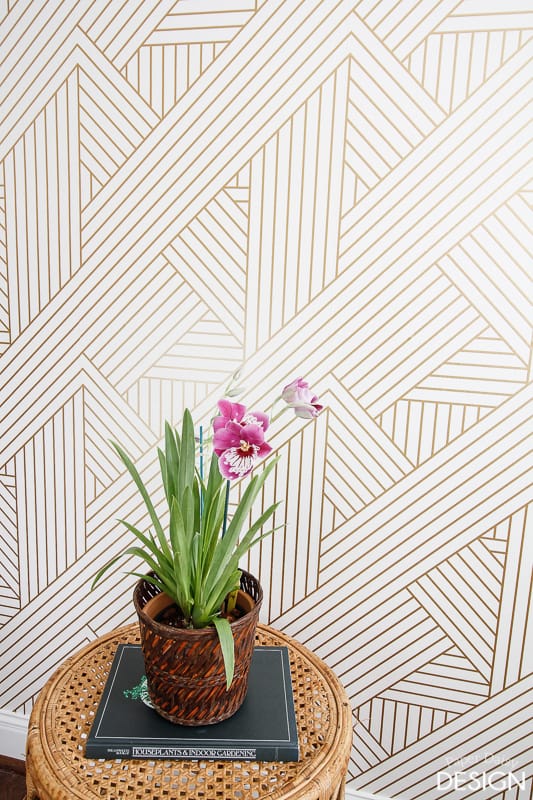 Obviously, this is just the beginning of the plant installation. Hardly up to jungle standards if I say so myself.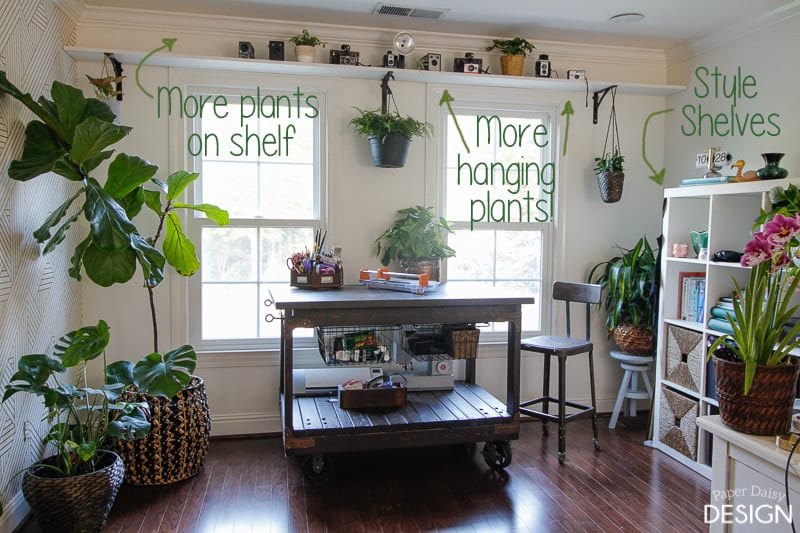 I have several other plants to add to the shelf and other hangers to add.  I am waiting for the custom macrame hangers to arrive from the artist I collaborated with at Ty's Knots. She is creating the perfect pair of 70's inspired plant hangers.  Wait until you see what we came up with! Be sure to follow me on Instagram for all of the behind the scenes and sneak peeks!
In the photo above, you can also see the subtle shift in the floor plan too. The shelves were moved to the opposite side of the room and a bit closer to the window allowing more space for a larger desk.
And how awesome does the room look without those rickety plantation shutters? I am so happy to team up with my local Rainbow Paint and Decorating store, a distributor of Hunter Douglas window coverings. The shades are going to be perfect for this room and still be completely neutral from the outside and front of the house.
As a reminder here is one of the before photos of the room.
Did you notice I also hauled off the piles of junk all over my industrial craft cart?  I love that thing. It was definitely staying!  You can build your own with the plans found here.
I also scored a vintage stool from a picker on Facebook Marketplace. It's almost exactly like my inspirational image! I was doing the Happy Dance when I got this goody home!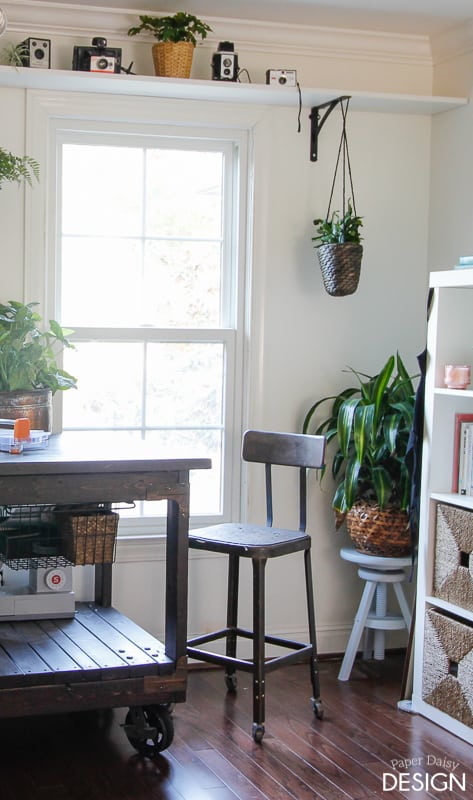 As a recap, here is that list of projects I have planned for the room.
Hang wallpaper
Paint attic door, can you guess what color?
Hang shelf over windows
Remove and replace shutters, I have ordered shades.
Hang custom macrame plant hangers
Paint industrial tool chest
Build desk, you'll never guess what I'm using to build it!
Decide on new light fixture, hang the fixture
Organize craft supplies and craft closet
Build frame for and hang commissioned art
Style bookshelves to be attractive and functional
Ok, so there is clearly a good bit of work still left to be done.  Next week, I will be sharing a fun mini-reveal sponsored by Target and Devine Color by Valspar!
Be sure to come back next week!