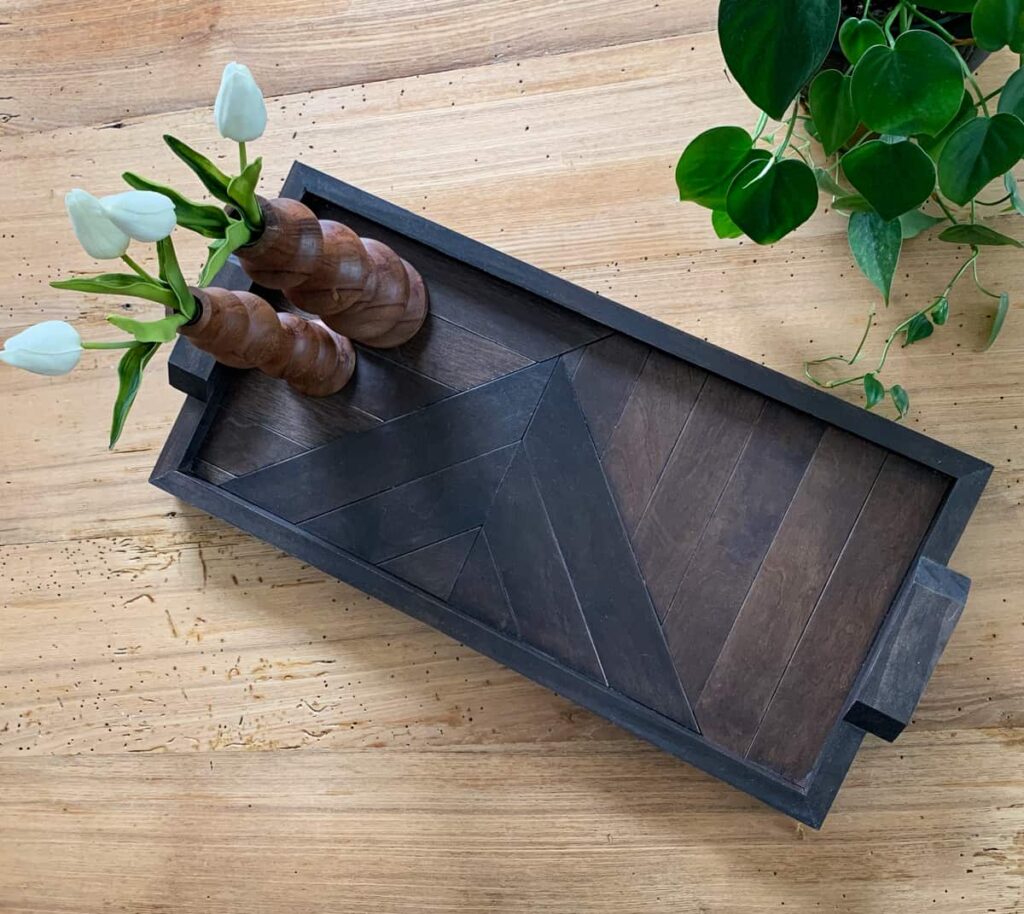 I am so excited to share this DIY geometric serving tray with you today for several reasons.
I created this tray as part of my first local live TV segment a few weeks ago and had no idea it would take me this long to finally get the tutorial together.
It gives me an excuse to show you how I styled our kitchen for spring.
It is part of my good friend Jen at Noting Grace's fantastic round-up of DIY's for spring!! Be sure not to miss them all linked at the bottom of the post!!
Spring in the Kitchen
If you aren't into pretty pictures, then just slide on by while I share.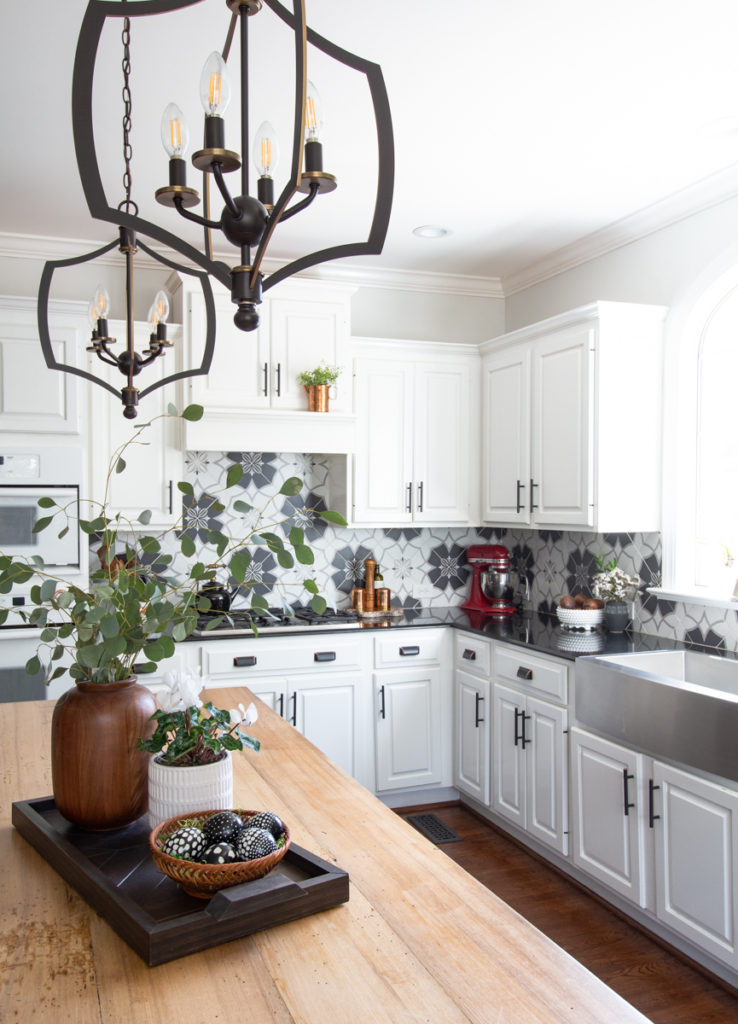 First off, you probably noticed I styled a few more things on the tray. Yes, I realize I'm completely covering the design, but I found these amazing black and white eggs at Home Goods and knew they had to be in my kitchen! Right?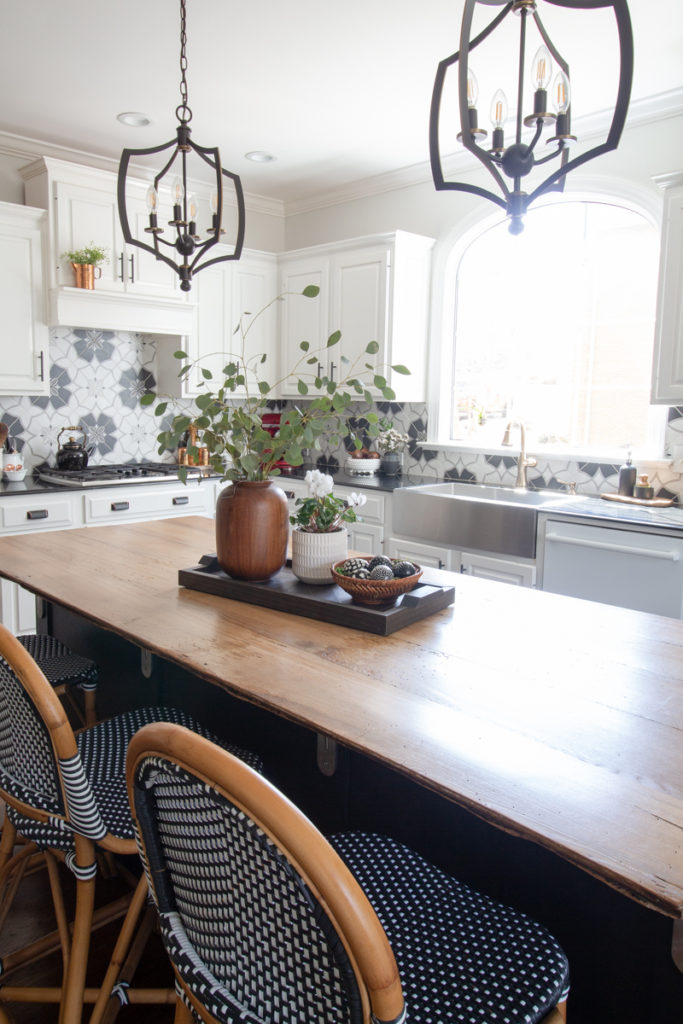 I designed the tray to fit perfectly between my pendants, but you can easily modify the design to fit any proportions that work for you.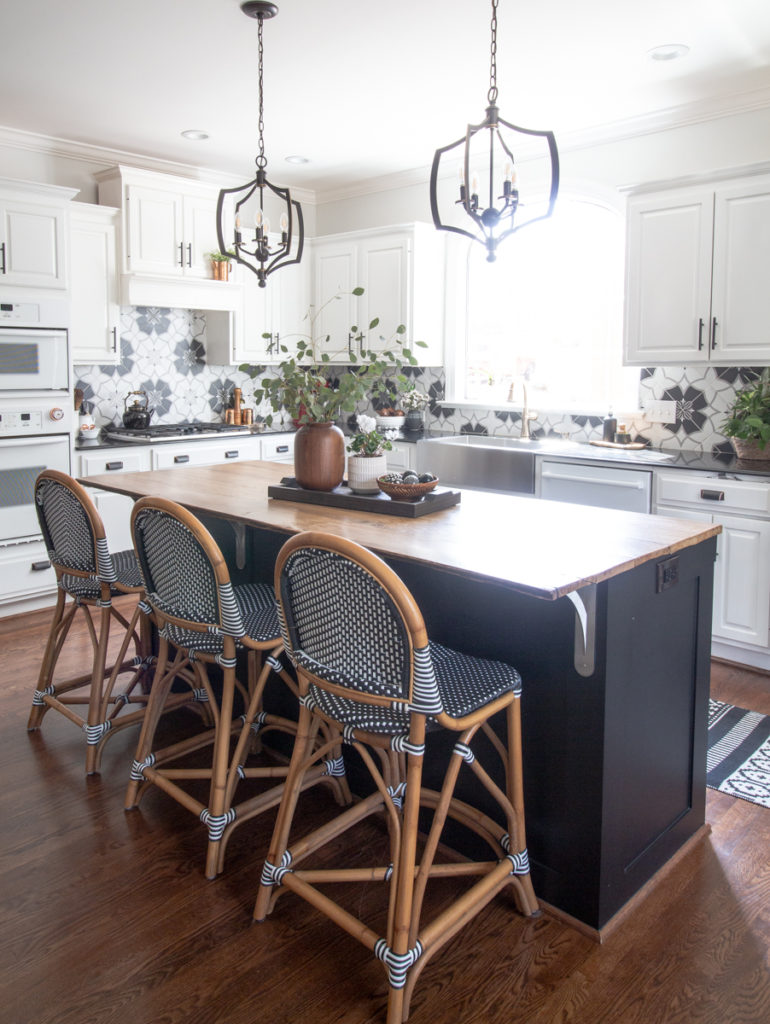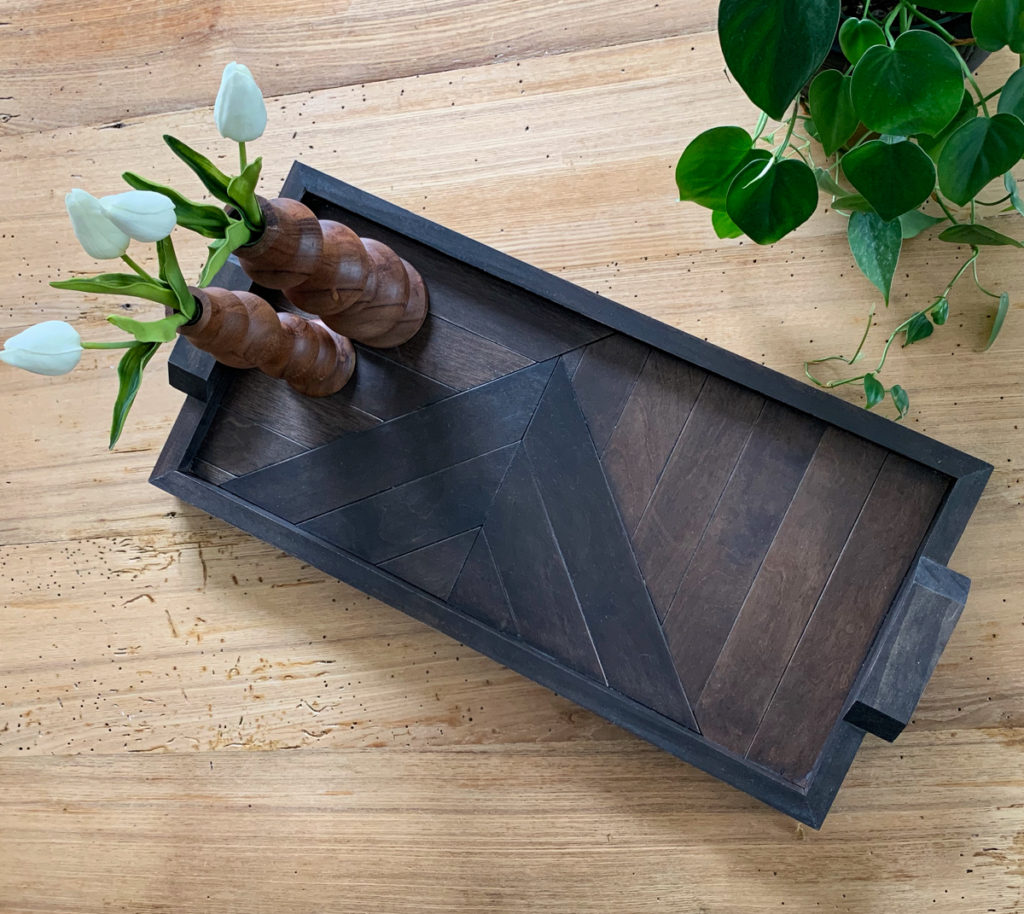 How to Build an Easy Geometric Tray
The base of my tray is plywood veneer. Cut to the exact size of your tray. Mine is 10″ x 21.5″
Materials
1/4 inch plywood veneer, no more than a 2×4 sheet should be necessary depending on the size of your tray
1 1×2
wood glue
sandpaper
stain
clear sealer or finish
Tools
Miter saw
Multi-tool
Tape measure
Pencil
Clamps
Vice Clamp
Directions
Cut strips of 1/4 plywood veneer into 2″ strips. Then, cut two pieces at 45 degrees in opposite directions to form a triangle.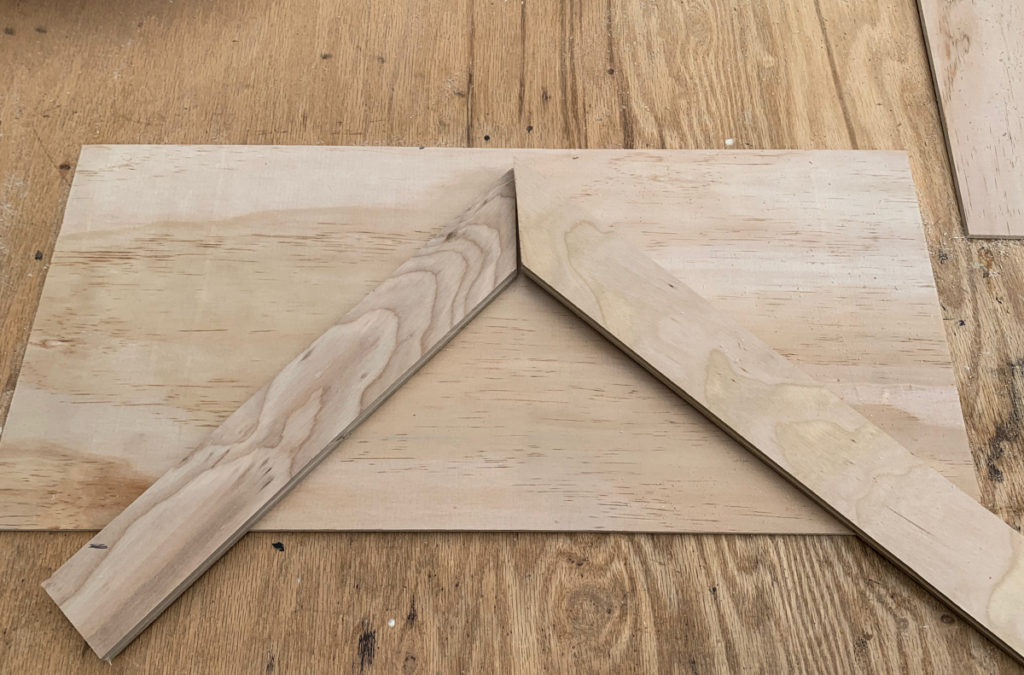 2. Draw a line and cut the bottoms so that they fit perfectly on the base of the tray. This will also be a 45 degree angle.
NOTE: I shifted the triangle over away from center for interest.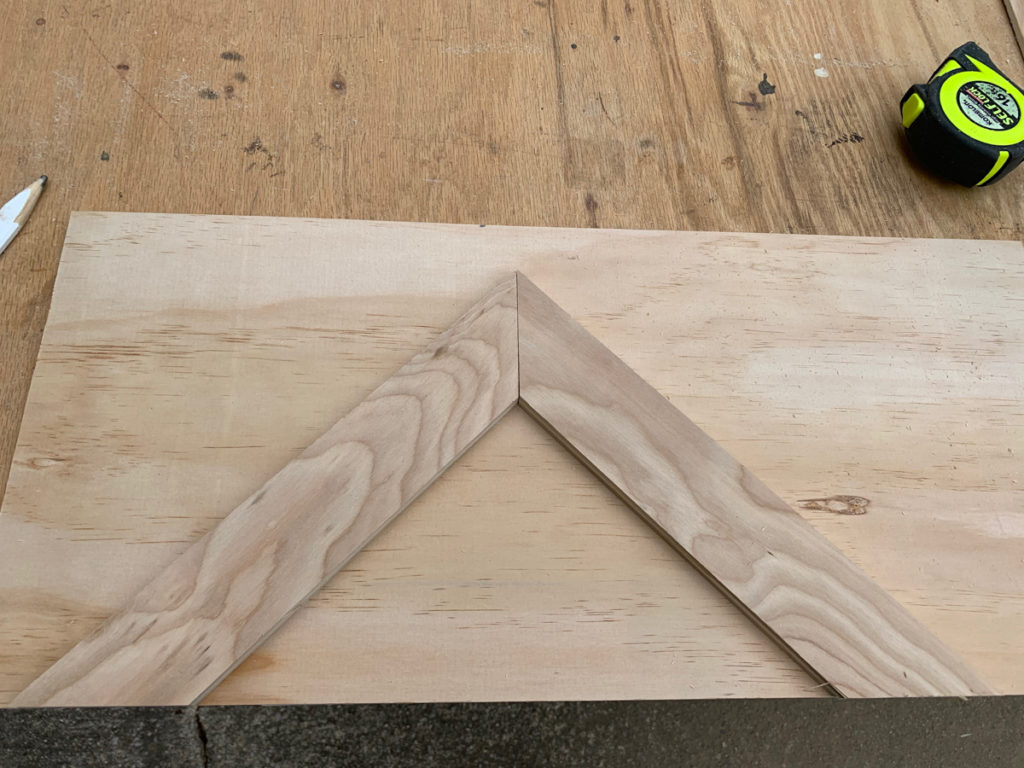 3. Continue cutting the strips to fill in the triangle.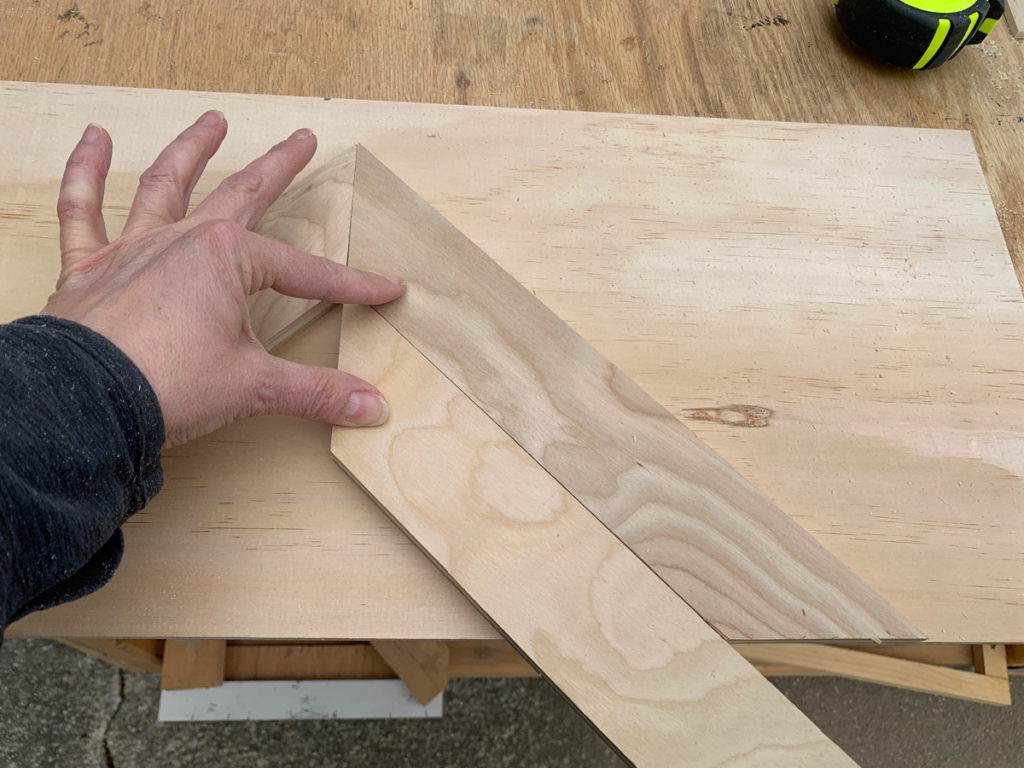 As the pieces get smaller, I find I am more comfortable using the pusher from my table saw to hold the wood instead of my finger.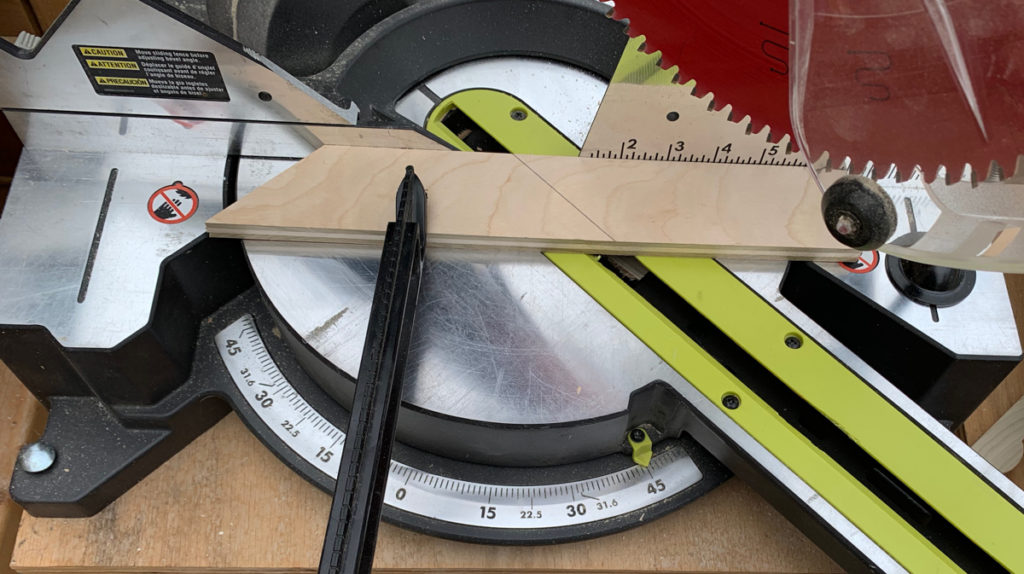 The last triangle pieces are just too small to cut with a miter saw.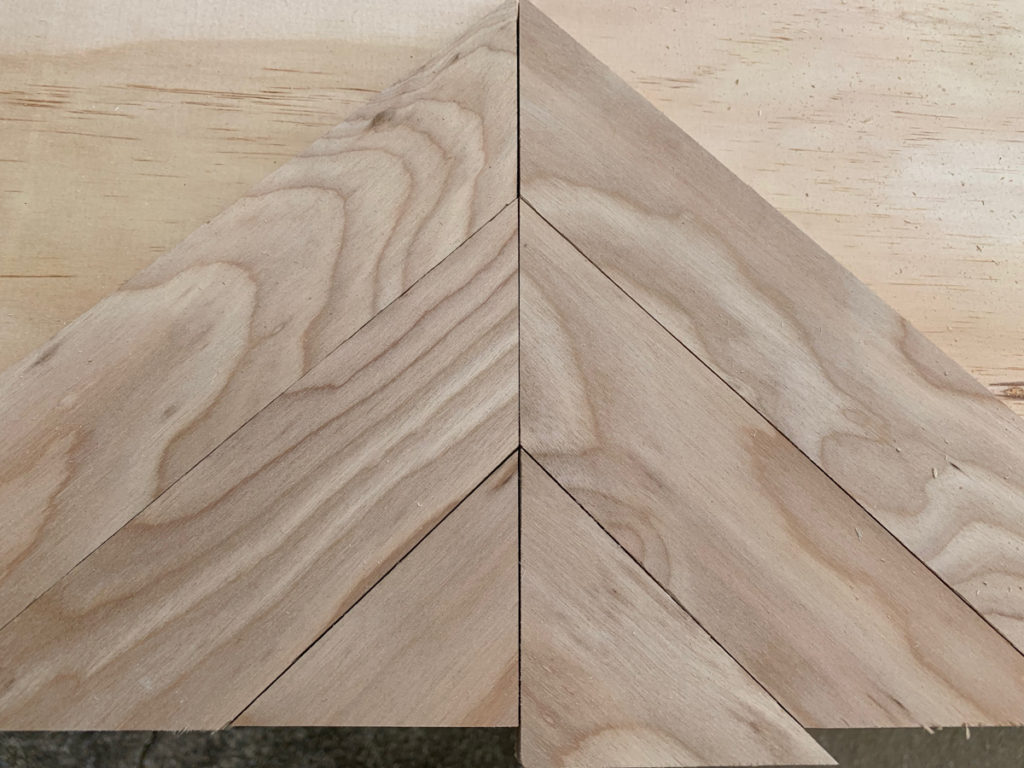 4. Use a multi-tool to cut a straight bottom edge..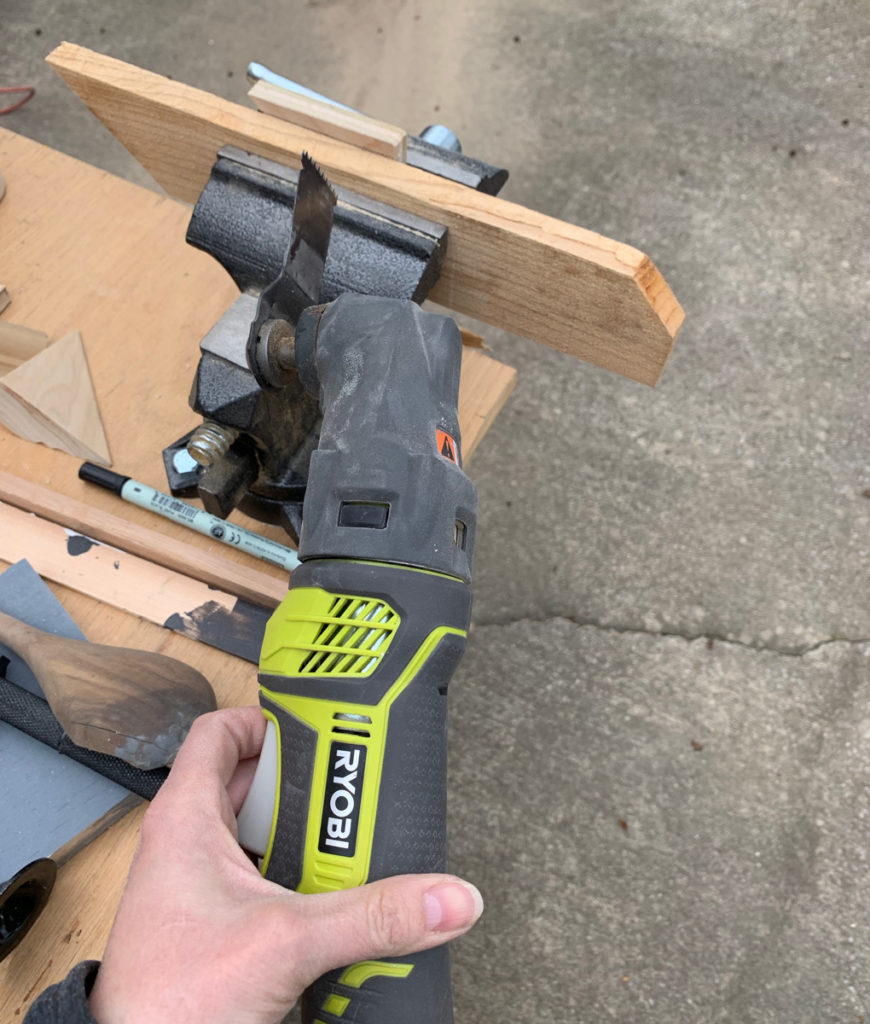 To do this, I place my triangle in a vice clamp with another piece of wood that becomes my guide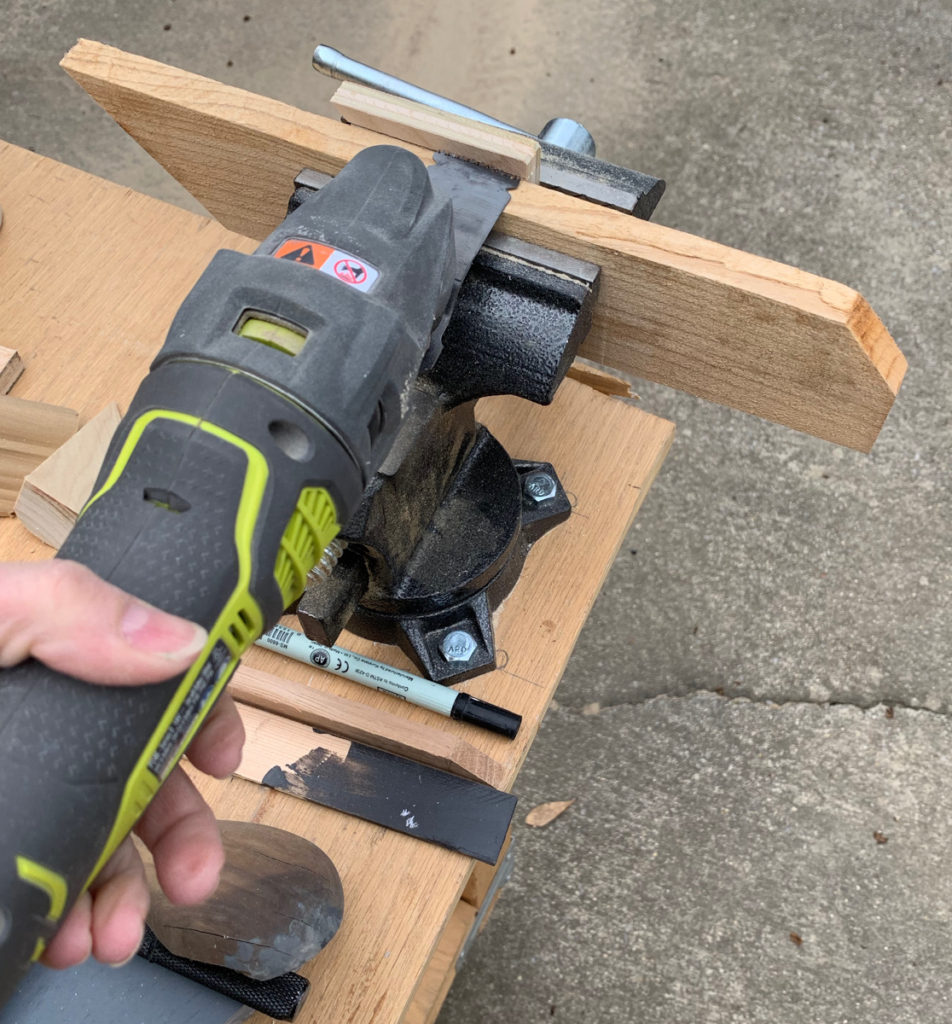 Then I run the blade across the guide to safely get a perfect cut on a very small piece of wood.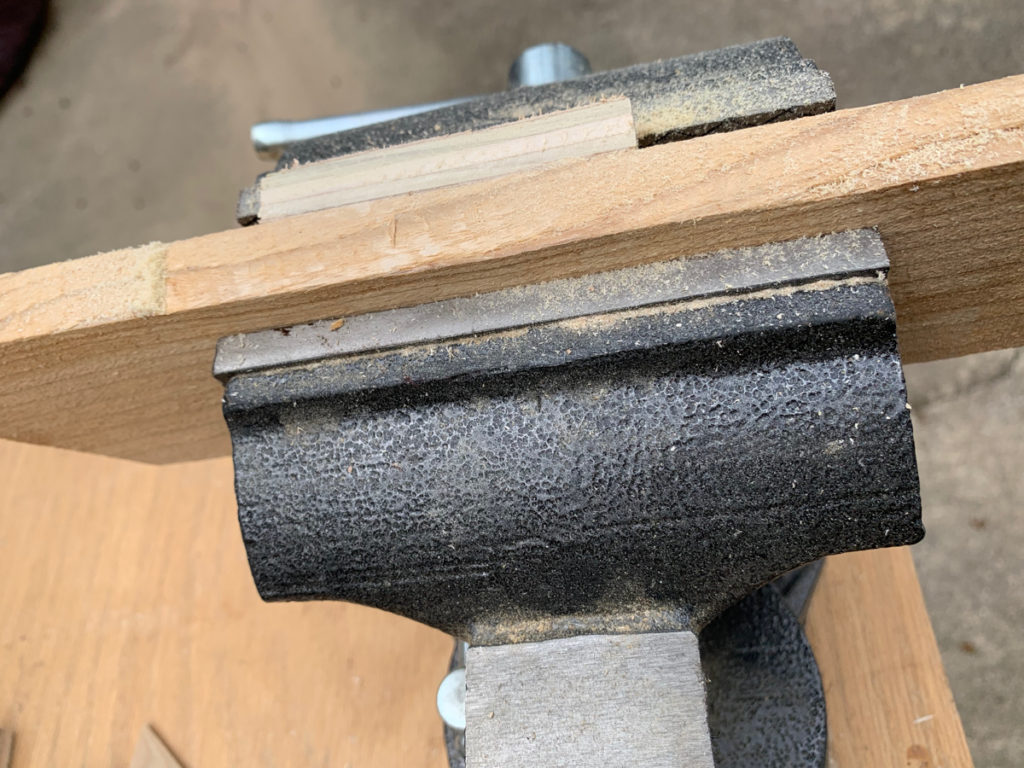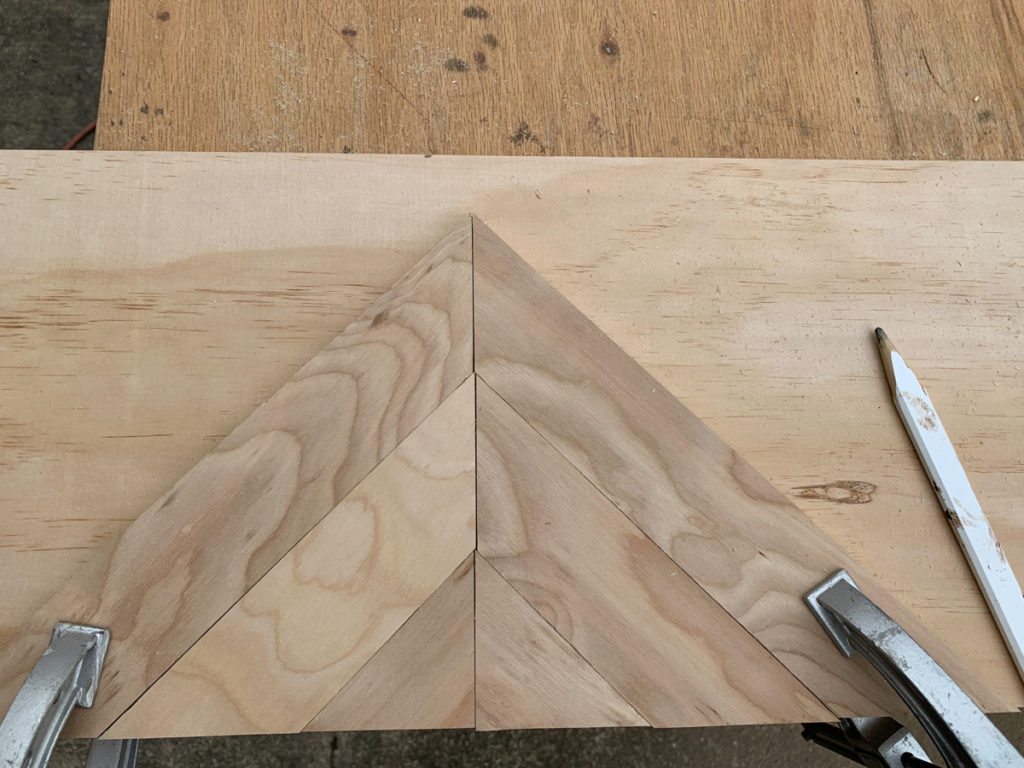 5. Begin adding horizontal strips to make a pattern around the triangle.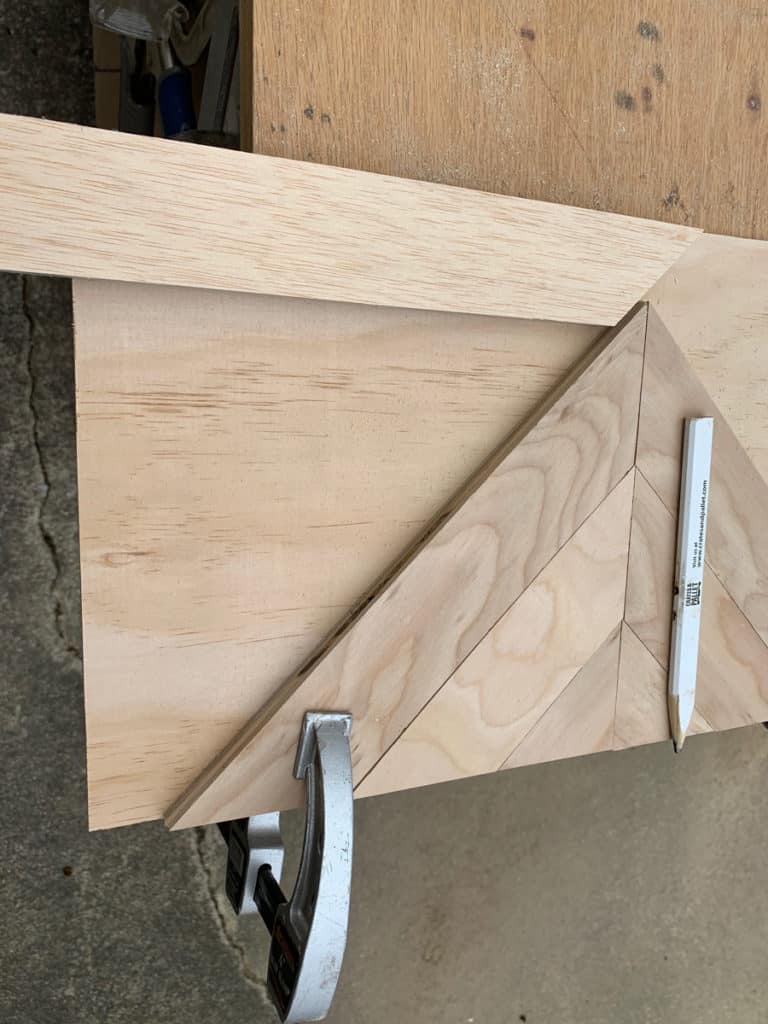 Just as before, cut a 45 degree cut and line it up with the triangle. With a pencil draw a line from underneath to become your guide for where to cut the straight end. (Below)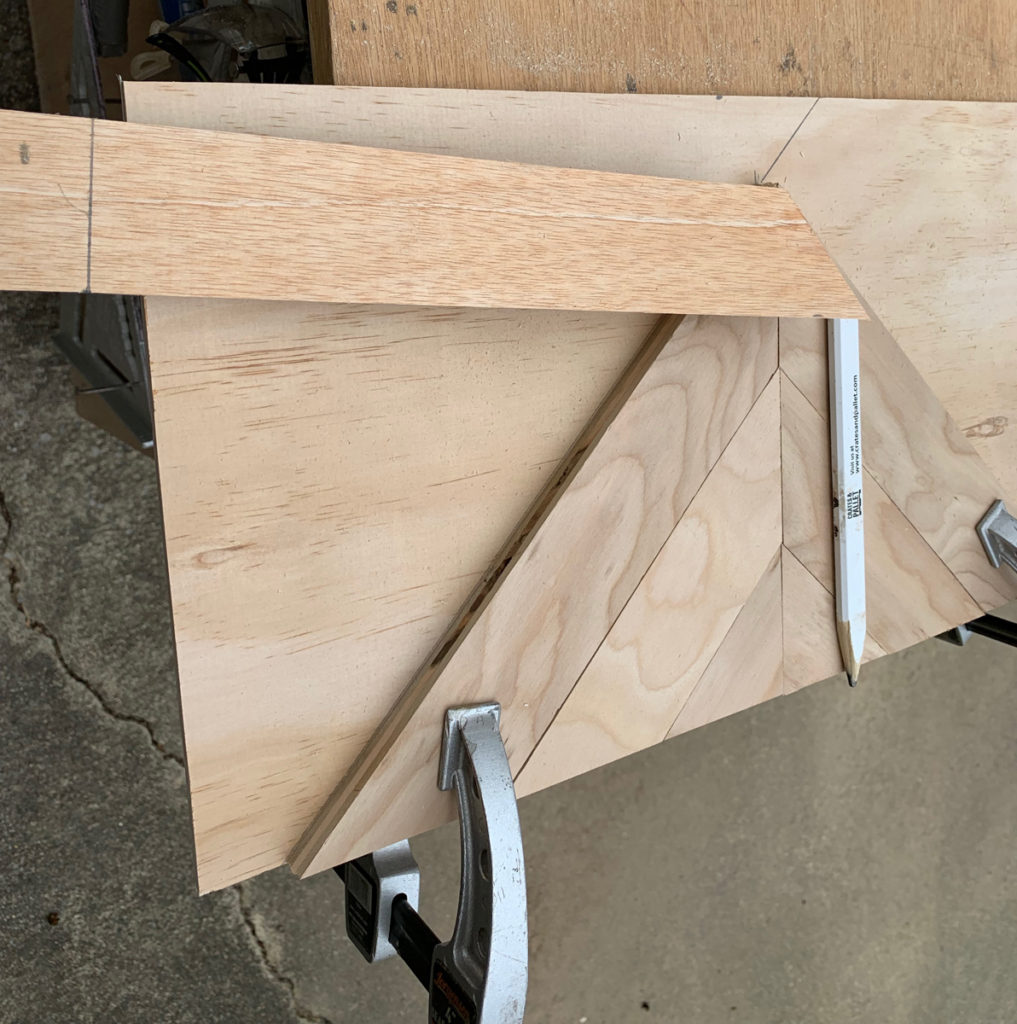 Note: It is extremely helpful to clamp the outside edge of the triangle so that it does not slip while you are dry fitting and placing your horizontal strips.
6. Repeat this process for the vertical strips.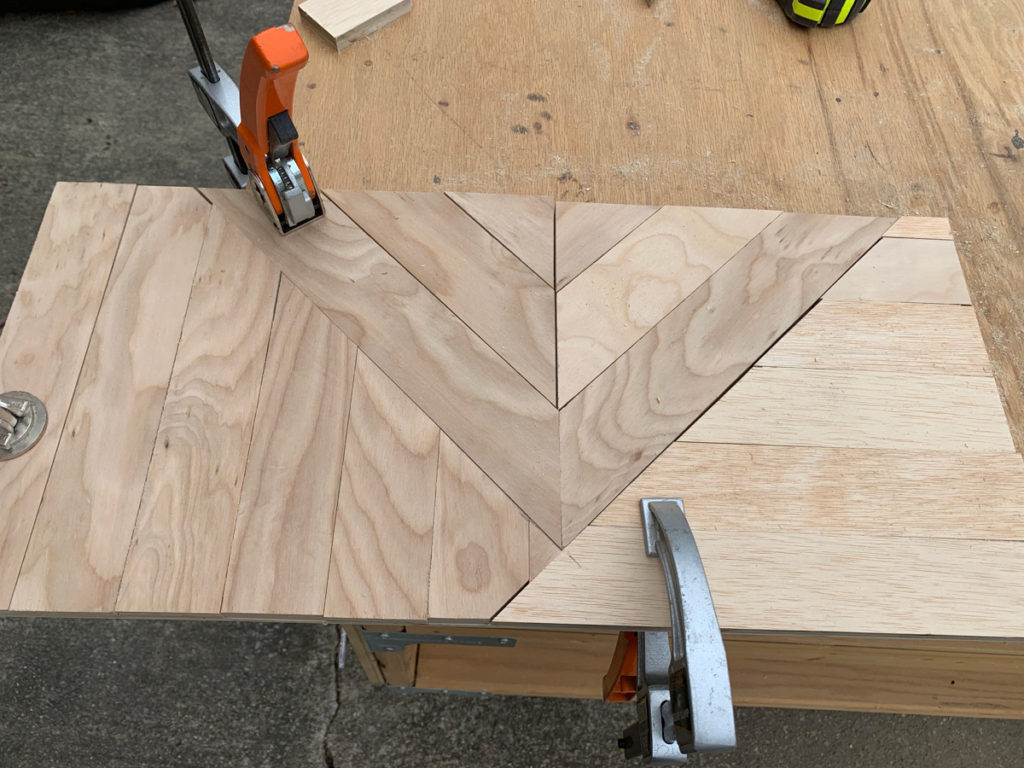 7. Using 1×2's frame the outside of the tray. Feel free to use a butt joint if you'd like.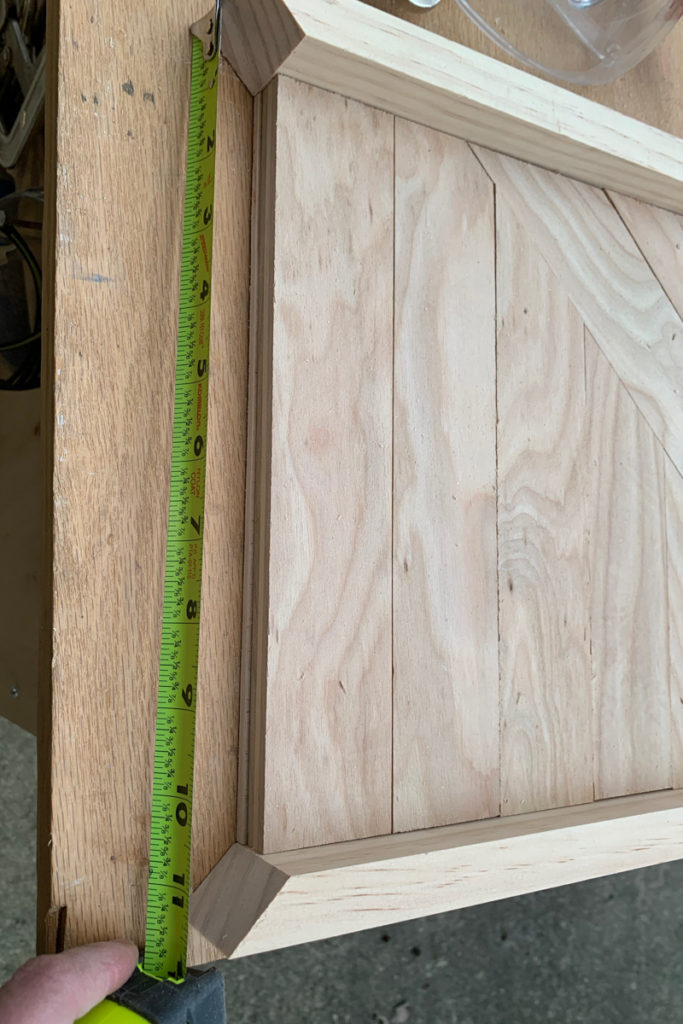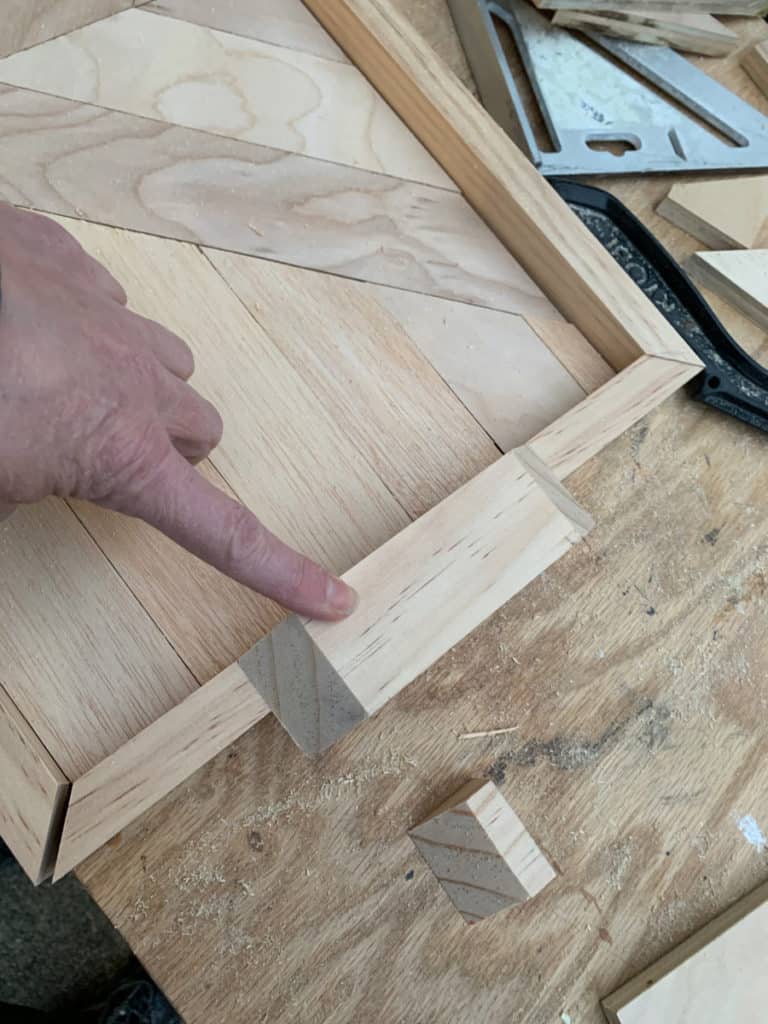 8. I also cut small handles out of the 1×2's. I used opposing 45 degree cuts on either side.
9. Carefully number your slats before disassembling.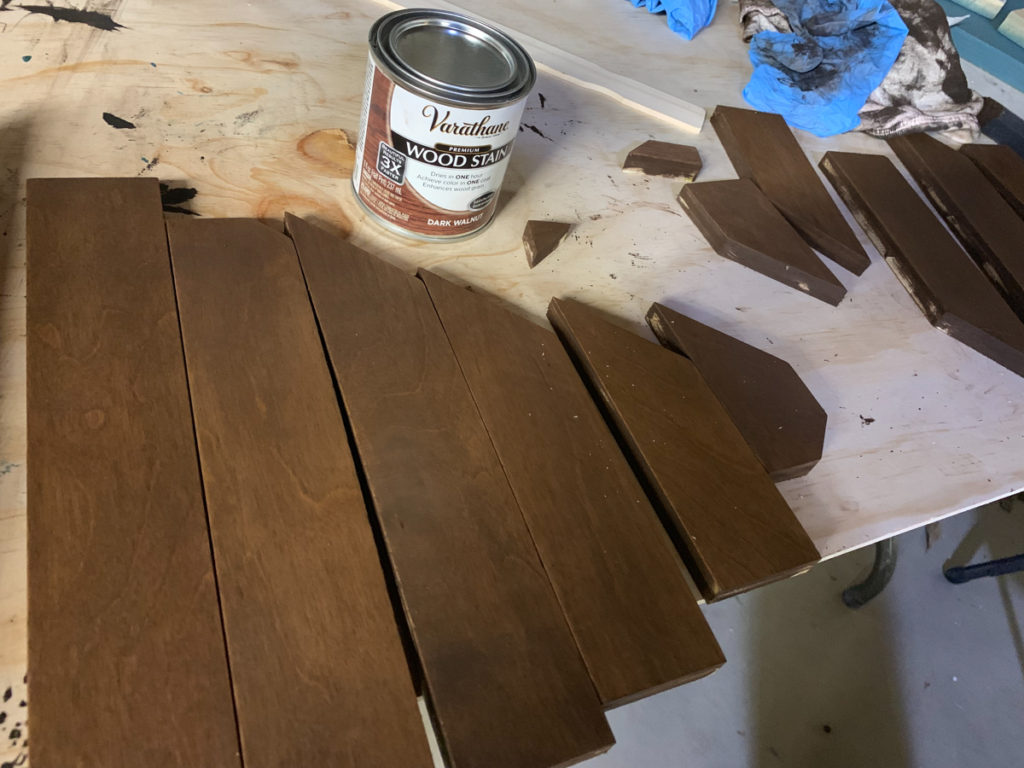 10. I chose to pre-stain my pieces so that I could use different finishes. The light is dark walnut, the darker color used for the triangle is Kona, both by Varathane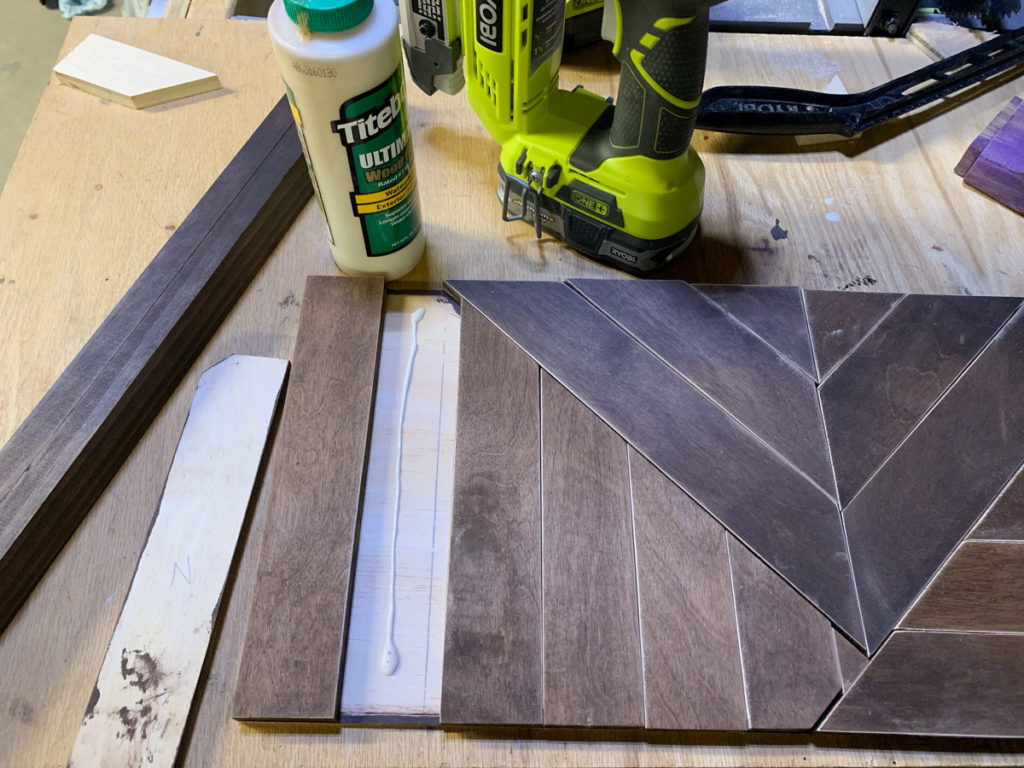 11. Once the finishes were dry, I sanded the edges to create a more defined pattern. Glue and nail the strips into place.
12. Nail frame and handles to the tray.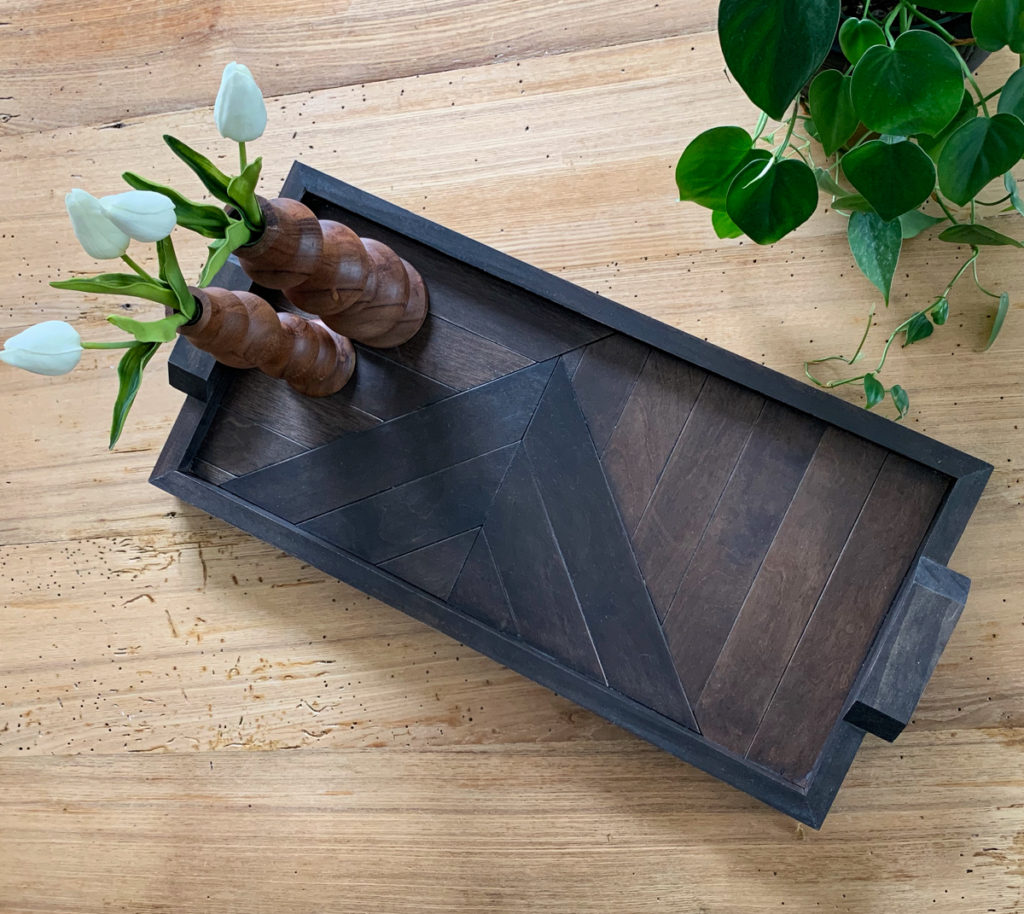 13. Apply a topcoat sealer. I like to sand with 400 grit sandpaper between coats for a super smooth finish.
There it is! It might look a little complicated, but I promise it is super simple. If you can turn a miter saw to 45 degrees you can do this!!
This project was actually inspired by a larger project that I created last fall to cover our electrical panels in the basement. If you are more of a visual-in-action learner, I created a video tutorial for the project. The same techniques to create the tray were used there as well.
Here is a link to that video tutorial. Build Geometric Wood Art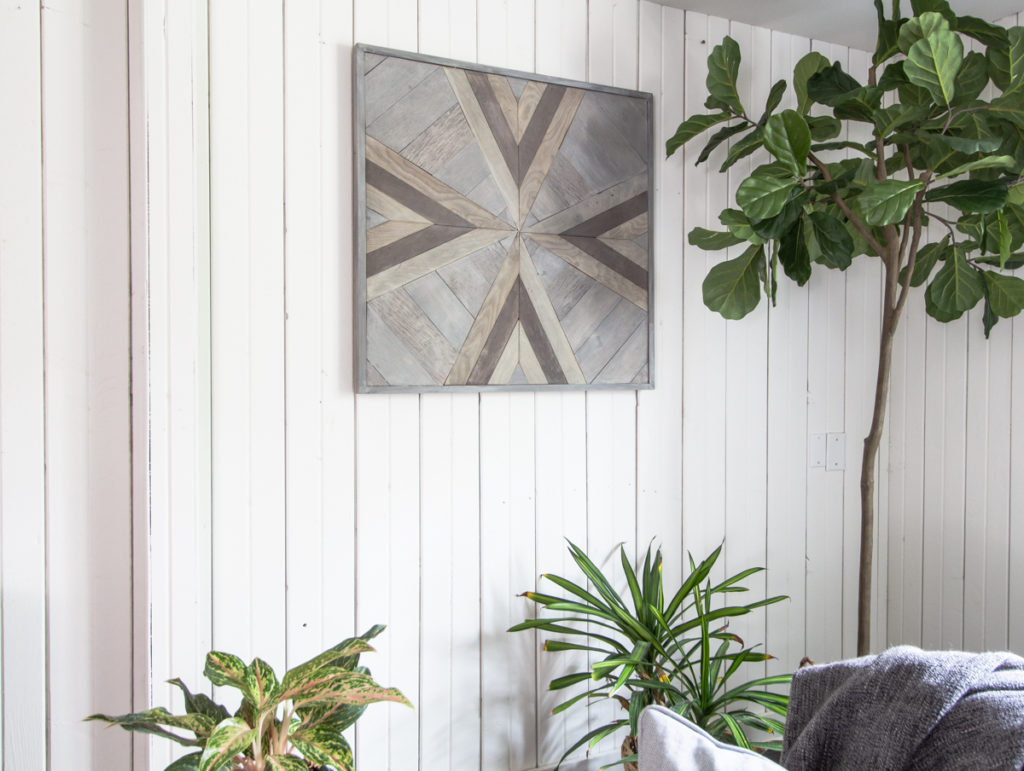 Be sure not to miss these amazing DIY Spring Projects!!
I DIY-ed That Spring Blog Hop
MONDAY
Repurpose & Upcycle | Thrify and Chic | A Blue Nest | Noting Grace
TUESDAY
My 100 Year Old Home | The Tattered Pew
The Homemaking Momma | She Holds Dearly | Seeking Lavender Lane
WEDNESDAY
Worthing Court Blog | Joy In Our Home | White Arrows Home
Uniquely Taylor Made | Making It In The Mountains
THURSDAY
Beauty For Ashes Home | Cuter Tudor | The Red Painted Cottage
The Honeycomb Home | Designs By Karan
FRIDAY
Deeply Southern Home | Rocky Hedge Farm
Twelve on Main | Life On Summerhill