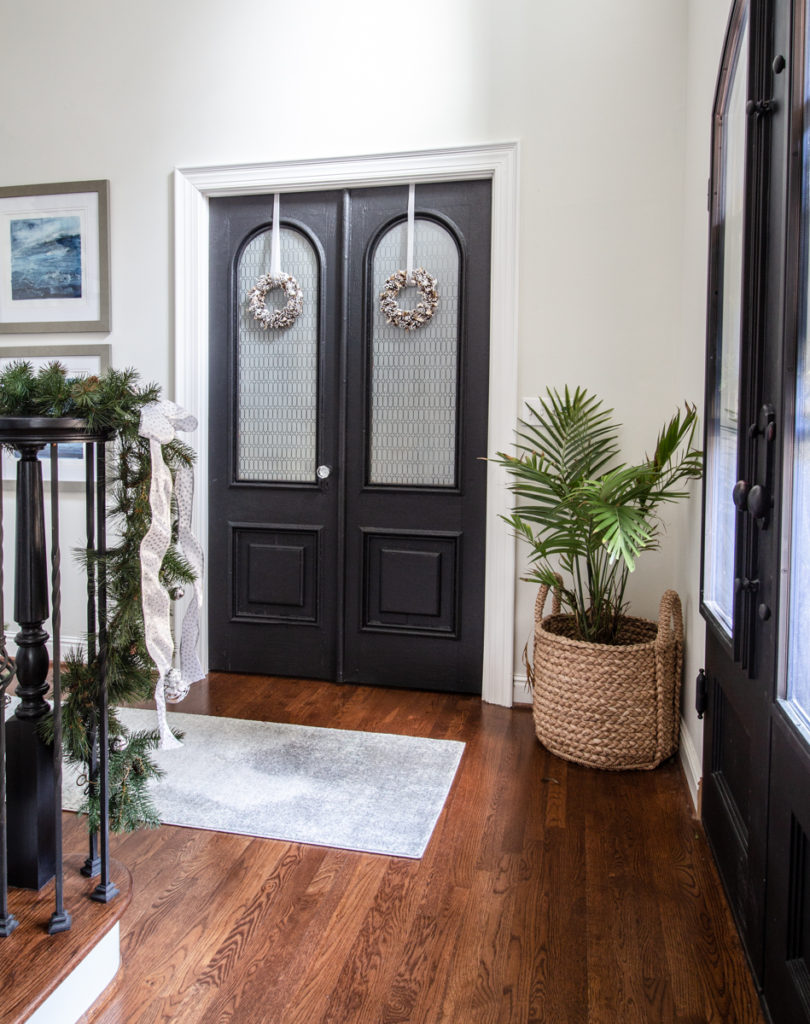 Welcome to Part 2 of my Silver Bells and Magnolia's Christmas Home tour. Today, I've joined with 22 other talented bloggers to share our with the Christmas Tour of Homes. Be sure to visit each one linked at the end of my tour! You don't want to miss a single one!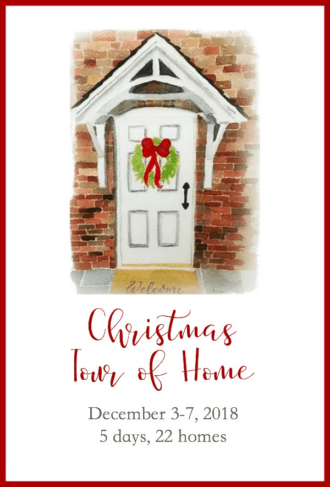 I am starting back in the foyer today for two reasons. It only seems right to welcome you in properly. The foyer is where you would naturally come in and I want you to feel welcome.
The Foyer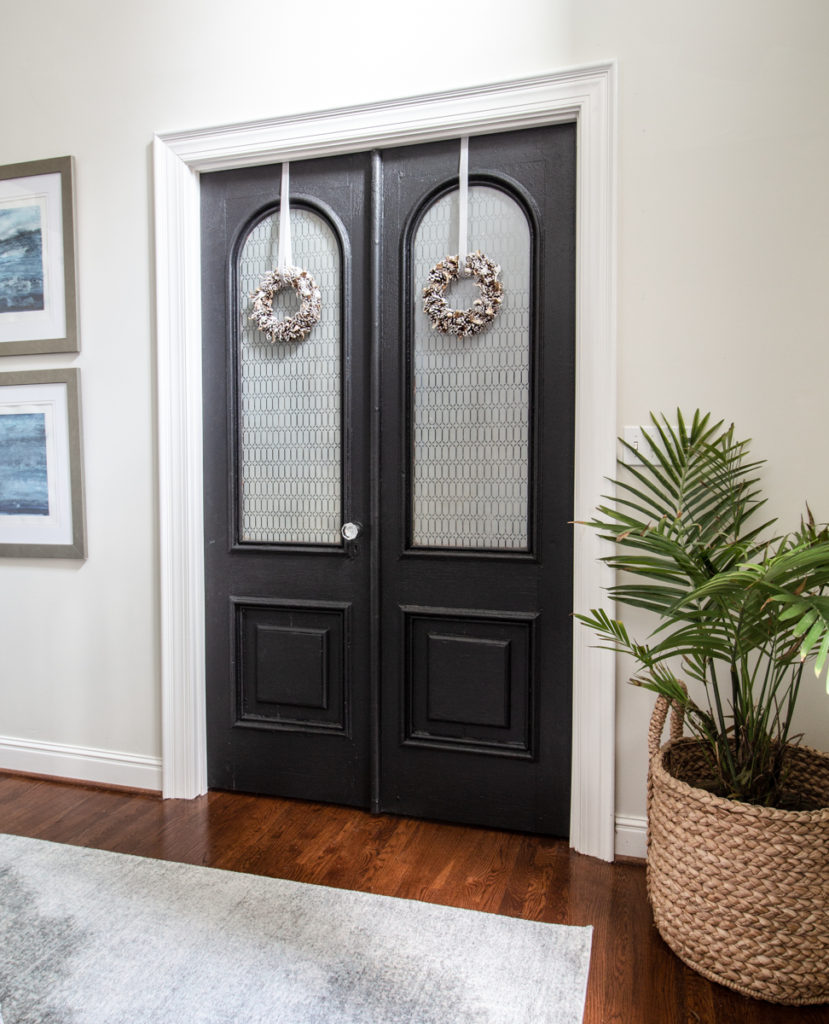 The second reason is to make sure you don't miss seeing this beautiful, Silver Elegance wreath from Lynch Creek Farm. Why, is it so important to see this wreath?
Because you can enter to win one of you own for your holiday decor at the end of my tour.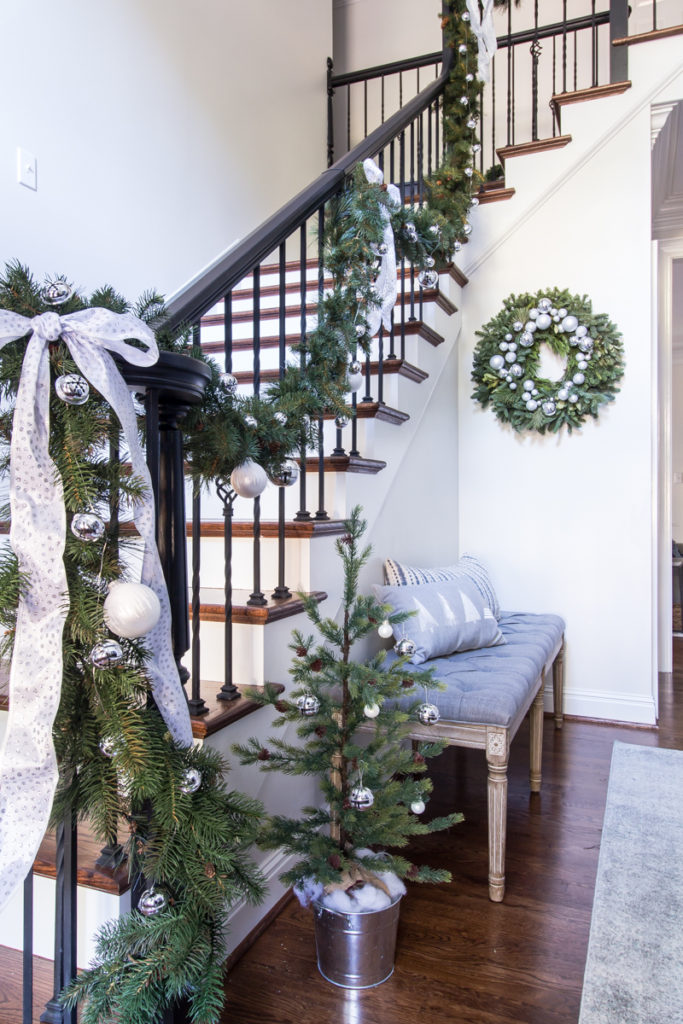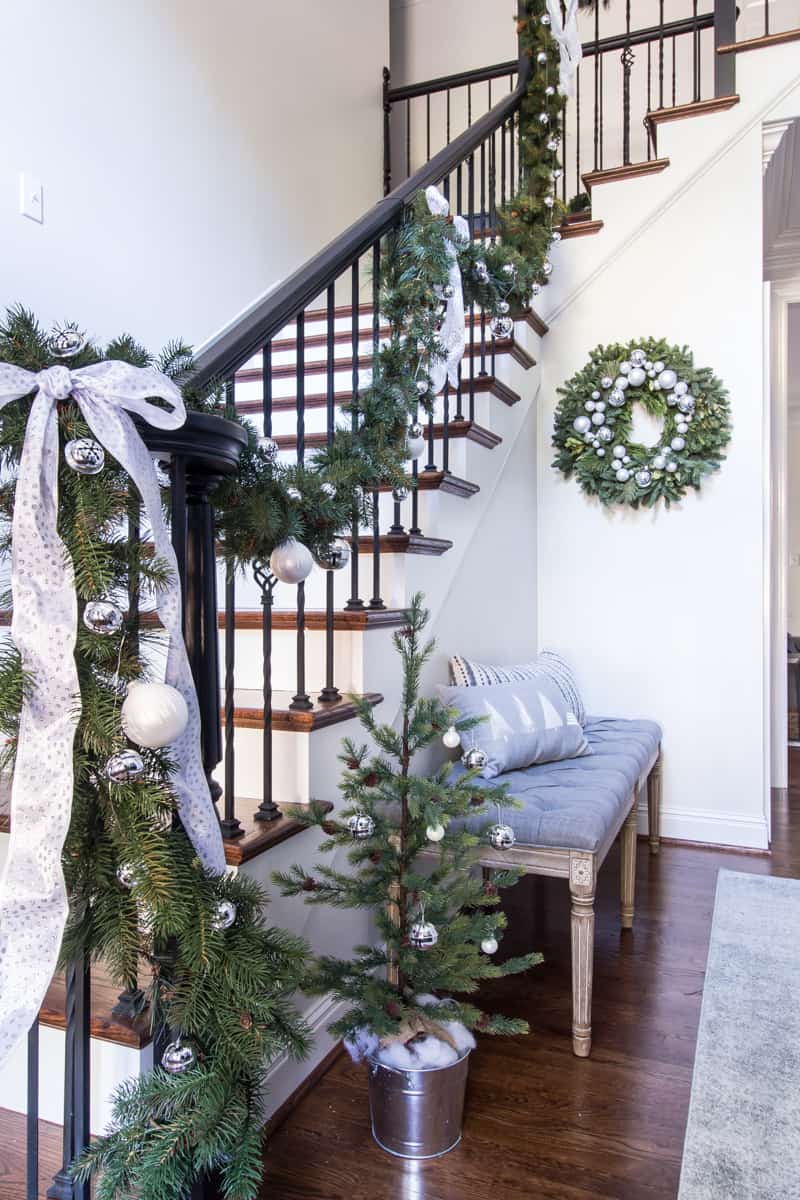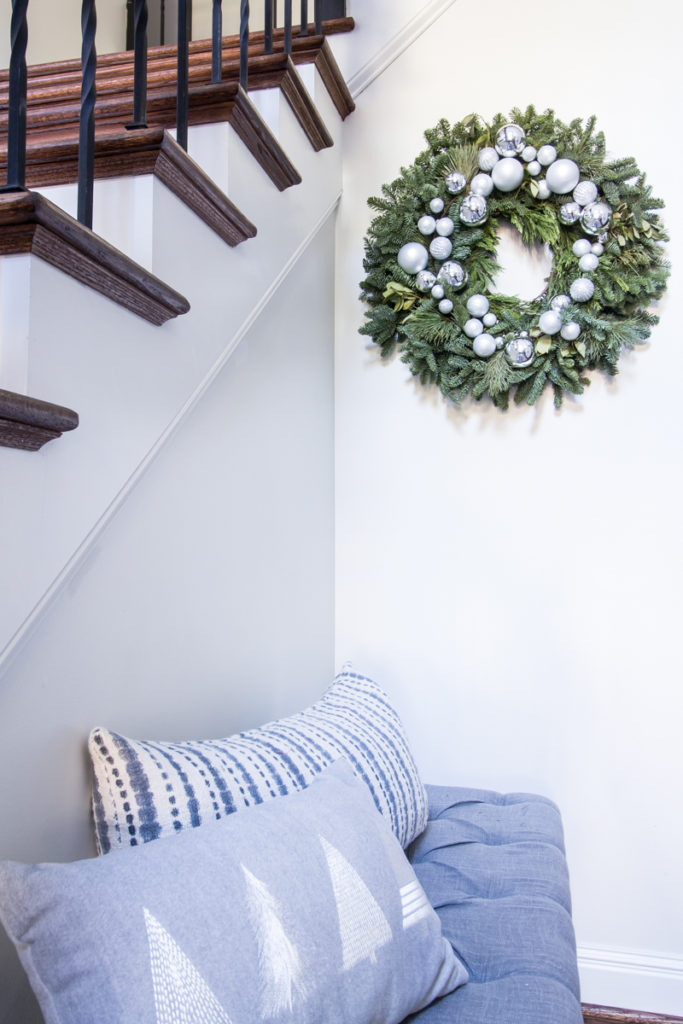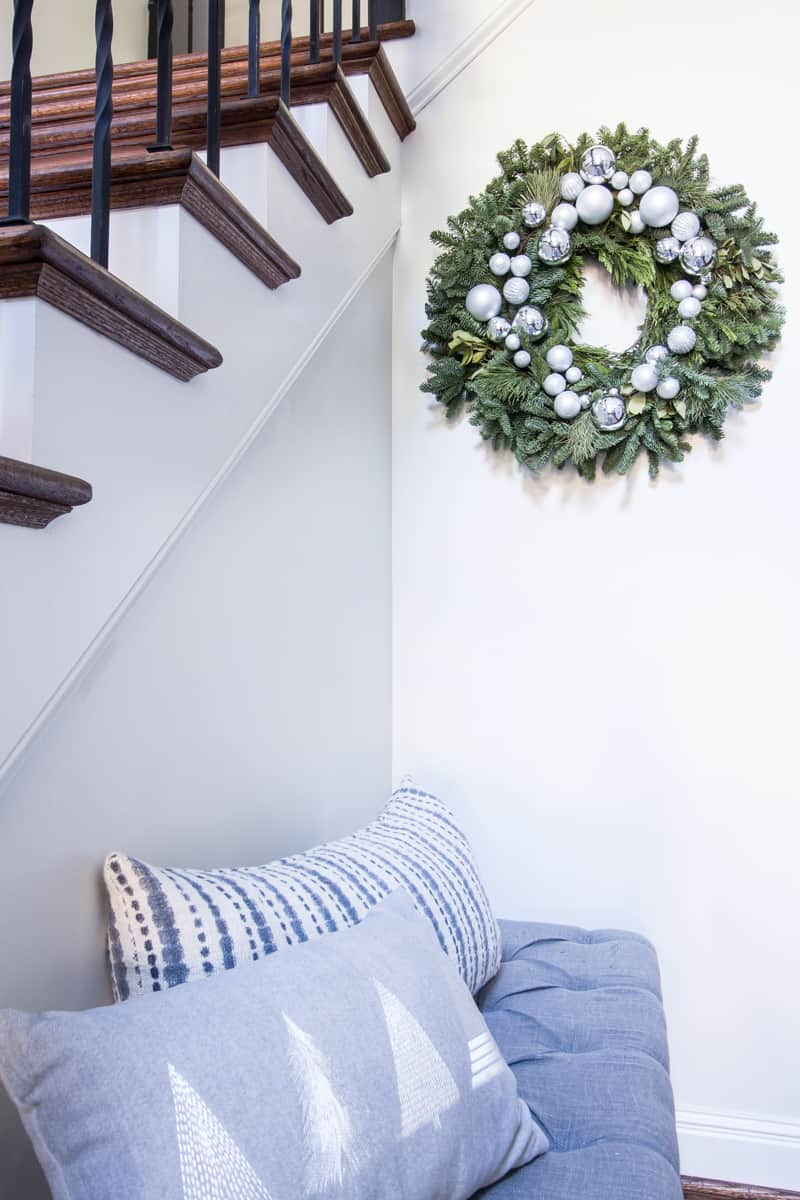 Powder Room
I also failed to drop a look into our powder room just down the hall from the antique french doors of the library during the last home tour, Part 1. You can see the library decked out for Christmas here.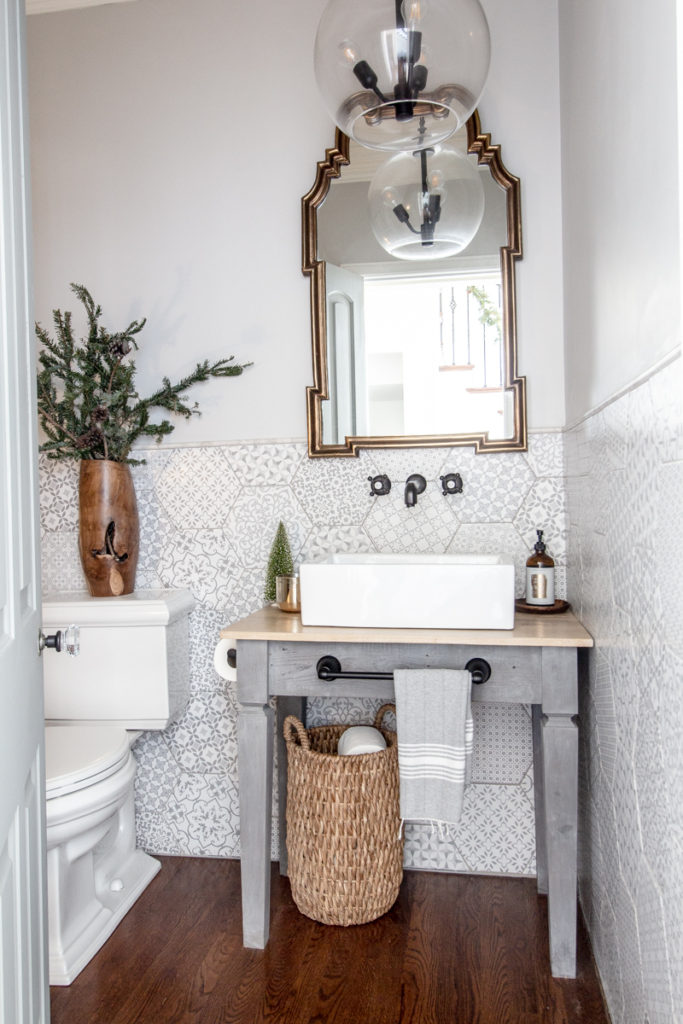 The Kitchen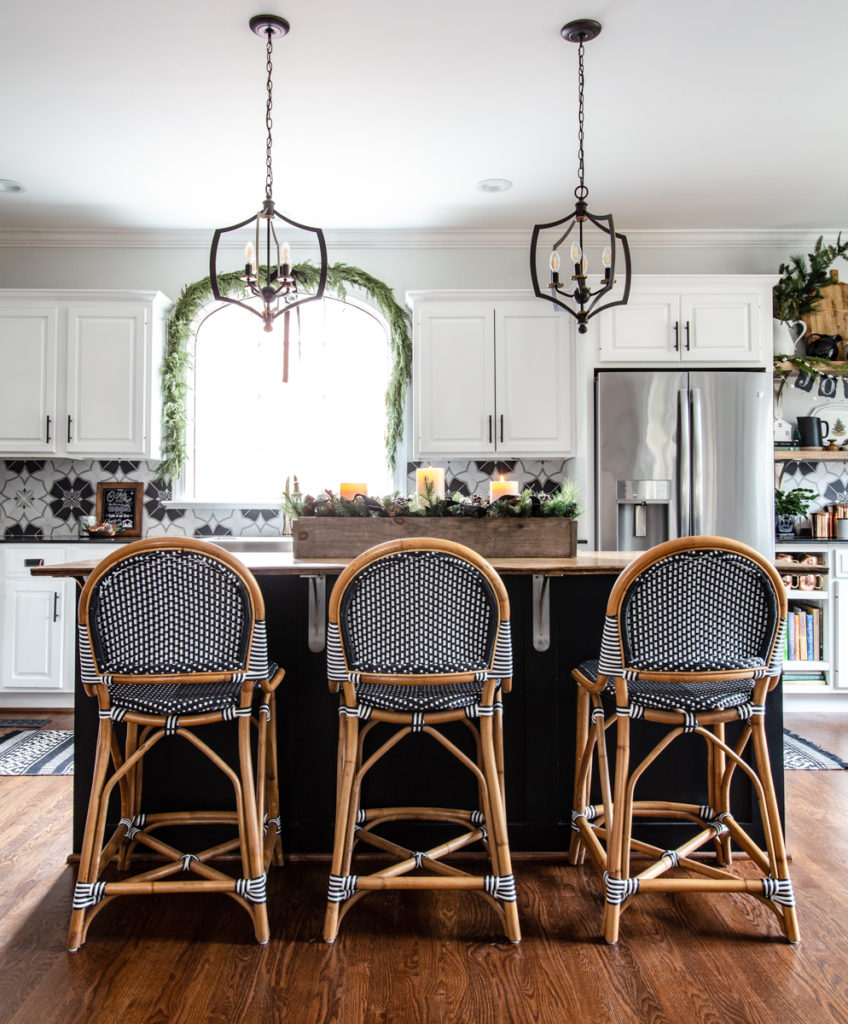 This summer I painted the island black and refreshed the look with new barstools. (The island was previously a beautiful teal color, the same as the dining room actually, but it never photographed in it's true color and I was always disappointed by the way it looked in the photo. Here's what it looked like last Christmas.)
All images below are clickable affiliate links.
Shop the post

I love monochromatic rooms, so I decided to embrace it even through the Christmas season and only add pops of silver, in bells of course, or other metallic tones and fresh greens.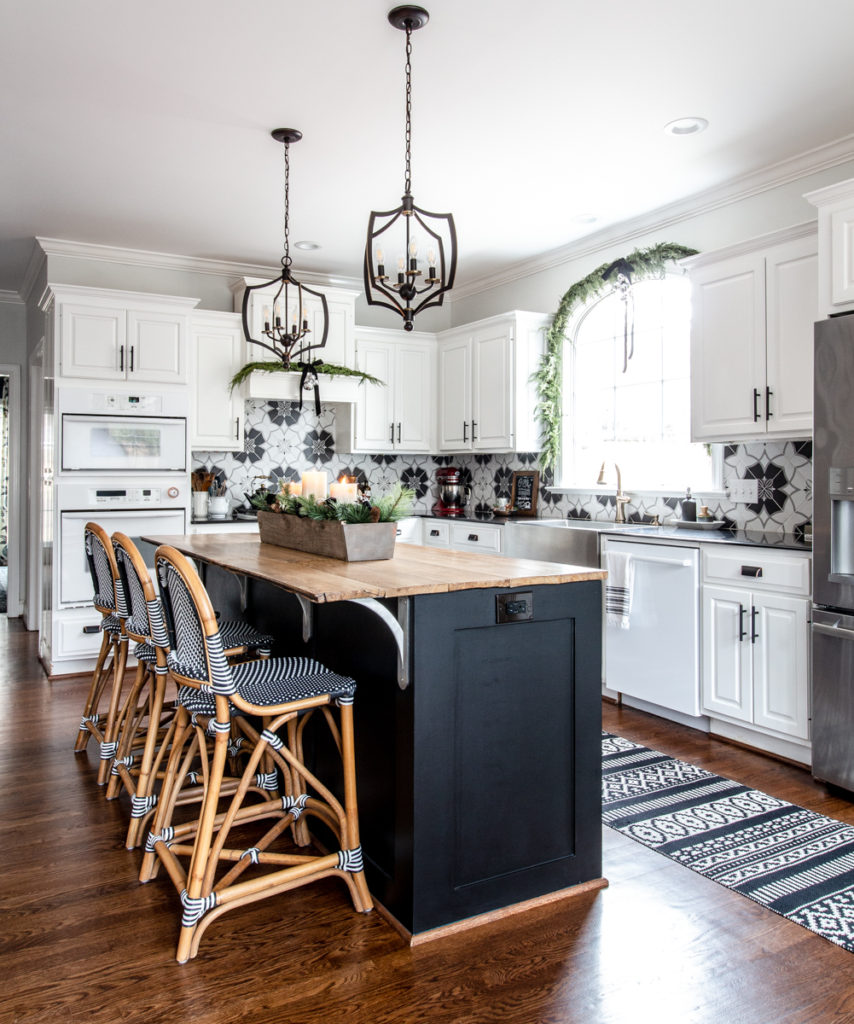 My favorite DIY decor piece is front and center on the island for Christmas! I shared the DIY tutorial this summer and have decorated it in several different ways. It is an easy build and even easier to decorate with! The video tutorial can be found here.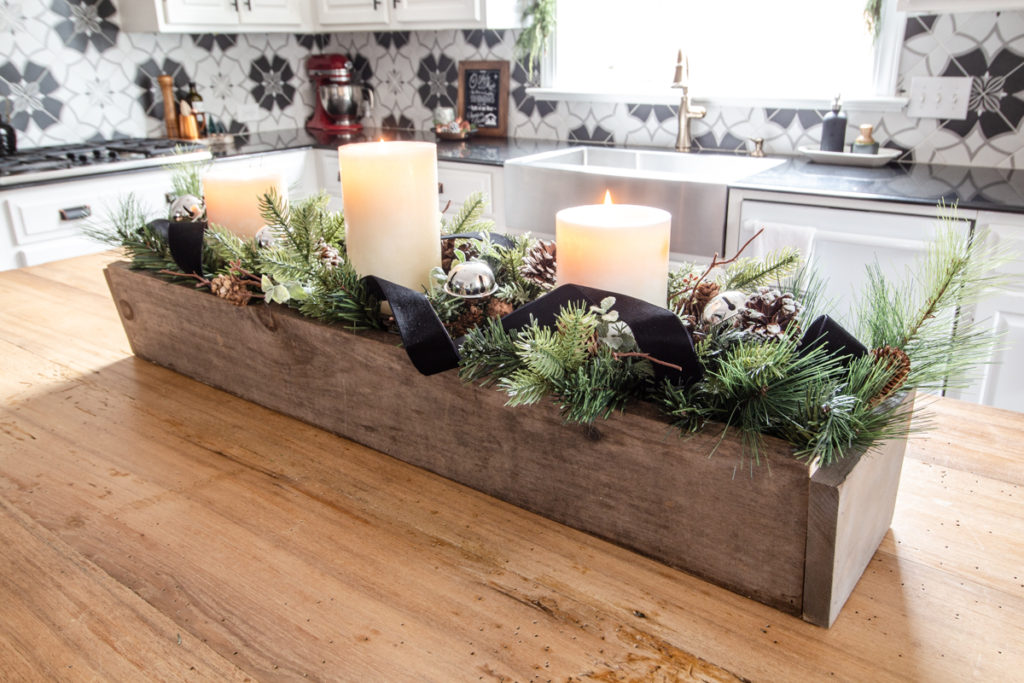 Instead of filing the trough with plants this Christmas, I filled it with 3 small wreaths, shoving them directly into the slanted sides of the trough. Then I set the pillar candles on the grapevine wreath base. I filled the ends with other pieces of faux greenery and tossed in some silver bells and leftover ribbons scraps draped in a gracious manner. (My original vision was to fill the trough with poinsettias but I couldn't find enough pretty white ones locally to fill it up.)
shop the post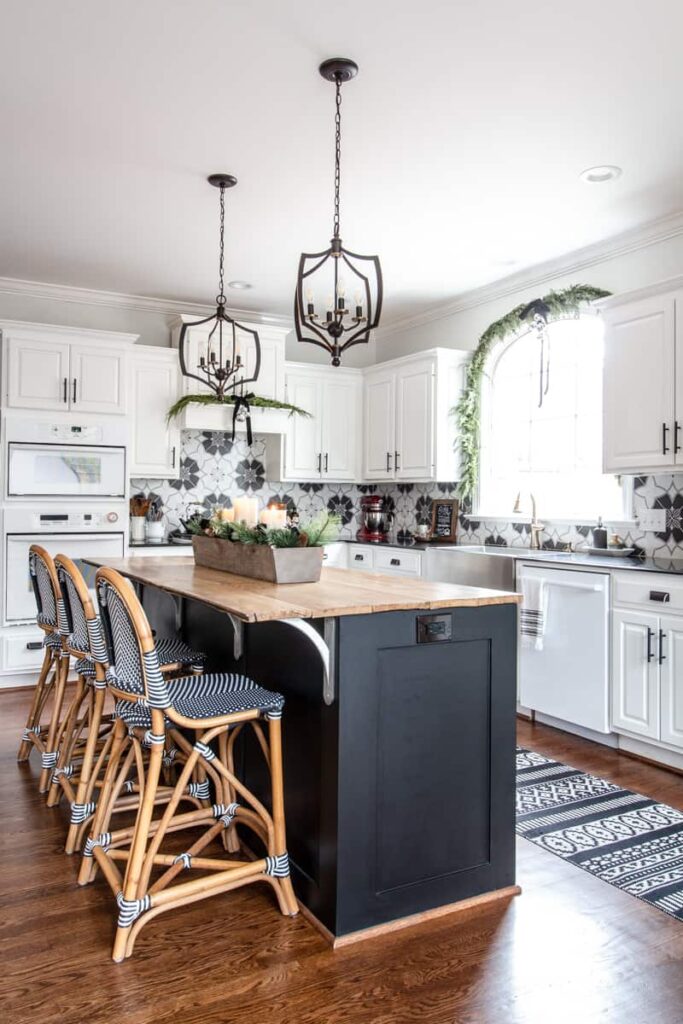 I am so thankful to Lynch Creek Farm for sending me their Deluxe Port Orford Garland to use over my arched window. Nothing brings Christmas to life better than live garland and I think this window was made for draping garland.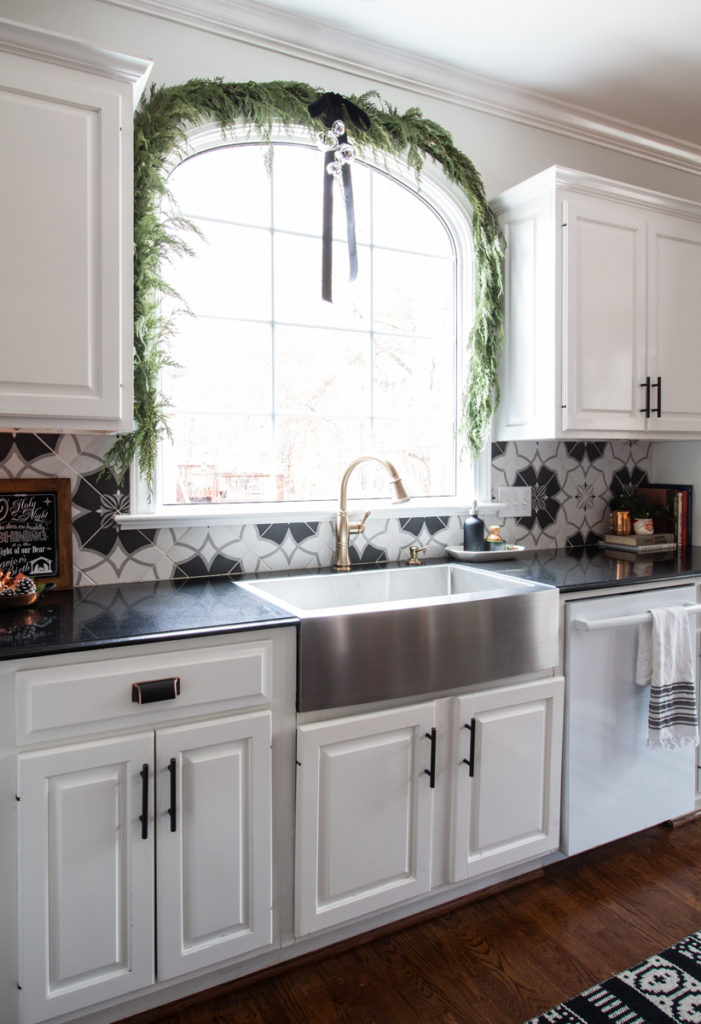 Because it was 18′ of garland, I separated pieces to also use over the cooktop and the dining room table. You can see the dining room decorated for Christmas in Part 1 of the Seasonal Simplicity Home Tours here.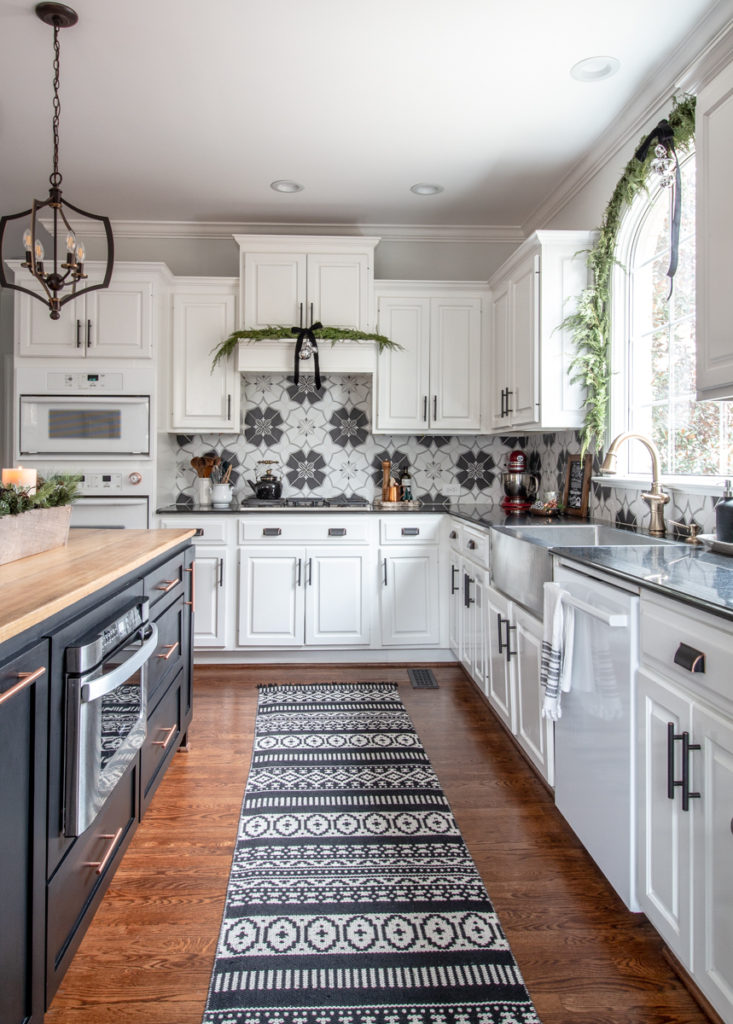 Elegant, black, velvet ribbon tied in a simple bow with silver bells on each garland gives a hint of seasonal charm without being over decorated.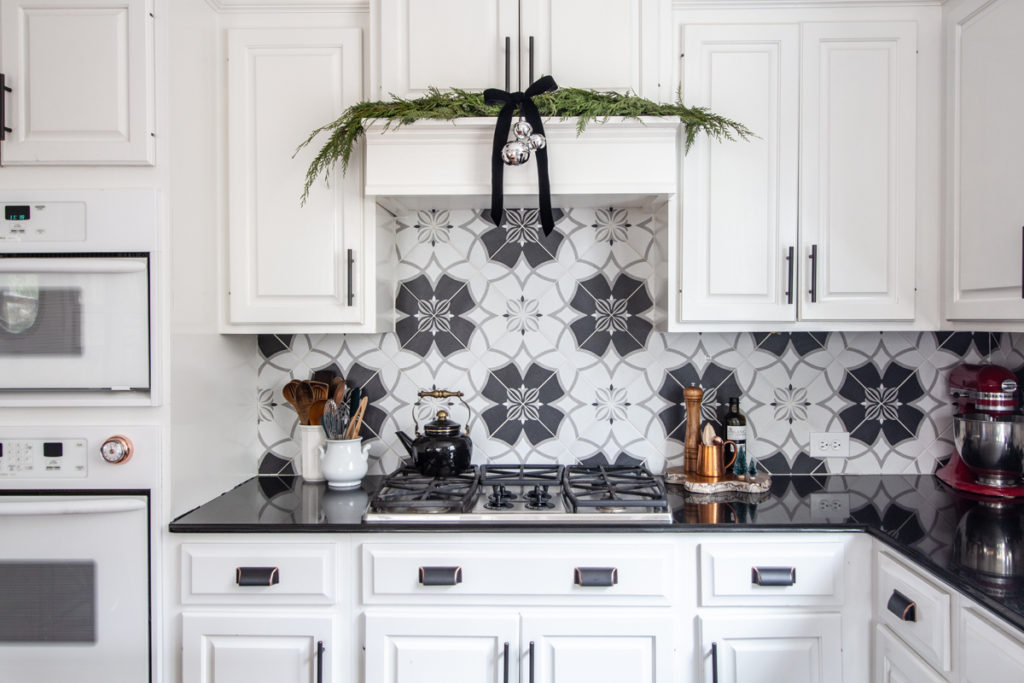 I reached way back in my archives to find and print this chalkboard printable I created years ago. Clearly, it fits the black and white color scheme perfectly. You can download your own here.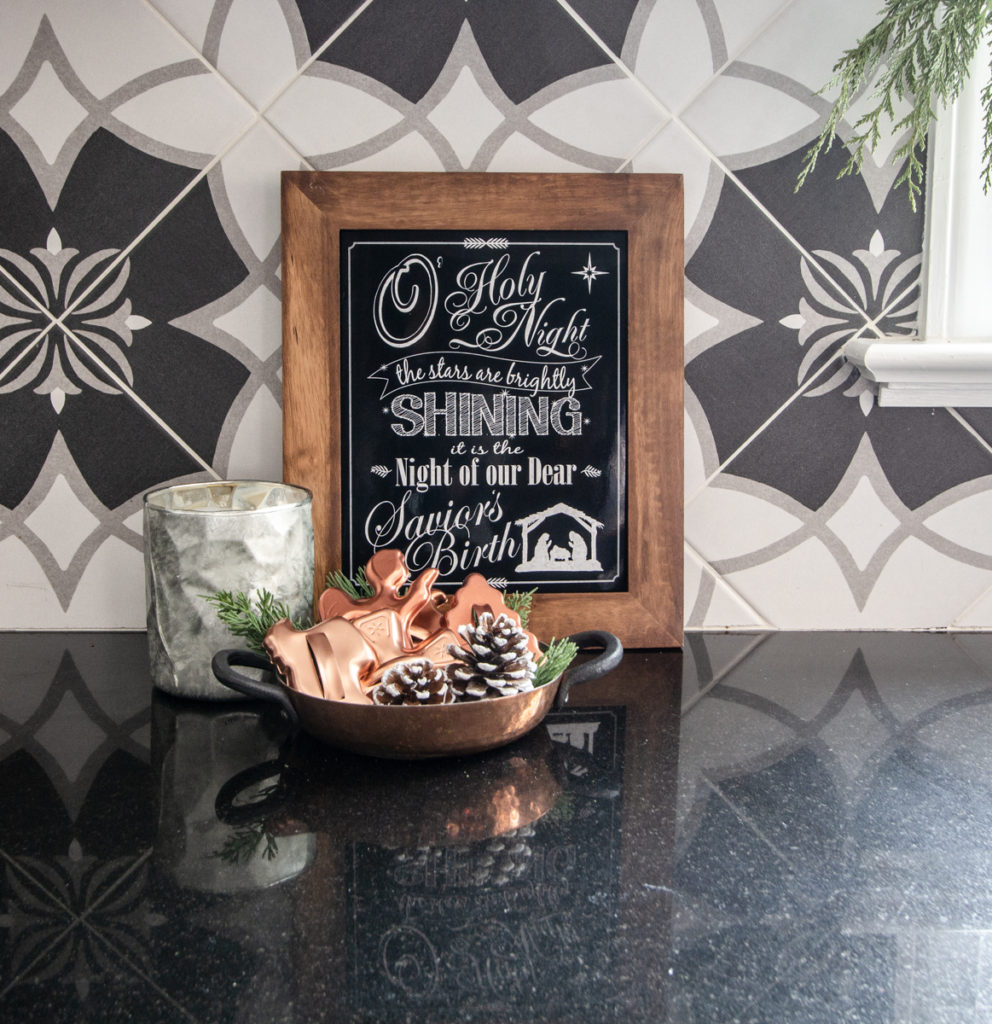 Like the dining room table, I don't create elaborate table scapes everyday.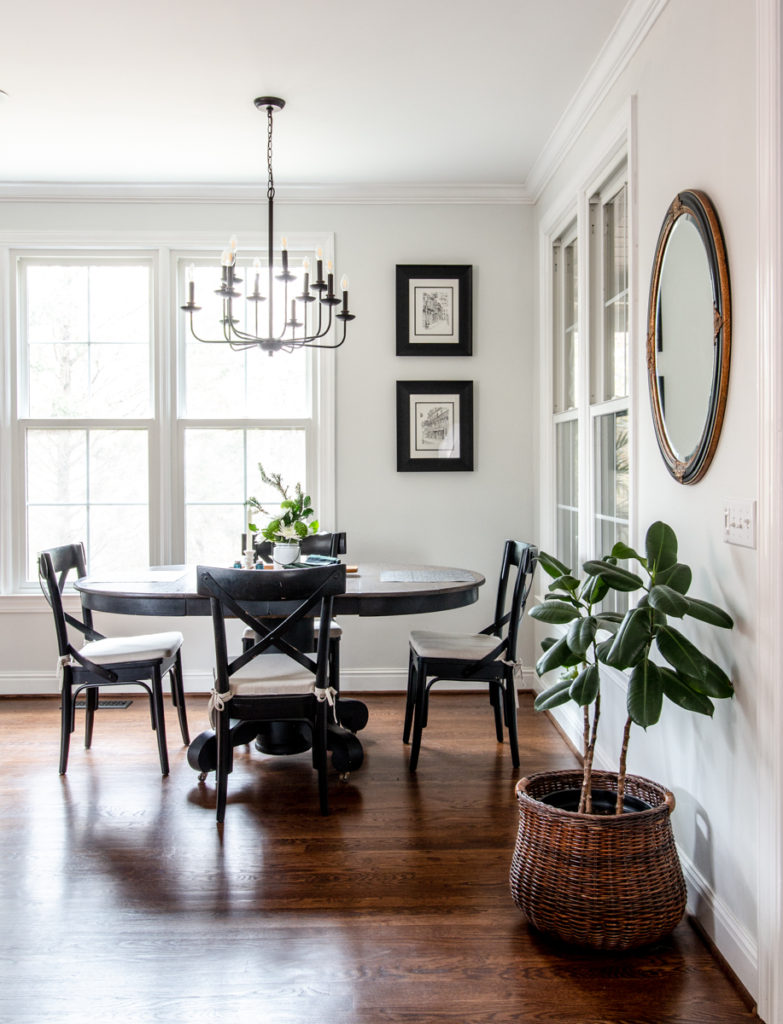 I am a firm believer that grocery store flowers and a touch of evergreen make a table feel festive without a lot of fuss. If you choose interesting varieties of hardy flowers, like these mums they can last for quite a long time.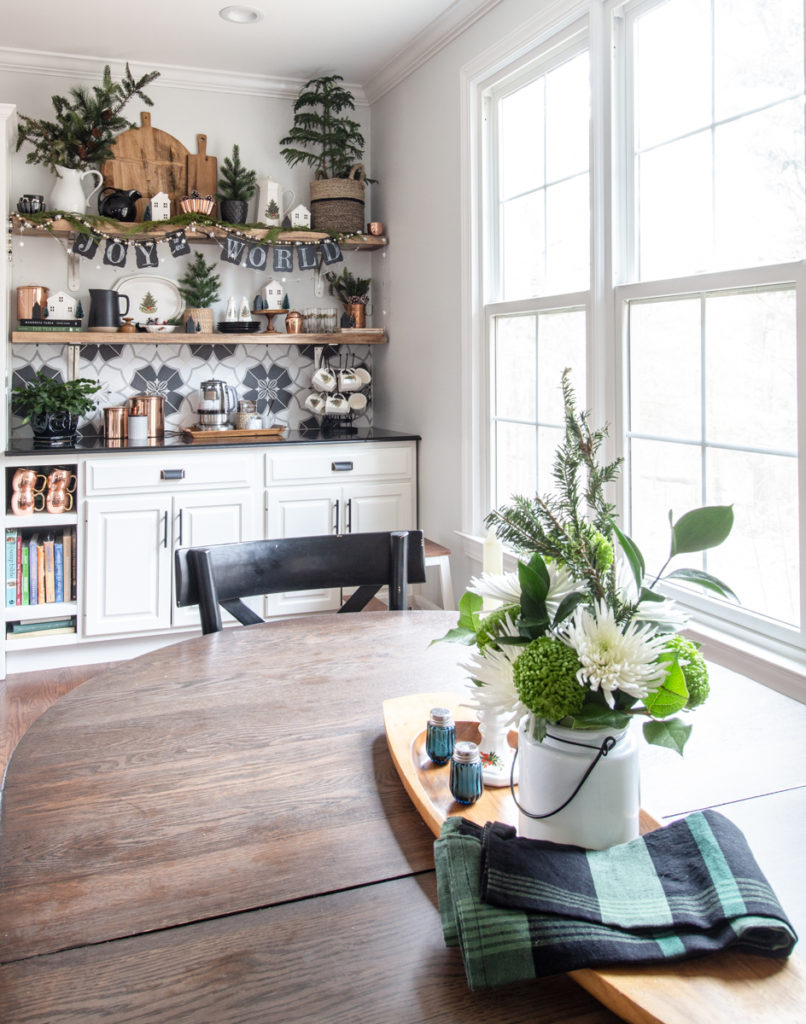 And while I embrace simplicity on the tables, I can't help but bring out all the Christmas dishes and trees when styling the open shelves over the beverage bar.
Shop the post
All images are clickable affiliate links.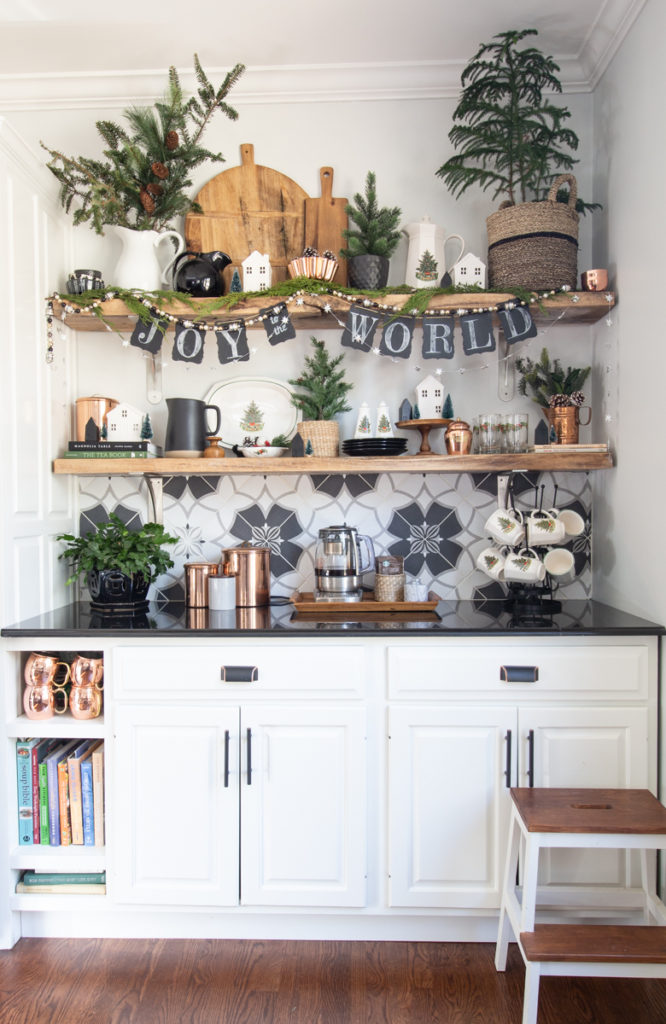 While this is easily my favorite part of the kitchen, I honestly can't pick out a favorite part of the Christmas decor here.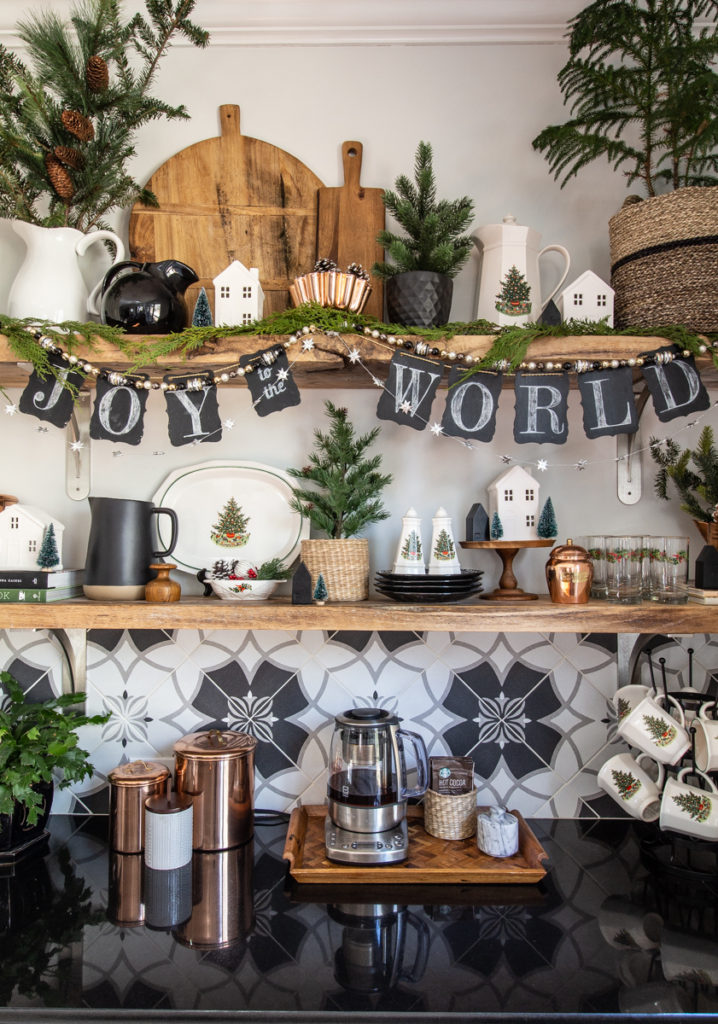 I am fairly proud of the fact that I kept the Norfolk Pine in the right hand side of the top shelf alive since last year. It lived on the screened porch though the year and he was quite happy despite my forgetting to water him occasionally.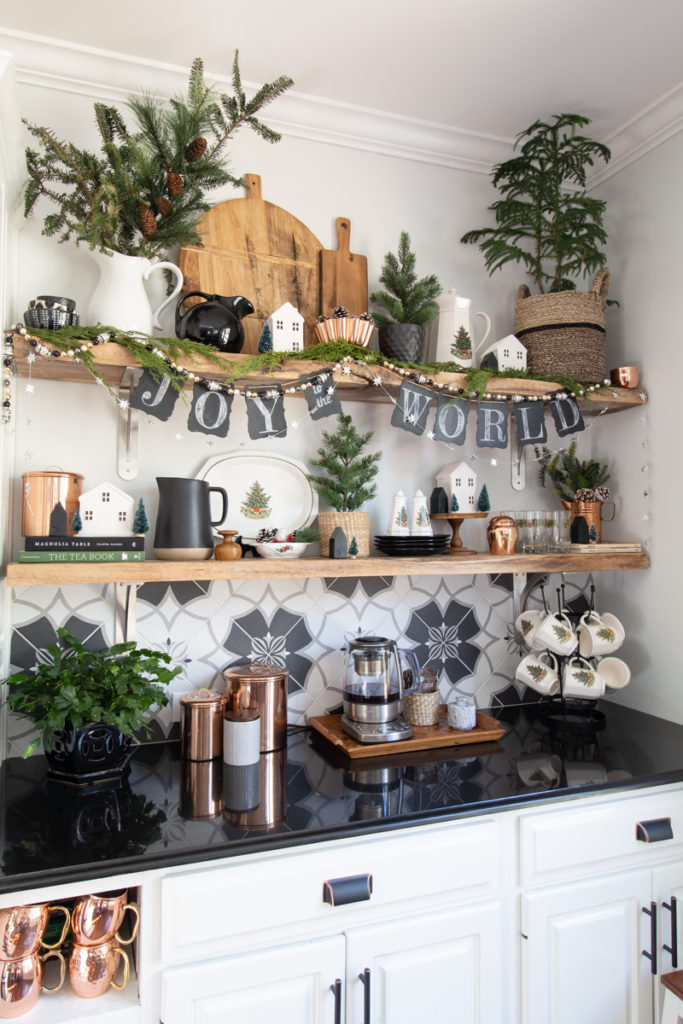 The chalkboard "Joy to the World" banner is also from many years ago. It's been used on a Christmas tree, on the mantle and now on the open shelves. I'd say it's a worthy craft. Here is a link to the tutorial.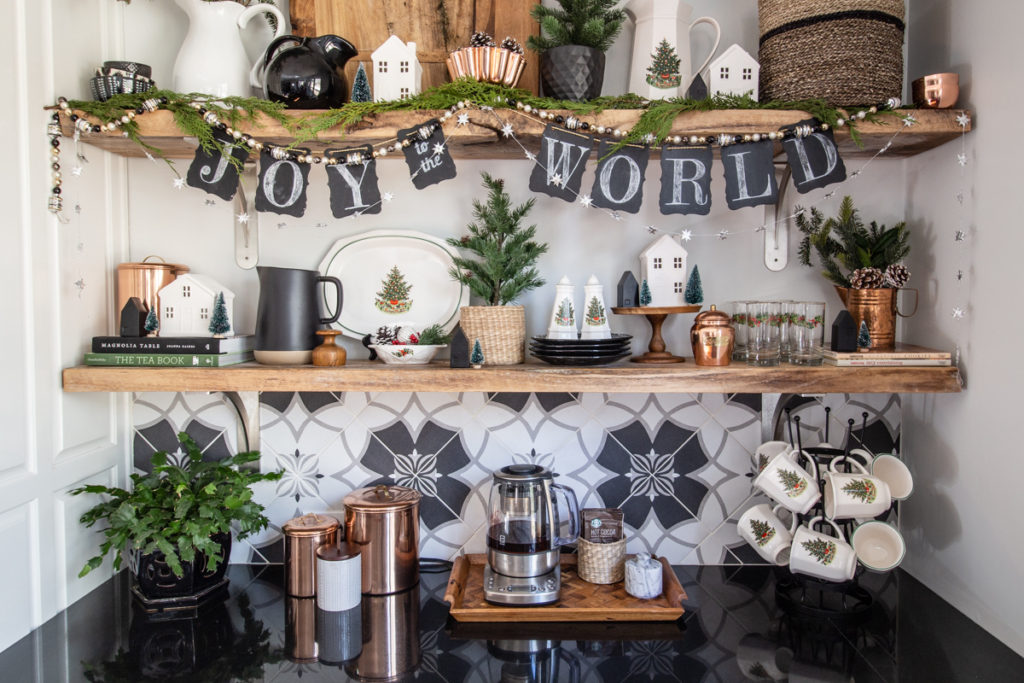 I hope you enjoyed this second look into my Christmas home.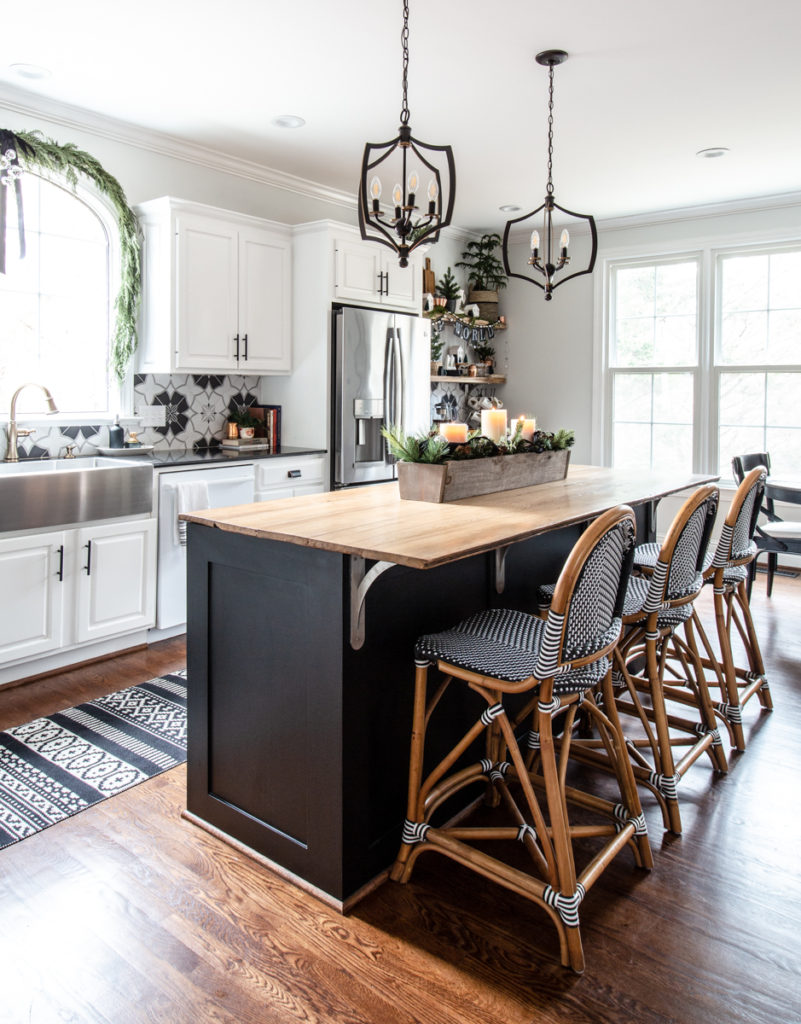 If you missed Part 1 of my Silver Bells and Magnolias Christmas Home tour, the part where I actually have magnolias, you can visit that post here.
BUT before you go, be sure to enter to win this stunning wreath for your holiday home!!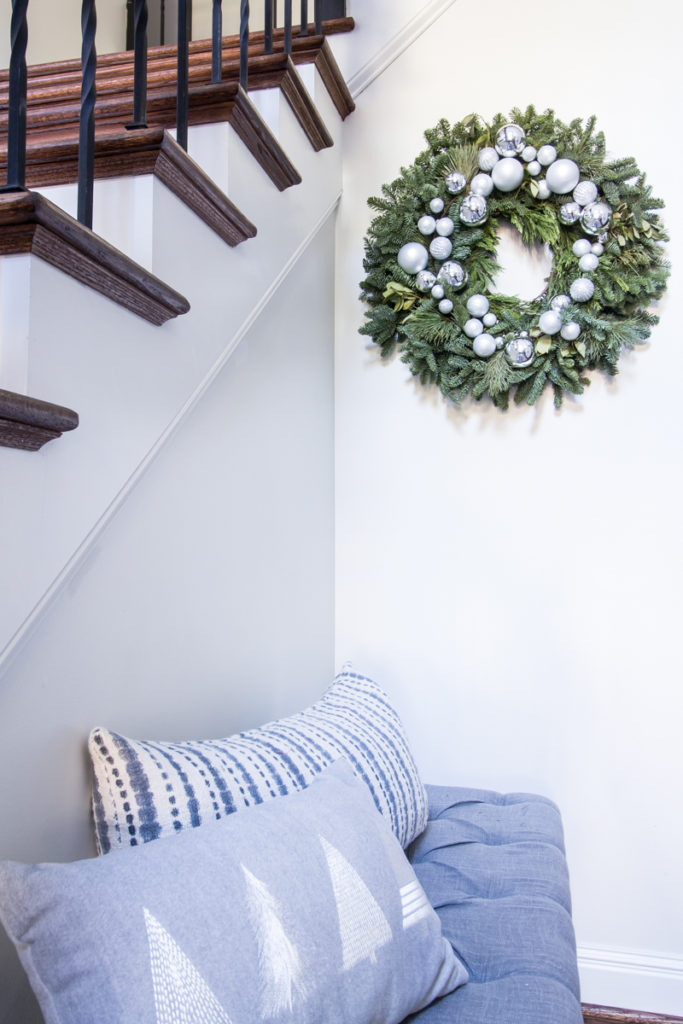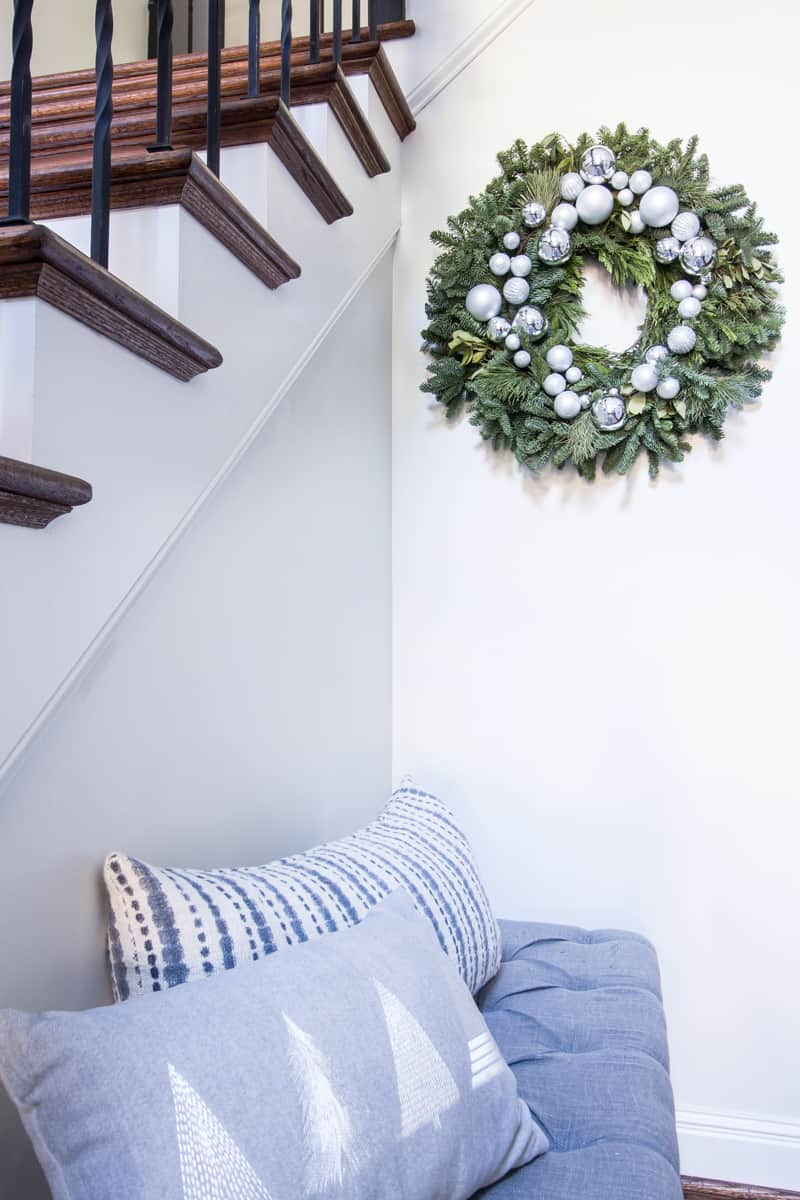 Enter to win a Silver Elegance Wreath from Lynch Creek Farm
a Rafflecopter giveaway
Now, I happily send you on your way to the other inspirational stops on our Christmas Tour of Homes.
Wishing you a very Merry Season of Christmas!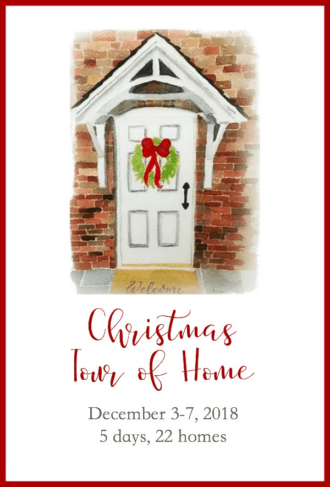 MONDAY
White Arrows Home| The Chelsea Project| Our Prairie Farmhouse|
Noting Grace| The Red Painted Cottage
TUESDAY
Celebrate and Decorate| Rain and Pine| Savvy Apron
WEDNESDAY
Curly Crafty Mom| Camelot Art Creations| Follow The Yellow Brick Home|
Mom Home Guide| Twelve On Main
THURSDAY
County Road 407| Art and Sand| Simple Nature Decor| Sweet Parrish Place
FRIDAY
Deeply Southern Home| First Day of Home| Life on Summerhill|
Lemons, Lavender, and Laundry| The Aspiring Home
I was gifted the Silver Elegance Wreath and the Deluxe Port Oxford Garland from Lynch Creek Farm. All thoughts, opinions and designs are my own.