Welcome to our home in Sweet Alabama! Today, I'm thrilled to invite you in for my Christmas Tour.
For yet another year, I'm spreading holiday cheer with fellow bloggers at
Jennifer Rizzo Holiday House Walk 2015 Link Party
Updated: I'm also sharing at A Stroll Through Life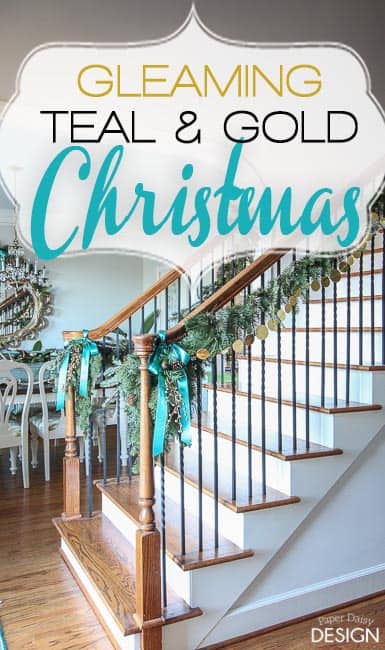 Normally I would greet you at the front door, but our wooden door is in serious need of a makeover. Good thing it's on the to-do list this week!  I'll likely add a photo when it's looking all spiffy, because I'm not lying when I say it looks very tired and sad. And in my opinion that's no way to welcome a guest.
Anyway, ignore the front door and please come in and make yourself comfortable. I'd offer you my "famous" chai tea latte if you were here, but feel free to cozy up with your favorite beverage.
The Entry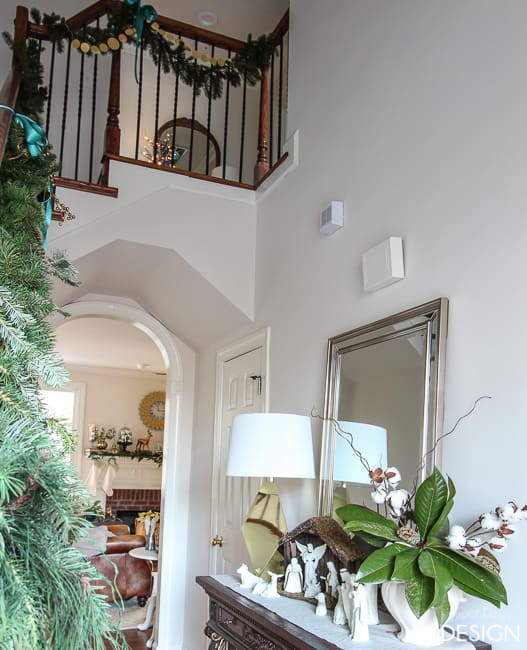 After a few years of Christmas decor filled with burlap, pinecones and just a touch of gold,  I was ready to shift to something a bit more gleaming, with vibrant color and just a pinch handcrafted glamor.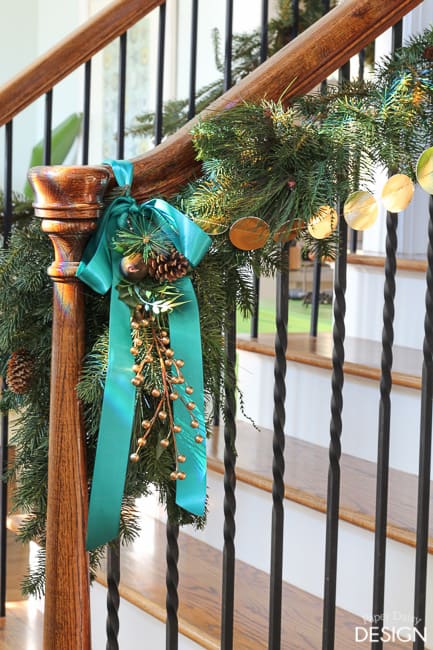 The spark of teal and blues are dispersed throughout the house along with gold and metallic accents. On the banister and the tree, I crafted gold circle garland. Not to worry, a tutorial will follow shortly.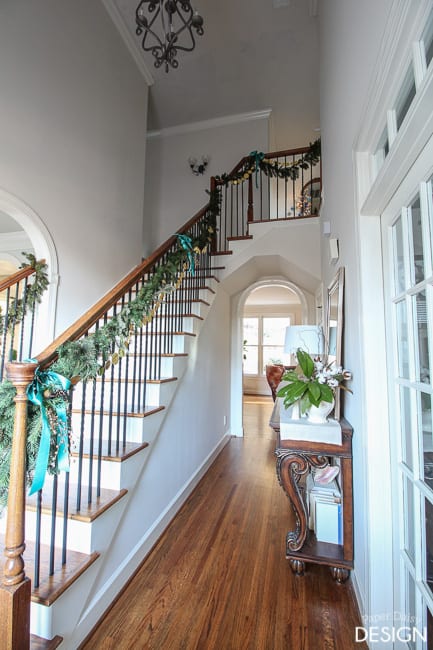 As you move down the hall, the little gold discs swing and shimmer as you walk by.
In the Living Room
Our memory filled tree is adorned not only in our traditional. cherished ornaments, but a copious amount of circle garland.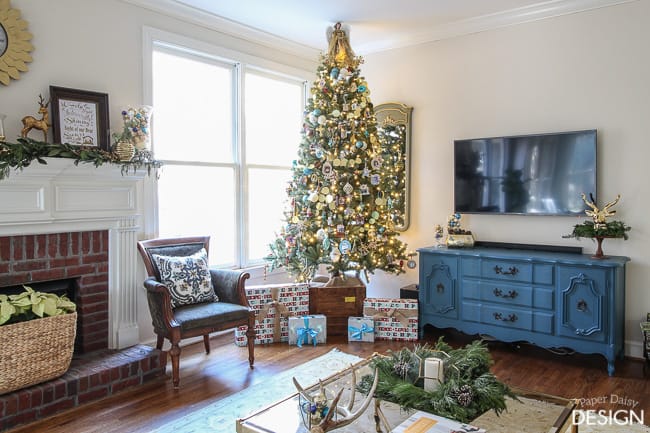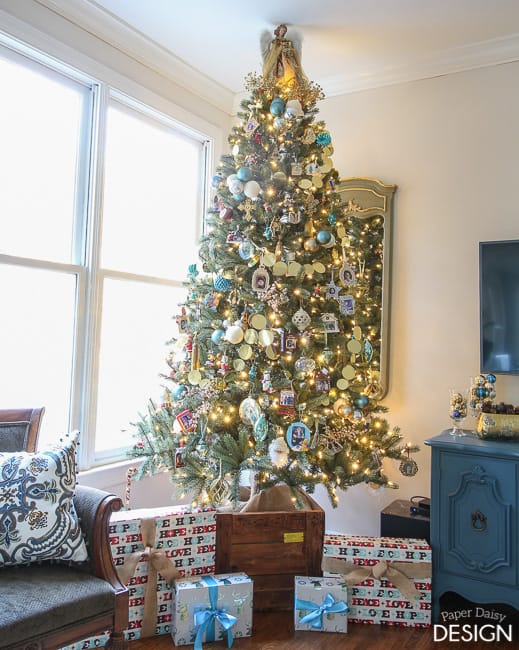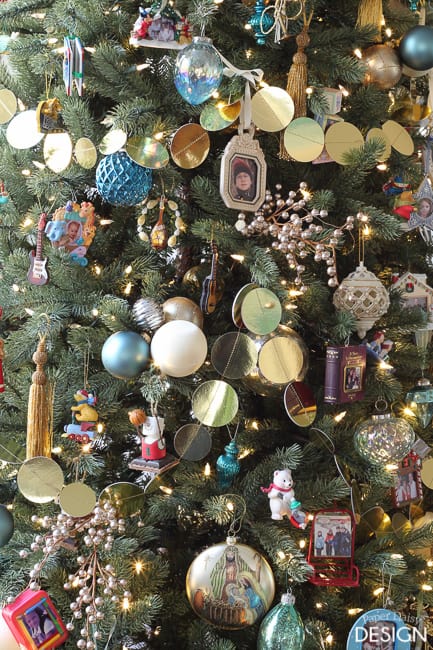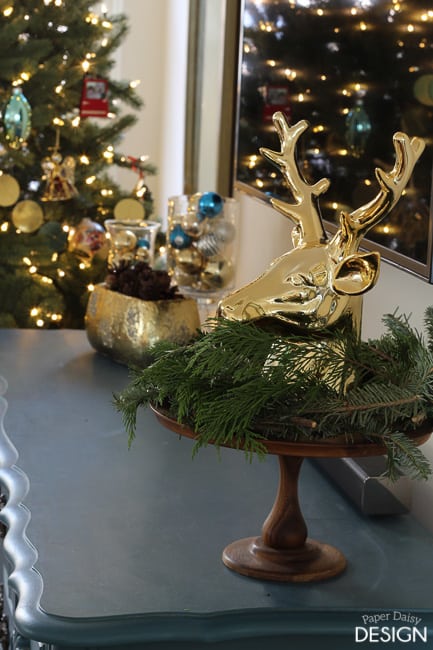 The mantle has a fresh new look this year.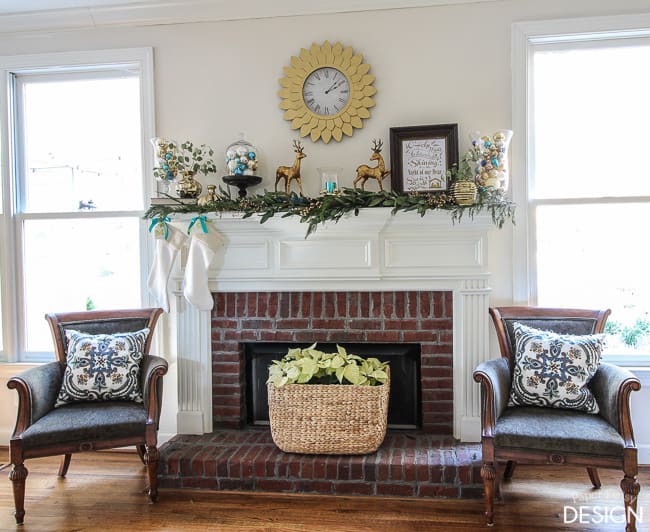 Complete with newly designed art. And guess what? I'm sharing the files to create your own version here for your Christmas decor!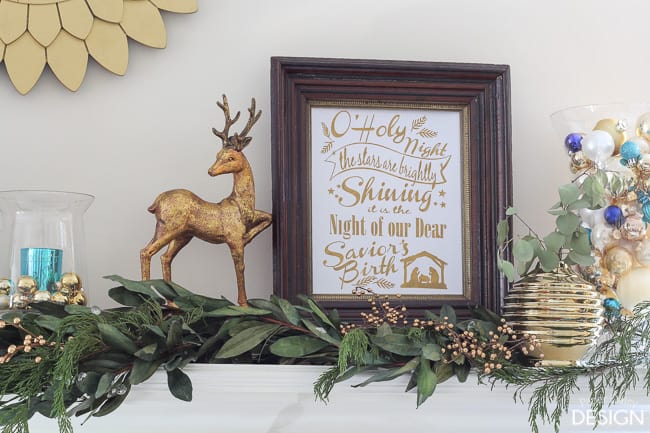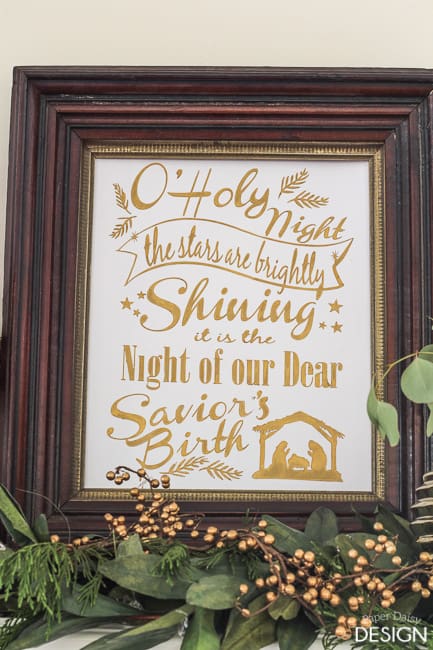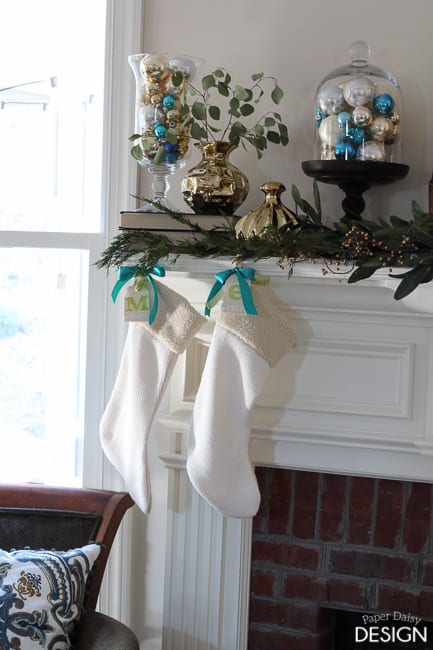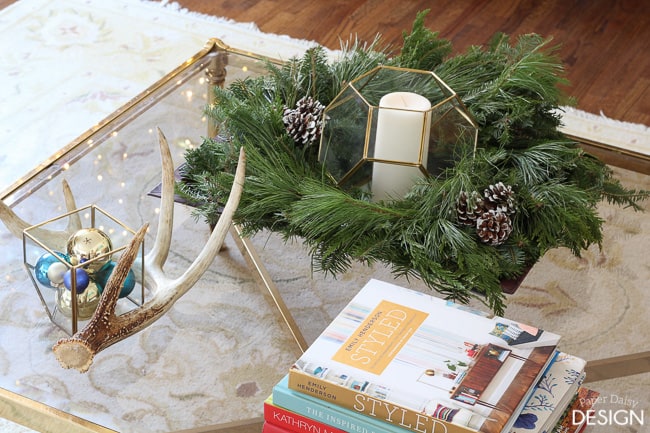 While I was photographing this vignette, my photo bomber arrived.  Tucker, our golden doodle wanted cozy up on the sofa, but the pillows are always, always in the way.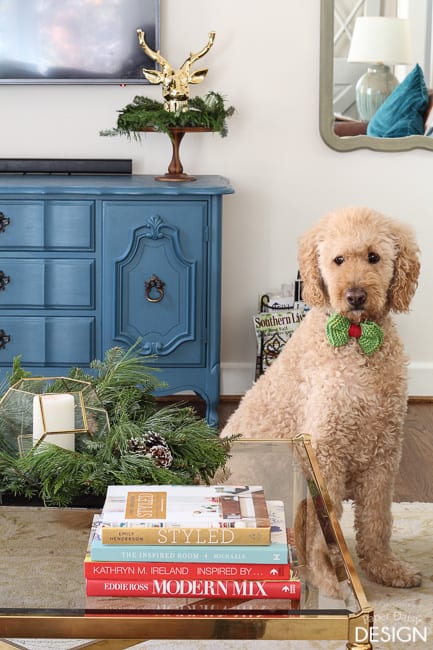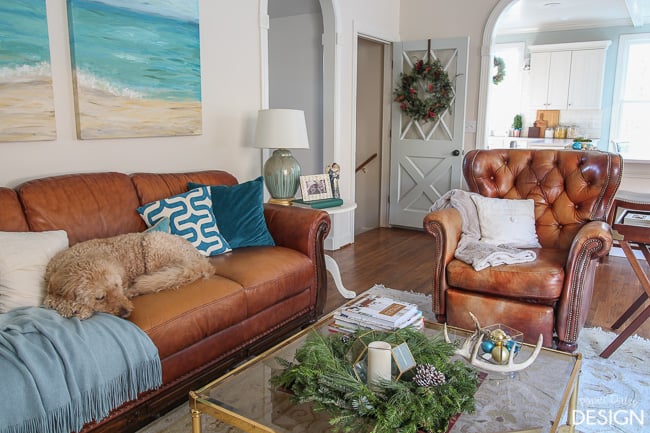 Through the large archway is the kitchen.
The Kitchen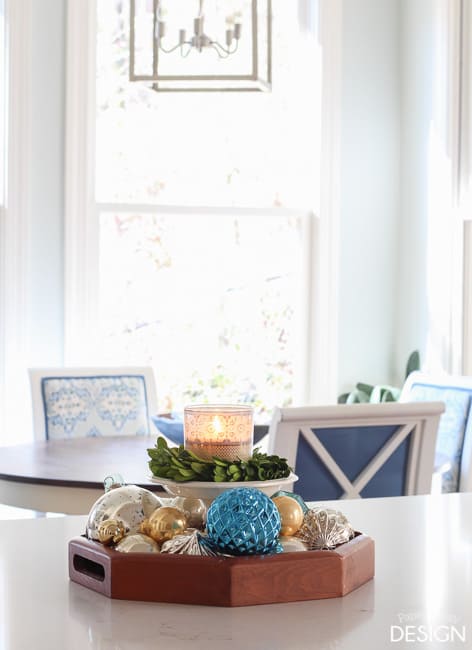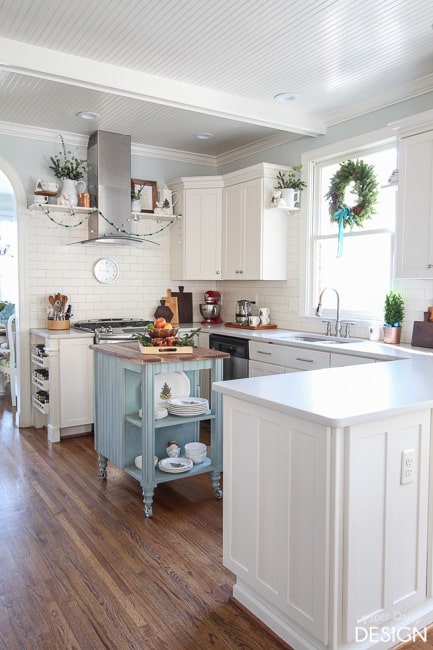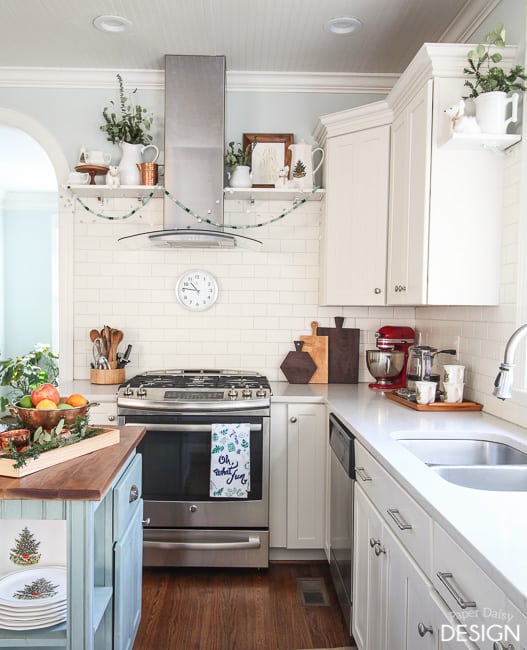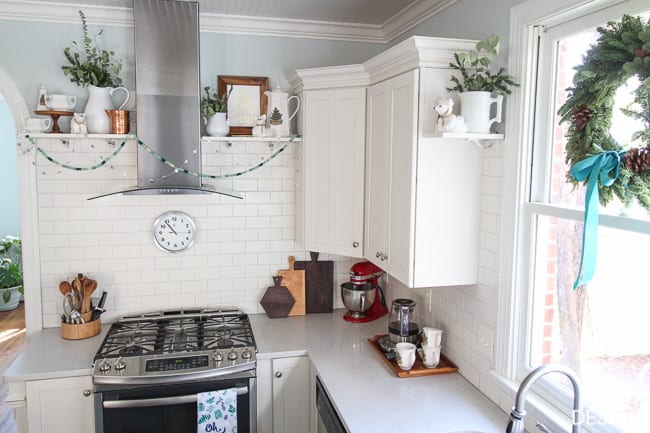 Notice the collection of cutting boards on the counter? They are actually Christmas presents that will be wrapped up soon. But I wanted to display them here in case you missed them. They are an easy and charming DIY that you can make in just a few short hours.  The tutorial link is here.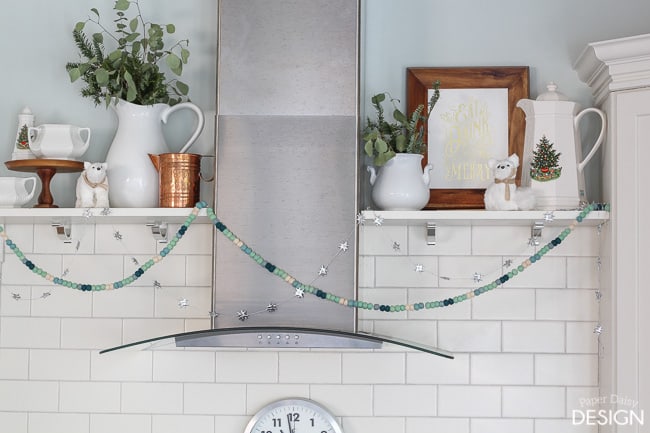 This felted garland from Minted added just the perfect touch of blue to the kitchen shelves and then I swagged twinkling silver stars and added copper accents to bring in the glimmer.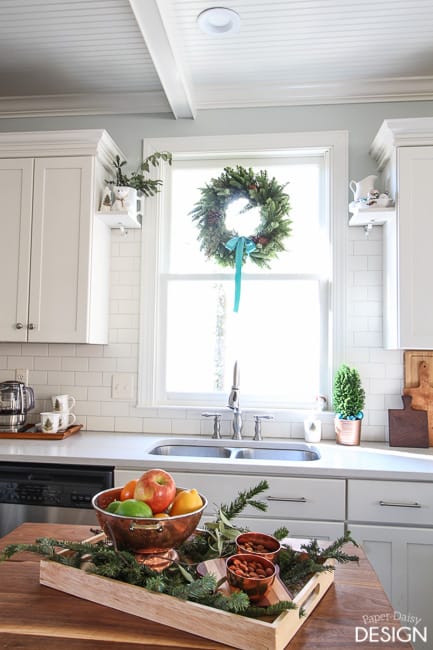 Fresh greens are always welcome during the holidays and fill the house with that quintessential smell of Christmas. You do know you can ask for tree cuttings at your local Home Depot, right?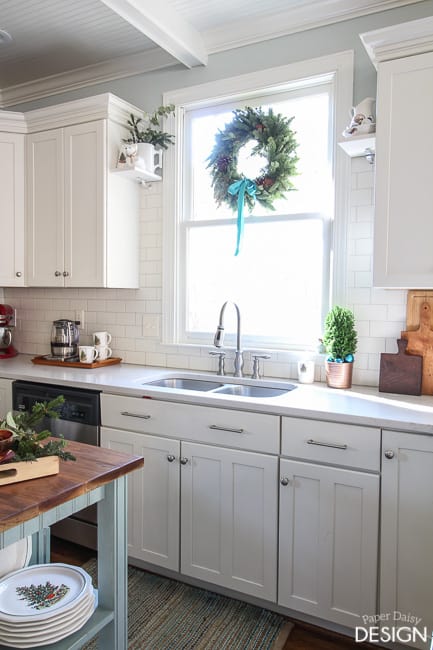 I have bits and branches scattered around the house, but this purchase of a lovely mixed Douglas Fir wreath was a good choice.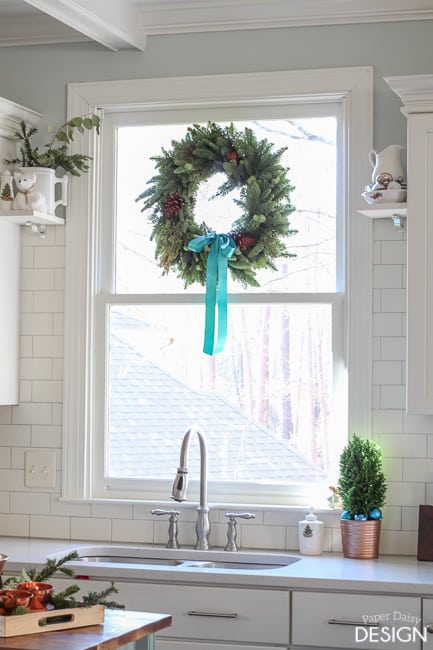 The Dining Room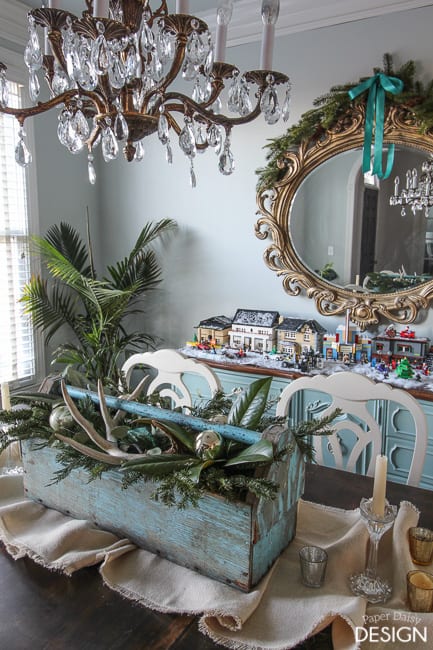 I kept the dining room simple for now. If you have ever visited my house during Christmas season, then you have seen my extra special Christmas village.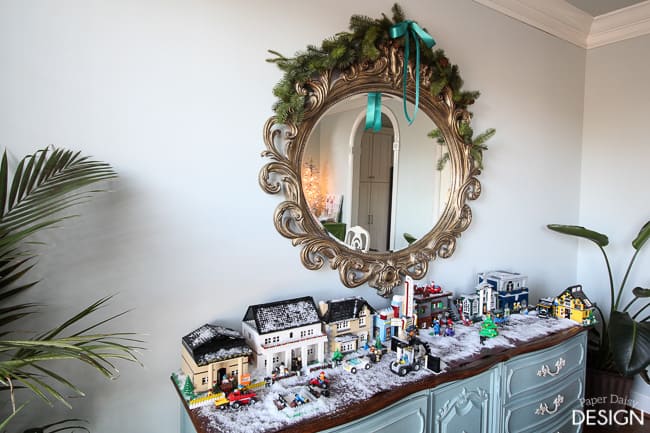 This year, our aspiring architect designed and built several new houses.  Forcing our village to relocate to this larger buffet.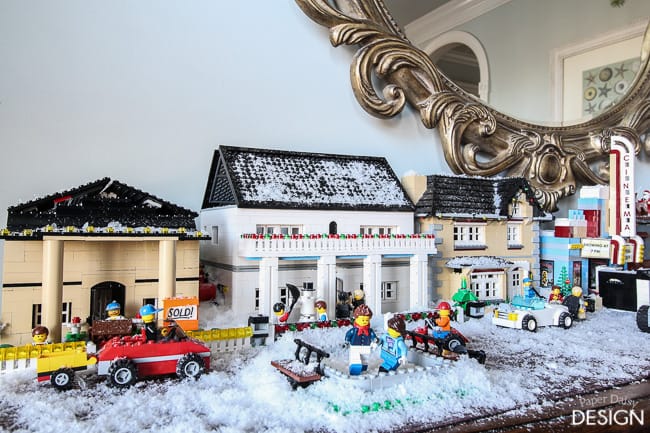 Growing up, our son and daughter were Lego fanatics and soon after their building days were over, I asked them to put their prized Legos to good use and construct me a Christmas Village.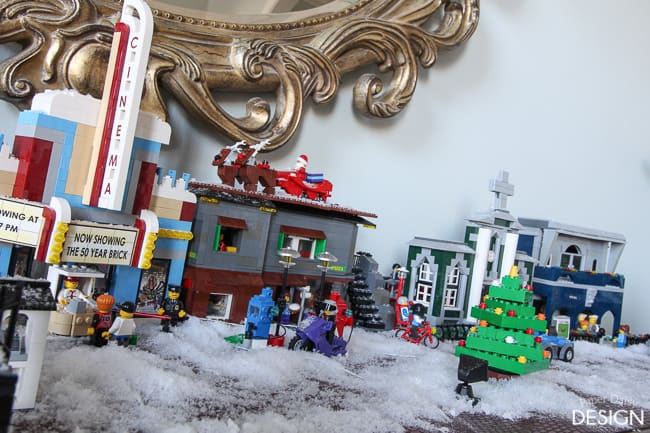 Every year since, they have added small details that bring the display to life. Each scene is carefully planned and carefully executed.
If you look closely, in front of the blue house below, the family is welcoming their soldier home from deployment.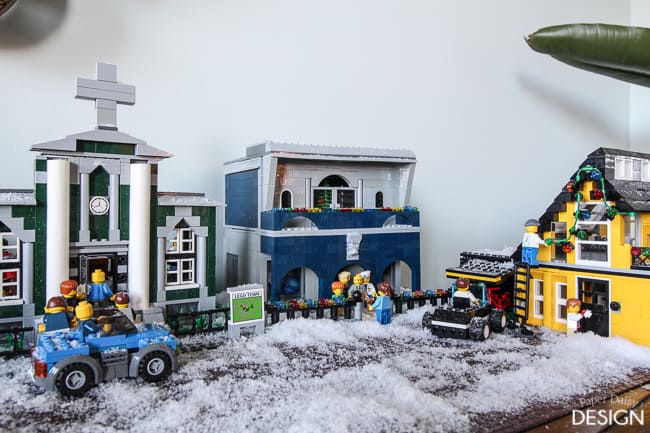 The Screened Porch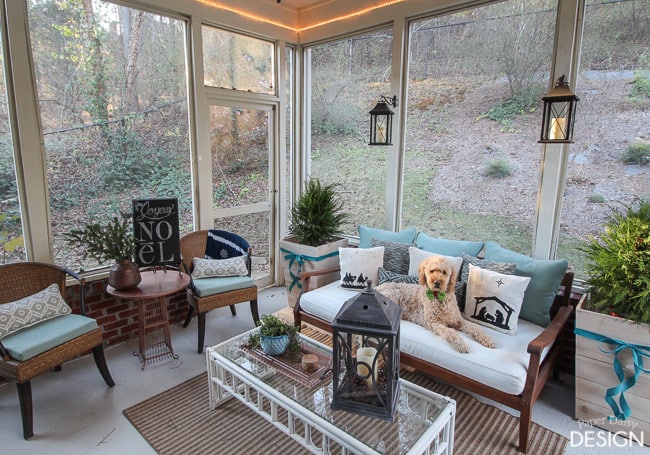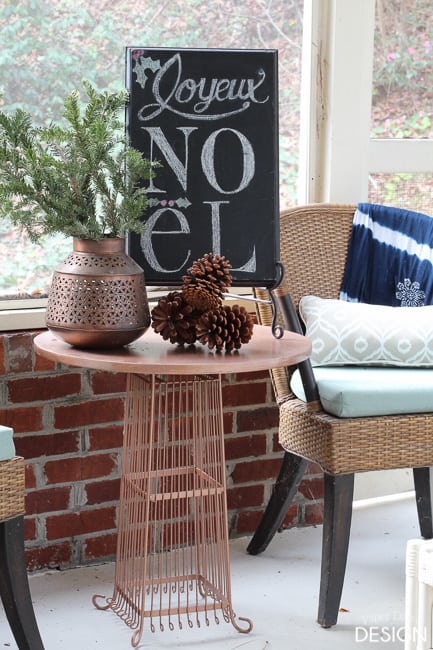 Again, a simple loose bow is all that is needed to bring a bit of holiday happiness to an everyday item. These DIY planters were one of many inexpensive cedar fence projects I created this year. Here is a link to the tutorials.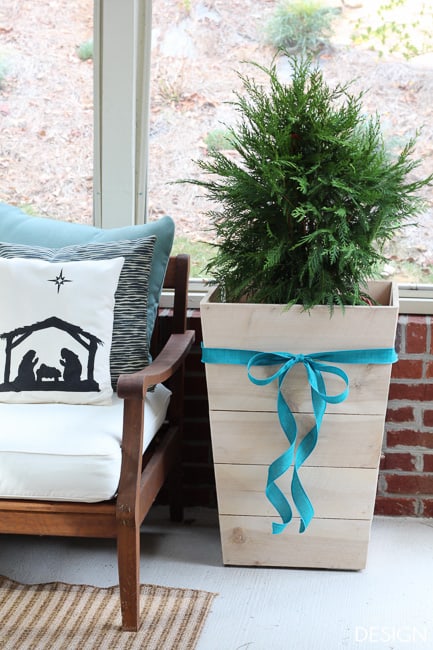 Thank you so much for coming by. I so hope you enjoyed the tour and hope you were inspired with an idea or two to carry over to your own Christmas decor. Please be sure not to miss the other homes shared at Jennifer Rizzo's Holiday House Walk.
Wishing you every blessing of the Christmas season, shared with the ones you love most.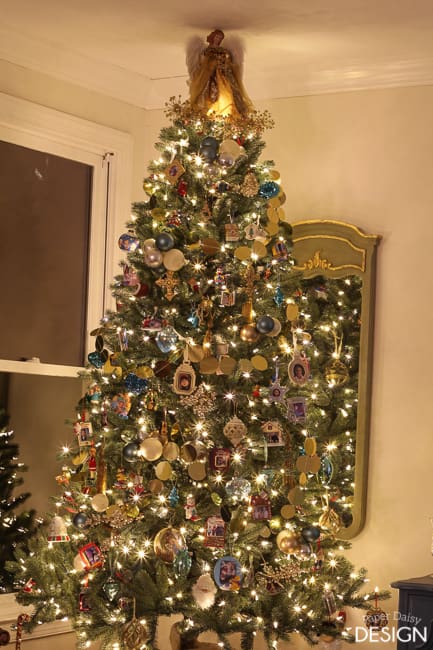 I will be updating this post with links to the tutorials mentioned and maybe a few more looks.  There's still the basement family room and maybe the newly remodeled master bathroom will get a little Christmasy?