Week 3 is the week I think I almost always start to panic during the One Room Challenge, but this time I think it's probably totally appropriate.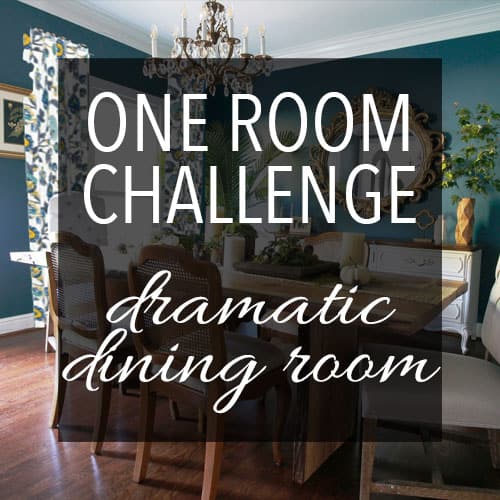 If you are completely confused about what has got me all stressed, let me explain. Hundreds of design and home bloggers gather twice a year to inspire and encourage each other to complete a room makeover, big or small in just 6 short weeks! We have our friend, Linda at Calling it Home to thank for this brilliant event that is now sponsored by dozens of companies and House Beautiful is the media sponsor. We are now at the halfway point!
So faced with that fact and looking over what was and was not completed this week, I am, like I said a bit concerned. But if there's one thing I know about myself, I tend to thrive on a deadline and I will very likely find a way to get this room pulled together in 3 more weeks.
Over the weekend we were able to get the panel moulding installed. The moulding was provided by Metrie and is a key component in finishing the room to create luxury and drama in the room. This particular moulding is from their French Curves collection.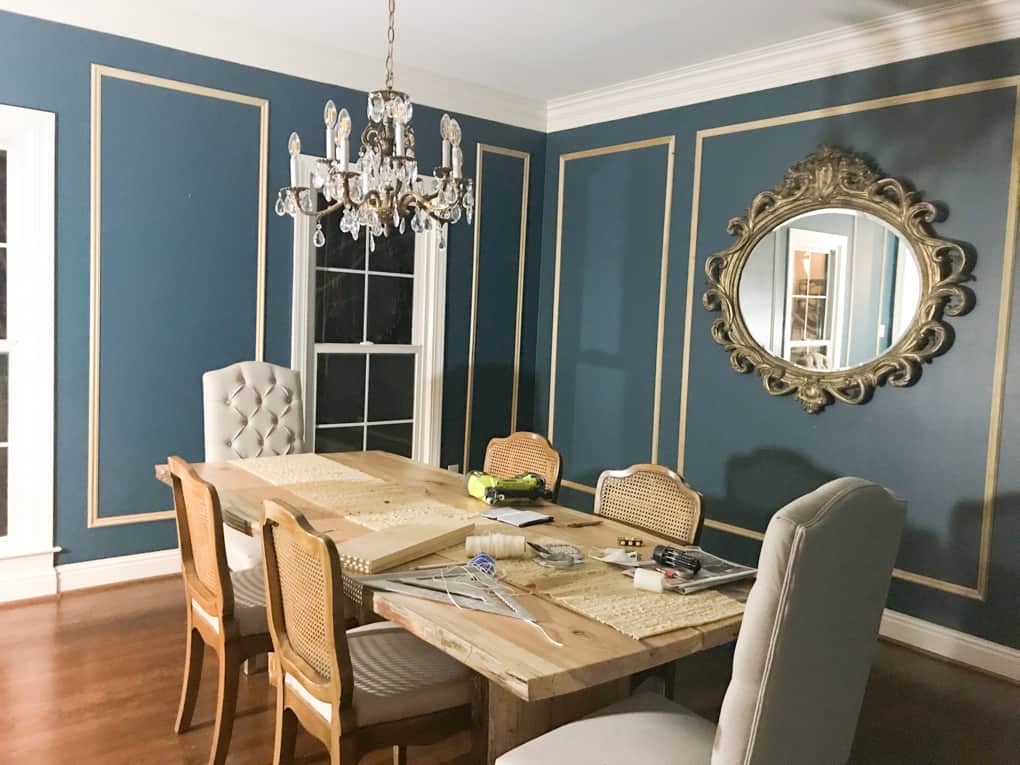 Having a bit of experience at this type of project during the Fall One Room Challenge last year in our Master bathroom. The clean style of long graceful panels definitely simplified the look and the task. With the techniques I used last year in batching my cuts, we were able to complete the cutting and hanging in just one day!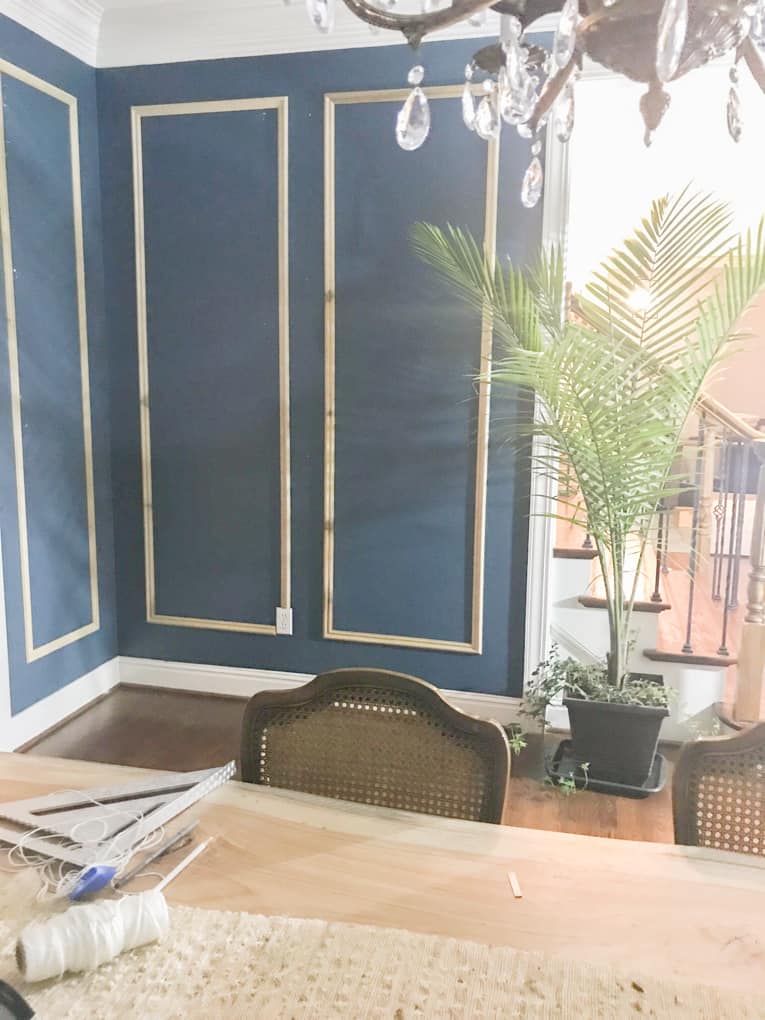 Of course, I still need to fill the nail holes, prime and paint but that should be a fairly quick process.
In other good news, today, Wednesday, was definitely a turning point on several fronts.
I made a solid decision on the rug. Now, I just pray that I made the right choice. It arrives on Friday.
I actually ended up wasting most of last week in indecision over a rug I eventually admitted was not only too big for the room, but way out of my budget. I very much wanted to find a way to make it work, but I could not justify such a large investment when we've got two in college and all the expenses related to the rebranding the blog. Sadly, the harsh realities of life win in this case.
But I will share with you a photo of that dream rug in the room because it was quite lovely.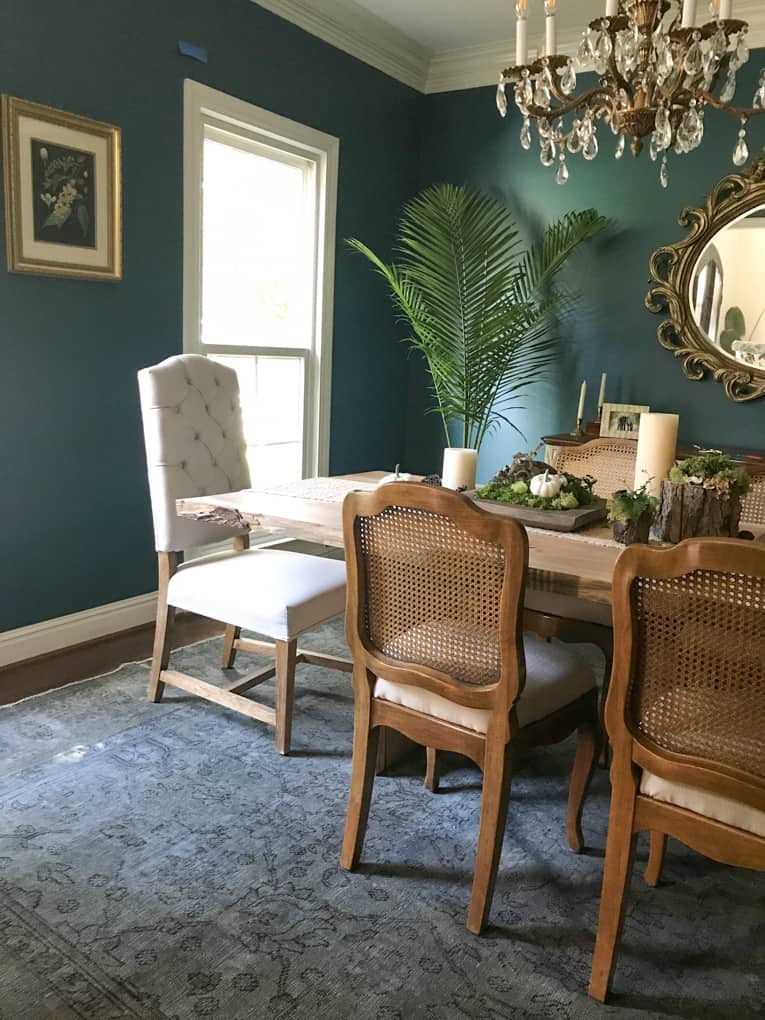 You can see why I wanted to make it work, right? It was so gorgeous!
I also decided definitely to paint the chairs.
Several of you suggested that maybe the chairs were not right for the table or the room, but I still hold fast to my design and vision. I actually watched an inspirational talk by Nate Berkus this week for Delta Faucets and National Design Week. He suggested that design is not about being safe. "It's never about being concerned with looking over my shoulder for what's appropriate or what your neighbor is doing or what your mother-in-law thinks, or any of that. It really has always been about what feels fresh, a fresh combination." He went on to say that he likes to combine disparate elements in a space so that it just "sings".
Now all that to say I totally and completely loved getting your comments and feedback, but in the end, I need to trust my vision for doing something different and not what is expected. It may totally fail, but that's okay by me. They are just chairs and as my best friend said to me as we discussed them yet again, "You'll probably want to change them in a few years anyway regardless if they are right or wrong. So just go for it."
I do think once I moved the ornate buffet out of the room I was much happier with the way the chairs look in the room. But I still need to paint them and decide on a color which will do once the new rug arrives.
I finally had time in the workshop tonight and came up with proper modifications for that pair of squatty chests/nightstands that will be replacing the buffet.
I had to scrap the idea I shared in my design board last week, realizing that my original plan was likely more appropriate for the existing style of the chests.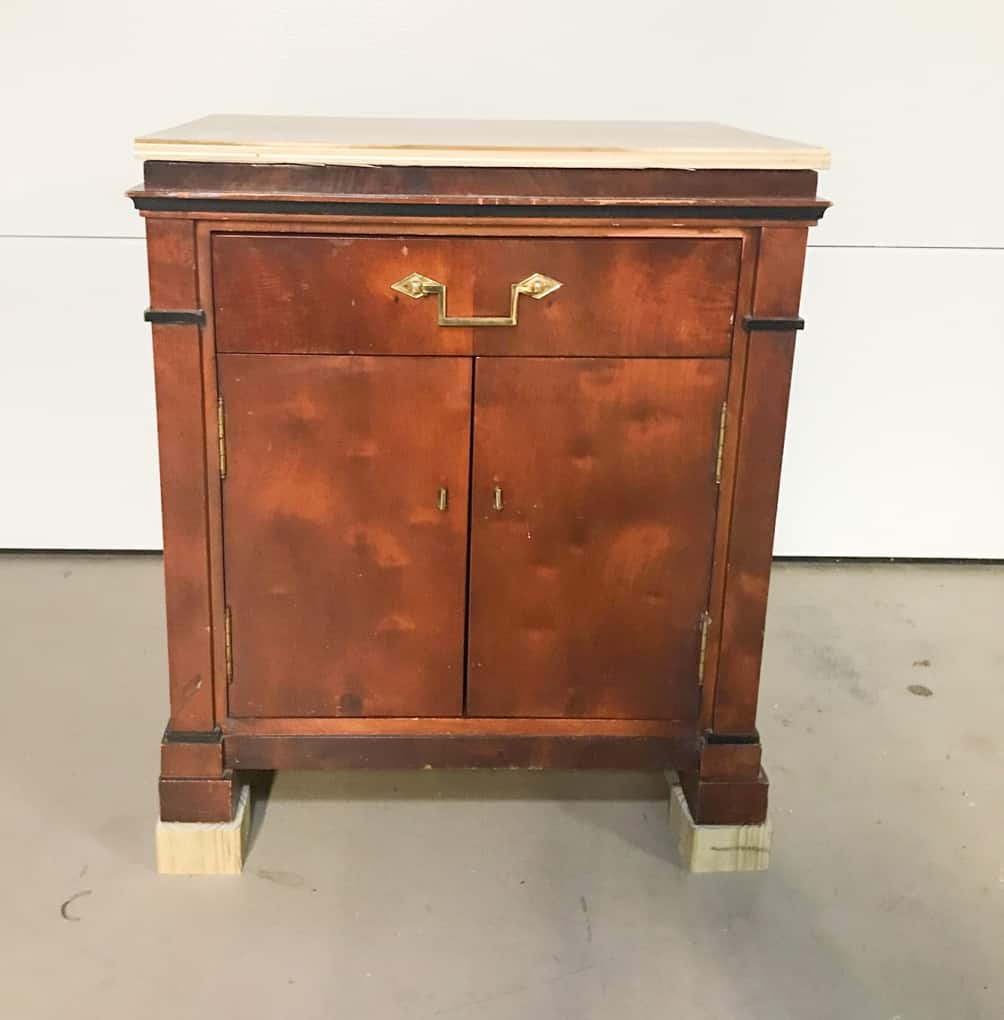 The goal was to make them taller and add a new tops to replace the existing ones. They were in terrible condition. The wood is all cut and I have started assembling the pieces. These will be painted as well.
I had the great privilege of meeting Annie Sloan today and she talked me through how I could achieve a lacquered finish for them! I can't wait to give it a try. I think they are going to be fantastic! She is just a deligh and so very inspirational!
My fabric arrived at the end of last week. I can add sewing curtains to the list of things still left to be done.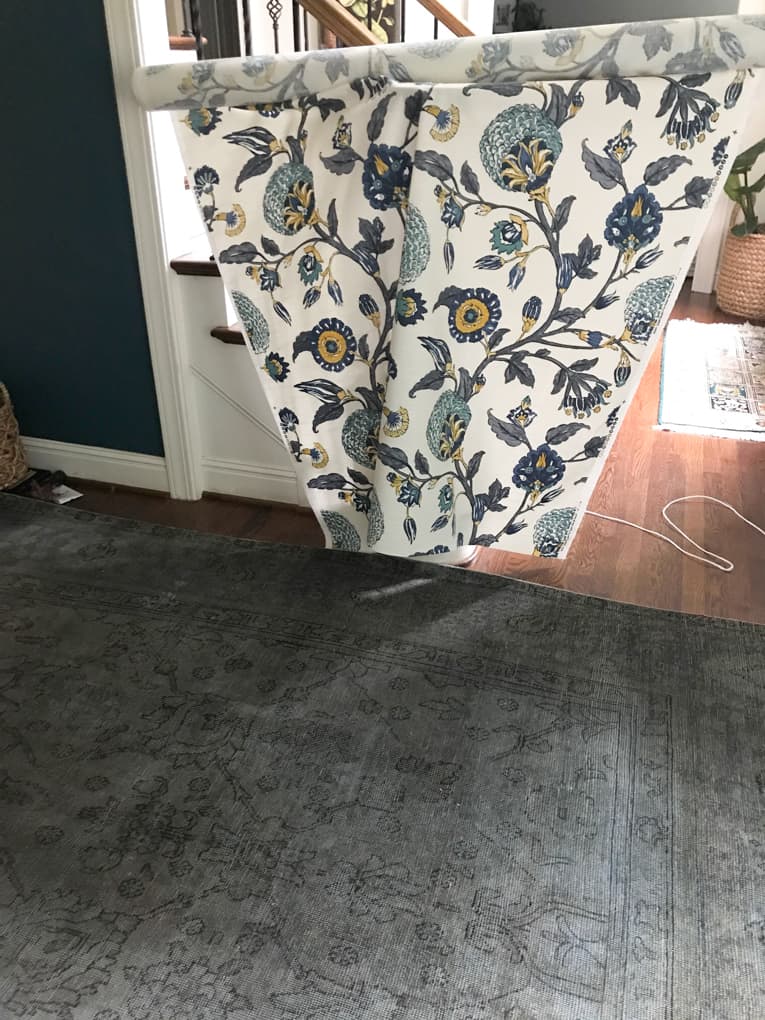 That's quite a list isn't it? You probably can concur that panic is likely in order.
Let's hope my track record of rising to a challenge holds up! Be sure to check out the Participants for the One Room Challenge who post on Wednesdays and the other Guest Participants to see how they are doing with their rooms! I have a feeling based on Linda's email this week, that I am not the only one feeling a bit anxious about the impending reveal date, November 9th!
* I received product from Metrie for this room makeover. All thoughts and opinions are my own.
SaveSaveSaveSave
SaveSave
SaveSave
SaveSave
SaveSave