Welcome back for the Second week of the One Room Challenge! As promised things look a little different around here, right??  Y'all, I am so very excited to finally have my vision for the rebranding of my blog to become a reality! Welcome to Deeply Southern Home!
This week's installment for the ORC is all about my vision for the room.
I know what you are saying when you look at this photo.  "That room looks pretty nice."  And it really does, but it's just not living up to its full potential and my original vision.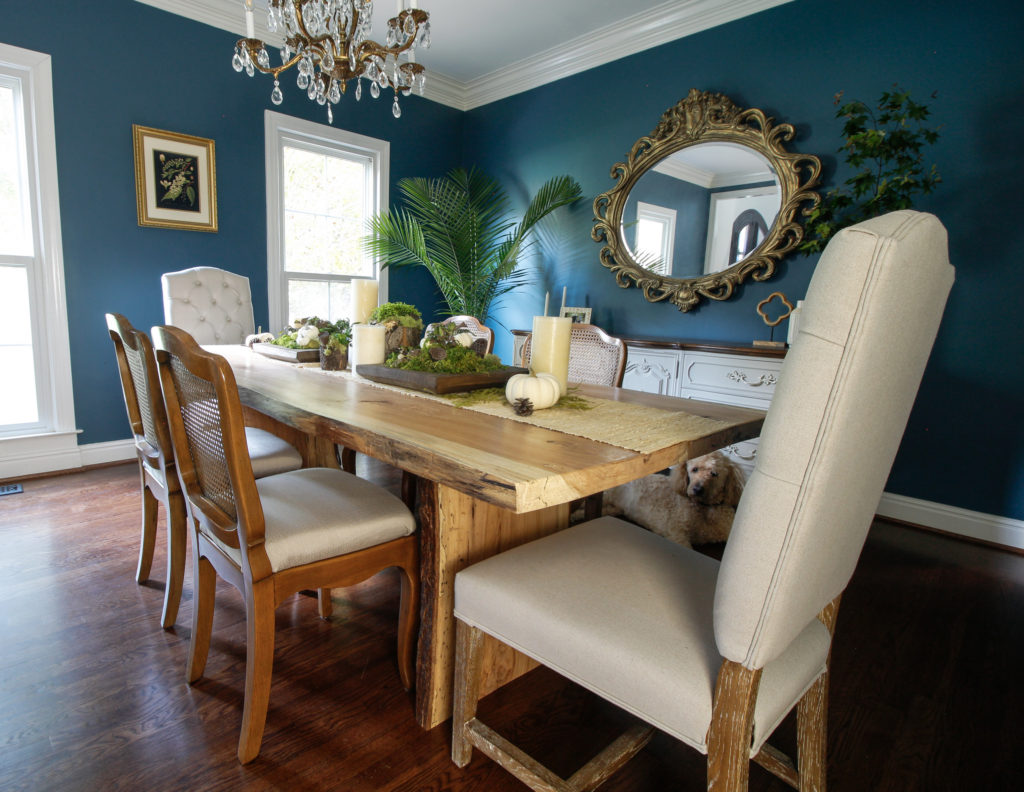 I wanted a dining room that was moody and a bit intense.  I wanted to create a room that from the moment you stepped in, you felt you were in for something special.
I think the existing wall color evokes a feeling that is a step in that direction. ( It's Deep Sea Dive by Sherwin Williams in case you were wondering.)  I sampled no less than a dozen colors when I painted this room before we moved in over a year ago. (Yes, the vision for this space really is that old.)  Good things take time, isn't that what they say? But that is exactly why I am participating in the One Room Challenge, to get it done!
I certainly felt very much on trend recently when I learned that Sherwin Williams' color of the year is Oceanside. While Oceanside has less green than Deep Sea Dive, the intensity is similar and depending on the light of the room it can look very much alike.  Check out this video. They perfectly captured what I hoped for in this color selection.
I hope you picked up on my paint color selection tip.
Always, always sample a paint color in a room.  I spent a fair amount of time swatching every color for #theTrailHouseReno before we painted every room. We painted prior to moving in and having the floors refinished. You can see in the photo below, with the circled swatch, that I started with a color that was much less intense and more of a muddier blue-teal, Silken Peacock.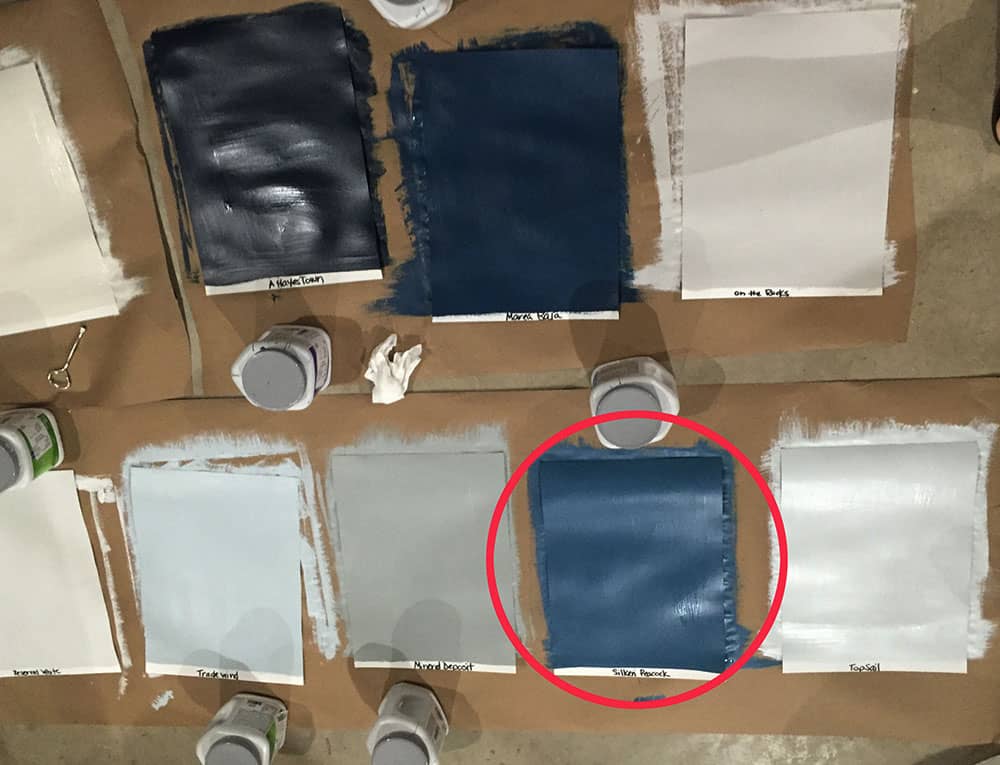 And while I don't have a photo, I vividly remember at least four watercolor poster boards hanging in the dining room.  Every time I came over, I would move the swatches to another wall and study them until I felt confident about my choice.
So, enough about this wall color and picking paint colors.
Let's move onto some pretty pictures that demonstrate where I hope to land with this room. I've taken many of my existing pieces as well as ideas for new purchase or pieces and created a mood board.  I plan to offer this for consulting clients as well.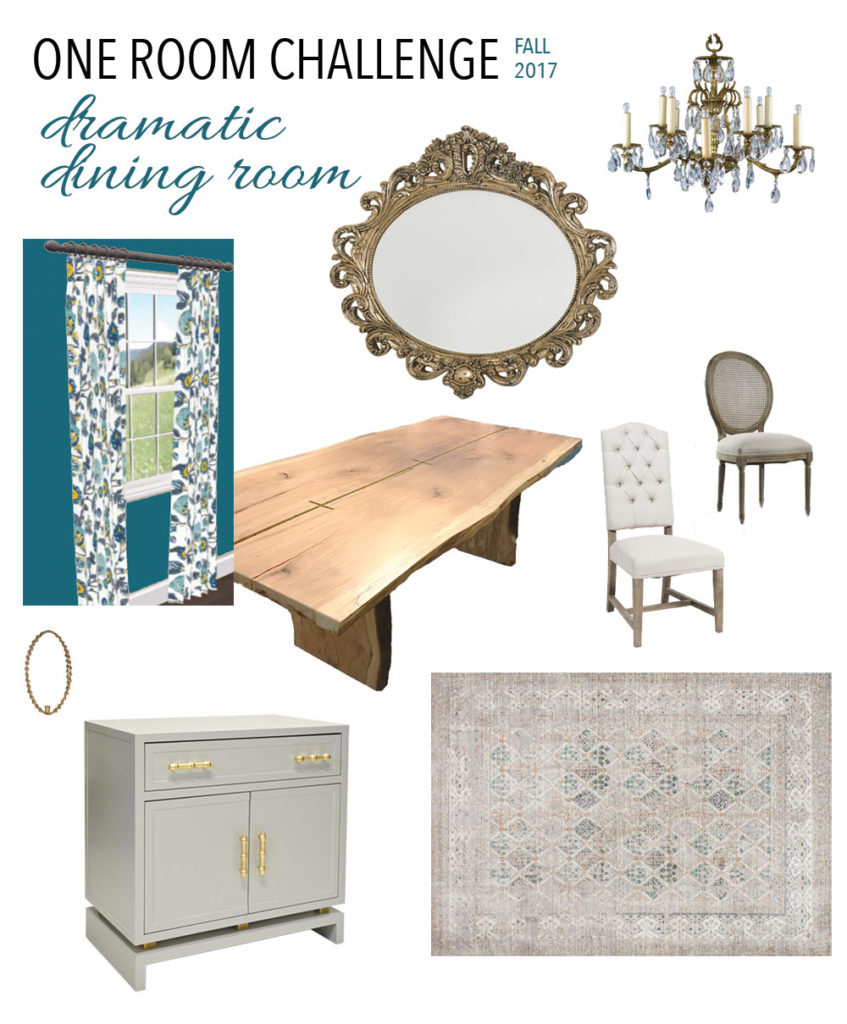 Here are few more key elements to the design.
Paneled moulding
Each wall will be paneled with moulding from Metrie. I worked with them for my bathroom remodel, HERE last year and I love what those details added to the room. The larger walls will have at least 3 panels nearly floor to ceiling like you see in these photos.
Live Edge Table
I have had my heart set on a live edge table for quite a while.  I mean, look how awesome this table looks in Kate's room!
Given the price tags on these beauties, especially at the time, I knew I wouldn't have the budget for one unless I built it myself.
Long story for another day, but the short of it is I got lucky and found some bookend live edge pecan slabs on Facebook marketplace.
I still plan to share a full tutorial on how I built this with only hand power tools.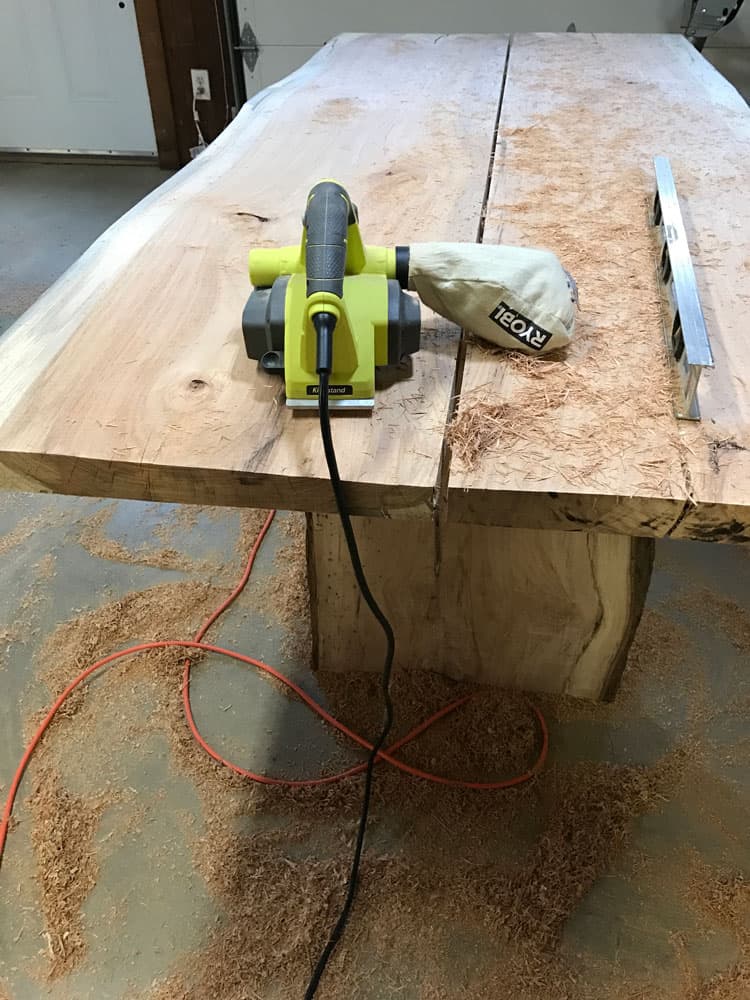 Here is a look at the table right after we moved it into the room. This is was back in March.  It took several weeks of woodworking and finishing after much thought and planning.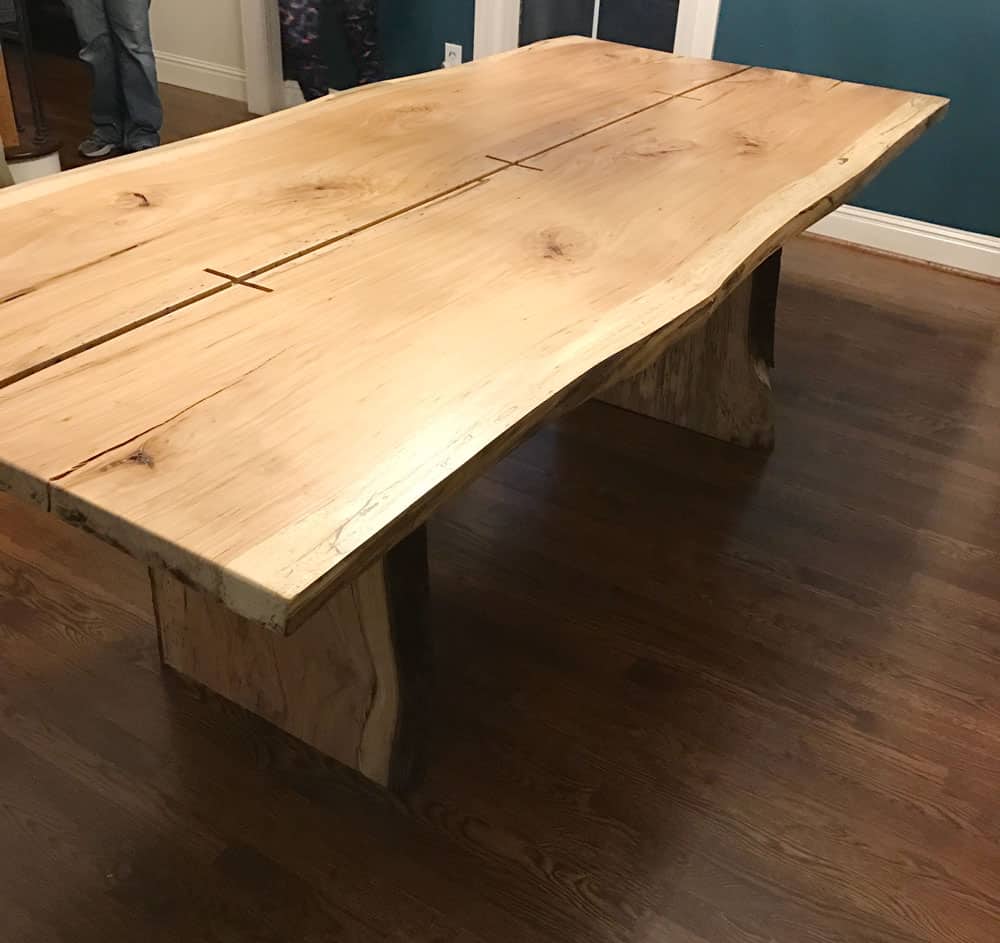 Needless to say this would not have been a project that could have been completed during something like the One Room Challenge.
As for the chair situation, I have always been a fan of traditional, upholstered chairs. I chose just a few from my Pinterest board.
And one of my all time favorite dining rooms by Nate Berkus.
Right around the time I was working on the live-edge table, I stumbled upon another lucky Facebook find.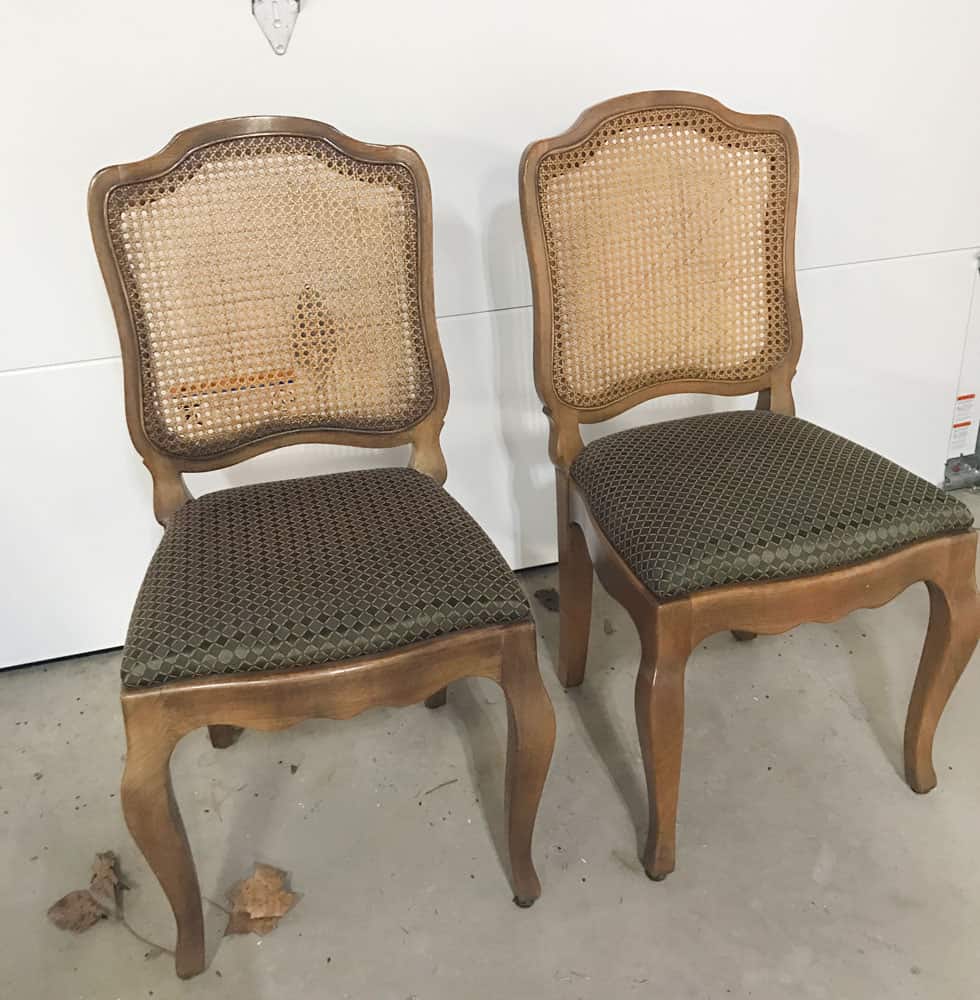 I bought all 6 of them for some insanely great price with the intention of painting them.
BUT when I got them home I realized that they were in immaculate condition and my best friend Dana threatened my life if I painted them.
Here's the thing though. I don't feel like they are working.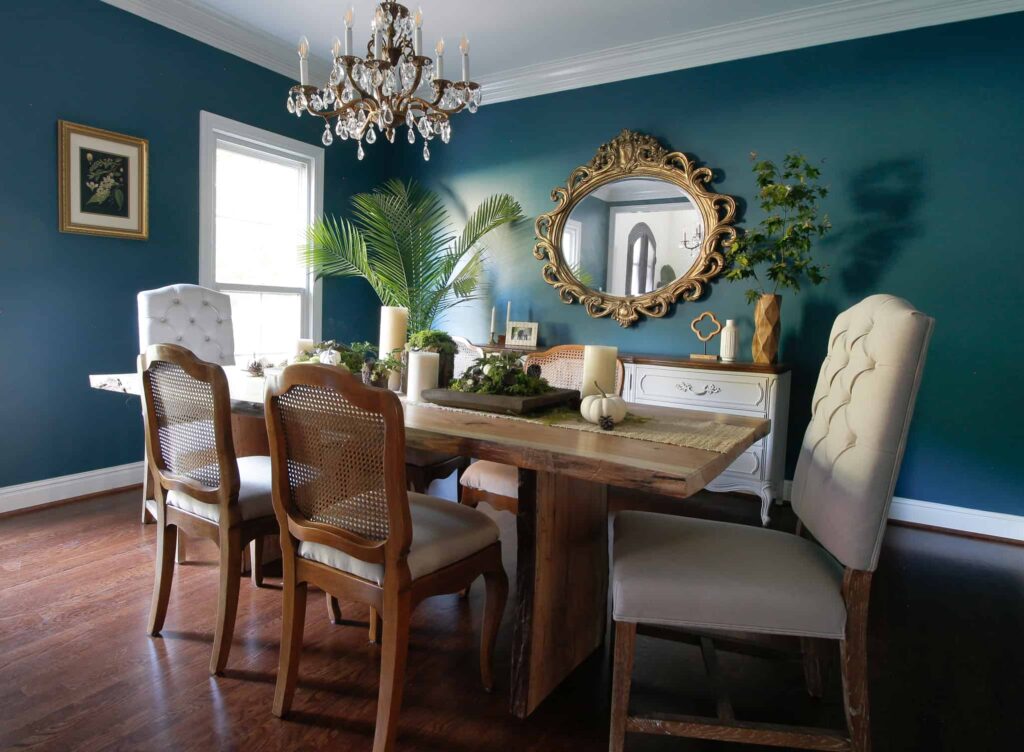 I think I have to paint them. Or at least paint the frames. I think I would paint them to match the upholstered host and hostess chairs.
I would love for you all to weigh in on this one. What would you do? Paint or not?
I could paint them the same color as the buffet which I will be selling.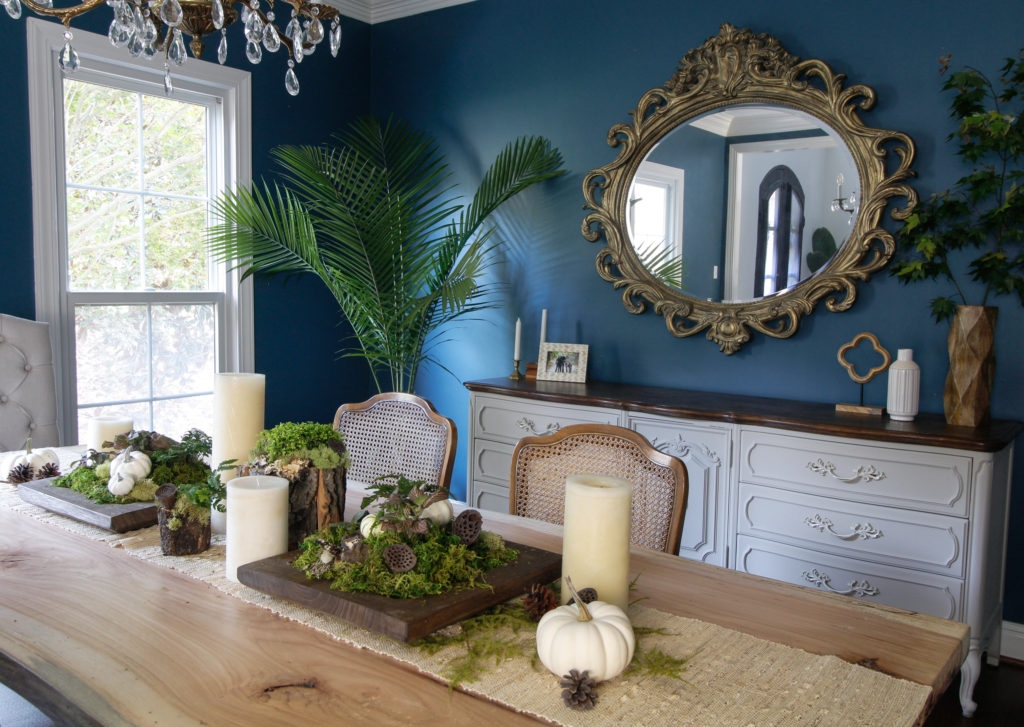 It is a fantastic piece. Solid with tones of storage, but there are just too many curvy, ornate things in this room. This buffet is the one thing I am willing to let go of.
If you follow me on Instagram, then you likely saw in my Stories that I picked up these two nightstands that will be receiving a major makeover.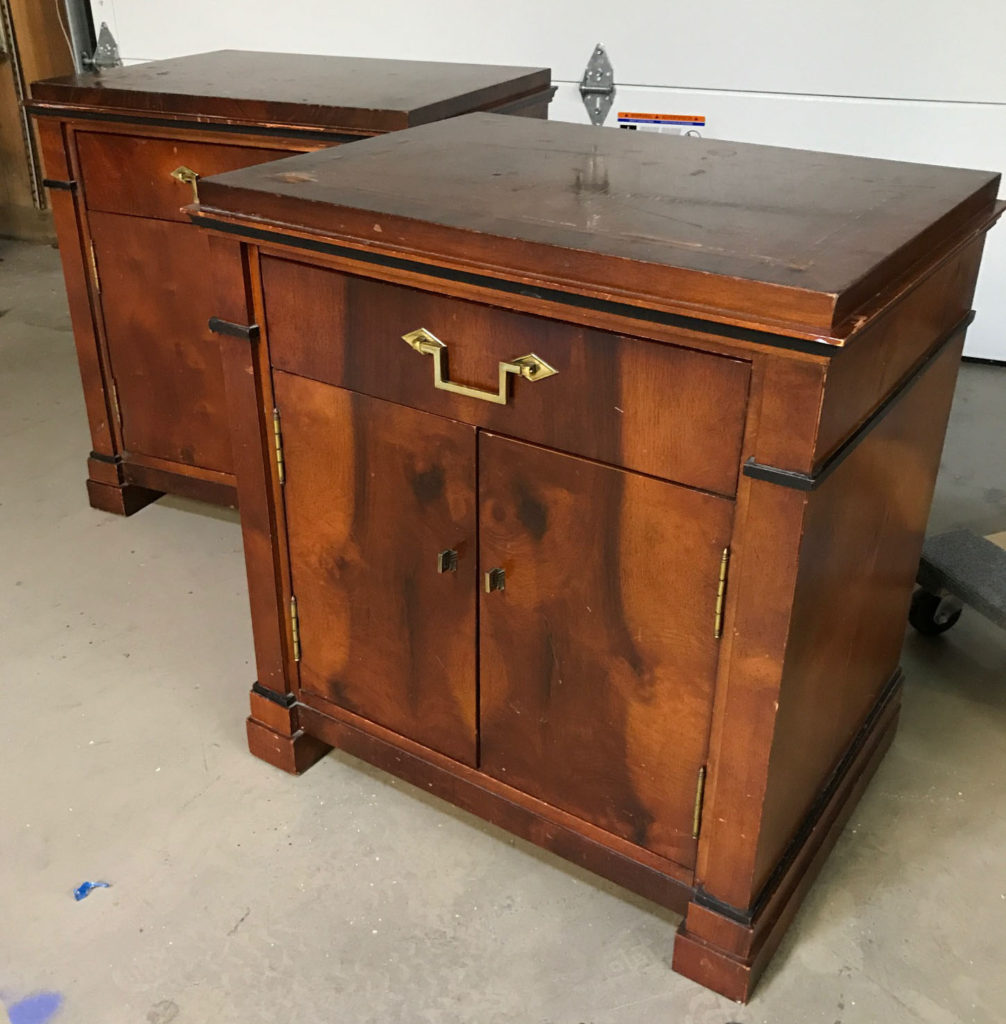 The plan is to use them on either side of the mirror, which is staying.
Here's a recap of what I hope to accomplish, but if you want the full story on the before of this room. Please go read about how it was once a guest room, complete with a toilet! Ha!
I gave a little list last week of what I wanted to do in the space.
Add curtains. I picked out some fabric that I love this week!
Add panel moulding. This will likely be the most dramatic part of the transformation.  I will be working with Metrie Interior Finishes, who I worked with for our master bathroom. Adding more architectural elements to complement the existing heavy crown moulding will further elevate the dining room into the glamorous space it deserves to be.
 Make a decision about the chairs.  Please let me know what you think on this subject!
Replace the buffet.  I found the replacement now I need to sell this one!
Fill the hole of space by the stairs.  There's a spot on the half wall of the stairs that could use something. I think I have an idea that might work.
Decide on a rug. I actually might have a rug that will work now that I've decided on a fabric.  I'll have to move it into place and debate on it for hours. Or maybe I'll ask for a vote on Instagram Stories? Follow me here.
Whew! That was a long one! But now I think you get a better sense of where I am headed. And don't forget to leave a comment below about painting or not painting the chairs! Or maybe I need to scrap them all together?
Please be sure to check out what the other 200or so guest participants are up to this week, HERE. And of course, the Participants are busy putting their best work forward as well.  You can see their projects HERE.
SaveSave
SaveSave
SaveSave
SaveSave
SaveSave
SaveSave
SaveSave
SaveSave