The power of paint to transform a room, especially a bathroom, never ceases to amaze me. What also amazes me is the power of high-quality paint to make the job easier and hassle-free.
This post has been sponsored by KILZ®. All thoughts and
opinions are my own.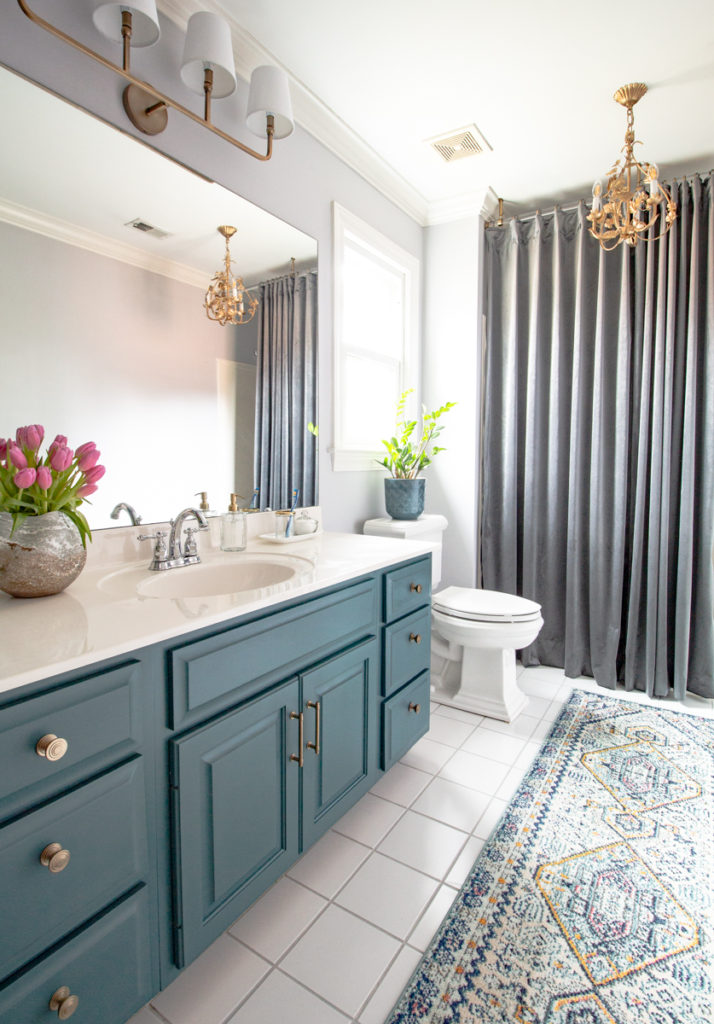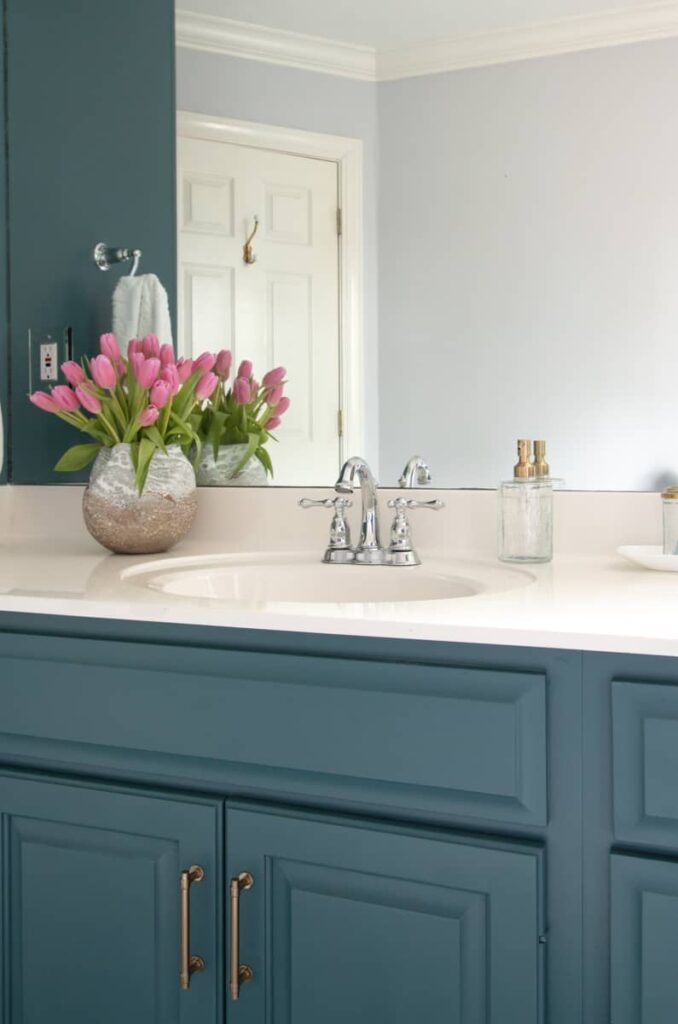 For a fresher look in our daughter's upstairs bathroom I envisioned teal cabinetry and grey walls. KILZ ® TRIBUTE® Paint & Primer had the perfect shade of teal to bring the vision to life. I used OCEANS DEEP #TB-60 in satin. I've used several shades of teal recently and this one is by far my favorite. It has a touch of grey in the mix which makes it vibrant without being too bright.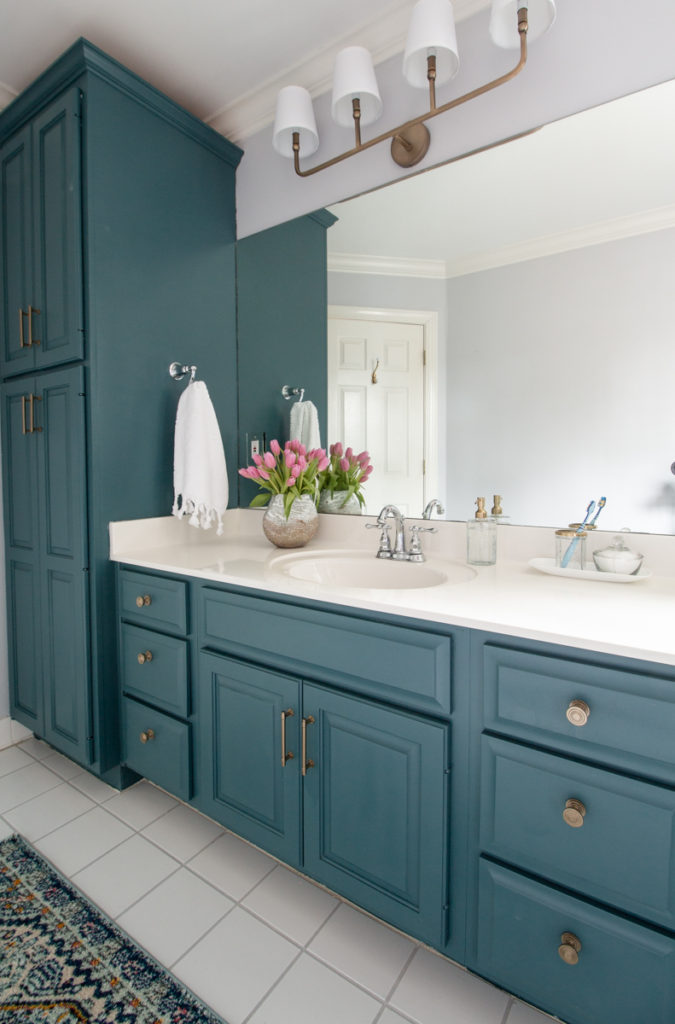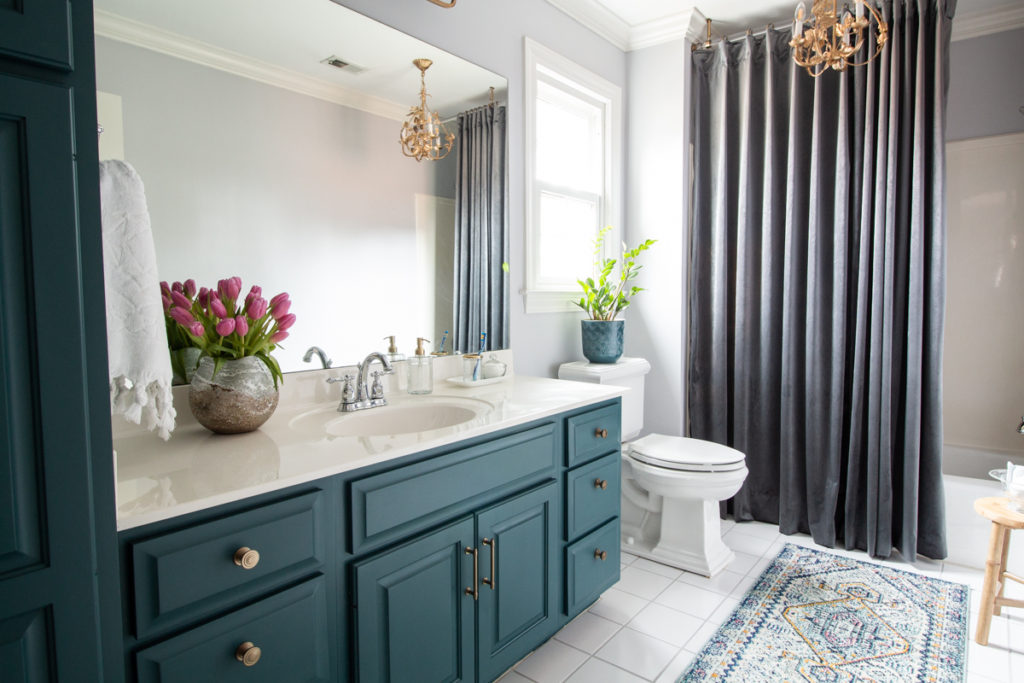 For the walls, I used BRUSHED METAL #TB-32. A soft grey with hints of blue and violet to make it a bit more cheerful than your average grey. I would recommend this color for a room that receives warm light, like in a south facing room.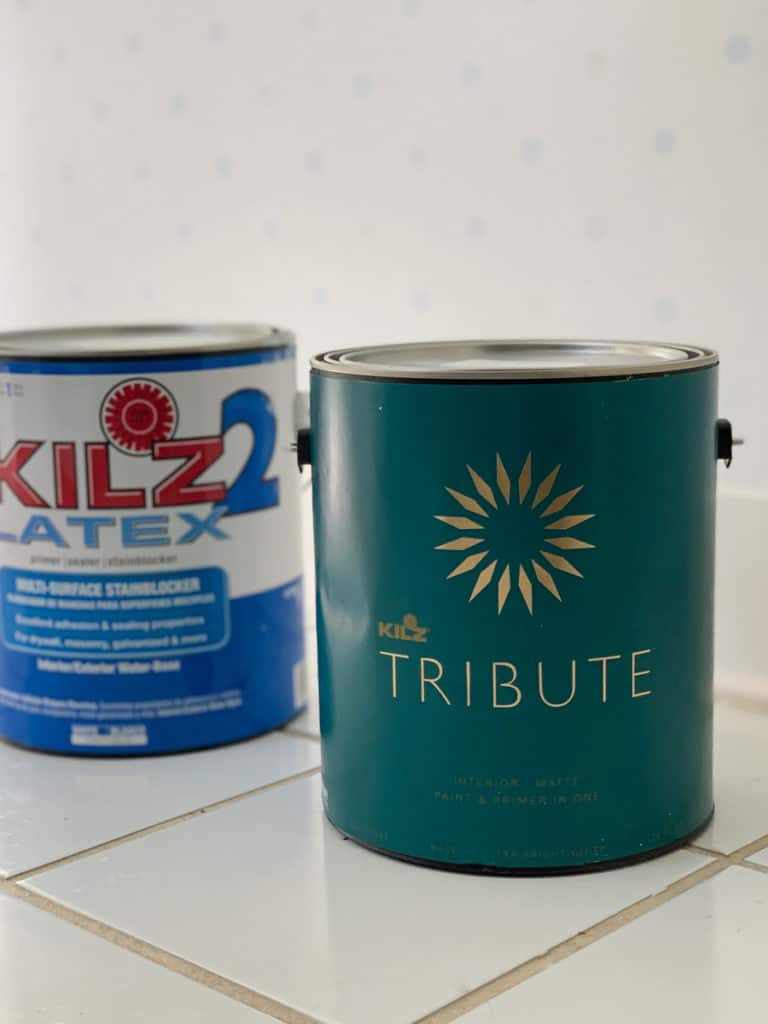 Of course every good paint job starts with a great primer. But before we get too far ahead, let's take a look at where we began.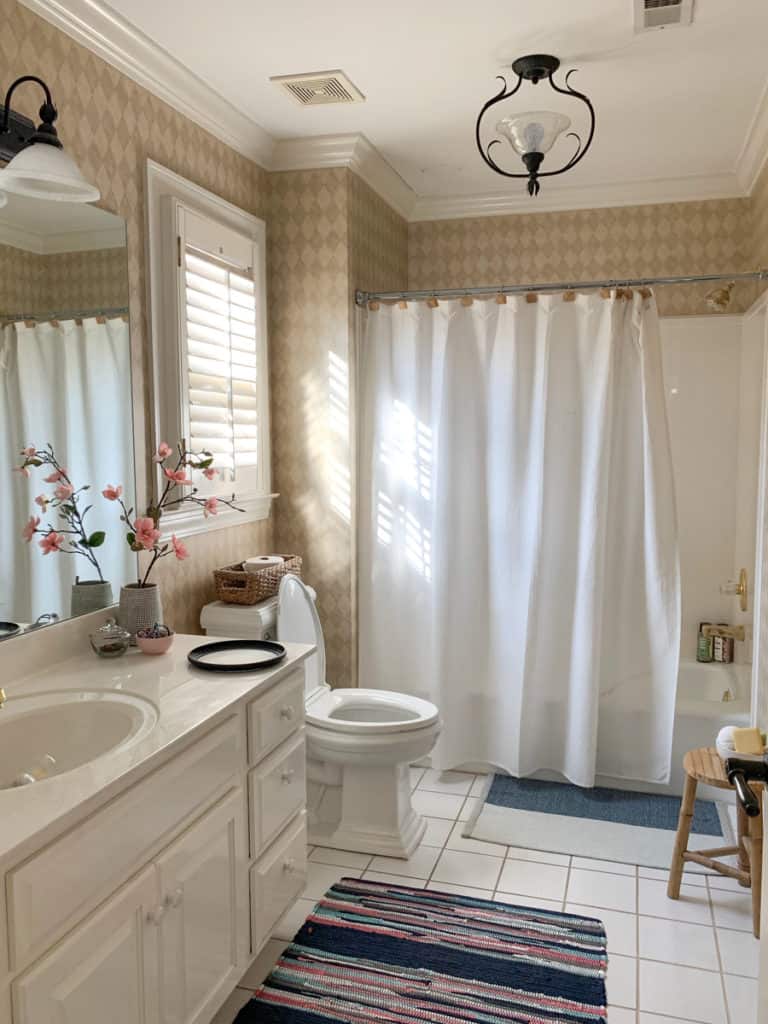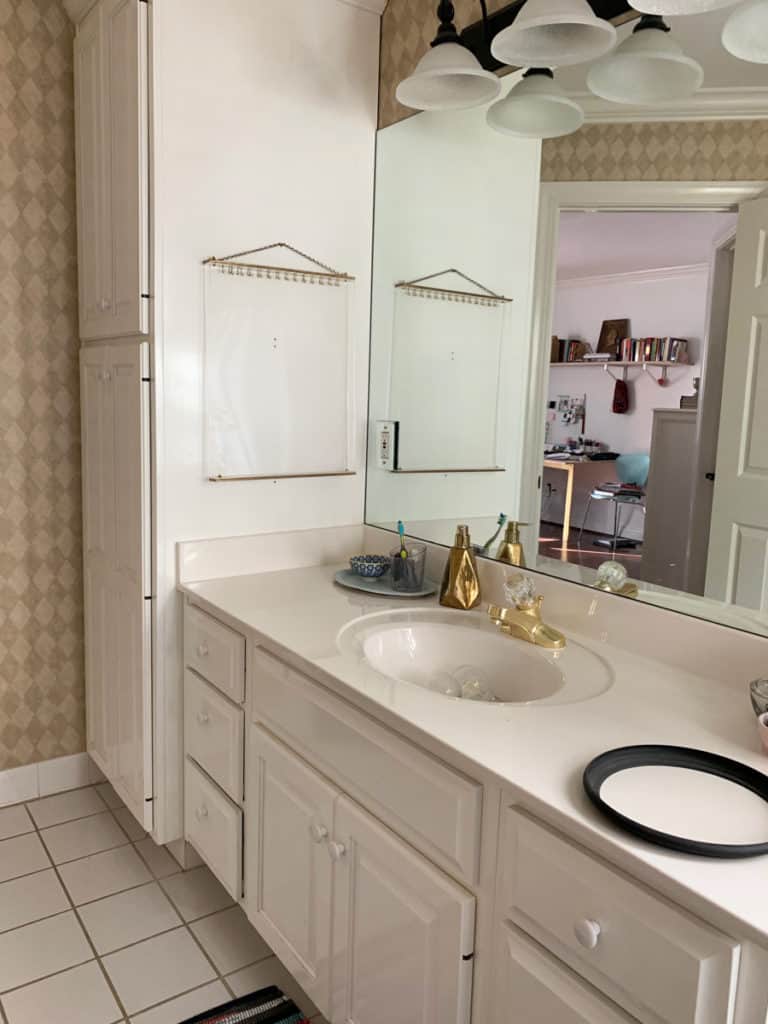 It's a nice sized bathroom but the dated fixtures, wallpaper and the uninspired cabinets make the room feel just that. Uninspired.
The first order of business was to remove the wallpaper. I'll cover the process in another blog post, but it went much better than expected despite a surprising discovery…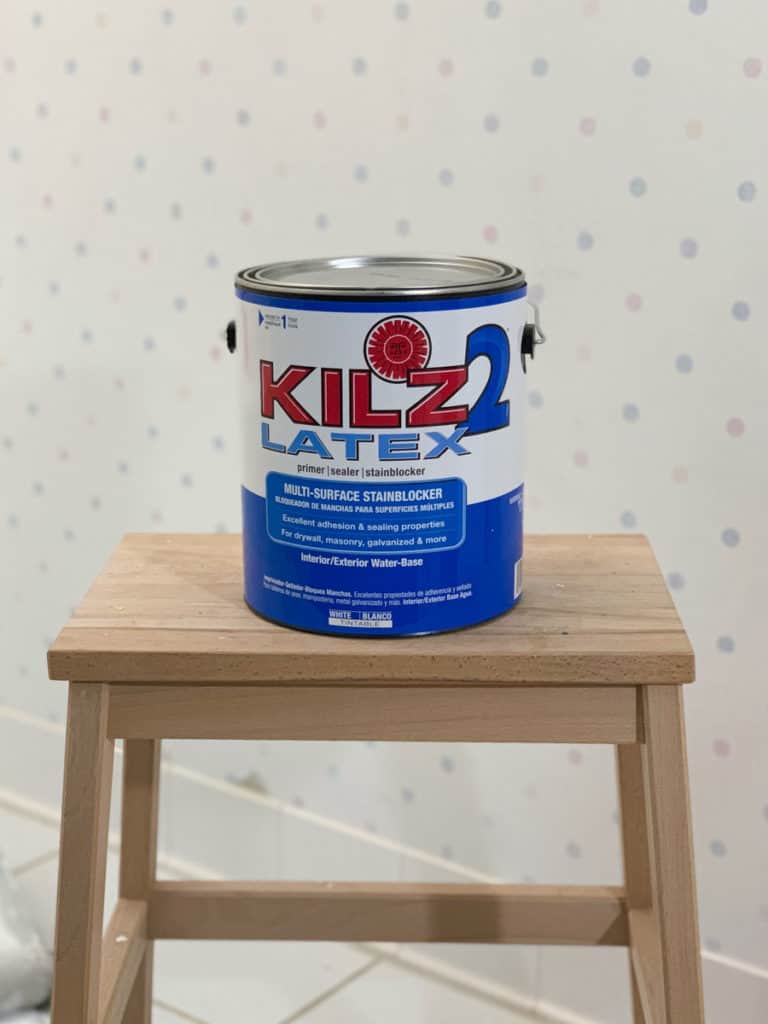 There was a second layer of wallpaper under the first and it was polka dotted!! Once the walls were cleaned of all residue, I primed the walls again with KILZ 2® LATEX Primer. This helps enhance adhesion of the paint to the surface, helps hide the designs/marks on the wall. Doing the primer coat will help ensure a better result (It was obvious this layer of wallpaper had been primed previously, and that was part of the reason the wallpaper came off so easily. Like I've said before, a good primer is a vital step in so many home improvement projects.)
Then it was time to move onto the wall paint, KILZ ® TRIBUTE® Paint & Primer. The quality of this paint was more than evident after just a few passes with the paint roller.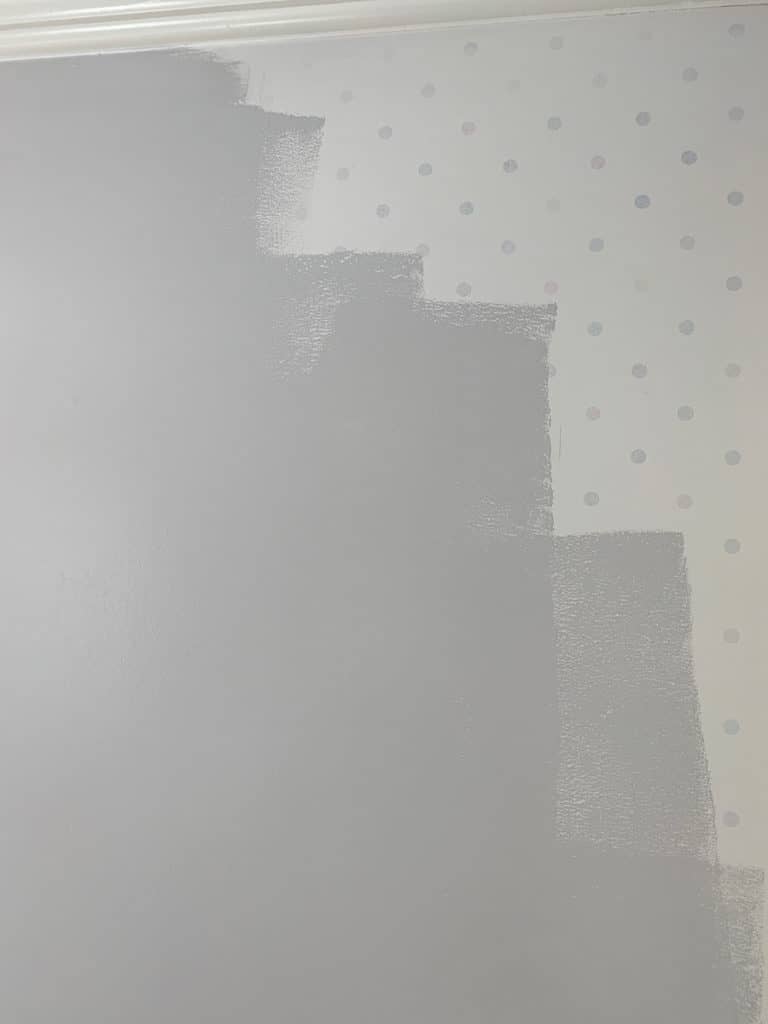 It completely covered and hid all traces of the polka dots in one pass! In fact, it hardly needed a second coat.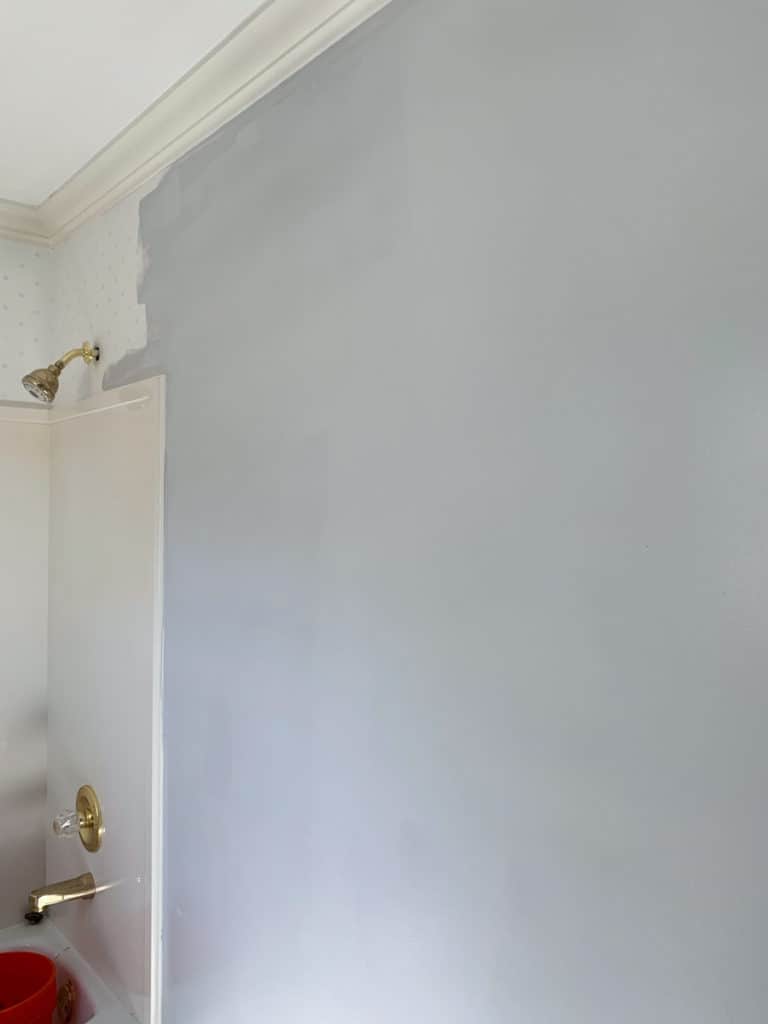 Because the cabinets had what I think was the original paint/factory finish, I was certain to give them a good cleaning, a light sanding and then a wipe down with a sanding deglosser before applying KILZ 2® LATEX Primer. This will create a uniform finish which hides imperfections, light marks and blemishes while also enhancing the paint's grip to the cabinets.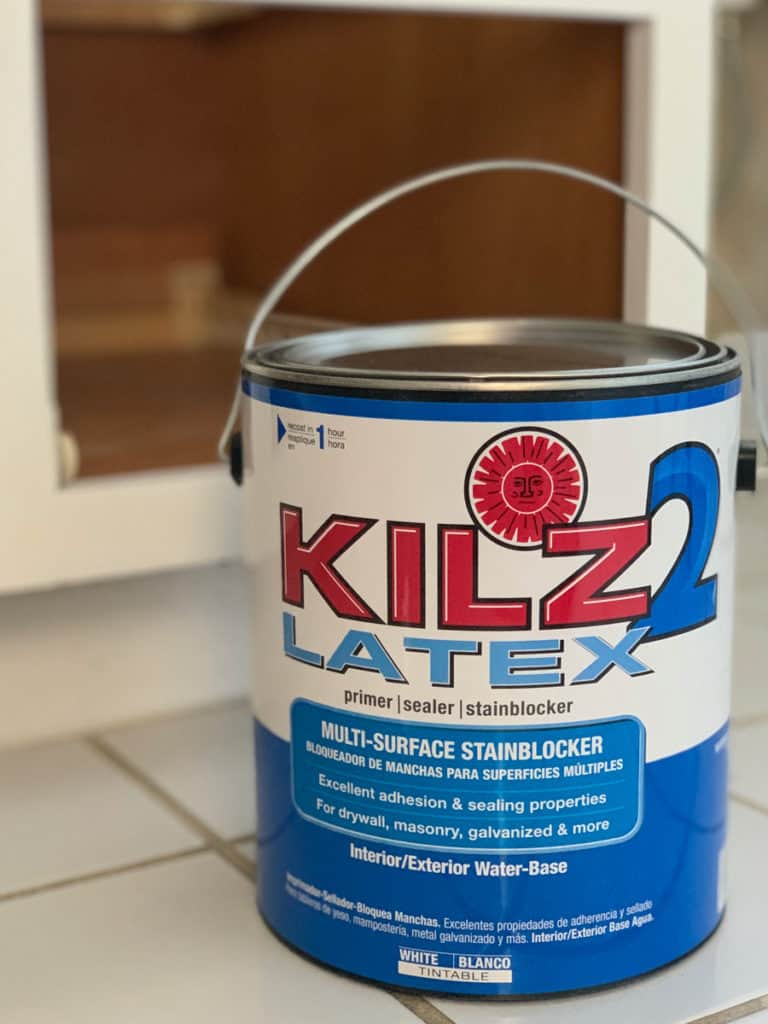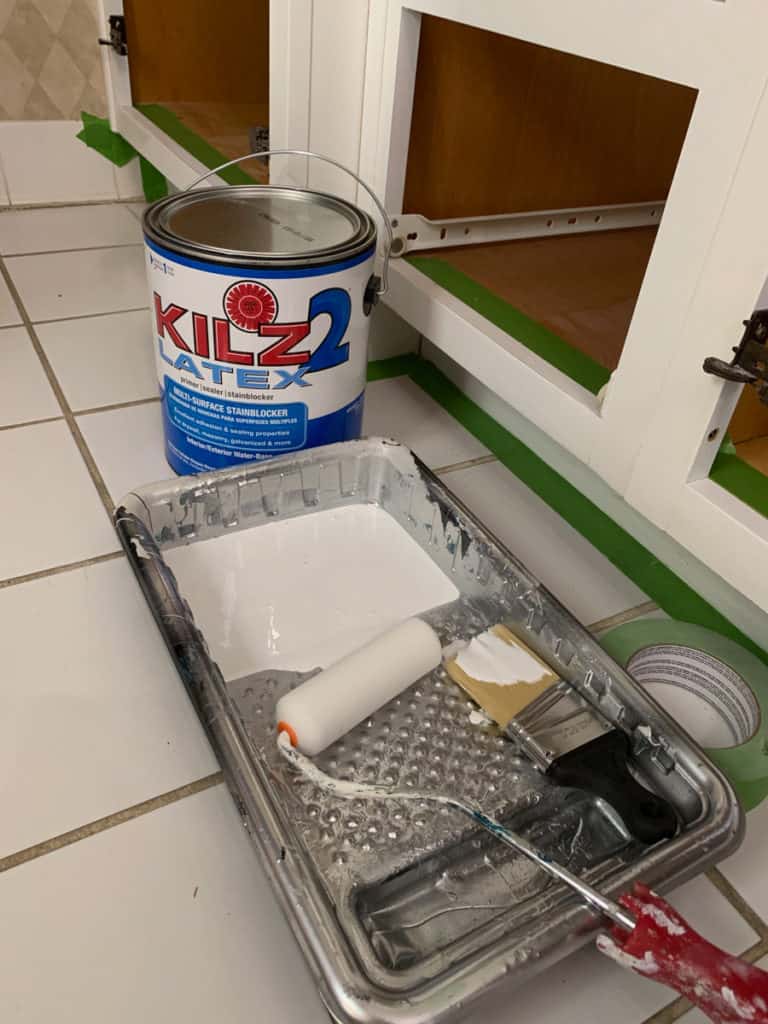 My preferred method of painting cabinets is to roll the base and spray the doors and drawers.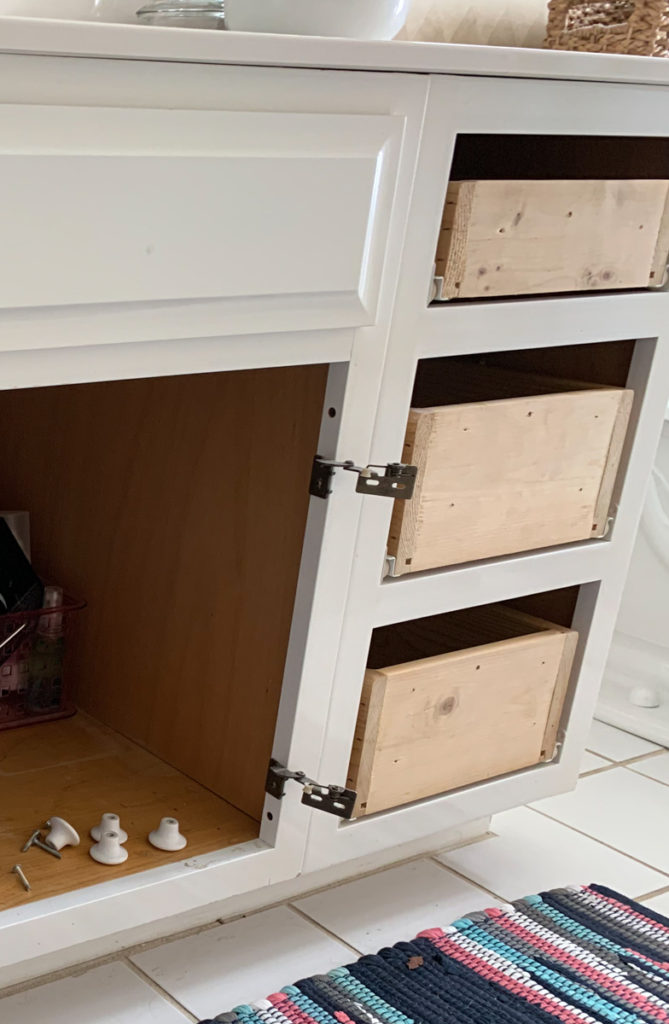 This was a first time for removing the drawer fronts instead of the drawers in a cabinet painting project. I found it very difficult to put the fronts back on straight and level because we forgot to label the drawers as well as the fronts.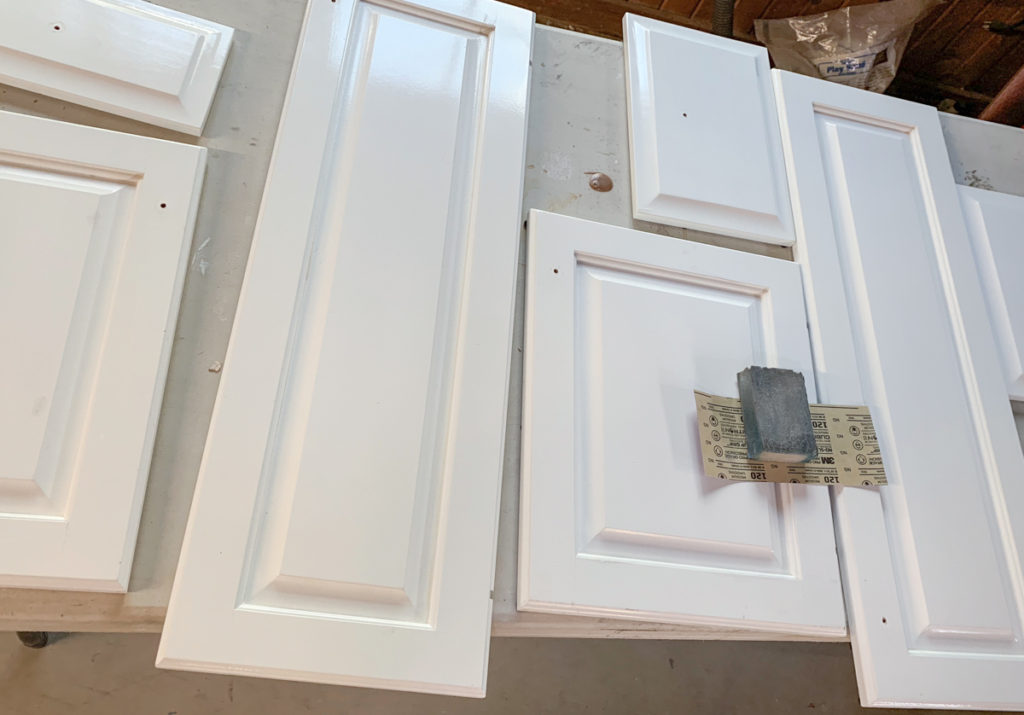 I followed the same prep procedure with the cabinet doors and drawers. Clean, sand, degloss then spray.
Did I mention this paint is available online at either Amazon or Build.com? That's right. You can shop for paint from the convenience of your home and have it delivered right to your door.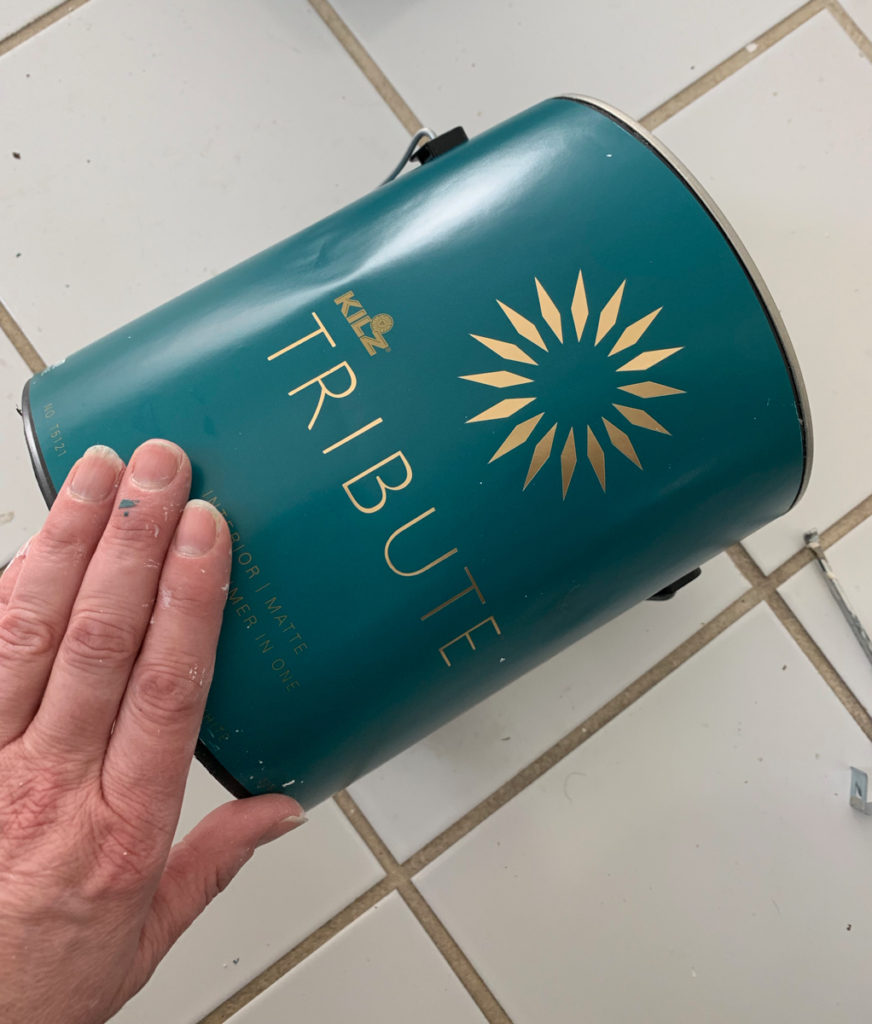 I like to give the paint a good shake and roll before I open the can. I lay it down on its side and roll it back and forth on the ground.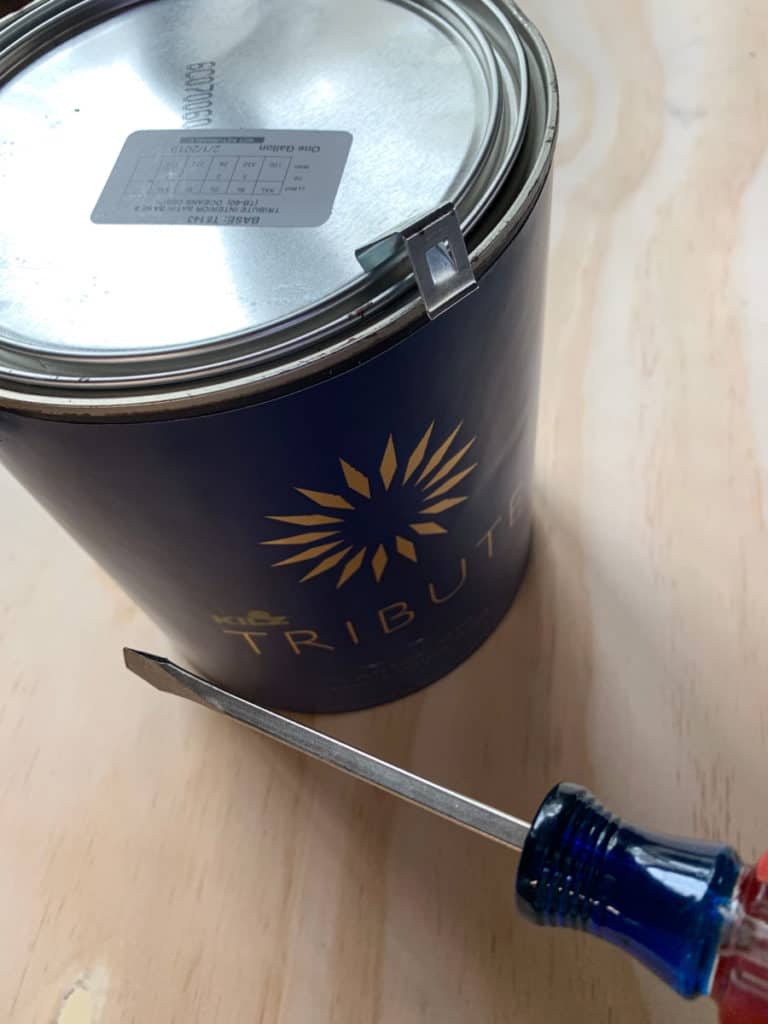 The paint comes securely packaged in custom paint boxes and encased in a sealed plastic bag. After removing the cans from the packaging, simply remove the clips with a screw driver and then open the can as usual.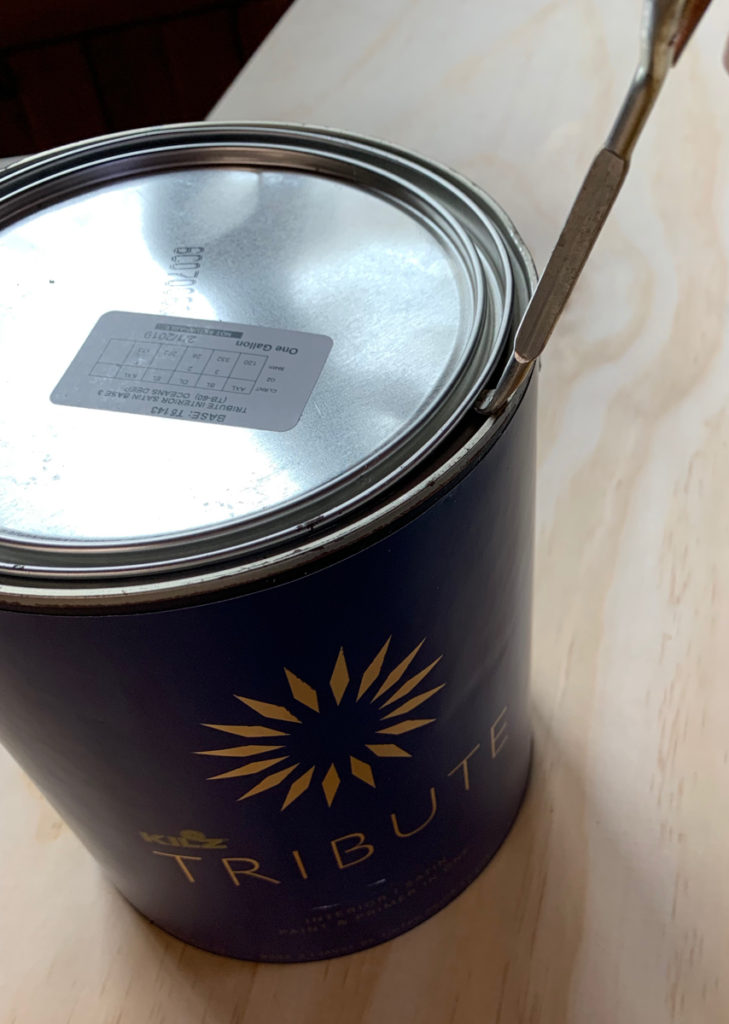 If you follow me on Instagram, then you may have seen my unboxing Story. I love giving y'all all the behind the scenes on Instagram. Give me a follow here.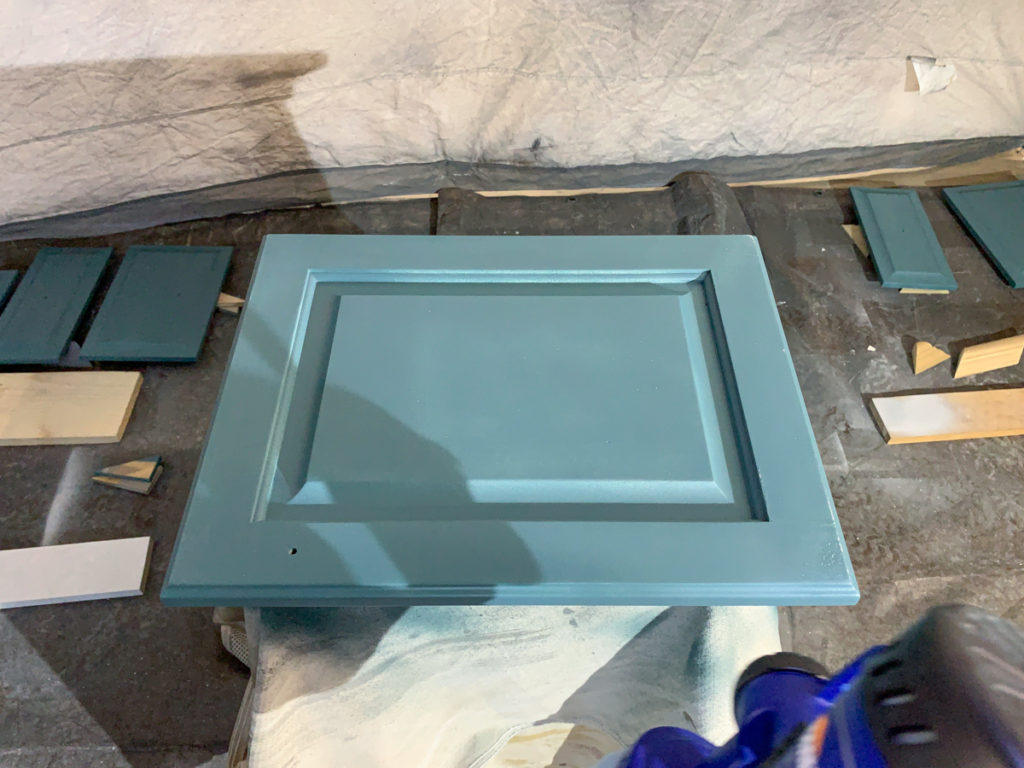 Then it was time for paint. I sprayed two coats of Oceans Deep in the satin finish.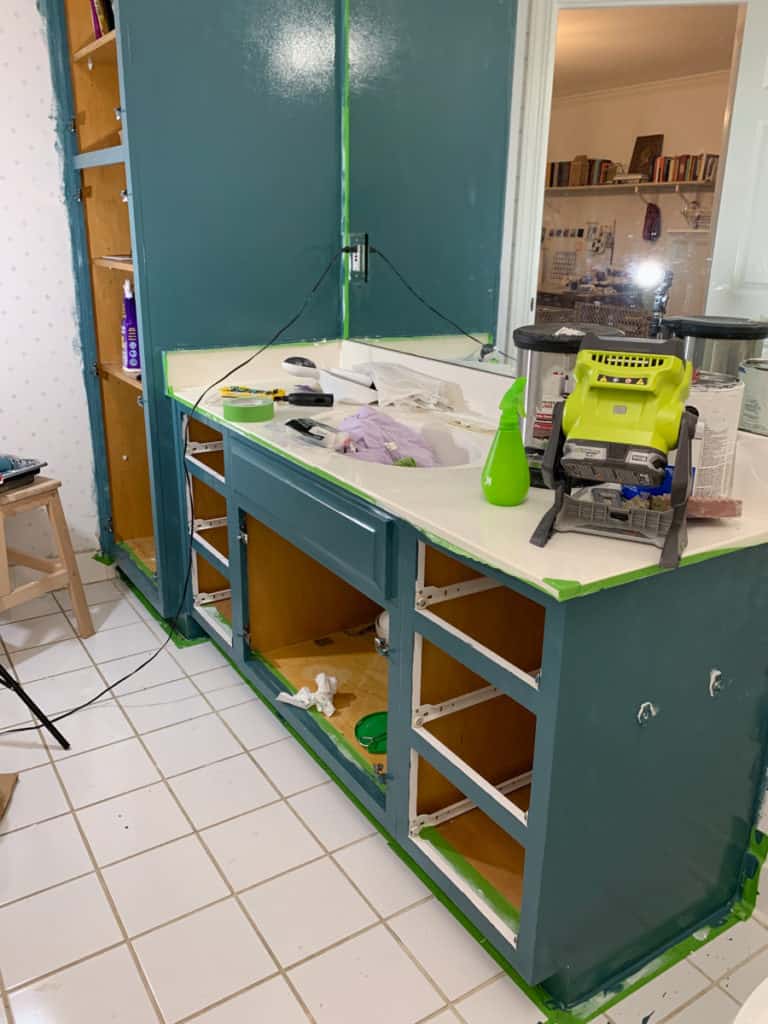 I also applied two coats to the cabinet bases.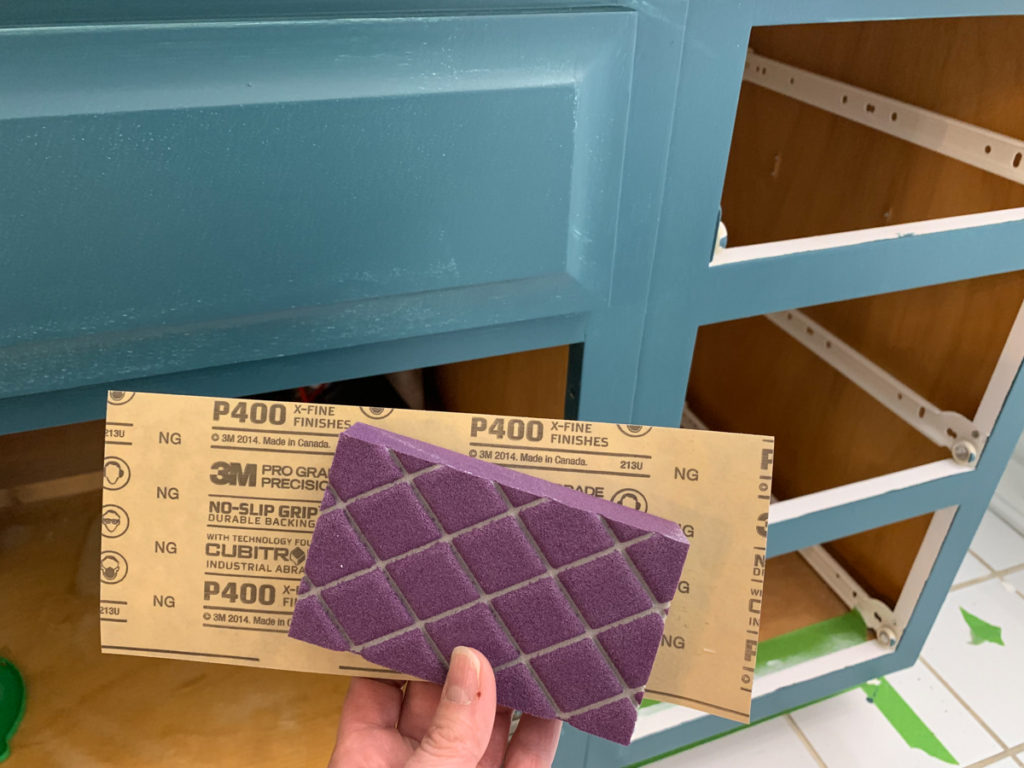 In between coats, I sanded with 400 grit sand paper to insure that I had a nice smooth finish.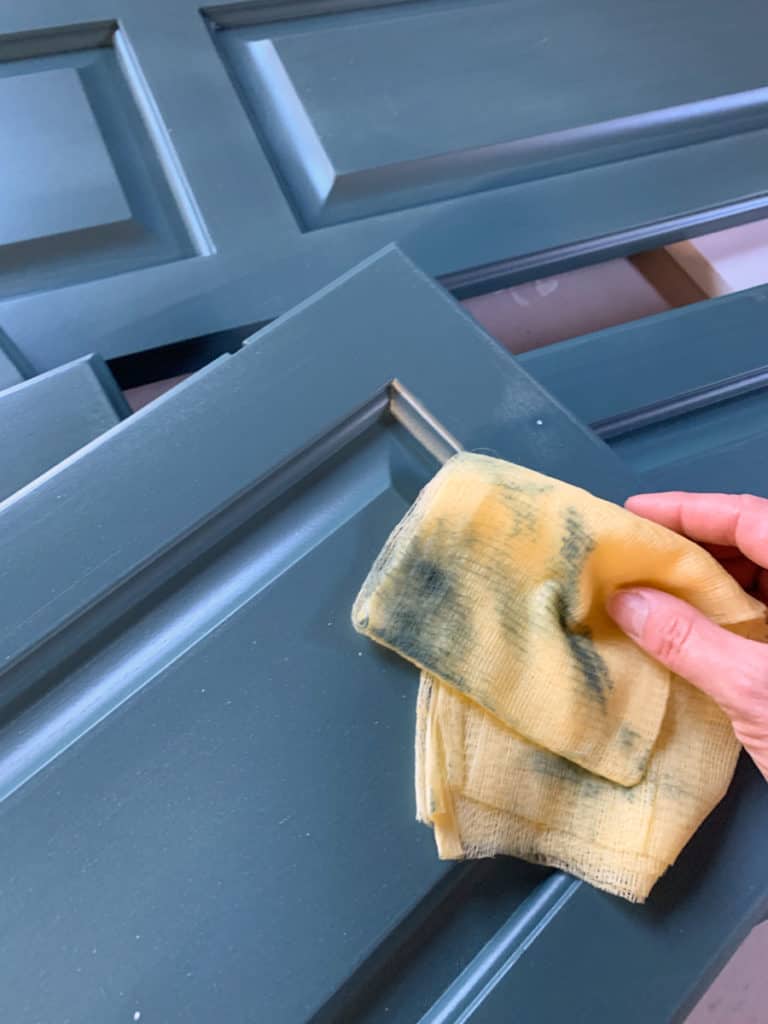 After sanding, I wiped the doors with a soft cloth and then a tack cloth. It's an extra step that makes a huge difference in a beautiful, professional looking finish.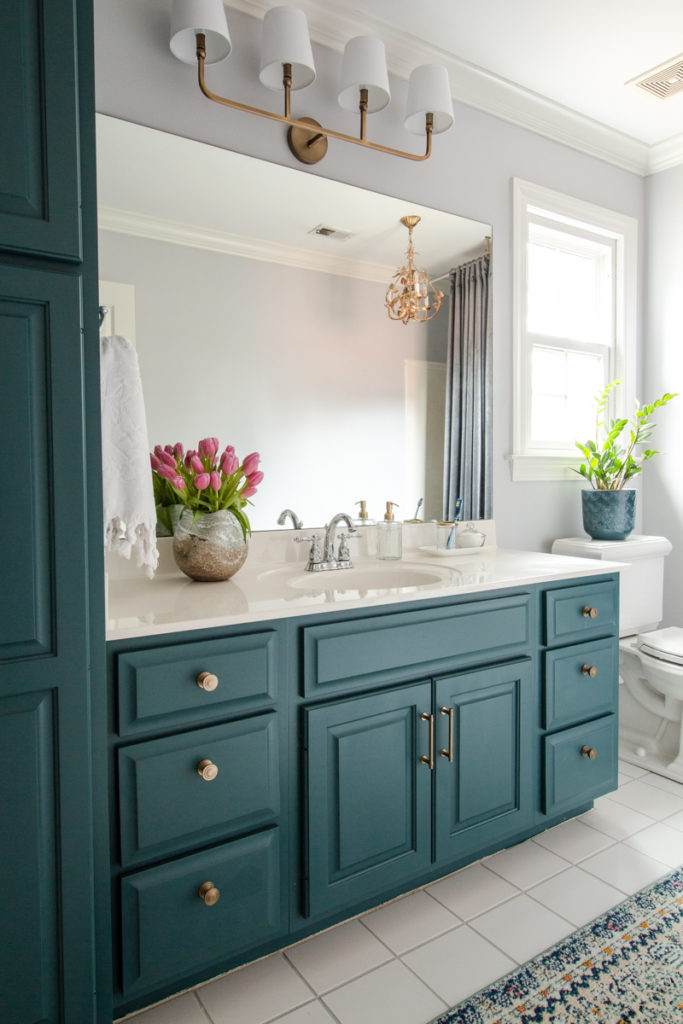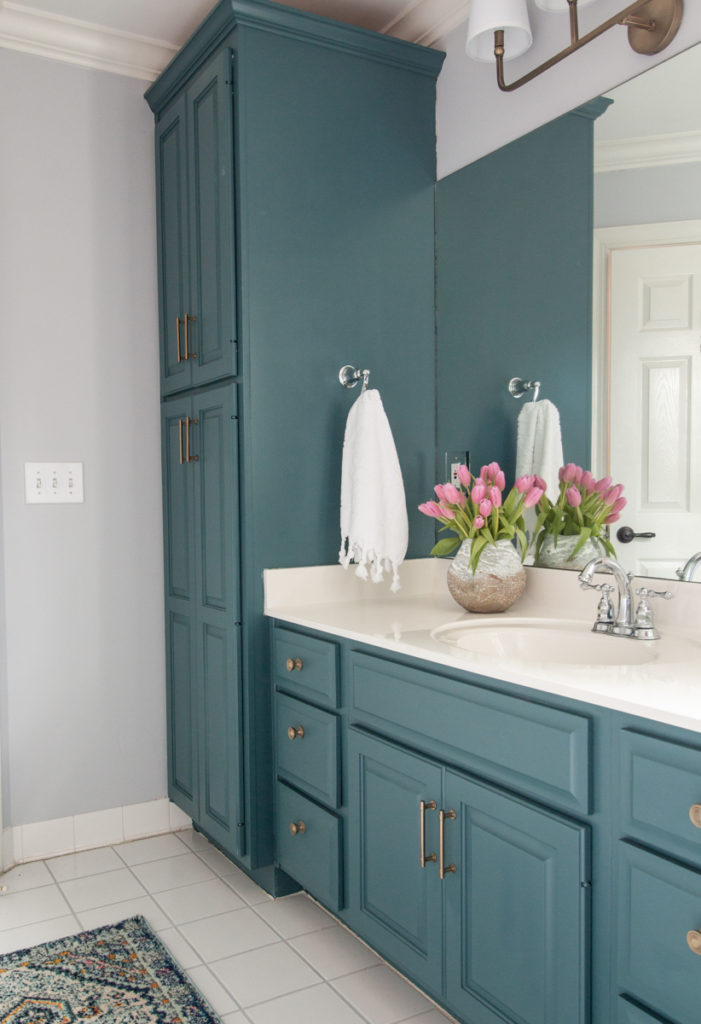 You may be wondering how I picked the right shade of paint from a computer online?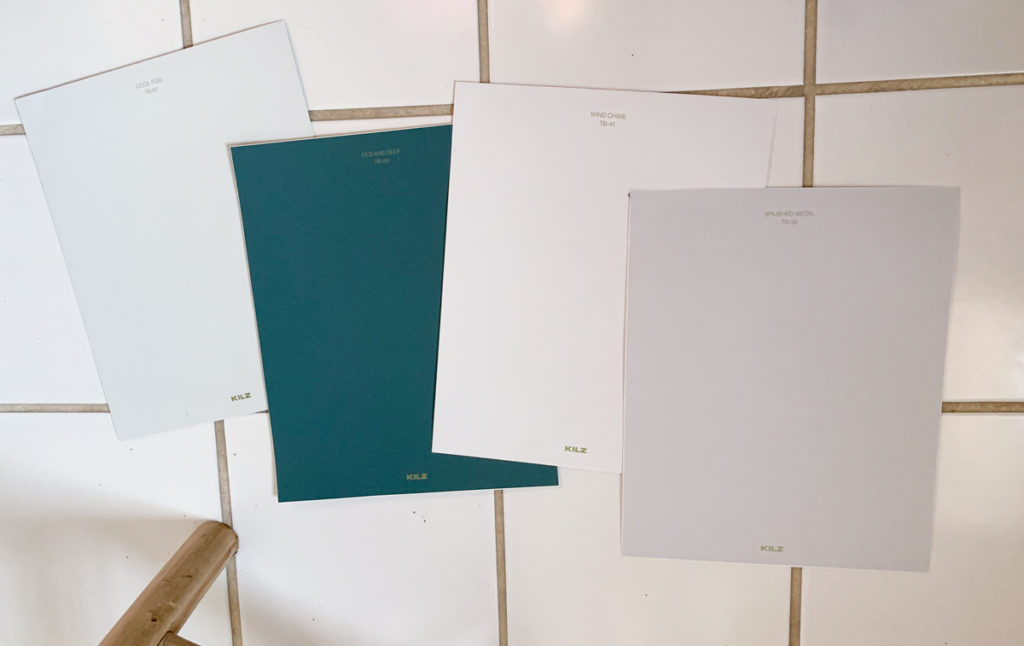 I ordered peel and stick samples of the exact shades I was considering. You can also order sample pots, but this is super easy and mess free. Amazon is now offering free KILZ Tribute Peel & Stick Samples and free shipping is available for Amazon Prime members! Check out all 100 colors available including whites & greys, yellow & oranges. greens and blues! You can also order wet paint samples, but this is super easy and mess free.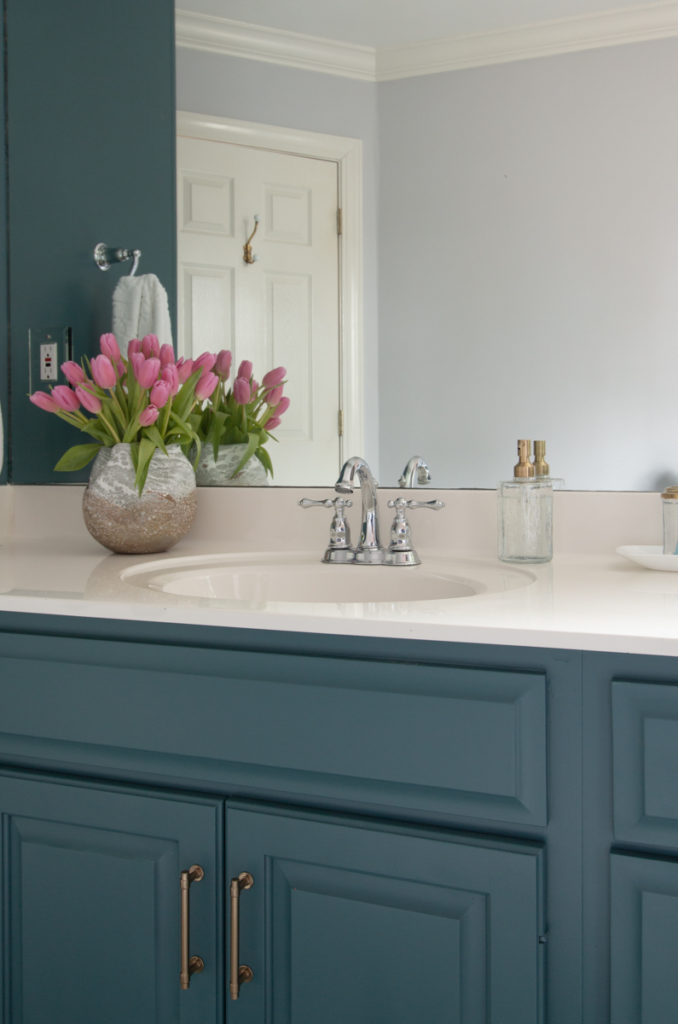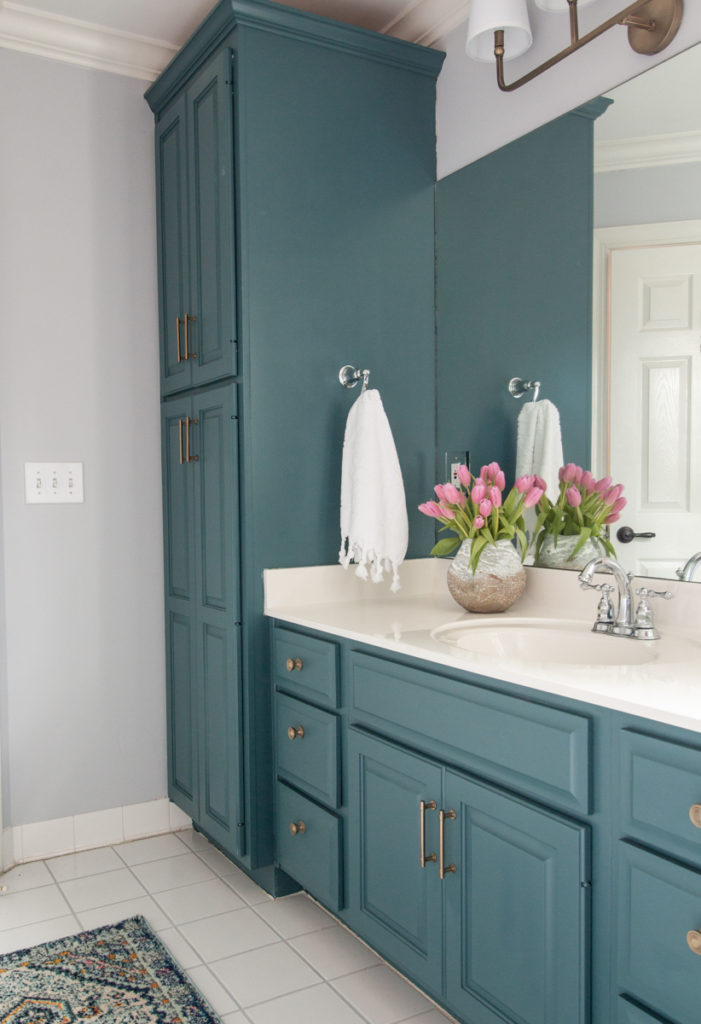 We couldn't be happier with the results of this budget friendly makeover with paint!
Want more details about this room? Check these follow-up posts below.
For more details on planning a bathroom makeover online and sources for outfitting this room.

For a complete guide to removing wallpaper without damaging your walls.

For how to install an acrylic shower curtain rod and sources
So tell me, what would you transform with paint in your home?