It's week 4 or the One Room Challenge and I feel like I've turned a corner on this little makeover.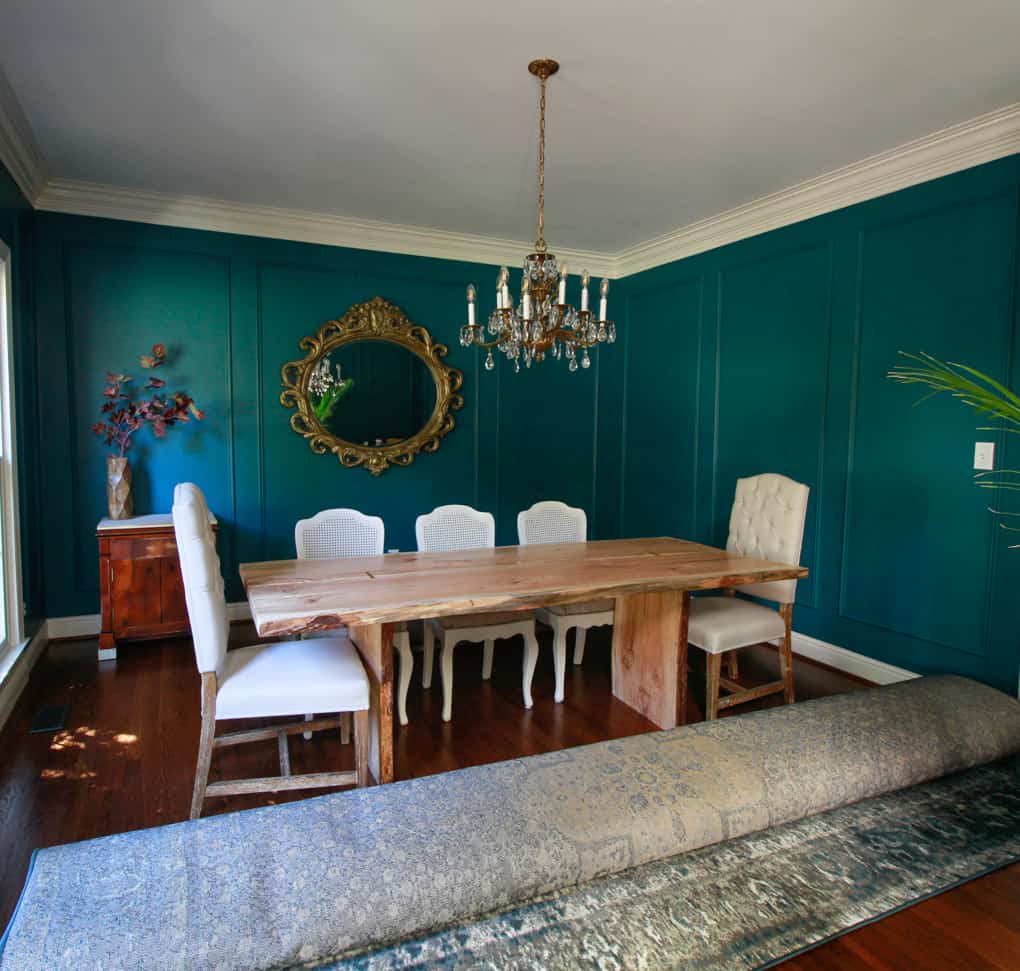 The mouldings are caulked and painted. Check that off the list.
The chairs are painted. Check!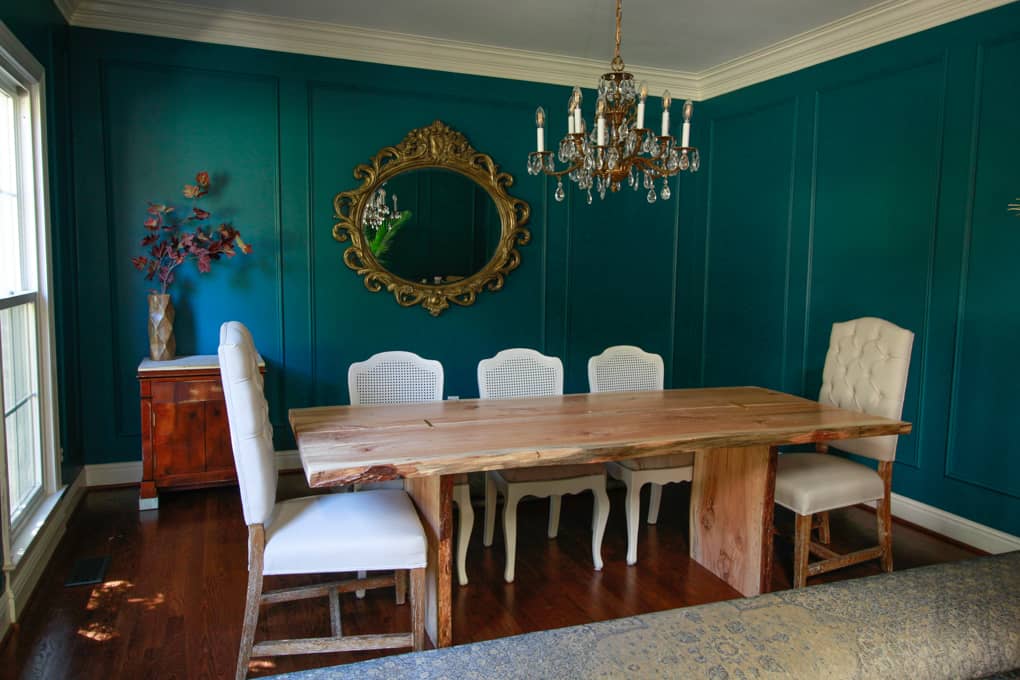 About the chairs, I decided on a linen/grey color by Sherwin Williams, Worldly Grey.  I think I could have gone one shade darker, especially when the sun is beaming through the windows, but the tone is great and I think it was a solid choice.
I actually have 6 chairs and will pull out all of them for holidays and larger gatherings, but I will likely style the room day to day with the four French chairs.  And is it just me, but with the giant buffet gone the chairs seem like they are standing taller?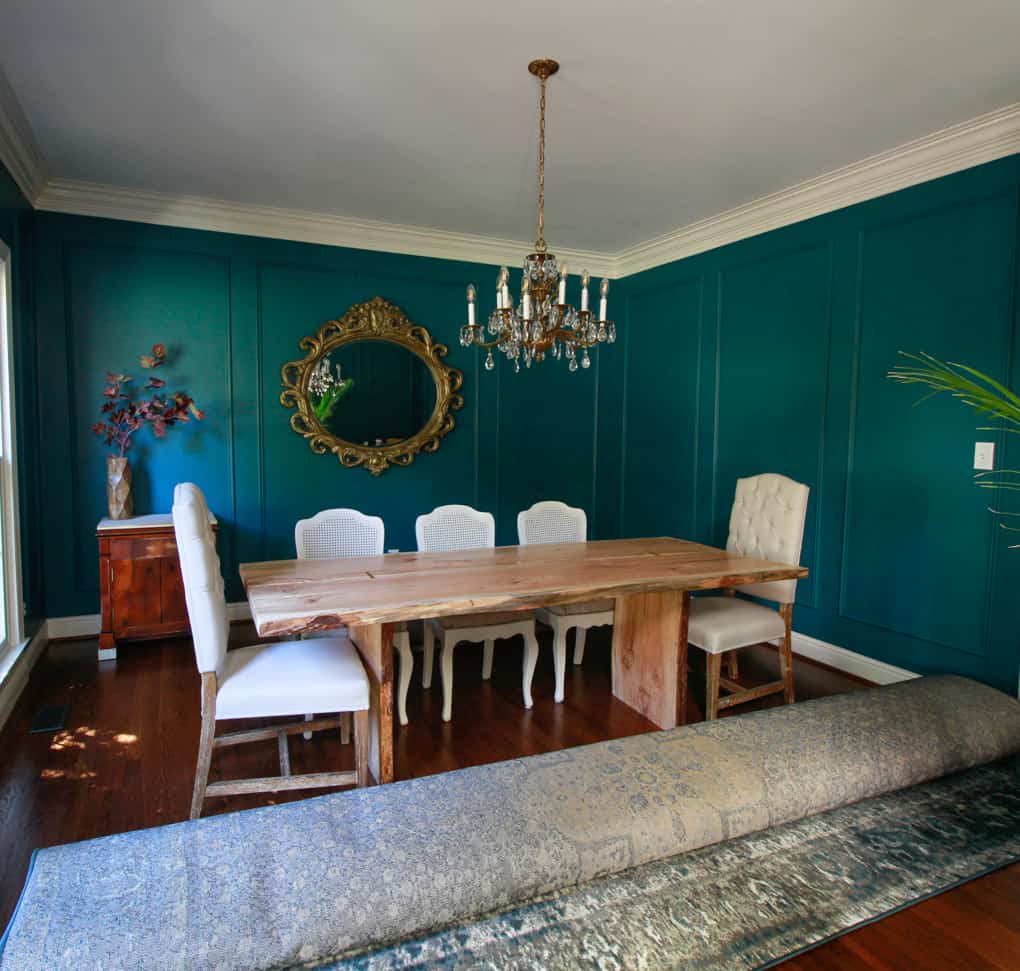 The new rug is in and you can see a little sneak peek above. It's going to take a small army of people to lift the slab table and slide the pad and the rug underneath.
The tiny chest in the corner too is one item I can't check of my list.
You might recall I planned to give these thrifted finds a fancy upgrade. I did raise the bottoms by adding a block to mimic the design of the base  and I added a fresh new top which added to their squatty stature.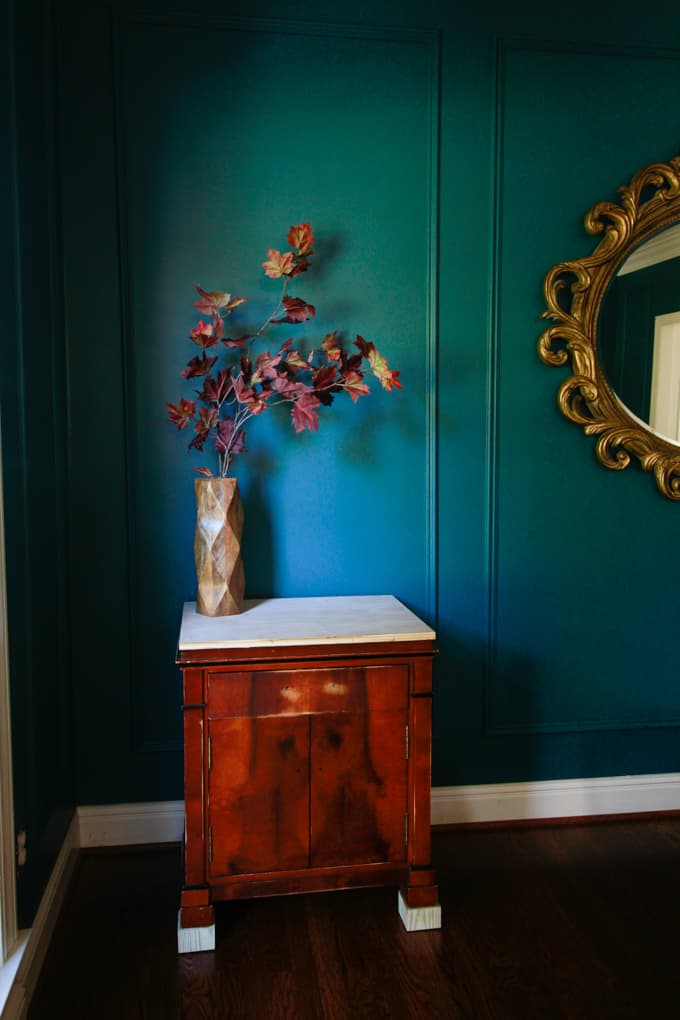 Thank goodness I had my son help me move them up this weekend before I painted them. (They are surprisingly heavy for their size.) The height is much much better, but they are just too small for the room.
After a moment of panic, which I talked about on my Instagram Stories, I considered hacking an Ikea Tarva like one I had done in the past.  But decided with the other deadlines I've got looming I didn't have time for a trip to 2 hours one way to Atlanta.
I came to my senses and scoured the internet for affordable replacements. Thankfully, these sideboards from AllModern will arrive on Thursday and l am anxious to see how they look.
Clearly, they will be very plain and black is not what I had in mind.  I still intend to give these budget-friendly pieces an upgrade. The upside of all this drama is that I am much more certain of the scale and size of these servers and I didn't have to drive to Atlanta for a replacement.
I still need to sew curtains and fix a finishing detail on the slab table.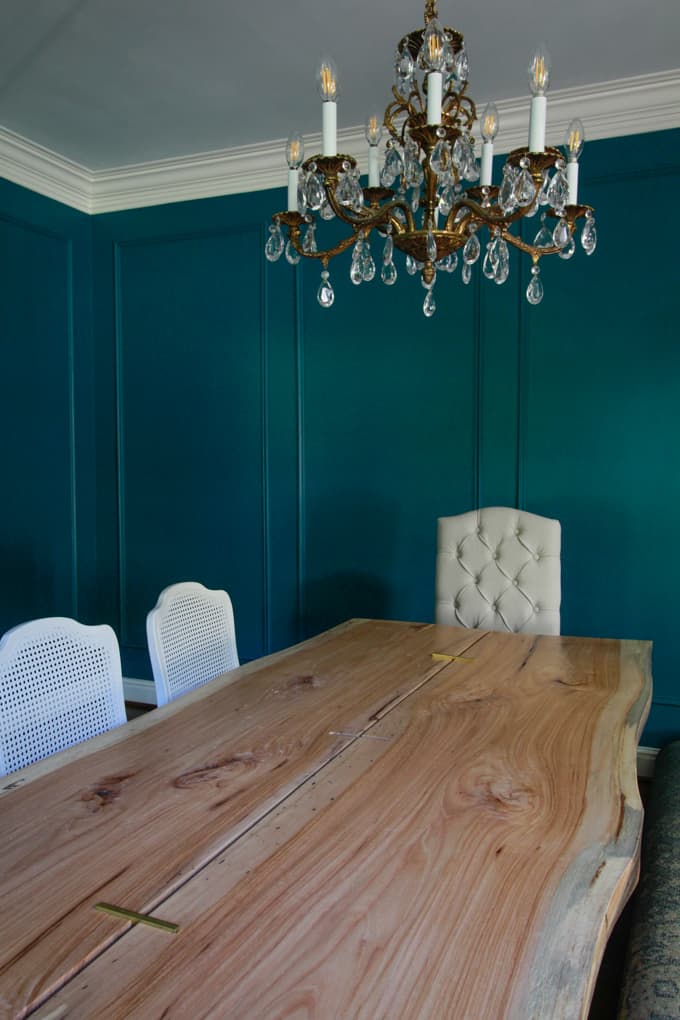 If you look closely, there are 3 brass bars connecting the two book-end slabs.  When I routed out the spot for them I failed to set the depth of the router deep enough so the bars don't go down and sit flush like they should.  It's been one of those small, nagging things I have needed to do but have been keenly aware of how this could take a tragic turn and ruin the finish of the table.  I think I have a plan now that involves chiseling it out by hand. Still risky but I think it's my best option now.
I had one other furniture makeover planned but I'll save the details for next time.
All the participants were given an extra week due to the crazy hurricanes, fires and events that have been plaguing our country.  This is quite an unprecedented action taken by Linda at Calling it Home, our host for this event. While I support the delay and plan to reveal a week later on November 16th, I have circumstances that will require to physically finish at the original date and just hold the post.  But that means I will get an extra week to talk about one of my DIY's for this room. What do you want to hear about most?
That also means I've got to keep the room under wraps a week longer just when I was starting to get the feeling of anticipation for the reveal! This room seems like it has been a long time coming!
Be sure to check in with the other Guest Participants here.
And the featured Designer Participants here.
One of the things I love most about this challenge is the sense of community between all of the participants.  It's not a competition. We are all here to make a room in our homes more lovely and bring joy to our family. And that is a worthy endeavor.
SaveSave
SaveSave
SaveSaveSaveSave
SaveSave
SaveSave
SaveSave